15 Awesome Airbnbs in Byron Bay, Australia
Airbnb Byron Bay: Are you looking for the best Airbnbs in Byron Bay? Finding the right Byron Bay Airbnb for you does not need to be difficult.
I have found all the best Airbnbs in Byron Bay for any budget!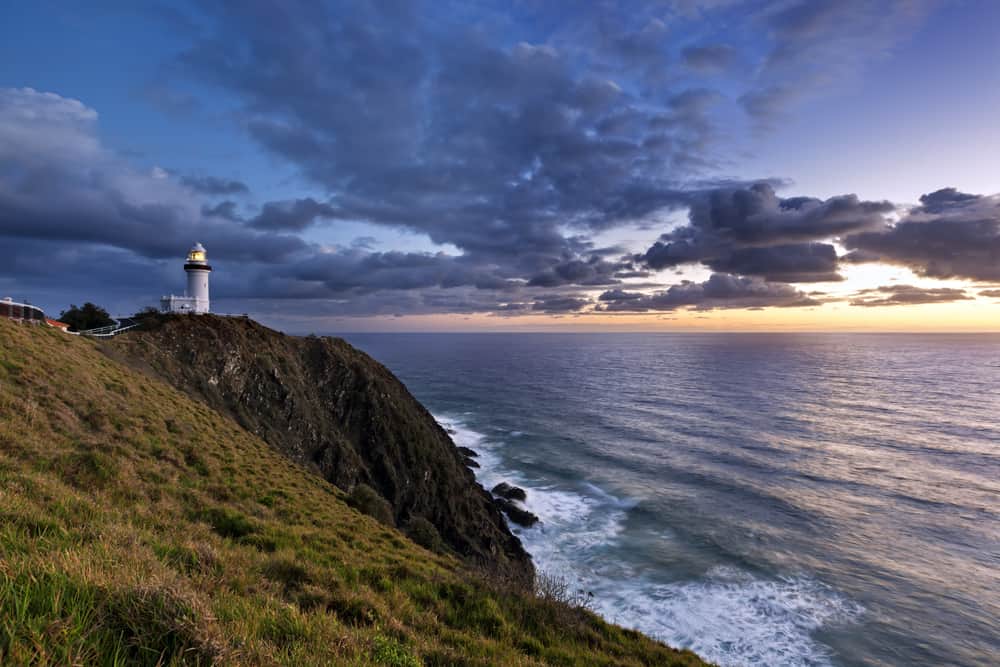 Byron Bay, situated on the far north coast of NSW, Australia, is a coastal area. Home to Australia's most easterly point and the iconic Cape Byron lighthouse, the region is known for its spectacular beaches, unique shopping and dining experiences, world-class festivals, and vibrant community spirit. Its the perfect place to get away and relax.
Visitors will enjoy a diverse range of budget-friendly and luxury accommodation options, some of the best food and food producers in the country, a wide range of activities, inspirational brands, fantastic markets and more. Byron Bay is unlike anywhere in the world, really. So, come visit the wellness capital of Australia and experience the awe-inspiring natural beauty, and lively, welcoming community
15 Best Byron Bay Airbnb's
Treehouse Studio
Guests: 2
Bedroom: 1
Set beneath the treetops, this eclectic cabin style studio is a peaceful place located 2.5kms from Byron Bay's main town. Here, you'll enjoy and experience tropical vibes together with its great amenities like a bed, bathroom, kitchenette with cooking facilities, fridge, lounge, and a large deck where you can watch the beautiful surroundings.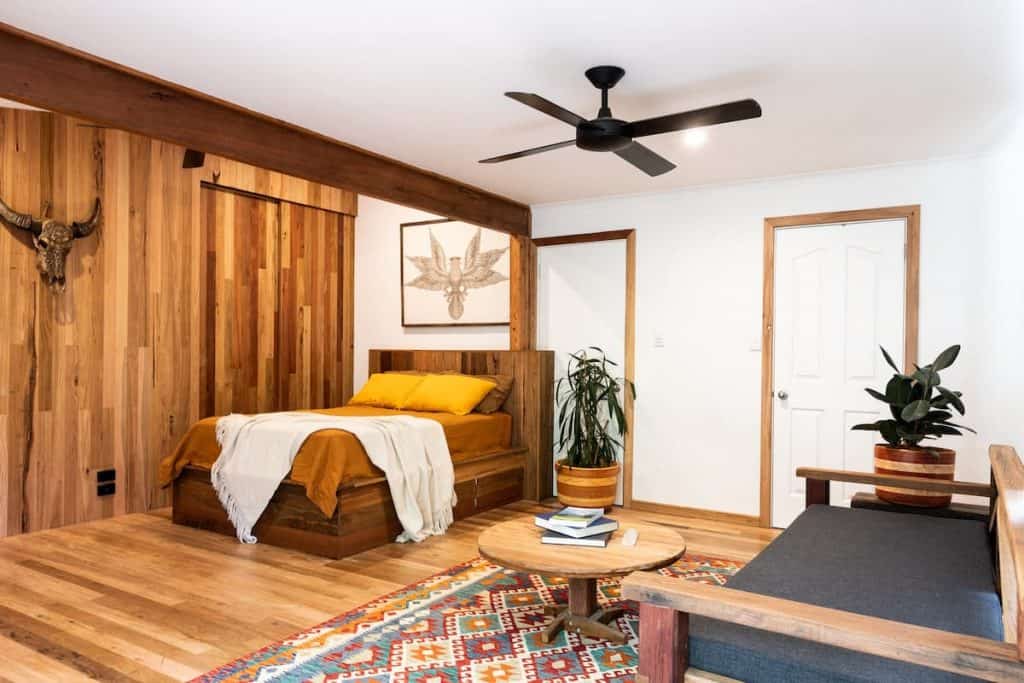 This is a private area with a private entrance and space with on-street parking.
One reviewer said: Beautiful gem in Byron! Amazing decoration and cozy good vibes. Really recommend this Byron Bay Air b and b to anyone who wants a peaceful stay in Byron! Saw a koala on our way down the street so this is really in the lush jungle!
The Treehouse
Guests: 2
Bedroom: 1
This award-winning and architecturally designed offers a five-star experience in the most accessible and gorgeous area of the Byron hinterland. This stand alone house is made of steel and glass structure and the floor to ceiling glass windows look out into the rainforest canopy, but as you gaze in the north you'll see the beautiful ocean.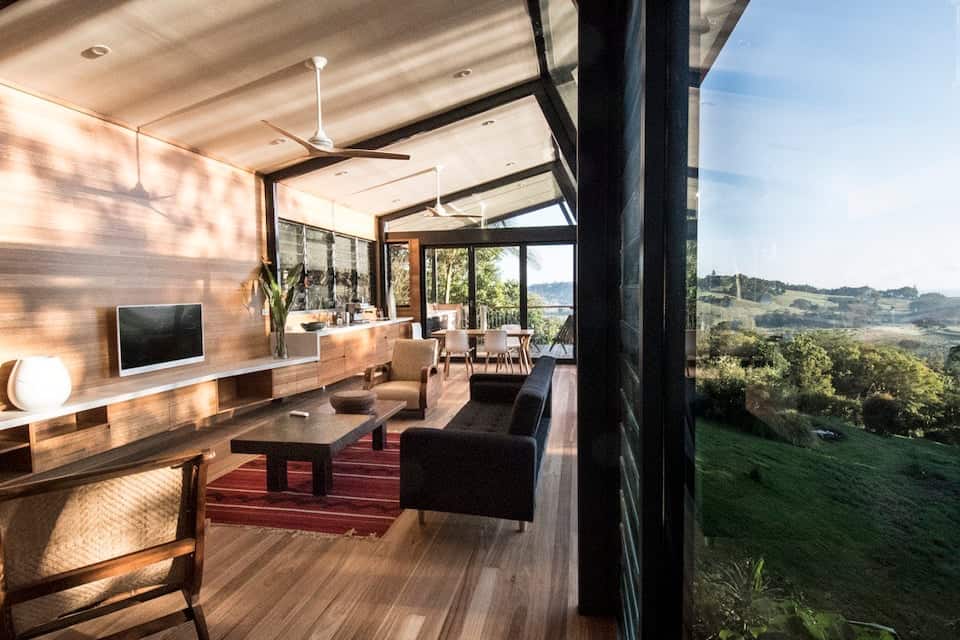 This house also has a large deck with BBQ, large kitchen, dining area, lounge room, and bathroom. You can also access to the internet, TV, A/C, and the separate driveway that leads straight to a parking bay at the back of the treehouse.
One reviewer said: Amazing spot literally about 10 minutes from the beach. Location was perfect as had the best of both worlds – could nip into the hustle bustle of town but retreat back to the countryside for some peace and quiet. The place is magic. Beautifully clean, fridge filled with all the necessities, great coffee machine, comfy bed, lovely little deck for morning breakfast. Very helpful hosts, especially when found car had a flat battery. They leant us their ute to jump start it and we were sorted in 5 minutes. Would highly recommend this spot and will definitely be back!
Ocean View Guest Room in Hillside Escape
Guests: 2
Bedroom: 1
One of the best places to step back from the hustle and bustle of everyday life is this tranquil guest room with views of the ocean in Hillside Escape.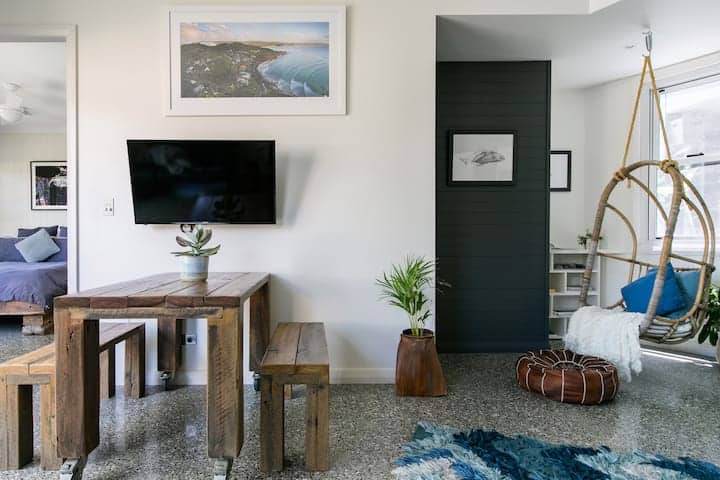 It is a spacious and modern place that features a private entrance, rich textures, a library corner, and a lush garden with an outdoor shower. This is a perfect home for couples or solo travelers and it is only a short drive to the main town.
One reviewer said: Laura's place was perfect for the two of us for a few days in Byron. The place was really clean and modern and only a short drive to the main town. Was great to have a nice bottle of wine to show up to as well ! We would definitely stay again on our next trip.
Muchacha Luxe Cabin
Guests: 2
Bedroom: 1
This stylish and updated open plan studio is located in the prestigious suburb of Ewingsdale. The space was designed for lovers of art and minimalism and it is one of the perfect places to set back and enjoy Byron. It has an area of 30 square meter open plan space with exposed cathedral ceilings, bathroom, kitchenette, smart TV, high speed internet, deluxe queen size bed, and veranda.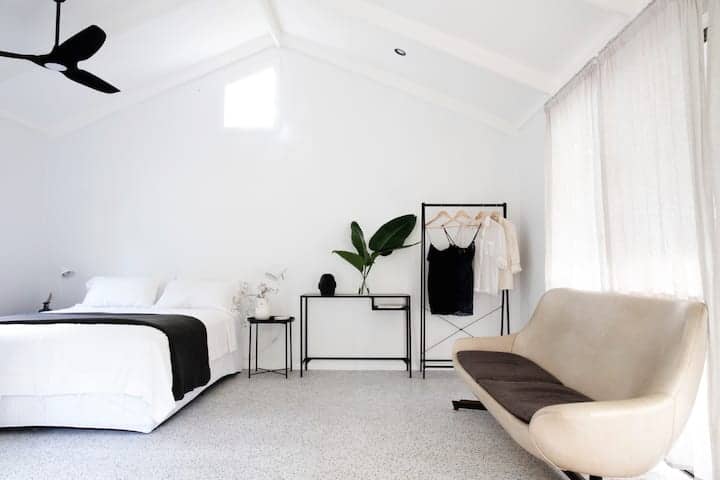 This is a perfect tiny spot for couples or even singles who want to have a good time in Byron.
One reviewer said: Such a stylish studio and beautifully finished. Este was so helpful and welcoming. Great location only minutes from town but far enough out that you can enjoy the tranquility of Byron landscape Perfect place for a short stay for a couple or single.
East Coast Escapes – Lighthouse Studio
Guests: 2
Bedroom: 1
Stylish space, great views, and perfect location – these combinations make up this stunning hotel-like studio apartment in Byron. It has a large bedroom with a king size bed that is perfect for two guests, hotel-like facilities, big walk in robe space with a kettle and bar fridge, and more.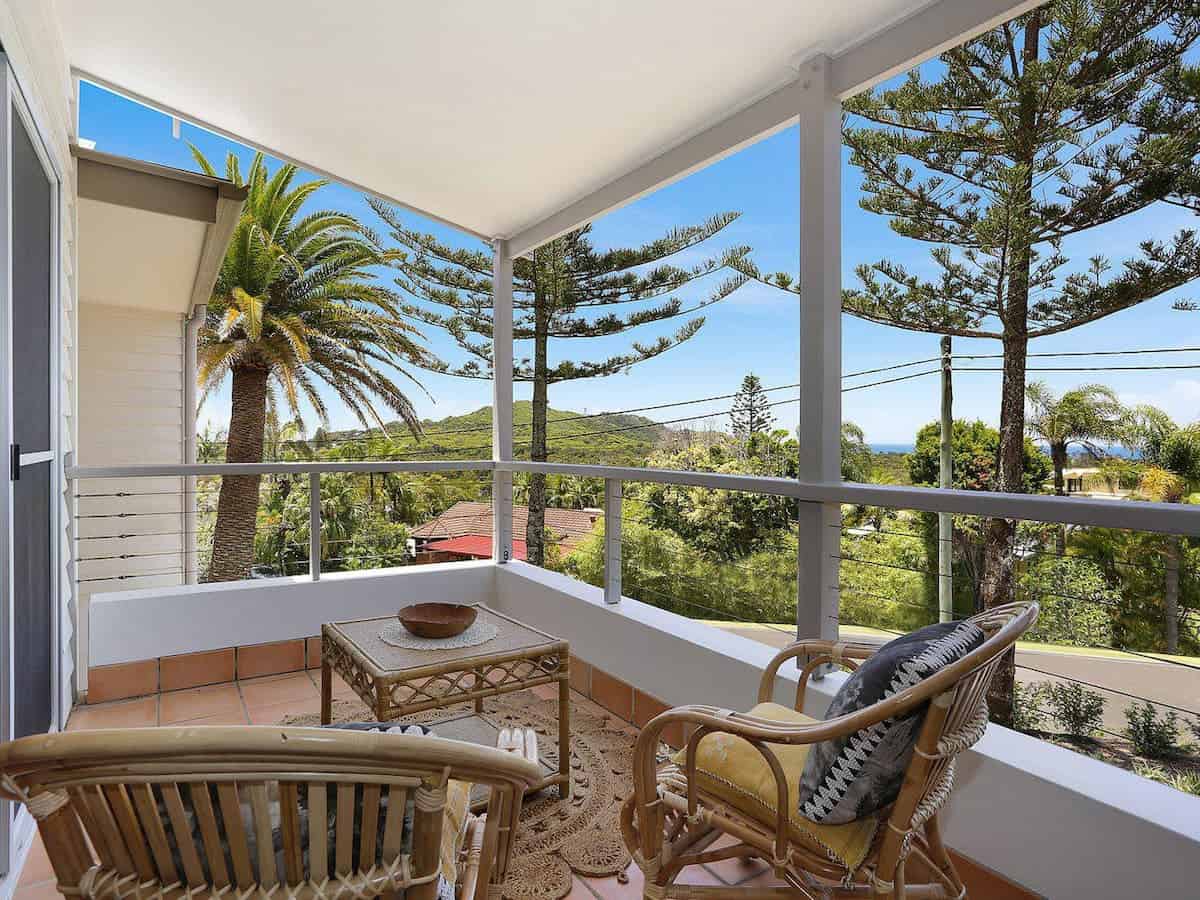 But what makes this studio even more amazing is the stunning views of the sea and lighthouse right from the balcony. Plus, it's close enough to everything and still gives you the privacy and comfort that you need.
One reviewer said: Perfect place for a relaxing trip for a couple, aircon was a dream, bed was super comfy, location was ~10min walk from everything great (but shout out to Top Shop, a fantastic coffee shop 1 minute away). Thanks so much for the stay
CC's @ Byron Self Contained Studio
Guests: 4
Bedroom: 2
Have you stayed in an improvised container van before? If you haven't, this is your chance to experience that at this newly renovated self contained studio that has everything you need for a relaxing vacation. It is centrally located with just 5 minutes away from Byron Town Center and the beautiful Main beach.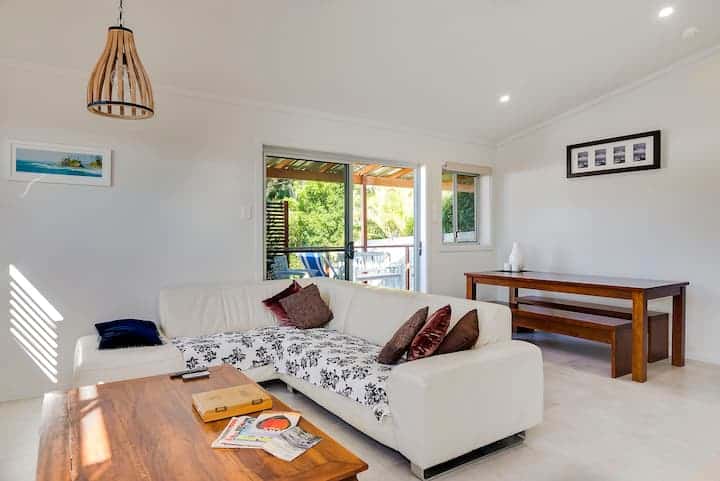 Aside from the basic amenities, this contained studio has its own pool and backyard that you can exclusively use.
One reviewer said: Beautiful place, perfect for us (2 adults and a toddler). Nice open space with a beautiful balcony overlooking the swimming pool. Was spotless clean and had everything we needed. Would definitely stay again!
Eva's Byron Beachroom
Guests: 2
Bedroom: 1
Eva's Byron Beachroom is a light and breezy self contained room perched in the treetops. The room comes with its own fridge, microwave, kettle, toaster, and a king sized bed.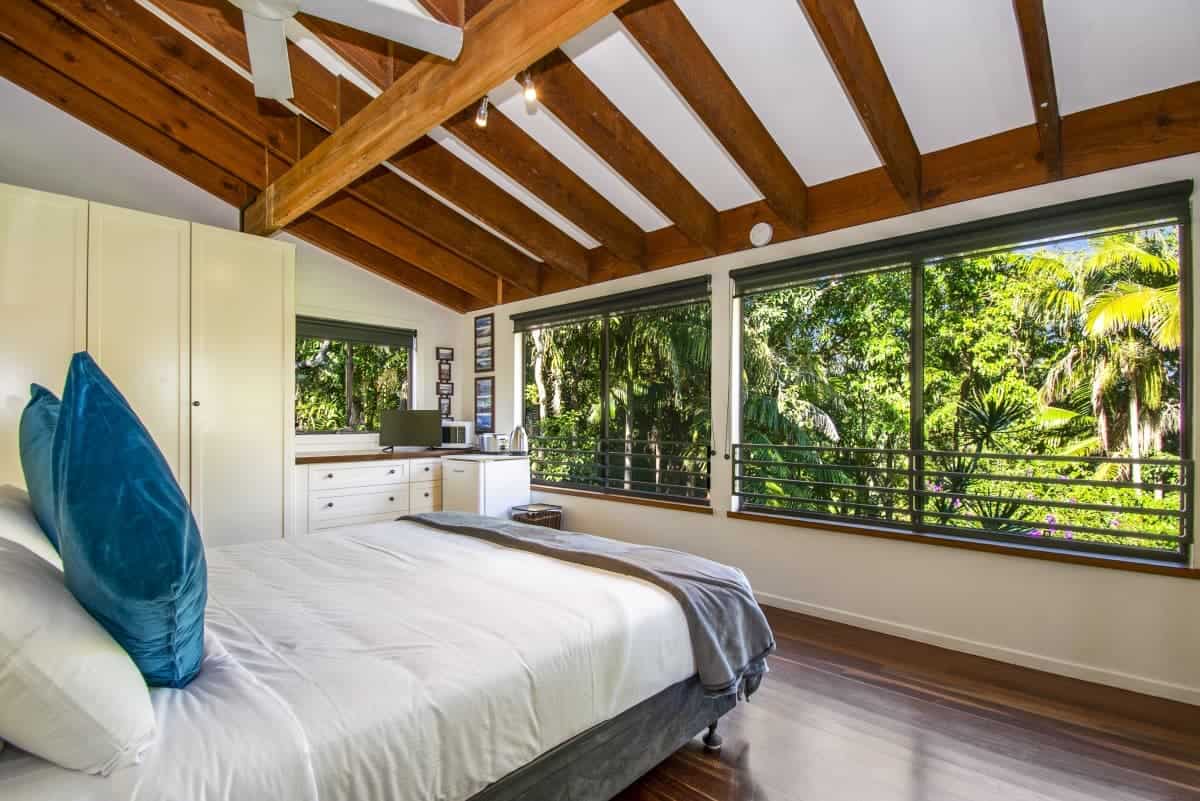 This place is a perfect setting for a peaceful weekend getaway with close proximity to the stunning Tallows Beach and Dolphins Surf Break.
One reviewer said: Claire was a warm, welcoming host, friendly and eager to provide any local information. We had a lovely stay. Her personal touches were much appreciated, especially when I had mentioned it was my birthday the next day and she left a bottle of wine for me that morning. Lovely comfy bed, amazing shower and bath tub, really clean and had everything we needed, along with tea, coffee, spreads for our breakfasts. Well set up. Just a short walk along a nearby path to lovely Tallows Beach where you can walk to the Lighthouse. Gorgeous spot.
Stylish Garden Studio Byron
Guests: 2
Bedroom: 1
Byron Studio is a self contained private access studio that offers a tranquil retreat in Byron that is close to town and pristine beaches. It is tastefully furnished with quality linens and towels to make sure you only experience extreme comfort during your stay.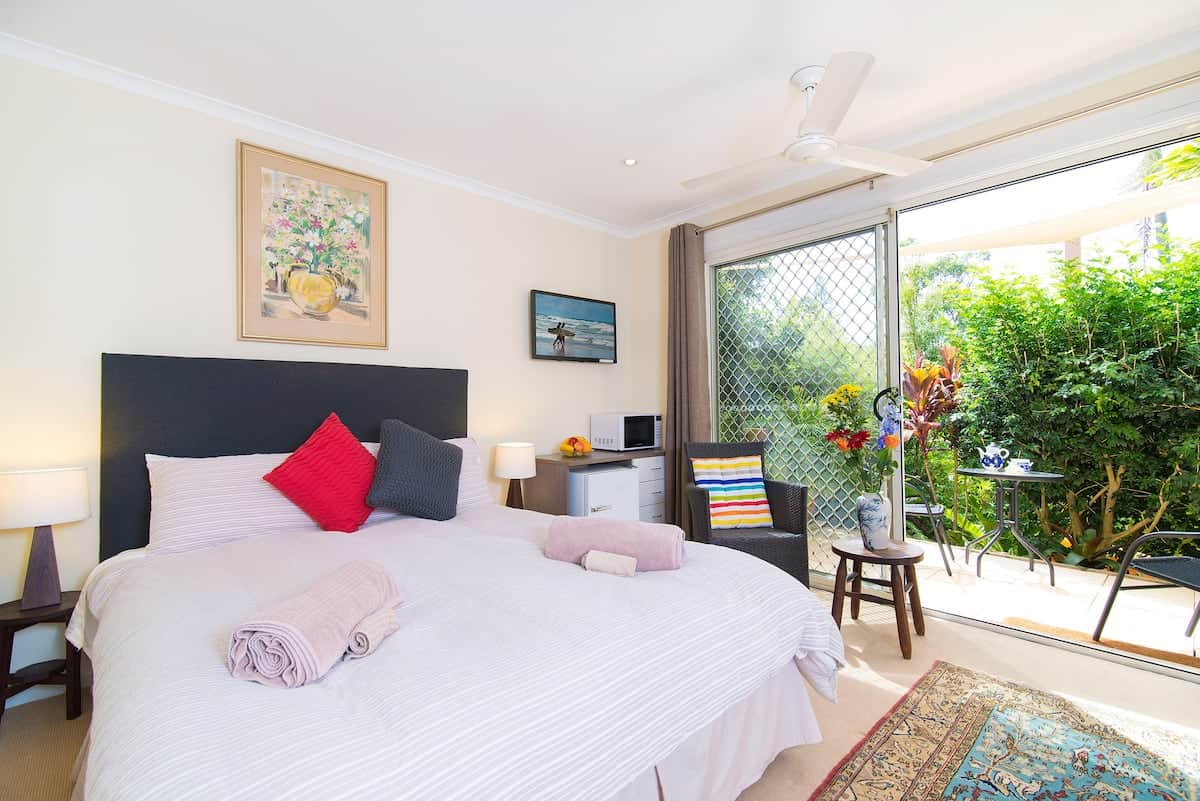 This studio also has a secluded sunny patio where you can chill while reading your favorite book in the subtropical rainforest garden. And if you ever want to explore the surroundings, you can use the bicycles provided for free.
One reviewer said: Great space, perfect for a quick getaway. Nice distance away from town if you make use of the free bikes. Don is a super lovely host and has added lots of thoughtful touches throughout. Very happy with our stay.
East Coast Escapes – Studio 105
Guests: 2
Bedroom: 1
Studio 105 is a newly remodeled guest house in Byron perfect for two people. It is perfectly located near the cafes, shopping, bars, and beaches. Inside the studio, it has a comfortable queen size bed, open plan bathroom, TV and foxtel, an outside deck area for relaxation, and a lot more.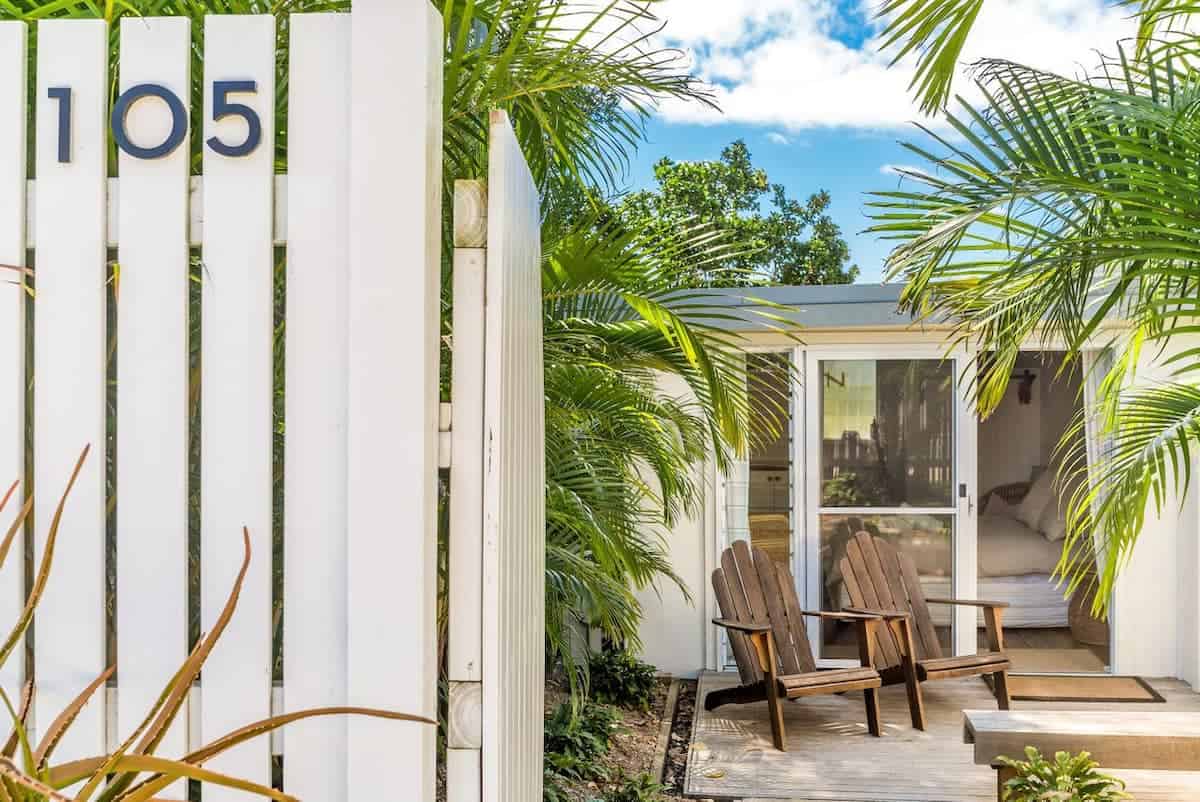 This is a great spot for couples who are looking for a romantic getaway in Byron.
One reviewer said: Great spot for couples – we stayed for a long weekend and it was the perfect amount of space for us. Close to town and also within running/walking distance of the lighthouse.
Motu Fare
Guests: 2
Bedroom: 1
If you are looking for a tropical Bali-inspired accommodation in Byron, this charming and secluded garden villa is perfect for you. This villa is a very peaceful and private place that's very close to Arakwal National Park, Tallows Beach, and center of Byron Bay.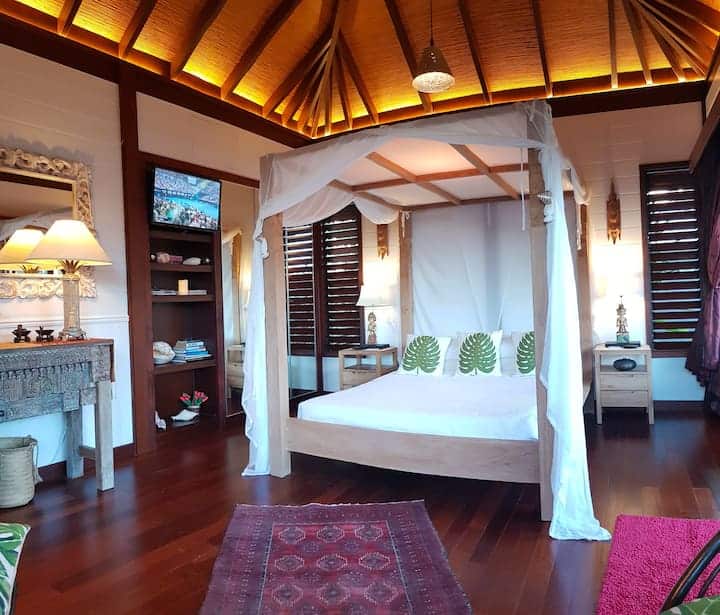 The villa is exclusively yours and it is separated from the main house and it overlooks the gardens and Honeysuckle Hill. And the space can be enjoyed not only by couples but also by solo travelers.
One reviewer said: A back garden converted into Bali- a Bali villa set amoungst high vine covered fences and big Balinese doors for absolute privacy. A beautiful firm four poster bed with mosquito nets so all the doors can be left open. Beautiful furnishings and decor. Bear in mind the kitchen is tiny with a small bench and no microwave so no cooking at home. We brought bikes so the center of town was a quick ride and the local beach was only a short stroll away – a perfect location and so quiet and soulful. Highly recommend the feeling of getting away from it all and yet so close to everything
Chill Out Naturally in Treetops Hideaway Overlooking Byron
Guests: 2
Bedroom: 1
This award-winning architecturally designed home offers peaceful luxury living near Byron. No wonder this is a favorite among tourists and locals alike because of its amazingly tranquil setting with a view right down to the sea.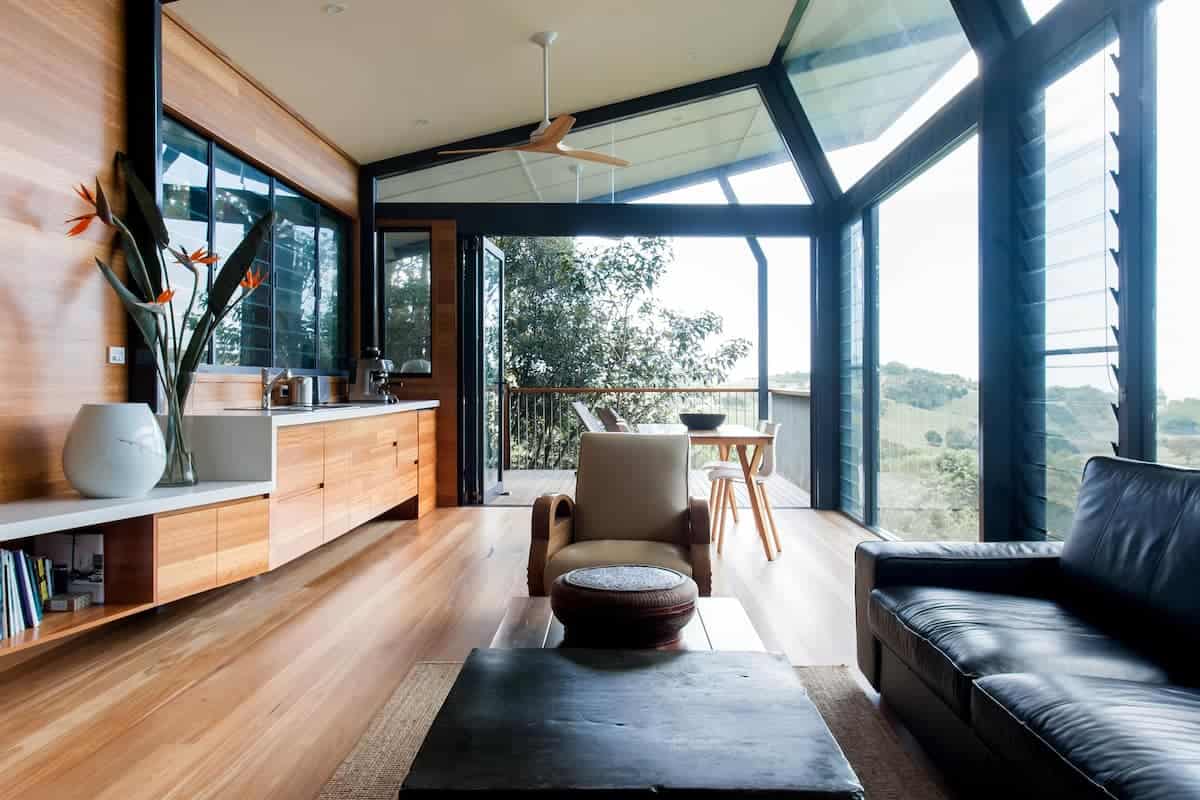 It is also a very comfortable place to stay with everything you need such as a full kitchen, washing machine, AC, wifi, tv, bathroom essentials, and more. You'll surely want to go back to this place and experience tranquil and luxury living again.
One reviewer said: This is the place to stay while in Byron Bay! We had a wonderful stay at the treehouse and would highly recommend this amazing place. Byron can get noisy at night and is always busy with people , the Treehouse is a sanctuary with a beautiful outlook to the ocean and a garden full of birds . Stephen is a host with the most and provides everything from top shelf toiletries, bed linen & towels, to welcoming drinks and nibbles. We will enjoy staying here again.
Pineapple Cottage Byron Bay
Guests: 4
Bedroom: 2
This fabulous Pineapple Cottage is a perfect family getaway or for 2 couples who want to have some romantic time together.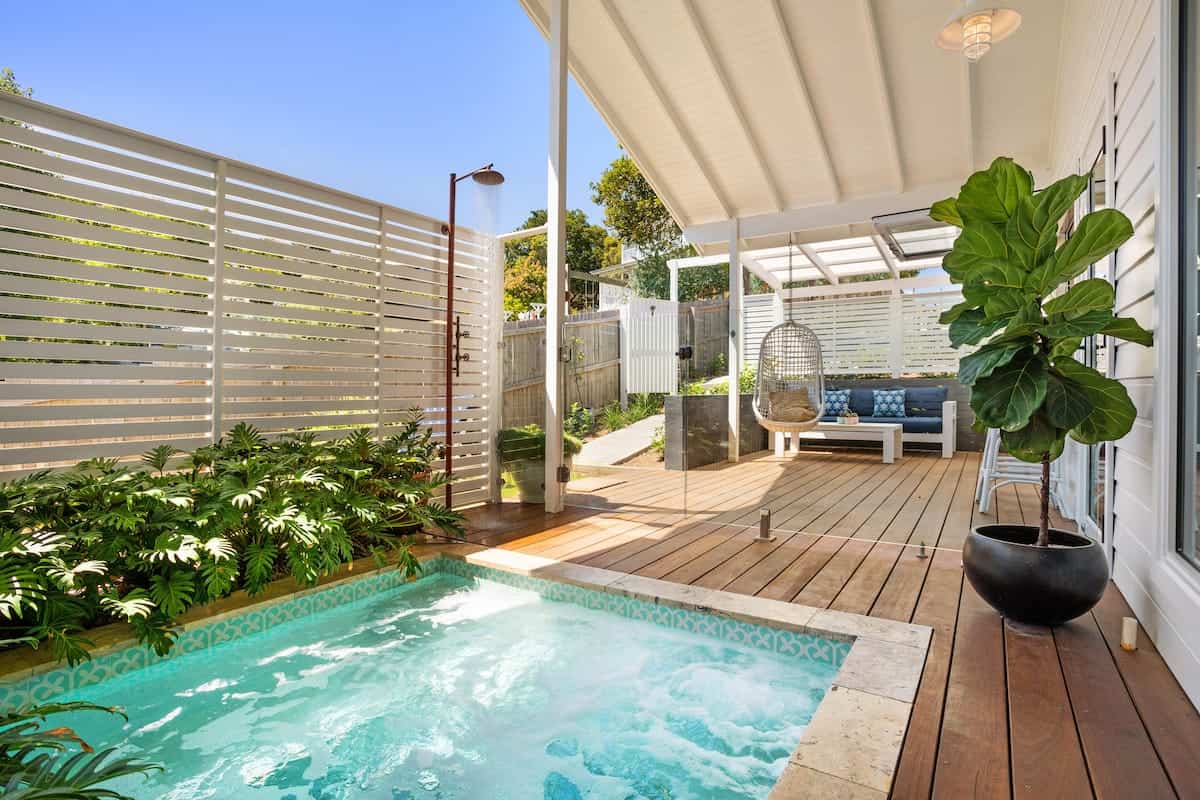 It is complete with almost everything that you need for a perfect vacation plus it is conveniently close to all the local coffee shops. It's fully equipped with two bedrooms and of course a swimming pool that you can exclusively use.
One reviewer said: Such a beautiful and clean space that was perfect for our week away. Amazing location, we could walk everywhere that we needed to go and plenty of safe space for parking. The pool was just the right touch, we really enjoyed our stay at the pineapple cottage and will be returning for our next trip!
Bento Box on Belongil Beach
Guests: 2
Bedroom: 1
This very cute space is a converted 20 foot shipping container that has been made comfortable, cosy, and full of essentials. It has its own AC and fan, TV, wifi, private bathroom, coffee machine, microwave, kitchen essentials, private BBQ, fridge, and an outside sitting area.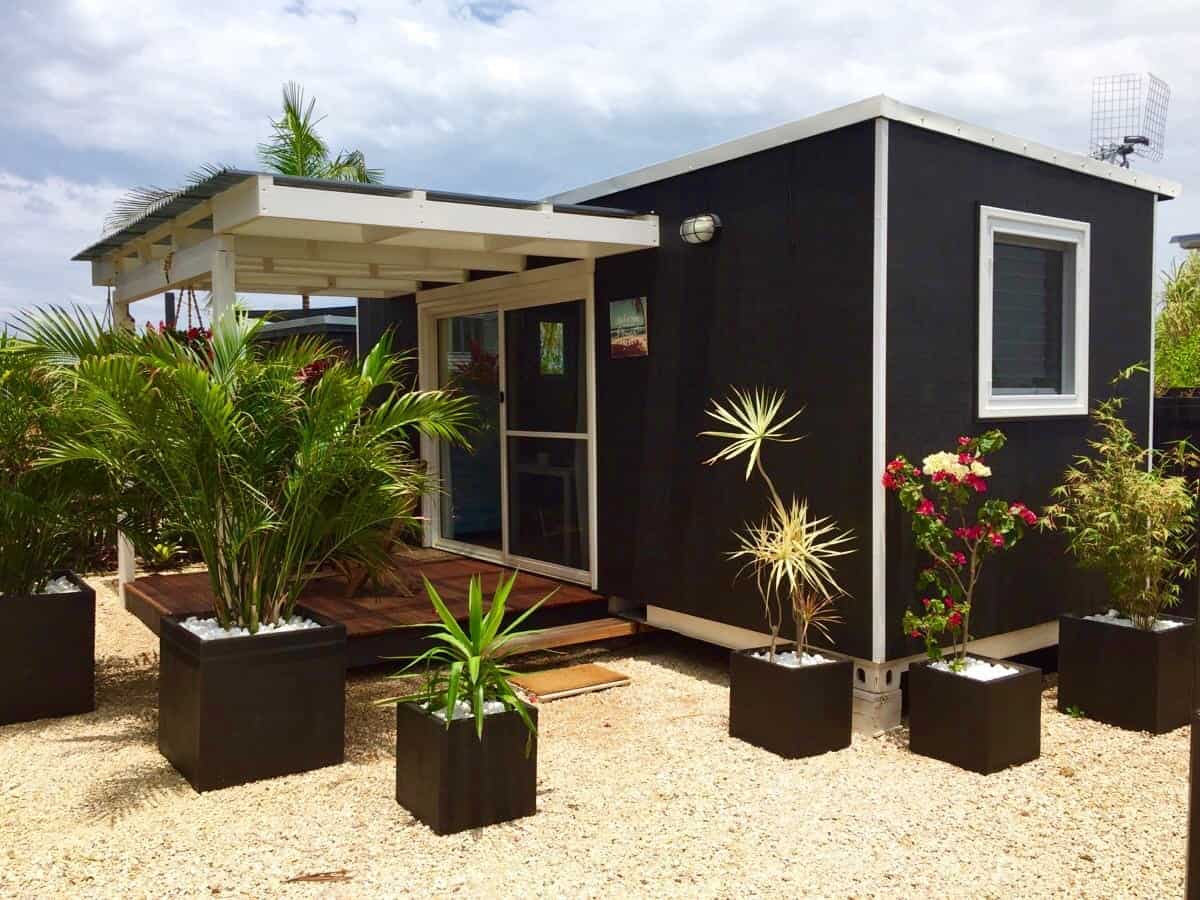 If you want to skip the usual hotel accommodation and experience living in a shipping container, look no further because this is perfect for you.
One reviewer said: Seriously the best place to stay in Byron. We love our week in the bento box. 5 min cycle to town with bikes provided or an easy walk. And the beach is across the road. 2 great vibe cafes just down the road too. The accommodation is totally suitable for cooking for yourself and even has a blender and bbq.
The Gardener's Cottage
Guests: 2
Bedroom: 1
The Gardener's Cottage is a private, fully self-contained one bedroom cottage that comes with an ensuite bathroom, full kitchen, open plan living area, and dining space. The house is kept comfortable year-round with ceiling fan and reverse cycle AC and warmed up during cold months with gas heating. You can also make use of all the areas of the garden and pool.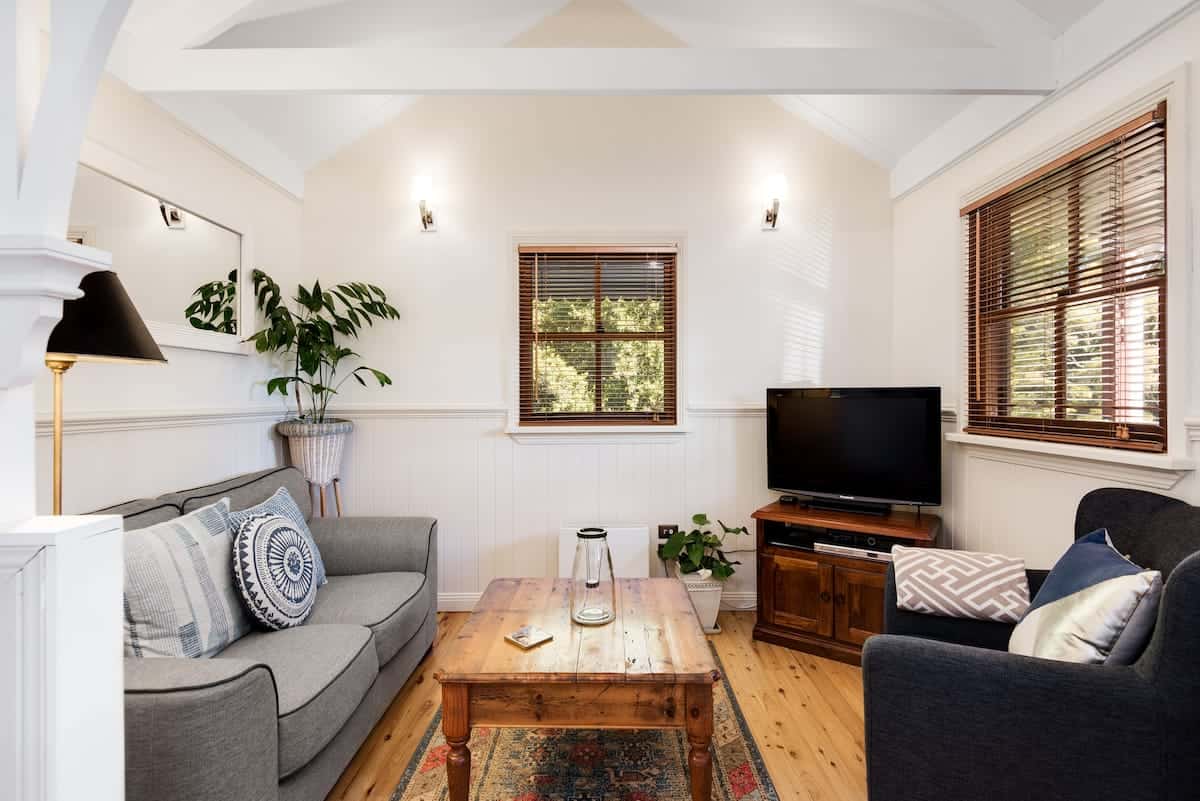 Cafes, restaurants, pubs, and specialty stores are just a 5-minute stroll from the place so it's very convenient.
One reviewer said: I had the most lovely three days staying at the Gardeners cottage. It was spotless and had everything you would need. Fantastic location, just a short stroll away from the town of bungalow, where you can find great restaurants and shopping. I will definitely stay here again. Ellen was a fabulous host !
Sharing is Caring! Pin this article to save for later.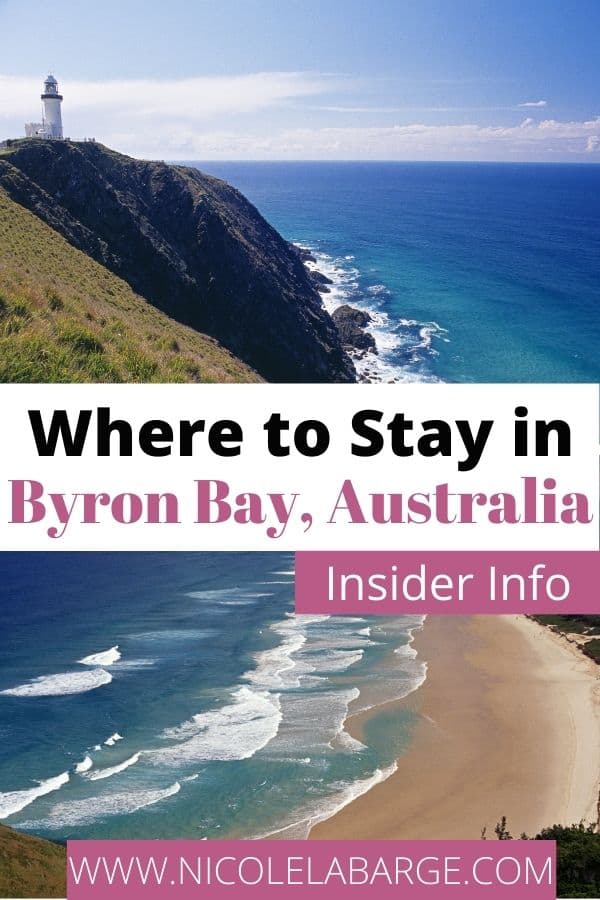 Recent Posts