Best Airbnbs in Portugal – covering all the popular destinations in Portugal
Portugal Airbnb: Are you looking for the best Airbnbs in Portugal? Well, as I was researching moving to Portugal I found tons of unique places to stay in Portugal.
These Airbnbs in Portugal are great value for money. Portugal does dreamy and romantic well.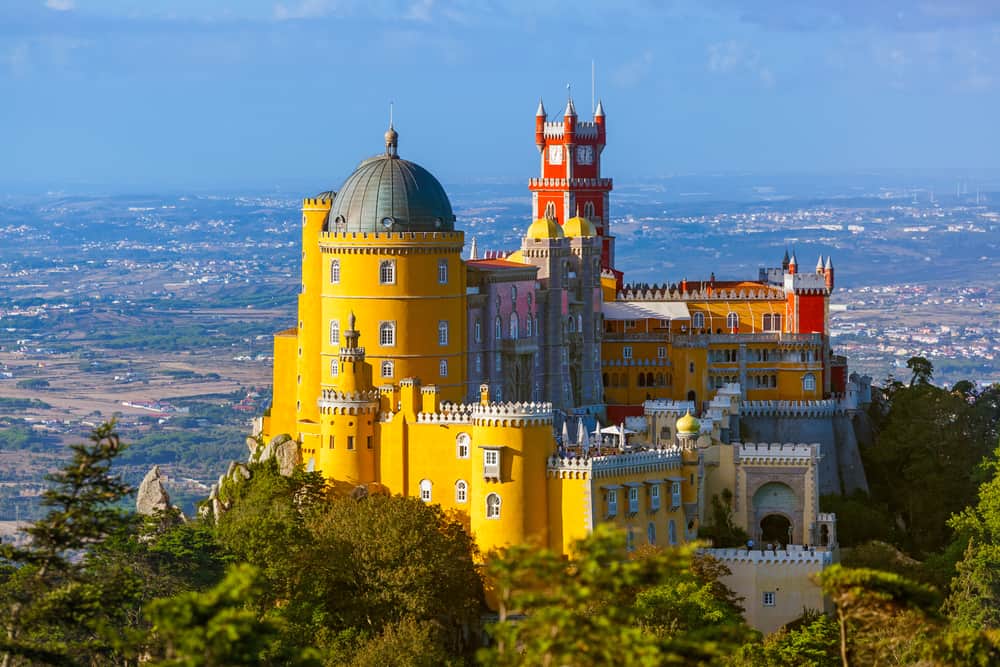 This list of Airbnbs in Portugal covers all of the popular destinations from Lisbon to the Algarve to the Silver Coast and a few hidden gems along the way.
Disclaimer: This post may contain affiliate links so if you make a purchase through one of the links we might earn a small commission ( it's at no extra cost to you)
Quick Overview of the Best Portugal Airbnb's
The Best Overall Portugal Airbnb – Warmly Decorated Loft with an Ocean View
The Best Luxury Portugal Airbnb – Beach View Luxury Villa
The Best Cheap Portugal Airbnb – Stylish Home Studio in an Artsy Area
The Best Portugal Airbnb in Lisbon – Rooftop Terrace and Views in a Bourgeois Apartment
The Best Portugal Beach Airbnb – Ocean Retreat near Arrifana beach
15 Best Airbnbs in Portugal
Your Home in Bairro Alto
Guests: 2
Bedroom: 1
This tiny and cute apartment in Lisbon is located on the second and top floor of a small 19th century building. It has been revamped to make it feel even more comfortable and at home. It has its own AC and heater, reliable internet, and books for reading.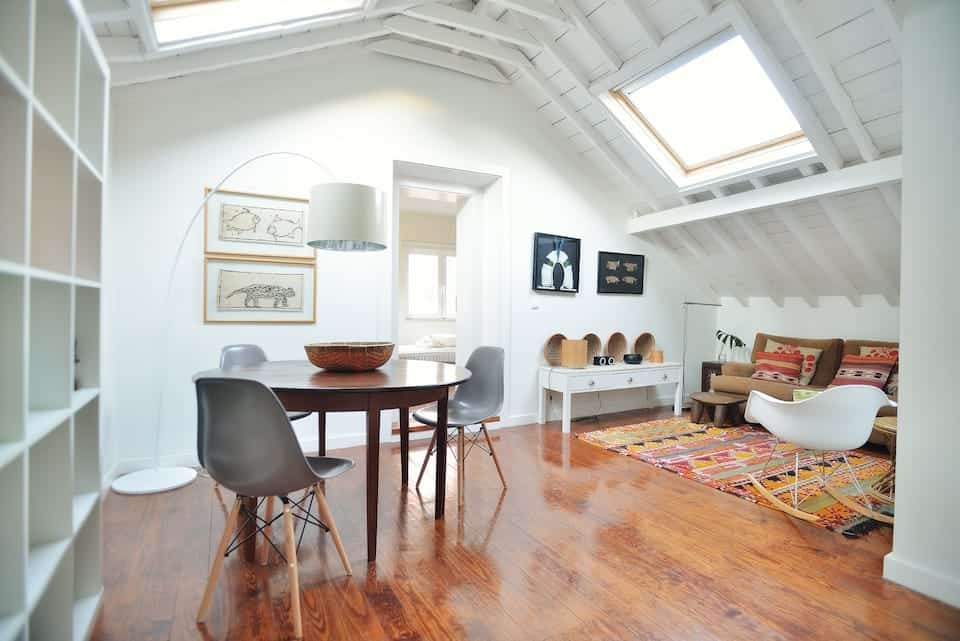 The host has also provided pure cotton/linen bedding and towels and bathroom essentials. You don't have to worry about bringing so much stuff because this airbnb has got you covered.
Chiado Loft 10
Guests: 3
Bedroom: 1
This one bedroom loft apartment is located between Chiado and Bairro Alto that both offers a relaxing and laid back atmosphere. It consists of a very comfortable bedroom with a clothes rack on a corner, a small living room with a dining area good for two people, a small kitchenette, fridge, and more.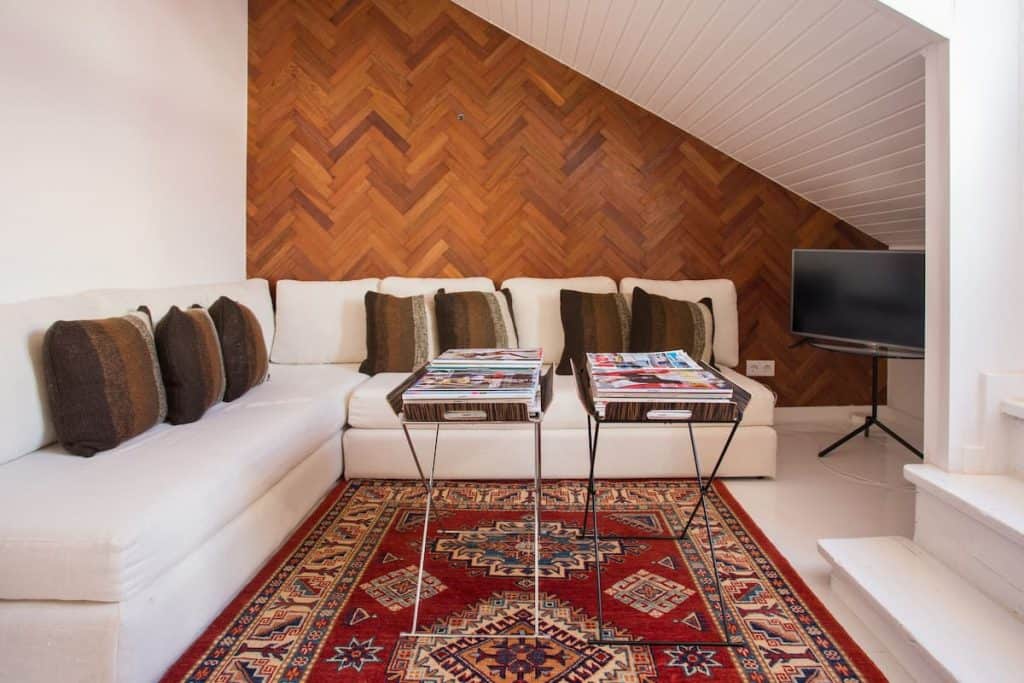 There are also two small balconies that can be accessed through the living room and bedroom. The entire apartment has central heating that works 24 hours a day and air conditioning during summer.
Casa Bom Porto Beachfront Villa Praia da Luz Lagos
Guests: 6
Bedroom: 3
If you want to stay next to the beachfront, this Casa Bom Porto Villa is perfect for you. This is a very unique villa that has its own heated swimming pool, BBQ area, and garage. But the villa also offers a separate kitchen and BBQ area and a different garden area to sunbathe and just enjoy the moment.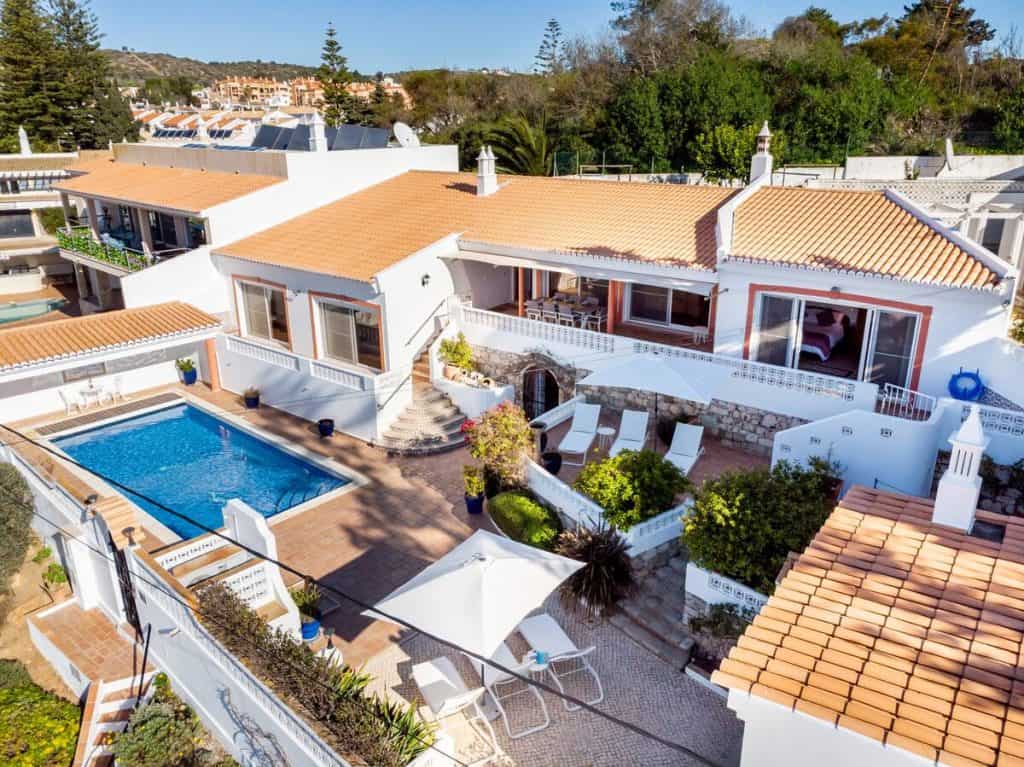 The main highlight of this villa is just outside its terrace, you'll be able to see the gorgeous views of the beach and Luz village. And you have the exclusive access to the entire villa too!
Apartment with Sea View
Guests: 6
Bedroom: 2
This beach house/apartment is perfect for families or even for those who need a modern and comfortable apartment to chill at. It is located on the top cliff with private access to one of the top beaches in the world.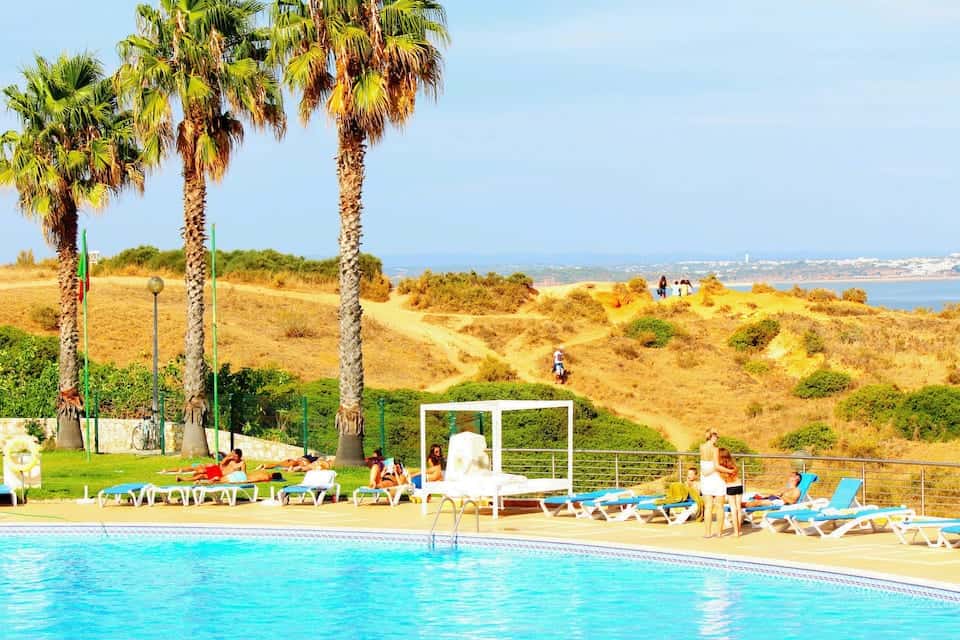 This apartment features a kitchen, reliable wifi, AC, TV, bath essentials, and more. And if you want to escape from the bustling city life, this apartment is also available for long stays.
Villa with Big Private Pool
Guests: 8
Bedroom: 3
This very spacious and well equipped villa is ready to accommodate a large number of guests with amenities that will blow your mind. Staying at this big villa will make you feel like you are a royalty with its elegant chandeliers, comfy furniture, big and private pool, and a game room for entertainment.
Every room offers epics views of the area and the space is inviting you to experience a tranquil environment. This is perfect for all types of big gatherings.
Ocean Retreat near Arrifana Beach
Guests: 6
Bedroom: 2
Just a 10 minute walk to Arrifana beach, this house offers amazing sea views, coziness, and fantastic location in Aljezur, Portugal. The house has two levels: the top floor is where the main living area is and the bottom floor is where the bedrooms are. There are also other areas in the house such as a private balcony, indoor/outdoor flow, a cosy mezzanine, a communal swimming pool, off-road parking, and a private patio.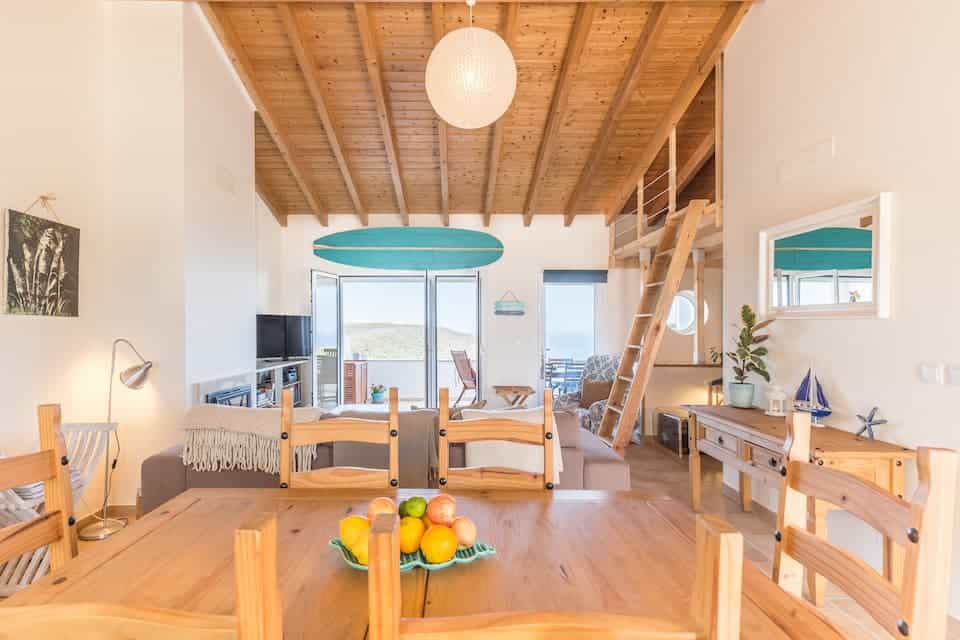 You'll absolutely love this gorgeous and well equipped house with close proximity to the beach and restaurants!
F- Casa de Lavoura in Quinta das Alagoas
Guests: 4
Bedroom: 1
The Quinta das Alagoas guesthouse has been revamped into a gorgeous traditional farmhouse that is perched in a countryside location but just 2 minutes away from the beach!
The apartment, which is named Casa de Lavoura, is situated on the ground floor with a mezzanine and it has a living room with a kitchenette, bathroom with a standing shower, and a bedroom. And just right in front of the apartment, there is a communal area with a covered dining area where you can chill and grill some BBQ.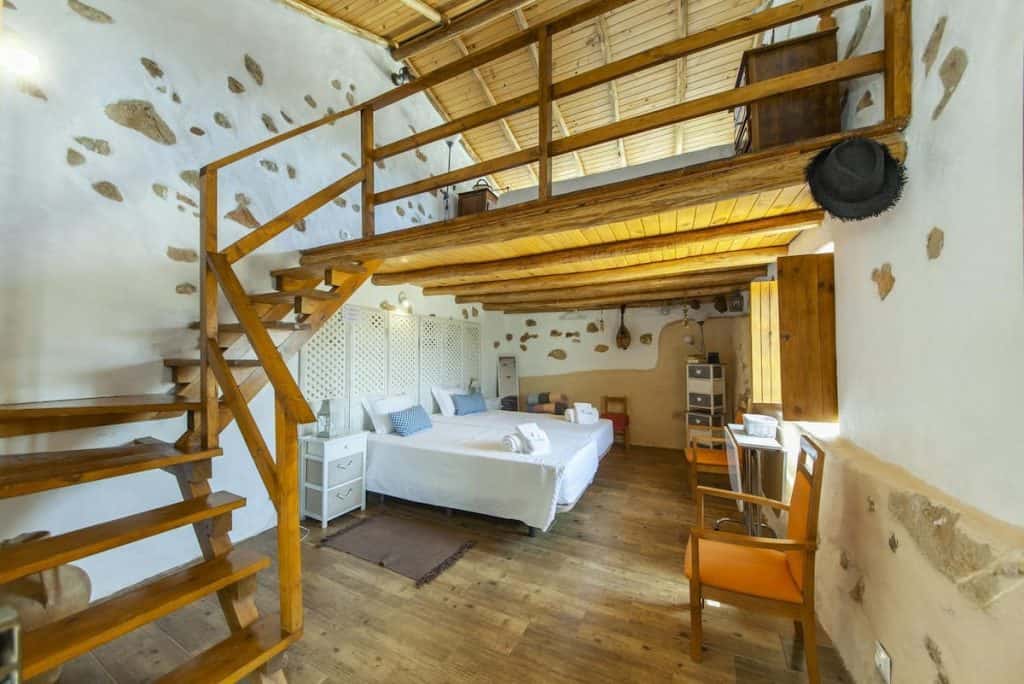 This is a perfect location for your next holiday trip with your friends and family and you'll be able to experience the Algarve climate and the tranquility of the countryside home.
Beach View Luxury Villa
Guests: 8
Bedroom: 4
This luxury villa features a large private outdoor swimming pool with loungers, jacuzzi, private terraces, and more. Upon entering this villa, you will be welcomed by breathtaking views of the sea through the full length sliding doors and the views get better once you make your way through the home. The bedrooms are tastefully designed and spacious enough to accommodate all guests. In fact, all are decorated in fresh neutral colors to give you that relaxing sight.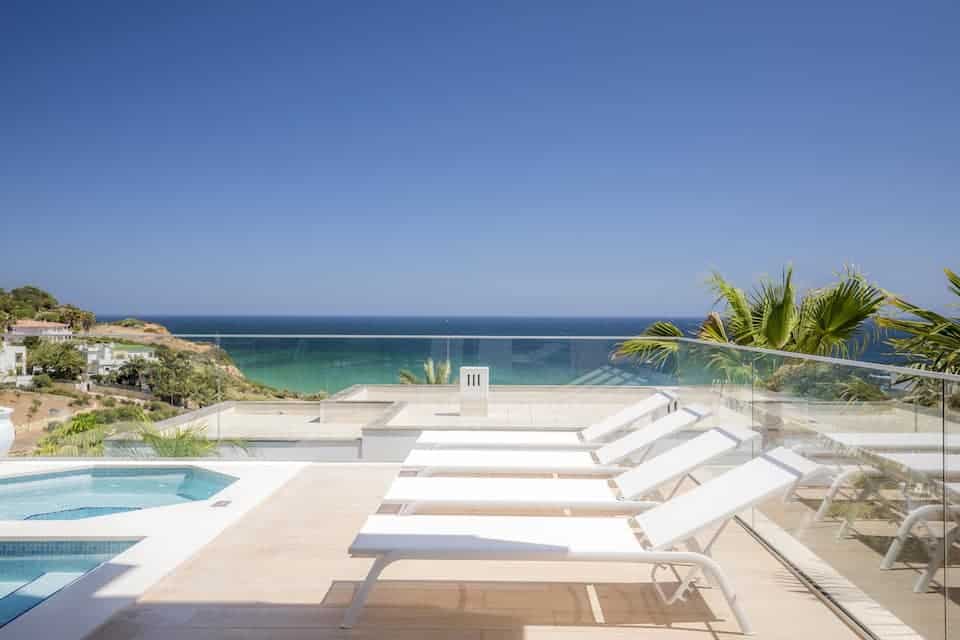 If you are looking for a place that is just a few minutes away from famous tourist attractions yet gives you the best privacy and relaxation you deserve, this is the place to be.
Rooftop Terrace and Views in a Bourgeois Apartment
Guests: 4
Bedroom: 2
Colorful rooms, eclectic furnishings, and original design – these are just some of the features that this refurbished apartment has it! It is located a few steps away from the iconic Tramway 28 and Rato Square where you can spot some cool shops, restaurants, green spaces, and romantic gardens.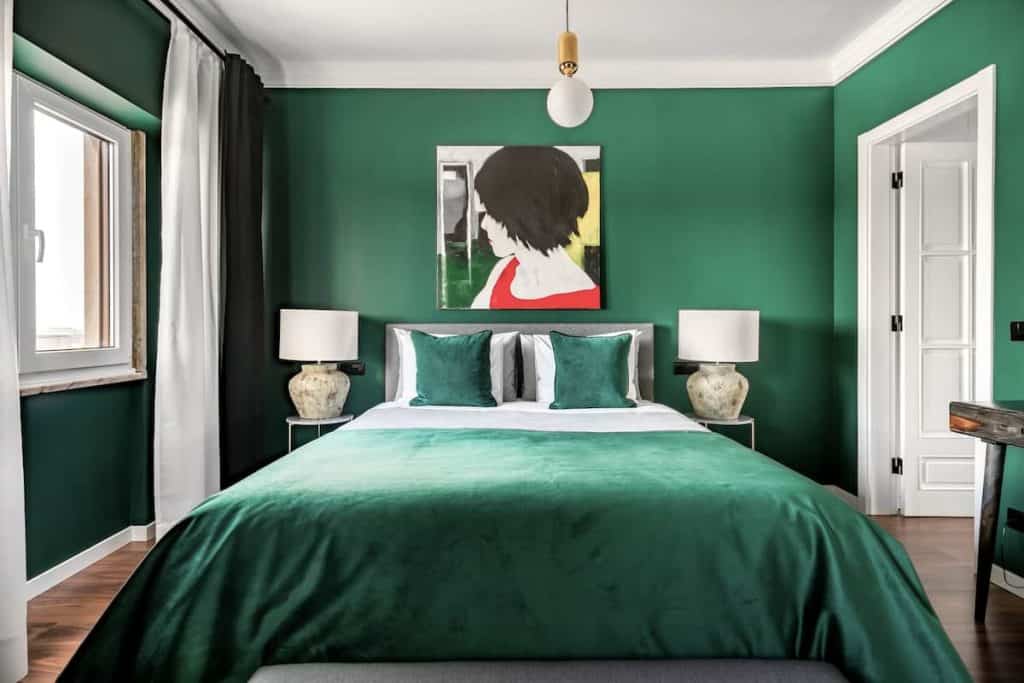 This apartment is spacious enough for 4 people and it has a total of 2 bedrooms which are both equipped with AC and black-out blinds. It also has a kitchen, open plan living room, TV, wifi, bathroom essentials, and more.
Stylish Home Studio in an Artsy Area
Guests: 2
Bedroom: 1
One of the most peaceful and stylish airbnbs that you can stay in Portugal is this home studio in an artsy area in Porto. From the balcony, you can bring your dose of caffeine to the bistro table as your look at the leafy neighborhood in Porto.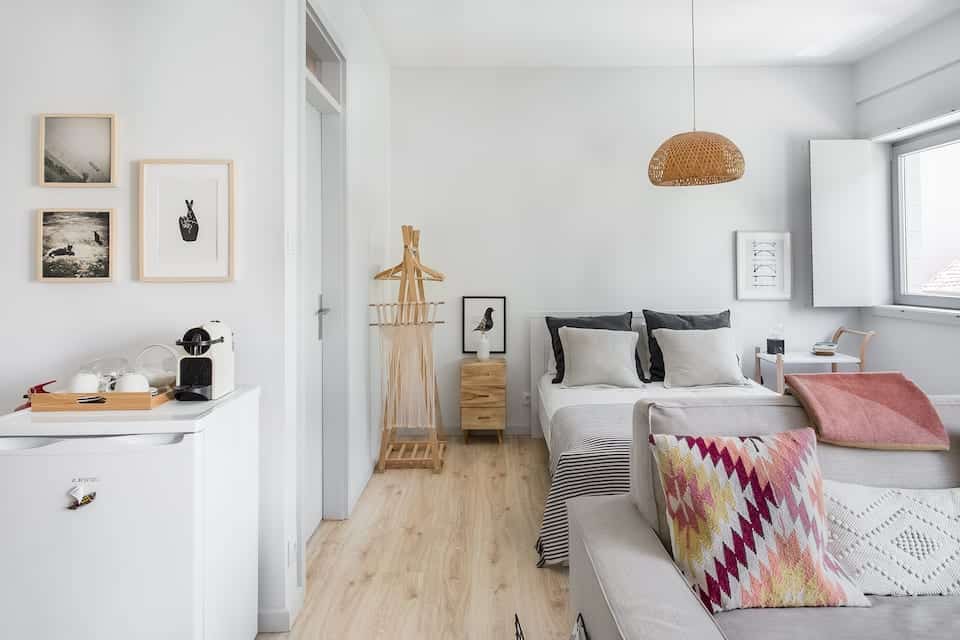 The view itself is very relaxing and it brings all the way to the indoors and minimalist furnishings of the home studio. The interior is full of natural light and with a touch of art. This is a perfect place if you wanna stay in a quieter and non-touristy part of the town yet still accessible to the metro.
Room with Private Bathroom and Rooftop Terrace
Guests: 2
Bedroom: 1
This private room is located at the Lisbon Terrace Suites Guesthouse in the Baixa area of central Lisbon. It has its own AC, full en-suite bathroom, fully equipped kitchen, dining area, and quality double-glazed windows for sound proofing. You can open the windows and enjoy the warm Lisbon weather while sipping your coffee from the terrace.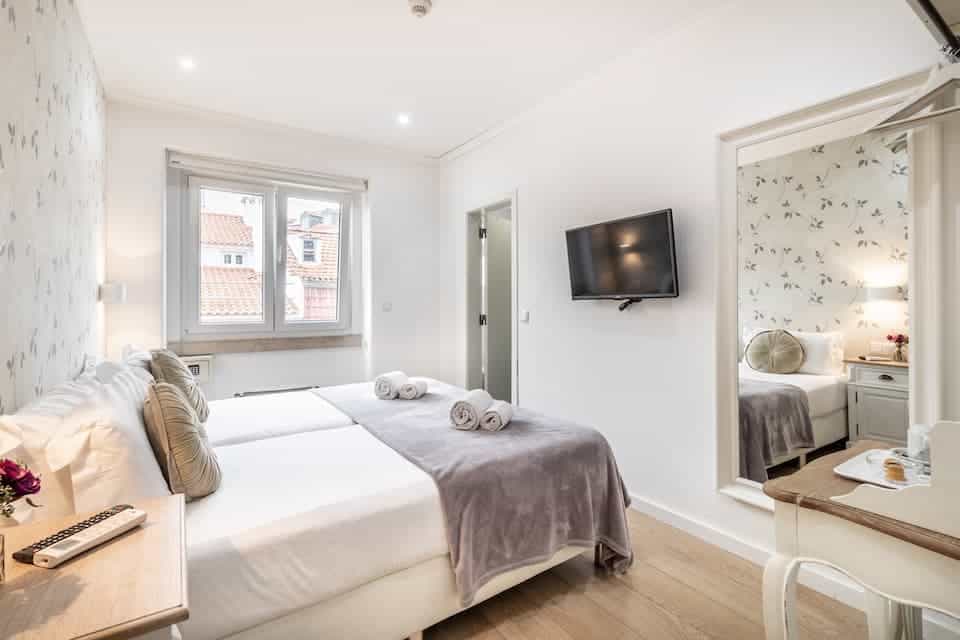 But what makes this suite even more special is that the building has a lift and all rooms have access to the spectacular 50m2 rooftop terrace that offers a panoramic view of the city.
Apartment with Best View in Lisbon
Guests: 4
Bedroom: 1
Situated in the typical neighborhood of Graca, this apartment has its own AC, high speed wifi, cable TV, kitchen, and more. You have access to the whole apartment and its facilities from the day of your arrival until check out.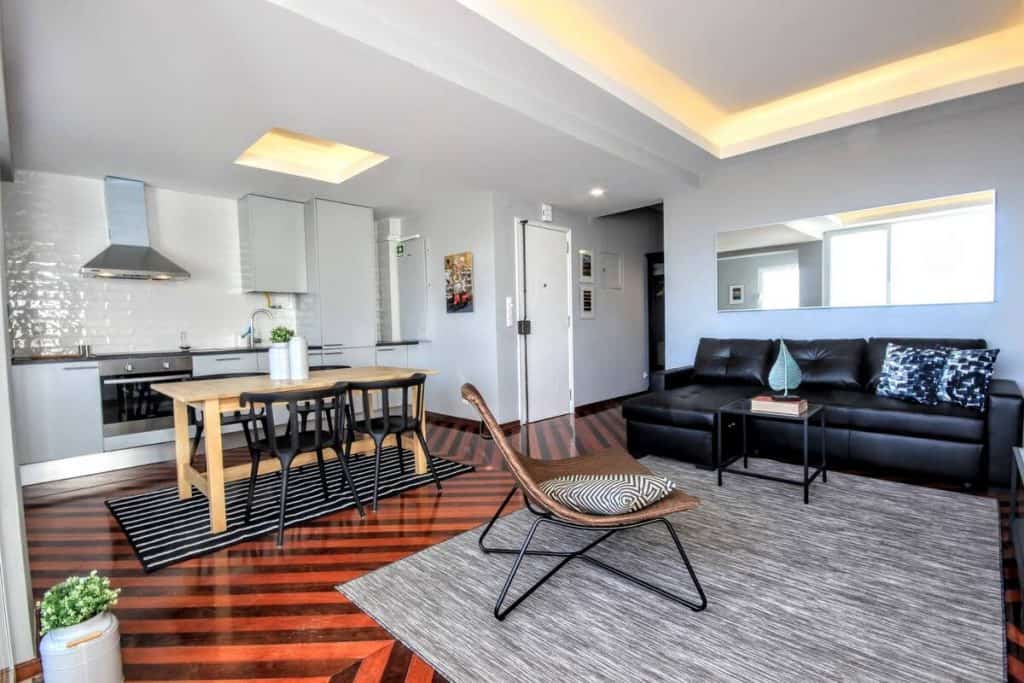 If you are looking for a place to stay at the end of the day exploring the beautiful Lisbon, this is a great apartment that overlooks the castle and river and it's very close to Lisbon Castle, Baixa, Se, Alfama, etc.
Warmly Decorated Loft with an Ocean View
Guests: 2
Bedroom: 1
You'll definitely admire the countryside and ocean from this luxurious and comfortable loft in Parede, Lisboa, Portugal. The interior is embellished with wooden floors, stone finishes, warm earth-stones, and high-end appliances.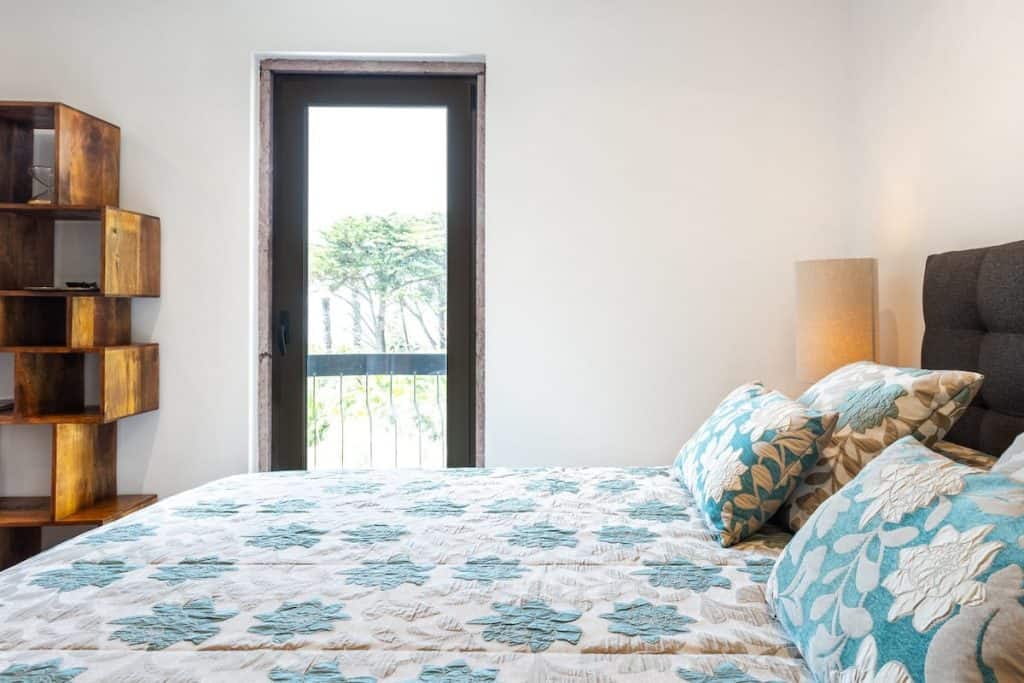 Aside from the great and luxurious amenities, the views outside the apartment window are what makes your stay worthwhile. Plus, the details throughout the space is just so special and impressive and the host is extremely supportive and will constantly keep in touch to make sure all your needs are met.
Superb Beach Pool House
Guests: 8
Bedroom: 4
This super pool house named Casa de Janas is a luxury villa that has its own private pool and can accommodate up to 8 adults. It's very huge that it can host parties or gatherings with your family or friends. Plus, it has easy access to the surrounding beaches and it is just 30 minutes away from the center of Lisbon.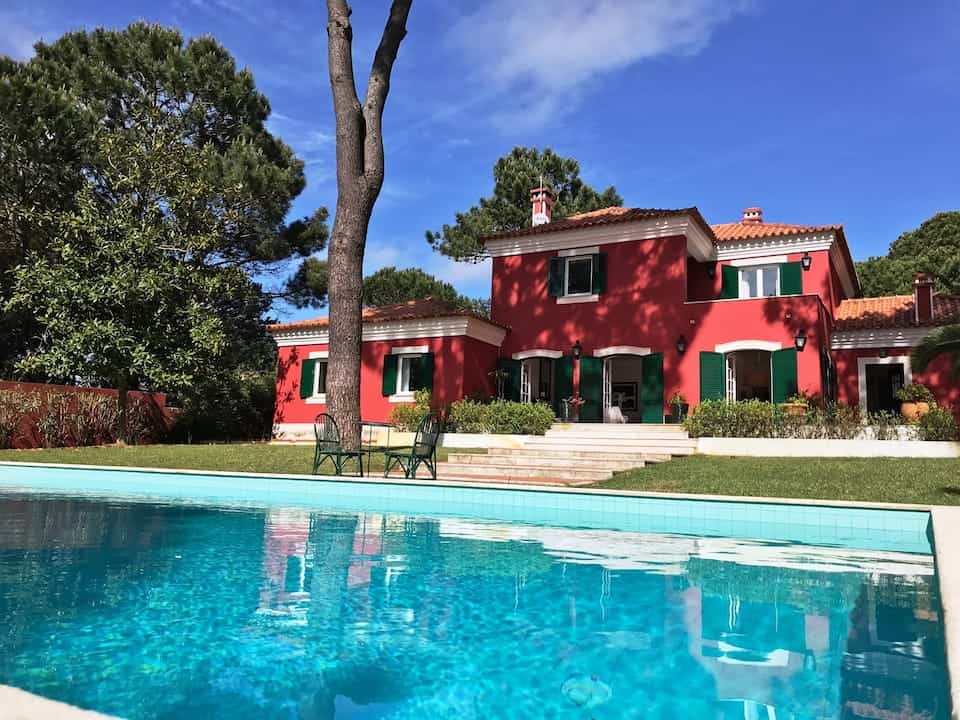 The house has a total of 4 bedrooms and each room has unique features such as a nice terrace with a great view over the swimming pool and the property garden. This is a perfect place that offers all the tranquility and privacy that you deserve.
Bela Vista Alqueve
Guests: 2
Bedroom: 1
This slate stone cottage has one of the best views of the mountain village of Alqueve. It has its own private pool with loungers, BBQ, and plenty of outdoor space to chill at. Upstairs in the cottage, you can find the living and kitchen area. The kitchen is fully equipped with cooking essentials, while the living area has a satellite TV and a DVD player. There is a spiral staircase that leads down to the one bedroom with an en suite bathroom.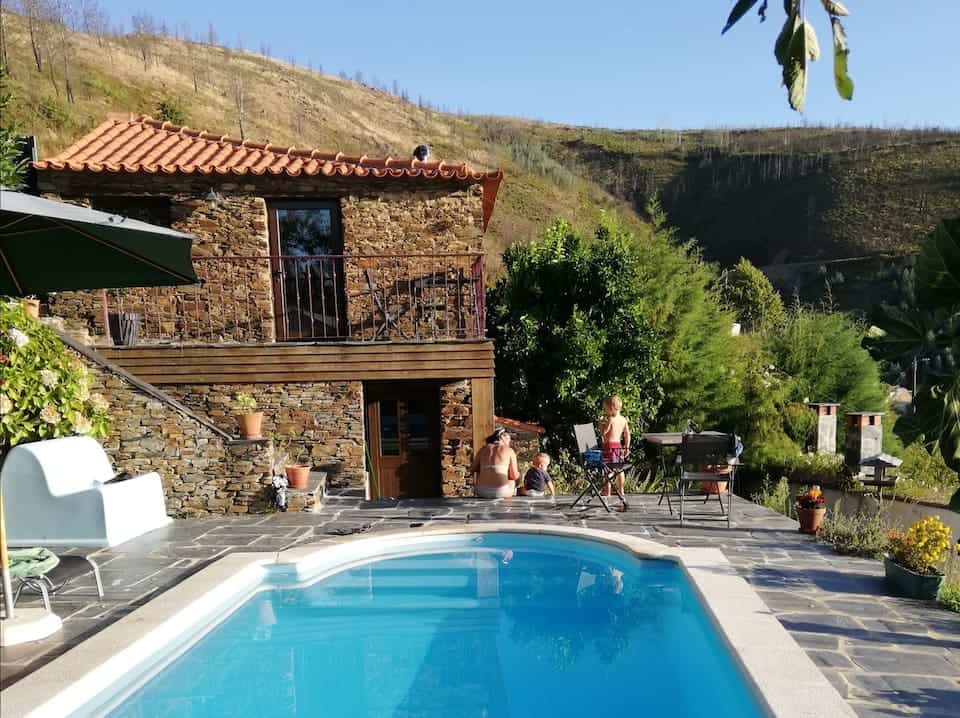 If you are looking for a romantic place that you can stay at with your significant other, this is a perfect airbnb for you.
Conclusion: Finding the Best Airbnb in Portugal for you!
I hope you have enjoyed this list of the Best Portugal Airbnb. Did you find the perfect Airbnb in Portugal for your stay? Let me know in the comments. I'd love to know where you stayed.
Sharing is Caring! Pin this article to save for later.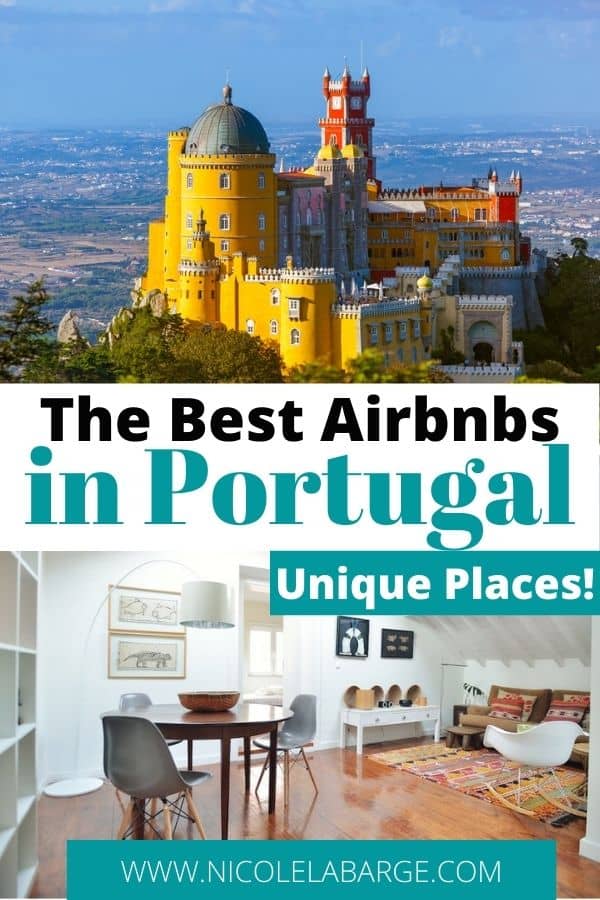 Recent Posts