Brunches Lisboa: Eating brunch in Lisbon is a very popular thing to do. Its something I do with friends almost daily and there are so many good brunch places in Lisbon. We really are spoiled for choice.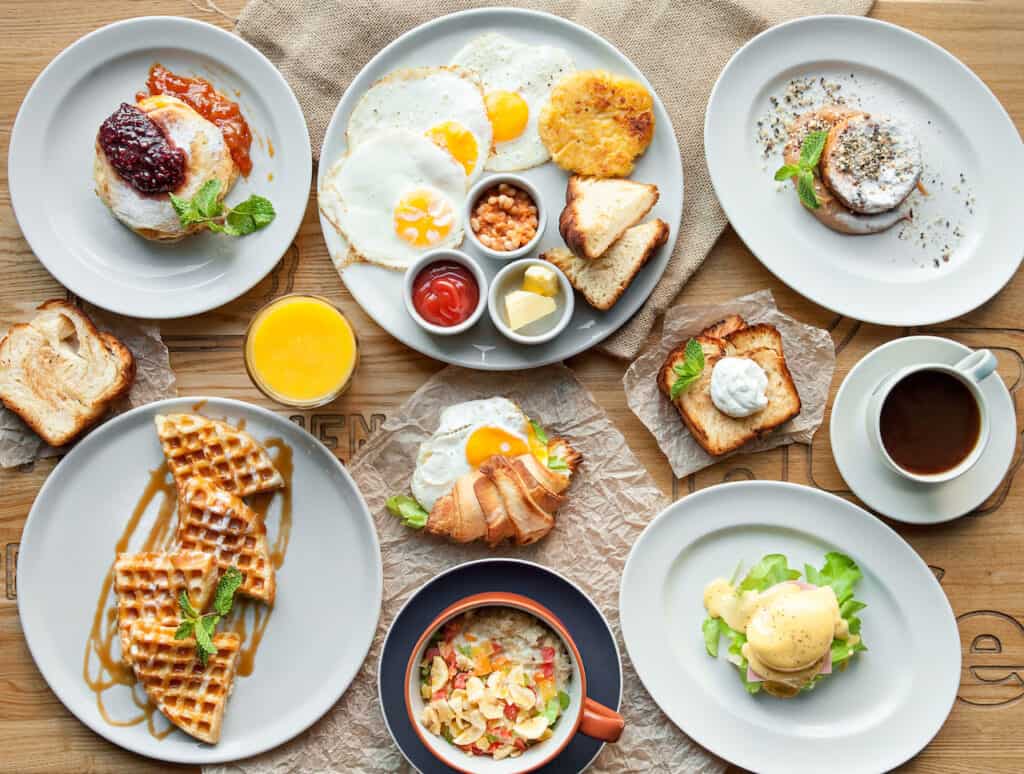 There was a lot of serious research I had to put together this list of the best brunches in Lisbon but it was completely worth it! You can start your day off right with any one of these best breakfast in Lisbon, Portugal.
31 Best Brunch Spots in Lisbon – You won't want to miss!
Seventh Brunch – Chiado
Seventh Brunch has all day brunch you won't want to miss. They have amazing toast and pancakes. I had the Twist which is sweet and salty. Eggs, bacon, granola and cheddar cheese. This was amazing!
My friend had the dolce de luce pancakes. Wow oh wow. This is like a dessert. Two pancakes with sweetened condensed milk and amazing granola. So good but its best to share.
The Mill
The Mill is a cross between an Australian and a Portuguese breakfast. This café is well known among Australians for its vegemite bread! Non-Aussies, on the other hand, are welcome to enjoy the fragrances of Mill's locally produced specialty coffee, toasts, nutritious bowls, and salty brunch dishes. The pricing is also reasonable.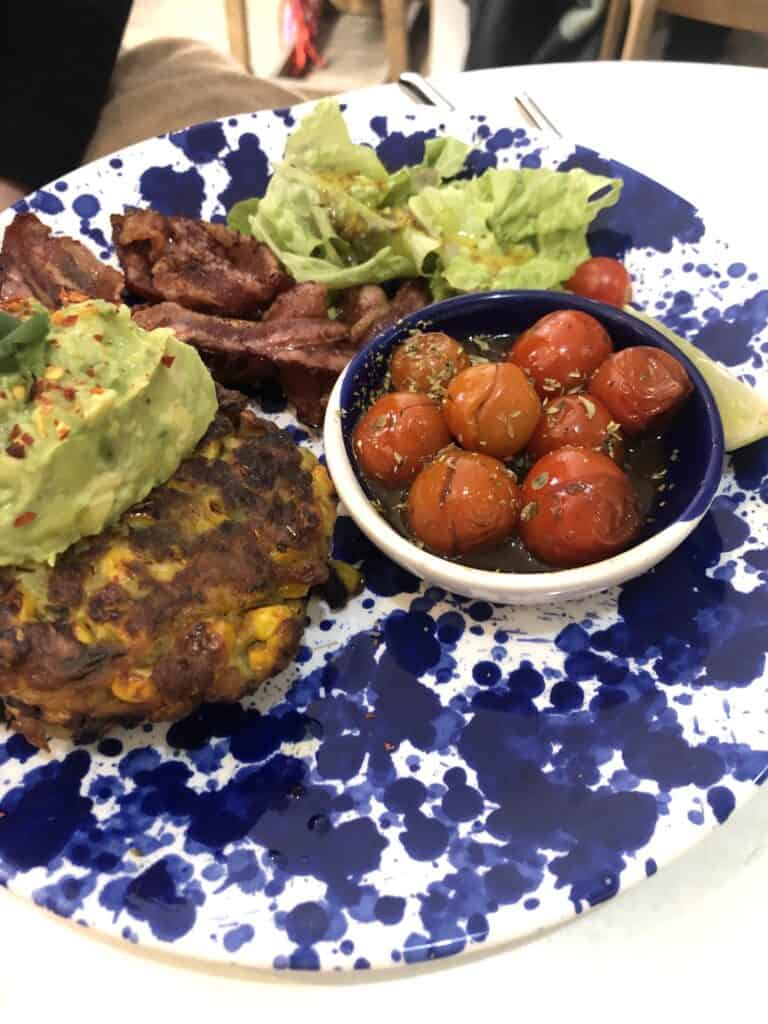 Brunch-goers are always crammed into the huge open-air window. It undoubtedly sticks out on the popular Rua do Poço dos Negros, which is served by the distinctive yellow Tram 28.
Sit, sip, and enjoy the ambiance on one of Lisbon's most charming streets!
Curva Graca
Curva was a great little find for brunch. This place is so chill and their menu is amazing. I also love the aesthetic vibe of this place.
I had the avocado, halloumi, mushroom toast and my friend had the pumpkin hummus toast with eggs and salad. Both were so delicious and affordable.
Their set brunches are really popular too but that's a bit too much food for me. Their juice of the day is also made fresh each day but sells out early!
Augusto Alfama
This is one of the top rated cafes in Lisbon and you can see why. With its instagrammable pink flooring and plants its a great place to stop and have a coffee.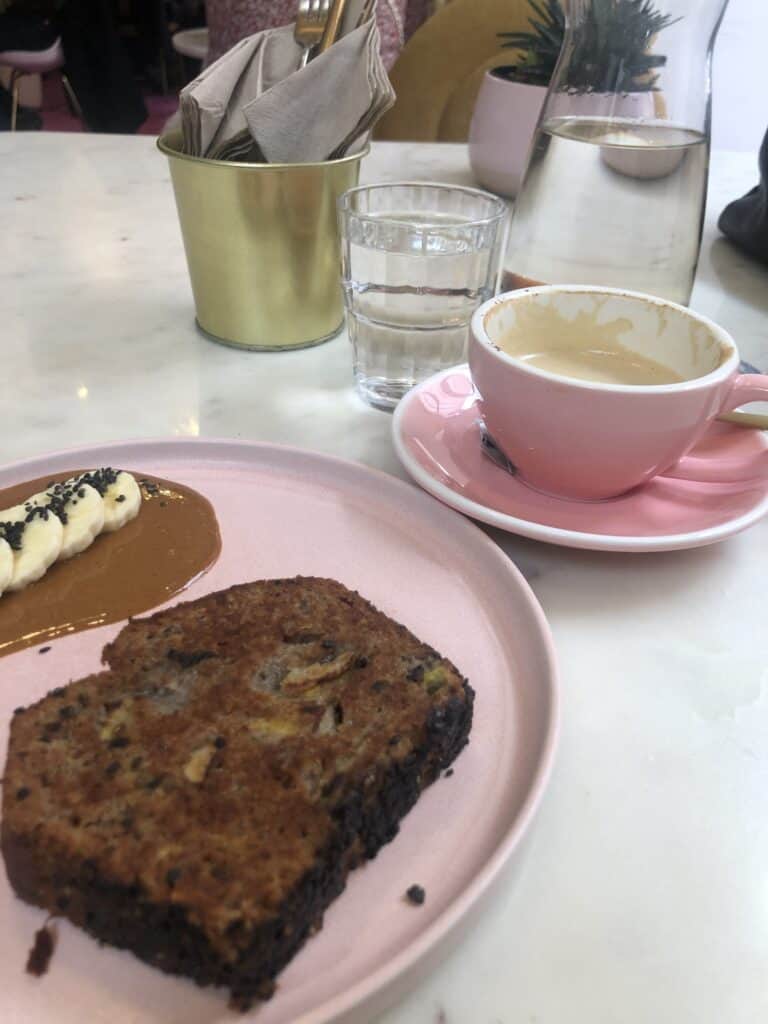 I stopped in for a cappuccino and banana bread with homemade peanut butter. I know avocado toast is a staple at most places but the avocado toast at Augusto is out of this world.
Fauna and Flora
The cuisine and atmosphere will exceed your expectations. Fauna & Flora serves some of the best homemade breakfast and brunch food in Lisbon. It's filling and healthy, with fresh ingredients assembled with care and aesthetics.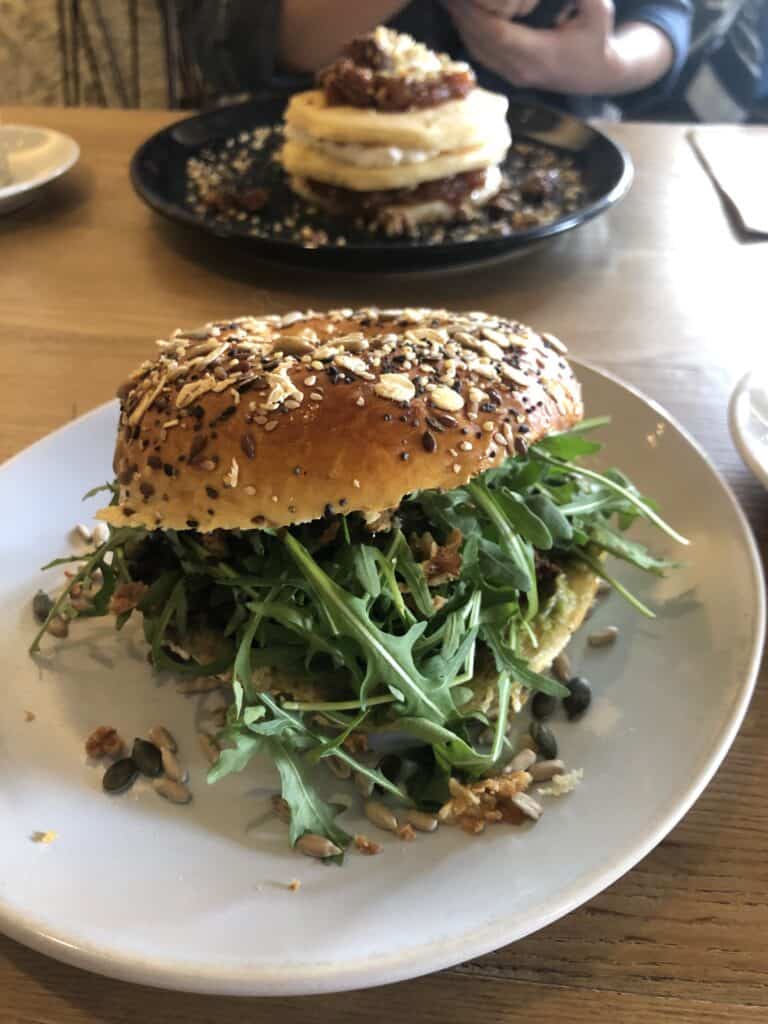 The Forest (vegan) option with sundried tomatoes, smoked tofu, confit cherry tomatoes, walnuts, sautéed spinach, and pink hummus with microgreens is the finest toast ever. You can also order the yellow, orange, and purple Flora Chips and delicious fresh juices.
Furthermore, with rustic furnishings and dozens of plants, the environment is friendly and inspiring. Arrive early, right before the crowds, because people will be lined up at the door and claiming tables on the sidewalk.
This cafe is a staple for me as it is so close to my house and so delicious.
Liberty Cafe and Wine Bar
Liberty is the new kid on the block and is located right next to Fauna and Flora in Santos. I absolutely love this place.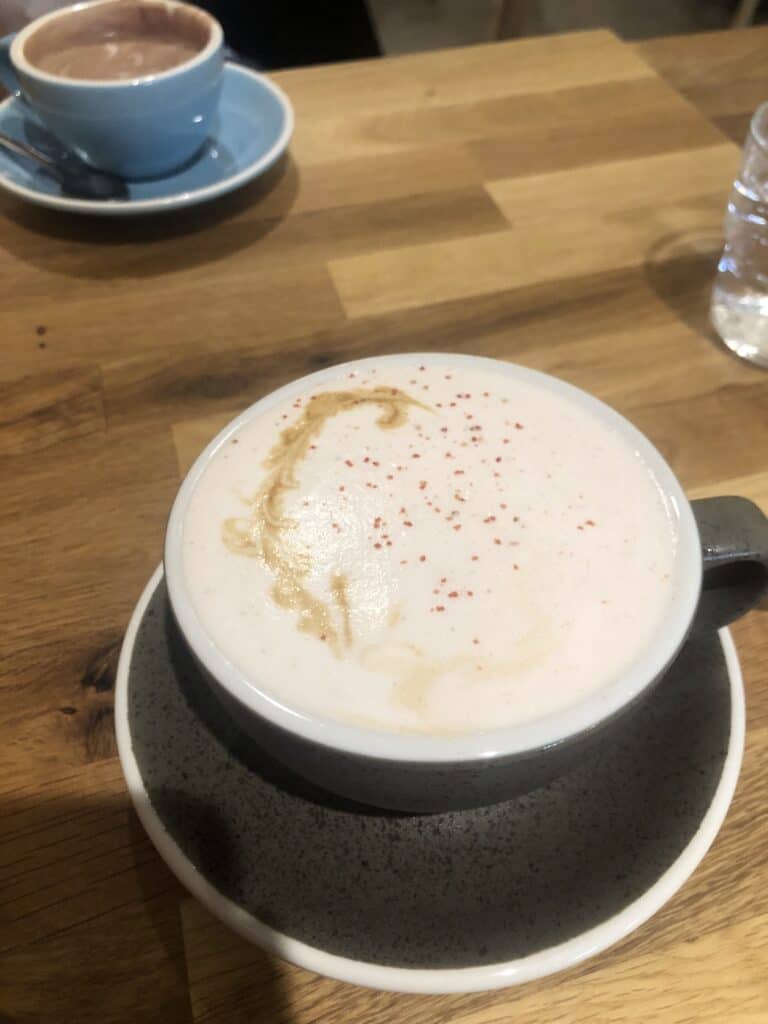 I've had the pancakes and the avocado toast which are both great but their coffee is absolutely divine.
They make specialty coffees that I highly recommend. These are the coffees I have tried there so far:
Chocolate Cappuccino – a cappuccino with a rich dark chocolate sauce (not sweet)
White Chocolate Latte – my favorite and a little sweet but with the tartness of the berries it's delicious
Lavender Latte – a classic latte with a hint of lavender
Pistachio Latte with raspberries – this was good but I didn't get a real taste or flavor of pistachio
Once summer hits this cafe will be staying open later and become more of a wine bar in the evening.
Heim Cafe
On a slow afternoon, Heim Café is a favorite among brunch-goers and digital nomads working away on their laptops. Hannah and Misha, the owners, are Ukrainian ex-pats in Lisbon who painstakingly restored the place by hand. During the day, you'll find them behind the bar, interacting with clients.
Heim Café breathed new life (and brunch) into a neighborhood that had previously been devoid of daytime activity. Weekend queues are unavoidable due to the popularity of the location. Don't give up, since their three brunch options are all great.
The green one includes avocado toast with tomato and salad, fried eggs, yogurt, and granola with fresh fruit and orange juice; the yellow one includes fried eggs, sausage, beans, toast with butter and jam, granola, and lemonade; and the red one includes scrambled eggs, bacon, avocado, salad, yogurt, orange juice, and a maple syrup-topped waffle.
Dear Breakfast
Dear Breakfast is a popular brunch destination in Lisbon for both locals and tourists!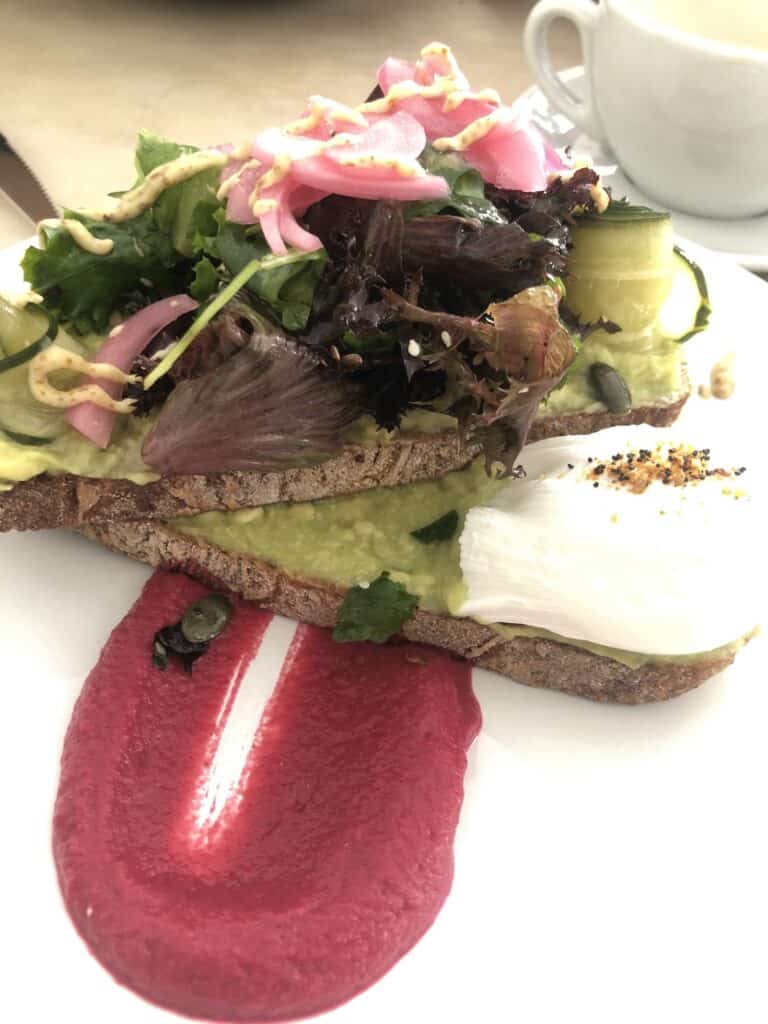 Everything about it radiates positive vibes, from its cave-like setting with white-washed walls and comfortable lighting to its pleasant and attentive service to its superb breakfast and brunch platters.
You'll have a delicious meal here that won't feel rushed or too loud (as some other brunch spots in Lisbon can).
Despite its popularity, the staff will take care of you and allow you to enjoy your leisurely Sunday morning without having to rush in and out.
Dear Breakfast is a fantastic brunch spot in Lisbon! There are three locations, one in each of the neighborhoods of Bica, Chiado, and Alfama.
Seagull Method
The Seagull Method is a charming brunch café in a pleasant nook in one of Lisbon's charming neighborhoods.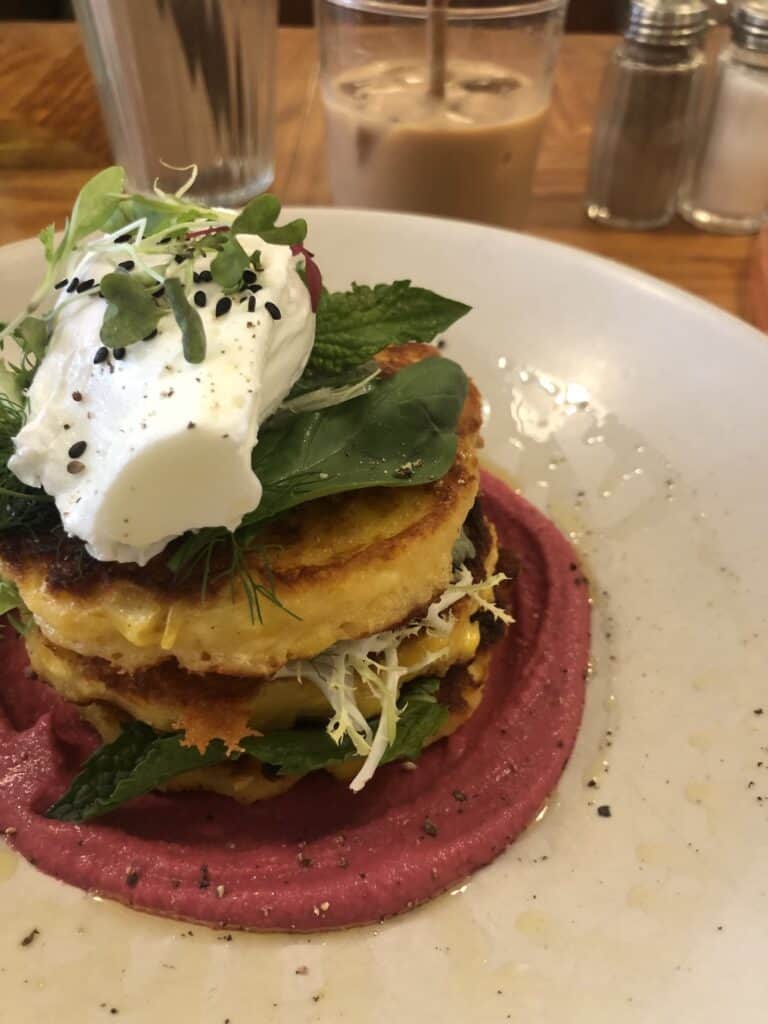 Crowds will begin to arrive even before 10 a.m. to get a seat. On weekends, your food will be accompanied by a complimentary glass of house champagne!
Try the well-cooked avocado toast, monkfish, and polenta at this cafe. Most customers recommend French toast, syrniki, and croissants. Order a delicious cappuccino, tea, or latte from this establishment.
Due to its convenient location, this location is easy to find. The knowledgeable staff is what makes this place so amazing. Prices are said to be low here. You will undoubtedly like the pleasant environment and lovely decor.
Comoba
I love this area for brunch and Comoba is one of the best. Located near the Time Out Market, Comoba is a great place to meet people for brunch.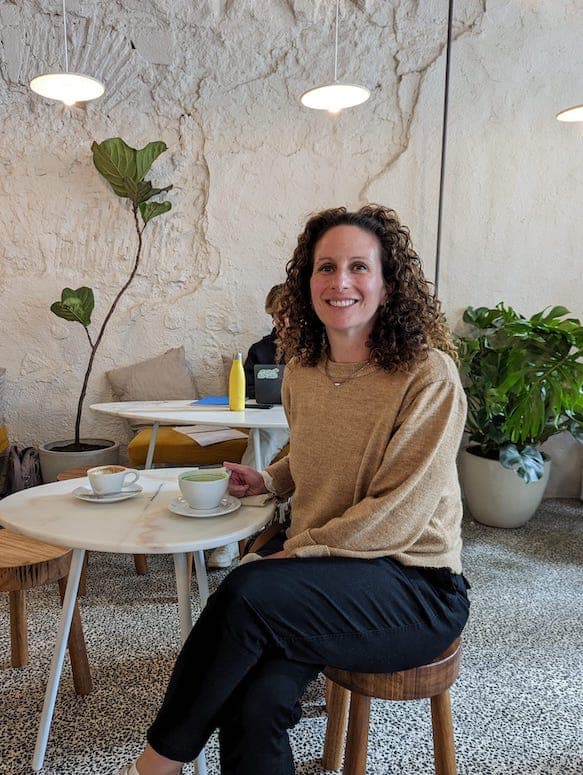 Comoba's philosophy is to use fresh produce to make the best dishes. They also have great coffee and matcha. They do not work with meat so most dishes are vegetarian and they also offer a great variety of vegan dishes.
Bowls and Bar
The bowl trend has arrived in Lisbon in full force, and So Bento's newest location serves as its flagship, with a menu of bowls brimming with healthful, colorful, and photogenic food.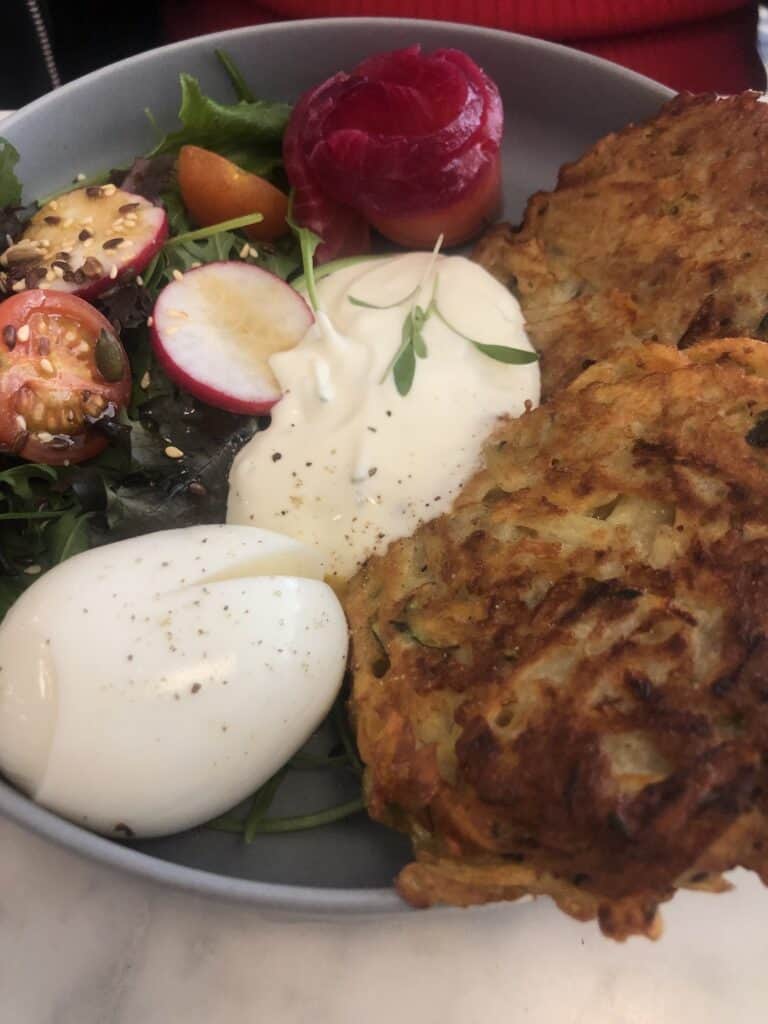 The brunch is do-it-yourself (DIY), so you can include any dish from the menu, but here are some ideas for two: a smoothie bowl (€5), a rice and salmon bowl (€9), a steak sandwich with egg, cheese, and peppers (€7.60), a mango mimosa (€5), and lemonade of the day (€3).
They have great cakes as well if you want to pop in and grab a treat.
Frutaria Cafe
Frutaria Cafe, which is also a 4-minute walk from the Santa Justa Lift, is frequently mentioned as one of the top 10 locations to have brunch in Lisbon. It is ideal for mid-morning fuel-ups before or after visiting all of the top things to do in Lisbon.
Frutatia is undoubtedly one of the cheapest brunch restaurants in Lisbon, with most dishes, bowls, and toasts costing between €5 and €8.50.
Their extensive menu includes plenty of vegan, vegetarian, and gluten-free options.
Maria Limao
The lemonade cart came first, parked near the Senhora do Monte viewpoint. Then there was a charming little café in Graça, with an expanded menu centered on fresh local products—including, of course, lemonade—and a typical brunch.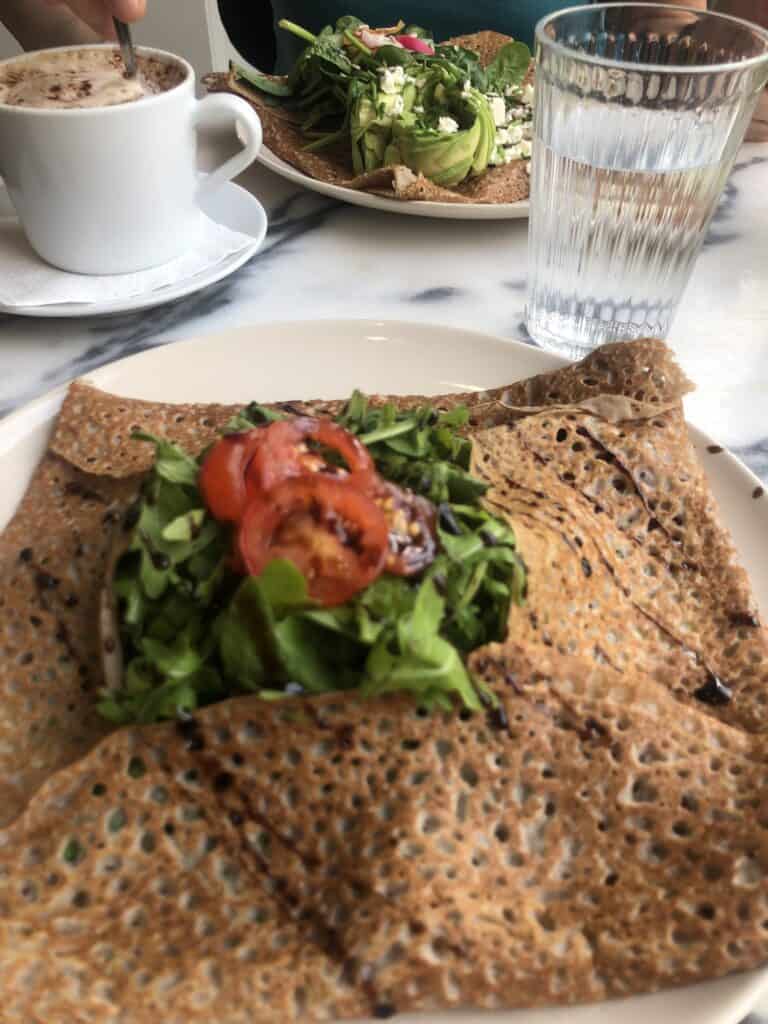 What exactly does it entail? Greek yogurt with granola and fresh fruit, honey-sweetened pancakes with Nutella or berries, avocado, salmon, ham and cheese, or tomato mozzarella toast, and the day's lemonade (we recommend strawberry). Fried or scrambled eggs are available for an additional €2.
La Boulangerie
There is only one thing better than the aroma of freshly cooked croissants, and that is the flavor of a freshly devoured croissant.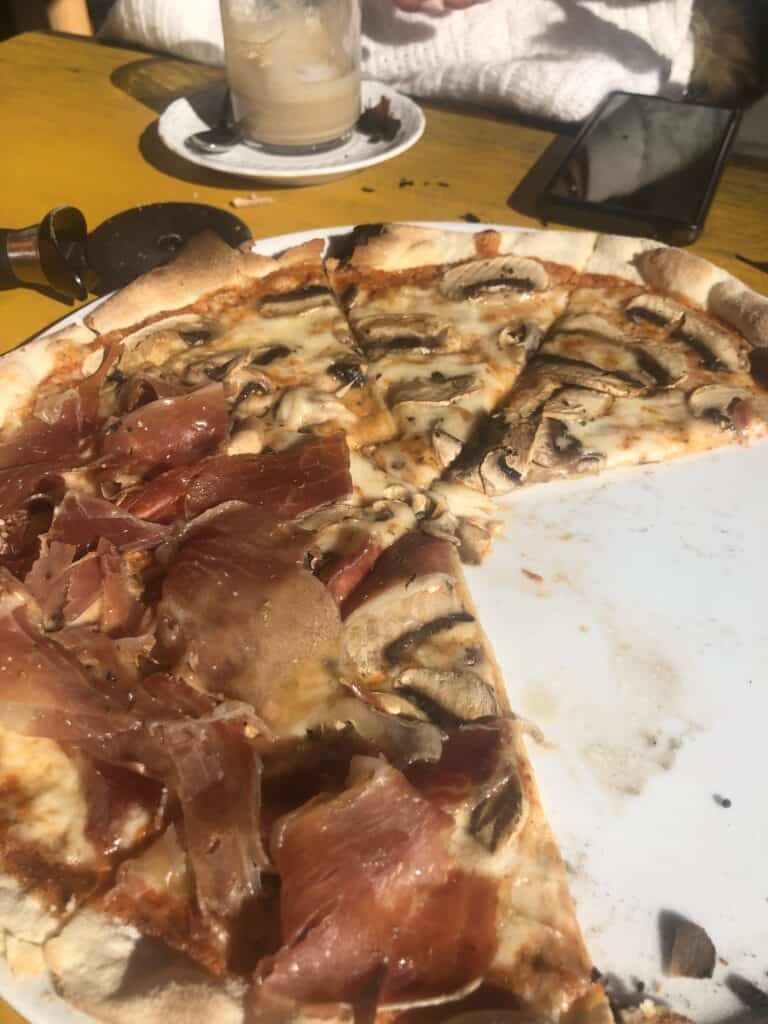 As part of its brunch, this restaurant on Rua das Janelas Verdes serves some of the best examples of this French specialty, as well as scrambled eggs, a bread basket, homemade jams, Nutella, and a cold selection of cheeses, cured hams, and sausages, salad, and fruit.
If you're not into brunch they also have an amazing selection of pizzas. I also suggest the almond croissant. Yummo!
Quese Cafe
Quese Café is another popular and sought-after brunch establishment to visit! Its location on a narrow lane in the Alfama neighborhood draws crowds of people on their way down from Castelo de S. Jorge or those visiting the lovely neighborhood's labyrinth.
Their charming outdoor seating with umbrellas will make you feel as though you are lost in Lisbon. In terms of food, the toasts are plenty and reasonably tasty.
They do, however, create the softest croissants, which are a delectable treat on a weekend morning (with butter and jam, of course). After brunch, you'll be just minutes away from Alfama's attractions, including the Miradouro de Santa Luzia.
Miolo – Belem
Miolo is a great place to have brunch if you are visiting Belem. I spent the day in Belem going to the museums, monastery, and tower and I decided to treat myself to brunch at Miolo. So good.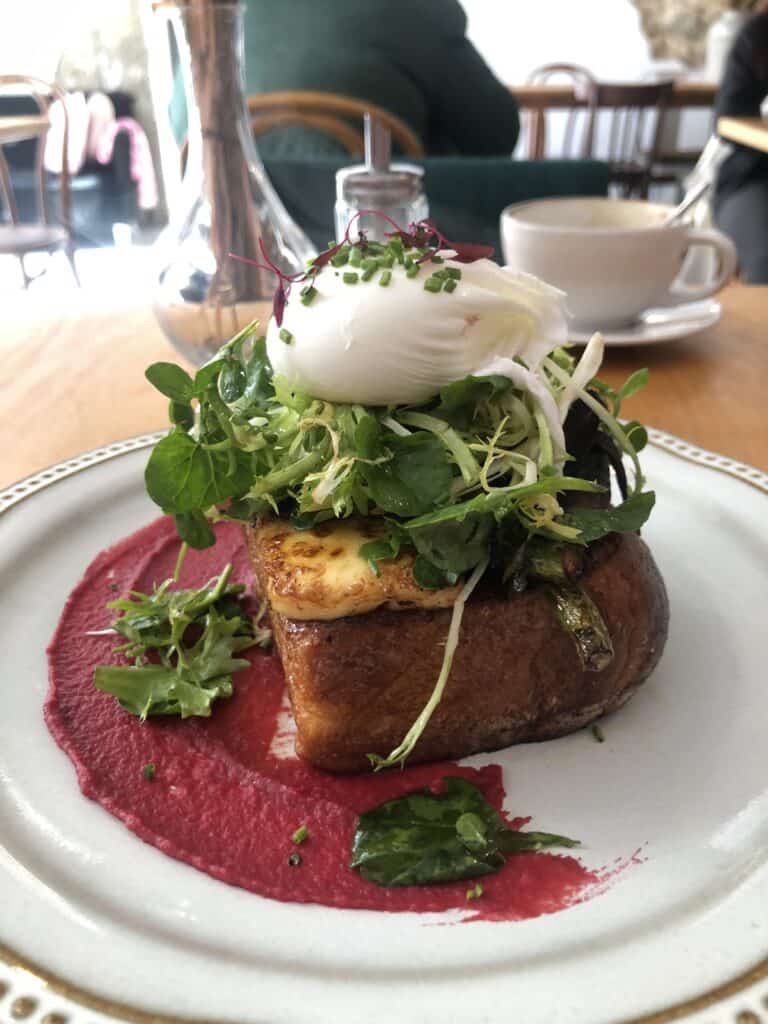 I had the salty french toast. This had halloumi, egg, salad, and beetroot hummus. It was so good and the french toast was sweet but not over powering. It was a huge portion and I was not able to finish it all but it was delicious and I can't wait to go back.
Cafe com Calma
This is a great establishment in Marvila, far from the city center, that serves an interesting brunch.
Mini-hamburgers scrambled eggs with asparagus, croissants, yogurt, homemade cake, and much more are available, in addition to bread, cold meats, cheeses, juices, and hot beverages. It is popular these days, so plan ahead of time.
Naked
In 2017, it was one of Principe Real's most publicized new openings. However, this is not a nudist restaurant in Lisbon. The term "naked" refers to food that is served in its most natural state.
The brunch follows the same approach, with a diverse menu accessible seven days a week. It includes yogurt with homemade granola and fruit, gluten-free toast, homemade jam, peanut butter, an egg-white omelet with carrots, coffee or tea (all from Companhia Portuguesa do Chá, another shop on Poço dos Negros Street), and orange juice or the daily juice special.
Nicolau, Amelia and Basilio
Nicolau, Amélia, and Basilio are all fantastic brunch spots in Lisbon, and they are all owned by the same company. Nicolau founded the café and then came to visit his "lover," Amélia, and his little cousin, Basilio. This company also has a location in Porto, Portugal.
On each of their Instagram profiles, they get rave reviews and massive followings. What is clear is their ability to create, decorate, and curate a brunch setting that always strikes the mark in terms of style, aesthetic, and taste.
You can't go to Liston without stopping by one of these brunch spots (or even a brinner).
Zenith
Zenith is the place to go for a boisterous brunch in Lisbon. This brunch establishment is one of the best in the city, serving elegant all-day brunch meals combined with inventive cocktails. Their menu is a little more diverse than what you'd expect to find in a brunch café.
While it still serves traditional breakfast and brunch fare like pancakes, toast, and bowls, it also serves plant-based burgers, boiled egg dishes, and tacos and nachos.
But be warned: after Zenith was named the #1 spot for brunch in Lisbon on TripAdvisor after its launch in 2018, this place is no stranger to crowds. Plan to arrive before 10 a.m. if you want to get a seat immediately.
Palacete Chafariz D'El Rei
Brunch is served amid stained glass and stuccoed ceilings at this Alfama estate—get your Instagram ready—but the cuisine is a minor work of art in and of itself.
There are homemade jams, fantastic peanut butter, salmon, bacon, tomato with mozzarella, and a slice of cake, in addition to rolls, cheeses, cold meats, fruit, and eggs.
Tartine
Tartine's brunch menu includes fresh juices, cappuccinos, hot chocolates, eggs in seven various ways, toast, pancakes, waffles, croissants, and yogurts.
There is also a set brunch for people who prefer not to prepare their own food, which includes a bread basket, hot drinks, granola with organic yogurt, and other items.
Royale Cafe
Forget about all the brunches you've had elsewhere. This one is unique and has a distinct Portuguese flavor.
There are two main courses to select from: a huge bun with a poached egg, tomato, fresh coriander, farinheira sausage sprinkled with tangy So Jorge cheese, and an aromatic salad; or a flaky croissant with mozzarella, ham, Edam-style cheese, bacon, and tomato, accompanied by a parsley pesto salad.
Along with each option, berry yogurt, juice, cake, and coffee are served.
Recent Posts