Best Lisbon Day Trips: Lisbon, Portugal is a fantastic destination for those who love to explore. The city is surrounded by beautiful towns and villages that make for perfect day trips.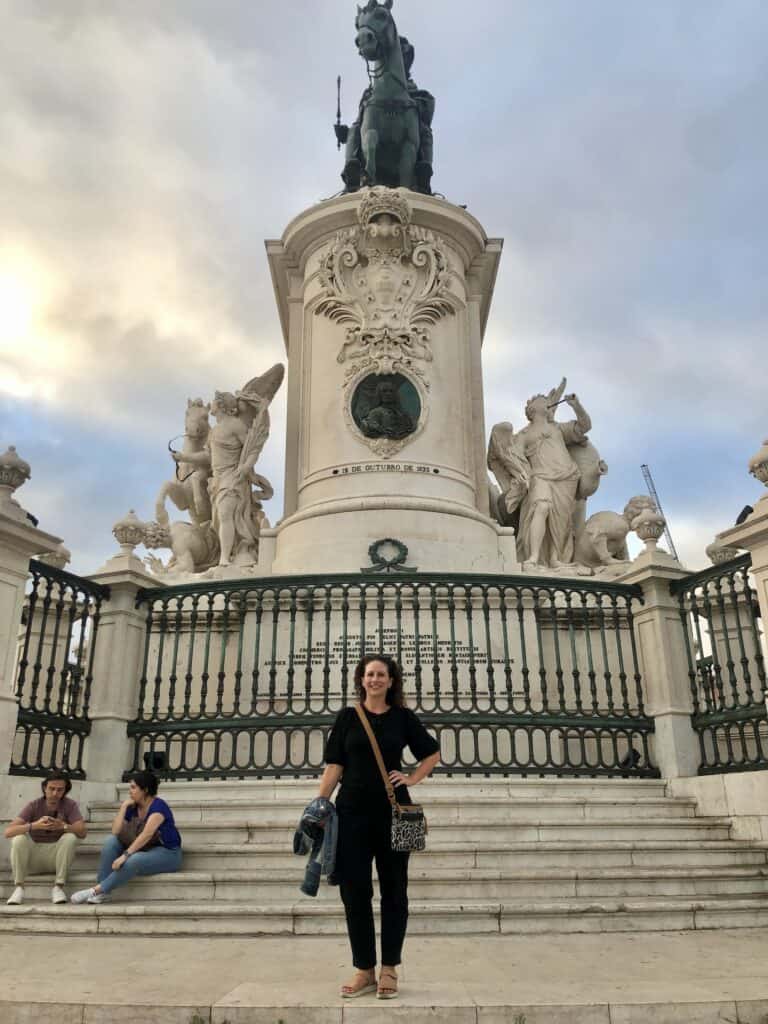 I have been living in Lisbon for two years and each of these day trips offers a unique experience and is easily accessible from Lisbon.
Whether you are looking for castles, beaches, medieval cities or a cute surf town these are incredible Lisbon Day Trips! There are several easy day trips from Lisbon on this list.
To see as much as possible I recommend taking a tour to combine some of these day trips. Even as a local I know how to get to these places but taking a tour and using private transport makes it easier.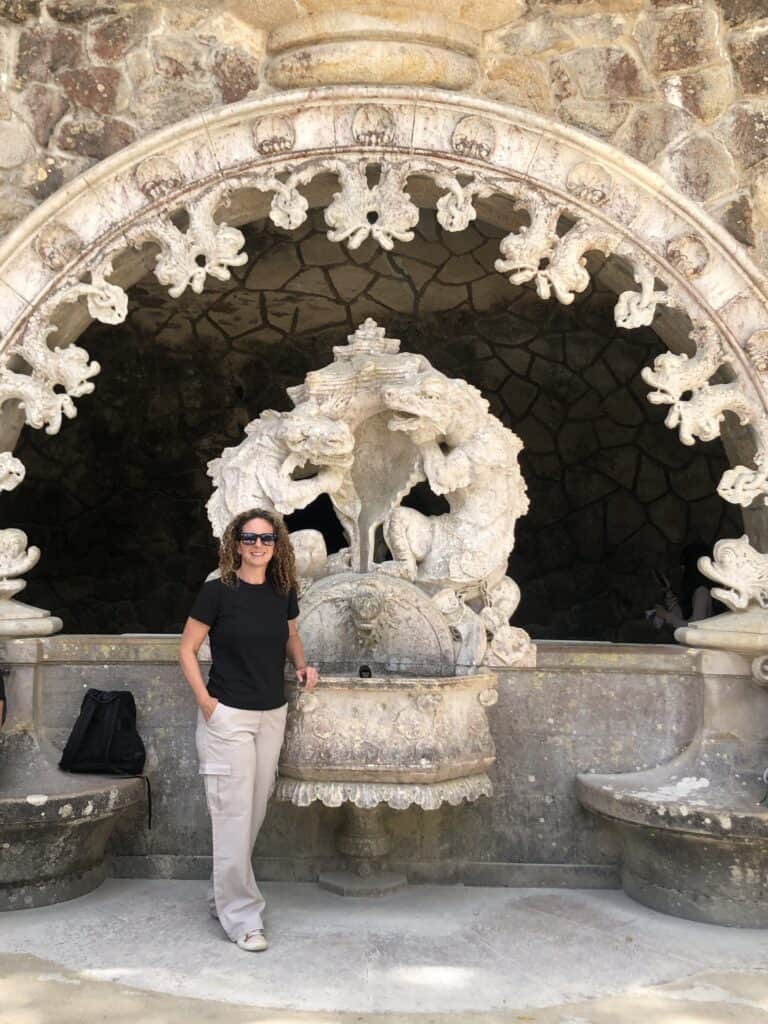 Overview of the Top day trips from Lisbon, Portugal
Sintra: A picturesque town with stunning castles and palaces, such as Pena Palace and Quinta da Regaleira.
Cascais: A charming coastal town with beautiful beaches and a lively marina.
Obidos: A medieval walled town with narrow streets, colorful houses, and a castle.
Fatima: A religious pilgrimage site with a basilica and shrine dedicated to the Virgin Mary.
Peniche: A coastal town located in central Portugal and known for its long sandy beaches and great surf spots.
Ericeira: A small fishing town located on the western coast of Portugal known for its beautiful beaches, excellent seafood, and world-class surf.
Evora: A historic city with Roman ruins, a Gothic cathedral, and a unique chapel made of human bones.
Tomar: A town with a fascinating Templar castle and convent, both UNESCO World Heritage sites.
Nazare: A fishing village with a long sandy beach, world-famous for its giant waves and surfing competitions.
Setubal: A city with a lively market, a picturesque old town, and a ferry to the stunning Troia Peninsula.
Arrabida Natural Park: A nature reserve with breathtaking landscapes, crystal-clear waters, and hiking trails.
The most popular day trips from Lisbon are Sintra and Cascais. Both of these are easy enough to do as a day trip but it will take you two days (one day in Sintra and one day in Cascais) or you can book this amazing tour to Pena Palace in Sintra, Cascais and Boca do Inferno .
Disclaimer: This post may contain affiliate links so if you make a purchase through one of the links we might earn a small commission ( it's at no extra cost to you)
Tips for Renting a car for your trip
It's awfully hard to get to around to these places without a car. Public transport can get you to the major cities but its easier to use  Discover Cars to rent a car for your travels. You'll be able to pick up a car at any airport.
Check availability and get a quote for a rental car for your trip here.
21 Best Day Trips from Lisbon, Portugal
Cascais – the perfect Lisbon Day Trip
Cascais is a vibrant coastal resort located 25 kilometers west of Lisbon making it the perfect Lisbon day trip.
It's a popular day trip destination for both locals and tourists, and it's conveniently placed at the end of the Cais do Sodré-Cascais train line making it an easy train trip from Lisbon.
Cascais is a must-visit destination for those who seek a combination of natural beauty, rich history, and modern amenities.
The town's stunning beaches, such as Praia do Guincho and Praia da Rainha, offer visitors the opportunity to relax and soak up the sun.
Cascais also boasts a charming historic center, with the 16th-century Citadel Palace and the Santa Marta Lighthouse being popular attractions. Additionally, the town is home to a variety of restaurants, cafes, and shops, making it an ideal place to experience Portuguese culture and cuisine.
You can wander the narrow lanes that snake away from the harbor before heading to the leafy Parque do Marechal Carmona.
The Museu-Biblioteca Conde Castro Guimares, a nearby free tourist attraction, is worth a detour for its elaborate chambers furnished with lovely Indo-Portuguese furniture, paintings, and antiquities. One unique illuminated manuscript from the 16th century, which dates to 1505, is kept in the library.
The Boca do Inferno (Mouth of Hell), a chasm cut out of the cliffs, is located about three kilometers west of the center of Cascais. Its a half hour walk from the train station but it is a stunning walk to get there.
It is situated along the broad Avenida Rei Humberto de Itália seaside route. A stunning spray plume rises into the air as seawater crashes into the caves below. The boom that goes with it sounds like cannon fire.
Again to combine Cascais, boca do Inferno and Sintra I would book this tour to maximize your day and see as much as possible.
Sintra – one of the top day trips from Lisbon
Sintra is possibly the most worthwhile day trip from Lisbon. The town is conveniently accessible by train, with direct connections running every day from Lisbon's Rossio railway station.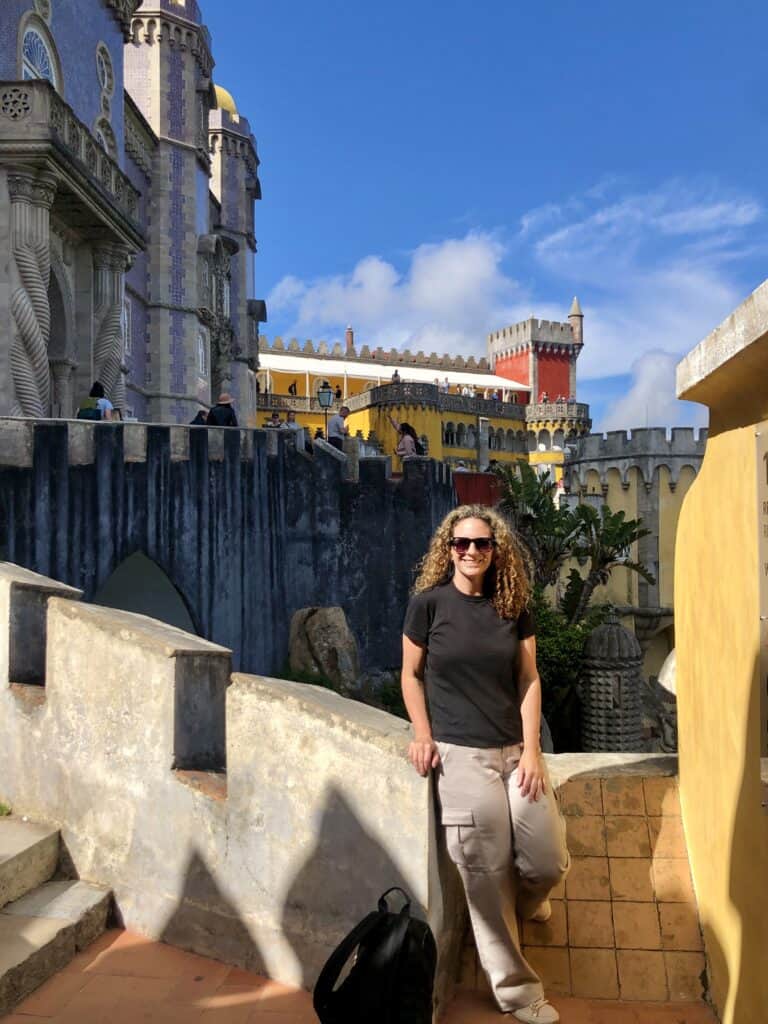 Sintra is located around 30 kilometers northwest of the city center. It takes about 40 minutes to travel via train. Sintra is full of old castles and an assortment of historical palaces all of which have been designated as a UNESCO World Heritage cultural landscape.
The top places to visit in Sintra are:
You can start your day of sightseeing by going to the Sintra National Palace. This magnificent late-14th-century palace, which is located in the heart of the old town, is distinguished by its twin tapering chimneys.
This historic royal home, which served as the Portuguese kings and queens' summer getaway, is a perfect place to start your exploration of Sintra's numerous other attractions. Spend at least an hour exploring all of its halls, chambers, and salons.
The whimsical, Disney-like Palácio da Pena crowns the Serra. The Pena Palace, which is frequently cited as the highlight of visitors' stays in Sintra, is also reachable by bus or on foot by following the nature trail that meanders steeply through a canopy of gorgeous woodland.
The Moorish Castle, which dates to the eighth century, dominates the old town. The views over the Lisbon lowlands below and the Serra de Sintra Mountain range are stunning, and you may walk the ancient battlements.
If you have a shuttle bus ticket, visiting Sintra's another magnificent palace, Monserrate, is very simple. Here, the gardens, which were created in the late 18th century by English author William Beckford, steal the show rather than the building itself.
You'll undoubtedly want to eat lunch in Sintra because there are so many cafés and restaurants to choose from. However, a meal here can be extremely memorable, especially because the legendary romantic poet Lord Byron reportedly called the location a "glorious Eden."
Mosteiro Pálacio Nacional de Mafra – day trips in Lisbon
The huge Mosteiro Pálacio Nacional de Mafra, which is located 40 kilometers northwest of Lisbon, is among Portugal's most spectacular historic sites and undoubtedly one of its largest.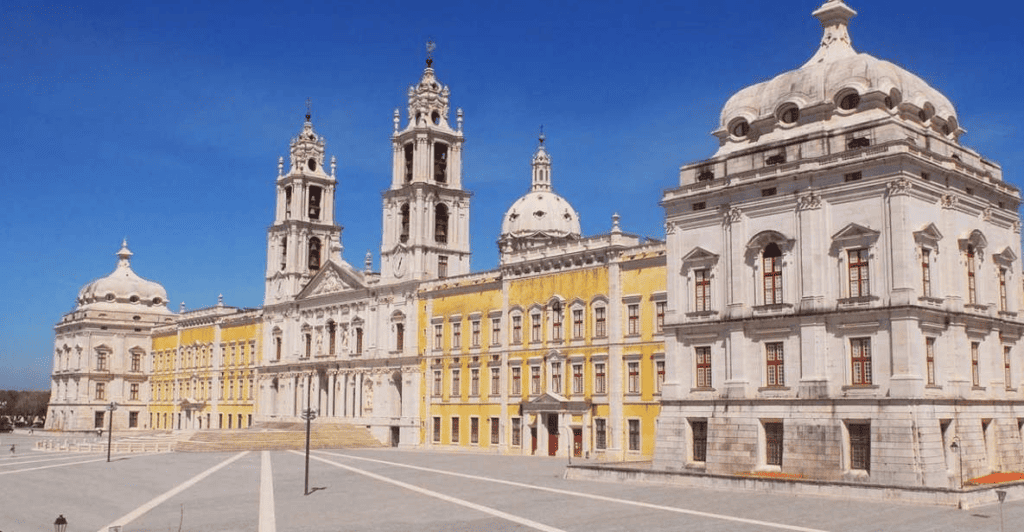 This massive Baroque palace was built around the beginning of the 18th century. When the royal coffers started to overflow with wealth from Brazil, King Joao V expanded the floor plans to incorporate a lavish palace and a magnificent basilica. It was initially supposed to be a small monastery.
It takes around two hours to see Mosteiro Pálacio Nacional de Mafra, but you can extend your day by combining a tour with a trip to the bustling beach town of Ericeira, which is only 12 kilometers west of Mafra.
Ericeira, which is blessed with many beautiful sandy beaches and a picturesque waterfront, has a strong connection to the Mafra because on October 5, 1910, when Portugal's monarchy finally collapsed, King Manuel II fled the palace and sailed from the harbor to England on a ship bound for exile.
Looking for a full day of exploring Mafra, Ericeira and Quelez Palace? This full day tour is full of history and takes you to these popular sites without having to worry about public transport.
Ericeira
Surfers, surf shops, and small bars and cafés are scattered throughout this adorable coastal village. It includes a few swimming beaches and a small, trendy town center with cobblestone streets.
Before enjoying a seafood lunch at the modest and wonderful Mar d'Areia, explore the town's winding streets. The area's excellent surf breaks draw salty-haired tourists from all over the world, while the locals prefer to fish.
Every year in October, the world's top surfers compete in this venue while you can sip coffee on the viewing deck and watch.
You may either drive to Ericeira or take a cheap bus to get here. However, a car travels far more quickly and only needs 45 minutes. If you enjoy beaches and surfing, Ericeira can be a standalone day trip without any other attractions.
It's the perfect setting to get away from the hustle and bustle of the metropolis of Lisbon for a while and enjoy some sun, surf, and local cuisine.
Peniche
Popular for its fishing, Peniche has a small-town feel. It takes roughly an hour and a half to get there, and driving is advised. It contains a fort to protect the harbor and Supertubos, a renowned surf spot.
Although the neighboring Baleal Beach is appropriate for novices, you might not want to learn to surf in the rough, barreling waves. A day trip to the beach from Lisbon would be ideal for Peniche.
Along with the famous Fort of Sao Joao Baptista, this area is home to a variety of unique animals and plants, like the Lobularia maritima and the Bocage lizard. During your boat ride from Peniche Marina, keep an eye out for common bottlenose dolphins.
Obidos – day trip from Lisbon
Obidos is one of Portugal's most charming cities. This lovely walled town, located 80 kilometers north of Lisbon, is achingly charming and exudes a fairy-tale charm.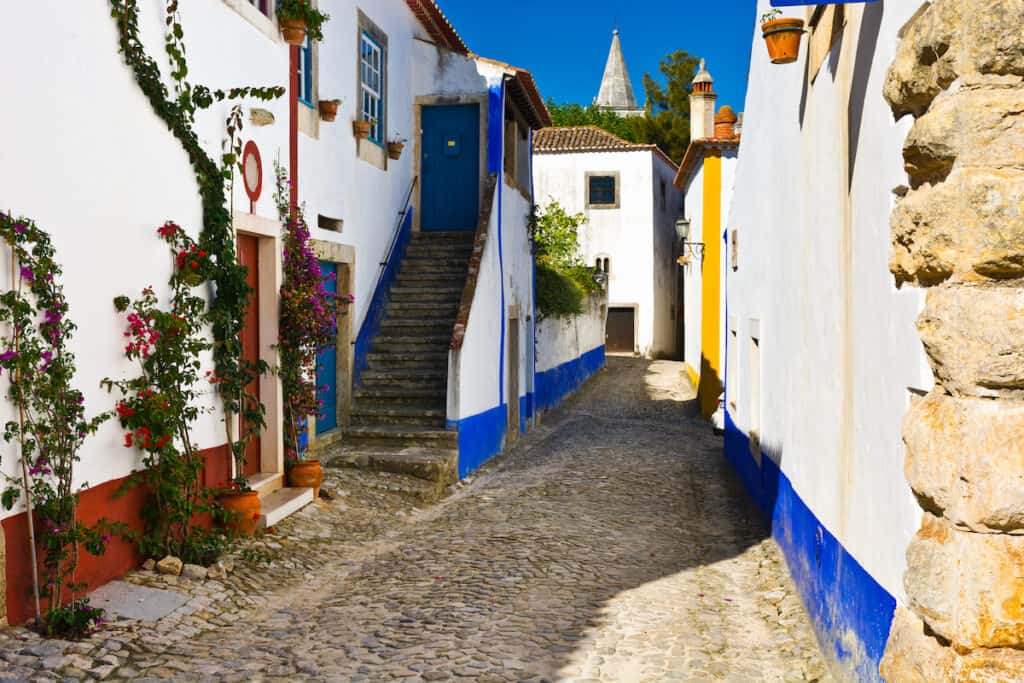 The Portuguese call it the "wedding gift town" because King Dom Dinis gave Queen Isabel of Aragon a significant port in the 13th century.
Historic Vila da Obidos, or hamlet, is marked by the huge towered castle that looms over a maze of alleyways and whitewashed homes. The village is surrounded by crenelated walls (where boats used to moor before the sea retreated). It is now a beautiful pousada (hotel).
The majestic Porta da Vila, an attractive entryway that leads to Rua Direita, the village's main street dotted with traditional homes, authentically decorated stores, and a variety of cafés and restaurants, serves as the major entrance to Obidos.
The Igreja de Santa Maria, the church where the 10-year-old king Afonso V married his eight-year-old cousin Isabel of Coimbra in 1444, is the most evocative of the must-see historical sights.
Obidos is a popular place with this alluring and rich in history and it may get very crowded. Consider taking a small-group, expert-led day tour from Lisbon to make the most of your visit.
If you would like to combine Obidos, Mafra, and Nazare, check out this full day tour.
Fatima
The Santuário de Fátima (Sanctuary of Fátima) is a devotional shrine that draws thousands of devotees.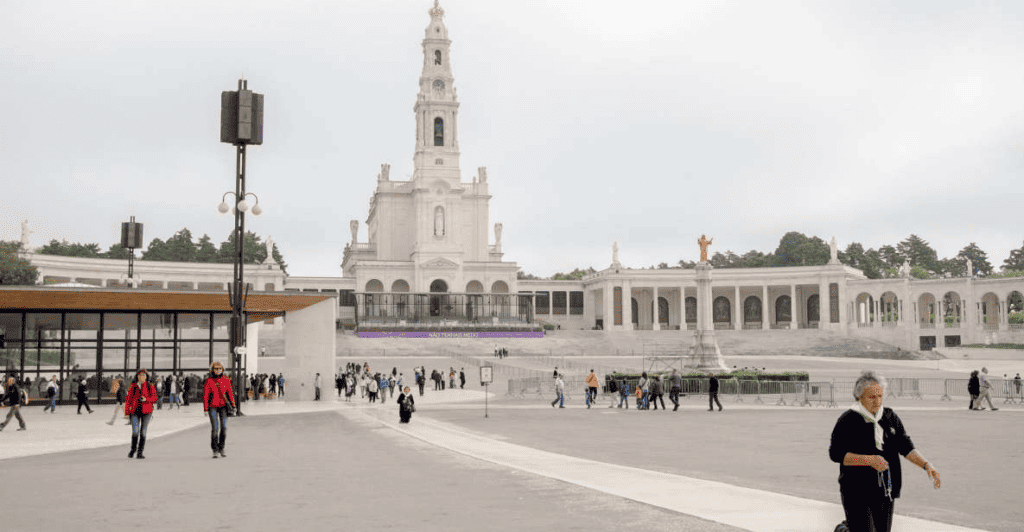 Each year on the 12th and 13th of May and October there is an annual pilgrimage to this small farming village, set deep in the heart of Portugal's Estremadura region.
It is one of the most significant pilgrimage destinations in the Catholic world.
Fatima is a must-visit destination for those interested in religious history. The small town in Portugal is known for the apparitions of the Virgin Mary to three shepherd children in 1917.
The Sanctuary of Our Lady of Fatima is the main attraction, with its impressive basilica and chapel. Visitors can attend mass, light candles, and witness the famous statue of Our Lady of Fatima. The town also offers museums, shops, and restaurants, making it a well-rounded destination for tourists.
To learn about the sacred locations, you can travel to Fátima from Lisbon on a half-day pilgrimage. This small-group tour includes transportation, a visit to the historic district and nearby religious attractions, as well as some free time for self-exploration.
Tomar
Tomar is a charming city located in central Portugal that is definitely worth a visit. The city is known for its rich history, stunning architecture, and beautiful natural surroundings.
One of the main reasons to visit Tomar is to explore its historical sites. The city is home to the Convent of Christ, a UNESCO World Heritage Site that was once the headquarters of the Knights Templar. Visitors can explore the castle, chapel, and cloisters of this impressive complex and learn about the fascinating history of the Knights Templar.
In addition to its historical sites, Tomar also offers plenty of opportunities to enjoy the great outdoors. The city is situated on the banks of the Nabão River and is surrounded by lush forests and rolling hills. Visitors can hike or bike through the countryside, go fishing or kayaking on the river, or simply relax and enjoy the beautiful scenery.
Overall, Tomar is a must-visit destination for anyone interested in history, architecture, and nature. With its rich cultural heritage and stunning natural surroundings, it is sure to leave a lasting impression on visitors.
Palacio Nacional de Queluz – close to Sintra
The National Palace of Queluz is a must-visit destination for anyone interested in Portuguese history and architecture.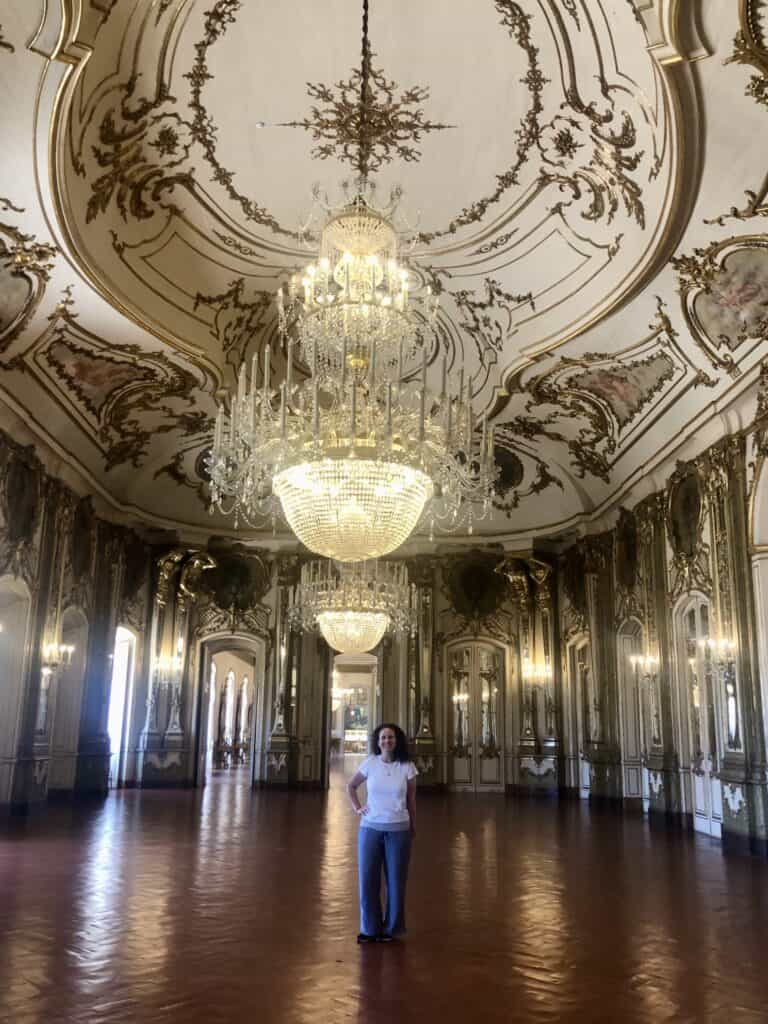 The Palace was built in the 18th century, it served as a summer residence for the Portuguese royal family.
The palace boasts a stunning blend of Baroque, Rococo, and Neoclassical styles, with intricate details and ornate decorations throughout. Visitors can explore the grand ballroom, the throne room, and the beautifully landscaped gardens.
The highlight is the magnificent Throne Room from 1774. This is the largest of the three staterooms in the palace, and it is decorated with mirrors, paintings, and gilded statues that are all arranged beneath an exquisite ceiling.
The palace also houses a collection of historic furnishings, artwork, and tapestries.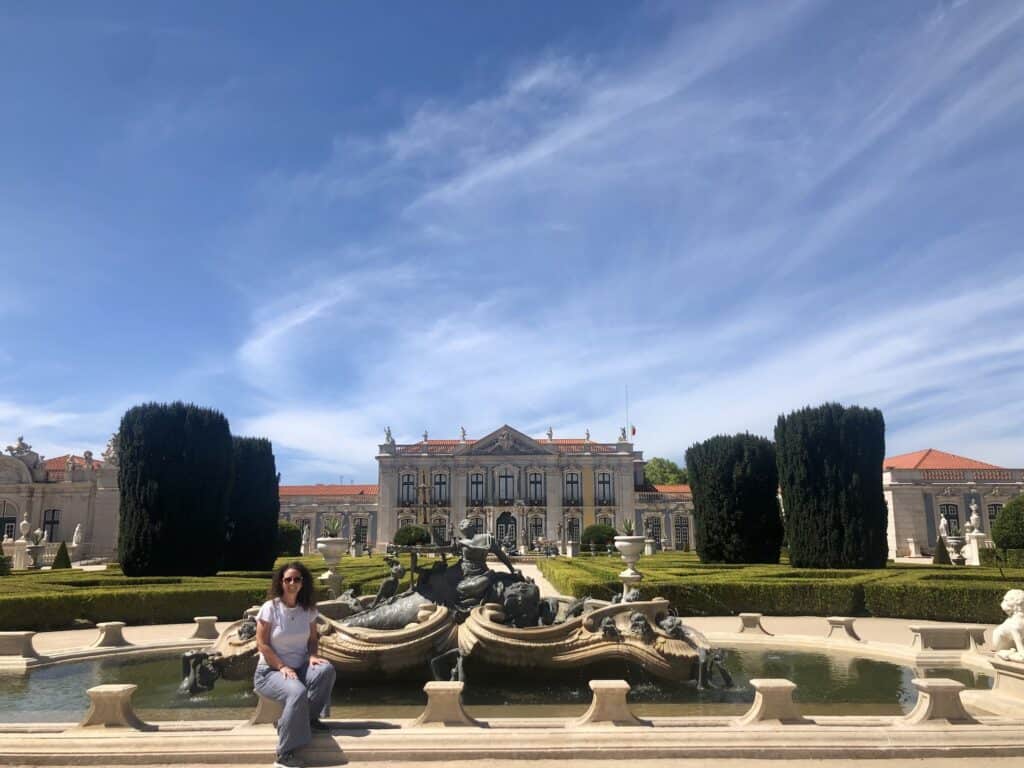 The Palácio Nacional de Queluz is a landmark of Portuguese architecture and landscape design and was originally developed by Mateus Vicente, a student of Johann Friedrich Ludwig, who constructed the Mosteiro Pálacio Nacional de Mafra.
The substantial collection, which includes Baroque, Rococo, and Neoclassical works, is both a museum and a historical landmark. It exhibits the opulent taste of the 18th and 19th-century courts.
From Rossio to Queluz-Belas station, use the Sintra line train to get to the Palácio Nacional de Queluz. Following the signage will take you on a 15-minute stroll to the castle and gardens.
Overall, the National Palace of Queluz offers a fascinating glimpse into Portugal's royal past and is a true gem of the country's cultural heritage.
Costa da Caparica – one of the best places to visit outside Lisbon Central
Lisbon's most well-liked summer playground is the Costa da Caparica, a long, broad swath of sand. The beach resort of Caparica serves as its center.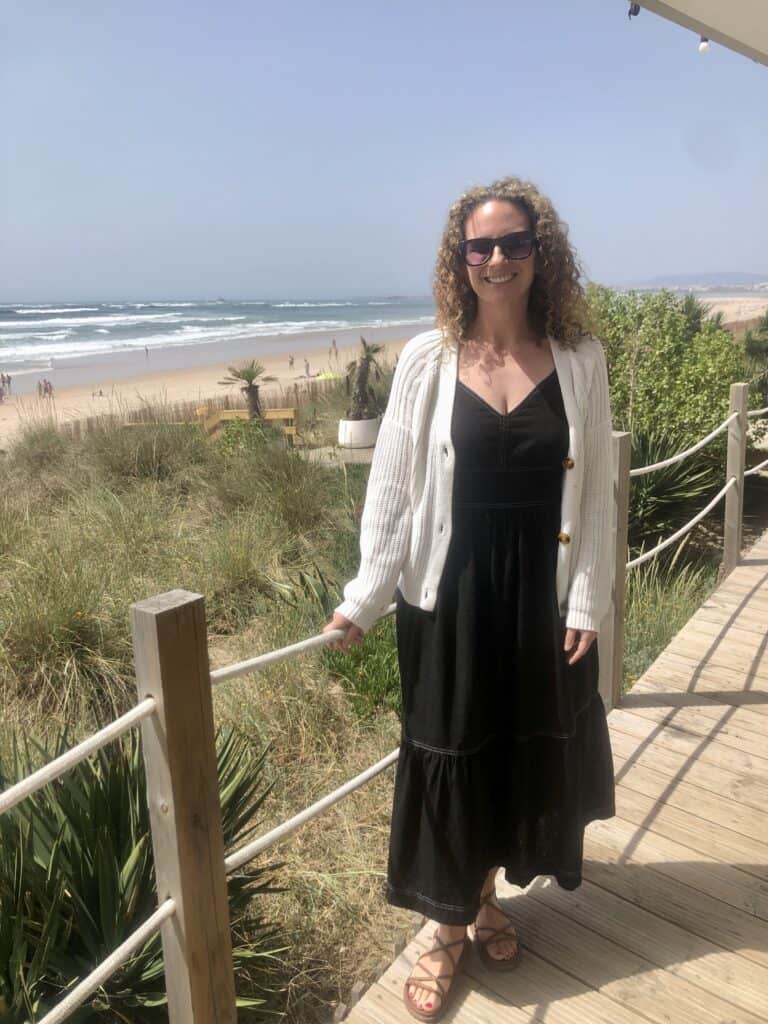 This location is crowded with locals seeking relief from the heat of the city during the peak season and on weekends. If you don't mind crowds and want a relaxed, family-oriented atmosphere, this is undoubtedly a vacation spot worth considering.
Be aware that parking in Caparica is very competitive if you're driving. The vast sandbar is surrounded by sloping dunes. The beaches close to the resort get crowded soon, so if you want some peace, you should go to the southern part of the Costa.
Costa da Caparica is served by some top-notch seaside cafes and restaurants, many of which remain open throughout the slower winter months. The water is too cold to swim in during the off-season, but that doesn't stop dedicated surfers. The beaches are delightfully deserted, which makes for some exciting hikes, but on the bright side,
Caparica is located across the river, 18 kilometers from Lisbon. Regular express buses leave from Cacilhas on the south bank; the trip takes 30 to 40 minutes, traffic permitting. The city's central Praça de Espanha is where you may catch a slower service that will take you there in around an hour.
Evora
Évora, the capital of the Alentejo province, has long been a favorite with tourists and is home to some of Portugal's most breathtaking tourist sites.
This charming city is home to numerous UNESCO World Heritage sites, including the Roman Temple of Evora, the Cathedral of Evora, and the Chapel of Bones.
The Sé, the city's imposing 12th-century cathedral, the captivating Museu de Évora, and the renowned Roman Temple are among the must-see sites on this easygoing hour-long trip southeast of Lisbon.
Visitors can also wander through the winding streets of the old town, admiring the traditional whitewashed houses and quaint cafes. With its fascinating history, stunning architecture, and welcoming atmosphere, Evora is a destination that should not be missed.
By taking the Small-Group Évora Day Trip from Lisbon with Olive Oil Tastings, a superb introduction to the location, you may leisurely explore all these sights and more.
Serra de Arrabida
One of the most enjoyable day trips from Lisbon is a drive through the strikingly gorgeous Serra da Arrábida.
The protected Parque Natural da Arrábida is located inside the untamed, rocky mountain range that rises 500 meters above the bay of Setbal, 38 kilometers south of the Portuguese capital.
This breathtaking area, which is covered in lush woodland and scrub, is home to an amazing variety of plants and fauna. Parking is available, and there are several marked nature trails you may take. Although the area is served by buses, there are few public transportation options, so a vehicle is necessary to get around.
Follow the Estrada de Escarpa (N379-1), a curvy coastal road that winds through Sesimbra and continues to Cabo Espichel, a clifftop promontory crowned by a lighthouse, for the most dramatic views.
Sesimbra
The charming tiny harbor and the 17th-century Fortaleza de Santiago, which houses the magnificent Museu do Mar, make Sesimbra, a typical fishing community, a lovely day-trip destination (Museum of the Sea). A vibrant fleet of trawlers and smaller boats call Sesimbra, a working port, home.
The delicious aroma of grilled sardines drifts on the salty breeze in the charming old town center, which is a maze of winding lanes and narrow alleyways lined with eateries.
The port and its quayside are a treat to explore, especially in the late afternoon when the boats return with the day's catch. They are hemmed in on either side by tempting strips of golden sand. Additionally, this is where adventure tourist activities like sea kayaking excursions and diving expeditions leave.
Sesimbra is located on the shore of the Atlantic Ocean, 40 kilometers south of Lisbon, and is protected by the Parque Natural da Arrábida mountain range.
If you want to explore the nearby area, traveling here is an easier and better choice. But if all you want to do is walk around town on foot and possibly visit the beach, using the bus is more sensible.
Cabo Espichel
Portugal's southwest coast is home to the windswept headland known as Cabo Espichel. Its shoreline is made up of stunning cliffs, desolate scenery, and uninhabited beaches.
Visit the Santuário de Nossa Senhora church from the eighteenth century, which draws tourists and pilgrims. Two long rows of abandoned housing that were originally built to host pilgrims flank it.
To appreciate the desolate landscape, stroll down the coastal pathways to the small chapel perched on a rock and the Farol do Cabo Espichel lighthouse. Visitors have the potential to see dinosaur tracks at the obscure Pedra da Mua and Lagosteiros sites.
A Lisbon bus excursion to Cabo Espichel might be for you if you wish to spend a day exploring vast open spaces.
Reserva Natural do Estuário do Sado
Visit the Sado Estuary Natural Reserve for a multitude of reasons, not the least of which is to take in the incredible diversity of birds that gather there.
But the estuary is also well-known for the resident bottlenose dolphins that keep watch over its mouth and adjacent shallows. Joining a tour cruise that puts guests within a few meters of these remarkable beasts will allow you to observe these graceful and clever mammals in all their playful charm. Discovering Sétubal, the port from where the cruise ships leave, can be paired with a dolphin safari.
The Igreja de Jesus and Castelo de Sao Filipe, two notable structures in this bustling harbor, are positioned on a bluff high above the city. You can prolong your day trip by packing a picnic and taking the ferry to this mainly unexplored spit of beach, where the ruins of the Roman town of Cetóbriga can be viewed. The city is located on the northern bank of the estuary, opposite the Pennsula de Tróia.
Recent Posts