Lunches Lisboa: Eating lunch in Lisbon is always a great experience. There are so many good lunch places in Lisbon. We really are spoiled for choice.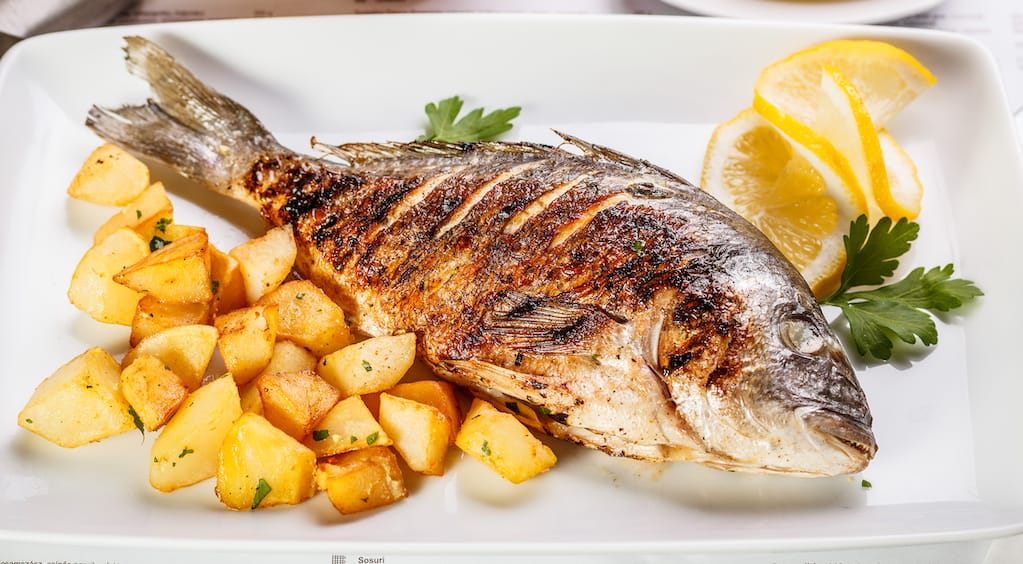 When you are exploring Lisbon and going up and down the hills you will definitely work up an appetite. I've included some great places to stop and rest and enjoy the delicious Portuguese food on offer in Lisbon.
15 Best Lunch Spots in Lisbon, Portugal
Frade does Mares
This is one of my favorite lunch spots in Lisbon and I take all of my visitors here and they love it. There is outdoor seating as well which is a bonus in the summer.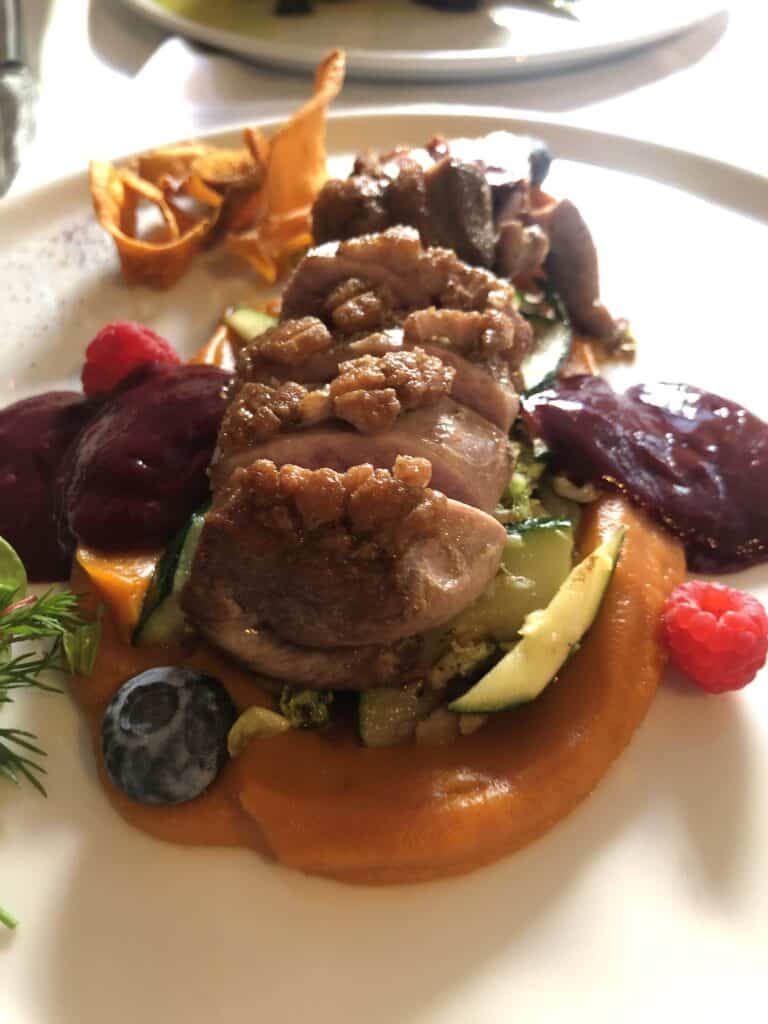 There are two dishes here that I cannot go past each time I eat here. Its the octopus and the duck. I almost always order the duck because I rarely see if on the menu but my guests always order the octopus so I get to try that as well.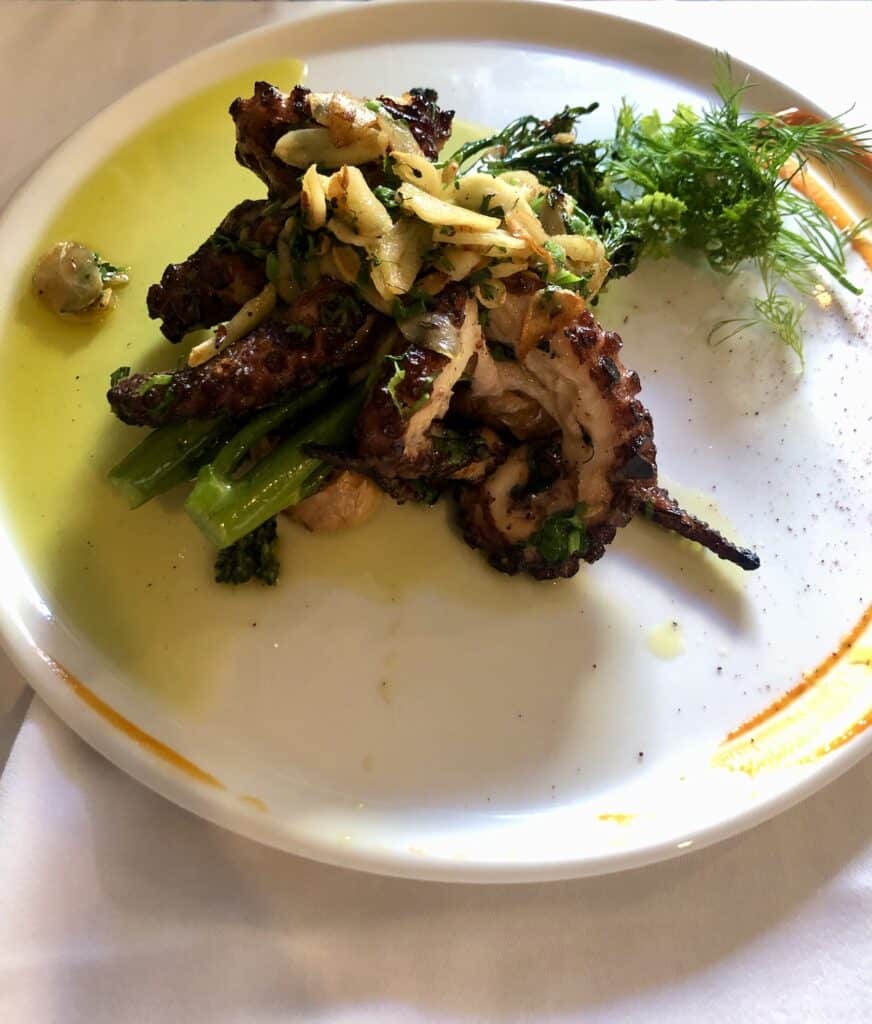 Another popular dish is the sea bream and you will see everyone there orders this dish. If you are looking for a good starter try the octopus croquettes – delicious!
Erva
Nature's beneficial impact on the human condition is recognized. Seeing greenery makes us feel more relaxed and tranquil, which improves our overall mood.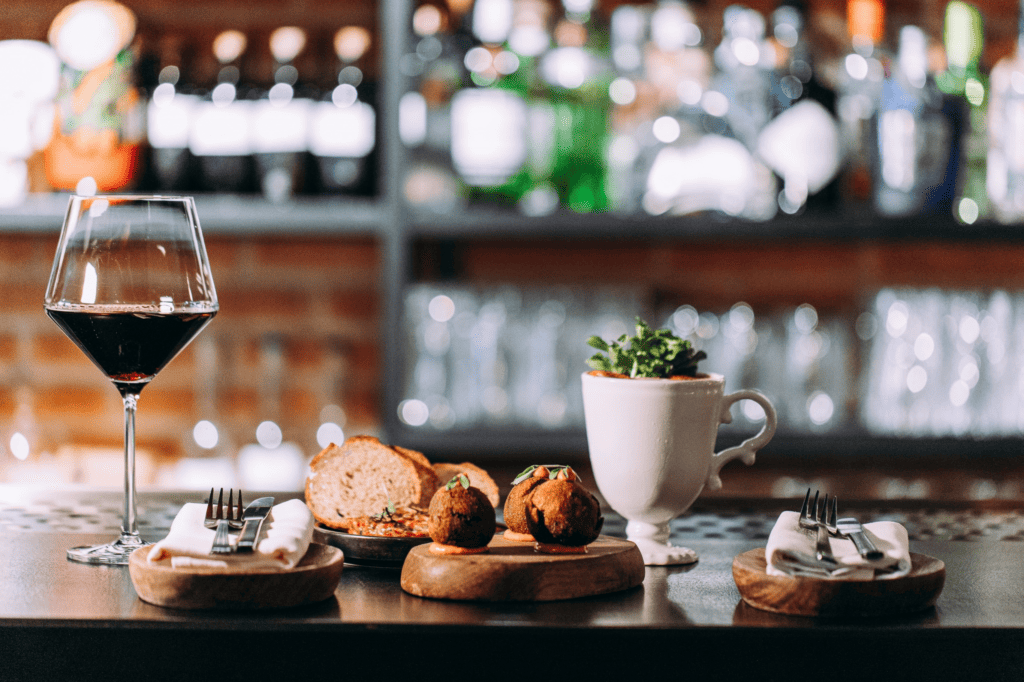 Consider a restaurant whose interior is adorned with plant life, with lush vegetation covering the floors and walls and decorating the tables and bar tops.
Welcome to Erva, an elegant restaurant built within a vertical garden and one of the city's most organic-looking dining spots. Erva (in English, erva means herb or grass) celebrates Portugal's rich culinary legacy with a menu that honors the country's gourmet traditions, located on the bottom floor of the Corinthia Hotel but with direct access to the street.
In the kitchen, Chef Artur Gomes and his staff take an "honest cooking approach," reworking authentic recipes with local and seasonal ingredients to create contemporary dishes served with flair and innovation.
Depending on the season, Erva serves a limited selection of appetizers, ranging from marinated prawns and avocado on crispy chicken skin to octopus carpaccio with crab and gazpacho sauce. Skate with roasted onion purée coated in a Mediterranean sauce and roasted lamb shoulder with "aligot" potato, an Erva specialty dish, are among the main courses.
They offer an informal fine-dining experience, but achieving a balanced menu is important, so they like to combine as many flavors as possible. This technique is extended to dessert selection, where treats like the chocolate, peanut, and caramel ensemble are mouth-watering exercises in taste and texture.
The wine selection represents the entire country, including the islands. Erva's educated and enthusiastic sommelier is on hand to combine wines with cuisine and recommend a cocktail aperitif beforehand.
Chapito A Mesa
Chapitô à Mesa's concept is unique, and the ambiance is youthful and laid-back. Chapito, Lisbon's renowned circus school and performing arts center, is within a few minutes' walk from Castelo de Sáo Jorge.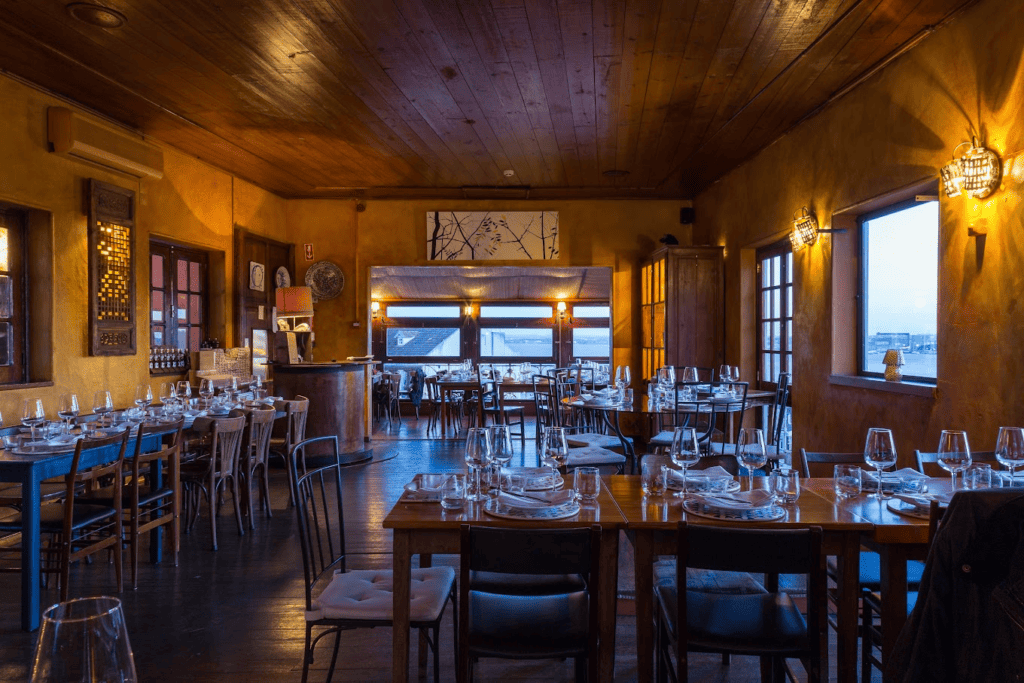 Its restaurant is one of the most eccentric in town, a colorful and vivid café housed in a mustard-colored mansion. Outside, tables are spread across a courtyard and a small covered terrace, and guests are treated to a beautiful downtown view.
The food is incredibly appetizing; the menu includes fresh, crunchy salads (try the mackerel and boguerones), seafood meals such as octopus and sweet potato, assorted toasted sandwiches, and tantalizing desserts, as well as daily specials chalked up on a chalkboard.
Wine is available by the glass as well as by the bottle—ry white works wonders on a hot day! Lunch here is fantastic value for money, given its location and the quality of service, and the ambiance is eccentric, eclectic, and seriously friendly.
To get to the restaurant, you must first pass through an arts and crafts store, where you may peruse the handmade jewelry.
Mercearia do Seculo
Mercearia do Século is what traditional Portuguese culture and flavor are all about. It's one of those "hidden" secrets you stumble into when you're not looking.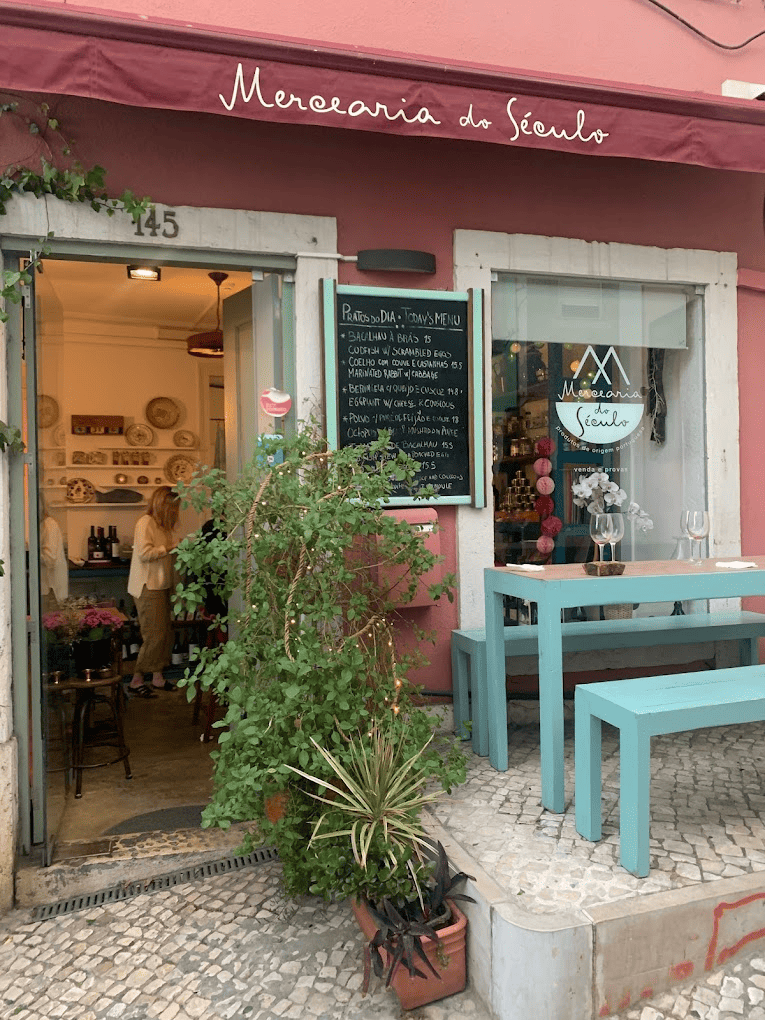 This wonderful home-style cafe, nestled away in a small side street well off the tourist track, is really worth seeking out. The idea here is to be fresh, healthy, and organic without sacrificing flavor or presentation. When a menu includes starters like beetroot gazpacho and mushrooms in port wine, you know you're in for a treat.
The main course is octopus with couscous, and the dessert is yogurt with fruit and granola. Veggies will go crazy for it! The wine list is small but includes several notable labels. This deli-eatery is an understated, locally-run gem, rustically decorated with a real feel.
The restaurant also functions as an artisan food store, selling a variety of traditional Portuguese foods.
Pizzaria Lisboa
Pizzaria Lisboa, located in the city's Chiado district, is a popular lunch spot as well as an after-dark dinner spot. One of Lisbon's busiest chefs still makes time to run this slick pizza business, and his reputation alone ensures a flavor-packed dining experience.
José Avillez runs multiple restaurants in the city, including the well-known Belcanto, which has two Michelin stars. But catering to gastronomy's upper crust hasn't meant forsaking his street cred. Fueled by his love of food, the young Portuguese chef developed Pizzaria Lisboa not only as a celebration of Mediterranean cuisine but also as an homage to the Portuguese city.
Each pizza is named after a city district (except for one called "28" after the number of a tram and another called "Fado"), so there are plenty to pick from.
A variety of excellent pasta and risotto dishes round out the menu. If you're still not convinced, try any restaurant that serves beef carpaccio with foie gras shavings coated with Parmesan cheese and pine nuts and served with a truffle fragrance as an appetizer.
The restaurant also offers take-out, and the menu includes one or two great wines.
Cantina LX
Cantina LX's straightforward fare complements the industrial setting. Located west of the city center at Alcântara's LX Factory complex.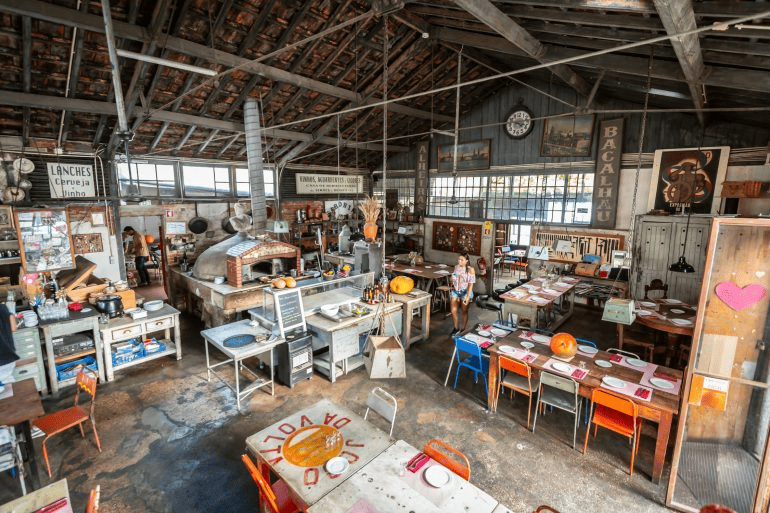 Cantina LX exudes a shabby chic atmosphere with a mishmash of hand-me-down chairs and tables set in former warehouse space to lend the restaurant a delightfully informal, almost haphazard canteen appearance. The food is nutritious and pleasantly simple, and it is mostly traditional Portuguese.
You can have wood-oven-baked chicken with roasted new red potatoes at its most basic (cooked in full view of diners). There's also the intriguing swordfish with tomato rice combination. Check to see if the apple pie is available for dessert. Simply delectable! The lunch menu changes daily, so you never know what to expect, and if the restaurant is busy, you may have to wait a long time for your order. All courses include salad, which diners can make from a buffet table.
Restaurante Espaco Espelho D'Agua
After exploring Belém's wonderful collection of monuments and museums, Restaurante Espaço Espelho d'Agua is an excellent lunchtime alternative. Lunch is served with a breathtaking view of the river at this great restaurant. Diners are also treated to an exceptional piece of history, as the restaurant is housed in a 1940s art deco building.
The area keeps the original period décor as well as tastefully rebuilt additions, such as a terrace overlooking a beautiful water feature. The cafeteria offers a variety of healthy snacks as well as more substantial cuisine, including lunchtime specials.
If you prefer to dine in elegance, the restaurant proper offers a selection of classic Portuguese cuisine as well as a select wine list. Of course, you can always enjoy a drink on the esplanade while enjoying the lovely waterfront atmosphere.
Order a drink at the bar, which is constructed like a vertical garden with 60 different plant species.
Royale Cafe
Royale Café is a respected cafe-restaurant that mixes healthy cuisine with an appealing appearance. It is a chic, minimalist venue fashioned out of an ancient townhouse. The backyard terrace has a lush plant wall and is a lovely place to be when it's nice and dry, especially during noon. Tables are also set up on the esplanade outside throughout the summer.
Chef Dolores Lopes is rightfully proud of the food she designed for this opulent bistro. The cuisine emphasizes healthy and balanced nutrition as well as textures and flavors unique to Portugal and southern Europe.
Appetizers are influenced by the Mediterranean, with selections such as Greek Tzatziki and North African hummus. Her culinary prowess is further demonstrated by modern interpretations of traditional Portuguese recipes, such as "Magusto" chicken thighs stuffed with chestnut and smoked sausage and octopus with potato and turnip greens, to name a few.
Among the "Royale Desserts" is a decadent chocolate cake topped with forest fruits and ice cream. The food is complemented by some great wines (try the Douro Fartote), and the restaurant also has a selection of artisan beers. On Sundays and bank holidays, the restaurant prepares a delicious brunch.
Floresta Do Salitre
Floresta do Salitre, a family-run restaurant that has been serving locals for many years, is refreshingly devoid of tourist frills. Don't be surprised if you have to wait for a table at Floresta do Salitre during lunchtime: this lively little restaurant is a favorite with lisboetas looking for midday sustenance, and local office workers—secretaries, admin bods, and probably even their managing directors—snap up many of the tables. "
The food is typical Portuguese fare, homemade, and served quickly with minimal fuss. They're big on seafood here, with a delicious array of grilled fish options embellishing a menu that also lists food from the countryside—lamb, chicken, and pork dishes, variously prepared and representing different regions of Portugal.
The Prato do dia, or "dish of the day," is the best lunchtime value. This occasionally contains Bitoque—steak and chips.
Terraco Do Marques
Terraço do Marques is an ideal lunch stop for anyone staying in or around Lisbon's Saldanha neighborhood, with towering city views for dessert.
The cuisine at this modern rooftop restaurant provides a mix of surf 'n' turf selections presented with unfussy flair, complemented by captivating views of the city's famous Marques do Pombal. Given its proximity to Lisbon's busy financial center, this is a lunch location that attracts nicely dressed executives in addition to casual diners.
Speedy service adheres to the "time is money" mantra, but for those with more time on their hands, the vast outdoor terrace with its fresh-air views gives a pleasant respite from the sidewalk rush and bustle below.
Order grilled tiger prawns or a superb entrecote steak, select a wine, perhaps Papa Figos from the Douro, and spend the afternoon in true Portuguese style: easy and unhurried.
This is a family-friendly restaurant; the chicken nuggets are a big favorite with kids!
Bistro Gato Pardo
A place to unwind over wonderful cuisine in a relaxed and unhurried setting. Take note, cat lovers. Mario and Werner are cat lovers. That's why they named their restaurant after a cat (the bistro's logo looks like a domestic cat with leopard spots).
Entering this place is like walking into someone's living room, and the domestic feel is palpable. Throughout, vintage wooden furniture is employed, with leather-clad chairs and an antique sofa contributing to the lived-in feel.
Werner is from Switzerland, therefore, he's added a variety of crêpes, both sweet and savory, to the menu. Dishes such as ravioli, funghi, and porcini add to the foreign flavor. Prato tira-gostos com po is a Portuguese alternative, and the kitchen always has a dish of the day.
Tables are arranged outside on the sidewalk when it gets particularly busy (typically Tuesday and Saturday lunchtimes owing to throngs attending a neighboring flea market). Diners can watch the trams pass by So Vicente de Fora Church from here.
Diners are encouraged to draw their own cat logos on napkins and other paper products. The best efforts are saved and framed for posterity.
Eleven: Michelin-star Restaurant
Michelin-starred eateries are frequently out of the question for budget travelers. However, in Lisbon, it is possible to experience high-end cuisine without spending a fortune. Simply go to Eleven, a restaurant owned by Chef Joachim Koerper that serves Mediterranean-inspired food.
Monday through Saturday, the restaurant serves an executive lunch menu for about €35. It includes an appetizer, a main course, and dessert, as well as a view of Parque Eduardo VII while you eat. Drinks are not included; however, you can always ask the sommelier for a wine selection at a reasonable price.
This restaurant is a little outside of the city center, but you can always combine your visit with a visit to Gulbenkian or the Estufa Fria, Lisbon's greenhouse.
Officiso Tasco Atipico
The newly reopened Ofcio is so popular with locals that reservations are required weeks in advance, but it's well worth trying to get a table to enjoy the innovative cuisine and take in the vibrant ambiance.
The Alheira sausage croquette, which contains a runny quail's egg at its center like a Portuguese version of a scotch egg, is exquisite, and the crispy crackling and stuffed spider crab from the Algarve should not be overlooked.
No lunch is complete without a slice (or full, if you can handle it) of the cheese tart, a rich, somewhat sweet, and totally creamy dessert created by chef Hugo Candeias during the second lockdown.
Despite the fact that they're packed, staff will be eager to talk enthusiastically about the flavors and ingredients in the dishes or to recommend a wine combination; take advantage of their knowledge and pick their brains as they bring your plates.
BouBous
BouBou's, which was founded in 2018 by Agnes and Alexis Bourrat, is a family affair. Alexis' sister Charlie Bourrat hand-picks wines for the restaurant, while his other sister Louise heads up the kitchen, bringing her rebellious, creative approach to BouBou's. The end product is a pleasant, casual fine dining establishment in what is perhaps Lisbon's most food-focused district.
If tasting menus are your thing, this is a must-try. The dishes are diverse, engaging, and flavorful, with a focus on seasonal ingredients and zero waste.
The restaurant isn't vegetarian, but there's a tendency toward veggie-heavy dishes—expect sweet potato served with coconut tiger milk and kaffir lime, and a nori taco with kimchi rice and glazed seitan—though it's one of the few times looking at the menu ahead of time isn't advised, so you can be pleasantly surprised by each dish.
Casa Reia
Is there a better location for a restaurant than on the beach? While the city offers an abundance of dining options, there's something extra wonderful about dining with the sound of the waves, and this new addition has taken that sunshine feeling and improved it with rattan furniture, pleasant service, and fresh flavors.
Begin with oysters, then move on to sharing plates such as zucchini baba-ganoush with mint and raspberries, seabass sashimi with green apple, celery, and fennel, and a green summer salad with nectarines, yellow zucchini, and smoked chickpeas. The seafood rice, with juicy prawns and bits of octopus, is the menu's standout dish from chefs Dario Costa, Udi Barkan, and Pedro Henrique Lima.
Best of all, the restaurant spills onto the sands, so you may head towards the water with a cocktail in hand after your lunch.
Taberna Sal Grosso
Taberna Sal Grosso is a welcoming restaurant in Alfama, just a few steps from the Pantheon. It has some of Lisbon's top petiscos.
Every day, the crew writes the menu on a chalkboard outside, so you know what's on the menu. You can try oxtail stew, smoked pork belly, and codfish there, to name a few dishes. If you inquire about the catch of the week, they will provide you with scrumptious fresh fish.
In terms of drinks, you can taste the house wine or a glass of the proprietors' homemade brew. Since this restaurant is small, it's best to make a reservation in advance if you wish to come for lunch.
Also, if you're traveling on Tuesdays or Saturdays, stop by Lisbon's flea market on the way.
Recent Posts