15 Best Zipperless Luggage and Zipperless Suitcases for Travel

Are you looking for no zipper luggage? These are the best zipperless luggage and suitcases you can find.

Zipperless suitcases are slowly becoming more and more popular with travelers who want to keep their belongings safe when traveling, with big brands and smaller unique brands opting to produce zipperless suitcases.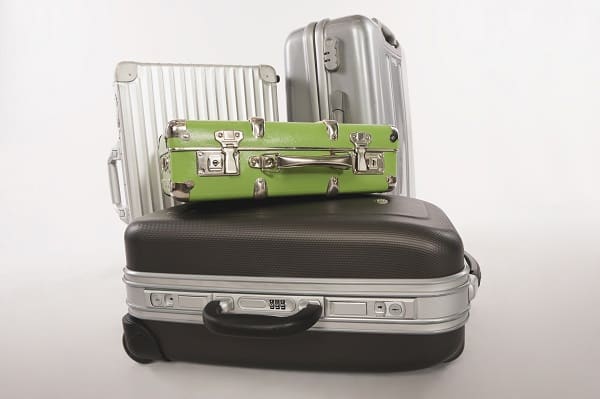 Why Choose Zipperless Suitcases?

Suitcases or luggage with zips are quite easy for thieves to break into, it can happen at any point in your travels and you would have no idea it had happened until you had reached your hotel room or home at the end of your trip.


Zipperless suitcases are also a great way to protect your luggage from baggage handlers or other people who handle your suitcase from putting something undesirable into it without you even realizing it making it the safest luggage bag and secure luggage.

There have been many cases around the world where people have had things slipped into their suitcase without them realizing and been charged with criminal activity or worse.


If you want to do everything in your control to keep your belongings safe from being tampered with, a zipperless suitcase is a great idea for a suitcase going in the hold compartment or traveling without being in your possession the whole time.


Why Thieves Love Zippers?

All a thief has to do to break into a zippered suitcase is to get a ballpoint pen and force it through the zipper. The way zippers are designed to work means they easily come apart and once they do your valuables can be easily stolen, then zipped back up as if nothing had happened.


If this happened, you would have no idea until it was too late and you had arrived home or to your destination.


Here are some things to consider when choosing a no zip suitcase.

Size and Weight

How big do you want your suitcase to be? Are you going on a long trip? Or do you want a suitcase you can easily carry through the airport or when traveling which isn't too heavy or large.
Some zipperless suitcases can be heavy on their own so watch out and check the weight of your desired suitcase before you purchase it, to ensure you don't waste weight on a heavy suitcase. This extra weight of the suitcase takes away from your baggage allowance and means you can't carry things you want to take with you on your trip.


Organization

Do you want a suitcase with organizational pockets or compartments? Some zipperless suitcases have sections or dividers so you can organize the contents of your suitcase. These dividers or organizers can come in a range of designs from mesh pockets inside the two half dividers, separate compartments for different items.
One of the zipperless suitcases on my list has a removable organizing compartment which turns into a small day pack, saving room on packing another day pack.


Wheels

Before purchasing a zipperless suitcase you can decide if you would like one with four wheels, two wheels, or eight, all have positives and negatives its all up to personal preference.
Many of the four-wheeled suitcases have eight individual wheels that work together to provide 360-degree movement in any direction, this can make the suitcase easier to transport and navigate around an airport, especially if it is a carry-on suitcase.


Handle

Do you want a zipperless suitcase with a top handle, a side handle, a top pull handle, or all three? There are many zipperless suitcases which have one handle on the side and the carry handle on top, this is a personal preference. The zipperless suitcases on this list have multiple handles, some are retractable into the suitcase and others have pull handles which are made of heavy-duty material for long-lasting.

Material

Zipperless suitcases can be made out of a large number of materials, including aluminum and other lightweight materials. The material the suitcase is made out of depends on the overall weight of the case, most zipperless suitcases are heavy duty but lightweight.

TSA Approved Lock

TSA recommends not locking suitcases but many of the locks on the zipperless suitcases in this list are approved by TSA, meaning it is ok for you to lock your case and check it for your flight. TSA has a special way they can open your locked case if it is locked using a TSA approved lock. This ensures all your contents inside is safe from outsiders and makes sure you aren't breaking any rules and the TSA can get into the suitcase if they wish to.


Best Zipperless Suitcases



The MOIERG vintage trolley is a unique zipperless suitcase with a vintage design to resemble an old-style suitcase. The suitcase is available in brown, white, red, navy, dark brown, and black, in addition to three different sizes small (20L), medium (25L), and large (41L).

This zipperless suitcase has a lift top opening with a deep bottom, and a middle clipped layer with a mesh pocket, there is also a small pocket in the top.
The suitcase's unique design allows it to be locked closed and also buckled closed. Unlike the suitcase it was designed to resemble, this suitcase has four wheels which can move in every direction in addition to a side and top handle and standard pull handle.



Samsonite is one of the biggest brands to create zipperless suitcases and the Flight hardshell suitcase is one of their zipperless suitcases.

The Flite suitcase is available in six colors including navy, black, white, mint green, sage green, and red. The suitcase is a hardshell rectangular suitcase and is made from an ultra-lightweight material which comes with a 10-year warranty.
The Flite zipperless suitcase is available in three sizes 21inch (carry-on), 24inch (ideal for a one week trip), and 28inch (ideal for a two-week trip).

The zipperless suitcase features a TSA approved combination lock to keep your contents safe and has a cross ribbon and divider to separate and organize belongings into compartments. The suitcase has four wheels and can travel in any direction with a 360-degree spinner and the suitcase can also be expanded.


This zipperless suitcase is ideal for every variety of travel including the Spinner S as a carry-on weekend suitcase, the Spinner M is ideal for a one week trip, the Spinner L for a two-week trip, and the Spinner XL for a trip over two weeks long.

The S'Cure Spinner suitcase has a three-point locking system, which also seals moisture out and prevents the contents from getting damp or wet. The suitcase is made from Flowlite which makes it ultra-lightweight and ensures you can fit all your belongings inside making the most of your weight allowance.

Inside the suitcase, there are also compartments and a middle zippered pocket to hold valuables.
The Samsonite S'Cure Spinner Hardshell suitcase is available in four sizes Spinner S (34L), Spinner M (79L), Spinner L (102L), and Spinner XL (138L). It is also available in eight different colors which include black, blue, red, silver, turquoise, and yellow.



The Samsonite Aeris Spinner– this samsonite zipperless suitcase is known for being a high-class product. The Aeris Spinner is available in three sizes: the Spinner 75 (ideal for a two-week trip), Spinner 68 (ideal for a one week trip), and Spinner 82 (ideal for a trip over two weeks long). The zipperless suitcases are available in four colors red, navy, black, and blue.

The Aeris Spinner is made from a lightweight and robust polypropylene material making it ultra-lightweight for traveling. The contents of the suitcase will be safe with its three-point locking system for extra security.

The inside of the suitcase has a lowered crossed ribbon to prevent the contents from being thrown around inside, in addition to a divider that has a large zippered pocket.



The Coolife expandable suitcase is available in five colors including green, silver, purple, white, red, and orange.
The Coolife suitcase is fashionable and is ideal for every traveler as it is available in three sizes, small, medium, and large. The small suitcase is ideal for a weekend trip, or as a carry-on suitcase, with a capacity of 38L.
The medium-sized case is ideal for a week-long trip or those savvy packers, with a capacity of 60L, and the large is for those who are traveling for longer than a week or want the option to expand their suitcase to bring more items home, with a capacity of 99L.

The Coolife zipperless suitcase has a TSA approved locking system, and four spinner wheels for the ultimate movement. The suitcase is also ultra-lightweight thanks to it being made from PC + ABS material, with aluminum handles, which makes the suitcase much harder than other suitcases and gives it a shiny finish.

The interior of the zipperless suitcase has two layers, a polyester layer and a thin foam layer for protection, there is also an interior mesh pocket. The suitcase comes with a standard two-year warranty.



Coolife has produced several great zipperless suitcases and the next suitcase is no different, available in three sizes small (38L), medium (60L), and large (93L), you can also purchase the whole set of three if you wish.
The zipperless suitcase is great value for money in addition to being stylish, and available in eleven colors which include apple green, black, navy, yellow, blue, white, pink, red, and more.

The suitcase is made from an ABS hardshell with aluminum handles, which are strong, lightweight, and scratch-resistant. The interior of the suitcase has two-layered materials, a layer of polyester and another layer of foam, there is also an interior mesh pocket.

In addition to all the other features, this suitcase has a combination lock, spinner wheels, and a side handle making it easy to carry.



The Enkloze KLASIK zipperless suitcase is one of the most heavy-duty on our list, made from 100% aluminum with an aluminum frame and reinforced corners, it also comes with a five-year warranty.

A unique feature of this suitcase is the pull rod and handle which is made from thick aluminum, and the rod can stop wherever you wish it to, reducing wear and tear on the product. The zipperless suitcase is stylish and modern with a diagonal line style throughout.

The Enkloze KLASIK has several security features including a zipperless dual TSA approved combo lock for the main compartment, in addition to the band in the interior to keep the content secure and valuables safe inside.

This suitcase is available in a carry-on size (20inch) and a suitcase (28inch), in addition to two colors black and silver.



Andiamo Elegant zipperless suitcase is a heavy-duty rectangle suitcase which is available in silver and light purple. The suitcase is made from 100% Polycarbonate with an aluminum frame and an alloy-metal finish, this makes it lightweight, strong, and sleek in design.

The Zipperless suitcase has a pull handle and a retractable side handle for personal preference. This zipperless suitcase features TSA integrated locks to keep the contents inside safe.
This is the perfect zipperless suitcase for traveling for either long term or a weekend getaway as it has a size of 20inches and a capacity of 29L, allowing it to be used as approved cabin baggage.



This suitcase features a hard shell made from an aluminum-magnesium alloy (aviation grade), which is a high impact-resistant metal, which has strong but lightweight properties. The zipperless suitcase has a dual TSA approved combination lock which keeps your contents safe inside when traveling.

The Sindermore zipperless suitcase also features 360-degree spinning wheels, and slow-release handles on the top and side of the suitcase for easy carrying. A unique feature of this suitcase is on the inside, it has an organizing bag that folds out over the contents to keep it from moving but it can also be used as a separate bag altogether.


Available in dark grey the Sindermore zipperless suitcase is a heavy-duty suitcase which is available in three sizes, small which is perfect to be used as a carry-on suitcase (20inches and 36L capacity), the medium which is great as a small checked-in suitcase (25inches and 56L capacity), and the large suitcase (29inches with a capacity of 96L).
Conclusion: Best Zipperless Luggage

The zipperless suitcases featured on this list are all high-quality and depending on what type of zipperless suitcase you are looking for there is something on this list for everyone.

Recent Posts