The best bike tour Buenos Aires
There is so much to do in Buenos Aires and I thought one of the best ways to see the city is to take a bike tour of Buenos Aires. When I first arrive somewhere I'm always a bit overwhelmed by everything and unsure how I'm going to fit it all in.
That's why I highly recommend doing a bike tour of Buenos Aires to get your bearings and a little taster of the city so you can then decide where you want to return to and spend some time exploring.
And if its like Buenos Aires, it will also show you how long it takes to get from point A to point B. Buenos Aires is a spread out city with each of its different neighbourhoods having a different feel and personality. Here's everything we covered on our Biking Buenos Aires. Check out this list of free things to do in Buenos Aires.
Biking Buenos Aires Tour – one of the best bike tours in Buenos Aires
We left from San Telmo and headed to the beautiful Lezama Park to take in the monuments and the Russian church across the road before heading to La Boca to check out the most colourful area of the city.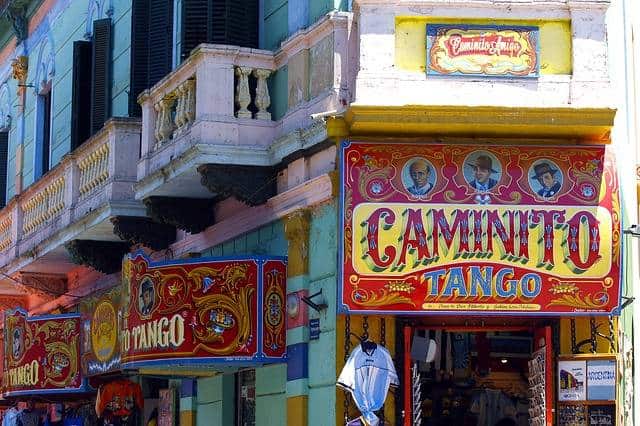 After spending some time exploring La Boca and taking so many pictures of the beautiful buildings it was time to head to see some Street art and graffiti of the city.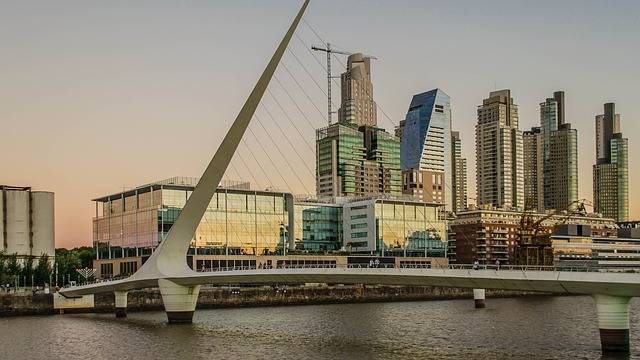 After that we had an epic lunch at El Quincho before heading to the reserve in Puerto Madero which was a nice quiet park where we saw an iguana. After that we headed to see the women's bridge and then onto the silver flower of Eduardo Catalano.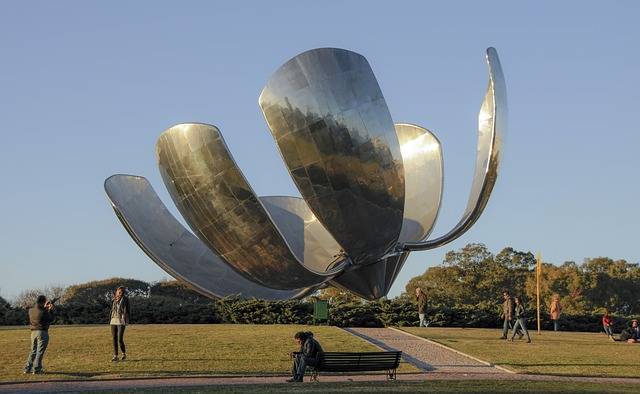 Now you've probably seen pictures of the silver flower as it is an icon in Buenos Aires but let me tell you a little tip that hasn't been updated in the guide books yet. It used to open and close with the sun but it is now broken so you will see some tourist there with an old copy of Lonely Planet waiting for it to close at 6pm but unfortunately that will not be happening.
Next we had story time while sharing a Yerba mate tea. If you are a fan of Mozart in the Jungle you will know all about Rodrigo and his tea. Yerba mate tea is a herb tea filled with antioxidants and caffeine and it is passed around and around in a circle and drunk through a metal straw that filters out the small particles. I find it very bitter but I think I could grow to like it because I like my green tea very strong and bitter as well. So we drank the tea on the site of Evita's old house which was torn down. It is an interesting story of her history and what she was trying to do for Argentina and really sad that she died at the young age of 30 years old.
After tea time we went to the Recoleta Cemetery to see where Evita was buried. There is a lot of conflict over the fact that she is buried there and she is not buried under the name Peron but actually under the family name Duarte. There are no signs to her crypt but if you head to the left once you enter the cemetery and then follow the lane along the back you will run into the crowds and be able to find it.
After the cemetery it was time to head back to San Telmo (trust me I was tempted to head straight to my hotel from here but I had to return my bike). We headed through Barrio Norte where all of the Embassies are located and then we crossed the widest avenue in the world before stopping in Plaza San Martin and then heading onto Plaza de Mayo before returning our bikes. For a total of 25 kms biked on the day.
I honestly could not have covered this much ground in one day on my own. About 70% of the tour is done on bike lanes and I found it really enjoyable to bike through Buenos Aires. Biking Buenos Aires has several different tours you can do.
My all day experience was the Ultimate Buenos Aires Bike Tours. It is a full day tour that is all inclusive – helmet, bike, bell, lunch, insurance entry. Motorized bike unavailable but there are plenty of stops along the way.
The tour is offered daily at 10am and is approximately three hours of biking in total. I found the bikes comfortable, the riding easy, and the bike lanes were great.
Many thanks to Destino Argentina and Biking Buenos Aires for sponsoring my activities in Buenos Aires. Like always, all opinions are my own.
Recent Posts