Where to stay in Santiago Chile – The Aubrey Hotel Santiago
When I was planning my five month trip around South America I knew I would hit 100 countries but I didn't plan to have a place where I wanted it to be. I just booked my flights and itinerary by what I wanted to do and the flights that were cheapest. Visiting my 100th country was a milestone and staying at the Aubrey Santiago was the best place to stay in Santiago Chile.
It wasn't hard to decide where to stay in Santiago. I kept seeing the Aubrey, one of the best boutique hotels in Santiago Chile. And boy am I so happy to stay at one of the top luxury hotels in Santiago Chile.
When I arrived in Argentina I realised I was close to 100 and then figured out that Chile would be my 100th country!!! Over 23 years I've managed to visit 100 countries.
Arriving in Santiago Chile – The Aubrey
I flew from Buenos Aires to Santiago. Wow the view over the Andes was amazing. It was a quick two hour flight so when I arrived in Santiago I called an uber to take me to the Aubrey Boutique Hotel.
After 100 countries, countless hotel rooms I can say this is one of the best boutique hotels I have ever stayed at. Everything was perfect for my stay from checkin to the recommendations the staff gave on where to eat.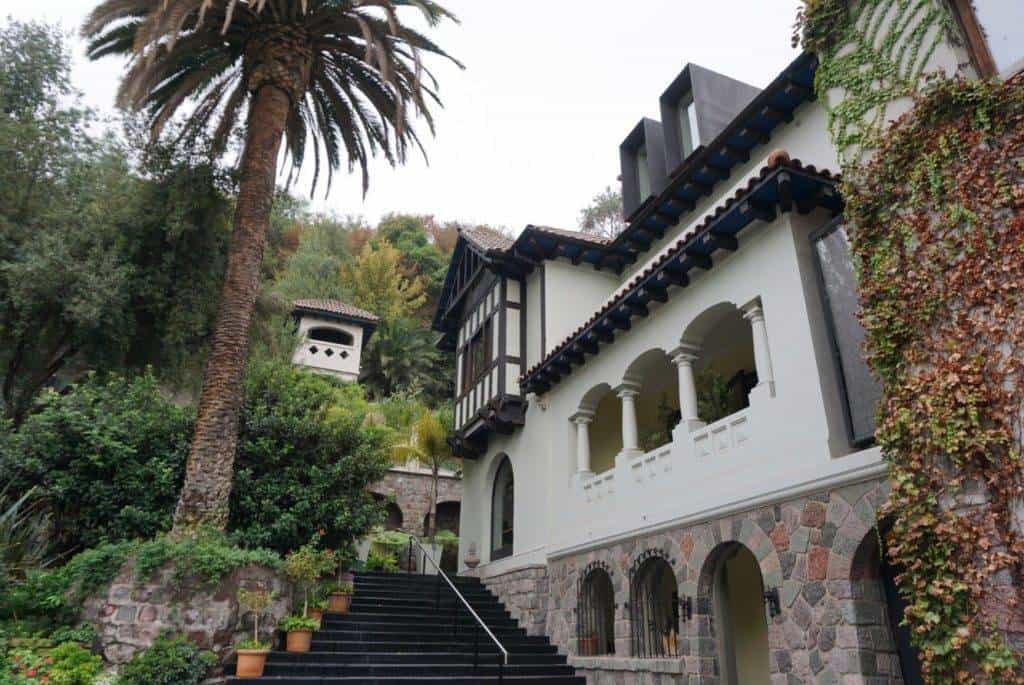 The best boutique hotel in Santiago Chile – Aubrey Hotel
The Aubrey Hotel is a boutique hotel located near all the sites including Pablo Nerudo House and Bellavista Patio with alot of restaurants and bars. The Aubrey is an old restored house with only 15 rooms.
The grounds are absolutely beautiful complete with a swimming pool and a piano bar. The house itself is historic and beautifully renovated.
Its also the place I had my first Pisco Sour! Now if you watch my Instagram stories you will know that I videod the bar tended making my drink. One part pisco, one part sugar, one part lemon and one teaspoon egg whites. Shake till frothy. Yum.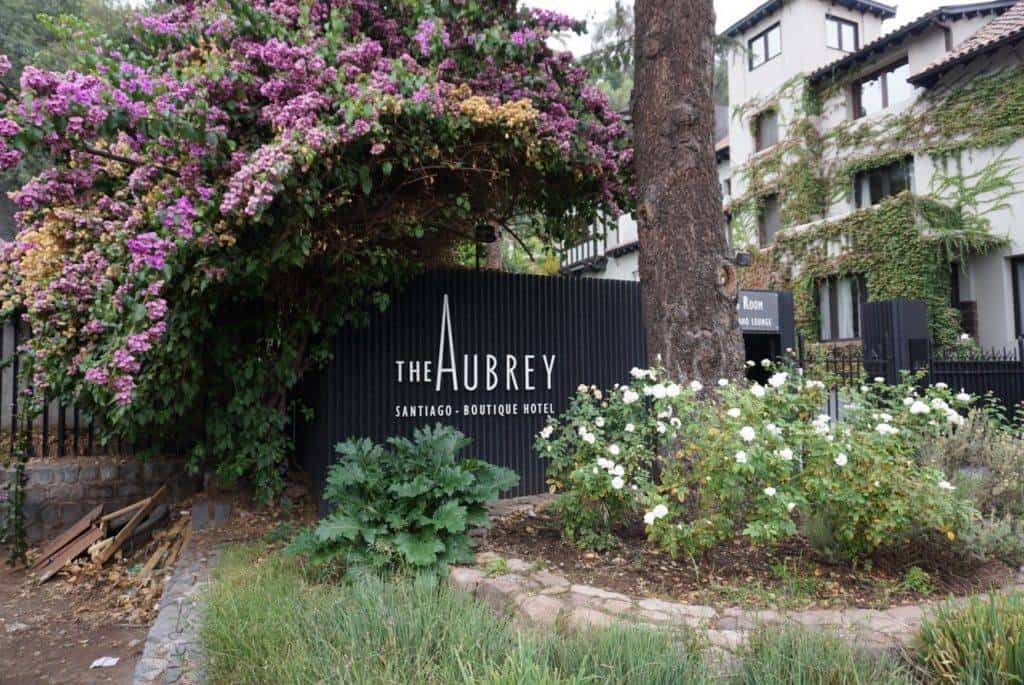 It is located right next to the funicular to Cerro San Cristobal which is worth a visit up to the top and explore. There is a short line to ride the funicular but it is well worth the wait to go to the top and explore the park.
I new when I pulled up to the front of the Aubrey Hotel that I would enjoy my stay here. The grounds are just stunning. Check out these other places to stay in Santiago Chile.
Exploring Santiago Chile
The staff at the Aubrey were so helpful and helped me plan my day of exploring. Santiago is one of those countries best explored on foot. From the Aubrey I went to the seafood market to try some fresh seafood.
From there it was a short walk to Plaza de Armes which is the main square in Santiago. It is a beautiful square with historic buildings surrounding it and the cathedral a few blocks away. That's the great things about the location of the Aubrey – everything is within walking distance or a short Uber ride away.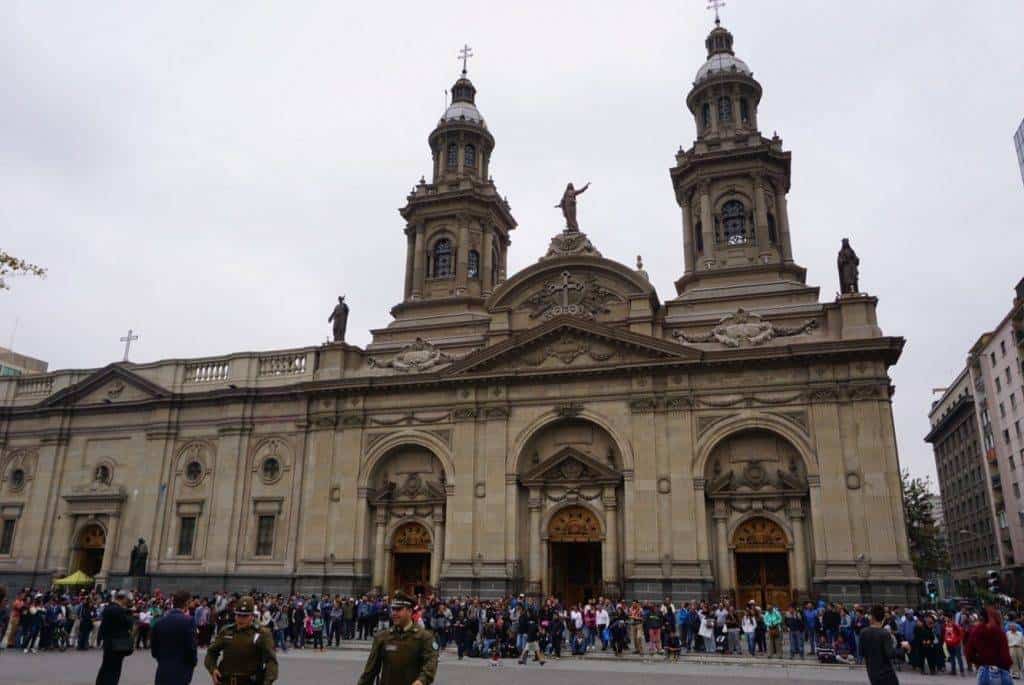 One of the best suggestions I got from the staff at the Aubrey was to visit Emporio de Rosa for gelato. Oh my wow this place is amazing. I was told to try the Lucuma flavour which is a fruit that does not have an english name. It was delicious and has an indescribable flavour.
I went for the dark chocolate which was blow my mind good. I also had the Chilean dulce de leche which is different than the Argentinian variety. The Chilean variety is more cinnamon flavoured and not as sweet. I really enjoyed it. This place was a home run for me – thanks for the suggestion from the Aubrey.
My time in Santiago was short and sweet to explore the city. There is a lot to do there but as I was still jetlagged and I knew I would be back after Valparaiso I took my time and just meandered around.
I only spent one night in Santiago and I have to say my favourite part was staying at the Aubrey Hotel. The location in Santiago was great. It was nice and quiet and had such amazing service there. I would stay there again for sure. I loved how cozy the hotel was and it really is the one of the best luxury hotels in Santiago Chile.
I had a great time exploring and visiting my 100th country – Chile! I can't wait to go back and see more of Chile. I was only able to visit Santiago and ValparaisoValparaiso and next time I would like to fly back to Santiago and stay at the Aubrey and go further south to Patagonia.
Many thanks to The Aubrey for sponsoring my stay in Santiago. Like always, all opinions are my own.
Recent Posts