20 Iconic and Famous Vietnam Landmarks – Must See in Vietnam
Vietnam Famous Landmarks: These are the best Vietnamese Landmarks to visit.  This list of famous Landmarks in Vietnam starts in the north near Hanoi and follows on down the country to the Ho Chi Minh landmarks. 
As this was written by an insider who lives in Vietnam, there are even some landmarks that are off the beaten path.
The enchanting country of Vietnam varies in beauty from its landscapes and culture. From the rugged mountains in Sapa to the tropical paradise of Phu Quoc, from the Hoi An town where the time has been forgotten to the phenomenal Son Doong cave, there are so many things to delve into in Vietnam.
These spectacular Vietnam landmarks are something you should add to your travel bucket list. Here are the landmarks of Vietnam.
Top Tourist Attractions in Vietnam: Vietnamese Landmarks
Ho Chi Minh Mausoleum, Hanoi
The Ho Chi Minh mausoleum is a remarkable Hanoi attraction. It displays all the materials, souvenirs relating to Nguyen Ai Quoc, the country`s revolution leader – also Vietnamese president during the Vietnam wars.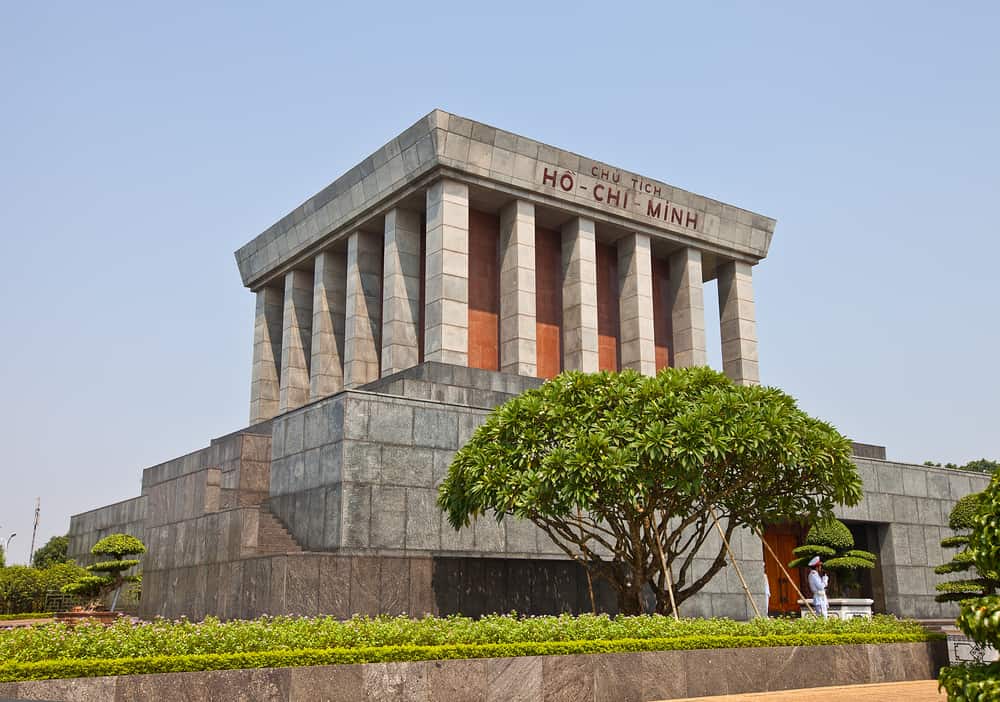 The Mausoleum was built in contrary to his desires; following the tradition of Lenin, Mao and Stalin. It is one of the must see places in Vietnam and a famous landmark in Vietnam.
To visit the Mausoleum, you are requested to dress modestly: knee and shoulder covered clothes, no flip-flop, no sleeves t-shirts.
For Vietnamese, especially the older generation, it is a very essential stop whenever they visit Hanoi. The young people are very interested in watching the "flag ceremonies" which occur early in the morning or late evening. 
When you plan your visit to this landmark, please note that it is closed annually for 2 months from June to August (varying from year to year )
The Old Quarter, Hanoi
The story of Hanoi started here. The Old Quarter is the most celebrated district that everyone should tackle.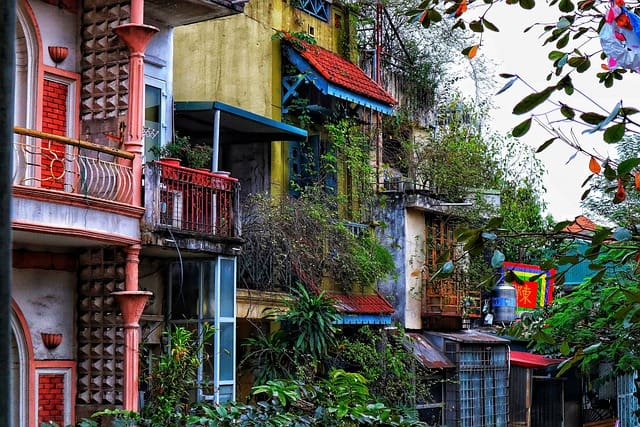 Historically, the Old Quarter was the main commercial hub of Hanoi which exhibited a wide range of woods from grass, bamboo to silk, blacksmith products.
Nowadays, although you may not witness the full collection of these items, there are still interesting works to see remaining in the town covering tinsmith, bamboo, mattress, silk, papers.
To kick off a trip to Hanoi, embark on a guided walk through Bach Ma, Hang Bac pagodas with stops by Dong Xuan market and the ancient house of Ma May street.
The old quarter is also a destination for foodie. There is no other place can beat the famed noodle in Bat Dat street, Bun Cha in Hang Manh street, etc.
Halong Bay, Quang Ninh
Boasting 2000 peaks and instagrammable islands jutting out of the Tonkin Gulf, Halong is the premier destination for any holiday to Vietnam.
There are ways to appreciate the spectacular of Halong Bay, taking a cruise is probably the best option. Depending on which cruise liners you choose, you`ll able to marvel some of those breathtaking sites: Dau Go cave, Sung Sot cave, Bai Tho mountain, Monkey island.
If you do not have much time, a day tour to Halong Bay could feast your eyes with 4 hours cruising and 1 hour kayaking.
Embarking on a 2 – 3 days journey reveals more about the less-visited territory of Halong including Lan Ha Bay, Bai Tu Long Bay. For those who fancy national park, add 1 more day to climb Ngu Lam peak where the best panorama of Halong is exposed.
Muong Hoa Valley, Sapa
While Halong lures holiday-makers for its picture-perfect seascape, the hill station of Sapa attracts a different kind of traveler. Here striking mountains, cascading waterfalls and rice terraces take the place of the waves and sand.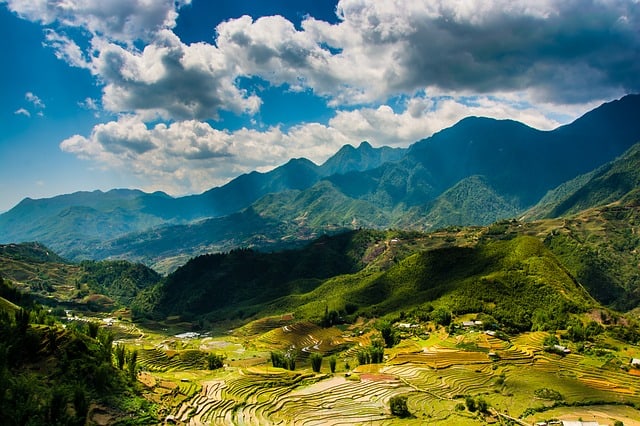 All these beautiful characters are defined in Muong Hoa valley which stretches over 15km from Silver waterfall till Ban Ho stilt village.
In winter, this is the place to take a photo for anyone who wants to capture the sea cloud during summer and witness the color sliding on the rice paddies.
Here are some suggestions to make your Vietnam Tour in Sapa special : trek with a Hmong tour guide, photograph the entire Muong Hoa valley from Hau Thau peak, treat yourself to a drink at Topas Ecolodge and swim in Ban Ho valley.
Mai Chau Valley, Hoa Binh

Go wild and go right is what we said about Mai Chau when seeking a place of Vietnam`s authenticity. This 27 mile long valley has nothing but the tranquility of nature and sumptuous hospitality of Thai people who immigrated to Hoa Binh province since the 6th century.

Just about 3 hours drive from Hanoi, Mai Chau seduces its visitors with a photogenic setting: lush rice fields, peaceful river, nostalgic mountains. For all of these, Mai Chau becomes a very popular biking site.
It does not mean there is a lack of things to do. From grateful cultural dance to traditional weaving work, from unique fishing scenes to mouth-watering foods, Mai Chai can host even the most sophisticated traveler.

Dong Van Sunday market, Ha Giang
After a thrilling ride over the mind-blowing Ma Pi Leng pass, delivering panorama of Nho Que river, it's time to immerse in the cultural fair of Ha Giang.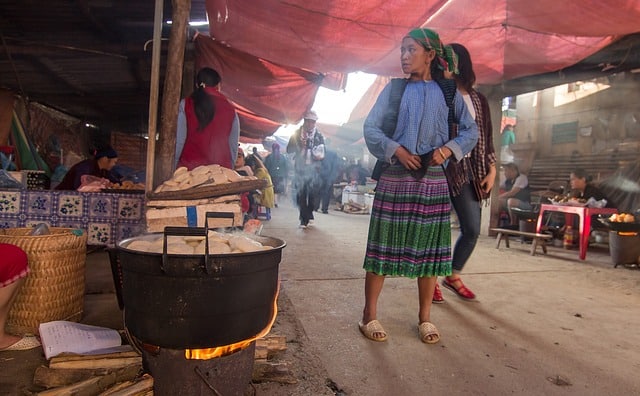 Dong Van market which happens only on Sunday is such an unmissable event. It is not a simply a place where people come to buy or sell but more a colorful rendezvous where local ethnic minorities come to socialize.
Every corner of the market can surprise you : bird trading, maze cake, open restaurants with " happy water" – a place full of sights and sounds.
When all the women dress their traditional, shining costumes, the market is a feast for eyes.
Ban Gioc Waterfall, Cao Bang
Tucked away in the secluded province of Cao Bang, Ban Gioc was named the most beautiful waterfalls in Vietnam. When it falls from 60 meters' height, Ban Gioc thunders itself through 3 different layers with magnificent natural pools.
The falls mark the border between China and Vietnam. To fully discover Ban Gioc, you`ll need to board a bamboo raft which allows you to navigate to the middle of Quay Son river. Do not be surprised if you see some Chinese tourists there as it is so close.

Some other draw near Ban Gioc Waterfalls are: Nguom Ngao cave and Pac Bo relics. You can also have a homestay in Quyen Uyen is something really unforgettable.
Mu Cang Chai Rice Terraces, Yen Bai
Hidden away under the foot of Hoang Lien Son range, Mu Cang Chai is rewarded as the national pride thanks to its captivating rice terraces.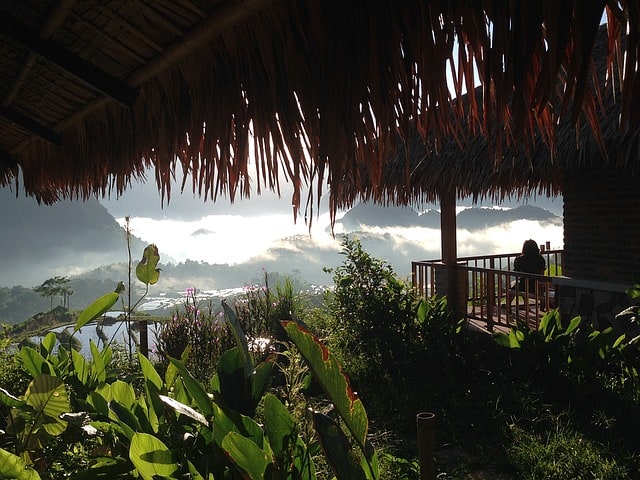 It takes about 8 hours to finish the 300 km road trip from Hanoi but your effort will be compensated with photogenic landscapes of the mountains dotted by enchanting Thai stilt villages.
Trekkers can tackle the trails of Mu Cang Chai all the year round but Sept to early November has something different: the gliding season. During this time, all the massive rice paddies turn from green to yellow – a wonderful time to challenge your camera lens.
Trang An Landscape Complex, Ninh Binh
No trip to Ninh Binh province is complete without a trip to the Trang An complex.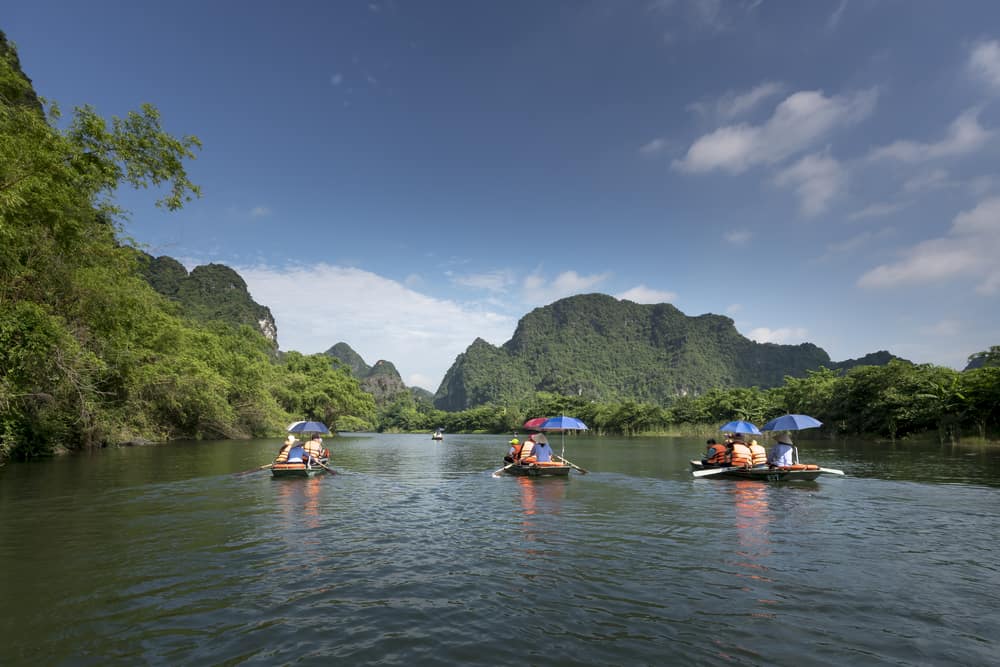 This dramatic area was named as a Unesco World Heritage site in 2014, boasting amazing values to your trip in northern Vietnam.
The whole complex covers three different areas: Hoa Lu, Gia Vien and Nho Quan. Each of them has its own identity.
While Hoa Lu is the ancient capital under the reign of King Le and Dinh; Gia Vien and Nho Quan have stunning waterways studded with sublime karst mountains and amazing archaeological treasures.
To spend your time in Trang An, these are the highlighted activities : having a boat trip in Ngo Dong river, seeing Hoa Lu ancient capital, cycling the backroad of Tam Coc.
Ba Be Lakes, Bac Kan
In Vietnamese, Ba Be means three lakes. This is the core area of the so called national park which was established in 1992. These inter-connecting lakes are claimed to be the largest freshwater lake in Vietnam.
This is a wonderful, off beaten place for any keen adventure-minded travelers. Possibilities to trek through dense jungle, awesome cave, paddling until Dau Dang waterfall.
Babe lake also plays an important role in reserving the tropical fauna and flora in northern Vietnam. About 65 mammals, 353 butterflies, 106 species of fish and 233 bird species take this intrigue landmark as their home.
Imperial City, Hue
Hue is the birthplace of the Nguyen Dynasty and also the last feudatory time of Vietnam. It was the capital of An Nam country from 1802 till 1945.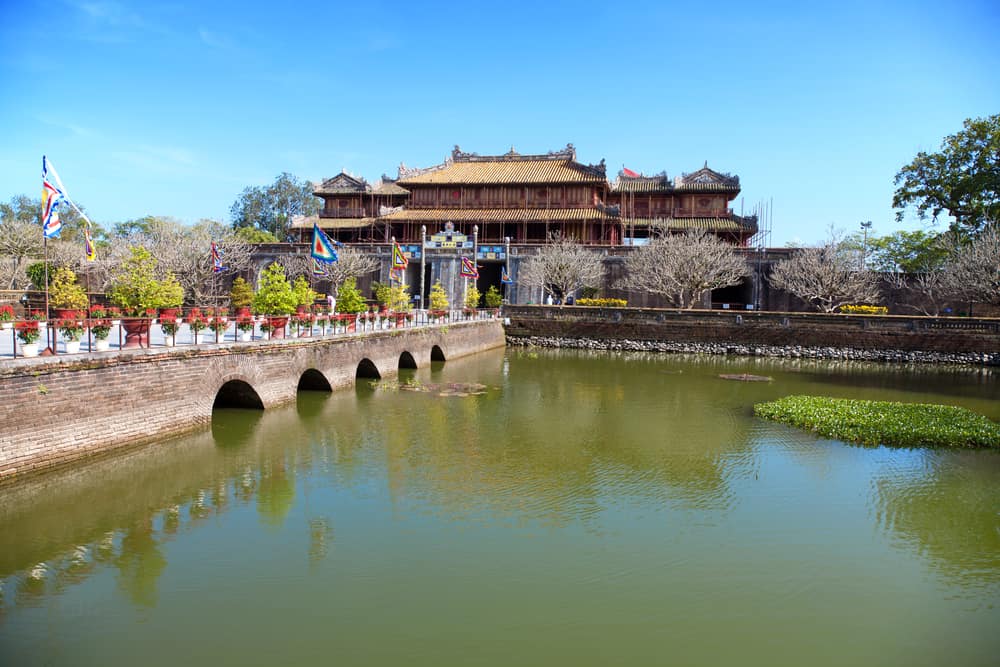 The imperial city is the perfect introduction of Vietnam's history before the wars. It reflects the charm of Nguyen Dynasty's architects. When the whole structure was completed in 1832, it was considered as a rival to any other monuments in the country.
To scan the highlights of the imperial city, make sure to visit the Gate of Manifest Benevolence, the Pavilions of Splendour, Hall of Supreme Harmony and the most important part.
The Forbidden City is one of the most famous landmarks in Vietnam.
Khai Dinh Tomb, Hue
One of the must-sees for all travels to Hue city is the royal tombs and a Vietnam historical landmarks. Amongst the three most famous tombs are: Minh Mang, Khai Dinh and Tu Duc tombs, the one of Khai Dinh king stand outstanding for its amazing architects.
Constructed in 1925, this superb tomb has an extreme contrast to the king`s life. Not many books mention the king's contribution but his tomb which took 11 years to complete is something impressive.
The tomb lies on the steep Chau Chu mountains near the capital of Hue. The whole complex stretches over 5,600 square meters dividing into two different sections: Palace of Thien Dinh and outside which groups of statues, pavilions.
Son Doong Cave, Quảng Bình
Even for the least adventurous person, Son Doong cave is still a big call. This site has more than the record of being the world's largest cave to offer.
The story of Soon Dong started when Mr. Khanh, a local man, walked to the jungle inside Phong Nha National Park in 2009. For years after, Son Doong started taking the spotlight on many travel magazines and even the big newspaper like New York times.
In order to admire Son Doong, you`ll need to spend at least 4 days hiking through the untouched, humid jungle of Phong Nha.
After conquering mountains, wading through incredible underground rivers along the 9km, you`ll question how the otherworldly landscape of this cave could be formed.
Just look at the photos about this awe-inspiring cave, it is understandable why you need to reserve at least a few months in advance to have a place.
Ba Na Hills, Da Nang
Perched on a lush mountain overlooking Da Nang city and the Indochina sea, Ba Na Hill is a replica of a French hill station. It has a castle, European styled village, Mill Wind and church.
Get your camera ready when you are on the cable ride over the mountain then exquisite Linh Ung pagoda which houses a Buddha statue which stands 30 meters high. If you expect the panoramic view, stop by Nghinh Phong Peak.
For those who want to have a striking post for your Instagram, the golden bridge built in 2017 is the place to shoot.
Hoi An Ancient Town, Quang Nam
Known as the Venice of Vietnam, Hoi An probably has more lanterns than any other ancient towns in Asia.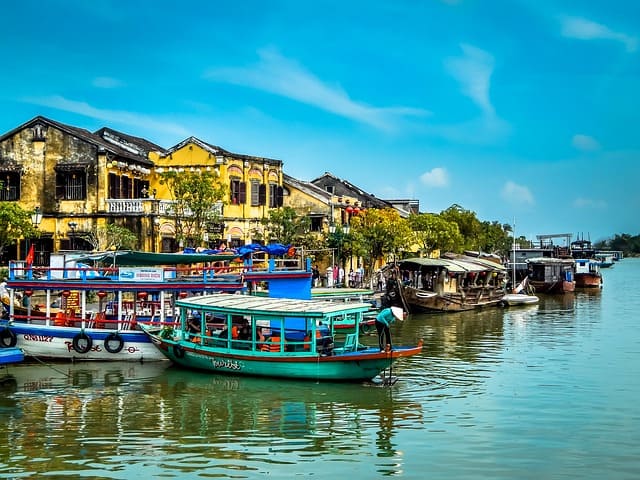 Established as a fishing village, Hoi An became the crossroad of the trade between Chinese, Japanese and Portugese. Consequently, the signature of each mentioned influence is still very visible in the town.
In 1999, Hoi An was officially recognized as the Unesco Heritage site.
Rather than just scanning the sparkling streets, Hoi An can be seen from a boat snaking through Thu Bon, a very scenic waterways.
Sandy beaches are within the reach of a 20-minute bike ride too.
My Son Sanctuary, Quang Nam
My Son Unesco Heritage may not be able to compete with the giant Angkor temples or mesmerizing Bagan but it is a true delight for a trip back to the past.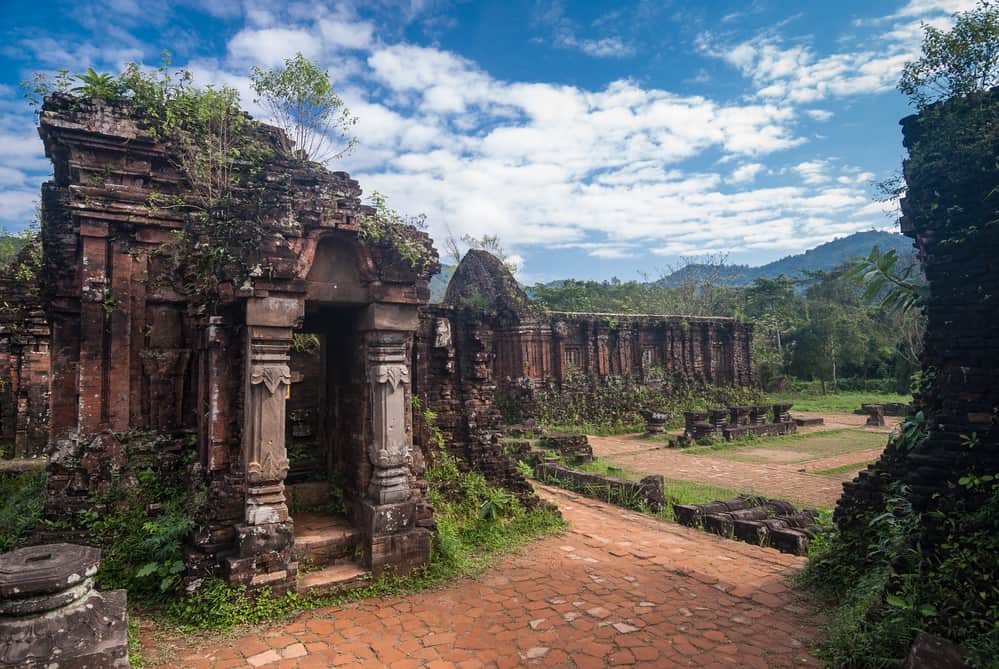 Constructed between the 4th and 14th century, My Son Sanctuary depicts the heyday of Cham civilization.
Scattering along the green valley, there appears the ruins and remainders of over 70 structures devoted to Hinduism.
DMZ Zone, Quang Tri
Any list of Vietnam Landmarks would be incomplete if it didn't mention the cultural Vietnam Landmarks such as the DMZ Zone in Quang Tri, especially Hien Luong Bridge.

DMZ zone was set up in 1954 according to the mutual agreement of Ho Chi Minh government and the French colonial administration. It marked the two separate sides of Vietnam: communist in the north and US-backed government in the south. From 1954 to 1970s, Quang Tri turned to be a fierce battle field.

Nowadays, DMZ zone is a veteran tourism destination where people come back to learn more about the secret of Khe Sanh Battle, Vinh Moc tunnels.

I truly recommend you to book a guided tour if you want to learn about this historic site.
Crazy house, Dalat
Dalat beckons visitors with its romantic setting. Dalat has a very odd Vietnam landmark: the Crazy House.
The architect Hang Nga, owner of this house said " I wanted to create something original, pioneering" and it is.
Crazy house is a weird but artistic property. It tells the story of nature reflecting through its rooms. Each room has something different. The corridor connecting rooms looks more like a tree branch than just a walkway.
To fully experience the Crazy House, you can book a room with a city view.
Cai Rang floating markets, Can Tho
With hundreds of fruits, rice, farm products, boats and floating food restaurants, it`s best to hit Cai Rang market before lunch.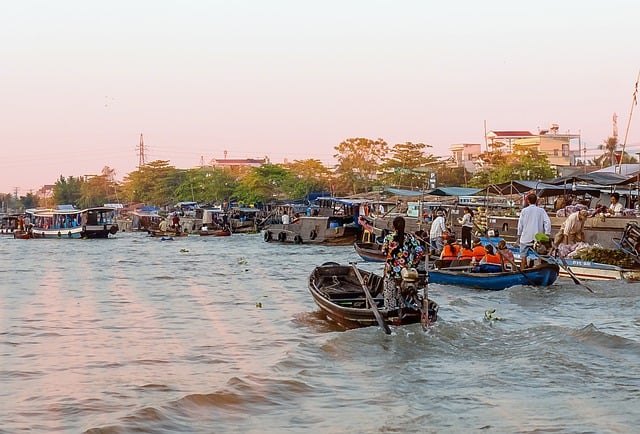 Cai Rang market is the biggest fair on the water in Mekong Delta. It is located about 6km from Can Tho city.
The neighbourhood of Cai Rang is abundant with sights that are worth a day trip such as Binh Thuy ancient house, Ong temple.
Cu Chi Tunnels, Ho Chi Minh City
When it comes to the ideas of experiencing Vietnamese history through its glorious past, some will vote for Hue as the remarkable feudatory capital, others will claim Cu Chi tunnels as a big part of American War.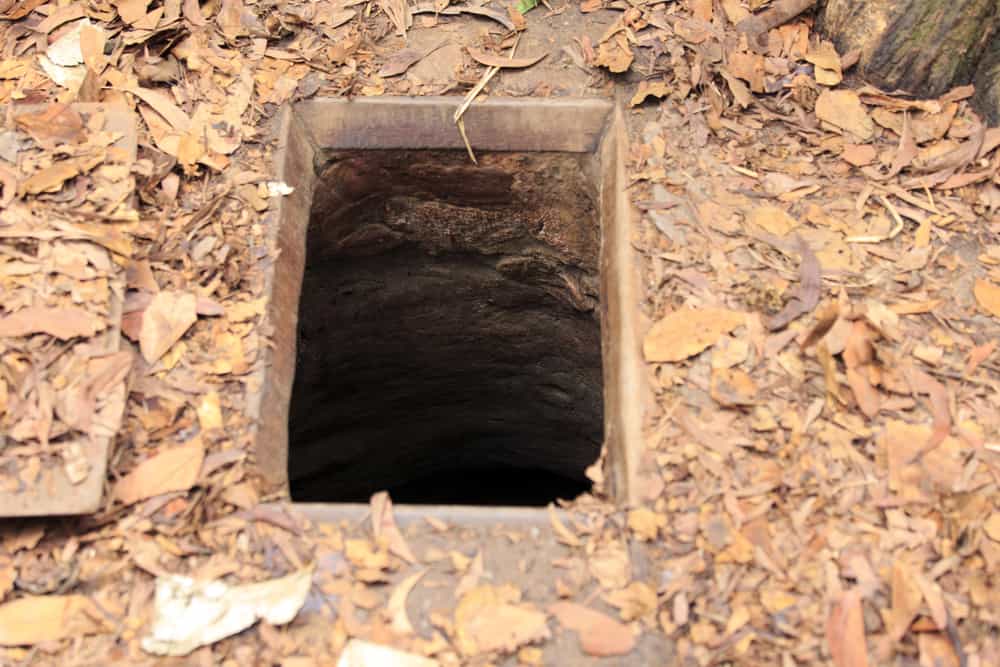 Located about 37km from Ho Chi Minh city, Cu Chi is divided into 2 parts: Ben Dinh and Ben Duoc. Along 121km under ground build in 1960s, the tunnels functioned as the hiding area, supplying routes for the frontier.
Cu Chi is a lively showcase of life during the war time. Everything was there from bed rooms to hospitals, from weapon storage to cook.
Phu Quoc Island, Kien Giang
Vietnam's biggest, but still not populated island, Phu Quoc is stuffed with sun-kissed, powdery beaches. Inland there is a fascinating national park, where you can walk around and take in the view.
Whether you are looking for a leisure holiday with a luxury resort, a crumbling French colonial relics, or a culinary adventure, Phu Quoc has it all.
The network of uninhabited islands around Phu Quoc is also the main reason why the number of travellers flock into Phu Quoc has been increasing in recent years.
Recent Posts