It's the ultimate adventure but I was scared to death to do it. It turned out to be one of the most enjoyable and peaceful things I've ever done. SHARK CAGE DIVING!
It had been on the list before I even started my Africa trip and as I travelled further and further south I was getting more and more anxious about shark cage diving. I squirmed every time I thought about climbing into a cage off the coast of South Africa and in the water with Great White Sharks especially after all the years I had watched Shark Week and South Africa was one of the main countries featured.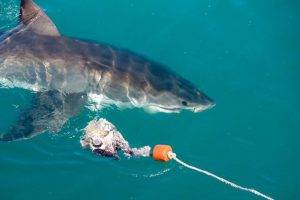 My day started off with an early pick up from Hermanus. My pick up was at 6am as Hermanus is about an hour from Gansbaii. Others in the van were picked up from Cape Town and they were all asleep as Cape Town is a three hour drive from Gansbaii. Once we arrived at the offices we were sent inside for a quick breakfast and briefing before we were going to board the boat.
As I was eating breakfast I realised I was getting more excited to dive with Great White Sharks. Before I was kind of dreading it, hoping it would get cancelled. There was still a part of me that was saying 'I don't have to get into the water if I don't want to' or 'All the best shots will be taken from the boat'. I was trying to reason with myself before that on why I wouldn't get in the cage but now I was looking forward to it.
After our briefing – basically no one can put their arms or legs outside the cage….umm yeah, not a problem – we had a 30 minute boat ride out onto the water where we would anchor and start throwing out the chum which is fish guts and blood.
Our guide let us know that it was a good day for it. With it being windy that meant the chum would have a further reach and attract more Great White Sharks. Great I think. So they start throwing out the chum and letting us know that each boat has a 25 kg limit too how much chum they can put out. They also told us the bait they throw out is only used as something visual for the shark to attack but they don't want it to actual grab onto the bait because its only connected by rope and again they have a limit to how much they can use. We're not actually here to feed the sharks!
After an hour we could see the trail of chum out in the sea but we still hadn't seen a shark. So they asked for some volunteers to get in the cage and wait for a shark to come. As you can guess I didn't raise my hand to jump right in. I wanted to see how it all worked but more importantly the water was a balmy 12 degrees Celsius and I wasn't going to spend any 'extra' time in the water waiting.
Shortly after they got in the water we saw our first "Great" White. I say "Great" because it was one of the smallest sharks I have seen. The guys on the boat even commented it was quite a young shark as it was only 2 metres long.
The next group got in and saw another shark, this time a bigger one, and then it was time for my group to enter the water. Now everyone is given a wet suit, boots and a hood and I wish I could that keeps you warm but I would be lying. It definitely helps but the water is cold. You wait in the cage until your guide tells you to dive down and you just hold your breath and use the bar to pull yourself below the water to see the sharks. They don't use diving equipment as the bubbles scare off the sharks. Diving with the sharks is an adrenaline rush but I also found it quite a peaceful experience. I always do when I'm underwater as its silent and the sharks swim right past and you look into their giant black eyes. You forget everything you saw on Shark Week and are there in awe of what a spectacular species you are looking at.
And then just like that the experience is over and you're talking with your new found friends about how cool that was on the boat ride back to the shop. While at the shop people got changed, we had lasagne for lunch and watch the video from our time on the boat. This was such an amazing experience and I feel so lucky to have experienced it. In total we saw at least 5 different sharks with the biggest one being a 4 meter male that swam by while I was in the cage.
After lunch we headed back to Cape Town. I actually used the company's transfer system to take me all the way back to Cape Town which worked out cheaper than booking my own transfer and they let me keep my bag in the van while we were on the boat.
Cost R1750 for a 3-4 hour excursion including my transfer from Hermanus and then back to Cape Town.
Recent Posts