South Island New Zealand Itinerary
Take it from a Kiwi there are some epic views in the South Island and you'll want to check out where to go in this South Island New Zealand itinerary.  And there are some great places to visit in the North Island as well but the South Island is the highlight of New Zealand.
Spoiler alert – Milford Sound and a New Zealand cruise through the sound has to be top of everyone's list. You can take a day trip from Queenstown – the adventure capital of New Zealand.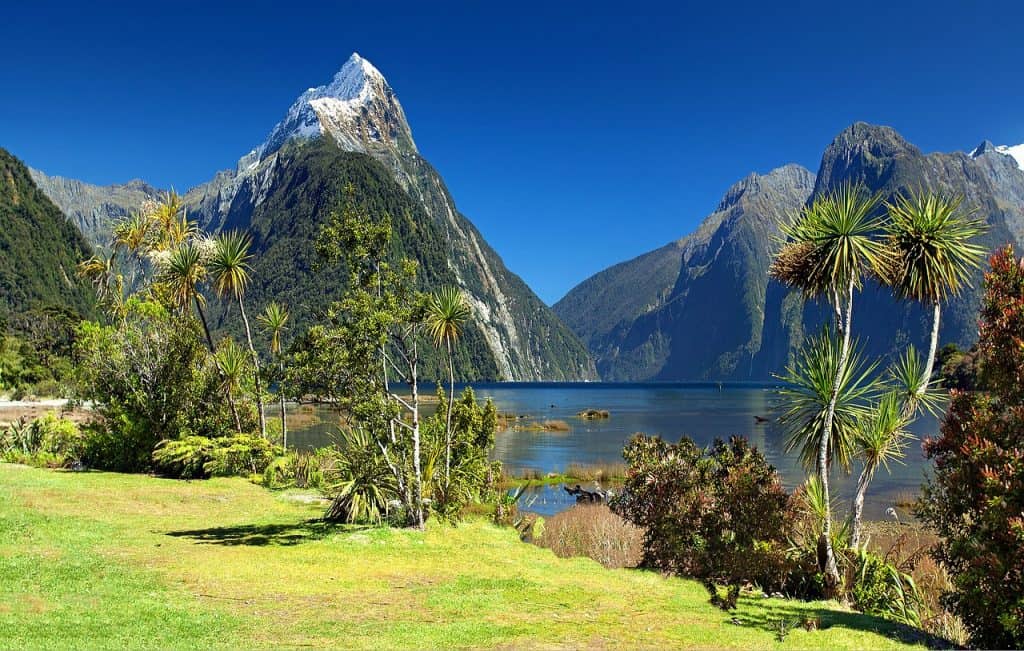 Now this South Island New Zealand Itinerary is perfect for those traveling from the North Island from Wellington to Picton via the ferry. This is the only way to get to the South Island if you aren't flying there. If you are flying into Christchurch of Queenstown you can start the itinerary there and work your way around the island.
New Zealand south island itineraries
New Zealand South Island Road Trip
I recommend spending at least two weeks in the South Island. I prefer to go counter -clockwise around the island if you start in Picton. If you start in Christchurch you will want to head clockwise around the island and head towards Queenstown.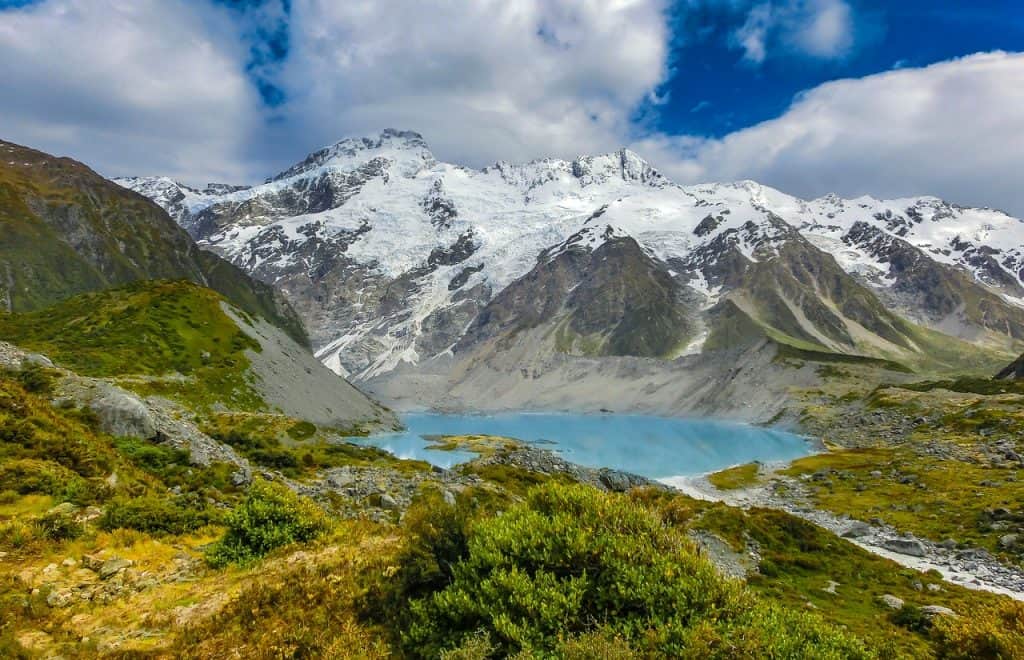 7 day South Island New Zealand itinerary
If you are short on time (one week or less) the most beautiful part of the island is between Christchurch and Queenstown. It is a six hour drive between Christchurch and Queenstown but you will want to make plenty of stops along the way (Lake Tekapo, Twizel and Wanaka are beautiful and then you'll want to do a day trip to Milford Sound. That is the bare minimum I would recommend doing in one week.
For those who have more time, here are the highlights of the South Island New Zealand Itinerary.
2 weeks in New Zealand Itinerary
Here is the perfect 2 weeks in New Zealand Itinerary for the South Island.
Picton
A much overlooked city, Picton in the South Island is the start of most New Zealand South Island road trip as it is the city you will arrive in on the ferry.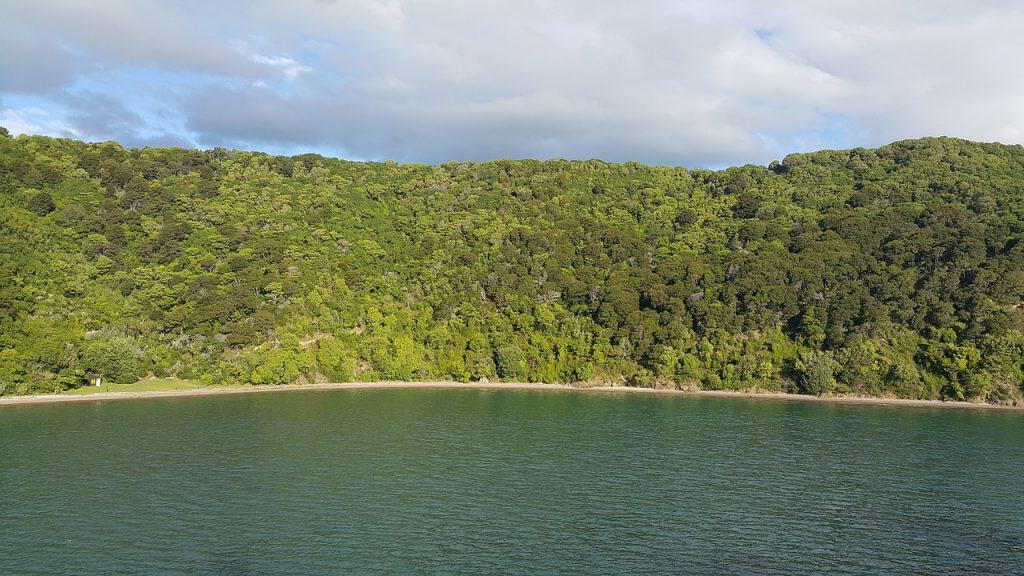 Picton is also a great place to get to the Queen Charlotte Track.  I have done this walk three times and I absolutely love it.  It is a multi day walk that you can do but I like to break it up and see different parts of the 100 kms walk.  You can take a water taxi to any point along the walk and then walk to the next stop and your bags will be waiting for you.
Start at Ships Cove to Endeavour Inlet – 5 hours
Endeavour Inlet to Camp Bay – 4 hours
Camp Bay to Torea Saddle – 8 hours
Torea Saddle to Mistletoe Bay – 4 hours
Mistletoe Bay to Anakiwa – 4 hours
I love this walk!  My first time I did Endeavour Inlet to Camp Bay and then onto Torea Saddle.  The second time I decided to start at the beginning at Ships Cove to Camp Bay.  There is excellent lodging and food and wine at the lodges along the way.
Nelson
Most people head straight to Nelson from Picton (2 hours) and for good reason.  Nelson boasts the most hours of sunshine a year in New Zealand.  And they have wine!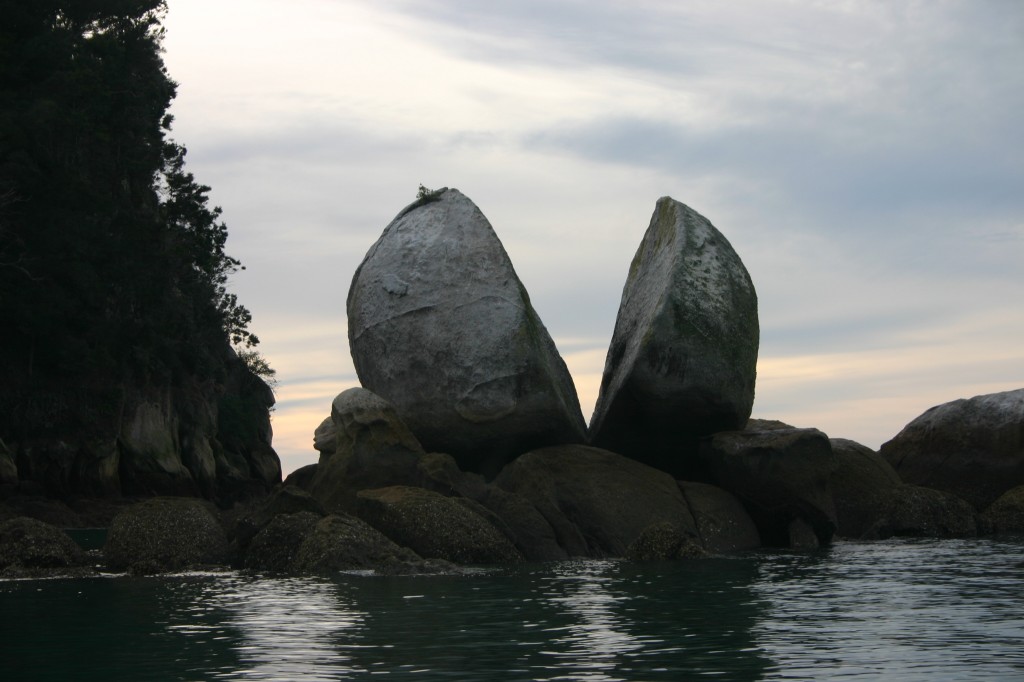 Things to do in Nelson
Visit the World of Wearable (WoW) Art Museum – WoW started in Nelson and now is a yearly show in Wellington.  The costumes here are amazing and so creative.  It is well worth a visit as the costumes are made out of different materials other than fabric.
Kayak Abel Tasman National Park – Kayaking the Abel Tasman with Sea Kayak NZ
You can spend the day kayaking in this National Park. You will paddle offshore and head to Tonga Island and see the New Zealand fur seal colony. From there you will kayak further North to experience the bush clad coastline. At beautiful Bark Bay you will take a break from kayaking have some lunch.  After lunch you'll head to Split Apple Rock before finishing the tour.
In town you can visit the Queen's Gardens which are lovely to walk around or visit the Saturday Market.
Nelson Wine Tours – I highly recommend visiting a vineyard in this area and try the world renowned New Zealand Sauvignon Blanc. You will visit 5 wineries in the region and they even have gourmet tours and wine and artisans tours.
A great day trip from Nelson or Kaikoura would be to the Blue Lakes. It's a stunning part of New Zealand that not many people get to.
West Coast – This area covers the glaciers, Punakaiki Rocks and Greymouth
Nelson to Punakaiki drive time 4 hours
Punakaiki is best known for its Pancake Rocks and Blowholes – both of which are spectacular and a must-see when visiting the West Coast.  We were so lucky on the day that we had a stunning sunny day.  Most days on the west coast are rainy and our driver said it is only like this for about 50 days out of the year.  Can you imagine rain like that everyday?
Punakaiki to Franz Josef drive time 3 hours
First, a little background on Franz Josef Glacier New Zealand. Franz Josef Glacier is located in Westland Tai Poutini National Park on the West Coast of the South Island, 5 kilometres from Franz Josef township where we stayed for the night. The glacier is part of the Southern Alps and is about 12 km (7.5 miles) long. The surrounding area is a world Heritage Site called Te Wahipounamu. The glacier was named by a German explorer, Julius von Haast in 1865. He named the glacier after Emperor Franz Joseph the first of Austria.
Things to do in the West Coast
Franz Josef is a great day out on the West Coast. We spent about four hours in the park. When you arrive you can see Franz Josef glacier and you think its only a ten minute walk away but its actually about half an hour away. Our group spent about three hours on the ice and our tour gave us all the clothing and footwear we needed. We didn't get to take a helicopter to the glacier but I've heard it is well worth it. We just spent our time climbing on the ice and they even have stairs carved out so you can get around easier.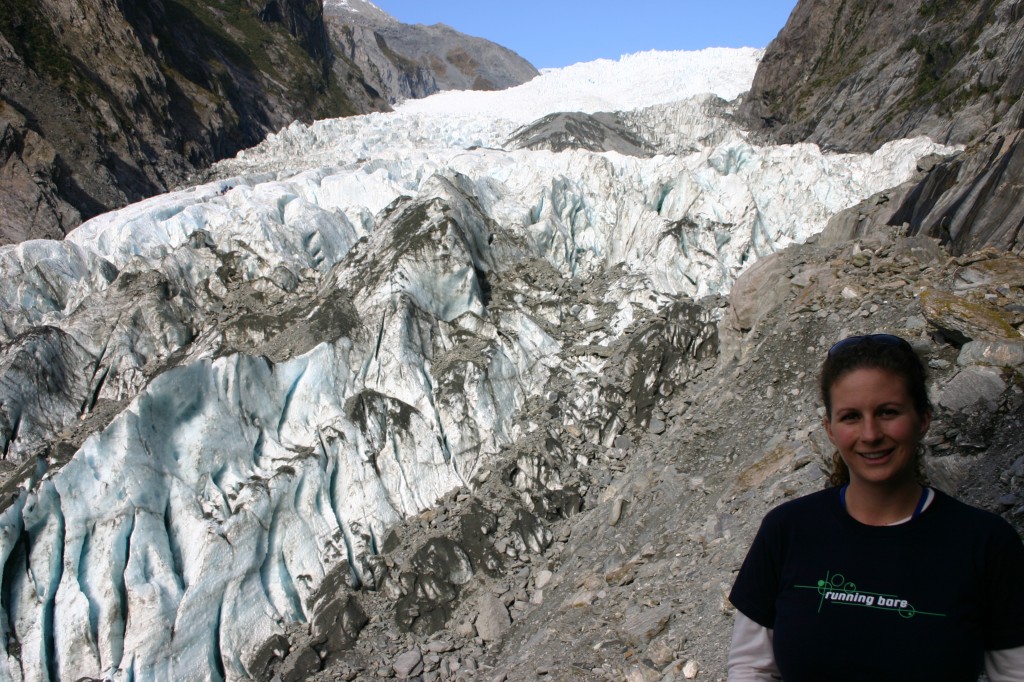 You can also visit Fox Glacier which is similar to Franz Josef.
Wanaka
Franz Josef to Wanaka drive time 4 hours
Wanaka how pretty you are with your lake and surrounded by mountains, the laid back lifestyle and tranquility of it all.  Wanaka really is a beautiful place to visit and sometimes gets overlooked as people rush to head to its big brother – Queenstown.  I think walking around Wanaka is a must for people to get an idea of how life is lead outside the adventure capital.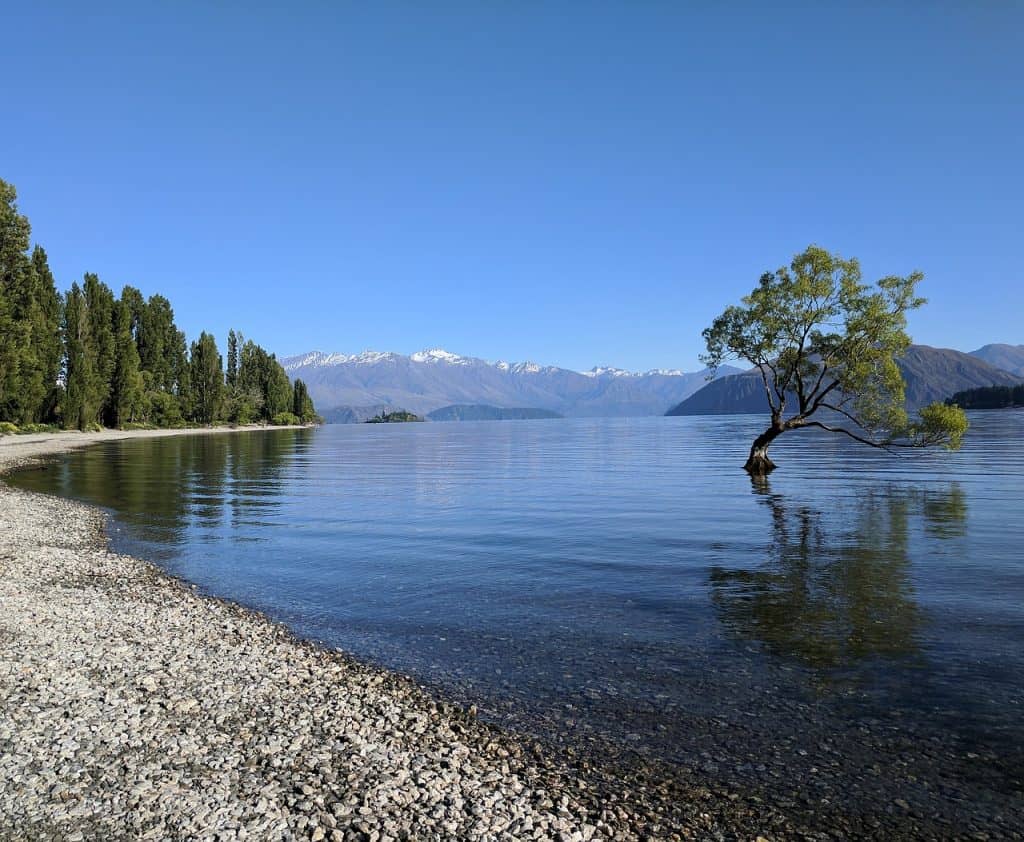 Things to do in Wanaka
I personally think you just need to walk around Wanaka and take it all in.  Located in the stunning alps of the South Island in New Zealand, visitors from around the world are drawn to the Wanaka region by its outstanding natural beauty. Wanaka's lakes and mountains and proximity to Mt Aspiring National Park, makes it the ultimate base for outdoor activities.
And of course, there is that Wanaka tree which is a tree in the middle of a lake that everyone takes a photo of.  You will see hundreds of people lined up to take a photo there.
You can also climb Roy's Peak which is a seven hour hike to the top of a mountain.  This is not an easy hike and you must come prepared for all weather conditions.
Queenstown
Wanaka  to Queenstown drive time just over one hour.
Every trip to the South Island must include a stop in Queenstown.  It is the adrenaline capitol of New Zealand and a must see for most tourists.  We saw people do the bungy jump at Kawarau Bridge Jump and bungy jumping was on the list but we waited to go to Ben Nevis.  The views were amazing and travelling along one of the most dangerous road in New Zealand was an adventure in itself.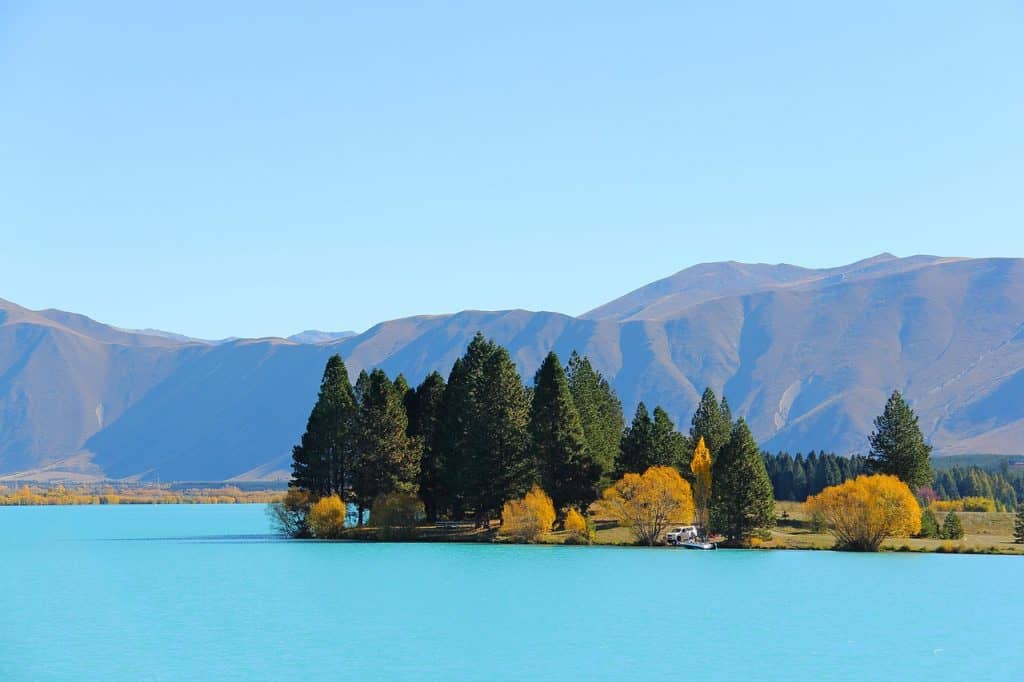 Things to do in Queenstown
Queenstown's stunning scenery, huge range of activities and renowned warm welcome cement its reputation as New Zealand's favourite visitor destination.  There is white water rafting, sky diving, cannoning all sorts of adventure activities.  You will see lot of 'i-sites' which are tourist information sites that have information/brochures on everything there is to do in Queenstown.
Surrounded by majestic mountains and set on the shores of crystal clear Lake Wakatipu, the natural beauty and the unique energy of the region create the perfect backdrop for a holiday full of adventure, exploration or relaxation.
You will also see the Crown Range on your drive from Wanaka to Queenstown.  This is the highest main road in New Zealand. Check out these 25 best things to do in Queenstown.
Milford Sound
Queenstown to Milford Sound drive time 4 hours.
Absolutely stunning is the only way to describe Milford Sound in Fiordland National Park.  I took a day tour from Queenstown to Milford Sounds when I first arrived in New Zealand.  It was the best thing I did in the South Island and not to be missed.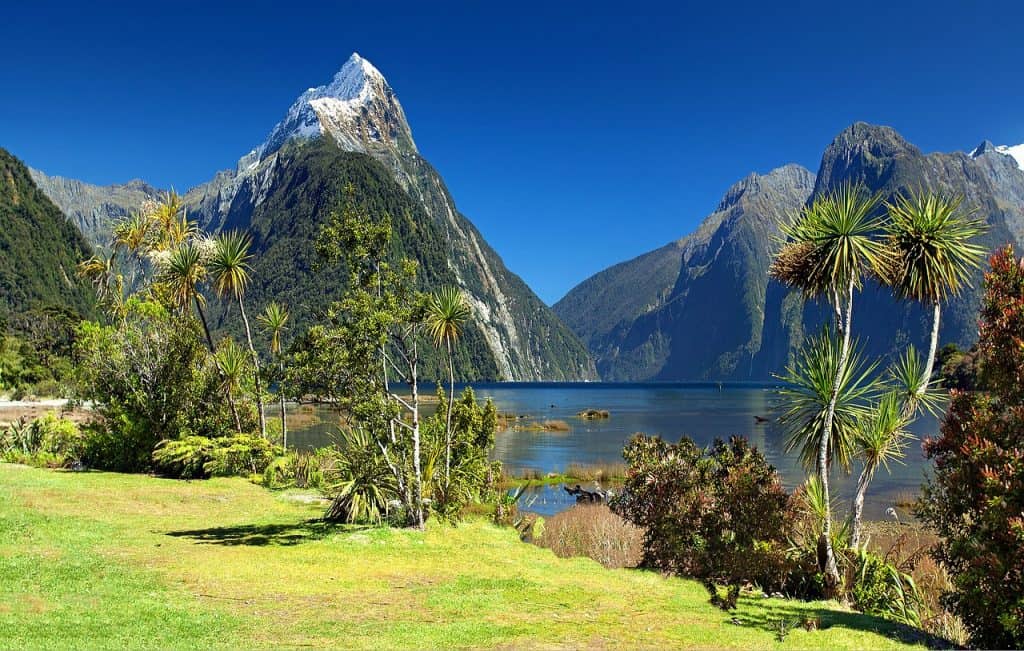 Day trips from Queenstown leave first thing in the morning.  I recommend Real Journeys.
We spent two hours cruising the Sound on a traditional sailing vessel watching the wildlife and the waterfalls.  It is $190NZD/person but well worth not having to drive the windy road to Te Anau and then finding a boat once you get there to cruise the sounds.
The waterfalls were my favourite part of the Sounds.  Again we had a perfect day which is unheard of in this part but its actually better to visit Milford Sounds when it is raining because then you can see all of the waterfalls.  We get right up close to the Fjord's sheer cliff face and almost under the waterfalls.  They also have an option to fly over the Sound $499NZD/person which I hope to do one day as well.
Arrowtown
Only 20 minutes from Queenstown is the cute city of Arrowtown.  Worth a visit for cute village pictures especially in the autumn when the leaves are changing
Things to do in Arrowtown
Arrowtown has quite a personality.  If you are a nature lover, outdoors adventurer, museum visitor or shopper there is something for everyone on Buckingham Street.  You can even savour a New Zealand flat white coffee and people watch there.
Check out the Arrowtown website and things to do from eating and drinking to shopping, walks, golf or biking. http://www.arrowtown.com/things-to-do/
Dunedin
Drive time from Queenstown to Dunedin 3.5 hours
Dunedin is a university town that has Scottish roots.  You will see it in the design and architecture of the city.  Dunedin is also known for its rare wildlife such as the yellow eyed penguins.
Things to do in Dunedin
You can visit Larnach Castle gardens for $12.50, visit Baldwin Street (the steepest street in the world) or visit the Dunedin Railway Station which is a fabulous piece of architecture.
For wildlife, I recommend a tour with Elm Wildlife Tours.  You can visit Port Chalmers on a land based tour of the Otago peninsula and see albatross, penguins, sea lions and seals.  This is an amazing tour that allows you to get up close and personal with the wildlife.  I love yellow eyed penguins they are so cute!
Mackenzie Country New Zealand 
Dunedin to Twizel 3.5 hours drive time
Travelling through the Mackenzie Country of New Zealand was one of my favourite parts of the South Island.  It reminded me a lot of fall in the States with the change in colour of the leaves and the beauty of the scenery.
Two points of interest are the town of Twizel and Lake Tekapo.  You have probably seen photos on Instagram of The Good Shepherd church on the lake.  This is a beautiful view point of the lake and the surrounding area.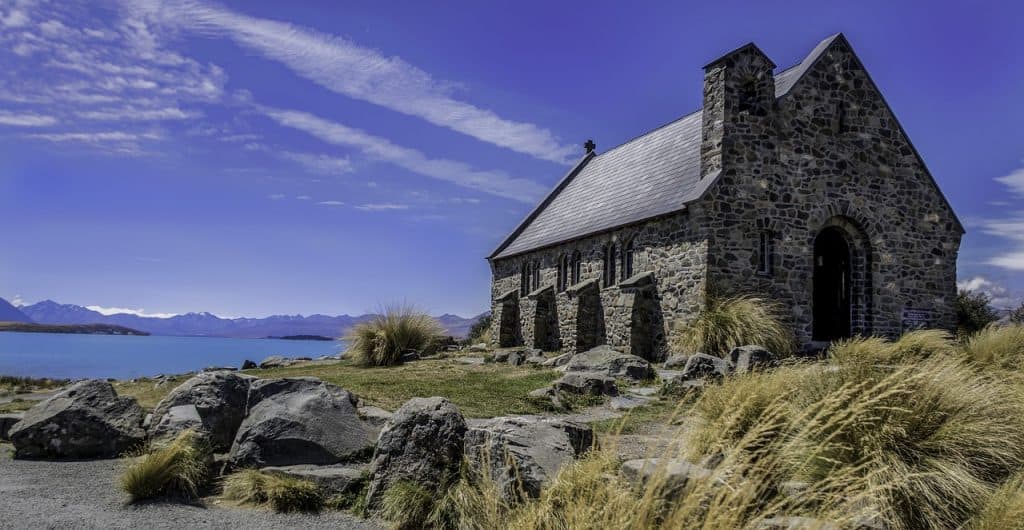 This is also the area to visit Mount Cook National Park and see Mount Cook and the Southern Alps.  From Lake Pukaki you can see Mount Cook and take some great photos.  This is a really underrated area of the South Island and I highly recommend it for beautiful views.
Of course we had to go on the Shotover Jet while we were there.  It was an amazing experience.  I even kept my eyes open the last time we got spun around on the jet.  Just happy I didn't get wet!
It is a great place to take in views of Mount Cook and the surrounding area.  This is one of my favourite parts of New Zealand.
Experience the ultimate in shallow water jet boating, skimming along just inches of water on not one, but two rivers – the Wilkin and the Makarora.  It is much cheaper to do jet boating here than it is in Queenstown.  A 50km wilderness river journey amidst native bush, pristine river valleys and rugged ice capped mountains makes it the perfect backdrop for this activity.
Christchurch
Lake Tekapo to Christchurch 4 hour drive time.
Christchurch is a city that is going through a rebuild.  In 2011, they were struck by a earthquake that devastated a lot of the buildings including the famed Christchurch Cathedral.  Make sure you allow yourself plenty of time to experience everything Christchurch has to offer.
Things to do in Christchurch
You can explore the city by walking or biking around and visiting the parks and gardens.  Christchurch is nicknamed the garden city for good reason.  You can check out the blooms and foliage in the Christchurch Botanic Gardens which is New Zealand's largest inner city park.
Well worth a day trip is to Akaroa Harbour and Banks Peninsula which is an hour and a half away from Christchurch.  A journey around this beautiful peninsula will reward you with picturesque vistas and a large artisan culture and plenty of wildlife.  Akaroa oozes charm and has a history rich with French culture – French named streets and historic cottages with roses can be found there.  You can also take a cruise around the harbour and see Hector Dolphins, the smallest dophins in the world.
Kaikoura
Christchurch to Kaikoura drive time 2.5 hours.
I knew I wanted to stop in Kaikoura to go whale watching.  Its the number one activity and I love whale watching.  Imagine my disappointment when it got cancelled in the morning and the afternoon session was going to be cancelled as well.
So ever determined I found an alternative Wings over Whales.  It was a short flight that allowed us to see the Whales.  We saw several Southern Right Whales on the flight and I found it to be well worth it even if I did go green from the sharp dive/turn the pilot made to go see the Whales.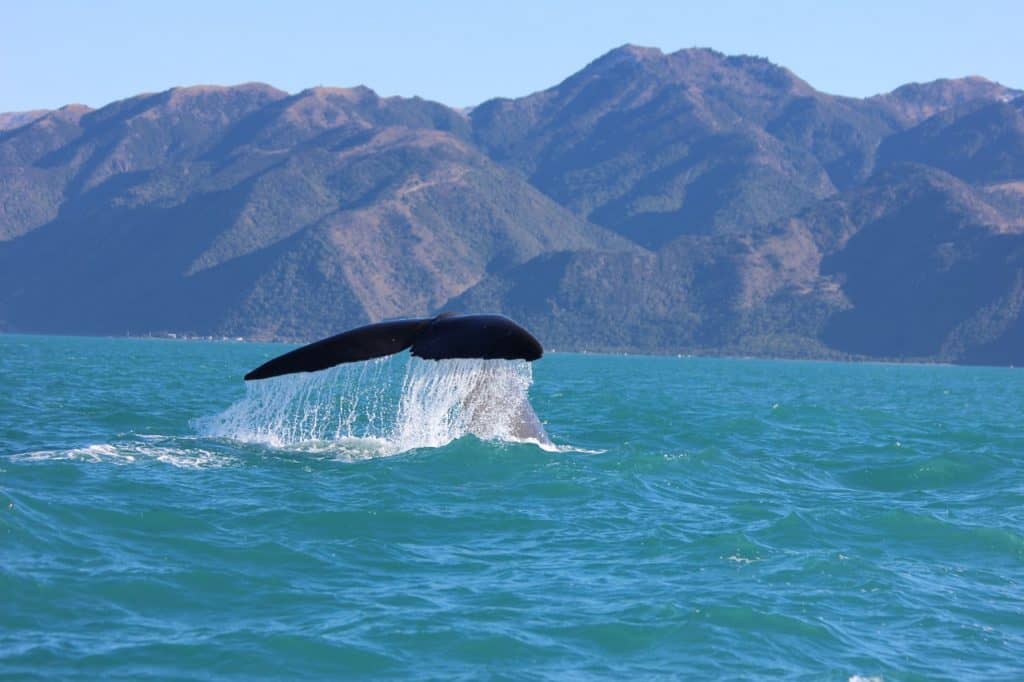 Whale watching by airplane offers a unique perspective and the opportunity to view whales and dolphins in their natural environment. From the air passengers can experience the true magnitude of the world's largest mammal, the whale. These animals can reach an impressive 18 metres in length and weigh up to 60 tonne!
Kaikoura's distinctive coastline and picturesque township, with its mountainous backdrop is the perfect landscape for those wanting to experience a different perspective.
Back to Picton
Kaikoura to Picton 2.5 hours drive time.
From Kaikoura you will head back to Picton and then take the ferry back to Wellington.
What do you think of this list of things to do in the South Island New Zealand?  Did I miss anything?  What would you add?  I would add Doubtful Sound but I haven't been there yet!
10 day driving itinerary south island New Zealand
If you only have 10 days in New Zealand I would recommend starting and ending in Christchurch and making your way around the southern part of the island.  This is where all of the views and beautiful landscapes can be found.
Another option would be to fly into Queenstown and then road trip to Christchurch with all of these stops on the way.
I would recommend that if you only have 10 days in New Zealand that you stay in the South Island.  You need to account for jet lag and the New Zealand roads are not built the same way other roads are as they are narrow and sometimes down to a single lane.  That way you can give yourself time to overcome jet lag and than enjoy the sites.
Sharing is caring.  Pin this image to save this article.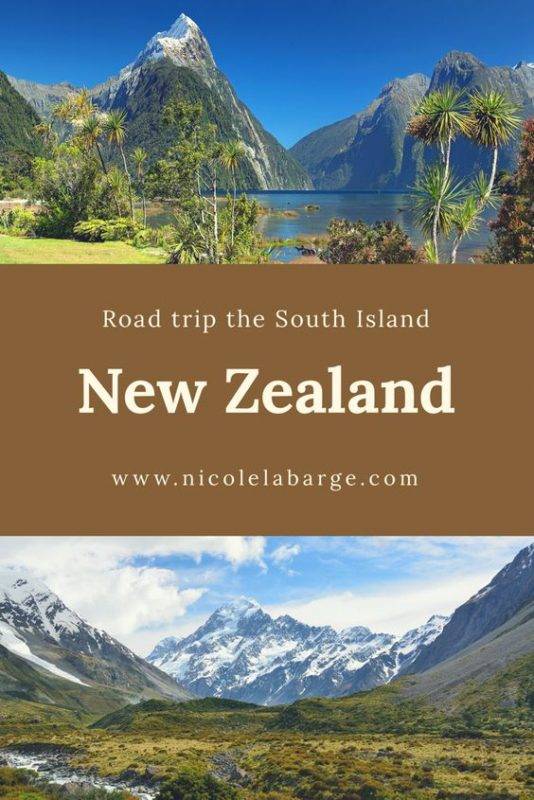 Recent Posts