The Ultimate Guide to Sri Lanka 2 week Itinerary
Sri Lanka has so much to offer a traveller and this Sri Lanka 2 week itinerary is packed with all of the best places to visit in Sri Lanka. I spent two weeks traveling around the country and admiring the beautiful tea plantation, the stunning coastlines and beaches, and going on safari to see the wildlife.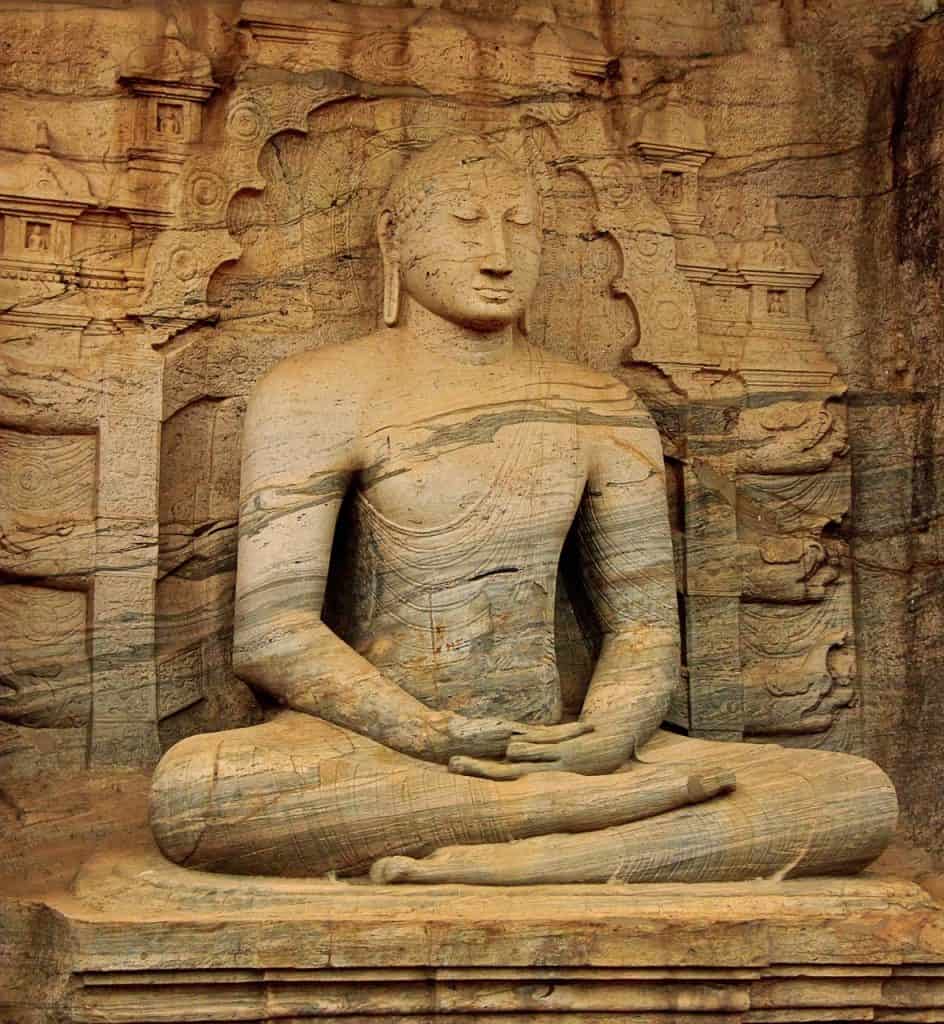 All the while I was in Sri Lanka I was met with smiling friendly locals, beautiful landscapes and ancient historical sites. Sri Lanka really is a gem of a place that is easy to travel around and easy to do so really cheaply.
You can also find all of the Facts about Sri Lanka and everything you need to know.. There is a lot of interesting facts on Sri Lanka and fun facts about Sri Lanka after this Sri Lanka Itinerary.
[toc]
How I spent my time travelling for this Sri Lanka Itinerary 2 weeks
I arrived in Colombo Airport at 1am from Singapore. I had arranged to have a driver for my 2 weeks Sri Lanka trip. My driver's name was Asanka and he owns Knows Lanka Tours and Travel. I highly recommend him as a driver to get around the country.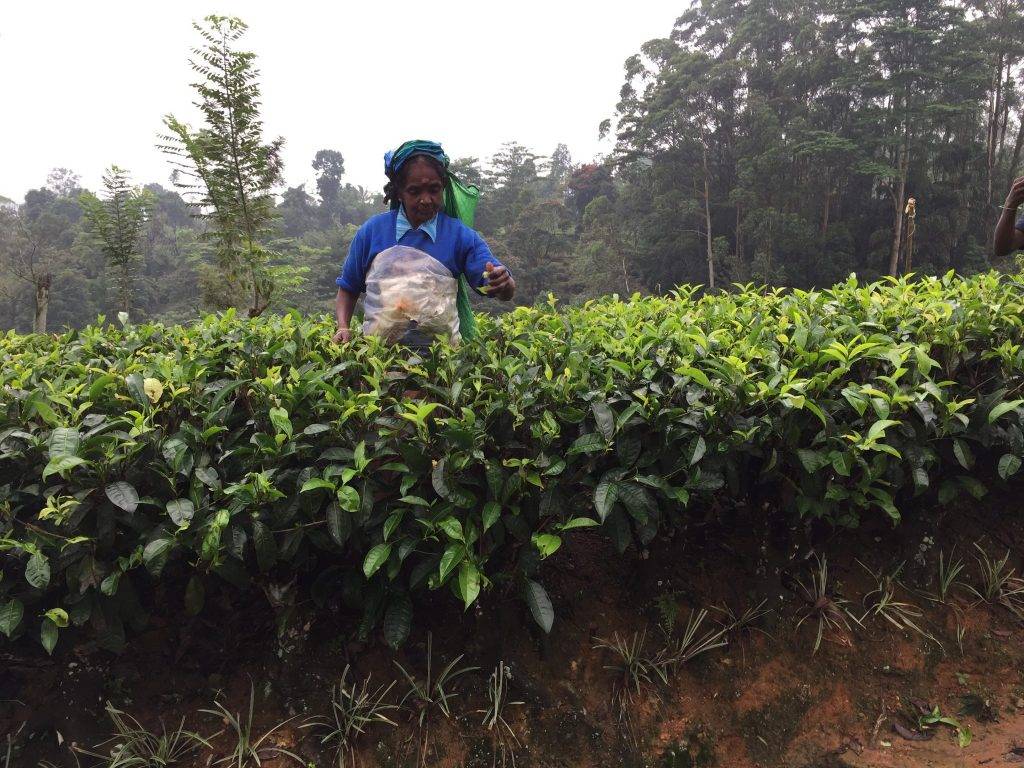 Backpacking Sri Lanka Route
Sri Lanka is a backpacker's paradise and the backpacking Sri Lanka Route is similar to this but would center around using trains and public transport. And at a couple of dollars to travel four hours on the train with beautiful views why wouldn't you take the train.
It is easy enough to backpack through Sri Lanka and use public transportation although I would recommend more time to do this. The trains in Sri Lanka are great and have several different classes to suit a backpacker budget.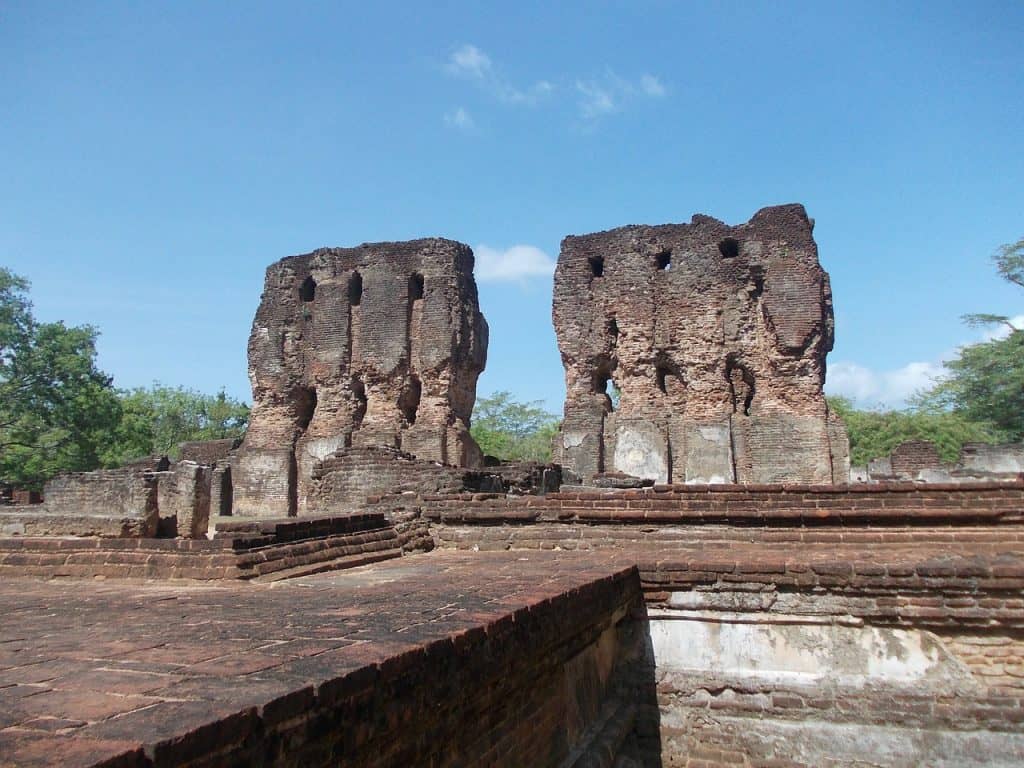 A perfect backpacking Sri Lanka Route would be to spend a week in the north, a week in the middle near the Golden Triangle and Kandy and then a week in the south to visit the beautiful beaches there.
If you only have 10 days in Sri Lanka this 10 day Sri Lanka Itinerary will work for you
If you are looking for a 10 day Sri Lanka Itinerary I would suggest using this trip guide and then cutting down your time in a few places as this itinerary was made for a comfortable time relaxing and enjoying the beautiful places.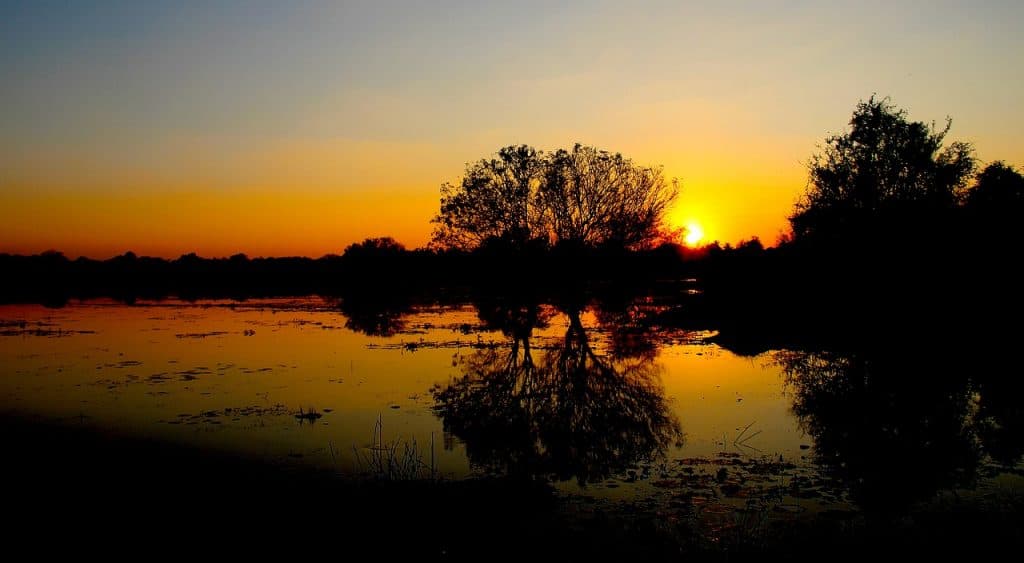 I would suggest not going as far north and east to Trincomalee. It's a beautiful place if you have the time but I would suggest cutting it if you only want a 10 day itinerary for Sri Lanka.
I would also cut down on the amount of time you spend in the Golden Triangle area (Dambulla, Sigiriya, and Polonnauru). I wouldn't say you can do all three in a day but you can definitely do two of the three in one day, stay overnight and then go to the third first thing in the morning before you head to Kandy. You could also take a day trip to Nuwara Eliya to see the tea plantations instead of staying overnight.
There are lots of options and this is also why I like having a driver so you can move around the country quickly and on your own schedule. Here are where the point of interest are located on this 2 week Sri Lanka Itinerary.
Here's how to spend 2 weeks in Sri Lanka
Day 1 – Arrive in Colombo and head to Anuradhapura – 2 nights
While I do think that Colombo is worth a day of exploring, I decided to do this at the end of my 2 weeks in Sri Lanka as I like to get back to the city I am flying out of a day before I fly.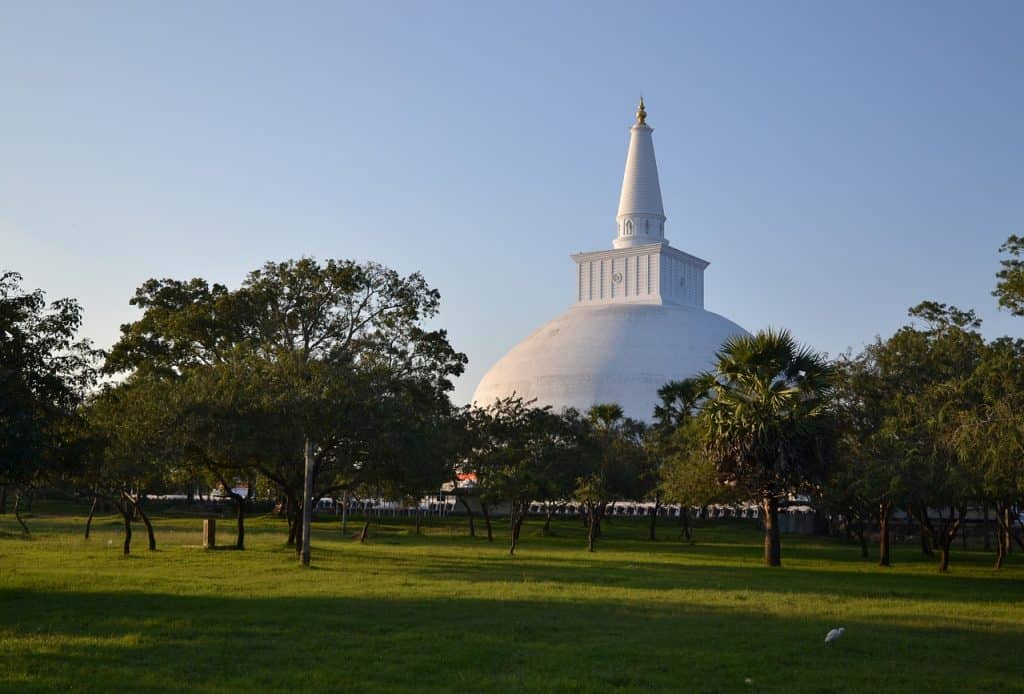 I recommend hiring a driver to take you straight to Anuradhapura. I slept in the car on this six hour drive north to the ancient capital city of Anuradhapura.
Day 2 – Anuradhapura
This city is a Unesco World Heritage Site and a well preserved ancient ruins of Sri Lanka. My suggestion is to spend two days here checking out the ruins and recovering from jet lag.
This sprawling city is filled with ancient ruins, pillar, and stupas. Be sure to visit Abhayagiri Dagoba which is over 100 metres high and comparable in size to the pyramids of Giza.
I loved visiting this city and really enjoyed learning the history of the site and relaxing.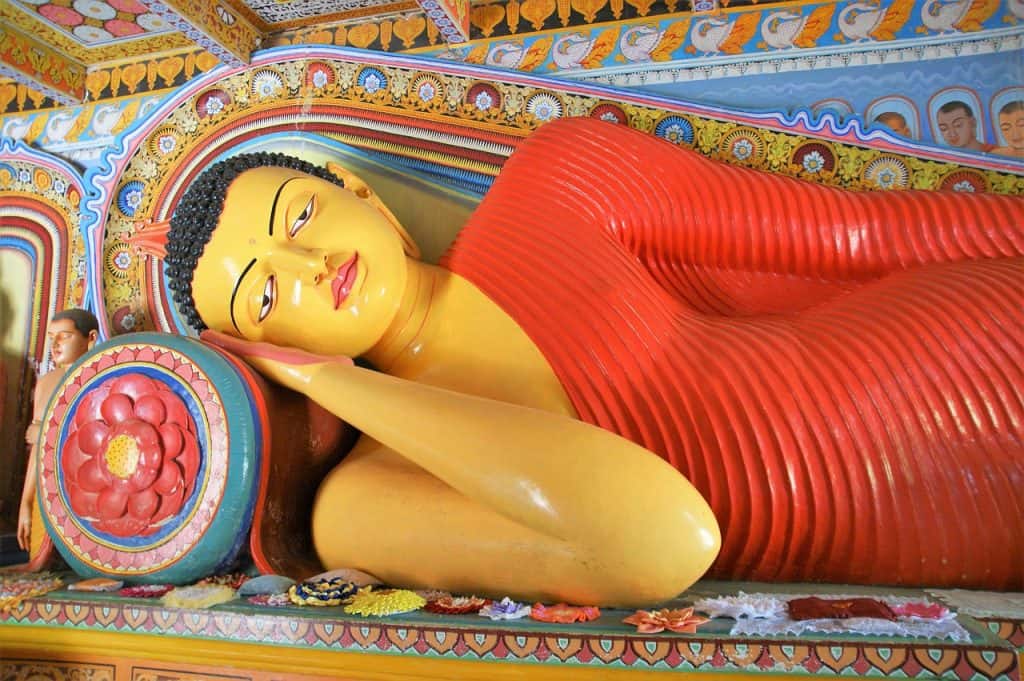 Day 3 – Trincomalee – 1 night
Trincomalee is located in the northeast coast of Sri Lanka and is a port city along the beach. The grand Koneswaram Temple stands on Swami Rock cliff, a popular vantage point for blue-whale watching.
This is a great little stop over before heading inland to the famous sites of Sri Lanka. A little beach time and visiting the holy complex which contains ornate shrines and a massive statue of Shiva. Nearby Gokanna Temple has panoramic views over the city and the coastline.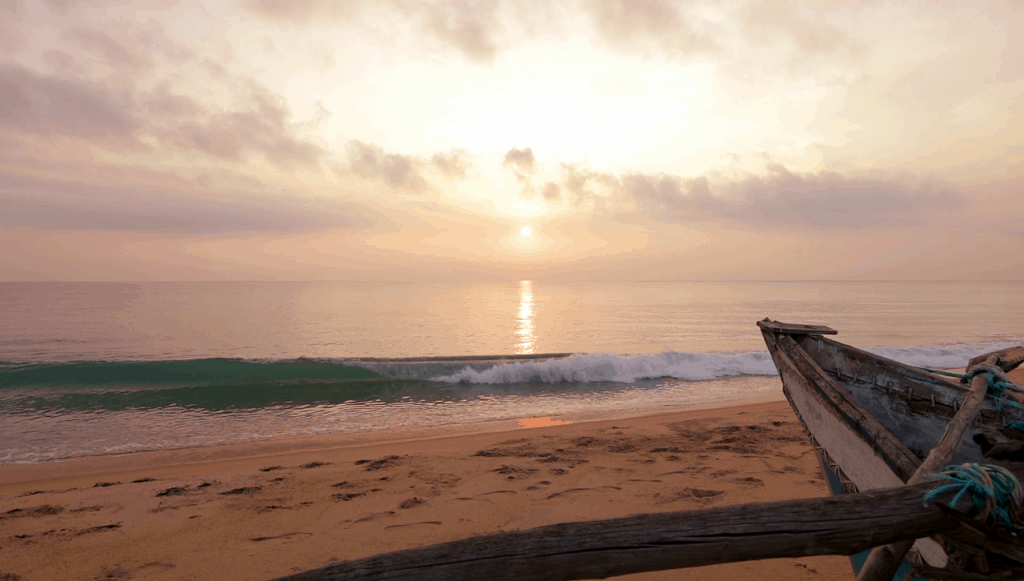 I would also recommend a visit to Sri Pathrakali Amman Kovil Hindu Temple. This colourful temple is very photogenic.
Day 4 – Dambulla – Golden Triangle – 3 nights to visit Dambulla caves, Sigiriya and Polonnaruwa
The beautiful Royal Rock Temples of Dambulla sit at around 100m to 150m above the road in the southern part of Dambulla Cave Temple. The hike up to the temples begins along a sloping rock face with steps in some places. Photography is allowed inside the caves, but you're not allowed to photograph people. There are superb views over the surrounding countryside from the level of the caves and Sigirya is clearly visible.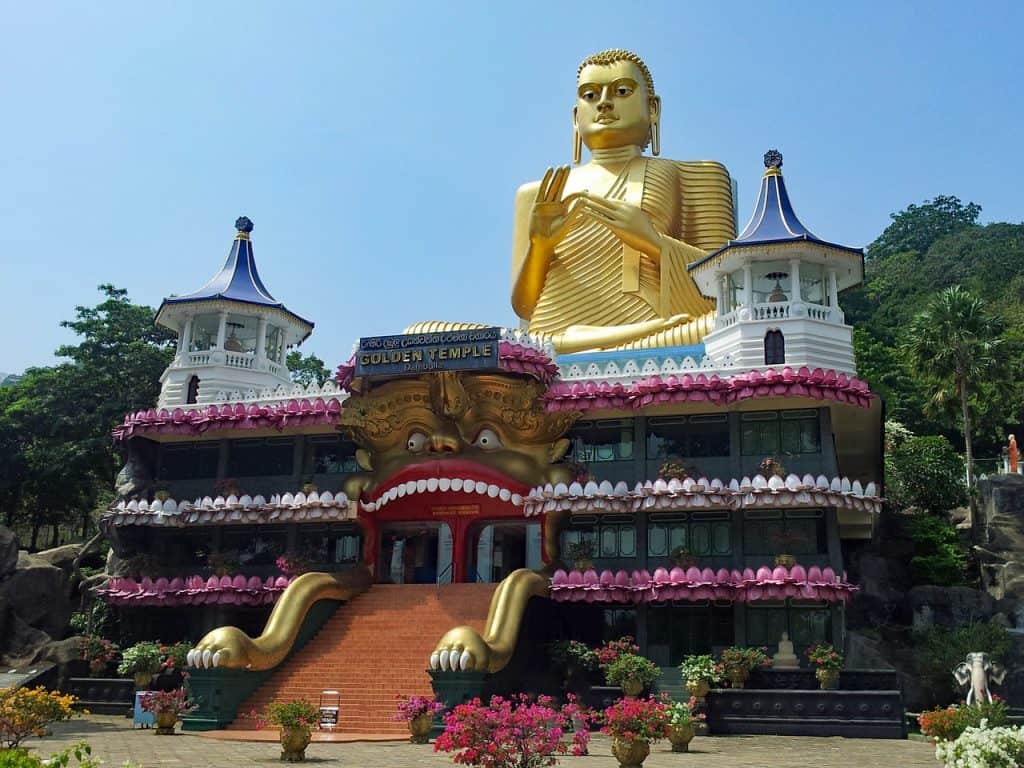 At the foot of the hill facing the highway stands the modern Golden Temple, a very kitschy structure completed in 2000 using Japanese donations. On top of the cube-shaped building sits a 30m-high Buddha image in the dhammachakka mudra (wheel-turning pose). Signs claim it's the largest Buddha in the world, but it's not even the largest in Sri Lanka.
There are five separate caves containing about 150 Buddha images. Most of the paintings in the temples date from the 19th century.
Cave I (Devaraja Viharaya)
The first cave is called the Temple of the King of the gods and there is a reclining Buddha that is 15 metres long in the cave.
Cave II (Maharaja Viharaya)
The second cave is called the Temple of the Great King is probably the best of the caves. This cave is named after the two statues of kings it contains. There is a painted wooden statue of Valagamba on the left as you enter, and another statue further inside of Nissanka Malla.
Cave III (Maha Alut Viharaya)
The third cave is called the New Great Temple. This cave is filled with Buddha statues, including a beautiful reclining Buddha, and is separated from Cave II by only a masonry wall.
Day 5 – Golden Triangle – Polonnaruwa
Today the ancient city of Polonnaruwa remains one of the best planned archaeological relic sites in Sri Lanka. Unfortunately, I hadn't spent much time researching it. You see I was suppose to go to Anuradhapura but the country was experiencing freak heavy rain and some of the roads were flooded making it impossible to get to the site and the site itself was flooded as well.
It was only once I arrived and saw all of the ruins and learned about the history did I realise how important this site was to the history of Sri Lanka.
Rain did make an appearance on and off during the day but it was just a light rain that I hardly noticed under my umbrella. Luckily it did stop from time to time so I could take a picture without my colourful umbrella.
The ancient city of Polonnaruwa is a UNESCO World Heritage site. Polonnaruwa was the second capital of Sri Lanka after the destruction of Anuradhapura in 993. It comprises, besides the Brahmanic monuments built by the Cholas, the monumental ruins of the fabulous garden-city created by Parakramabahu I in the 12th century.
In all, I spent about 5 hours exploring the site which is spread out over several miles with lots of ruins, stupas, ponds, and pools. One thing that did strike me though was that they built these solid buildings only to have made the roof out of wood so all that is left are the pillars of the buildings.
Day 6 – Golden Triangle – Sigiriya
Sigiriya in Sri Lanka is a monument in and of its own. While its not as famous as other monuments such as the Eiffel Tower, it's still a sight to behold.
The UNESCO World Heritage Site is an ancient city surrounded by a rock-topped palace and the most visited historical site in Sri Lanka. Visiting Sigiriya costs $30 USD. Most people find the tourist sites to be quite expensive. They all range in the $20-30 range and I wouldn't go to Sri Lanka without visiting the sites in the cultural triangle.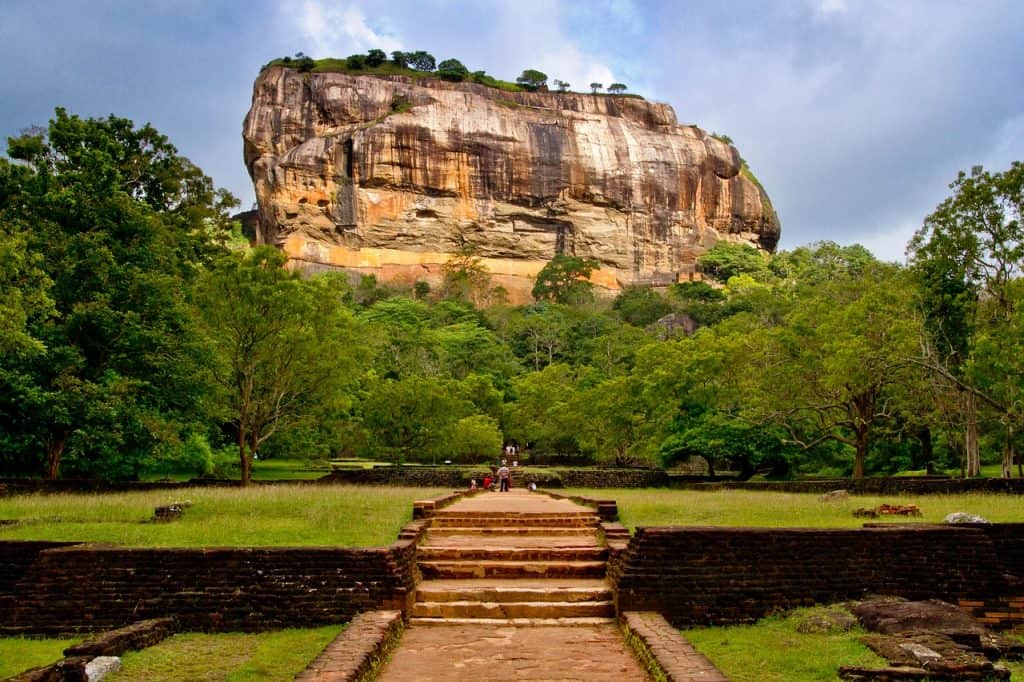 Sigiriya was founded in the fifth century by King Kassapa I. It was the capital and a major stronghold. In its time, Sigiriya was one of the most important urban centres in a region. The crowning jewel was the fortified palace, said to be impregnable and perched atop the giant rock, its smooth sides denying access to invaders.
I was really dreading climbing to the top of Sigiriya. I do a lot of walking but I hate hills and stairs. And Sigiriya has 1200 steps to the top. Oh fun. I was happy to find out my driver would not be going with me so I could take my time and take it at my own pace. I actually made it to the top in about an hour. And that was with lots of stops. At the beginning there would be a staircase of 10-20 steps and then a place where you could stop and take photos. I thought this is alright. I can handle this.
Halfway up the rock is a cave filled with frescoes of 21 women. They call them "The Maidens of the Clouds." Nobody is sure exactly who these women are— perhaps Kassapa's concubines. This was the scariest part of the walk for me. Not because it was unsafe to get up to the frescoes but because the spiral staircases are hanging off the side of the rock and when I looked down I got a severe case of vertigo.
Once you reach the base of the rock itself, the ancient stairs disappear. Sigiriya the city emerges into a hill surrounding the rock itself, and at that point the ascent becomes nearly vertical. Modern scaffolding has since been built into the rock. I took a long break here. I wanted to take photos of the lion paws (the entrance) without any people in it. This is also a good place to look at the view. The last push to the top was not as hard as I thought. I wish I could say that I was rewarded with views but the clouds had come in and it was quite overcast.
I left my hotel at 7.30am that morning and I was at Sigiriya at 8am and started my climb. I got to the top around 9.15 am. I recommend allowing three hours to explore the grounds and climb to the top of Lion's Rock. And earlier is better. When I climbed back down (much easier as it's a different track) the spiral staircases were at a standstill and the amount of people I saw on the stairs was crazy.
I stayed in the same place for all three nights in the Golden Triangle. It was wonderful to not have to change hotels every night. I agree you can do this area in less time but I really wanted to hang out by the pool for a few afternoons after all of that hiking.
Day 7 – Kandy – one day
One of the highlights of my time in Sri Lanka was visiting the central region of Kandy and the tea plantations. Not only because it didn't rain that day (seriously we had some of the hardest downpours ever while I was there – in the dry season) but because I was able to see the beautiful countryside and interact with the people.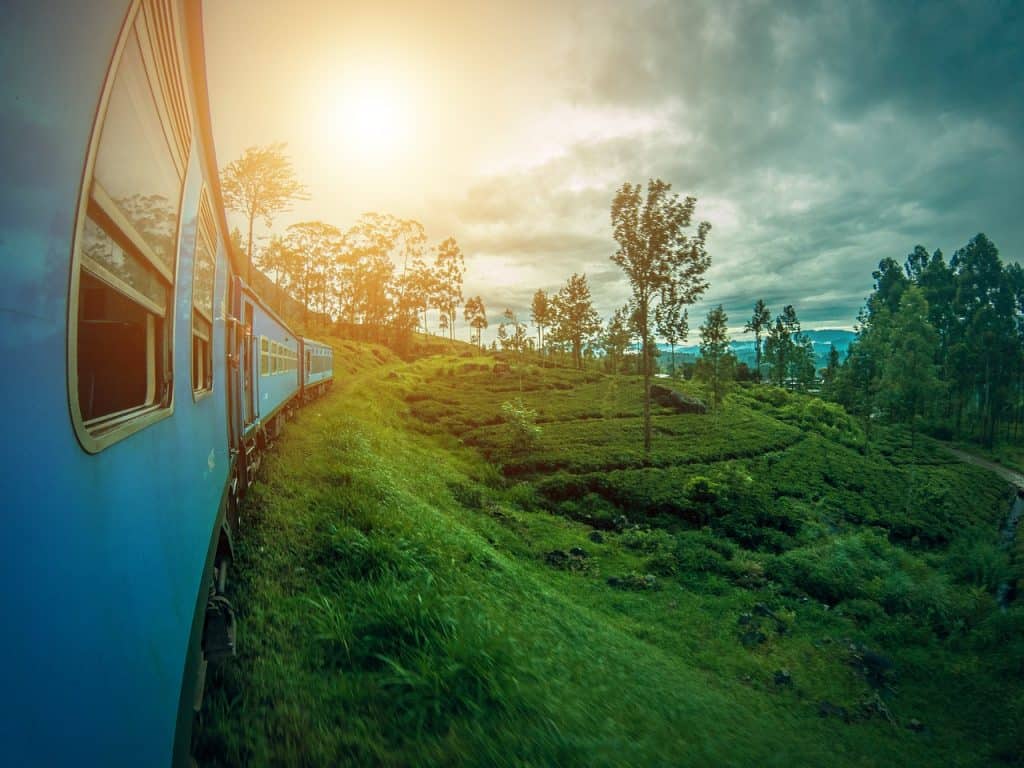 Sri Lanka is the world's fourth largest tea producer and the industry employs over 1 million people. It has recently been surpassed by Kenya as the world's largest tea exporter (as to producer). The temperature, humidity and rain in the central region leads to some of the best high-quality tea. Check out this guide to Sri Lanka.
Picking tea is hard work. The women get around $2 for a basket of tea leaves. They use a stick to lay across the plants and anything that is sticking up above the stick is picked for tea. They carry the baskets on their heads for the duration of the day. I put one of these empty basket on my head and it was already heavy! I can't imagine carrying it around for the day full of tea.
I asked my guide what tea plantation we were at and what the name of the brand was. He said it didn't work that way. All of the tea that is picked is collected and taken the the tea plant to be dried and sorted. Once it is sorted and bagged it is put up for auction. Companies such as Dilmah then bid on the tea leaves they want and create their own blends from the tea.
There is a lot that goes into a good cup of tea. I was surprised it wasn't bitter at all. They said this was one of their premium blends. I bought some green tea from the shop to take home with me. I learned that you can reuse the tea leaves three times without them losing their potency or anti-oxidant affect.
One of the top tourist sites in Kandy is the Temple of the Sacred Tooth Relic. This is a Buddhist temple located in the royal palace complex which has the relic of the sacred tooth of Buddha.
Now I didn't follow all of this completely but it is a large temple where the actual tooth of Buddha is stored.
Every night they open the temple up with a ceremony to celebrate the Buddha and his tooth is on display. The ceremony itself is worth going to so you can experience the singing and dancing.
The tooth is stored in a special house and they open the doors so you 'can see' it but actually you cannot see it at all as it is stored in a golden casket.
This is one of the most respected Buddhist places in Sri Lanka and it is packed every night to see the tooth.
Day 8 – Nuwara Eliya Tea plantations and Ella
I visited the Pedro Tea Plantation in Nuwara Eliya. This highland area is famous for its tea plantations and waterfalls. You can visit and see the women picking tea and learn about where your cup of tea actually comes from. There is a 20 minute guided tour through the factory and a gift shop as well where I picked up some tea.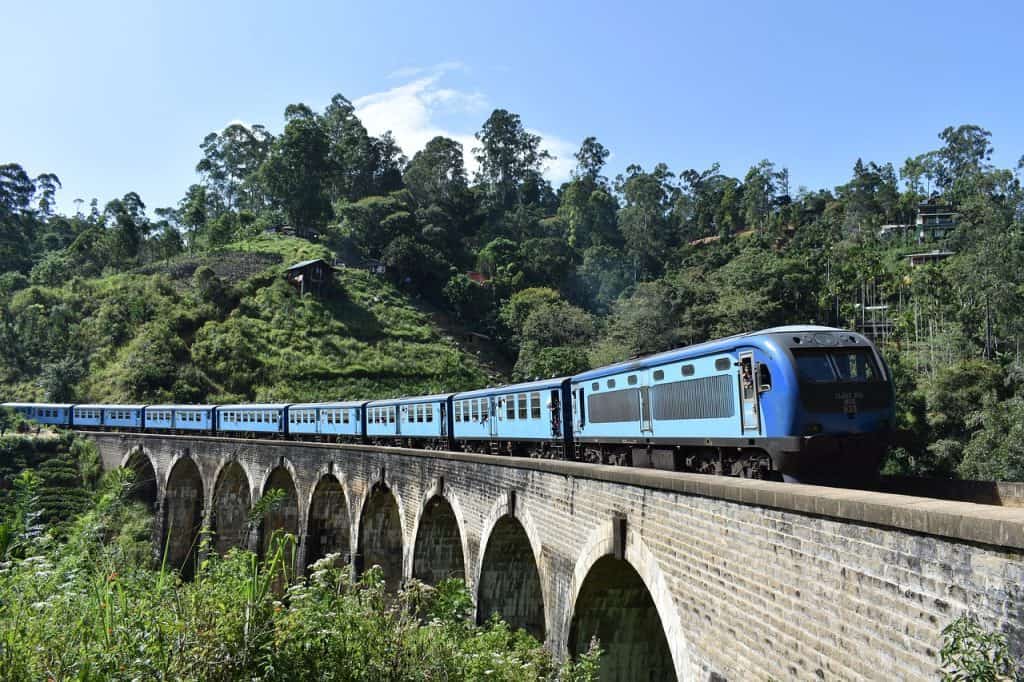 Once you have frolicked through the tea plantations I suggest going onto Ella. This is a beautiful city about an hour from Nuwara Eliya and is famous for its nine arch bridge which is a fantastic photo opp.
There is an elephant sanctuary near here. When I went years ago I was happy to report that the elephants looked healthy and happy. They even had some rescued baby elephants.
However, since the boom of Instagram and some famous accounts showing the elephants playing in the river I have heard that things have gone down hill. Elephants in chains, and also rumors of them not being fed often.
I really hope this is not true and I do not recommend going. There are plenty of wild elephants you can see on the side of the road. And as always, do not ride the elephants.
Day 9 Yala National Park – 2 days
Yala National Park is about a three hour drive from Nuwara Eliya and the sceneray along the way is amazing.
Did you know that Sri Lanka has amazing wildlife? I had no idea they had so many animals in their National Parks and then to see wild elephants walking down the road it is just incredible.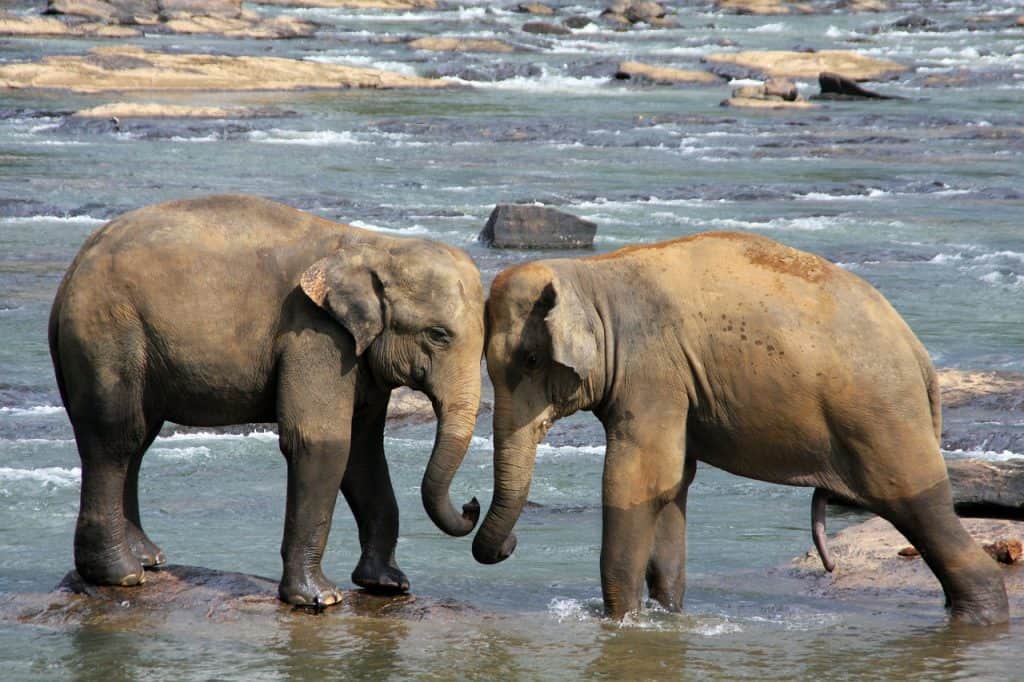 A lot of people go to Yala National Park to see the elephants and the elusive leopard. There are also lots of birds and crocodiles to see in this park. It makes for a perfect day of animal sighting and a full day out.
Day 10 – Yala National Park
I recommend spending a second day in Yala National Park to drive around and see the animals. This is one of the highlights of Sr Lanka. The lush green park is full of elephants and if you go first thing in the morning it is the best time to find the leopards.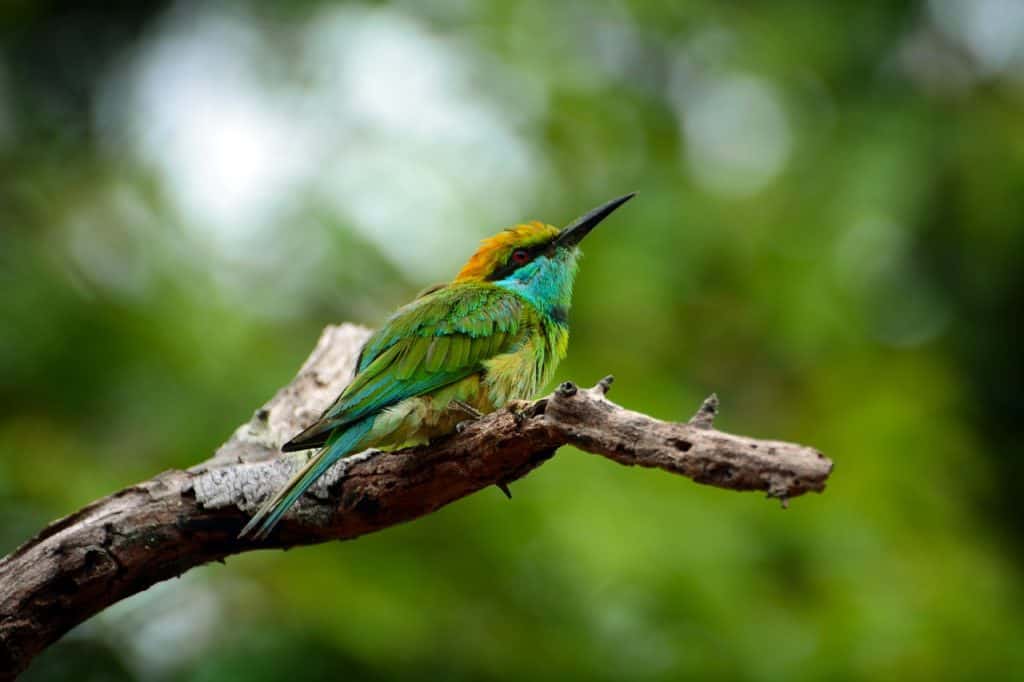 You can also check out Udawalawa National Park which is about an hour from Yala National Park.
Day 11 – Mirissa – 1 day
It is a four hour drive from Yala National Park to Mirissa along the south coast of Sri Lanka. This is a beautiful place to relax on the beach, surf, climb palm trees and just all around enjoy the beautiful weather of Sri Lanka.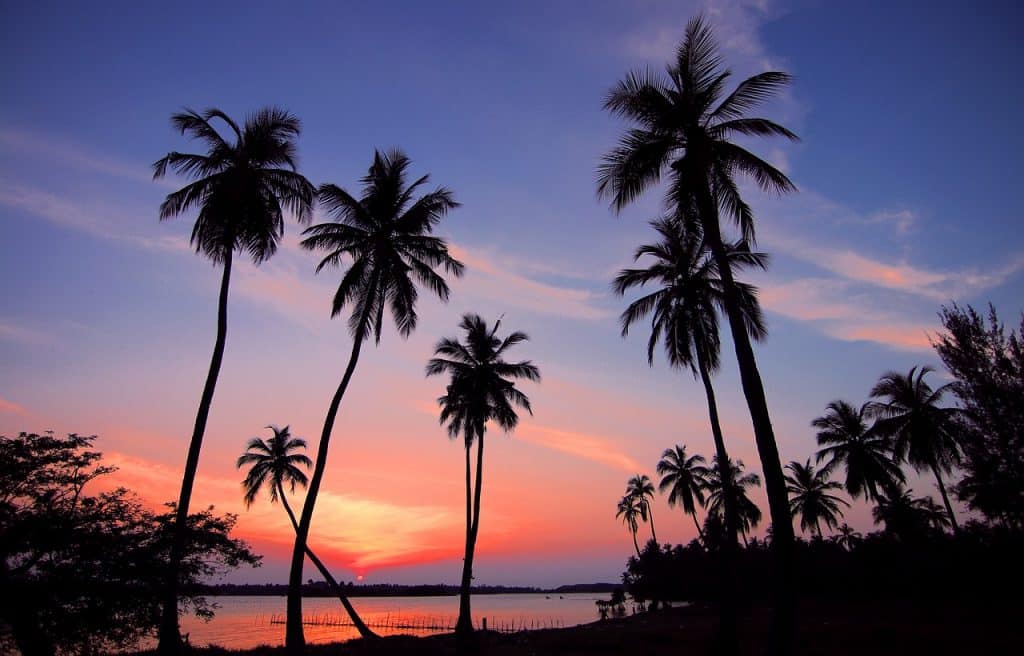 If you've seen photos of Sri Lankan beaches before you've probably seen photos of Mirissa. I don't want to give you list of things to here. Just go and enjoy the beach.
This is also the place to go for whale watching along the south coast of Sri Lanka. You can see several types of whales – blue whales, pilot whales and even dolphins.
Day 12 – Galle – 2 days
Galle is a special place in Sri Lanka that will have you asking – where am I?
Galle is a fort town along the coast. Galle Fort is a top attraction and you can spend a few hours there exploring.
I also recommend walking around the old city and the lighthouse. If Galle sounds too quiet to you I would recommend spending an extra day in Mirissa and cutting down your time in Galle to one day.
Day 13 – Galle to Colombo
It takes about three hours by train from Galle to Colombo. This is my favourite part of the country and this train ride is stunning along the coast. This is a popular way to go on the backpacking Sri Lanka route.
Look out for beautiful blue waters, palm trees and sunshine!
Day 14 – Explore Colombo and catch your flight.
This is the last day on our Sri Lanka 2 week itinerary. I stayed in Negombo near Colombo as they have a great beach there but you can spend the day exploring Colombo by tuk tuk and takin gin all of the sights such as visiting Kelaniya Raja Maha Vihara Temple, the National Museum of Sri Lanka, or spend your time eating Movenpick Ice Cream! Check out more things to do in Sri Lanka.
You must try Sri Lankan Food while in Sri Lanka
I was not expecting the food in Sri Lanka to be as delicious as it was. A lot of people categorise it as 'India Easy' but to me it is its own special cuisine. I told my driver I wanted to eat as authentically as possible while there and he took me to some amazing places.
First up was the Farmer's Lunch. This little gem is tucked away over looking the farmer's fields of rice and vegetables that he grows himself for the restaurant.
This is where I first tried red rice. Who knew there was such a thing as red rice and let me tell you its completely delicious and such a great flavour compared to white rice.
The food is buffet style which is my favourite because you get to try lots and lots of different dishes. This is just my first round as more food came out. Another thing I got to try was a tea leaf salad. My driver said there is not a direct translation for the type of leaf but let me tell you its delicious and my favourite thing I got to try in Sri Lanka.
This was the most delicious Sri Lankan food I had and after a long day walking around Polannaruwa it was perfect. The restaurant is very clean and welcoming and the views are wonderful while you are eating all of the tasty food.
And of course one cannot forget a good cup of tea when visiting Sr Lanka. I visited the tea plantations in the central region and the tea was delicious. This was one of my highlights of Sri Lanka. You've heard of Ceylon tea for so long but to then go and see where it is grown was amazing.
Interesting Facts about Sri Lanka
Sri Lanka is the Jewel of Asia and is one of those places that captures your interest.
The currency in Sri Lanka is the rupee and 100 rupees equals $0.60
Bring bug spray. It rains a lot in Sri Lanka and there were a lot of mosquitoes when I was there.
Sri Lanka is having a tourism boom. Try going in the shoulder season April-September
Check out this one week itinerary for Sri Lanka
Eat your heart out I love Sri Lankan food – curries and hoppers are amazing
Ride in a tuk tuk to get around. Its an experience
Hotels and guesthouses are cheap and they usually will have a room for your driver for free (included in the price)
I hope you enjoyed this Sri Lanka 2 week itinerary. Sharing is caring. You can pin this post to save for later.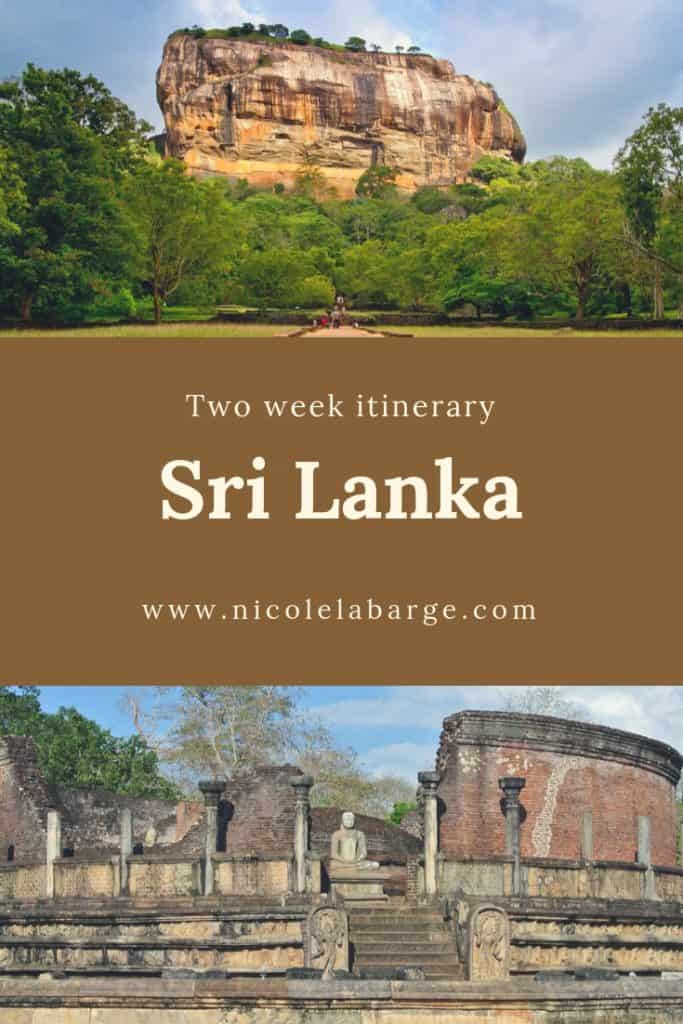 Recent Posts