30+ Fun Facts about Tokyo, Japan
Tokyo is a fascinating city and these facts about Tokyo are no exception.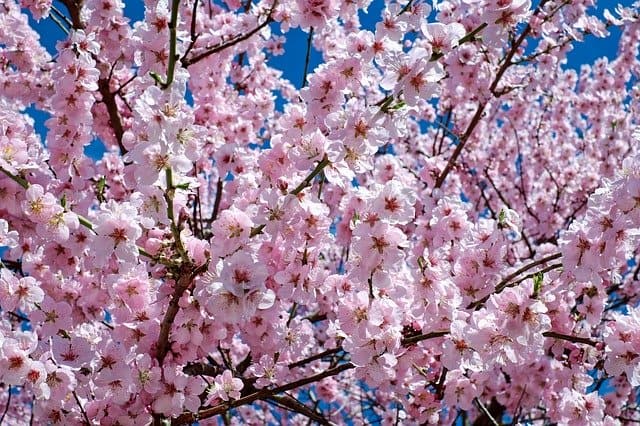 If you are looking for Tokyo, Japan Facts you are in the right place. This list of interesting facts on Tokyo goes above and beyond the usual 10 facts about Tokyo japan as it was written by someone who used to live there.
I've included cool facts about Tokyo and also Tokyo culture facts. There are so many Tokyo facts and information on this list. You will really enjoy these interesting facts on Tokyo.
Tokyo Japan Facts: 30+ Interesting Facts about Tokyo
What's the capital of Japan?
Tokyo is the capital city of Japan and the largest city in Japan with a population of over 9.2 million people. If you would like to know more Japan Facts, check out my post on interesting facts about Japan.
The busiest train station in the world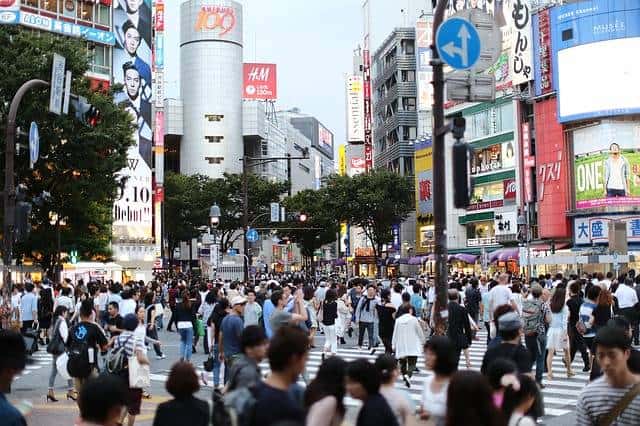 What is Tokyo known for? Tokyo is home to the busiest train station in the world, Shinjuku station. It is located in both the Shinjuku (Nishi-Shinjuku) and Shibuya (Yoyogi and Sendagaya) wards.
With 35 different platforms in the main JR station, above and underground arcades, and an additional 17 platforms, it sees a daily average of 3.6 million passengers. I would not recommend meeting a friend at this station as it has taken me hours in the past!
Riding Mario karts
If you want to experience Tokyo outside of the normal train, bus, taxi methods, consider seeing the sights and sounds while driving your own Mario kart. There are different course options that you can choose from, depending on your area of interest.
Courses offered cover: Akihabara, Asakusa, Shibuya, Tokyo Bay, and Shinagawa. Rentals typically include a helmet, guard mask, costume, and shades. If you want to make it an even memorable experience, you can rent lights, speakers, and action cameras while cruising around.
Kawaii Monster Café
Designed by Masuda Sebastian, this café will give you anything but an ordinary experience. A massive cake shaped merry go round is the first thing you'll see upon entering the café. You can then choose from one of four areas to sit: the milk stand room has rabbits, sheep, and unicorns.
The mushroom disco room with vivid mushrooms. The mel-tea room is covered in dessert objects with a pastel color scheme. And also the mel-teathe bar with glow in the dark jellyfish monuments. You can pop in for a drink, meal, or to see a burlesque show. 
Parasite Museum
Located in the Meguro neighborhood of Tokyo, this small museum is one of a kind. There are multiple floors to explore and more than 45,000 immersed parasite specimens to examine.
3D art museum
Team Lab Borderless is an experience for the senses. It consists of roughly 10,000 square meters of three-dimensional art. Here you are free to explore a world of art without borders, as you wander and explore how different worlds run into one another.
You can access Team Lab Borderless from Aomi Station of the Yurikamome Monorail. Tickets can be purchased at the venue, or online. I would recommend buying tickets ahead of time online, as they often sell out well in advance.
Kabukicho
This is the red-light district found in Shinjuku. There are a lot of bars and late-night restaurants to check out to get a feel for Tokyo nightlife. Kabukicho has a large number of host clubs. Here men serve, and provide entertainment, for female customers who are encouraged to spend big money.
Yoyogi park
Located in Shibuya, Yoyogi park is the biggest park in Tokyo. It is commonly visited in spring, to see cherry blossoms, and summer for picnics with friends. Some things to see near the park include: Meiji Shrine Imperial Garden, Meiji Jingu Shrine, Takeshita Street, Harajuku Station, and Togo Shrine.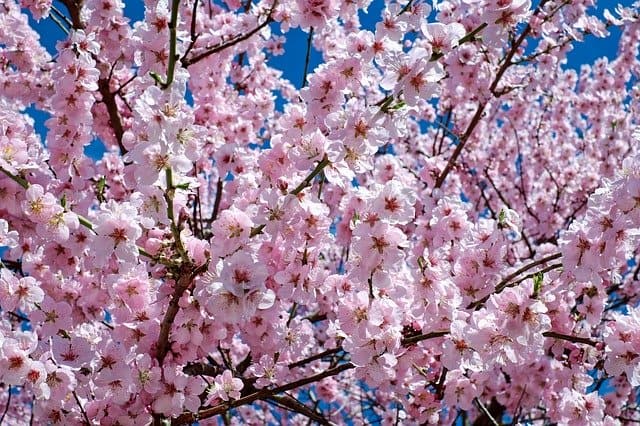 Tokyo Tower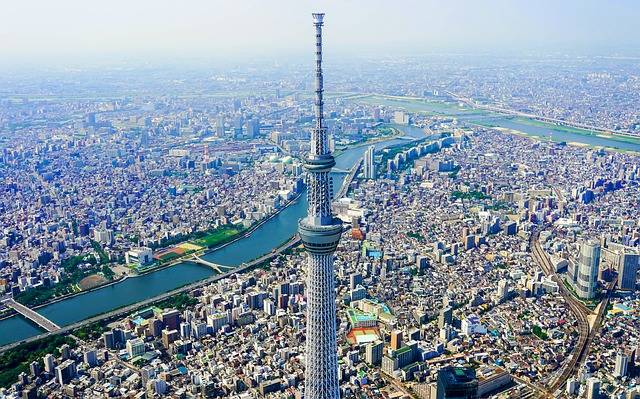 The Eiffel tower inspired structure is the second tallest building in Tokyo. Standing at 332.9m tall, it is an excellent place to take in the magnificent view that Tokyo offers. Arriving before sunset gives time to see the city with daylight, watch the sun set, and grab a drink at the top while watching the glistening lights below. You can purchase tickets here
Mini pig café
If you've ever wanted to play with some animals while relaxing at a café, look no further! Tokyo's first micro pig café, Mipig Harajuku behind the Alta complex on Takeshita Street. You can place your shoes and belongings in a locker, grab a table (you sit on the ground) and then order something to eat/drink. The mini pigs are free to roam around while you enjoy the atmosphere.
Typical style vs Sardine ramen shop
Ramen can easily be found in any city across Japan. Each region has its own take on the ingredients used. Tokyo typically has bamboo shoots, chopped scallion, pureed white fish slices, sliced pork, egg, seaweed, and spinach. A different, and saltier, take on ramen can be found at Nagi Golden Gai. In this quintessential 10 seat ramen shop the broth is made of baby sardines, giving a new flavor to a classic dish.
Ghibli museum
Here you can see all of your favorites created by Hayao Miyazaki! A giant Totoro greets you at the entrance, visitors can watch original animated short films, kids can hop on a giant cat bus, and see a 5m tall guardian robot soldier on the roof. The museum is open from 10am – 6pm and ticket price is about $9 and must be purchased in advance.
Tsukiji market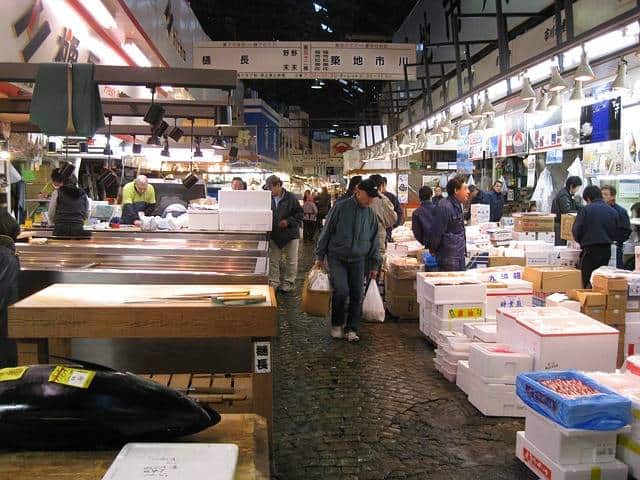 This market opened on February 11, 1935 and is located in central Tokyo between the Ginza shopping district and Sumida River. It is recommended to get there before 10am to get some fresh sashimi dishes served up by the local shops that line the market. However, if you want to catch the action of fish auctioning, its better to go around 4-5am.
Robot restaurant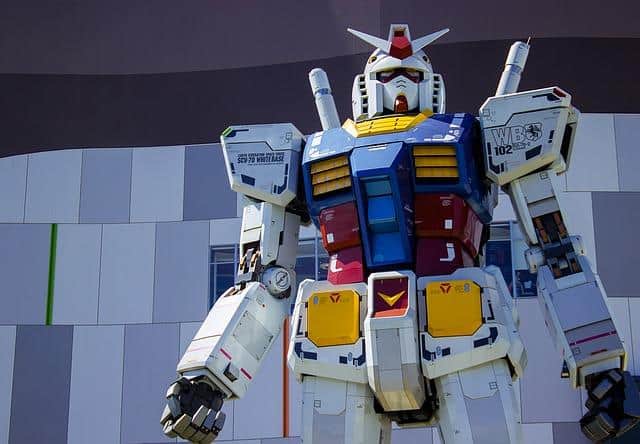 If any of the other types of cafes do not seem appealing, Tokyo also offers loads of entertainment at their robot restaurant. Located in Kabukicho, customers venture through hallways of neon lights before reaching the main eating area. A 90-minute show with life sized robots, energetic performers, and a multitude of lights makes for an unforgettable dining experience. This is the one I went to and had a great experience.
Shibuya crossing (hachiko)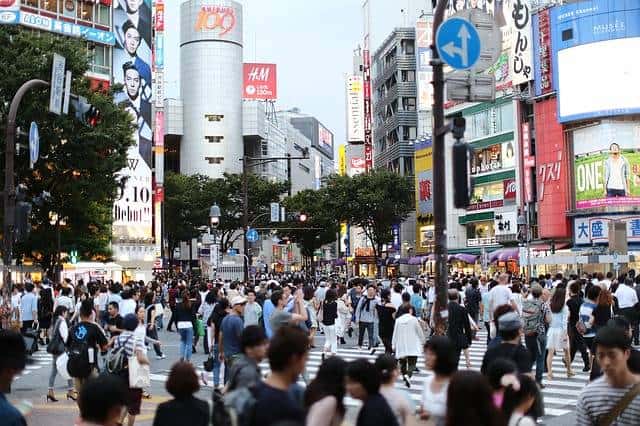 This is the world's busiest pedestrian crossing where 2.4 million people pass by every day. If you want to see it in full swing, it's best to visit during peak hours in the morning (7-9am) or after work (5pm). Another sight to see nearby is Hachiko. It is a famous dog statue where many people meet before going out. Hachiko reached his fame as a loyal dog meeting Professor Hidesaburō Ueno of Tokyo Imperial University there every day until his death in 1935.
Cosplay store
Cospatio has five locations across Japan, including one in Akihabara. Head on up to the 3rd floor to see a wide range of outfits, props, and makeup all used when cosplaying.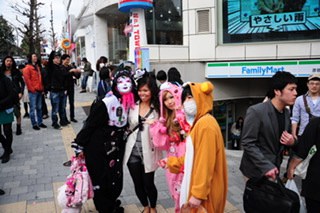 Akihabara
This district in Tokyo is famous for its electronics and nerd (otaku) goods. You can expect to see many anime, comic book (manga) and video game stores in this region. SEGA arcades are also quite popular and good fun to walk through as everyone plays their games.
Takeshita Street
Located in Harajuku, this is a pedestrian street lined with cafes, boutiques, and restaurants. Here you can find the Kawaii Monster Café, check out a 100 Yen store, or simply get lost in the crowd wandering through many different Japanese shops.
Play pachinko
While gambling is illegal in Japan, Pachinko is allowed and viewed as more of a recreational or amusement activity. Pachinko can be described as a vertical pinball game and has been around for about 80 years. After finishing your game, you can cash out and receive a receipt from staff.
The exchange counter, where prizes can be obtained, is usually in a nearby hallway. Receipts are valid for that day so leaving without claiming a prize is not advised.
Tokyo Disney Land
Want to have a magical experience? Visit Tokyo Disney Land! A one-day pass to the Magical Kingdom will run 7, 400 Yen ($68) for adults 18 and above, 6,400 Yen ($60) for children 12 -17, and 4,800 Yen ($45) for children aged 4 – 11. Its an unforgettable experience.
Tokyo Dinner Shows
If you love dinner and a show, and you love samuri, then this 2.5-hour dinner show is for you! Included is the opportunity to check out Kanda Myojin Shrine, watch a samurai show, enjoy food and unlimited drinks, and take pictures with the samurai.
Edo Wonderland theme park
If you've ever wanted to take a step back into 17th century Japan, Edo Wonderland is a must see. Located in Tochigi Prefecture, roughly 2.5 hours north of Tokyo, you can experience what life was like back then. Enjoy dressing in traditional Japanese kimonos or your preferred Edo character, eating delicious food, and watching entertaining performances.
Suicide forest
Aokigahara Forest is extremely beautiful, yet has a haunting reputation. Located in the outskirts of Mt. Fuji, this forest has become known as a place where individuals go to either contemplate or commit suicide. Since the 1950s the death rate within the forest has steadily been rising and in 2003, 105 deaths were reported. The forest became internationally known in January 2018 as a YouTuber filmed the forests and victim's bodies on his channel. Please be respectful if visiting this forest.
Mandarake
Mandarake manga stores can be found in the Akihabara, Kanda, and Jimbocho districts in Tokyo. It was established in 1987 and has turned into the world's largest anime and manga store visited by Japanese and foreigners alike, from all over the world.
Famous Tokyo sweet
One of the most famous sweets to try in Tokyo is the Tokyo banana. They are often sold in packs of four, eight, and twelve. The eight pack is most commonly seen and comes in at 1,000 Yen ($9). These cream filled cakes come in the original banana flavor, as well as honey, coffee milk, and maple.
Open Air Ameya-yokocho Market
Traditionally known as 'candy store alley' Ameya-yokocho market can be found between Okachimachi and Ueno Stations along the Yamanote line tracks. Now, many types of food and goods are sold here in addition to candy.
Hakuhinkan toy park for kids
If you have kids and want them to have a fun experience, this is for you! In Ginza, this five-floor store offers over 200,000 items and toys. The ground floor consists of fashion dolls, first floor offers party goods, the second has thousands of plush toys, the third has children's toys, and the fourth floor has board, card, and action games.
Purikura
Purikura booths take digital pictures with the option of cute borders and ability to decorate afterwards, before printing. Many school-aged and young adults love to take these pictures. It is more popular with females but couples also enjoy it. Purikura booths can be found in arcades.
Gachapon machines
The word 'gachapon' is used for both the toy that comes out and the machine itself. These machines are similar to ones found in other countries outside of restaurants and grocery stores. Many different toys can be found in these machines and they cost roughly 100-500 Yen.
Maid café
Maids are a part of the cosplay world in Japan. At maid cafes customers are served, as masters, by servants in maid costumes. Some popular cafes in Akihabara are The Granvania, Maidreamin, @home café, and pinafore.
Drink Sake
Sake, fermented rice alcohol, is one of the most well-known drinks in Japan. A popular concept that can be seen at many Japanese style bars is an all you can drink alcohol menu. Five great bars to experience all you can drink sake include: KURAND SAKE MARKET, Kainomi, Suisui, Tokiwarai, Higasa Amagasa
Mount Fuji day trip from Tokyo
A perfect get away from the hustle and bustle of Tokyo is a day trip to Mount Fuji. In this 10 hour tour, you can take photos at Lake Kawaguchiko, drink water from Mt. Fuji at Oshino Hakkai, visit Arakura Sengen Shrine, and visit Gotemba Outlet or Gotemba Peace Park. Check out this day tour to Mount Fuji which inclues transportation, English guide, and entrance fees are included in this $65 tour. Food and beverages are not.
Aqua park Shinagawa
This park combines the best of sea shows, an aquarium, and an adventure park all in one. There are 11 different areas to explore using sound, light, and videos to enhance visitor's experiences. The park is open Sunday – Saturday 10am – 10pm.
Baseball Games
Tokyo Dome was built in 1985 in Bunkyo, Tokyo. It holds a maximum of 57,000 people with a seating capacity of 42,000. The stadium is home to the Yomiuri Baseball team and the arena has been nick-named "Tokyo Big Egg" or "The Big Egg".
Since Japan's favorite sport is baseball, attending a game is a really fun experience. Fans sing fight/theme songs for their teams and have special chants to encourage the players. They also use a variety of noise making tools.

Conclusion: Fun Facts Tokyo
I hope you have enjoyed this list of interesting facts on Tokyo. There are so many cool and weird things about Tokyo and Japan in general. It is an amazing place to visit and if you would like more information I have over 30+ articles on Japan.
Sharing is Caring! Pin this article to save for later.

Continue Reading more on my website:
Recent Posts