Rio de Janeiro Tourist Attractions
I knew when I booked my flight to Rio that I wanted to have plenty of time to explore the city and see all of Rio de Janeiro Tourist Attractions and get a good feel for it. I spent five days exploring the city and these are the top tourist attractions you must visit on your trip to Rio.
I was so jealous during the Olympics when I saw everyone posting snaps from around Rio.  And they were right, it is an amazing city with a ton of things to do in Rio. Check out this guide to Rio de Janeiro for all the practical info for visiting this amazing city.
So here are my top 9 Rio de Janeiro Tourist Attractions in no particular order.
1. Visit Christ the Redeemer
This one is a given as a new wonder of the world visiting the Christ was my first stop in the city. You take a cable card to the top which takes approximately 30 minutes. The views of the beaches from there are amazing.
Taking pictures of the Christ itself is a little more difficult as there are a ton of people at the top. I thought being one of the first people of the cable car would help but people stay up there for ages. I got some great shots of the statue but found it really difficult to take pictures with me in it! Here is all the info you need to visit Christ.
The statue is 710 metres tall (2,330 feet) and perched on Corcovado mountain. It can be seen throughout the city.
2. Sugarloaf
The hills around Rio are stunning and none is quite as stunning as Sugarloaf. You take a hanging cable car to the top. Well two different cable cars actually. Again the views are amazing. It is also where I left to take the heliflight around Rio and the Christ the Redeemer.
3. Heliflight
I cannot recommend taking a heliflight around Rio enough. My 15 minute flight went over the water and also around Christ the Redeemer for stunning views and pictures. My flight took off from the first level of Sugarloaf. You will need to take the cable car up to take this flight. Such a cool experience.
4. Copacabana Beach
On Sundays the road along the beach closes for the locals to exercise. There are so many people using this opportunity to walk, run, skateboard or bike along the street. It is also quite an atmosphere to join the locals. I spent most of my time walking along and watching people play volleyball and buying the sweet popcorn on sale. Delicious.
I paraglided over Copacabana Beach and Ipanema Beach. The beaches in Rio are the true stars and I love the Brazilian culture of spending time on the beach and socialising.
5. Selaron Steps
The famous mosaic steps built by Jorge Selaron. Its incredible to look at each individual mosaic used. It is said he collected the mosaics from different countries and you can see the different sizes and colours of the tiles. This is such a great photo opportunity and I think the steps really represent how colourful Rio is today.
6. Churrasco
Brazilian BBQ – here is what I ate in Brazil. Meat, meat, and more meat. And it is absolutely delicious. The cuts of meat in Brazil are different then what we are used to but don't worry, the waiters will stop at nothing for you to try everything!
Honestly, sit down and wait for every waiter with his skewer of beef to come by and shave some off for you onto your plate. Absolutely delicious. The meat is so tender and flavourful. I could go on and on but I've made myself hungry now so I have to go eat something.
7. Paragliding
I first paraglided in Switzerland 15 years ago. Back then I didn't have vertigo and I think I was too naive to know what I was getting myself into. Paragliding in Rio gives you some amazing views over Rio and the beaches. The take off was a bit much for me and I didn't look down once but next thing I knew we were sailing smoothly over the beach.
8. Hiking Pedra Bonito
Right next to the paragliding is the beautiful rock (literally the translation for Pedra Bonito). This is when I figured out how unfit I was. This is a 40 minute hike through Tijuca National Park. The scenery is amazing and we were able to see marmosets (tiny monkeys). So cute. Of course the view was amazing, where isn't the view amazing in Rio?
9. Museum of Tomorrow
When I watched the opening ceremony for the Olympics of course my favourite moment was Giselle walking across the stage to the song the Girl from Ipanema. But what also stood out for me was the progressive take on climate change.
The Rio Opening Ceremony put Climate Change front and centre and they have continued that theme with the Museum of Tomorrow. The idea of the museum is that tomorrow is not ready. The museum combines science with design and it is well worth a visit.
I loved the Rio Te Amo Sign outside of the Museum of Tomorrow. Such a good photo opportunity. If you continue to walk down Olympic Avenue you will see the huge murals and street art.
Want to visit more in Rio? Planning a trip to Brazil?
There are plenty more things to do in Rio such as Rio Scenarium where you can watch the traditional dances and listen to good music. Even more things to do in Brazil.
Want to see more beaches? Go to Barra de Tijuca the longest beach in Rio.
Rio is also an amazing honeymoon destination as there is so much to do there.
Want to know a secret? I have to admit my favourite thing to do in Rio is have an acai bowl with granola and eat it along the beach. Hands down my favourite thing especially when you combine it with people watching! Check out more Brazilian recipes to try.
I hope you enjoyed my top things to do in Rio. Have you been? What is your favourite thing to do in Rio?
Sharing is caring. Pin to save for later.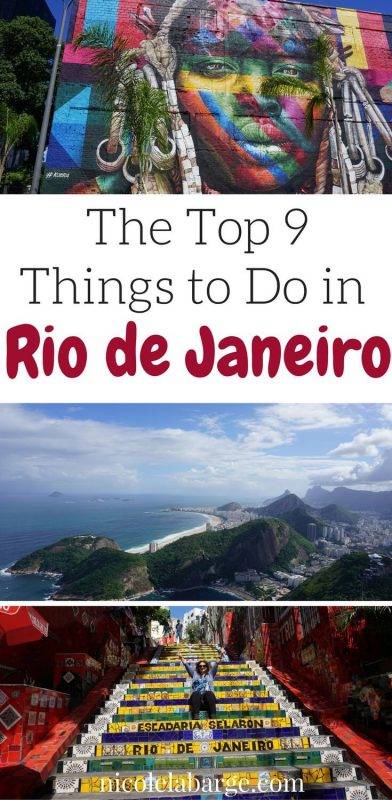 Many thanks to Rio Convention for hosting my four days in Rio de Janeiro. As always, thought and opinions are my own.
Recent Posts