This is the second in my series of Travel Monthly Recaps where I try to update you my readers in real time about where I have been, what I have been doing and how much my travels have cost for the month.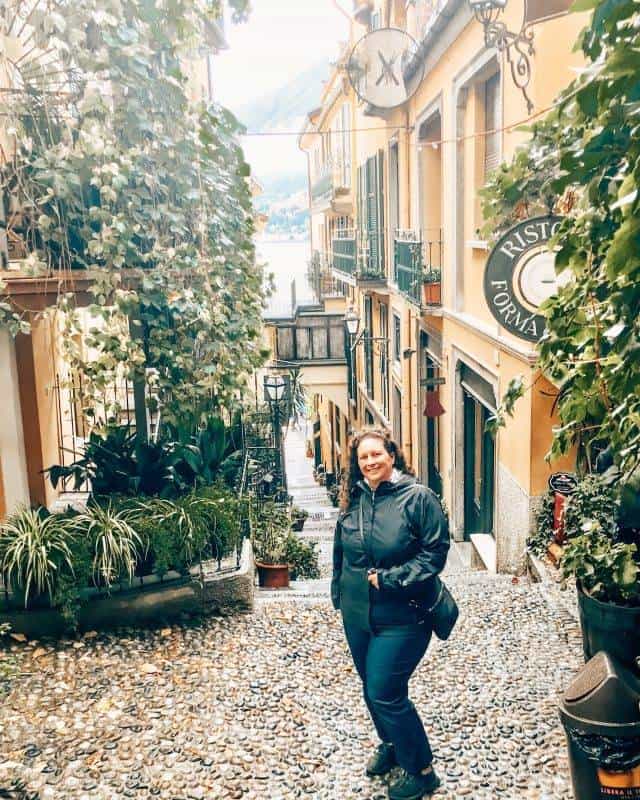 Destinations in October 2018
Milan, Italy
Lake Como, Italy
Flight to Milan
On the 28th of October I left Wellington to fly to Milan.  I will never get over taking two long haul flights back to back.  I had a one hour flight to Auckland which was uneventful.  Once I got to the Auckland International Airport I just hung out in the lounge for two hours before my flight.
Luckily I was flying business class with Air New Zealand and I had a lay flat bed for the 12 hour flight to Los Angeles.  I actually slept well and watched the movie Tully which I had wanted to watch for ages.  We then landed and got off the flight and had to clear customs before heading back on the plane.
After customs I had some time to head to the lounge, take a shower, and get some food before another 10 hour flight to London.  I didn't get much sleep on this flight as the service was a bit slow and it was three hours before dinner was finished so I just watched Life of the Party which was hilarious but after that I couldn't find anything to watch which made the flight last forever.
Then I landed in Heathrow for a four hour layover.  I have no idea how I made it through this layover.  I was tired, hot and sweaty and my lounge wanted to charge me 40 GBP to take a shower so I passed.  Then it was a two hour flight to Milan.
As I was using my Priority Pass to get into the lounges I didn't spend anything until I got to Milan.
Visiting Milan, Italy
This was my second time in Milan and I was mainly there to visit my friend who recently moved there and to get over jet lag.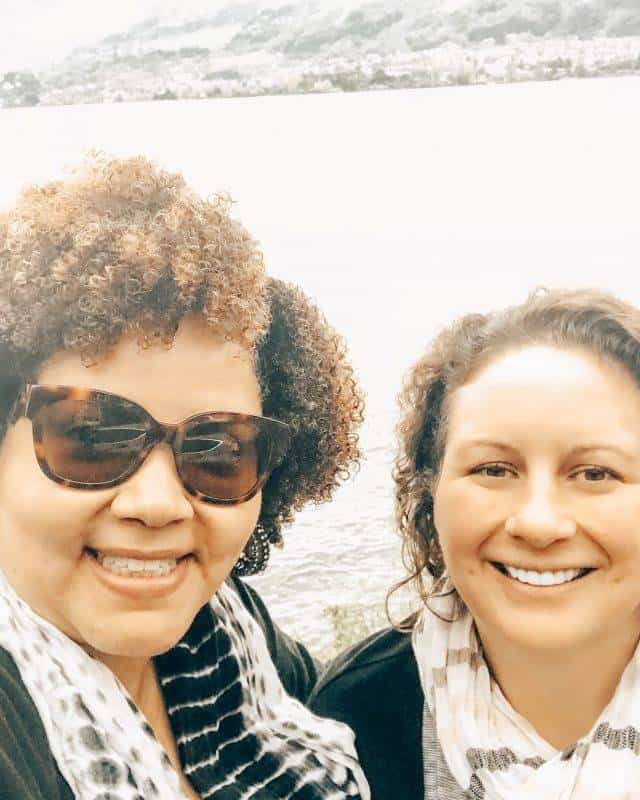 Arriving in Milan
I arrived at Linate about 30 minutes late on my British Airways flight.  There had been a big storm in Milan which had caused a tree to block one of the lanes to the airport.  Needless to say traffic was back up and the queue for the taxis was about two hours long.  I stood in line with all of my bags but I got a good taxi driver who got me to my friends apartment within 30 minutes for 25 Euros.
Things to do in Milan
There is so much to do in Milan and most people only spend the day there but it really is worth a visit.
Food Tour of Milan
My favourite was a food tour that took us through the neighbourhood of Barrio.  We started off with cornettos and mini eclairs before trying out different types of hams and salamis at one of the oldest delis in MIlan.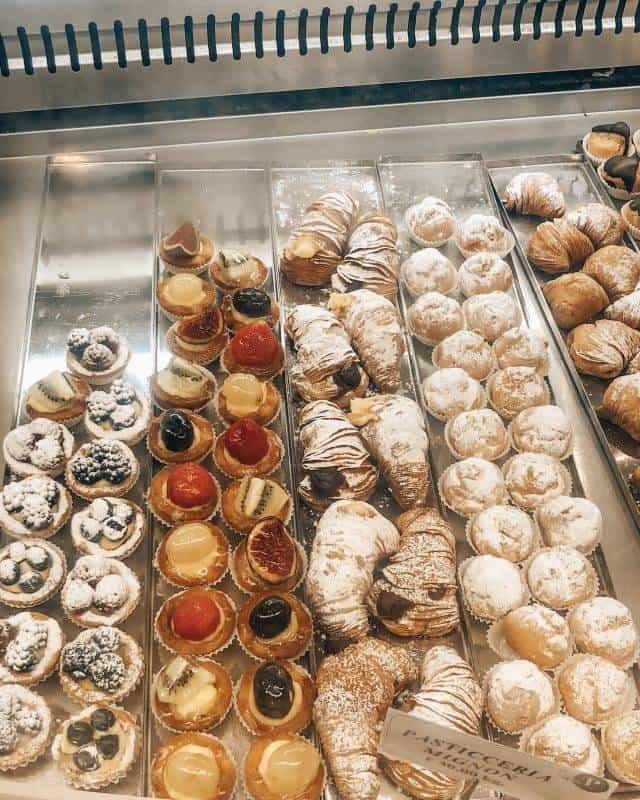 We also had saffron risotto which is a speciality of Milan.  It was such a cute place too named Once Upon a Dream.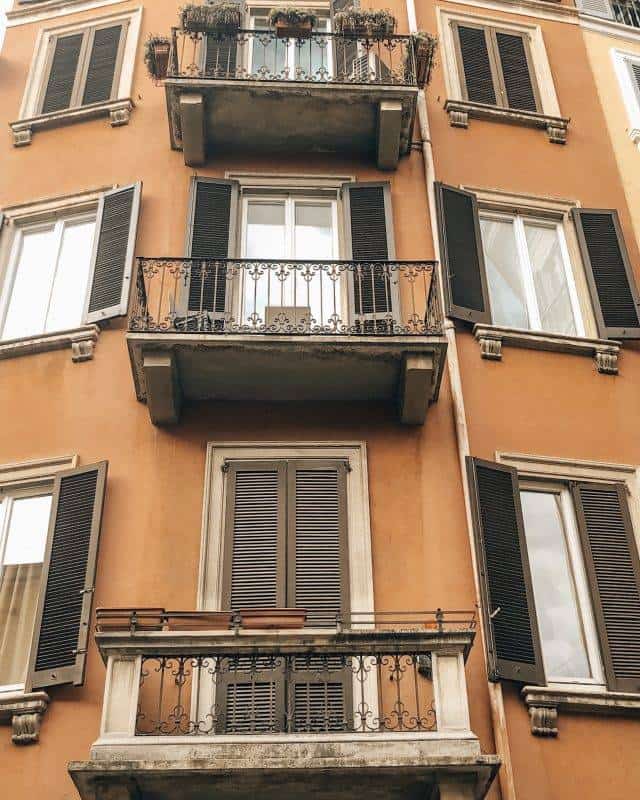 Then came the best lasagne I have ever had in my life.  I'm telling you it was so delicious I'm never having lasagne again.  Most lasagne I've had is very meat and cheese and that's it but this one was so light and delicate and beyond anything I've ever had before.
And of course we finished the day with gelato and I had my all time favourite flavour – pistachio!!  If you have not tried pistachio gelato you must.  It is delicious.
Food Tour Cost 65 euros
My first Aperitivo
Aperitivo is like happy hour – drinks and nibbles after work and before dinner.  There are lots of different choices but the most popular and local is the Aperol Spritz.  Aperol is a liquor found in Italy that has an orange flavour to it but also a bit bitter.  I didn't like it that much but the view of the Duomo was brilliant.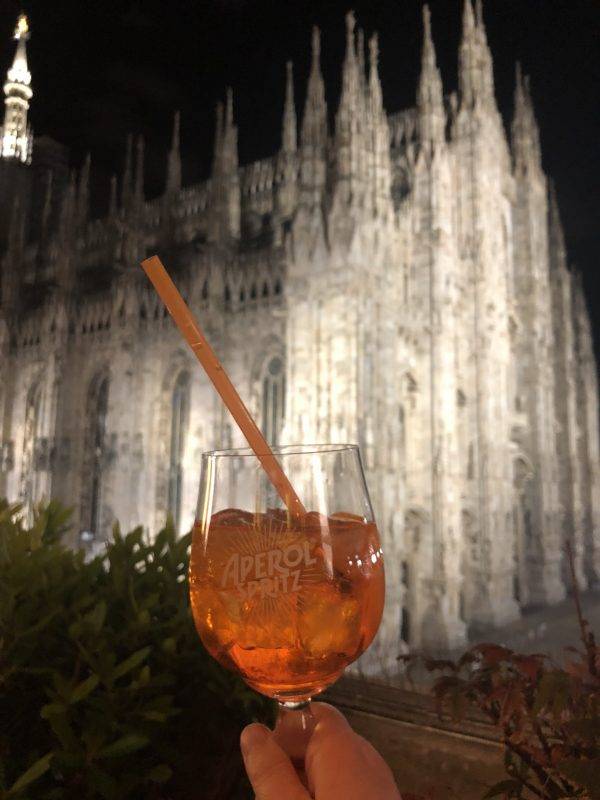 I tried a Hugo Spritz later and I loved it.  It's a lot sweeter than an Aperol Spritz.
Aperitivo was 15 Euros and it came with an appetiser.
Hot Chocolate at Marchesi in the shopping centre
Does anyone notice a theme to my Milan trip?!?  After a long day of walking around we decided to stop for a hot chocolate at Marchesi.  This was a great treat especially because I had a beautiful fruit tart.
The hot chocolate here is 8 Euros but worth it!
Visiting the Sforza Castle
Did you know there is a castle in Milan?  Yeah, me neither.  On my last full day in Milan, we went to the castle which houses several thousands artefacts including a statue by Michelangelo.  It was impressive to walk around and is the perfect activity for a rainy day.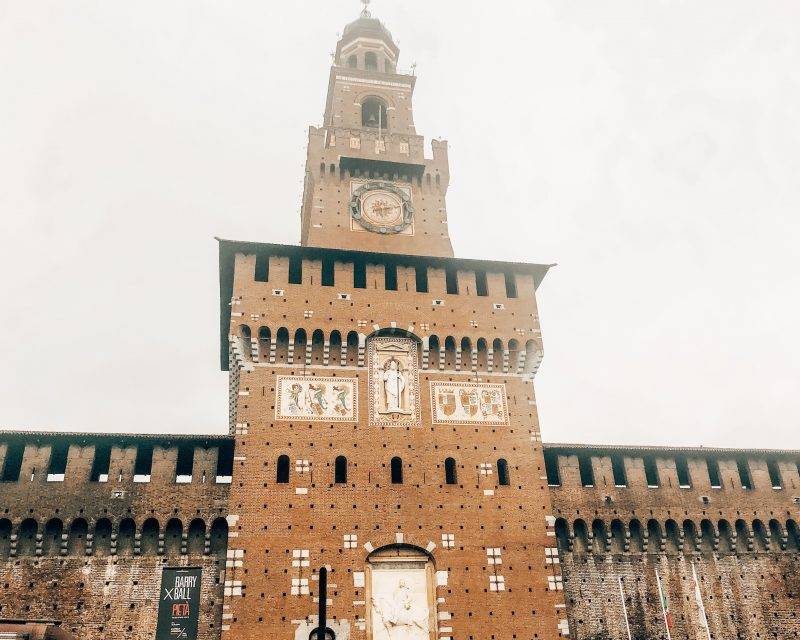 Entrance to the castle includes entrance to the museum – 5 Euros
Lake Como
It had rained on and off during my week in Milan.  Not enough to ruin my time there but enough that we were thinking of skipping Lake Como.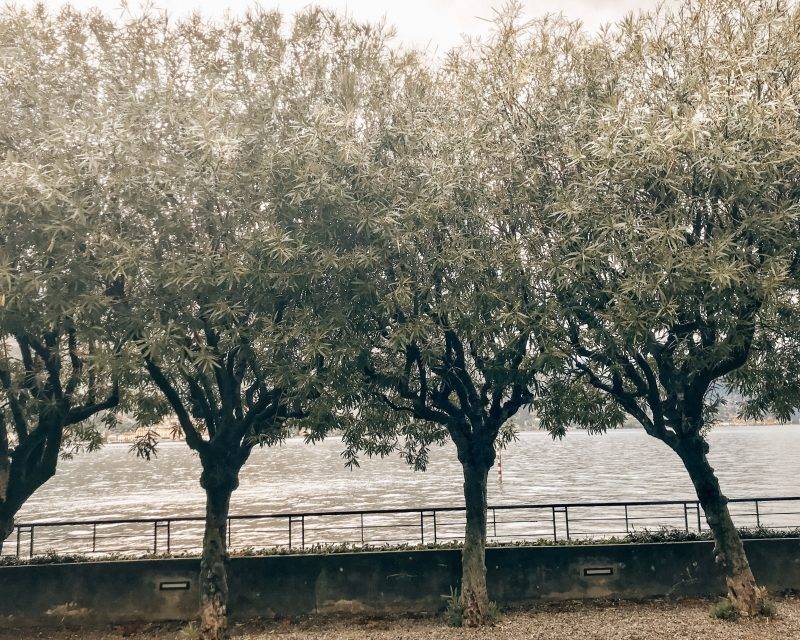 I'm so glad we didn't skip it because the drive to the Lake Como area was beautiful.  We drove to Bellagio a city in the Lake Como area that is what I would call the hub.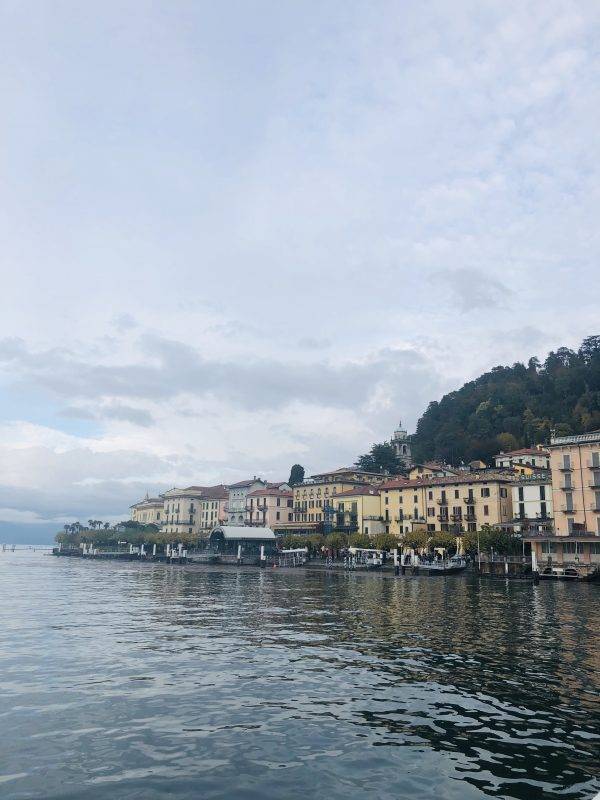 Its also extremely beautiful with Cypress lined streets and a cute pedestrian area.  We stopped for lunch in Bellagio and then took a boat cruise.
They have a Central Lakes cruise that goes four times a day and stops at a few other cities on the lake.  You can get off or just stay on the boat and enjoy the views.  That's what we did along with trying to scope out George Clooney's house.
Lunch in Lake Como was 15 Euros and the boat trip was also 15 Euros.
Lastly and I am thankful this is one of the last things I did was try a cannoli.  Oh my goodness I was not expecting it to be so good.  I'm not a huge pastry person but this sweet Italian dessert is all about the ricotta sweet cream filling.  Worth every bite.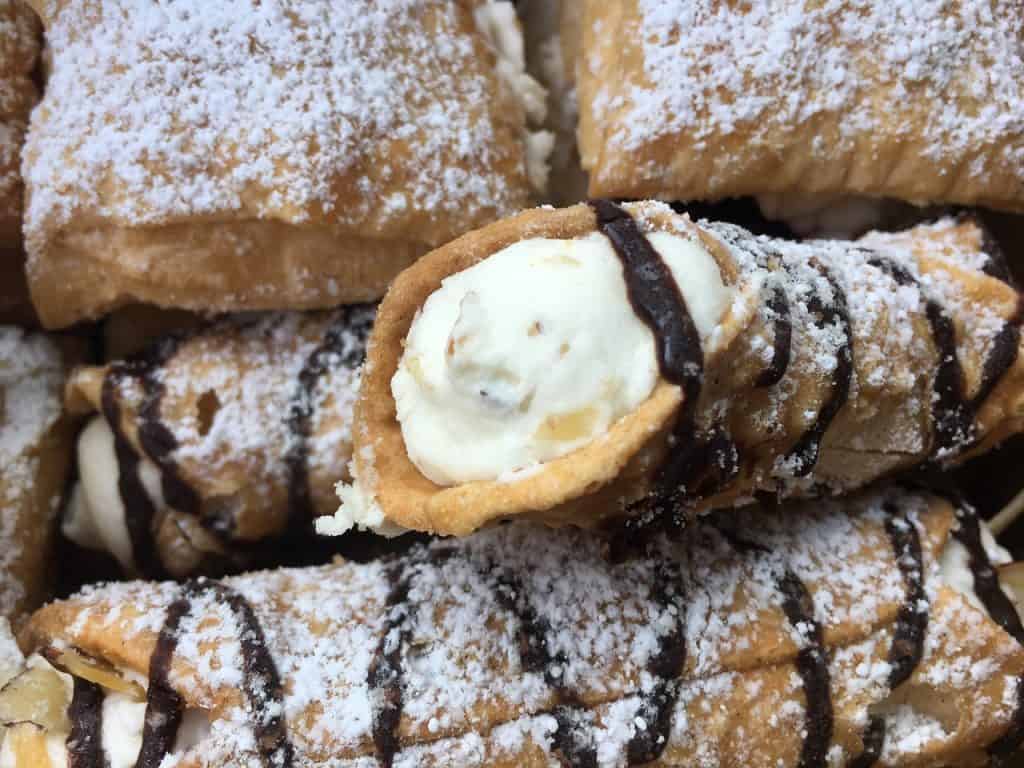 Cannolis are dangerous at only 3 Euros a piece!
What I watched this month
That 70s Show – with the stress of getting everything ready this month I needed something light to watch on the weekends.  Had some great laughs rewatching this show.
Tully – such a great movie and so well done.  A bit of a surprise ending but I was really captivated through out the entire movie which is really saying something for me.
Life of the Party – I love, love Melissa McCarthy and will watch anything she is in.  I found this movie really cute, quirky and lots of great laughs.
Fat, Salt, Acid, Heat – This is a great Netflix series.  I think that I loved this most because she travelled to Italy for Fat, Japan for Salt, Mexico for Acid, and California for heat.  I loved her passion for this.
October wrap up
I'm looking for more suggestions on what to watch and any podcasts you might have as well.  There will be lots of driving next month!
As you can see I didn't spend that much while I was in Milan (150 Euros pointed out in the post but I took out 250 Euros for the week) because I was able to stay with my friend.  I still say Europe is affordable on any budget.
Next month its off to Africa!
Recent Posts