50+ Best Japanese Souvenirs: What to buy in Japan
Are you looking for a souvenir from Japan?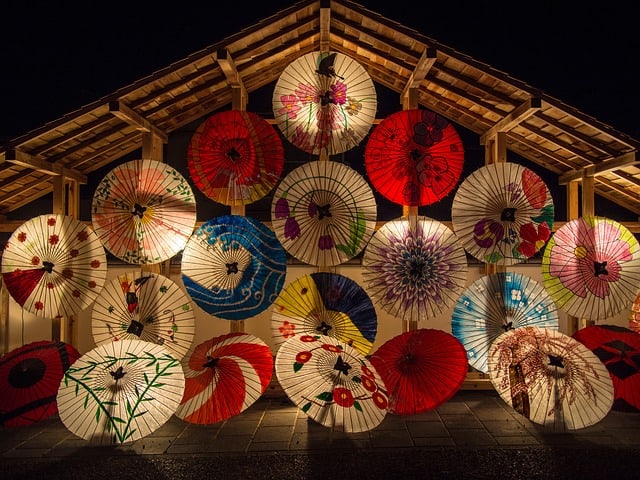 As a responsible traveler I really limit the amount of stuff I buy – especially if it is made of plastic. That's why I have put together this list of best souvenirs from Japan of quality items.
There is no junk on this list of cool gifts from Japan. I bought two beautiful pieces of Koransha from Japan, wooden chopsticks that I still use, a Japanese knife and of course- TEA!
When looking for things to buy in Japan, the best Japanese souvenirs should be meaningful. That's why I've only included quality things (and a few fun treats) on this list of gifts from Japan.
Souvenirs in Japan: the best Japanese gifts and cute things from Japan
Hello Kitty & Rilakkuma
Hello Kitty is one of the most iconic Japanese characters. Souvenirs of her can be found in plush toys, towels, key chains etc. Anything you want you can most likely find with Hello Kitty on it. Another popular character in Japan is Rilakkuma, also known as relax bear. Many stores sell a variety of items with both characters on them.
Flavored kit kats
Japan has taken kit kat flavors to the next level! Some of the different flavors include: apple, Japanese chili, corn, pear, soy sauce, green tea, wasabi and many more! With 200 different flavors, there is a little bit of something for everyone to try! I always pick up a few packs as these are one of the best things to buy in japan as easy gifts. Food is one of the best souvenirs from Japan that you can get for friends.
Green tea (matcha) sweets
From ice cream, to cake, to custard, green tea can be found in many different delicious treats. Green tea powder is a light weight souvenir that can be used to make a simple tea, or an extravagant tiramisu.
Rice crackers (senbei)
There are many different kinds of rice crackers that can be found in Japan. The size and flavors vary. Seaweed, shrimp, soy sauce, sugar and many other flavors make these a perfect crunchy snack. They pair well with a nice cold beer!
Sake
This popular fermented rice alcohol, known in Japan as nihonshu, can be served hot or cold. There are many different kinds of sake that can be purchased. One of the best sakes, from Yamaguchi, is Dassai.
Chopsticks with your name on them
If you are looking to commemorate your trip to Japan, or practice eating like the Japanese, chopsticks are a great option. They can range in price from a few hundred yen from the 100 Yen shop, or about $25-30 personalized with your name from stores like Takashimaya.
Lunch box (bento)
From classrooms to corporate offices, Japanese people typically carry their lunch in a single-portion box. Depending on the material used, plastic or wood, lunch boxes can range in price from 1,000 – 5,000 yen ($10 – $50).
Japanese Fans
A folding fan, sensu, or a non-folding fan, uchiwa, can be used as decorative pieces or a great way to keep cool on a warm day. Fans were initially used by the Japanese elite and samurai class.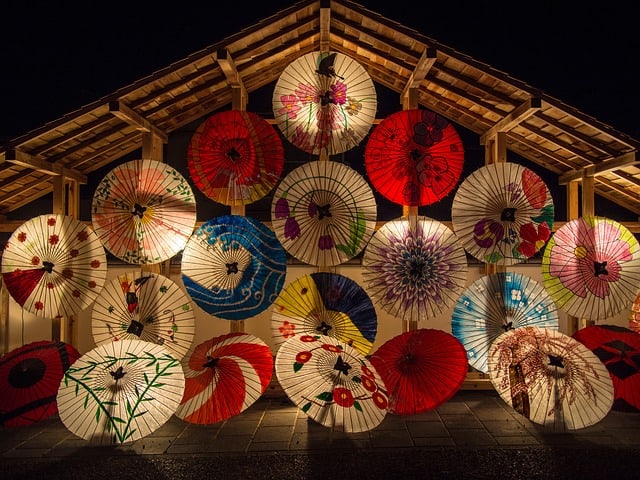 Yukata/kimono
The word Kimono means 'thing to wear' and is a traditional outfit. Kimonos are worn for significant events such as weddings and funerals. Depending on the material used, a kimono can run from $50 (cotton) to $250 plus (wool).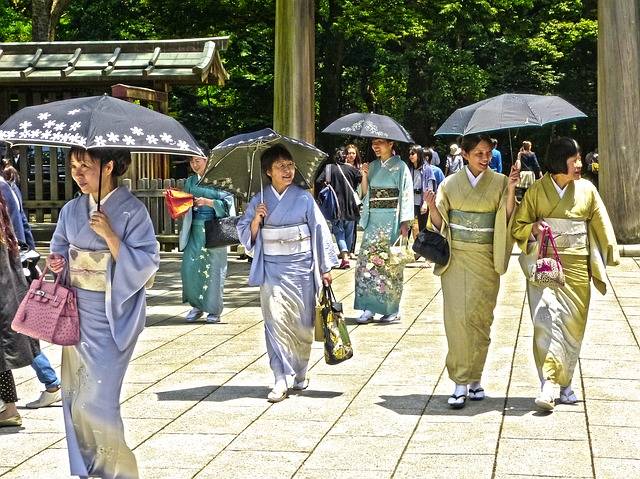 Yukatas, known as 'bathing cloth' are worn in the summertime to festivals. They run roughly $40 – $100. Kimonos and Yukatas vary from one another as kimonos usually have two soft and full width collars, while yukatas have a stiffer, single half width collar.
Japanese knives
Japanese knives are high quality tools. They can be sharpened to a finer angle and are made of stronger steel. Some of the best knives include: Shun Classic 8,  Miyabi 34373-203 Chef's Knife, and Togiharu Inox Steel Gyutou . I think these are the best Japanese souvenirs to get.
Rice cooker
Rice cookers are a bit bigger to transport back home, but are a great investment and handy in the kitchen. Some of the best rice cookers include: Zojirushi NP-HCC10XH Induction Heating System Rice Cooker, Zojirushi NS-ZCC10 5-1/2-Cup (Uncooked) Neuro Fuzzy Rice Cooker, and Zojirushi NP-GBC05XT Induction Heating System Rice Cooker
Pens & erasers
Japanese stationery is extremely cute, but also practical, functional, and high-quality. From pens, to erasers, to notebooks, companies make these products with customer satisfaction in mind.   
Japanese Tea
Some of the most popular Japanese teas include: green tea (matcha), roasted green tea (hojicha), and barley tea (mugicha).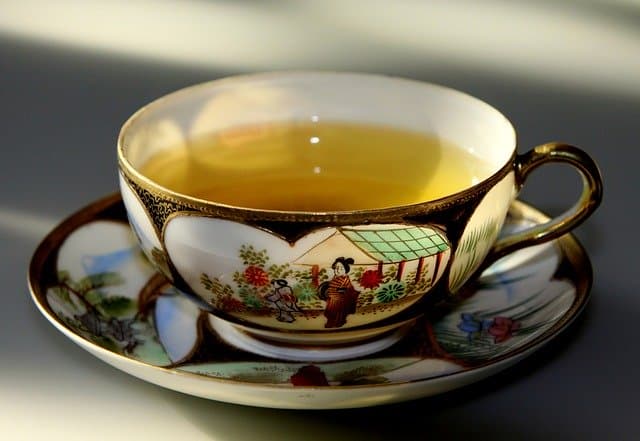 Toe socks
Tabi, or toe socks, come in all colors and designs making them fun for your feet! They separate your big toe from the others, making it easy to wear socks and sandals.
Face masks
Traditional face masks represent many different aspects of Japanese culture. Oni masks represent demons and are painted in red. Tengu masks represent demon creatures who protect the mountains. They are also painted red with angry expressions. Kitsune masks represent foxes and are worn at Shinto festivals. Hyottoko are silly masks with funny expressions.
Phone covers
Phone cases not only protect your phone, but can show off your personality. In Japan they range from simple colors and designs to vibrant and oversized characters and food items.
Hair accessories
Japanese women love to add to their outfits with hair accessories. Ribbons, bows, headbands, and clips in various colors and designs are commonly seen across the country. There are also more traditional pieces known as kanzashi worn with kimonos.

Seaweed
Nori, or dried seaweed, is used in Japanese cooking to make sushi or rice balls (onigiri). It is generally sold in strips or sheets and has a slightly salty taste.
Plum wine
Umeshu is made from Japanese plums that have been steeped in sugar and a white liquor. It can be mixed with other beverages that pair well with its sweet, sour, and fruity flavor.
Wagashi
Wagashi are Japanese sweets that are usually eaten with tea. One of the most popular sweets is mochi. It is a rice cake made of glutinous short grained rice and often filled with red bean paste. Be careful when eating as it is a chewy snack!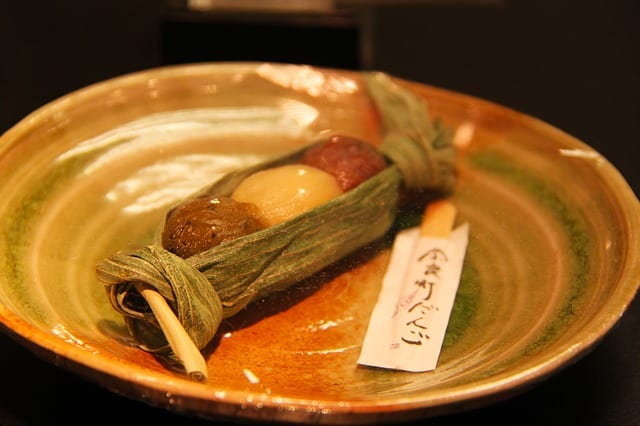 Kendama
This wooden toy is a game of skill. The game requires the player to swing a wooden ball with the correct amount of force to land on the peg. For that reason, the game is called 'sword and ball' and is made from wood, native to Japan.
Koma
This wooden top is made in different shapes and sizes and is fun for both children and adults.
Koinobori
Carp shaped windsocks, or streamers, come in different lengths and are usually flown for Children's Day on May 5th.
Hand towels
Hand towels are given for many different occasions in Japan such as birthday presents to friends, or thank you gifts to coworkers. Japanese bathrooms don't usually have hand dryers or paper towels, so many people carry small hand towels in their purse or bag. They can be found with cute characters costing 100 yen ($1). Or, they can be more upscale with embroidered names on them from well-known companies.
Phone charms
Charms are a fun way to dress up your phone. Different cities in Japan make iconic pieces famous in their region. Food charms such as sushi, ramen, or sweets can also be found. And of course, Hello Kitty, Rilakkuma, and many other characters are commonly seen dangling from phones.
Kairo heat packs
These single use packs are effective in keeping hands and other parts of your body warm. Most stay warm for 8 hours, but some last for up to 15 hours.
Omamori
Japanese amulets, or small ornament pouches, are sold at Buddhist temples or Shinto shrines. They are said to provide protection and can be purchased for 300 -1,500 yen ($2.50 – 13).
Hanko stamp
Japanese people use a hanko, or inkan, stamp as a signature when signing documents in Japan. It usually comes in a set, with stamp and red ink. They can be purchased with characters already on them, or you can personalize them for an increased price.
Fake food
If you go to any restaurant in Japan, chances are there is fake food in front displaying the type of dishes that can be eaten there. In Japan you can make your own food, and also buy fake food as a fun souvenir.
Furoshiki
This is a type of cloth used to transport many different things including lunch boxes, food, clothing, and more. A furoshiki can be used to not only carry lunch boxes, but also as a placemat underneath them.
Gamaguchi
Japanese coin purses come in all shapes, sizes, and designs. Some gamaguchi are larger like clasped purses, with or without an arm strap, while others are smaller like clasped pouches for your pocket.
Wagasa
These Japanese umbrellas are made from washi (Japanese paper) and bamboo. It became more popular during the Edo period and women wearing yukatas or kimonos often carry them.
Wind chimes
Furin, which means wind bell in Japanese, can be seen outside of homes and some temples. They are beautifully crafted and painted glass chimes that represent summertime.
Sandals
Geta sandals are made resembling a wooded clog. They are raised up by smaller wooden pieces to keep a kimono from brushing the ground. Zori are made with rice straw. While both can be worn with a kimono, zori are worn for more traditional events.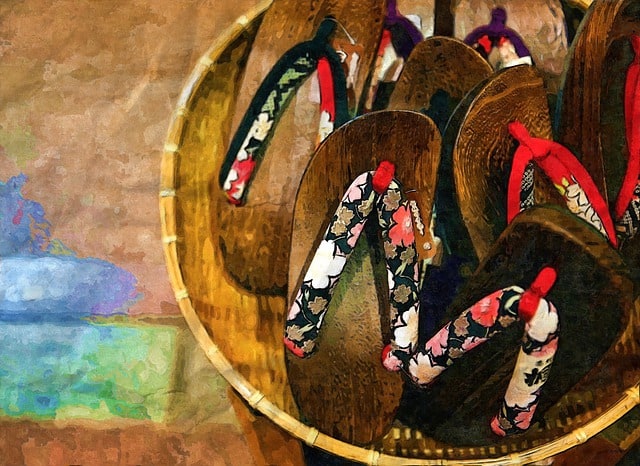 Origami paper
This can be bought at stationary stores or the 100 yen shop. The paper comes in solid colors or with designs.
Lantern
Chochin are lanterns made from paper. They are traditionally red and hung outside of bars or restaurants. They can be purchased at home goods stores such as Tokyu Hands.

Cat statue
Maneki cats (neko-chan) are a perfect gift as they are inexpensive and not very large. If the cat is raising his right paw it brings wealth and good luck. If the left paw is raised it welcomes customers.
Mount Fuji Hiking Stick
If you find yourself venturing up Mount Fuji, make sure you buy a hiking stick there. You can pay a few hundred yen at each stop to have different check points burned onto your wooden stick.
Pocky
This delicious snack was first sold in 1966. It consists of several long thin cracker sticks covered with flavored chocolate. Popular Pocky flavors include: chocolate banana, chestnut, strawberry shortcake, orange, tiramisu, plain chocolate and more.
Hi-chew
This chewy and flavorful candy is great to bring back home and share with friends. There are many different flavors including strawberry, pineapple, apple, grape, cola, soda, and melon.
Sushi set
With this set, you can eat sushi anytime, anywhere! Sets can range in what they offer but will typically have, a sushi board, pair of chopsticks, sauce dish, rice scooper, and rolling mat.
Manga & Anime
Japan is the perfect place to buy any kind of comic book or animated tv or videos that you like. Some top places to purchase anime and manga in Tokyo are: Otome Road in Ikebukuro, Animate Akihabara, Book Off in Shinjuku, and Tsutaya in Shibuya.
Calligraphy set
Calligraphy originated in China but was introduced in Japan during the 6th century. Sets typically include inkstones (suzuri), bamboo brushes (fude) and an inkstick to make the ink (sumi).
Japanese dolls
Kokeshi dolls emerged during the late Edo period (1600 – 1868). They were originally sold in the Tohoku area to visitors of local hot springs. Now, children traditionally receive these dolls.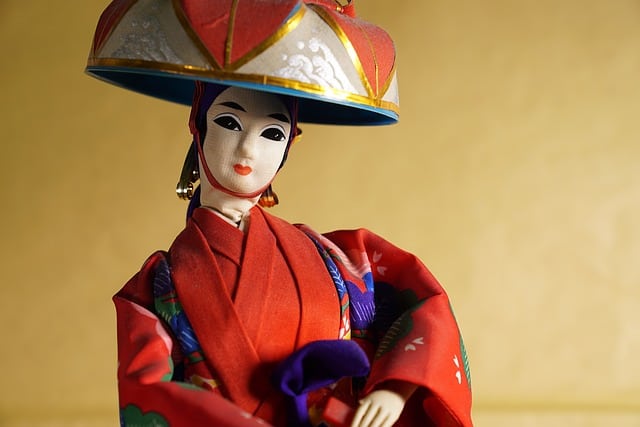 Magnets
Magnets are a great way to remember trips. Japanese souvenirs are great because you can get traditional magnets as well as fun things like ramen, sushi, lanterns, masks, and more to hang on your refrigerator.
Pottery
Japanese rice bowl dishes, or donburi, are beautifully crafted in different regions in Japan. Some of the top pottery towns in the country can be found by region.
In Kanto region: Mashiko Pottery Town.
In Chubu: Tokoname Pottery Town.
In Kansai: Kyoto Pottery Town.
In Chugoku: Hagi Pottery Town.
In Kyushu: Arita Pottery Town.
Jams
This is the perfect way to take a taste of Japan home. Some top flavors are plum, sakura, and yuzu (citrus fruit).
Rice seasoning
Furikake is a dry seasoning consisting of sesame seeds, fish, and chopped seaweed. It is often used on top of fish, vegetables, and cooked rice.
Takoyaki maker
Takoyaki is a famous dish in the Osaka region. Octopus, scallions, corn, ginger and cheese can be put into the pancake like batter making them savory.
Japanese English t-shirt
Some clothing stores sell shirts with interesting English phrases on them, that basically make no sense. They are fun to read and are a humorous souvenir.
Conclusion: best gifts from Japan
I hope you have enjoyed this list of the Best Souvenirs from Japan. I used to live in Japan and have visited several times since and I always pick up some cool gifts from Japan for friends and family.
Sharing is Caring! Pin this article to save for later.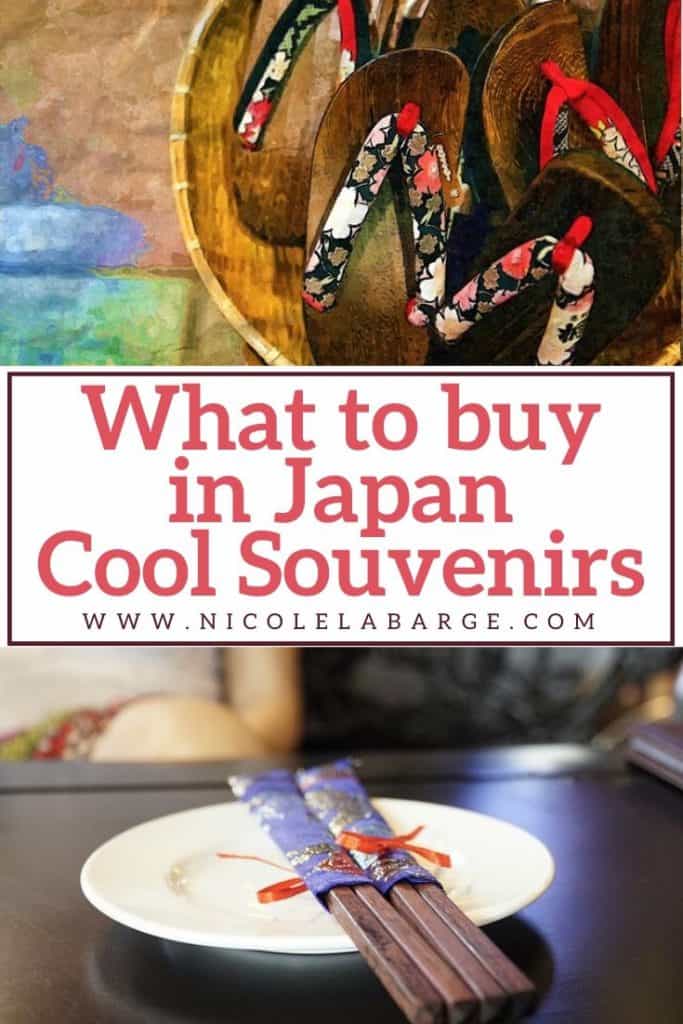 Recent Posts