Beaches of Lagos Portugal
When you think of Europe you think of Mediterranean beaches and warm waters, even the UK has some of the most stunning coastlines and the best beaches in Kent.  But it is the Algarve that has some breathtaking beaches to visit when looking for beaches near Lagos Portugal.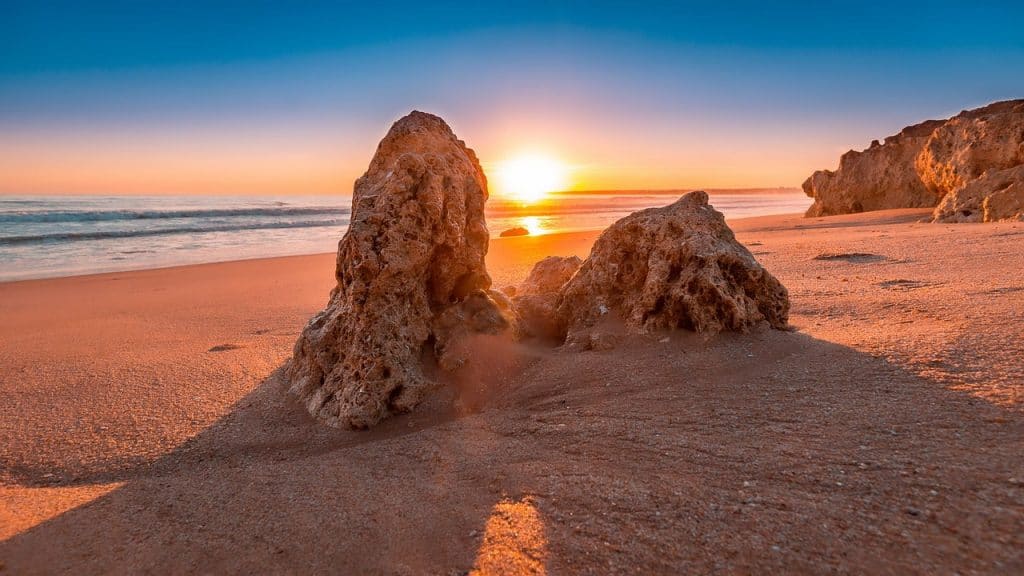 The Algarve is located along the southern most point of Portugal and spans from Lagos to Sagres with several beach along the way.  To get to Lagos you can take a bus from Lisbon.  The bus takes about four and a half hours and costs less than €25.  Make sure you are heading to Lagos not Lagoa!
Everyone will start their trip to Portugal in Lisbon so why not check out this 2 day Lisbon Itinerary.
The other great thing about the beaches in Lagos Portugal is that the area boasts 300 days of sunshine a year perfect for extending your summer holidays into September or October which is the shoulder season and not as packed as the middle of summer.
Best Beaches in Lagos Portugal – Algarve Beaches
The first time I went to the Algarve was October 2002.  You really cannot go wrong with any of the beaches in the Algarve as this is where to find the best beaches in Lagos Portugal.  I've put together a list of my favourite beaches and some practical information you will need if you want to visit.
Praia dos Estudantes Lagos Portugal beach
Even though the name of this beach translates to Student Beach it is not for students only.  This beach has a cave system and archways that are worth seeing.  You can also visit the next beach by going through the tunnels.
Praia dos Estudantes is often overcrowded but worth a stop to see the cliffs, caves and tunnels.  There is also a bridge built to an inlet for a great viewpoint.
Praia Dona Ana
In 2013, Conde Naste Traveller named Praia Dona Ana the best beach in the world.  Call me crazy, but I don't agree with this title at all and I've named my favourite beach last on the list.
This beach is located in Lagos which makes it handy if you do not want to drive to the beach.  This is a sandy beach and it is best for its flat beach and handy access.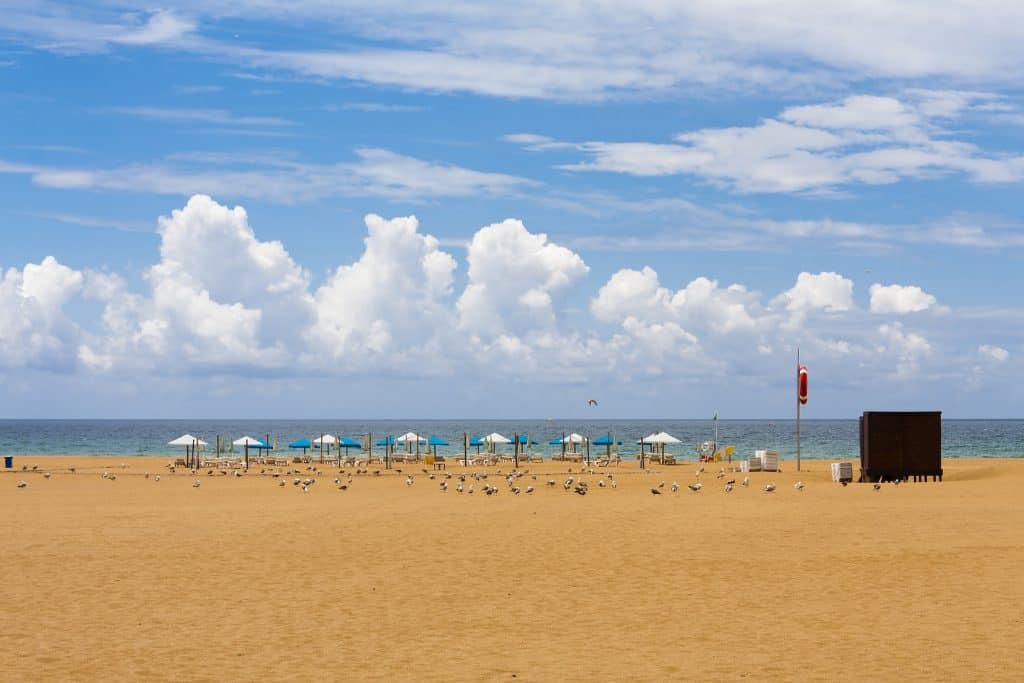 This beach does have services such as kiosks, car park and a walkway down to the beach with sun chairs to spend your day.  I would say Praia Dona Ana is a more active beach with paddle boarders and kayaks and boats in the water near by.
This beach is hugely popular with the tourists and has the same limestone cliffs the area is known for along with rocky formations and beautiful azure waters.
Praia do Comilo
Located right next to Praia Dona Ana, Praia do Comilo is another popular beach right in Lagos.  Here you will find the views you have come for in the Algarve.  The access is easy to get to the beach but there is only one restaurant near the entrance so you will need to bring your own drinks and refreshments for a day at the beach.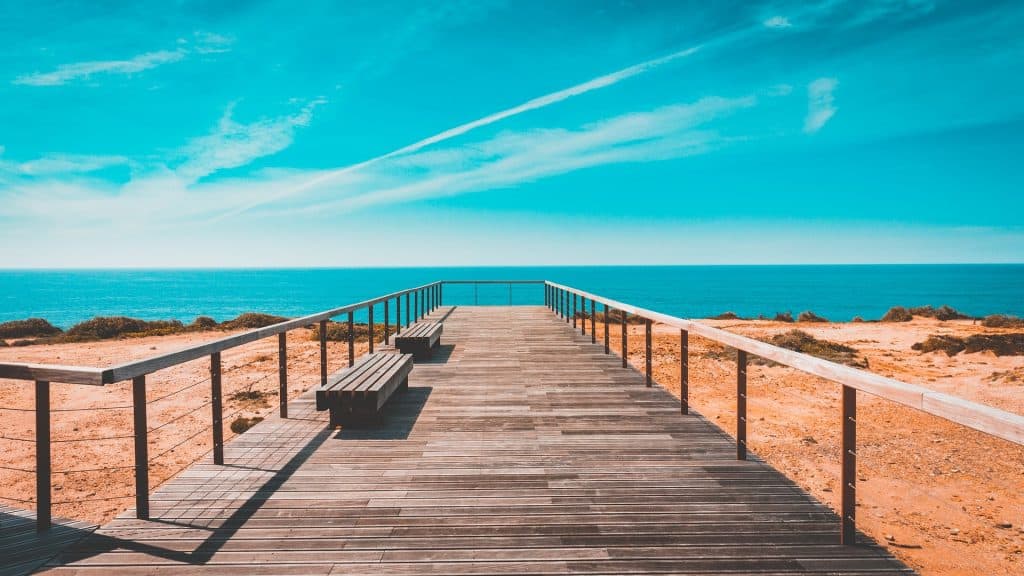 Praia da Balança
Praia da Balanca is a small beach in a rocky bay on the Golden Coast close to the Ponta de Piedade in Lagos.  It is probably the hardest beach to get down to but worth the effort.
There are amazing views of the stand alone cliffs.  This beach tends to get overcrowded as it is a small beach but worth a stop.
Praia da Figueira
Praia da Figueira is a huge beach. It is a quarter mile walk from the road across the beach to the ocean. The city has put many boardwalks, bars and showers all along the beachfront so it is well accessed with facilities.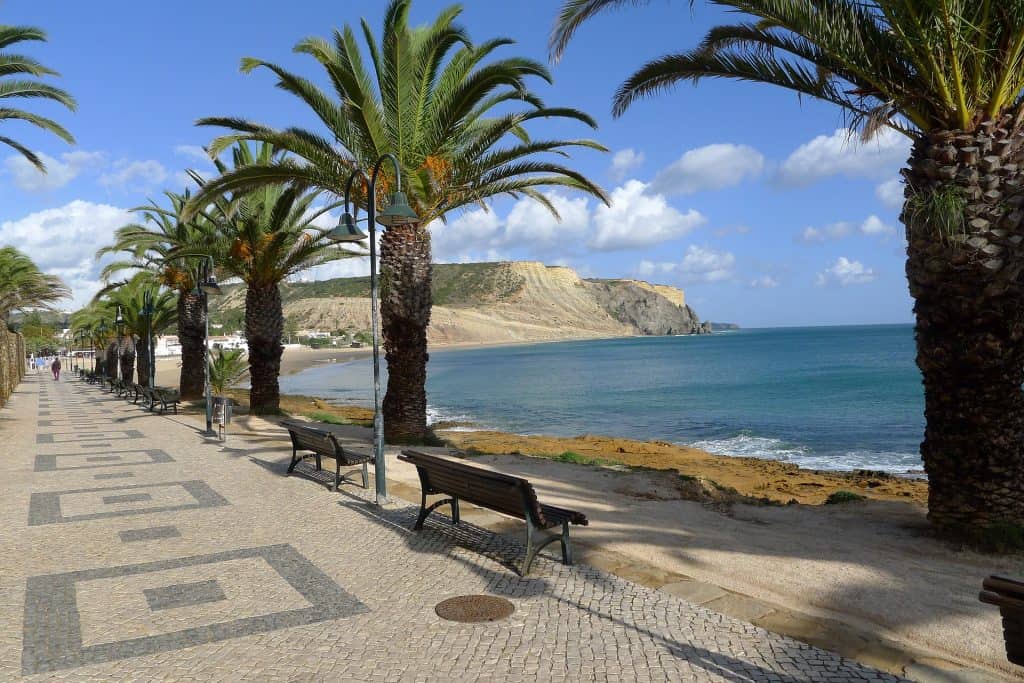 The beach is surrounded by cliffs and if you go for a walk to the east you will see 16th-century ruins. This is one of the least visited beaches in the Algarve because of the walk but do not let that deter you as it is a beautiful, quiet beach.
Praia do Zavial
Praia do Zavial is located in the mouth of a river where the Atlantic meets the warm Mediterranean.  This is another well kept secret of a beach in the Algarve as it is not one of the most popular ones but is definitely worth your time.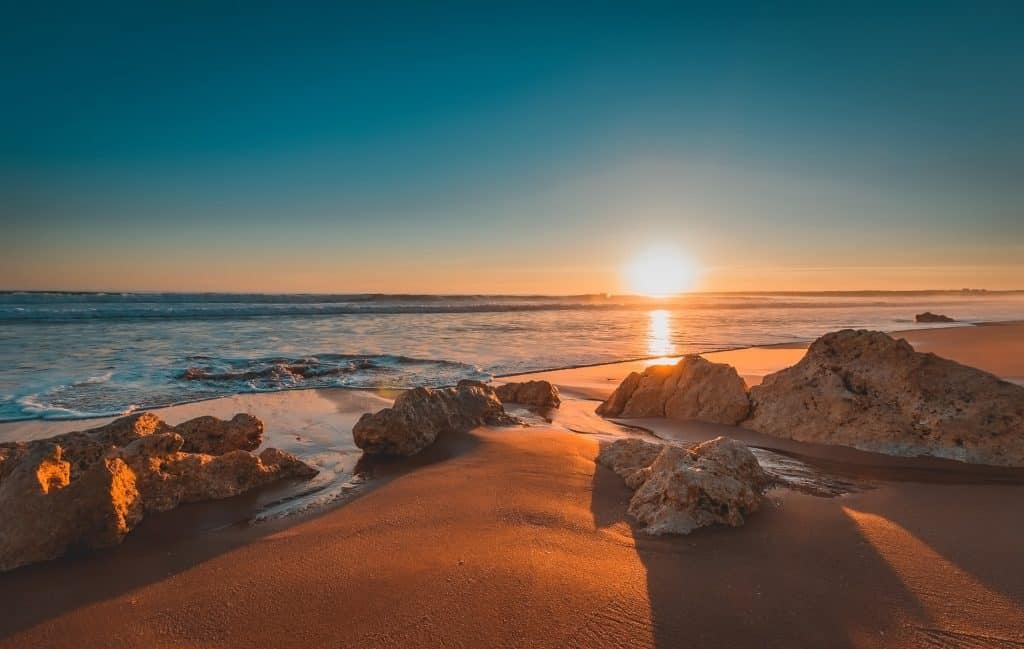 There are a few trails you can hike in this area if you don't want to sit and sun bath all day.  I recommend hiking around as it is a big area and you might find a spot along the beach that is a bit quieter and calmer and more to your liking.
Praia do Tonel
Praia do Tonel is a nice place to visit and has a great surf.  Its quite packed in the water and drinks are expensive here.
This beach is located closer to Sagres on the western side and surrounded by giant cliffs.
Praia do Beliche
Praia do Beliche is a great beach for surfing.  And because it is sheltered from the harsh winds it is also a great place for sunbathing.  Again closer to Sagres than Lagos it is a great beach to spend the day at and watch the sun set.
Beaches near Lagos Portugal – eastern side
These beaches are about an hour east of Lagos but they are two of my favourite beach and well worth the drive.  In my opinion these two are top of the list of beaches to visit in the Algarve.
Praia do Carvalho
Right next to Praia da Marinha and the Benagil Caves is Praia do Carvalho.  It is a beautiful beach that is popular for cliff jumping and there is a trail that leads to through a series of cliffs to watch.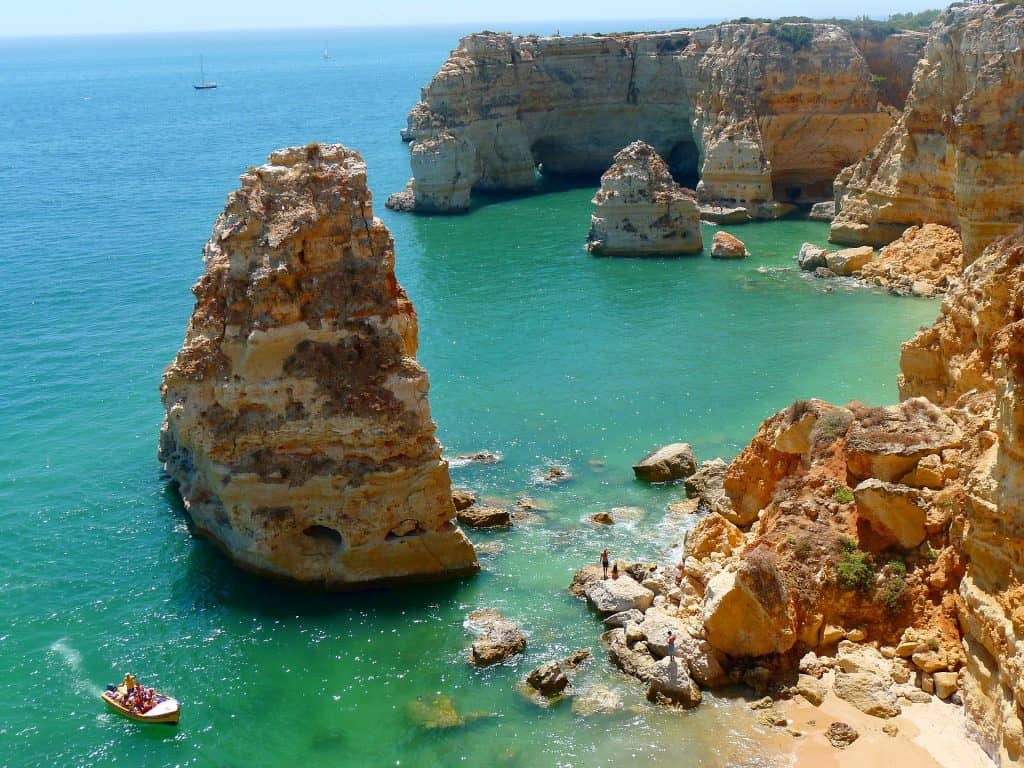 There are beautiful views of the entire coastline from the cliffs on Praia do Carvalho.  Definitely worth the hike for those views.
Praia da Marinha – one of the most beautiful beaches Lagos has to offer
This award winning beach is featured in many guidebooks and for good reason.  This is probably the best beach in all of the Algarve and is about one hour away from Lagos.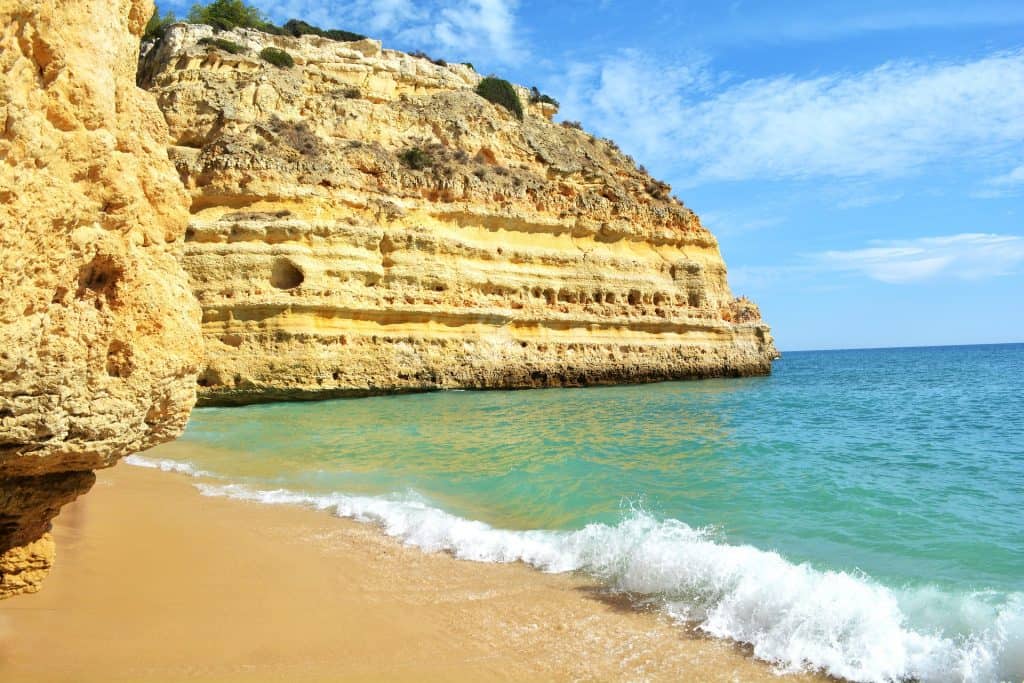 This picture perfect beach is only accessible by a steep walkway down to the beach but that's ok, it will allow you to stop and admire the views!
This beach has the bluest waters and against the limestone cliffs and sand beach it is everything you want from a beach in the Algarve.
The other main attraction at this beach is the Benagil Caves which you can kayak to from Marinha.  Its a popular activity made even more popular by the photos on Instagram and well worth the trip in my opinion.
You can also check out this post on where to stay in the Algarve.
Beaches in Algarve – Which is the best Lagos beach?
So Praia da Marinha is hands down the winner for the best beach in Lagos Portugal but there are a few other beaches in the Algarve I would like to mention.
Meia Praia
Its also worth noting Meia Praia as it is dotted with snack bars and restaurants, making it an ideal choice for those of you who enjoy long, sandy walks, while the absence of rocks under feet.
Mos Praia
I would also mention Mos Praia as it is the second largest beach in Lagos and it is quite wide and long meaning it is a good beach to visit with plenty of space.  It is a golden sand beach and far less crowed that Meia Praia.
Things to do in the Algarve
If lying on beautiful beaches get old after awhile I'd like to suggest the following activities for things to do in the Algarve.  There is so much more to this country especially if you want to experience Portugal With kids.
Go on a Benagil Cave Boat Tour
One of the most interesting things I did in the Algarve is take a boat tour to the famous Benagil Cave.  This 2-3 hour tour takes you along the Algarve coast to see the caves along the way.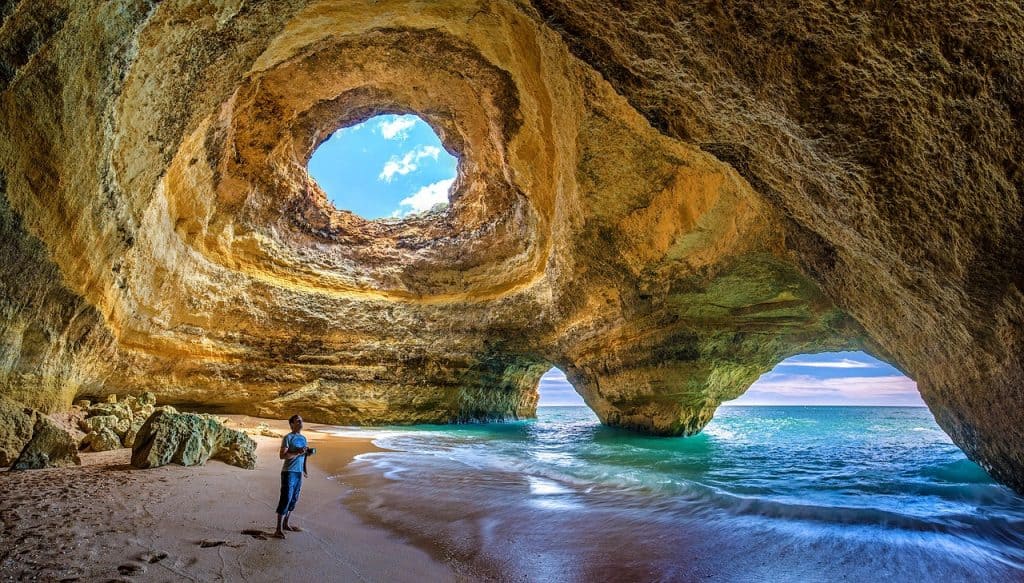 I won't talk about how cool this place is here as you can go check out the post.  It was a definite highlight to my time in the Algarve.
Go on a dolphin watching tour
You can take a boat ride from Faro for two hours in search of spinner dolphins.  This can also be included in the Benagil Boat Tours.  You just need to ask if this is an activity.
Visit faro and Arco da Vila
Visit Faro's Moorish waterfront gateways and buildings for a day
Visit Forte de Nossa Senhora da Rocha
Near Lagoa is a fortified enclosure that dates back to the 8th century before the Moors arrived in Portugal.  It is an impressive fort overlooking the water.
Go golfing or to an amusement park
There are several golf courses and water parks in the Algarve that you can visit for a day of fun.
Visit Cape St Vincent
At Cape St Vincent in Sagres you'll be standing at the southwestern most point in Europe.  It is famous for its lighthouse and stunning views.
There are so many beautiful hotels along the Algarve with great views of the coast.  One of my favourite hotels for its location and its rooftop pool is Hotel Eva in Faro.  I would also recommend Hotel Vila Gale Lagos.  This hotel is sleek, modern, and clean and prime location in Lagos.
Sharing is caring.  Feel free to pin this image to save for later.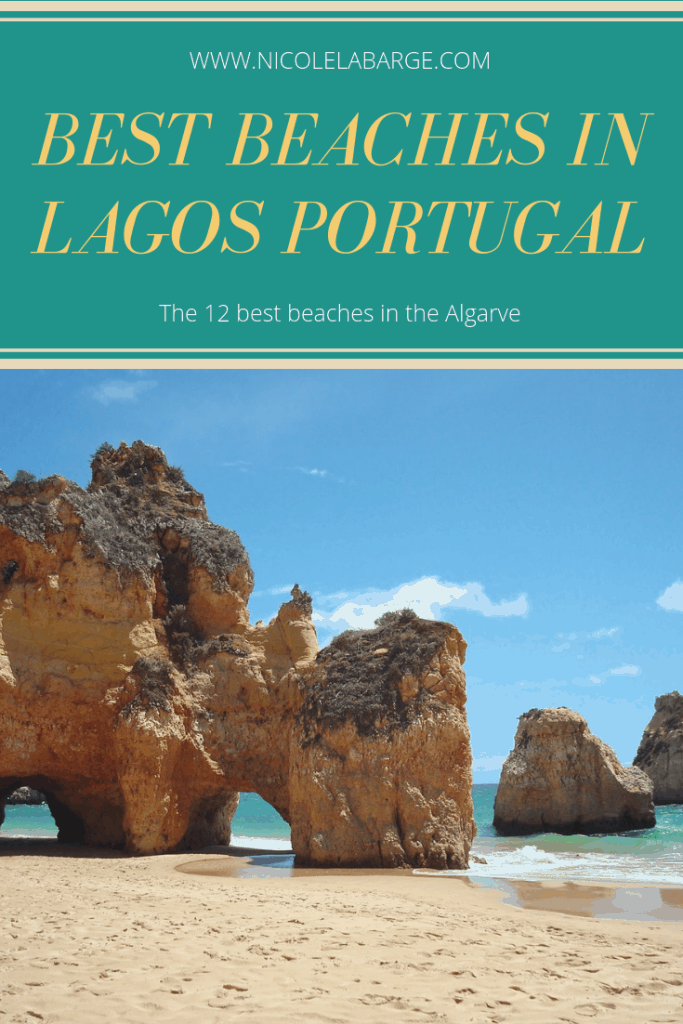 Continue Reading:
Recent Posts