Best hikes in Arizona – Hiking in Arizona on the Arizona Backpacking Trails
The 14 Best Hikes in Arizona – backpacking Arizona
The Best Hikes in Arizona – The best places to hike in Arizona are also some of the best natural wonders. The best hiking in Arizona is often just outside major cities like Phoenix, Tucson and Sedona.
From the Grand Canyon to the Hikes in Phoenix this guide to Hiking in Arizona will have you covered (and it includes some beautiful photos of gorgeous places).
The Best Arizona Hiking Trails and best Arizona Hikes
Havasu Falls, Grand Canyon Michelle from The Wandering Queen
One of the best hikes in Arizona is Havasu Falls, located west of the Grand Canyon. The waterfall's vibrant blue colors contrast against the bright orange canyon, make Havasu Falls hike a must-see.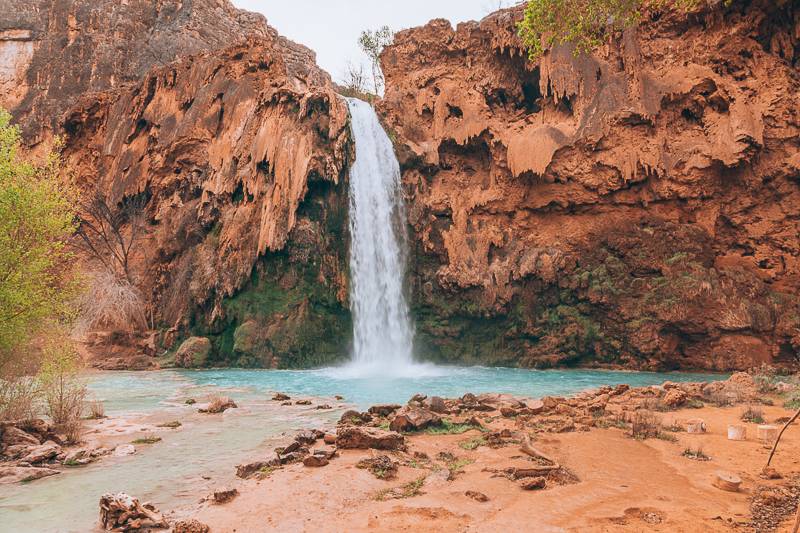 Because of social media, the waterfall has become extremely popular, and so a permit requirement was put into place to limit the number of people. Every February you get a chance at obtaining this much sought after permit. But as thousands of people are trying to obtain the permit as well, it can take a lot of luck to get.
The hike is labeled as difficult to many, but in reality, it is closer to a moderate hike. The elevation gain is about 1963 feet and 10 miles one way. The trail is not challenging; it is just long and can feel like it drags on forever. It might not help that you have to carry all your camping equipment with you inside your backpack! Even with all the difficulties, I highly recommend this hike. It is a perfect way to spend a few days in Arizona.
Antelope Canyon Hike outside Page, Arizona Hanna from Solar Powered Blonde
Antelope Canyon is the most unique and interesting canyon I have ever seen. It is located in Arizona, east of Page.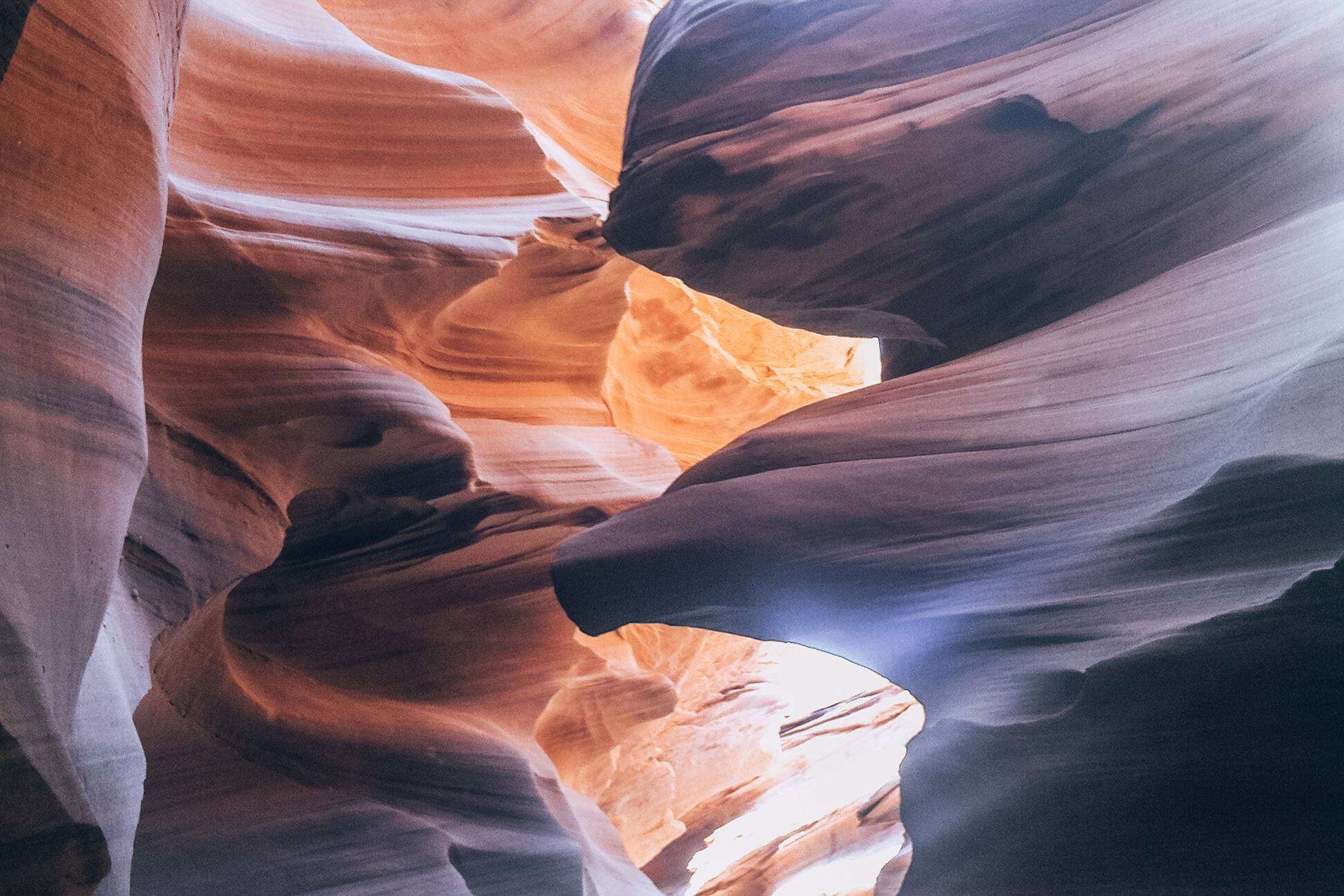 There are different sections of the canyon, with the most beautiful being Upper Antelope Canyon. For more of a challenge and a longer walk, head to Lower Antelope Canyon too. It takes about 10 minutes from when you buy your ticket to walk to the entrance of the canyon. There is no shade so make sure to bring a hat.
Once you enter the canyon, it really is breathtaking, like a work of art. The walls of the canyon are like marble. The different layers of coloured smooth rock will have you taking your camera out constantly. It was formed by water getting into cracks within the rock, and you can imagine how the water went through here. It is one of the most beautiful places I have ever been to and I would highly recommend it!
It is very important to have a guide, also because of the risk of flash flooding, so don't go here alone. The tours are not cheap, as you also have to pay a Navajo Park Permit Fee, but it really is a must see!
If you want to take in beautiful views check out this guide to the scenic ride through the Monument Valley. You can check out my guide to Antelope Canyon and how to choose between Upper or Lower Antelope Canyon.
The Wave located in Coyote Buttes North Wandering Wheatleys
The Wave" is a rock formation located in Coyote Buttes North, a protected area in Northern Arizona.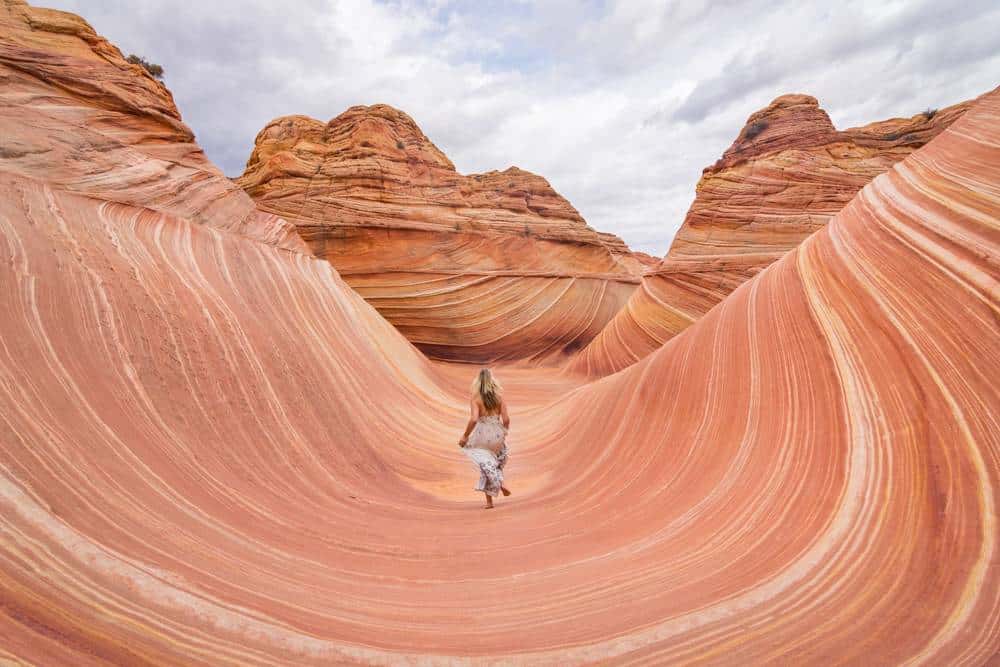 The entire Coyote Buttes area is filled with swirling orange and white sandstone that is so incredibly beautiful it will make you feel like you've left Earth and wandered onto another planet. The Wave is the most famous area of the north buttes as the swirls come together perfectly to resemble an ocean wave.
Before you get too excited to visit, you should know that only 20 people are allowed to access the Coyote Buttes North area each day; 10 of those are reserved via online lottery 4 months in advance, and 10 are doled out the day before through the in-person lottery in the BLM office in Kanab, Utah. Thousands of people register for the online lottery and over a hundred try their luck at the in-person lottery each day. Competition is fierce!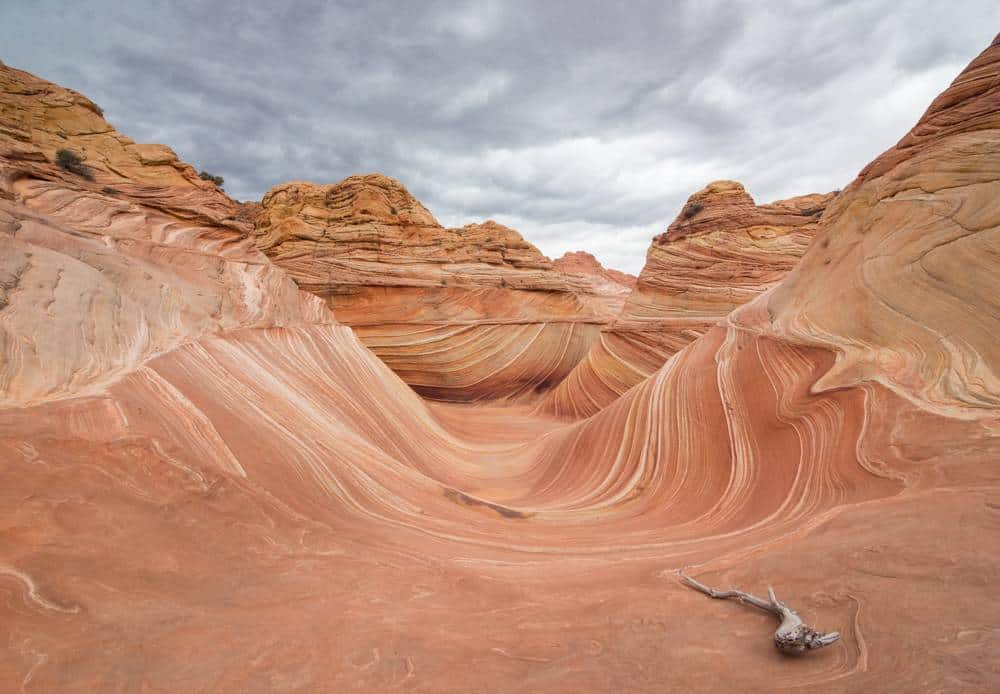 If you are lucky enough to win a permit for the Wave, you'll be provided a detailed map with photos to guide you. The trail begins at the Wire Pass Trailhead, about 8 miles down a rough dirt road off of US 89, 39 miles from Kanab. The trail is poorly marked and signed so you'll need the GPS coordinates of The Wave as well as the detailed visual map to help you get there. You'll be hiking for 3 miles over rough, rocky terrain so it's impossible to follow footprints and many people (including us) have gotten very lost trying to find it!
And if you're lucky enough to be one of only 20 people to see The Wave, you'll be rewarded with an incredibly dramatic landscape that you'll get to enjoy almost all to yourself. The entire area surrounding The Wave is amazing to explore and is truly a once-in-a-lifetime opportunity!
Coyote Buttes South Hike Taylor from Travel Outlandish
"The Wave" is the darling of the Paria Canyon/Vermilion Cliffs Wilderness. And while there's no denying that it's a serious feat of nature, you'll have to compete against hundreds of applicants to see it. Most people who dream of visiting will never get to! But what few people know is that there's another option: Coyote Buttes South.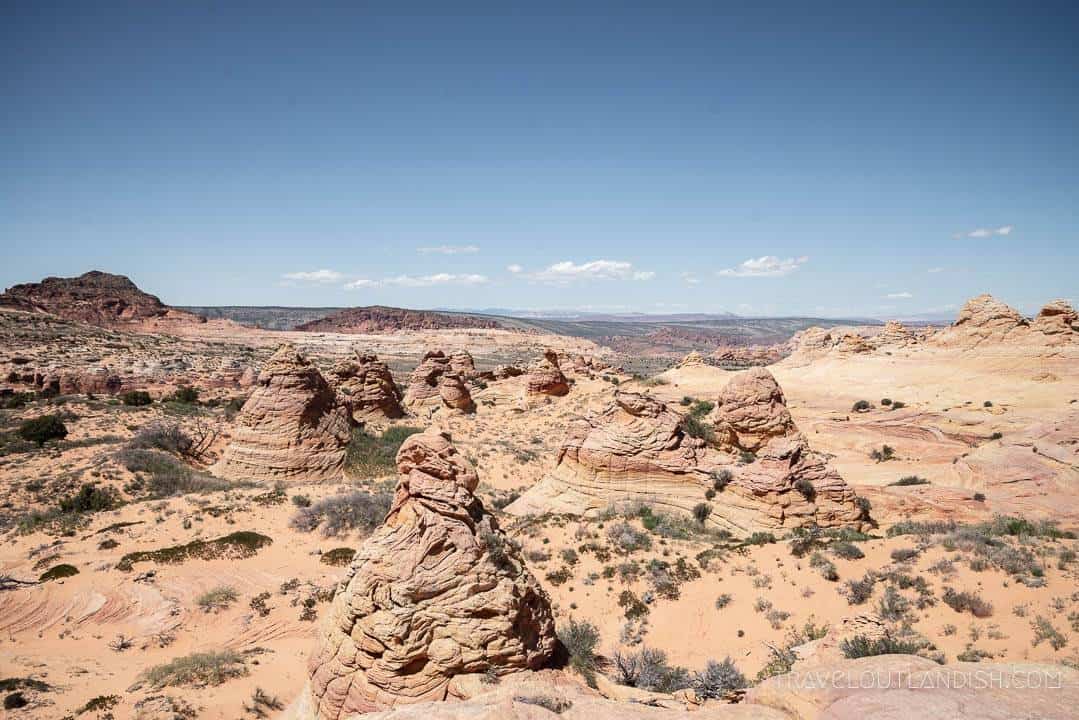 Coyote Buttes South shares in the remarkable geology that the Paria Canyon / Vermilion Cliffs Wilderness is known for. There may be no true "wave" formation, but the formations you do see in Coyote Buttes South are equally awesome. And not only does the South have a less-competitive permitting process, but because it's spread across two distinct areas to explore (Paw Hole and Cottonwood Cove), you'll have the whole thing almost to yourself.
You'll need a 4WD to access the trailheads, and from either parking lot, it's just a short hike to the rocks with no true trail. You'll be free to walk along worn stretches of grass and follow your curiosity around the sandstone formations.
Because Coyote Buttes is so carefully protected by this tight permitting process, you'll have the chance to see an area relatively untouched by humans with few other people around. But with great power comes great responsibility! Be sure to respect the area and leave it just like you found it for those who are still to come.
Grand Canyon Rim Trail – Grand Canyon Catherine D'Cruz from We Go With Kids
There are options for hikers of all experience levels at the Grand Canyon. For travelers who want to enjoy the Canyon's breathtaking views without a treacherous descent, the Grand Canyon Rim Trails are a perfect choice.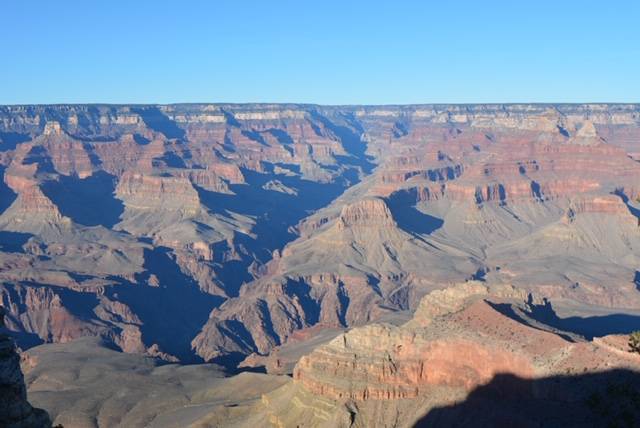 The Rim Walk follows the Canyon's edge for about 13 miles and consists mostly of paved trails. When the shuttle operates along Hermit Road, it's possible to choose specific stretches between shuttle stops. During the off season, travelers need to do do smaller loop hikes to return to their cars. With three young kids, we limited or hiking to the stroller-accessible paved path right around Grand Canyon Village and explored portions of the Rim Trails around several viewpoints.
Bridal Angel Trail – Grand Canyon Leigh from Campfires and Concierges
One of the best hiking trails in Arizona is the Bright Angel Trail in the Grand Canyon. The trail starts right in the Grand Canyon Village on the South Rim and continues down for ten miles until it reaches the Colorado River at the bottom of the Grand Canyon.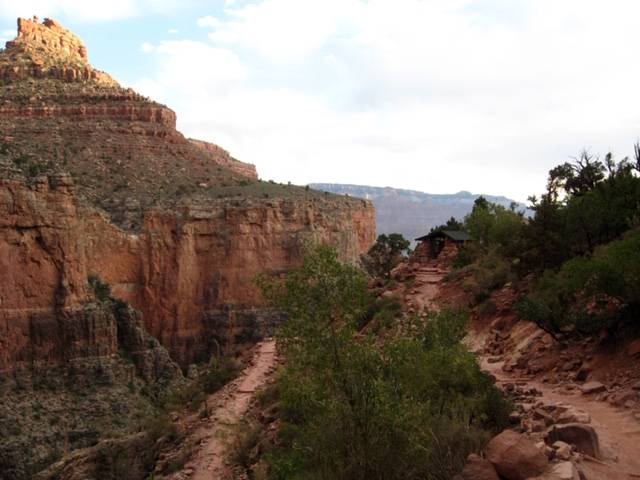 You can hike the whole thing in one day, stop halfway at the Indian Gardens campground, or just take a dayhike and turn around when you are tired. From the top, there are two rest stops at 1.5 miles and 3 miles, where you can get drinking water. These are good turnaround points for dayhikers.
Hiking down (or up) in the Grand Canyon is like a 3D geology lesson, as you pass through millions of years of rock layers. Just remember, unlike mountain hiking, the hardest part of your hike is the 2nd half, when you are climbing back out of the canyon!
Cathedral Rock Hike, Sedona Cat from Walk my World
The hike to Cathedral Rock is one of the most popular in Sedona and it's easy to see why. It has a bit of everything; views, adventure and enough of a work out to feel good but can be completed in well under two hours.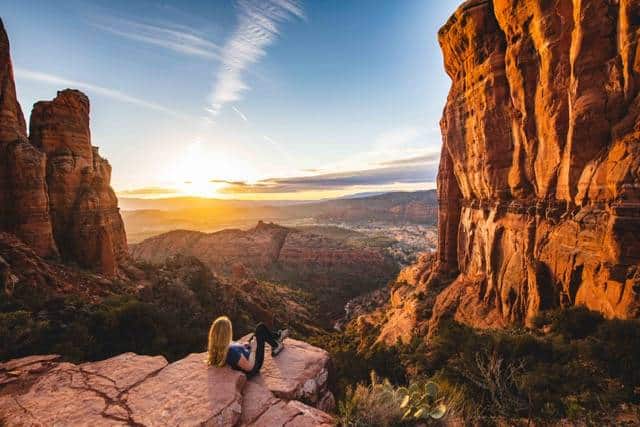 The hike begins easily enough as you walk up slick rock (which isn't the least bit slippery unless it's wet) but gets a little more tricky when you have to traverse a couple of steep and narrow gullies. The footing isn't always easy but manageable for most people given enough time. The views throughout are stunning but the best is yet to come.
If you can time your hike to be at the top for sunset you are going to be in for a treat. This iconic rock formation (which can be seen throughout Sedona) offers panoramic views that go for miles across red rock country. The golden light turns the rock an even deeper red and there really is no better place to be in all Sedona.
The trailhead has its own carpark and is a 10-minute drive outside the centre of Sedona. Parking is limited, in peak season you'll want to start this hike early or late to get a spot.
Devil's Bridge Trail outside Sedona Rebecca and the World
Surrounded by stunning red rocks that rise all around the town, one of the best things to do in Sedona is to get out and hike among them.
One of the most beautiful hikes in Sedona is the Devil's Bridge Trail, located in the Coconino National Forest. While this is a short hike, there is a steep scramble up the few rocks towards the end.
The views at the end are absolutely worth the effort. From a 50-foot-high natural sandstone arch (the largest in the Sedona area), you'll have uninterrupted views over red rock country.
The Devil's Bridge Trail is a popular hike, so make sure you're out there by 8 a.m. to ensure a parking space; by 8.30, the small parking area is usually filled up, even on weekdays. Earlier is also better to avoid the heat! There's not much shade along the trail; bring plenty of water, a hat and dress appropriately.
Fay Canyon Trail – Sedona, Arizona Catherine D'Cruz from We Go With Kids
Our family had time for one hike in Sedona and chose the Fay Canyon Trail. The Fay Canyon Trail is an easy 2.2 mile loop that is mostly flat and was easy for my four year old son to do on his own.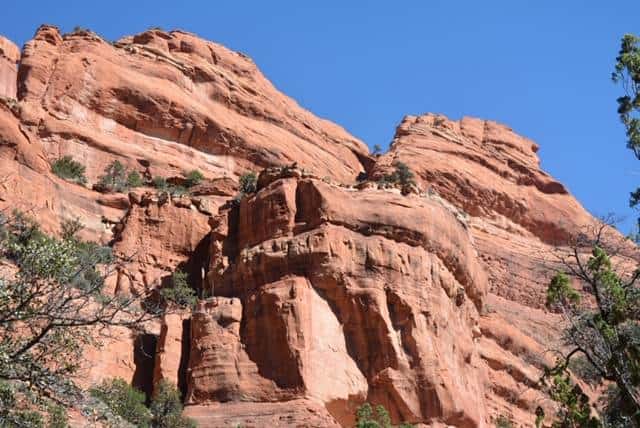 The red rocks and the arch were absolutely stunning, and our young boys were fascinated by the desert vegetation along the way. We recommend this trail to hikers looking for an easy trail to more fully explore Sedona's beauty. For those who want more of a challenge, there are several forks that offer some scrambling opportunities for more beautiful views.
Echo Canyon Trail Hike at Camelback Mountain outside Phoenix Maggie from The World was here first
"If you're looking for a quick but challenging hike while visiting Phoenix or travelling through Arizona, then look no further than the Echo Canyon Trail on Camelback Mountain.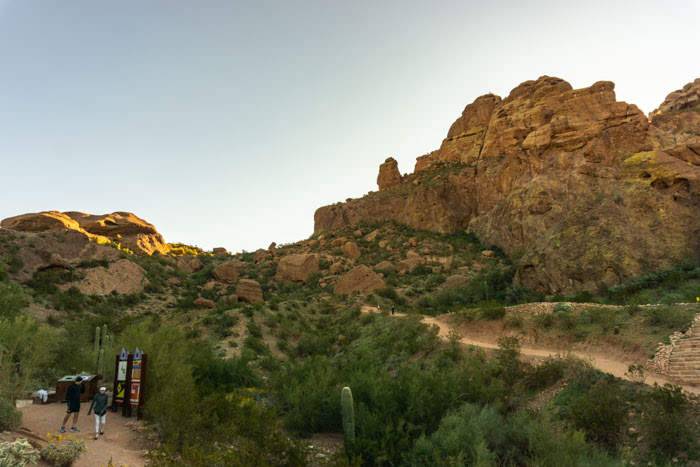 Though this is one of the most popular day hikes in Phoenix and a favourite of both locals and tourists alike, it is also not for the faint of heart. The trail is only 1.23 miles to the summit, however, it is at an incredibly steep incline and is best for those who are physically fit and experienced hikers.
The trailhead is located just off of McDonald Road in Phoenix and, if you want to avoid the crowds or find a place to park, it is best to arrive here early. It is most popular during the cooler winter months, however, you will also see many people hiking the Echo Canyon Trail in the early morning hours during the summer months as well. Because of the extreme heat and dry weather that the Phoenix area can experience, make sure that you bring enough water with you during the hike to ensure you avoid heat stroke.
Depending on your level of fitness and experience as a hiker, then the Echo Canyon trail should take a total of about 2.5-3 hours to complete, making it the perfect day hike if you don't want to venture from the Phoenix area."
South Mountain – outside Phoenix Toni from Enchanted Serendipity
South Mountain is a local hike which is best done at sunrise or sunset. Offering stunning views of Phoenix, it is a memorable way to get out and about in the Arizona outdoors, and really get a feel for what the city is about.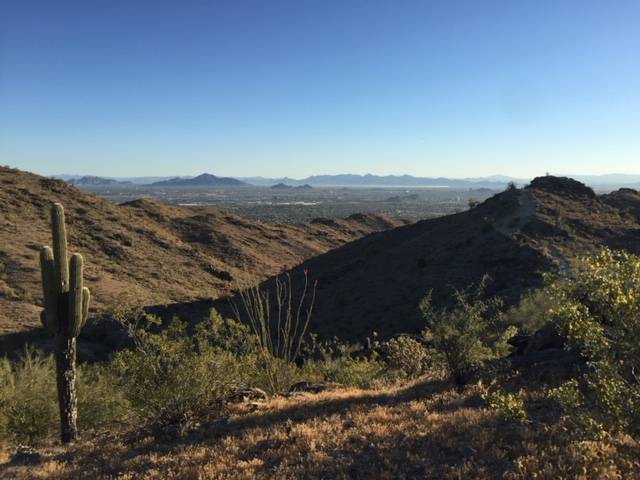 South Mountain is located South of Phoenix and is an easy to walk hike, with more than 58 trails on offer. From 30 minute walks, to full day options, one of the best highlights however remains the Dobbins Lookout Observation Point which sits at 2330 feet above sea level. You can easily get here on the Holbert Trail which is 3.8 miles and takes around 2 hours to complete.
If you take a hike on South Mountain during moderate weather days you can walk it anytime, but in warmer temperatures, especially in Summer, you really need to be starting during sunrise, as that heat can get pretty unbearable once it hits 9am.
South Mountain is a free hike and in many opinions, remains one of the best local attractions in Phoenix. If you enjoy a good hike, this is one that should not be missed.
Romero Pools in Tucson, Arizona Jenn from Coleman Concierge
Hiking in Tucson is surprisingly good. The rugged relief lets you traverse more climate zones than if you drove from Mexico to Canada.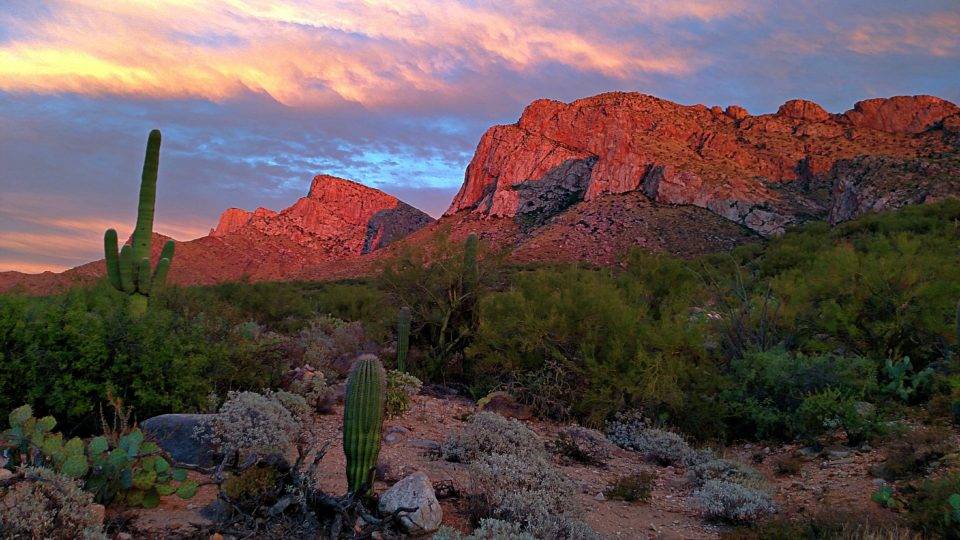 However, it's the desert trails that are truly unique with old-growth forests of stately saguaro. It takes them ten years to grow two inches tall. They are 75 before they send out their first arms. A fully crowned saguaro can be over 200 years old and weigh several tonnes. Hiking to Romero Pools combines flora and fauna of the Sonoran Desert with the jagged peaks of the Catalina Mountains. What's more, it's one of the few Tucson trails along a running stream.
The trailhead starts in Catalina State Park on the northwest side of town. The Romero Trail takes you through rolling hills until you come to the crags of Romero Canyon. You climb up switchbacks on the exposed slopes until you crest the first ridgeline. You drop through an expanse of pinon-oaks and grasslands into Romero Pools, a year-round water source in the parched desert. You can finish the Romero Pool hike in the morning and be off the trail before the heat of the day. It's only 5.9 miles out and back with 900′ of elevation gain, but it gives you an appreciation of the desert you'll always remember.
Bridal Wreath Falls Tucson, Arizona Kurosh from Road Goat
Bridal Wreath Falls is a fun day trip out of Tucson, Arizona for those who enjoy hiking.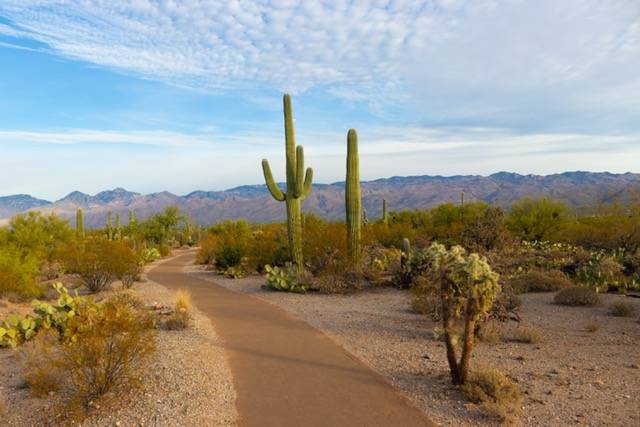 The trail is one of many in nearby Saguaro National Park, and measures up to 5.6 miles of desert landscape that's best enjoyed from March to October. During these months the plants grow most and desert flowers bloom, which provides a cute backdrop on your hike to the falls! For those who prefer cooler temperatures make sure to head down before the hot summer months.
The trail does elevate and travelers may need to take a break or two (we're talking some steep incline at points), but the views of the landscape will more than makeup for the effort. To make sure that the falls are optimal for viewing, it's best to take the trip after a period of rain. This particular path has some moderate traffic, and very little shade. So don't forget to pack some water and bring a sunhat to stay cool while enjoying the desert views.
Hiking in Saguaro National Park is a highlight while in Tucson.
White Pocket – Your Permit-Free Wave Alternative! Andi from Misadventures of Andi
So you want to see the Wave? Good luck! If you have time on your hands you might win the daily lottery that takes place at the BLM office, but it is more than likely you won't. So what to do?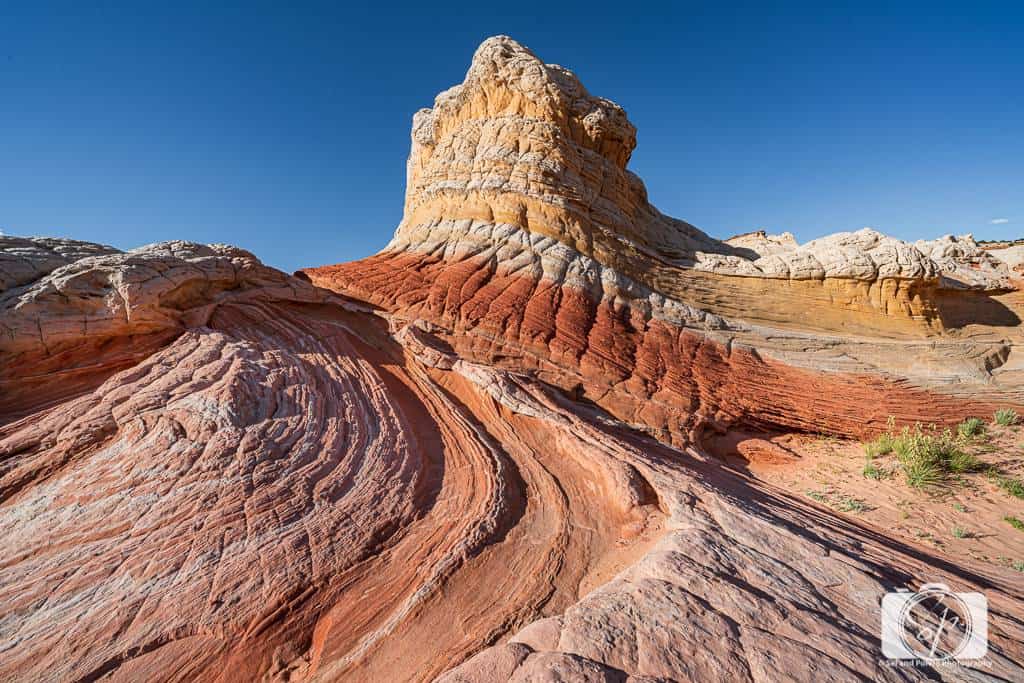 If you want to see glorious waves and fins and beautiful sandstone and white rock with ancient fossils and cool formations, then all you need to do it go to White Pocket! It takes a high clearance 4×4 vehicle (drive your own or rent one in Kanab or Page, or hire a guide) and a BLM map and you have the makings of a fantastic day of hiking (or camping).
Once you arrive at the White Pocket parking area, there is a 1/3-mile sand trail to the rock formations. After that, there is no real trail, you are free to hike over, around and through the rocks taking in the gorgeous Grand Escalante views, desert scenes and swirling sandstone. With the sand trail behind you, if you walk to the farthest right you can go, you will come to another sand trail that takes you to Anasazi petroglyphs and then will loop back around a sand road to the parking area for White Pocket.
You can clock in several miles hiking through the rocks and the end of your time you will think, "Wave? What wave!"
Conclusion: Best hikes in Arizona
That's it – the list of the best hikes in Arizona. My favorite is actually either Antelope Canyon or Camelback. I can't wait to return to Arizona and go to Sedona to do Cathedral Rock or Devil's Bridge.
Sharing is Caring! Pin this post to save for later.
Continue Reading further on my site:
Recent Posts