Are you looking for a hotel in Tokyo Japan and wondering where to stay in Tokyo?
Where to stay in Tokyo is one of the questions I get asked the most. When looking at Hotels in Tokyo, Ginza is a great place to stay. I have put together this Ginza Hotel Tokyo Guide.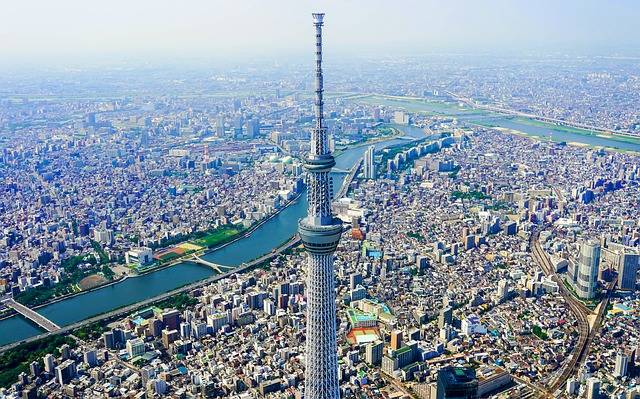 If you choose a hotel in Ginza, they are right in the middle of the Tokyo shopping district. Ginza Tokyo Hotels tend to be more luxurious hotels but there are a few hotels in Ginza Tokyo that provide good value. Ginza is the best hotel location in Tokyo for first timers and the best part of Tokyo to stay in.
Tokyo is a large and complex metropolitan city that meets the ultramodern and traditional Japanese culture from its neon-lit skyscrapers to historic temples. There are a lot of interesting places that you can visit around Tokyo especially the famous district of Ginza.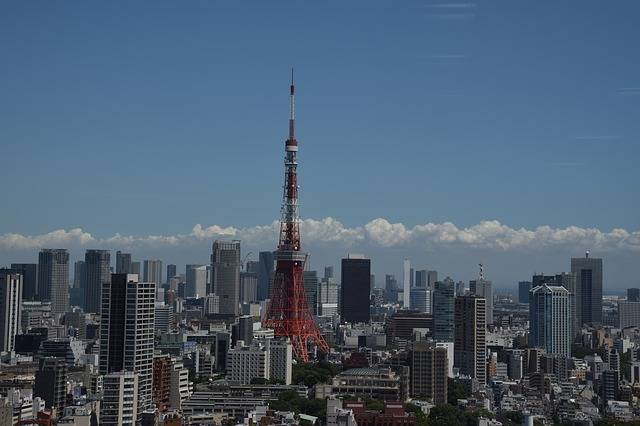 And staying in a hotel where it has close proximity to famous tourist spots of Tokyo is a must!
TLDR: Here are my top 3 favorite hotels in Tokyo. All these 3 hotels are located in Ginza and are great places to stay. You can learn more of the reasons why in this post.

5 star hotels in Ginza Tokyo
The 5 star hotels in Ginza Tokyo are:
Ginza or Shibuyu?
If you are trying to decide between Ginza or Shibuyu, I have also written a guide to where to stay in Tokyo your first time and where to stay in Shibuyu.
Why stay in Ginza
Hotels in Tokyo Ginza offer a lot of value for Ginza accommodation.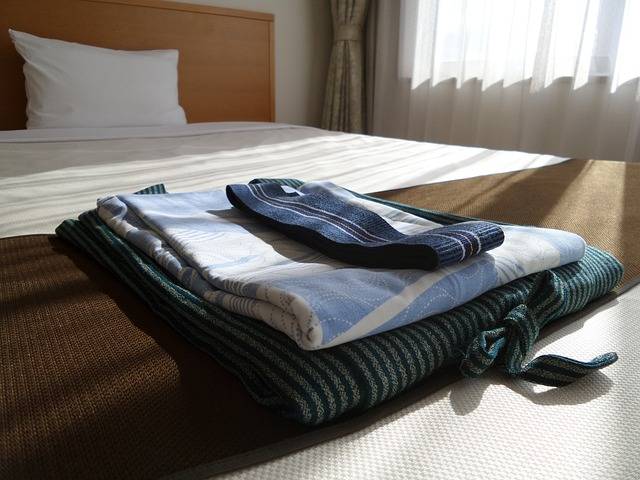 • Don't let all of the luxury shops put you off from staying in Ginza. There is also a lot of cheap shopping to do in Ginza. This is where you go for a bargain.
• Ginza is close to the attractions such as the Tokyo Imperial Palace and the Tokyo Tower
• Most of the hotels listed are less than 5 minutes away from a train station making it easy and efficient to travel to other areas in Tokyo.
Tokyo Hotels in Ginza: the best Ginza Hotel to stay in
The Royal Park Canvas – Ginza 8 – best location in Ginza
Looking for a perfect location to main Ginza Street, where there is an airport shuttle bus stop nearby? Then I would recommend a stay at The Royal Park Canvass – Ginza 8, a 4-star hotel located in Tokyo within 500 m from Ginza Station and 1.8 mi from Tokyo Station.
This hotel features rooms with free WiFi, a 24-hour front desk, and there is also a restaurant with a terrace. The accommodation offers a shared lounge and a concierge service for guests. Guest rooms in the hotel are equipped with a flat-screen TV, a mini fridge, and a private bathroom.
Tokyo Tower is 1.6 mi from The Royal Park Canvas – Ginza 8, while National Diet Building is 2 mi from the property. And, Tokyo Haneda International Airport is 16 mi away.
The Royal Park Canvas – Ginza 8 provides free beverages, a huge bathroom, and 5-min walk to the Shimbashi Station. This is a great choice of a hotel and overall, it's a good option for staying in Tokyo. The rooms may not have been the biggest, but it has everything we needed. The breakfast was excellent too.
Daiwa Roynet Hotel Ginza – another best location hotel
Daiwa Roynet Hotel is 4-star hotel that just opened from December 2015. It is located just a 1-minute walk from Ginza Itchome Station on the Yurakucho Line.
This hotel offers rooms with free WiFi access and a stylish Italian restaurant where guests can enjoy a buffet with Japanese and Western dishes for breakfast. Every room at Ginza Daiwa Roynet Hotel features a flat-screen TV with satellite channels, a fridge, and an electric kettle. The ensuite bathroom comes with a hairdryer, free toiletries and towels.
You will find a 24-hour front desk with luggage storage at the property. Massage, laundry and dry-cleaning services are available at a fee.
The Tsukiji Fish Market is just a 15-minute walk away, while at Ginza Mitsukoshi Department Store is a 6-minute walk from Daiwa Roynet Hotel Ginza.
Located in Chuo Ward, staying in Daiwa Roynet Hotel Ginza is a great choice for travelers who are very interested in city walks and food, in a safe part of town.
The hotel is well located, very accessible to both the Ginza shopping area and Tokyo Station. The staff are also very courteous and efficient in helping you to both check-in and out.
It is a great location, with a comfortable room and helpful staff with access to laundry facilities!

The Peninsula Tokyo – the best hotel in Ginza Tokyo
Peninsula Tokyo is a 5-star hotel located in Chiyoda, a city that is a great choice for travelers interested in culture, atmosphere and city walks. This prestigious hotel can pamper you with a spa center and a fitness club with a swimming pool and sun loungers, overlooking the Imperial Palace Gardens. It's a 3-minute walk from the Ginza shopping district and offers concierge services. Also, Tokyo Station is just a 5-minute drive away.
You will experience luxury with the featured designs of traditional Japanese influences; luxurious rooms boast a living area with sofas and a wide-screen TV, a bedroom with bed-side curtain controls and a marble bathroom with built-in flat-screen TV. Each room comes with a dressing area, mood lighting, and free WiFi.
Guests can relax with a massage or beauty treatment or unwind in a sauna or an aromatherapy shower. Services include a personal trainer and a nutrition adviser, while airport transfer by Rolls-Royce limousine is provided at a charge. There are a 24-hour front desk and an ATM machine. Paid parking is available on site.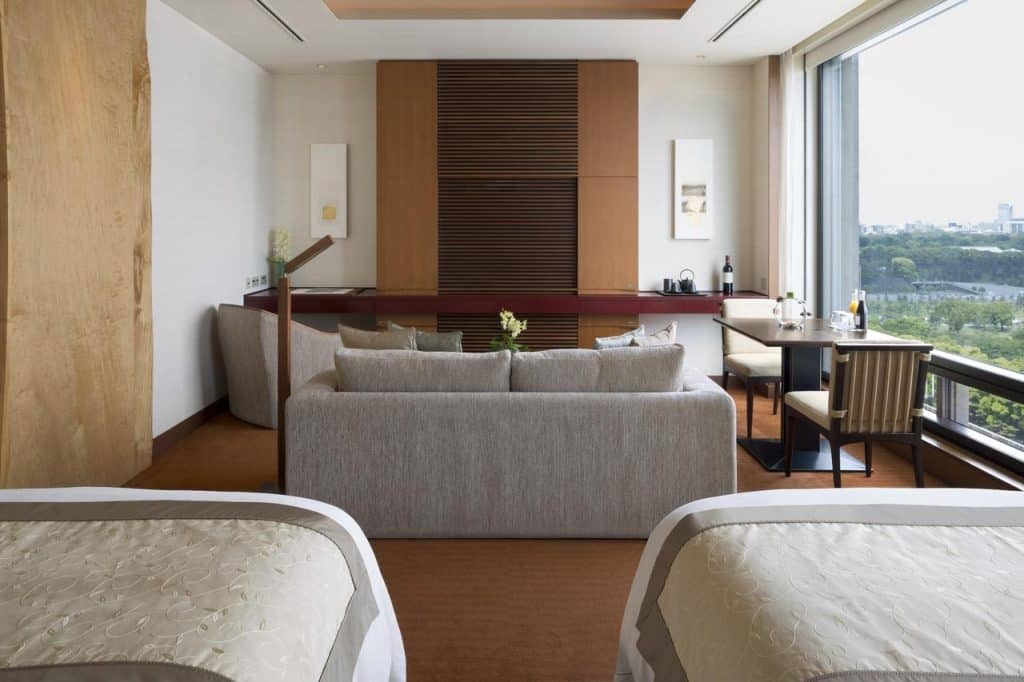 There are a variety of restaurants at The Tokyo Peninsula that caters to Japanese, Cantonese and Western cuisines. Authentic high tea can be enjoyed at the cafe The Lobby, while on the 24th floor the Bar offers cocktails, creative cuisine and sweeping Tokyo views.
The Peninsula Tokyo is directly connected to Hibiya Subway Station. Ginza and Yurakuchostations are both within a 3-minute walk, offering easy access to Shinjuku, Shibuya, and Roppongi. Tokyo Sky Tree and Asakusa are 40 minutes away by train. Airport buses take 40 minutes to Haneda Airport, and 90 minutes to Narita Airport.
APA Ginza-Takaracho Hotel – another best place to stay in Tokyo
Located in Central Tokyo, APA Hotel Ginza-Takaracho offers modern Western accommodations at this 3 star hotel. This hotel is conveniently located only a 1-minute walk away from Takaracho Station on the Asakusa Line and a 15-minute walk from JR Tokyo Train Station.
The air-conditioned rooms feature a plush mattress optimizing weight distribution, a flat-screen TV and a fridge. Rooms are equipped with free toiletries, a hairdryer, and an electric kettle. Both wired internet and WiFi are available in all rooms.
Ginza-Takaracho APA Hotel offers dry cleaning and laptop rental services at a surcharge. Guests can request relaxing in-room massages for an extra cost and use the shared microwave in the common area. Vending machines can also be found on site.
Going to the glamorous shopping area of Ginza is only a 10-minute walk away from the hotel. Both the Tsukiji Fish Market and the Imperial Palace are located close by and within a 15-minute walking distance.
For breakfast and lunch, a Japanese and Western-style buffet is served at the on-site restaurant Gin Yuba TAKARACHO on site.
MIMARU TOKYO GINZA EAST – most affordable and excellent pub
Situated in Tokyo, within 500 m of Wakayama Art Museum and 500 m of Kyoka Square, MIMARU TOKYO GINZA EAST features free WiFi throughout the property.
Popular points of interest nearby include Kyobashi no Oyabashira, National Film Archive of Japan and Edo Kabuki Birthplace.
The most popular points of interest near the hotel include Sakuragawa Monument, Hoju Inari Shrine and Shintomi Inari Shrine.
Mimaru is an apartment hotel where you can stay as if you were living in Japan. This is a great place to stay if you are traveling with kids. The hotel has family rooms that showcase bunk beds and has an area where you could cook and eat in if you choose to. All rooms are non smoking.
TSUKI Hotel Tokyo – a hotel where you can be Nippon Savvy
TSUKI Hotel Tokyo is a 3-star hotel that has fully air-conditioned rooms with free high speed internet connection, a private bathroom, flat screen TV, and a desk.
In Japan, when preparing to welcome a visitor, the space to be used is given special care and attention in order to be hospitable.
TSUKI rooms are arranged and decorated to provide plentiful Japanese-style comfort.

Natural colors create a visual sense of warmth, the aroma of wood instills a sense of peace, pottery and soft plush towels encourage you to relax and feel at home.
And if you want to immerse yourself in a Japanese bathing culture, you may reserve an on-site paid private bath to release the stress of the day.
You can also enjoy at their Sake-Bar Table Tsuki where they have 7 varieties of sake to try. Enjoy a carefully selected assortment of Japanese sake richly characteristic of the local culture from which it was born. It is a place where people gather, meet, and communicate.
The Tsuki Hotel is just 2.5 mi away from Tokyo Imperial Palace and the Tokyo Tower is just 2.7 mi away and you can get a bird's eye view of Tokyo from high above.
The Blossom Hibiya – a hotel in the heart of Tokyo
Blossom Hibiya Hotel is located near several popular tourist points such a Karasumori Shrine, Sakura Park and Hakuhinkan Toy Park. It is also located near the JR Shumbashi Station which makes it easy to access after taking the train from the airport.
The rooms at the Blossom Hibiya Hotel have panoramic views of the city if you are staying above the 18th floor. There are two types of rooms you can choose from – either a double room with muted colors or a twin room decorated in mild soothing colors. All rooms come with a luxurious bathroom.
The hotel also features an open and lively kitchen where you can watch the chefs cook up the food. They serve up a buffet style breakfast that has both western and Japanese cuisine. In the evening you can try some sake from their large selection of sake at the Sake bar which is inspired by Yaua which is the traditional tower structure in Japan.
This hotel is definitely for you if you are looking for a modern, clean hotel with a great location. This hotel is known to be very comfortable and of course a clean hotel in Tokyo. It is within a great location and walking distance to the shops and restaurants and even the metro station if you are looking to head into another part of Tokyo. The hotel is brand new and the rooms are very comfortable. You get what you pay for in Tokyo and this hotel is worth the money.
Karaksa Hotel Premier – a hotel with a heightened level of comfort in Ginza
If you want to splurge on a comfortable and luxurious hotel within the heart of Tokyo, Karaksa Hotel Premier in Ginza is a great choice. The moment you enter the hotel, you will experience a different level of comfort as they will let you sit in comfortable chairs upon check in.
When it comes to airport accessibility, you will have convenient access to both prominent airports Narita and Haneda International Airports. It has also close proximity to some of the metro stations such as Shimbashi Station and Tokyo Metro Ginza Station.
Karaksa Hotel Premier have spacious rooms (that are large for Japan!) and large windows that will allow you to have an overlooking sight of the Ginza district. The design and ambiance of their rooms is a mix of functionality and tranquility. After all, their main goal is to make their guests or travelers feel relaxed throughout their stay in the hotel. They use premier mattresses in all their rooms such as a wool mattress pads with heat retaining fabric that will truly give you a good sleep.
They have an exclusive free lounge where guests can have seasonal drinks and light dishes. They also have a self service open bar where you can enjoy a glass of wine and other alcoholic beverages in the evening after a full day of strolling and shopping around Tokyo. For breakfast, you can opt for an in-room breakfast that will allow you to have a taste of the delicious cuisine at the comfort of your room.
One of the best features of this hotel is that all rooms are equipped with smart phones that guests can use inside and outside the hotel. You can make free calls in Japan and up to 5 countries overseas so you won't miss your family and friends while you are on vacation.
Hotel The Celestine Ginza – your second home in Ginza
If you want to celebrate a special occasion with a loved one in Tokyo, Japan (perhaps an anniversary, birthday, or milestone) Hotel The Celestine Ginza offers personalized hospitality. How? Just let their staff know beforehand that you are celebrating an occasion and a boxed flower arrangement awaits you inside your room for your special day.
Not only that, Hotel The Celestine will be your second home in Ginza so you won't feel homesick. An usher will automatically greet and welcome you upon entering the hotel. As you step in, you can already feel the warmth and friendly smiles of the staff of this hotel. And they will escort you to your room and you can have a chat with them.
And if you are in Japan for a shopping getaway, the Mitsukoshi Ginza store is just an 8 minute walk from the hotel. Hotel The Celestine and Mitsukoshi Ginza Store have a collaboration where they have prepared for an exclusive service for their guests from abroad. You can opt for a delivery service which means you can have the same day delivery for your shopping to the hotel.
They also offer premier services such as foreign currency exchange service where the staff at the reception center will assist you exchanging your currencies. And for your airport pick up service, they have partnered with Royal Limousine where you can enjoy a flat rate journey between Narita or Haneda International Airports and the hotel. Talk about convenience at its best!
For their hotel rooms, you will surely enjoy everyday comfort with their spacious and elegant rooms. And if you want to escape the busy streets of Ginza, this hotel is perfect for you because it is hidden away. The design of their rooms are specifically detailed to give warmth and comfort to all their guests.
Hyatt Centric Ginza – your starting point in the heart of Tokyo
Ginza is known for upmarket shopping, dining, and entertainment district in Tokyo and Hyatt Centric is your starting point for you to explore the rest of Ginza district and Tokyo.
If you are not familiar with Namiki Dori Street, it is an avenue near Hyatt Centric Ginza where you can window shop. If you don't have a planned itinerary with you, worry not! Hyatt Centric has got you covered.
With their friendly and experienced staff, they will let you know how to find some of the prominent and favorite spots to explore in Tokyo. In fact, this hotel is your launchpad to infinite exploration and adventure that you can do in the city. From luxury window shopping to discovering cultural experiences, you can do a lot of things in Ginza. You can head to popular icons like the Ginza Siz or Tokyo Plaza Ginza, Omotesando, Tokyo Tower, and a lot more!
Hyatt Centric rooms are perfectly organized with everything you need and nothing you do not. They have functional rooms that are specifically designed to maximize space such as their transforming table, complimentary WiFi, mini fridge, and a 50" TV. They also have a fitness center for guests who don't want to skip their fitness routine, and a 24 hour front desk.
And if you want to experience a local Japanese bar and restaurant without going too far, Hyatt Centric offers a unique local bar and restaurant with a relaxed environment. They have handcrafted cocktails and a contemporary menu with locally sourced ingredients and you can be guaranteed that it is fresh!
Millennium Mitsui Garden Hotel Ginza – one of the best hotel in Ginza
Mitsui Garden Hotel in Ginza is a high rise hotel with a stunning view of Ginza. This is a hotel experience to remember. You will enjoy relaxing in style at this hotel while checking out the amazing view.
You can see stunning views of Tokyo from the lobby and restaurant, as well as from your bedroom and bathroom. Enjoy a luxurious stay looking out over the city as it floods with light in the morning and glitters in the evening.
The rooms are spacious and Mitsui Garden Hotel have developed a special pillow together with Lofty Inc., a Nihonbashi-based pioneer of top quality pillows, to help guests have the best quality sleep. I also love that they use Serta mattresses as that's the type of mattress I have at home as well. This place is all luxury all the way.
Its in the perfect location as well and close to the Tokyo Imperial Palace, Tokyo Tower, and Tsukiji Market.
Conclusion – Hotels in Tokyo Ginza
Booking hotels in Japan is easy if you know the Tokyo neighborhoods, where to stay should not be a problem. Ginza is the best area of Tokyo to stay with lots of choice and even some boutique hotels in Tokyo. If you are looking at hotels, Tokyo Ginza district will not disappoint. Enjoy your time in Tokyo hotels Ginza.
Sharing is Caring! Pin this article to save for later.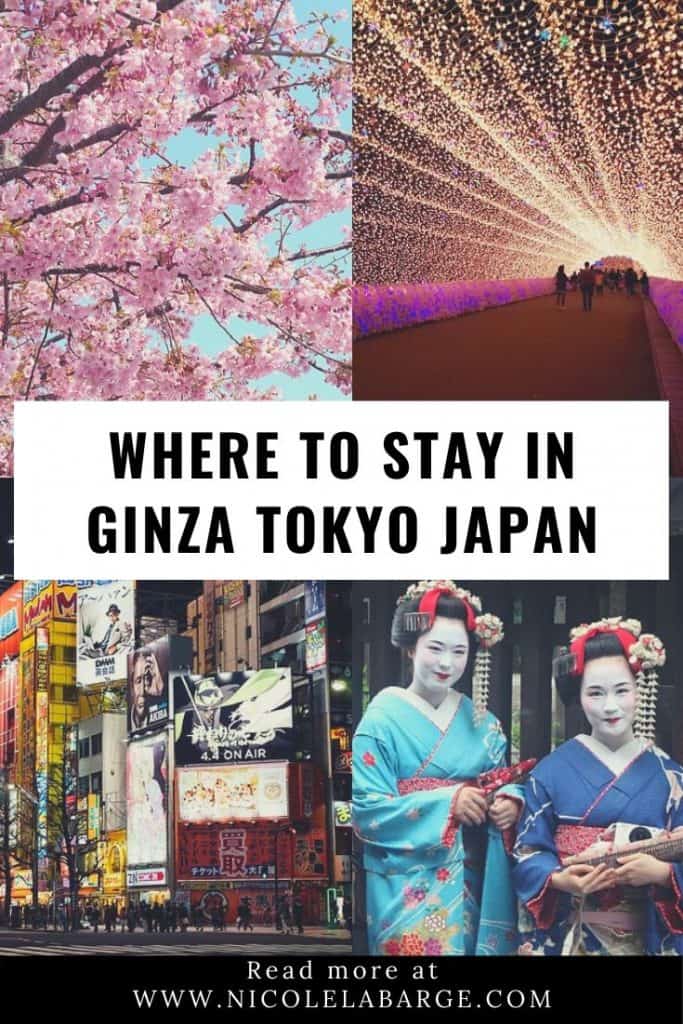 Continue Reading further on my website about Japan:
Recent Posts