Best Snorkel Mask and Best Snorkel Gear for snorkeling and diving
How to choose the best snorkel gear for snorkeling?
There are few things as magical as grabbing your swimming mask and snorkeling equipment and submerging yourself under the ocean as you try to become one with the marine life around you. However, not having the best snorkel mask can make a once in a lifetime experience, such as snorkeling with whales in Tonga, go from out of this world, to frustrating in a short period of time.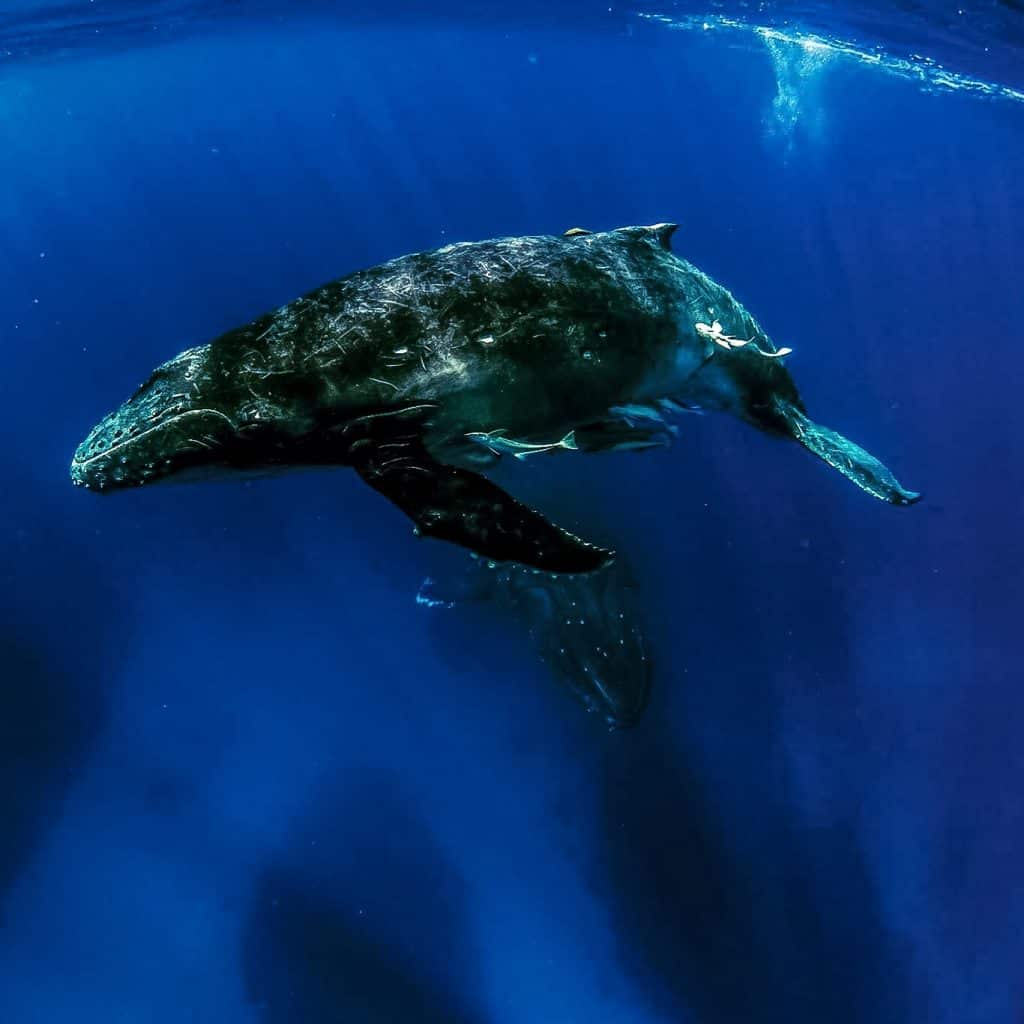 Or, for example, if you don't have the best snorkel gear, then instead of playing with the sea lions underwater in the Galapagos, you are suddenly dealing with foggy lenses, a plastic strap digging into your head, or worse, salt water running into your eyes.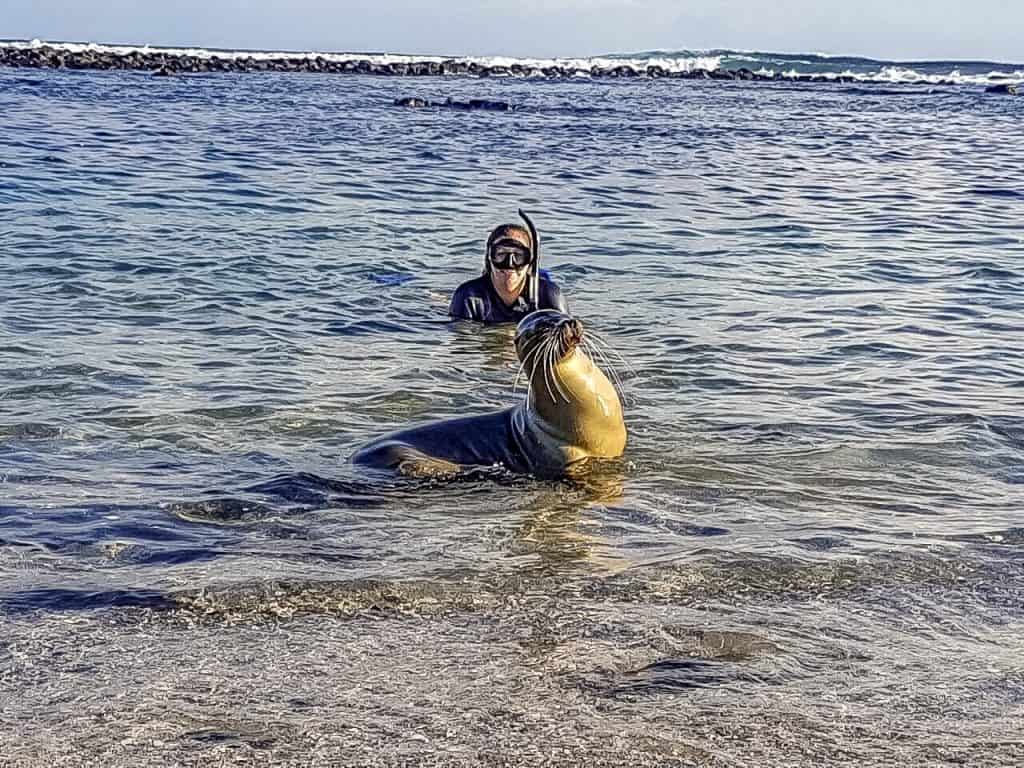 That's why if you plan on snorkeling, you need to have the best snorkel mask, may that be the best full face snorkel mask, a two lens, or even a frameless snorkel mask. Which is why I've put together this comprehensive guide so that you can dive right into the waters and enjoy all that the deep blue has to offer you.
*Disclaimer: There may be some affiliate links on this page, which means when you click I get a small percentage of the purchase at no extra cost to you. This allows me to keep sharing great travel tips, so feel free to click away!
Here Are My Top Three Choices At A Glance:
Best Full Face Mask: GreatEver Snorkeling Mask
Best Budget Snorkel Mask: US Divers Snorkel Set
Best Freediving Mask For Snorkelers: Cressi Nano
Types of Snorkeling Goggles
Snorkel Mask Full Face
The full face snorkel mask craze is taking over the snorkeling gear world. A full snorkel mask is everything for snorkeling combined into one, easy to use piece of snorkeling gear.
There is a full face swimming mask that encloses your eyes, nose AND mouth all into the mask and then the snorkel is actually attached to the very top of the mask. Therefore, you just breathe normally out of either your nose or your mouth, compared to the traditional snorkel, which is separate from the mask, meaning you can only breathe from your mouth.
This all sounds like a pretty schnazy snorkel contraction, right!?
However, there have been some recent concerns raised about a snorkel full face mask.
Cons and Precautions of a Full Face Snorkel Mask and What To Look For:
Carbon Dioxide Build Up: Due to all the breathing being done in the same location in the mask, there is a major concern for carbon dioxide build up as you snorkel, causing disorientation and even possible unconsciousness.
Another concern is the tightness of the straps. If carbon dioxide poisoning were to occur, it could be difficult to quickly remove the tight straps in a pinch.
If you do decide that a full face mask is what you want, here are some things to look for:
A separate mouth section from the looking section inside the mask
On the breathing section, guarantee that there is only a one way air valve
Do a test on land. Breathe heavily checking to see that only the breathing part (not where your eyes are) fogs up. This will tell you if carbon dioxide is staying where it should or not
Straps that are easy to remove quickly
Other Tips If Swimming With a Full Face Snorkel Mask:
Always swim with a buddy when using a full snorkel mask so that if something were to happen, they could immediately help.
Do not use a full snorkel mask in strenuous waters (where you may start to breathe heavier with more carbon dioxide output) or for freediving.
Classic Snorkel Face Mask
The classic snorkel mask is one big circle with your nose inside. This is different from the full mask snorkel because your mouth is out of the mask and you still need an actual snorkel for breathing.
One Lense Face Snorkel
The one lens face mask is also different from the "classic" despite them both only having one main looking lens. The difference is that the one lens mask is that the nose is separate from the rest of your face.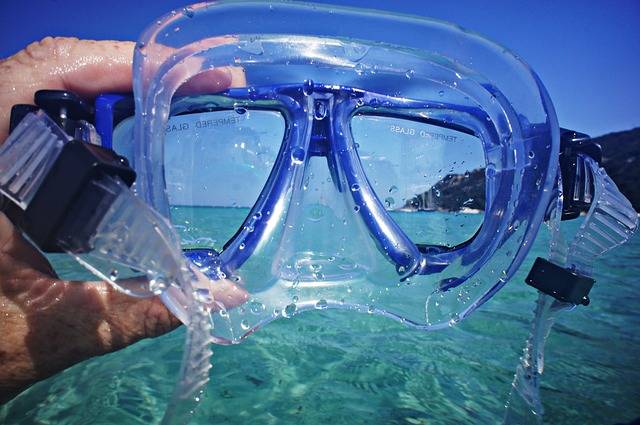 Split Lens Snorkel Goggles
These goggles have a divider in the middle, which allows for more room in the nose pocket. Many people think that this will be a viewing distraction, but shockingly, you probably won't even really notice the divide.
Multi-Lens Masks
These snorkeling masks have three or four lenses depending on the beginning style (one lens vs split lens). They start with either the one lense mask or the split lens and then also add side lenses. This is great for extra peripheral views.
Frameless Snorkel Mask
These are one of the most comfortable options as it gets rid of the plastic frame and instead attaches the skirt right onto the lens.
Things To Consider When Purchasing The Best Snorkel Mask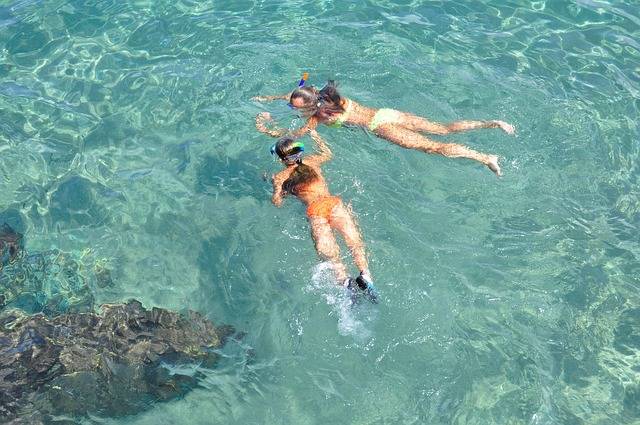 Price
Like many things in life, spending just a little bit more on a quality snorkeling mask, even for recreational snorkelers, can really pay off! A quality mask is going to be more comfortable and reliable, meaning you are going to have such a better snorkeling experience.
This isn't to say that budget snorkels don't exist!

Top Recommendation For The Best Cheap Snorkel Mask: Cressi Panoramic
Fit and Comfort
Next, you need to ensure that the fit is what you need. This is going to vary wildly from person to person depending on YOU.
The first step in finding the right mask is to simply look at your face! Just observe basic features and then look at how masks match up with that.
The next fit test is also really easy.
Hold the mask up to your face (do not put the strap on).
Take a deep breath and get the mask to suction to your face.
Remove your hands and see what happens. Does the seal break? If so, it is not a good fit!
When reading reviews for masks, take into consideration that there is no mask that is perfect for all people. Therefore, if someone's reviews claim that there was terribly leaking, but the majority of people say it has a great suction, this may mean that the particular mask was not right for their facial structure.
Just make sure to do a fit test yourself when you receive your mask.
Lenses
In addition to deciding what type of snorkel mask is best for you and the number of lenses, you should also take into consideration the material of the lens.
The higher quality snorkeling lenses are made of impact resistant glass (typically tempered) which will help from them getting all scratched up.
The upside though to a plastic lens is that while they might get scratched more easily if you drop them, they won't break. However, sometimes plastic lenses tend to pop out of the of the mask, which can become a nuisance as well.
Comfort
A major comfort concern with snorkeling goggles is when it presses on your nose bridge. This is not a matter of how tight a mask is, but in the construction as well as your particular facial features. For example, a one lens mask tends to press harder on your bridge, especially if you are going to try to dive down at all. Therefore a split lens mask is best for people who have these issues.
Another comfort issue is in the head strap itself, especially if you are a female with a ponytail! Nothing hurts more than having your hair tangled up in rigid plastic!!! Consider either getting a mask that has a comfortable strap or even consider getting a strap protector, like this one.
Skirts: Silicone Vs Plastic
The skirt of the mask is the plastic or rubber section of the snorkel mask that actually touches your face and creates the seal. The skirt of a snorkel mask is important for a few reasons.
Seal: The skirt of the mask is going to be one of the most important features since you do not want water leaking! A good seal with your skirt is essential. For example, hard, rigid plastics do not always create the best seals. Instead, look for a flexible, silicone skirt.
Comfort: Again, this is so important to the experience of diving. A silicone skirt isn't going to dig into your face the way that a hard, cheap, plastic skirt would.
Straps
The straps to your snorkel mask are also another major consideration. Things to look for are:
Rachets: Does it adjust easily and not come undone
Width: Wide straps are preferable to thin, not only for comfort but also for durability
Flexible: Is the material rigid and hard or flexible
Split Strap: A strap that splits in the back is going to be the most comfortable and give you a better fit
Where It Attaches: It's preferable for the strap to attach directly to the frame instead of the skirt
Material: Some straps are incredibly stiff and uncomfortable! I prefer a strap that has a neoprene cover. If it doesn't come with one, you can always buy one to slip over the back strap.
Volume
There are "High Volume Masks" and "Low Volume Masks." The volume is in reference to how much air is inside the mask. But to put it simply, it is how far away the lens is from your face. (High volume having more air and space inside).
Many avid snorkelers will tell you that they prefer a low volume mask. They seal better and do not create as much pressure in the face.
Age
Because the fit is such an important part to having a pleasant snorkel experience, it should be no surprise that a child should get a specific kids snorkel mask. More on this below.
Experience Level
This may sound counter-intuitive, but the less experience you have with snorkeling, the better (and sorry to say, but often more expensive) the mask you might want to consider.
If you are a beginner, you might be tempted to get the cheapest snorkel mask out there, but by doing so, you might really be doing yourself a big disservice, since many big-box masks don't fit well, are uncomfortable and you'll be fighting with them your entire swim!
If you want to feel comfortable and confident in the water without finagling with your mask the entire time, just buy a quality one from the get-go.
Features To Consider In a Snorkel Mask
Anti Fog Snorkel Mask
Many manufacturers claim that they have the perfect "Anti-Fog Snorkel Mask" but the reality is that as much as they all say this, other factors come into play.
For example, if it is not sealed correctly, you may get fog. If you need to purge the mask, guess what is probably going to happen? You got it. Fog.
That's not to say that it isn't a feature to at least consider, especially if it's not making it more expensive and the mask is great in all other features as well.
No matter what though, I always bring along a Snorkel Mask Defogger and use it before each dive, just to help decrease all chances of no fogging during my swim.
Best Anti Fog Snorkel Mask Recommendation: ProDive Snorkel Set
Purge Mask with a Purge Valve
A handy feature to some dive goggles is a purge valve in the nose section. You just press the valve and gently blow through your nose and it clears your mask of any water that might have found its way in. This is a great feature when it works correctly, but if it gets any sediment inside, it can start to get leaky, which is the exact opposite of what you want while snorkeling!
Prescription Snorkel Mask
Since you can't really snorkel with glasses, but then again, you can't see without yours, you'll need to figure out another solution.
A snorkel mask for glasses doesn't really exist, but if you wear contact lenses and don't want to risk one popping out while snorkeling, prescription snorkeling masks are a great option. If you snorkel a lot, or have really terrible eyesight, you can get custom lenses made. A cheaper option is to get a "drop in" lens with pre-made prescriptions.
Snorkel Mask GoPro
It can be a lot of fun taking videos and pictures of all the underwater creatures and features you see while snorkeling. A GoPro Snorkel Mask, like the Telsin is a great option that you can attach right onto your mask without worrying about holding onto your camera while swimming.
Snorkel Mask Reviews
Cressi Panoramic Wide View Mask Review
Whether you are snorkeler or even a diver, many people love a good Cressi mask. One of the top rated snorkel masks is the Cressi Panoramic Wide View Mask. This is actually a Cressi snorkel set, so the actual snorkel is also included.
There are 4 lenses, made from tempered glass, which offers great visibility after you get used to the panoramic viewing. The silicone rubber skirt is comfortable and, if it fits your face well, will give a good seal
Pros:
Snorkel Included
Great budget option, but still a quality buy
Great peripheral views
Cons:
Brow ridge can be very uncomfortable for some
The head straps aren't the most durable and are prone to snapping
If it doesn't fit your particular face well, it can leak pretty bad
Click Here To Read More Reviews On the Cressi Panoramic
Other Favorite Cressi Masks Include:
Cressi F1: A great Frameless option
Cressi Nano: Great for snorkelers who like to get some depth
Cressi Matrix: Fantastic for SCUBA divers, snorkelers and free divers
Click Here For the Top Rated Cressi Snorkel Set
Tribord Snorkel Review
If you do decide to get a full face snorkel mask, the Tribord Easybreath Mask is one of the most popular on the market.
The mask is virtually leakproof. There is an automatic valve that stops water in rough waters and waves or if you decide to go underwater. This is handy because you don't have to worry about clearing or purging your snorkel or mask. These also come in several sizes to help ensure a good fit.
However, again, as a word of warning, if you've read any full face snorkel mask reviews, then you know that this new style of mask does come with some needed precautions. Please make sure you are well aware of the carbon dioxide issues with a full face snorkel mask before deciding that it is the right mask for you.
Pros:
Has a GoPro mount Great visibility
Separate breathing chamber
You don't have to worry about water getting into your snorkel
You can breath out of both your nose and your mouth (as opposed to only your mouth with a traditional snorkeling mask)
Cons:
Absolutely not for strenuous swimming or rough waters where you may have to breathe heavily (too much carbon dioxide output)
Not great if wanting to dive down
You can't easily talk to fellow snorkelers without removing the entire mask
If you are looking for a cheaper version of the Tribord, but still quality full face snorkel mask, you can also consider the GreatEver Snorkeling Mask. This one is extremely comparable to the popular Tribord but is significantly cheaper.
AquaLung Atlantis Review
Aqualung is a trusted brand among SCUBA divers for masks. Therefore, you know you will be getting a quality piece of gear, including scratch resistant tempered glass.
Due to the one, large lens, you get an excellent field of vision, including great peripheral views. The silicone skirt is flexible and quite comfortable as well.
Pros
Very comfortable
High Quality
Great for both SCUBA and snorkeling
Cons
Fogs up quite easily if not prepped well
Is heavier than many other snorkeling masks
Cost
Click Here To See AquaLung Current Prices
Mares Snorkel Mask X Vision
This unique Mares mask has an extremely flexible silicone skirt. This is great for comfort but is also supposed to help spread out the pressure if you are either SCUBA diving or just going deep while snorkeling, even reducing or eliminating those pesky "goggle marks" we all get after a day in the water.
Pros:
Great field of vision
Very Comfortable
No red goggle marks
Cons
As always, if it is not properly fitted for YOUR face, it will leak a lot
Best Snorkel Set
If you are looking for a snorkel set there are several snorkel sets that offer multiple snorkel pieces in one set, such as the snorkel and mask and often snorkeling flippers as well.
Aqualung Snorkel Set:
Key Features:
Trusted brand
Pretty consistent leak-proof mask
Great snorkel tube
Included In The Set:
Snorkel mask
Snorkeling fins
Dry snorkel
Snorkel gear bag
Click Here To See The Aqualung Snorkel Set
ProDive Premium Dry Top Snorkel Set (Mask and Snorkel Set Only)
Key Features:
Fantastic Amazon reviews
Money back guarantee
Almost no fogging issues
Included In the Set:
Snorkel and Mask Set (No diving fins)
Waterproof gear bag
Click Here To Read ProDive Reviews
US Divers Snorkel Set
Key Features:
Phenomenally rated snorkel set
Great budget option for a snorkeling kit
Some of the best snorkeling fins that come with a snorkel kit
Included In The Set:
2 Lens Snorkel Mask
Fins
Splash Top Snorkel
Mesh Dry Bag
Click Here To Add The US Divers Snorkel Set To Your Cart
Mares Snorkel Set
Key Features:
Trusted name brand
Great for athletes or trainers
Quick release mechanisms for fast removal of gear
Great peripheral views
Included In the Set:
Mares snorkel mask
Snorkeling fins
Swimming snorkel
Snorkel gear bag
Click Here To Read More About Mares Snorkel Gear
Speedo Snorkel Set
Key Features:
Great budge buy for light or recreational snorkeling
Polycarbonate plastic lenses resistant to breaking or scratching
Included In the Set:
Mask
Snorkel
Adjustable fins
Click here to Read More About Speedo Snorkeling Gear
Seavenger Snorkel Gear
Key Features:
Top rated on Amazon by real users
Good price point
Quality materials and gear
Included In the Set:
Single lens mask
Trek fins
Dry top snorkel
Mesh dry bag
Click here to Read More About Seavenger Snorkel Gear
Snorkeling Gear For Kids
If you've got a younger child, an adult snorkel set is simply going to be too big, bulky and the mask most likely will not fit their little faces. You'll be left with a child with saltwater in their eyes (ouch!) and sucking in water from the snorkel. Therefore, getting a specific kids snorkel set is going to allow everyone to get the most enjoyment out of snorkeling, as they are designed specifically with kiddos in mind!
Kids Snorkel Mask
If you just need a snorkel for kids and a mask, the Yitu kids snorkel mask is a great option.
Click Here To Read Reviews Now
Kids Snorkel Set
If you have a child 5-11 years old, the Elementex Naga Kids Snorkel Set is one you can't beat. It is the perfect introductory set for your little swimmer. The goggles seal well to a child's face, the specific snorkel for kids clears incredibly easily, and the fins make swimming a breeze.
Click Here To Buy The Elementex Kids Snorkel Set
Youth Snorkel Set
If your kid is a bit older (8-16 years old), the Cressi Junior Snorkeling Set is a fantastic option. Just like the adult Cressi snorkel gear, the junior sets come with high quality materials, but still at an affordable price point.
Click Here to Buy The Cressi Junior Snorkeling Set
Conclusion – Best Snorkeling Mask
Snorkeling is an incredibly rewarding activity. However, with the wrong gear, it can be a miserable outing for everyone involved. Getting the best snorkeling equipment and snorkeling gear is going to help you have the best experience possible for life-long memories.
Sharing is caring. Pin this article to save for later!
Recent Posts