25 Best Things to Do in Hanoi
The capital of Vietnam is a perfect blend of old and new, filled with French influence and Traditional Vietnamese architecture. Hanoi used to be called Thang Long, explaining the name of several destinations within the city incorporating the title.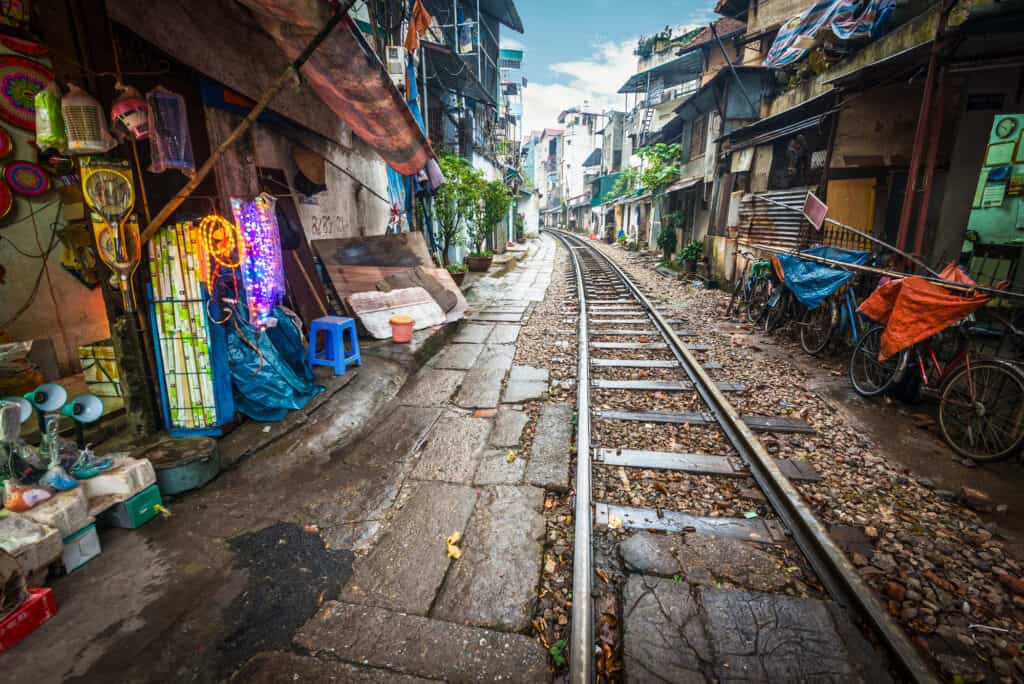 Below is a list of some of the best ways to spend your time in the capital. After incorporating these activities into your trip, you will have enjoyed luxurious resorts, spend time in nature, enjoy local cuisine, and experience some Vietnamese culture.
You can also check out my post on the Most Iconic Vietnam Landmarks.
What to do in Hanoi, Vietnam
Spend a night on a cruise along Halong Bay
Halong Bay is a UNESCO World Heritage Site about a four-hour drive from the capital. The bay has over 1,600 limestone islands that tourists often explore on kayaks and in caves. To get the most out of your time there, book a night or two on a cruise for peaceful nights on the glistening water. The trip from Hanoi to Halong Bay can be done by car or bus. If you take a shuttle bus, it will pick you up right at your hotel.
Boasting 2000 peaks and instagrammable islands jutting out of the Tonkin Gulf, Halong is the premier destination for any holiday to Vietnam.
There are ways to appreciate the spectacular of Halong Bay, taking a cruise is probably the best option. Depending on which cruise liners you choose, you`ll able to marvel some of those breathtaking sites: Dau Go cave, Sung Sot cave, Bai Tho mountain, Monkey island.
If you do not have much time, a day tour to Halong Bay could feast your eyes with 4 hours cruising and 1 hour kayaking.
Embarking on a 2 – 3 days journey reveals more about the less-visited territory of Halong including Lan Ha Bay, Bai Tu Long Bay. For those who fancy a national park, add 1 more day to climb Ngu Lam peak where the best panorama of Halong is exposed.
During the day, there are dozens of opportunities for swimming, kayaking, snorkeling, and fishing. You will get to explore caves and see the marine life up close for hours before returning to your boat lodgings to soak in the sun.
You will also be close to the only hotel in Vietnam with a water park. The Cat Ba Island Resort and Spa is a great alternative for travelers with kids or those who prefer less extreme water activities.
Attend a performance at the Thang Long Water Puppet Theatre
Dancing delicately across the top of still waters, you can watch a traditional Vietnamese puppet show at this tourist hot spot. The performances are typically one hour, and cost about 100,000 VND. Make sure to book a ticket as soon as you arrive in Hanoi, or they may be sold out later on.
Several centuries ago, villagers would perform with puppets in flooded rice paddies for entertainment. This tradition has been preserved over the years and can be enjoyed with live music and singing.
The Old Quarter, Hanoi
The story of Hanoi started here. The Old Quarter is the most celebrated district that everyone should tackle.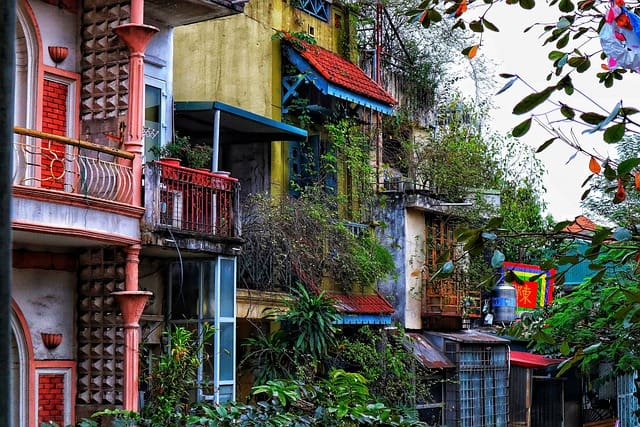 Historically, the Old Quarter was the main commercial hub of Hanoi which exhibited a wide range of woods from grass, bamboo to silk, blacksmith products.
Nowadays, although you may not witness the full collection of these items, there are still interesting works to see remaining in the town covering tinsmith, bamboo, mattress, silk, papers.
To kick off a trip to Hanoi, embark on a guided walk through Bach Ma, Hang Bac pagodas with stops by Dong Xuan market and the ancient house of Ma May street.
With over 40 streets to peruse for souvenirs and affordable Vietnamese cuisine, Old Quarter is a popular nightlife destination easy to explore on foot. Go shopping night or day, spend some time at the bars and clubs, and take pictures of the French architecture. There are also dozens of restaurants lining alleyways and street markets to enjoy local cuisines. Most of the dishes served consist of freshwater ingredients like crab, clams, squid, and prawns.
Every weekend on Friday, Saturday, and Sunday, the Night Market opens at 7:00 in the evening. There are dozens of stands for street food, souvenirs you can bargain for, cultural performances, and charming lights lining your path as you stroll down the road. Take some time to peruse the authentic handcrafts, and purchase a paper lantern to release into the night sky.
During the day, stop by Hang Gai Street, also known as Silk Street, to get a one-of-a-kind traditional silk handpiece. Silk has been worn in Vietnam for centuries, as it absorbs sweat during the hot summers and keeps them warm in the winter.
Ho Chi Minh Mausoleum, Hanoi
The Ho Chi Minh mausoleum is a remarkable Hanoi attraction. It displays all the materials, souvenirs relating to Nguyen Ai Quoc, the country`s revolution leader – also Vietnamese president during the Vietnam wars.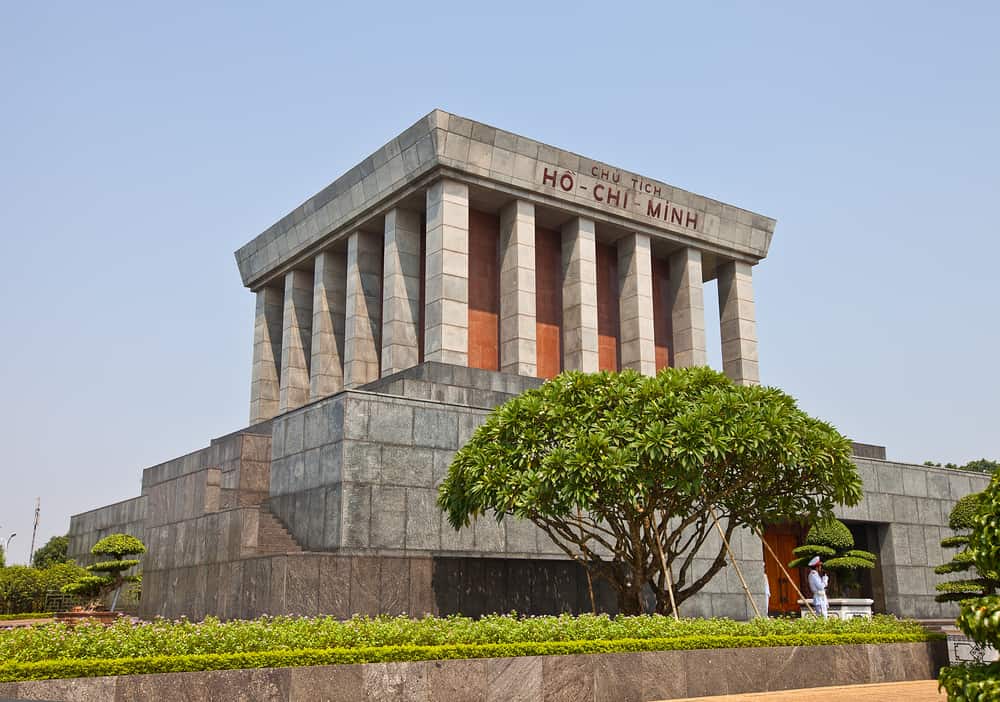 The Mausoleum was built in contrary to his desires; following the tradition of Lenin, Mao and Stalin. It is one of the must see places in Vietnam and a famous landmark in Vietnam.
To visit the Mausoleum, you are requested to dress modestly: knee and shoulder covered clothes, no flip-flop, no sleeves t-shirts.
For Vietnamese, especially the older generation, it is a very essential stop whenever they visit Hanoi. The young people are very interested in watching the "flag ceremonies" which occurs early in the morning or late evening.
When you plan your visit to this landmark, please note that it is closed annually for 2 months from June to August (varying from year to year )
Take a Free Walking Tour
A walking tour is one of the best ways to become acquainted with every city in the world.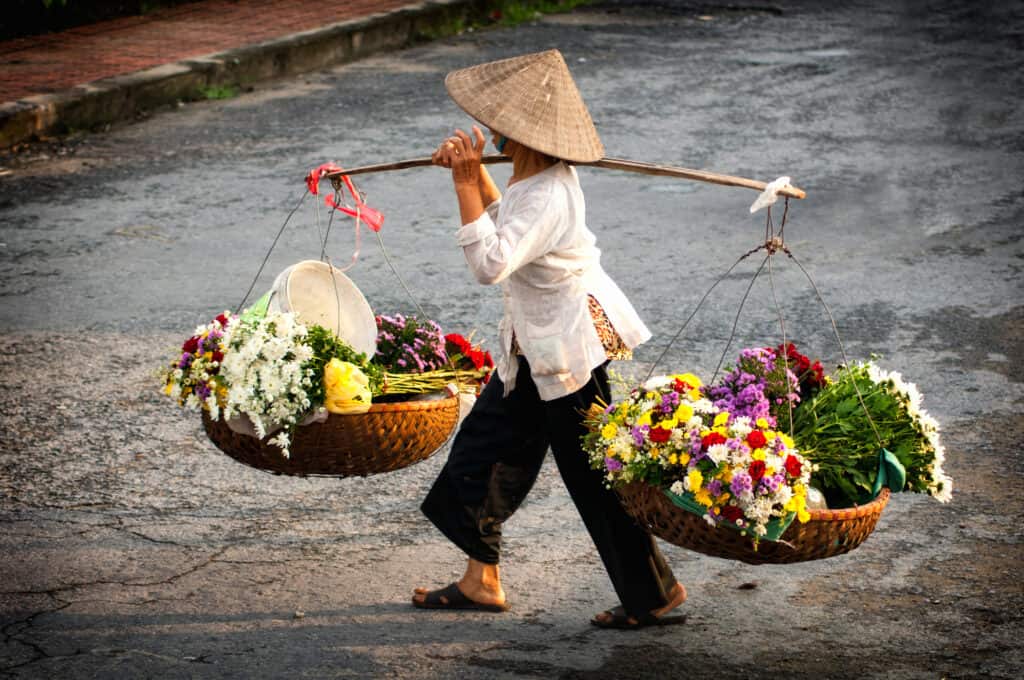 These tours, which are led by a local student, allow you to discover the best attractions, restaurants, bars, and hidden gems throughout the city, and are truly one of the best things to do in Hanoi. You can check on the status of the train street before you go.
These Hanoi tours come in a variety of flavours, so if you want to visit the French Quarter, the Ho Chi Minh Complex, or simply find the best street food in town, these guys have you covered.
While the tours are free, donations are appreciated for guides who provide excellent service. This is without a doubt one of the most enjoyable things to do in Hanoi.
Why not try a cooking class in Hanoi? Classic spring rolls, Vietnamese salad, banh mi – yes please.
Watch the Vietnam Central Circus
Next to Thien Quang Lake, just ten minutes from Hanoi Old Quarter you will find the clowns and acrobats performing from Tuesday to Sunday. This circus has been around since 1950, and can seat an audience of 1,500. Not only are there live performances, but you can also participate in fairground games.
Shows start at 8:00 p.m, with an entry fee of 200,000 VND.
People Watch at Hoan Kiem Lake
A legend gave Hoan Kiem Lake (Lake of the Restored Sword), which is located near the French Quarter, its name.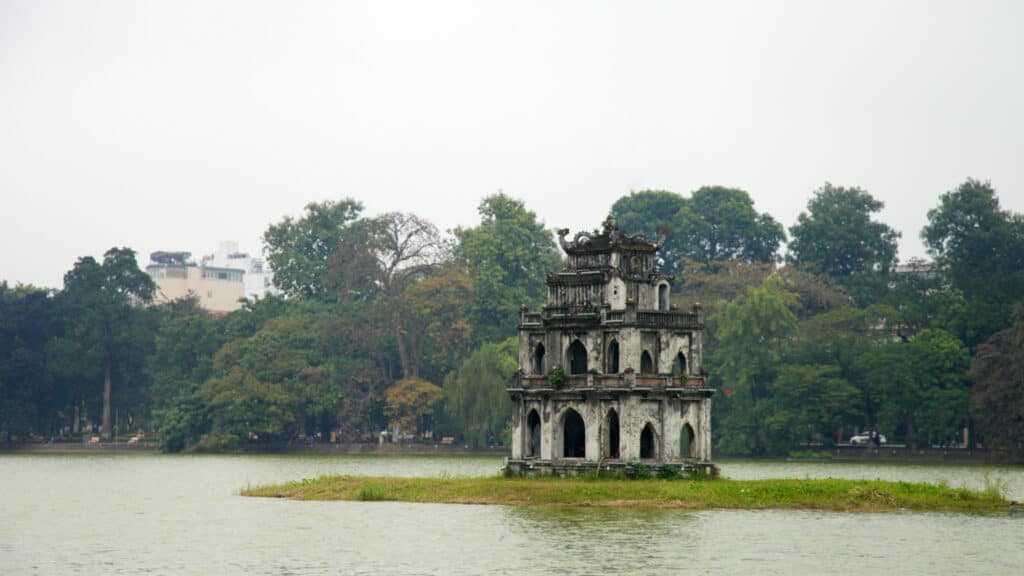 A legend believed that the Heaven-sent Emperor Ly Thai To wielded a sword with magical properties in ancient times. With that blade, he drove the Chinese out of Vietnam.

Following the war's conclusion, a massive golden turtle stole the sword and swam to the depths of Hoan Kiem Lake, where it was returned to its divine owners, giving the lake the name "Lake of the Restored Sword."

If legends aren't your thing, don't worry; the Hoan Kiem Lake is noteworthy for other reasons. This is the only lake in Vietnam where you can see a popular tortoise. It is also a great place to people watch.
Unwind at the Tan Da Spa Resort in Ba Vi National Park
The Tan Da Spa Resort is the ideal destination for nature lovers that want to hike a national park during the day and get pampered in the evening.
The spa features natural hot springs to soak in, as well as various mud and herbal baths, massage services, and an outdoor swimming pool. If you stay that night, breakfast is free every morning.
Attend a performance at the Hanoi Opera House
Built in ten years from 1911, the Hanoi Opera house stands in French Quarter. During their occupation in Indochina, the French built three opera houses in total. The other two are in Haiphong and Ho Chi Minh.
A stunning display of architecture, the building hosts not only opera performances, but also dance, traditional Vietnamese music, international concerts, and government events. Tickets can be bought at the front gate for 300,000 – 2,000,000 VND.
Explore the Imperial Citadel of Thang Long
Another UNESCO World Heritage site on the list, the citadel houses centuries of Veitnamese history and culture. It is 40 meters high and entry is 30,000 VND. Take time to explore the grounds, take pictures of the highlights, and soak in the history.
In 2009 the citadel was deemed one of ten national heritage sites by the Prime Minister. It used to serve as the capital for several centuries, and hosted hundreds of political events within its walls.
Drink lots of Vietnamese coffee
Originally introduced in Vietnam during the mid-nineteenth century, coffee today has become a major export for the country. It is known for having a light acidity and mild body and is popular with sweetened condensed milk, but today's beverage adds something a little extra.
Ca Phe trung, or egg coffee, is a typical cup of Vietnamese coffee with a layer of whipped egg yolk and sweetened condensed milk on top. This sweet foamy float originated in the mid-twentieth century as an alternative to milk during a shortage in the First Indochina War.
If you want to bring this unique drink back home with you, there is an egg coffee making class in the area where you can learn how to make a cup yourself. With a small group, you will be provided all the ingredients needed and walked through the process of making Ca Phe trung. The class takes one hour, and costs about $15 USD per person.
Temple of Literature and National University
This historical relic in Hanoi has been around since the 10th century. Also known as the Imperial Academy, the temple was built in honor of Confucius as a place of education. It was the largest university in Vietnam for six centuries after its completion, and visitors today can explore the temple's stunning grounds and precious artifacts.
Within the pavilions are five courtyards, featuring lush gardens, ponds, and altars to past scholars and kings. You can also pick up an audio guide to listen and understand the historical and cultural significance on a deeper level. Hours will pass by as you explore before you know it.
Take in some history at the Vietnam Women's Museum
Open every day of the week except Monday, the Vietnam Women's Museum is filled with more than 1,000 artifacts throughout its five floors. The exhibit is run by the Vietnam Women's Union, a socio-political organization founded in 1930 that protects the rights of women throughout the nation. Their policies cover everything from childcare, education, and gender equality.
The museum serves as a monument to women throughout history, including the women of today, with heirlooms, photographs, film footage, and moving exhibits displayed in their honor. Take an hour or two to learn about their work in agriculture, academics, the government, households, and past wars. Signs include descriptions in Vietnanese, English, and French.
Take a bike tour in the countryside
Stay active during your trip in Hanoi with a bike tour in the countryside. There are several options to choose from, with the most affordable starting at around $30 USD. You can go in the morning or afternoon to explore rural Hanoi and interact with the locals. They will teach you about their daily lives, such as working the rice fields and making the food you can try at one of the food stalls.
Along the way, you will likely visit Co Loa's Ancient Citadel and Hanoi's Red River, but a favorite among tourists and locals alike is Duong Lam. This is Vietnam's first ancient village, and has houses over 400 years old. Make sure to ask your guide if this will be a destination on the trip before booking a tour so you don't miss it.
Conclusion: Top Things to do in Hanoi, Vietnam
The capital city is a must-see for all tourists that wish to experience both old and new Vietnam. A destination filled with hundreds of opportunities for cultural immersion, this list merely scratches the surface of everything Hanoi has to offer.
Sharing is Caring! Pin this to save for later
hanoi things to do places of interest hanoi must do hanoi 10 best things to do in hanoi hanoi best attractions hanoi must see must see hanoi must see in hanoi things to do in hanoi vietnam hanoi interesting places tourist attractions hanoi hanoi things to dohanoi points of interest
Recent Posts