17 Best Airbnbs near Yellowstone National Park
Airbnb Yellowstone: Are you looking for an Airbnb near Yellowstone National Park?
These are the Best Airbnbs near Yellowstone National Park and I have put together this list of the Yellowstone Airbnbs closest to the entrances. I've also included the Best Airbnb West Yellowstone which is where most people want to stay.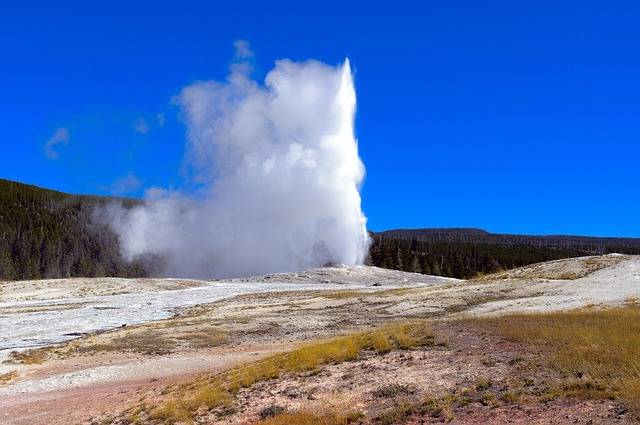 Whether you are coming from the Pacific Northwest, or heading from the East and Midwest – there is a Perfect Airbnb Yellowstone for you and for any budget on this list.
Feel free to check out more than one Yellowstone Airbnb on this list and read the reviews – each one opens in a new tab so you can view several of them so that you can pick the best one for you.
I remember the first time I planned a trip to Yellowstone (I've been a couple of times). I was overwhelmed. It can be alot and that is why I wanted to put together this list of Incredible Airbnbs near Yellowstone to help you narrow down your choices.
This list of Airbnbs near Yellowstone has three main locations:
Cody, Wyoming – for the East Gate of Yellowstone
West Yellowstone, Montana – for the West Gate of Yellowstone
Gardiner, Montana – for the North Gate of Yellowstone
An Airbnb West Yellowstone is the most popular place to stay but some people will be driving from the Midwest and further east so that makes Cody, Wyoming a great place to stay especially if you have already driven 10 hours that day.
I spent a week in Yellowstone National Park and Grand Teton National Park which is at the South Gate of Yellowstone. We spent our first couple of nights in Cody, Wyoming because everything in West Yellowstone was booked. We then spent the next four nights in West Yellowstone.
Moving like this from Airbnb to Airbnb was great for us as we were able to cover a lot of ground in Yellowstone. You can check out my three day itinerary for Yellowstone for ideas on what to do while visiting the park.
Disclaimer: This post may contain affiliate links so if you make a purchase through one of the links we might earn a small commission ( it's at no extra cost to you)
Yellowstone is the first National Park and truly one of the best. For most people this is a bucket list trip for many people. I recommend booking six months in advance.
15 Best Airbnbs in Yellowstone National Park
Highland Bunkhouse – the perfect Airbnb Yellowstone cabin
Guests: 2
Bedroom: 1
Originally built in 1952, this Highland Bunkhouse is the perfect place to stay if you want to experience Yellowstone. Although it is considered as tiny, this bunkhouse doesn't feel confined or uncomfortable at all. In fact, it has been fully updated with hardwood floors, granite, new windows, doors, and bathroom. And the period light fixtures and antique furnishings have added to its charm.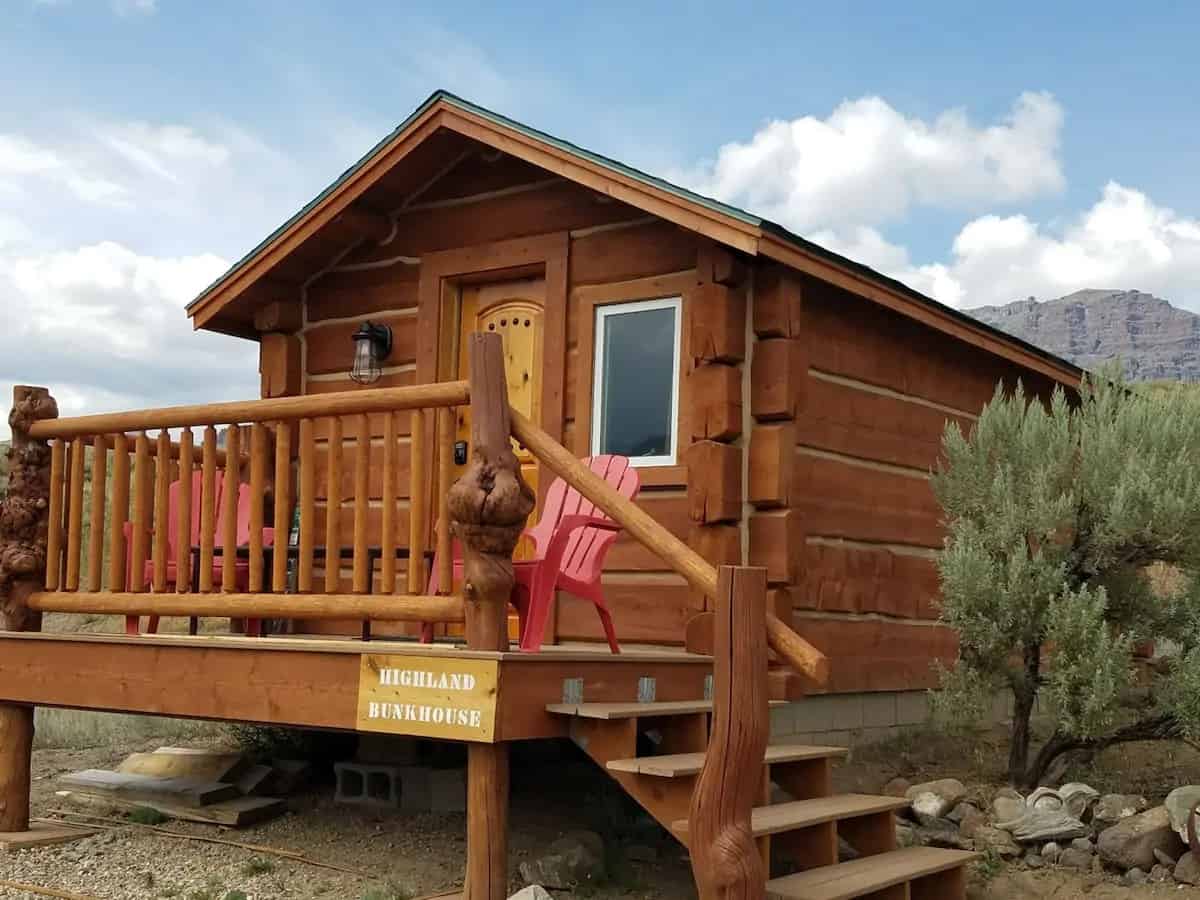 Aside from its improvements, this bunkhouse is also equipped with amenities that will make your stay even more comfortable. It has a mini fridge, air conditioner, and heater, TV with satellite channels, wifi, and more. Overall, this is a very nice space with thoughtful touches.
One reviewer says: This bunkhouse is the perfect place to stay if you want to experience East Yellowstone! Absolutely beautiful location in between Cody and Yellowstone. Nice thoughtful touches and just overall, a very nice space. Cute little bunkhouse that I highly recommend to everyone!
Windmill Inn – The Cottage
Guests: 2
Bedroom: 1
Located on a 50-acre property adjacent to BLM land, The Cottage offers a king size bed, full private bath, kitchenette, 36" satellite TV, and a deck to enjoy the magnificent views. Plus, it is conveniently located 30 miles to Yellowstone and 20 miles to Cody.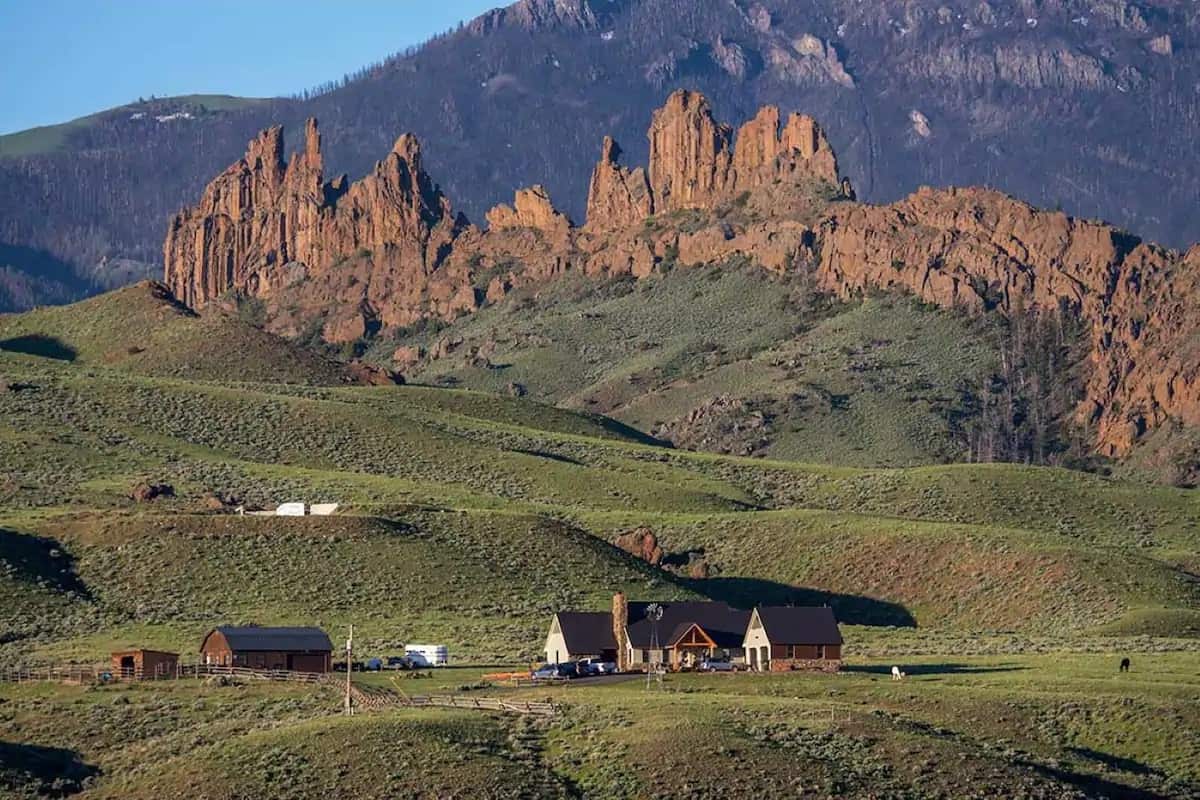 The property has a main house with two guest rooms upstairs, and you can have access to the amenities provided including the dining room, laundry, poolroom with 60" TV, sitting areas, bar, and fireplace.
One reviewer says: We had a great stay here. The hosts were kind and accommodating, even offering to make us "to go" breakfasts for our early morning. We used this location as a jumping off point for Yellowstone, but the inn was really lovely and we wish we could have spent more time there. I would definitely recommend this to other travelers.
High Point Hideout
Guests: 6
Bedroom: 2
Offering a master bedroom on the main level and a second bedroom on the upper level, the High Point Hideout is the perfect place for small families, two pairs of vacationing couples, or even a few friends. It is packed with all the basic amenities you need for a great vacation such as a fully equipped kitchen, a cozy western inspired living room, TV, outdoor grill, and more.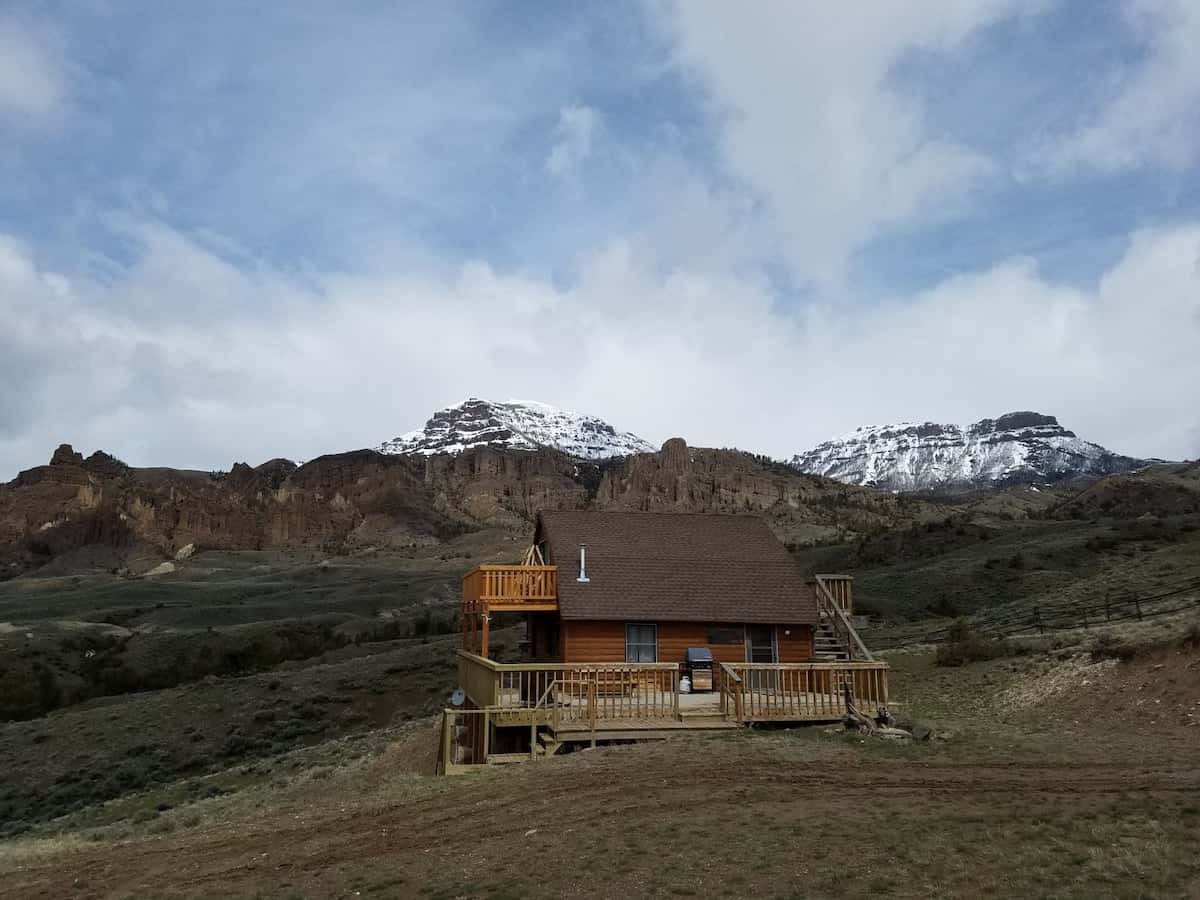 But what makes this place even more amazing is that it is a unique log home with top of the world views. If you wanna disconnect from the real world and just enjoy a relaxing vacation, this is the place to be.
One reviewer says: If you are wanting a place to unwind after a day in Yellowstone or anywhere this is your place. Me and my Husband were in awe of the views from the home. We were located close to Yellowstone National park as well as Cody Wyoming! We cannot day enough good things about this amazing place. Thank you for sharing your home with us!
Highland Homestead
Guests: 4
Bedroom: 1
Highland Homestead was built in 1910 and it has been refurbished from top to bottom, with specific details and decor that have been put to preserve its quaintness. It features 42 acres of private river front property, 360 degrees of breathtaking mountain views, and basic amenities.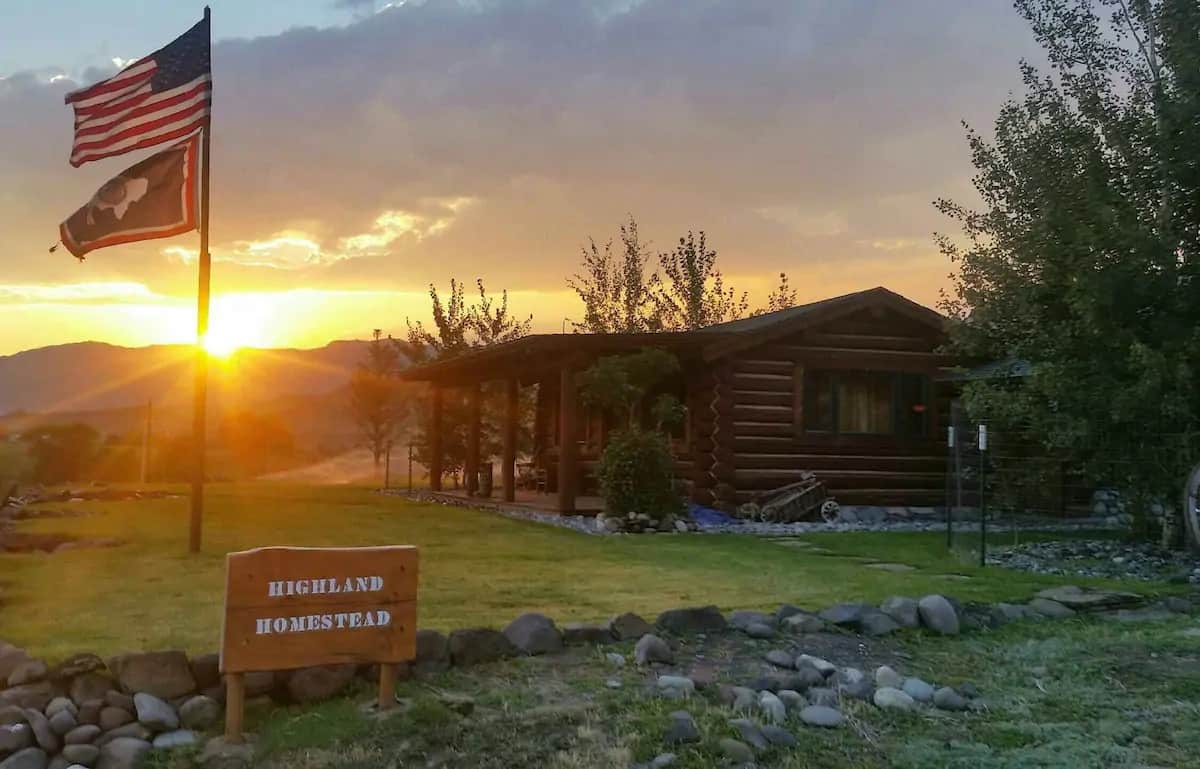 Since this cabin has large windows, you can open them at night and feel the cool mountain breeze as you gaze at the twinkling stars and fall asleep to the sound of the river. This is a great place to escape the complicated and noisy city life and enjoy peace and tranquility at its finest.
One reviewer says: A 1910 log cabin totally modernized and beautifully restored. Immaculate. Complete kitchen and bath. Can accommodate 2-4 in one bed and a sofa pullout. Beautiful view of mountains and North Fork Shoshone River. Good fishing on private water right on the property.
Glamping TIPI
Guests: 4
Bedroom: 0
If you are looking for a unique experience on your trip, then this glamping tipi is the perfect place for you. This tipi with an immaculate bath house nearby is fully equipped with a nice bed, top notch linens, and a small heater good for 4 people.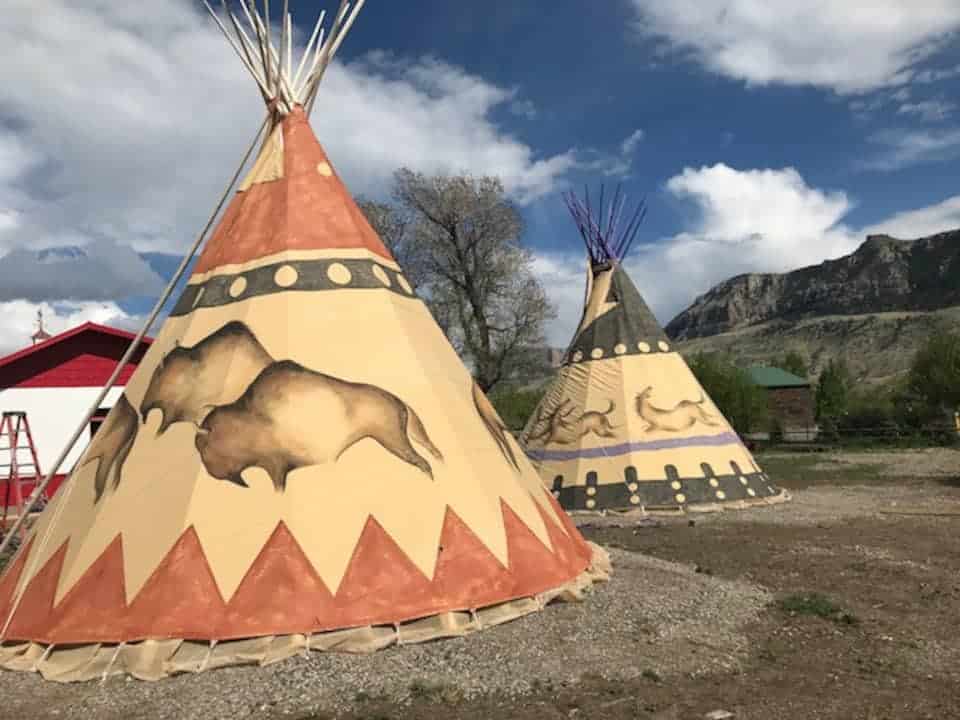 The whole place is very immaculate and one of the best things about this tipi is falling asleep with the sound of a creek flowing. Sounds so amazing right?
One reviewer says: This was one of the best experiences of our entire trip to Montana and Wyoming. We were met by Pete at check-in, who took us to our tipi and gave a good overview of the campground and its amenities. We had tipi #3 and the queen bed was so cozy and comfortable.
Though the tipi was a little warm inside when we first arrived that afternoon, it cooled down nicely and was very pleasant to sleep in. A space heater is provided, but we didn't have to use it; the blanket was just perfect. All night, we were treated to the relaxing sound of a rushing stream not 20 feet away from the site. The shower/bathroom facilities were really clean, with many conveniences. Don't hesitate to book if you're looking for a unique place to stay! We would definitely stay here again.
Cowboy's Getaway – Log Cabin
Guests: 2
Bedroom: 1
This unique handcrafted log cabin will let you experience a blast from the past. This is located 60 miles away from the east entrance to Yellowstone National Park, and 16 miles from the town of Cody that features museums, art galleries, nightly rodeo, and more.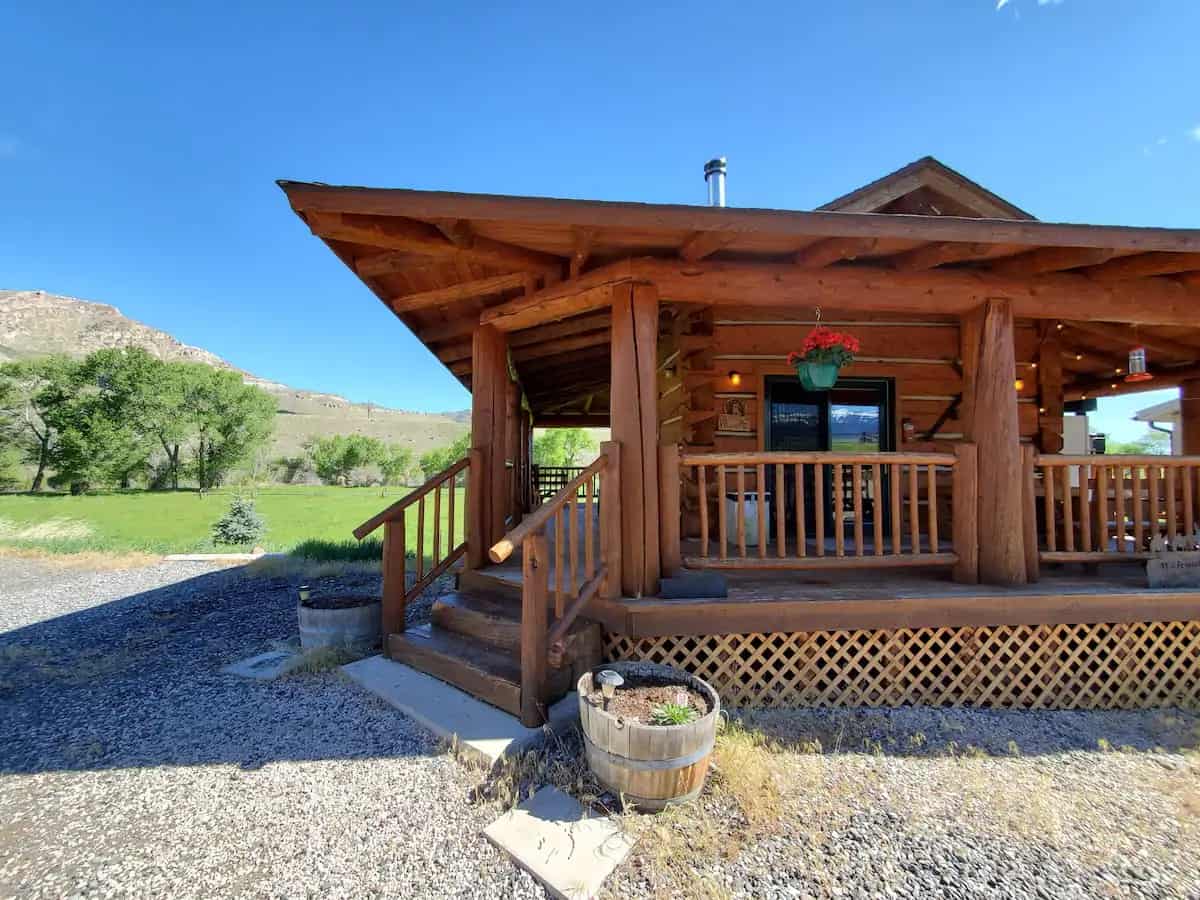 This cabin is located a few yards from the main log house and yet still gives you the privacy that you deserve. It features a room with two queen size beds, a porch that extends to extra living space with a summer kitchen, a camp style outdoor cooking area, and more. If you love to stay in a traditional cabin with superb views and great amenities, this one's for you.
One reviewer says: Our stay at the "Cowboy Get-away" was an amazing experience. We were looking for a real "Out West" experience and this lovely cabin was just that. The cabin was so cozy. The beds were absolutely the best. The sheets were so soft and there was a big quilt on top. It was like staying back in time at your grandma's house. The kitchen had everything you needed. Scenery was beautiful and the hosts were fantastic.
We thoroughly enjoyed out stay including the outdoor shower (with hot water)! Our time at the cabin will make a great lasting memory of our 40th anniversary trip to the West. All of that area was so amazing to see. Thanks again for allowing us to stay in your beautiful cabin. If we ever get back out there, we will definitely plan to stay again. We can't say enough about Mike & Linda. They made us feel like we were family.
Retro Retreat
Guests: 8
Bedroom: 4
Retro Retreat is a 1975 mobile retreat that is a perfect balance of modern and retro side. It's very spacious (with nearly 1,600 square feet on one level) and it's perfect for large groups. It has an open living space ideal for gatherings. The kitchen is also perfect for cooking sumptuous meals as it features a refrigerator with water and ice, microwave, oven, and everything else you need for cooking.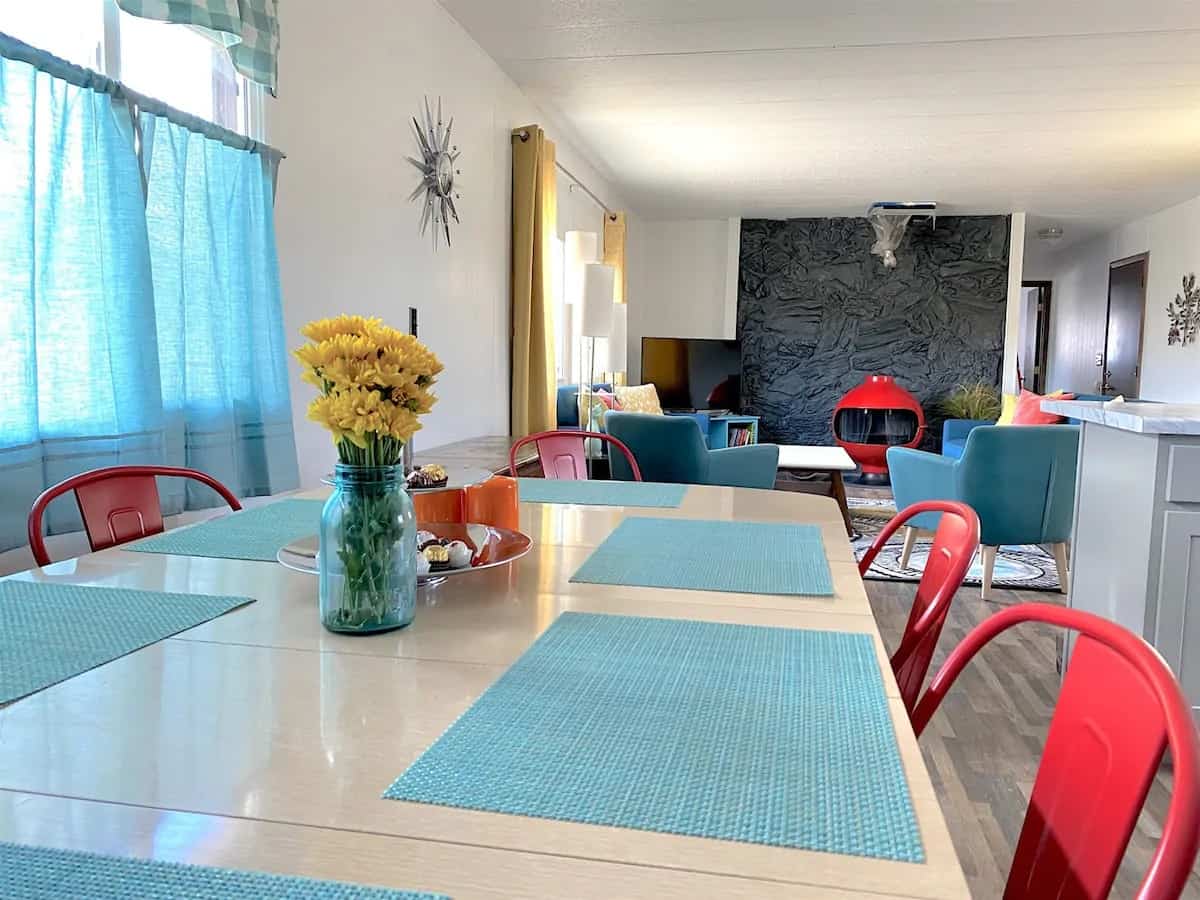 Aside from its almost perfect amenities, Retro Retreat has a great location too. It is 35 miles away from Yellowstone National Park and 21 miles to downtown Cody.
One reviewer says: This was one of the nicest Airbnbs I've ever stayed at! The decor was clean and comfortable, the views were one-of-a-kind, and it was packed with thoughtful amenities– a record player, a few board games, an arcade set up, 3 hour logs for the fireplace, a TV in every room– I could go on. My husband was able to work from the home during the days and the internet was stable.
It's truly magnificent to wake up to the sunrise over the Buffalo Bill Reservoir and watch the light warm the mountain face– all from your bed!
The Hilgard Queen Suite
Guests: 4
Bedroom: 1
If you are looking for a quaint yet very comfortable place, the Hilgard Queen Suite at The Adventure Inn Yellowstone Hotel is for you. It features a luxurious space with rustic decor good for 4 people, including a spacious bathroom and great amenities. The beds are extremely comfortable and the room comes with everything that was promised.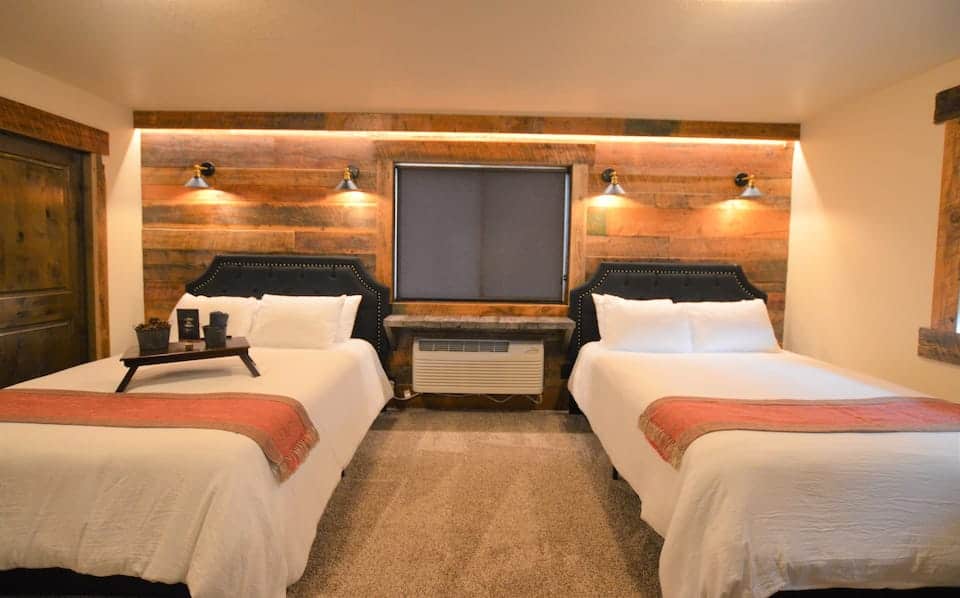 One reviewer says: This place was really great! Bed was awesome, so much so I'd like one at home. Excellent communication. Exactly what we needed for our trip.
Charming Cabin
Guests: 4
Bedroom: 1
This tiny yet charming cabin is well put together, with its radiant floor heat in the kitchen and bathroom, vaulted ceiling, and dormer windows that gives you the feeling of a wider pace. This place was remodeled to provide you a great accommodation.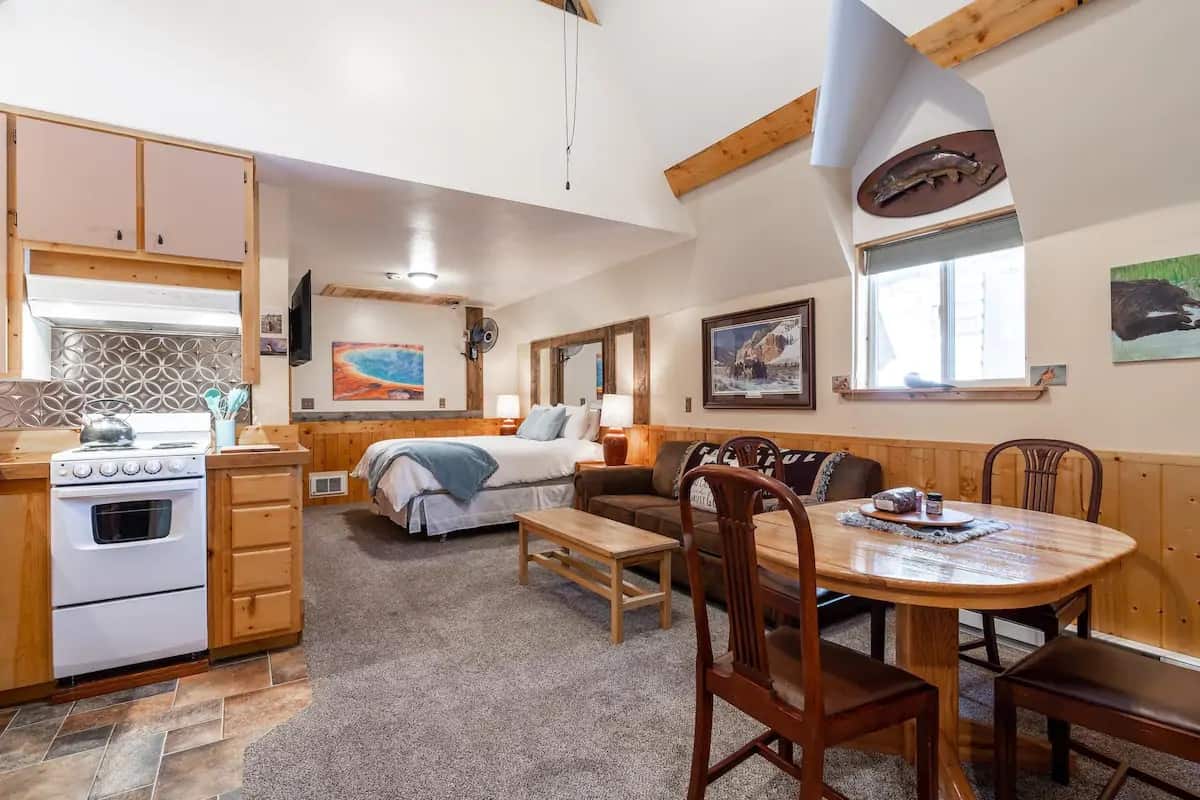 It's very close to old town West Yellowstone and just within walking distance to fitness centers, local attractions, restaurants, and shopping. This is the place to go if you are visiting Yellowstone with your family or friends.
One reviewer says: Literally 3-4 minutes from the West Yellowstone gate. Helped beat the busy crowds! Exactly what we were looking for and Brandi is supper accommodating. Staying here definitely improved our whole trip experience!
Three Bedroom Townhouse
Guests: 8
Bedroom: 3
If you are looking for a convenient location in Yellowstone that is so comfortable, clean, and can accommodate large groups, well this three-level townhouse is for you. Plus, it is very close to the parks, restaurants, and shopping.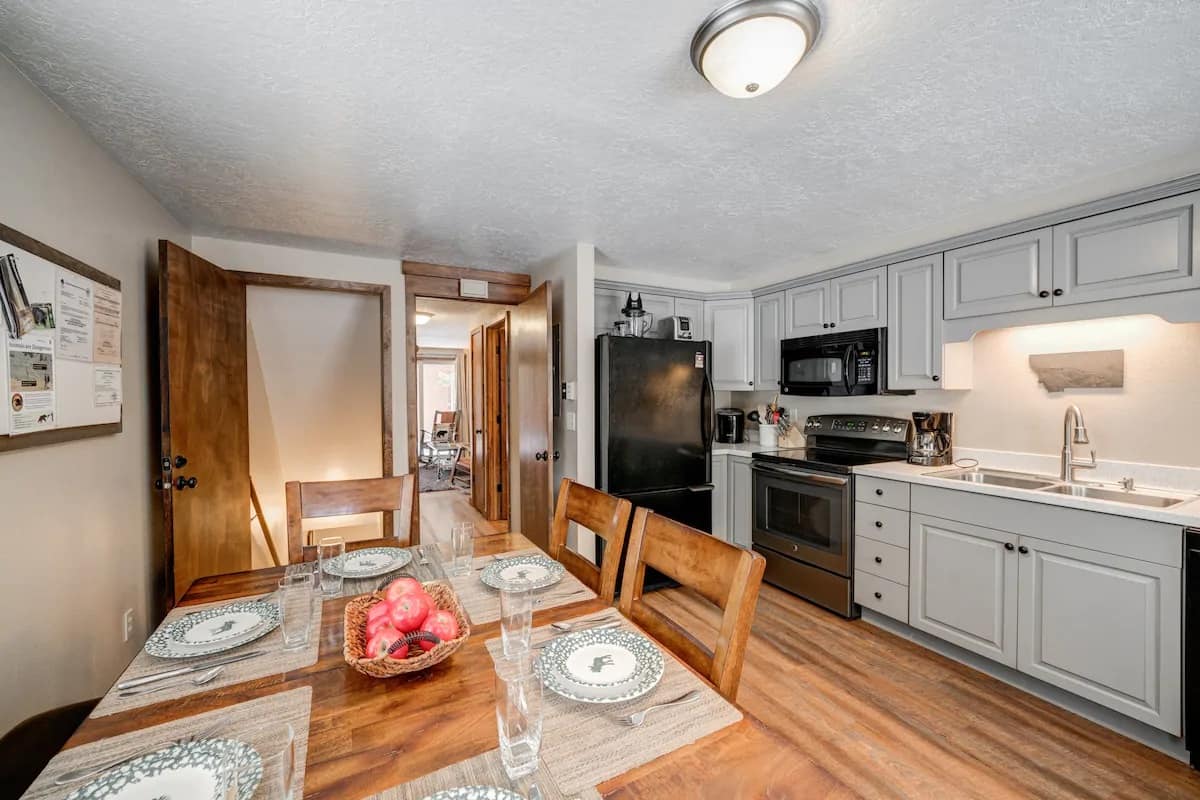 This place is supplied with amenities that you need such as a well-stocked kitchen and charcoal grill, cozy living room with gas fireplace, family room with work table, and a lot more. And you wouldn't have a problem reaching out to the host because she's very responsive before and during your stay.
Yellowstone Getaway – Two Bedroom Townhouse
Guests: 6
Bedroom: 2
Whether you are visiting Yellowstone during winter or early spring, this two-bedroom townhouse has got you covered. The house has two-levels which you can have a total access, and it is equipped with a fully-outfitted kitchen, living room with sleeper sofa, two bedrooms, and more.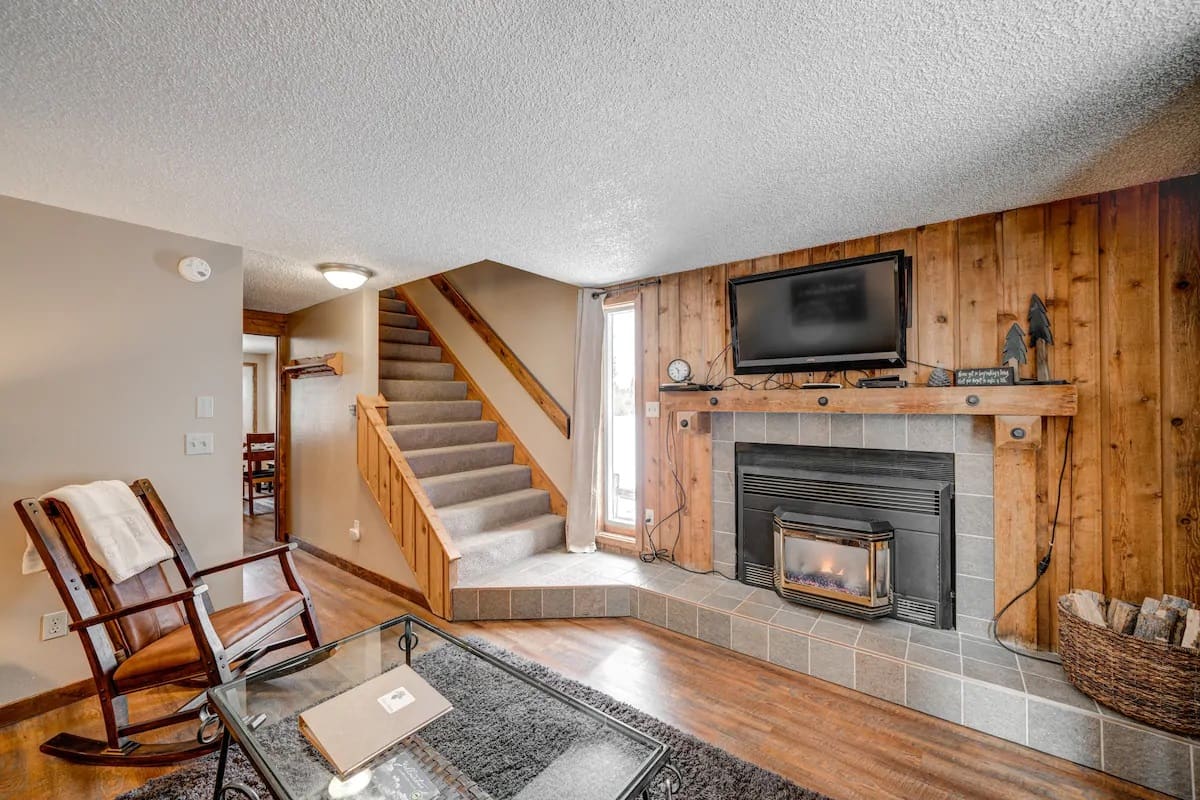 But what makes this house even more interesting is that it has a perfect location (very close to the park), sparkly clean space, comfy beds, and a very great host. Disappointment never exists in this place.
One reviewer says: Location is in walking distance from grocery stores and restaurants. A few blocks from Yellowstone is a plus! The condo is very cozy and everything (amenities, accessories) work. There is genuine care for your comfort and convenience is A+.
Cozy Yellowstone Cabin
Guests: 4
Bedroom: 1
One of the perks in staying at this cozy cabin is the convenient location from Yellowstone Park. It is just a mile from the entrance of the park and a walking distance from many restaurants and shops.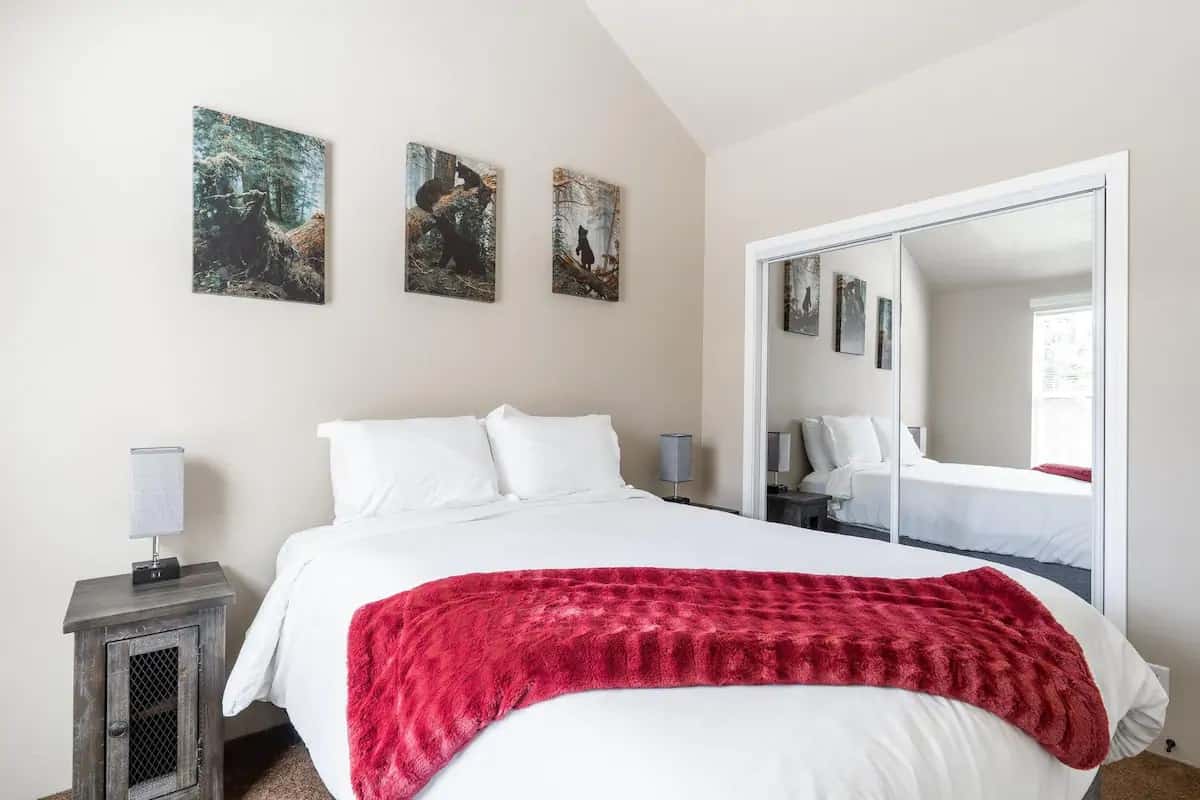 Although it has only one bedroom, it's spacious enough for 4 guests. It's perfectly appointed with all your needs including a full kitchen, washer and dryer, and even a pack N play for kids.
One reviewer says: The cabin was a great place to rest after a full day at Yellowstone. The location was amazing! You can't beat being a mile from the entrance. It was also super clean! The kitchen had everything you need to cook and having a washer and dryer in the cabin was awesome.
West Yellowstone One-Bedroom Condo Resort
Guests: 4
Bedroom: 1
If you want to stay in a condo resort airbnb in Yellowstone, look no further because this one-bedroom condo in Wyndham Resorts is for you.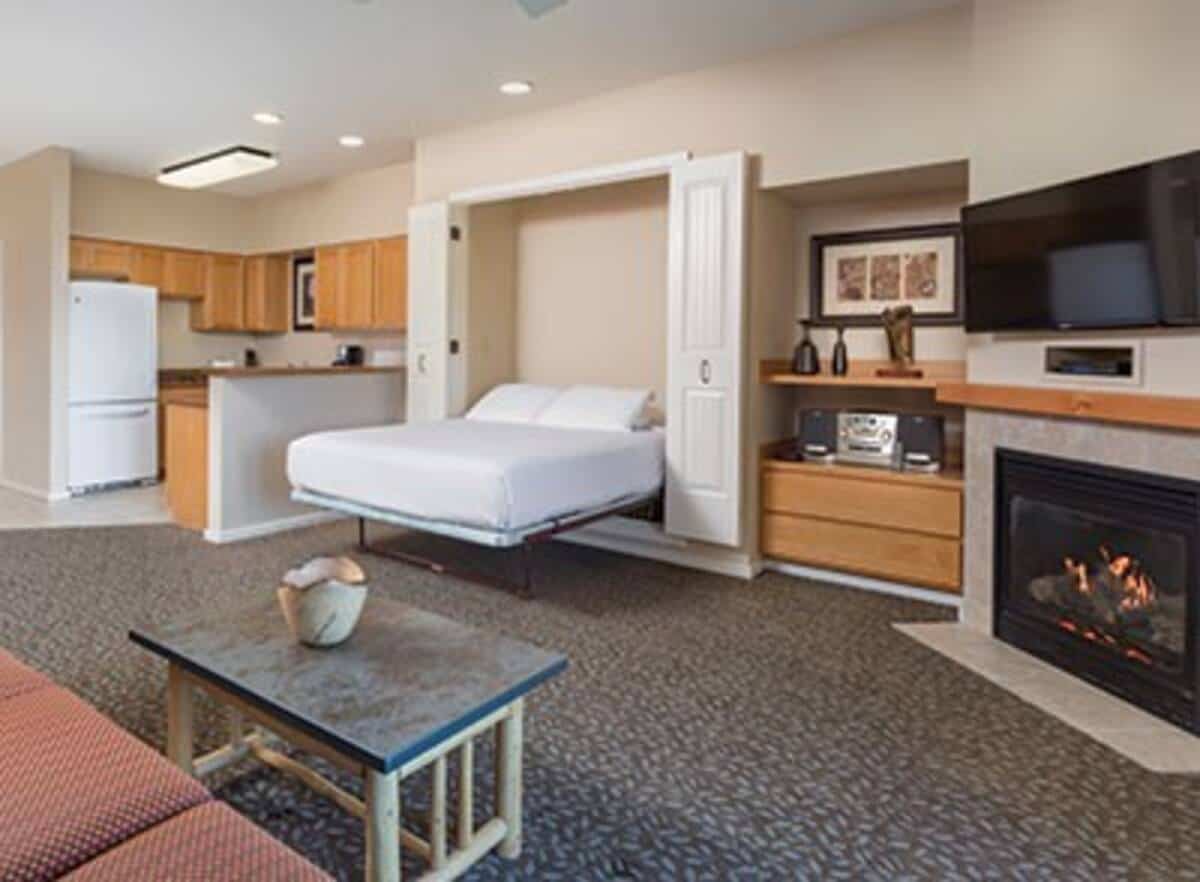 It also has everything you need for a wonderful vacation but what makes this airbnb unique and amazing from others is that it is a resort and it has an indoor swimming pool, hot tubs, game room, recreation center, and more. And you can also take pleasure in many guided tours being offered mostly available from mid December through to mid March.
Arch Studio at Yellowstone Park Entrance
Guests: 4
Bedroom: 1
This newly renovated 550 square feet studio apartment has the size twice of a small hotel room. It comes with premium bedding, bath with double sinks, mini fridge, wifi, TV, and more. And you may self check-in anytime after 3 PM with the electronic keypad. Sounds so smooth, right?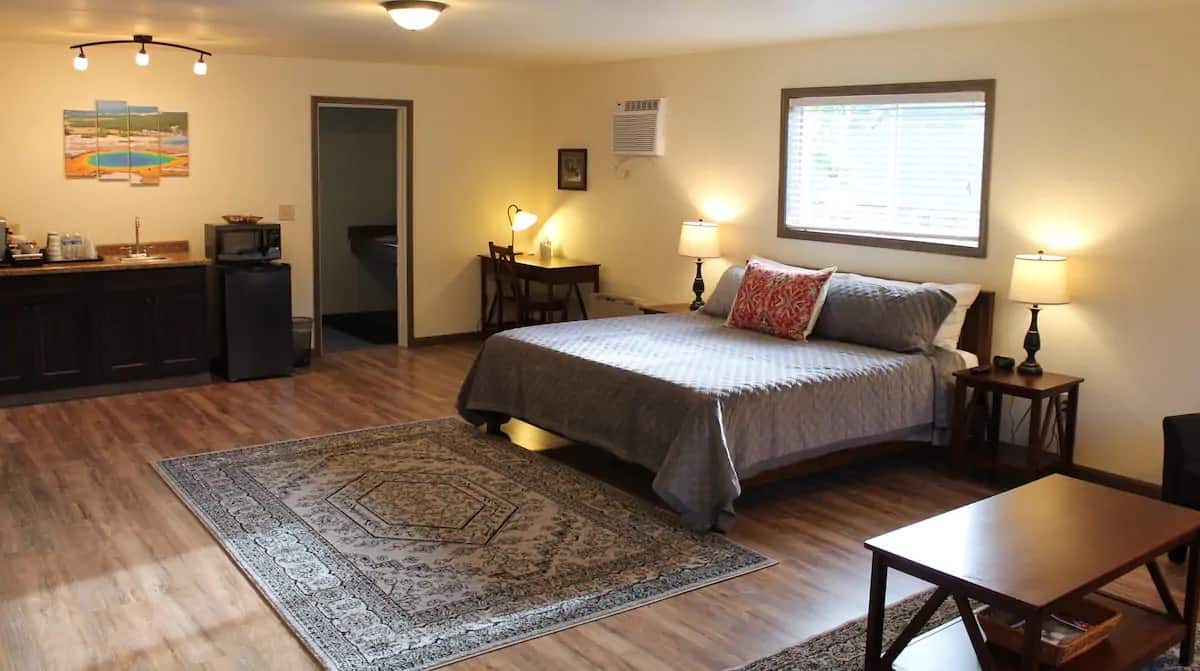 One reviewer says: Mark's place is the perfect location for anyone vacationing to Yellowstone. He is located in downtown Gardiner next to some great restaurants and a market/grocery store, and the best part is that his place is about a mile from the north entrance to YNP. The most impressive was the personal touches Mark did for us.
We made a note when we booked our stay that we were traveling to MT to celebrate our third wedding anniversary. When we arrived, Mark had a bottle of wine waiting for us with a note wishing us a happy anniversary. Additionally, Mark had a great selection of coffee to choose from with disposable coffee cups and lids, granola bars, crackers, etc and lots of bottled water. He checked in with us mid-stay and offered us more water, coffee, linens, etc if needed. Mark's hospitality was phenomenal and made our time at Yellowstone a memorable one.
Back Alley Urban Cabin Blocks to Yellowstone Arch
Guests: 2
Bedroom: 1
Located 5 blocks away from Yellowstone Arch, this 1932 built mini cabin has an area of 288 square feet with a mini kitchen and a very small bathroom. This is ideal for couples or solo travelers because of its tiny yet functional space. Plus, it's very close to Yellowstone and a walking distance to the local grocery store and restaurants downtown.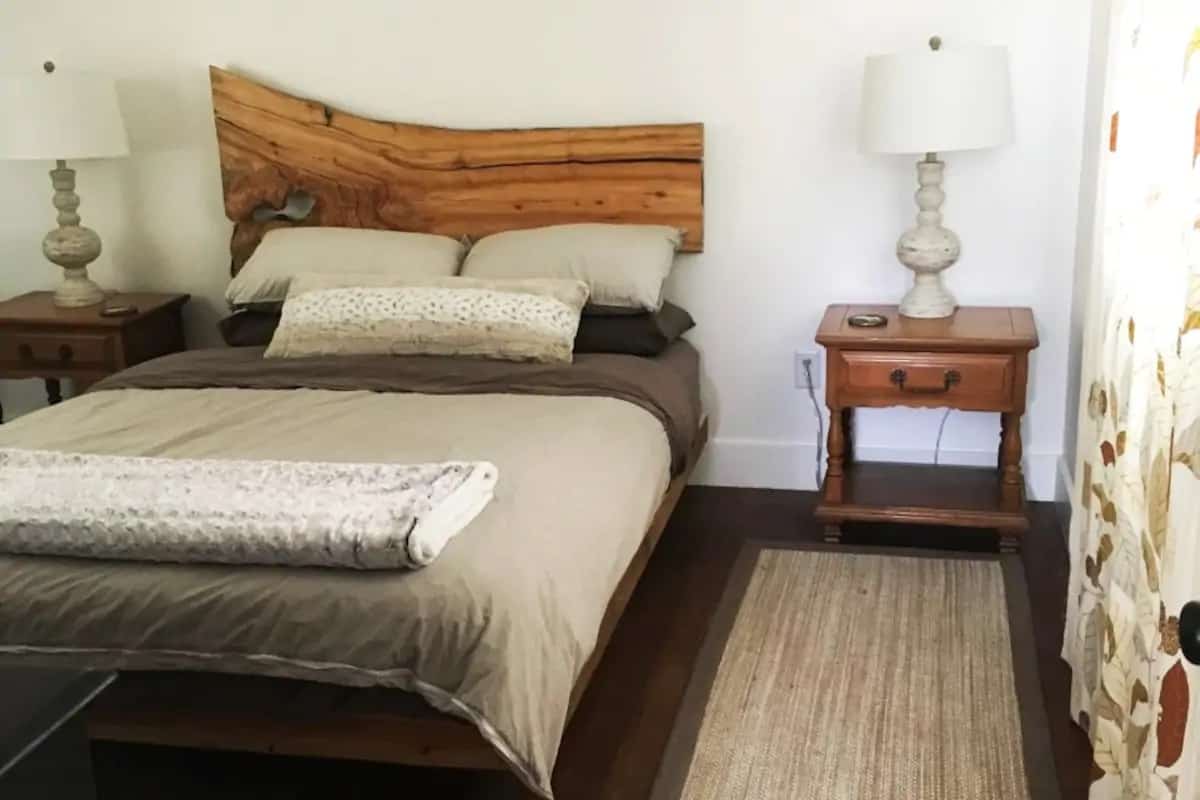 One reviewer says: This tiny cabin is perfect for a weekend get away or a long term stay. The town was really lovely and there were plenty of yummy restaurants (especially the Yellowstone Grill!). Very close to the Yellowstone park entrance and the hot springs. Had everything we needed for cooking a nice meal too with the grocery store within walking distance. Great spot!
Arch View Studio at Yellowstone Park Entrance
Guests: 3
Bedroom: 1
If you wanna skip booking the usual hotel accommodation in Yellowstone and stay in a 550 square foot studio, then this arch view studio is the one for you. It has a size twice that of a small hotel and it has an excellent location as it overlooks Roosevelt Arch and the entrance to Yellowstone.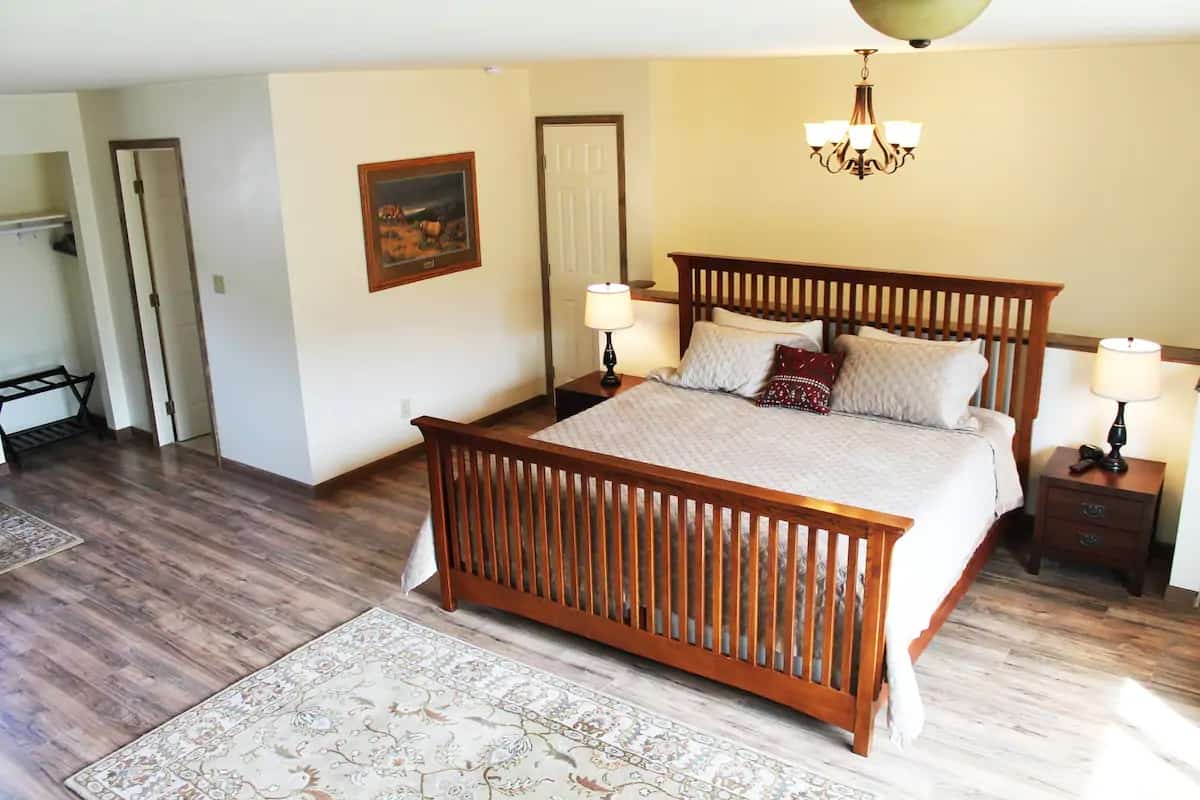 This studio also comes with great amenities such as a coffee bar, mini fridge, microwave, wifi, TV, deck and BBQ grill, and a lot more.
Conclusion: Best Yellowstone Airbnb
I hope you have enjoyed this list of Airbnbs in Yellowstone. I'm sure you will enjoy Yellowstone National Park! Just remember to book early – at least six months in advance!
Sharing is Caring! Pin this article to save for later
Recent Posts