Yellowstone in 3 days
Can you do Yellowstone in 3 days? Yes, you can cover most of Yellowstone National Park in three days but that does not include drive time to the park.
Yellowstone is a massive 2.2 million acres so you will have a lot of ground to cover. You will also need to make reservations ahead of time and they do book up quickly.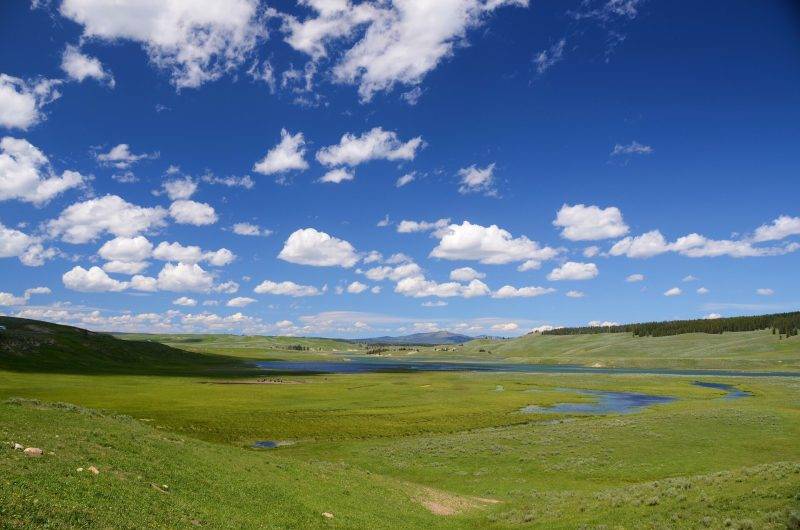 Check out my post on the Best Airbnbs near Yellowstone National Park.
This Yellowstone in 3 days itinerary starts at the East Entrance at the Lamar Valley and Day 1 heads along the upper loop to the Upper Geyser Basin before heading all the way to the West Gate. Day 2 heads along the lower loop and back out the West Gate. Day 3 heads all the way South in the park and exits to Grand Teton National Park.
If you only have two days, check out this 2 day Yellowstone itinerary.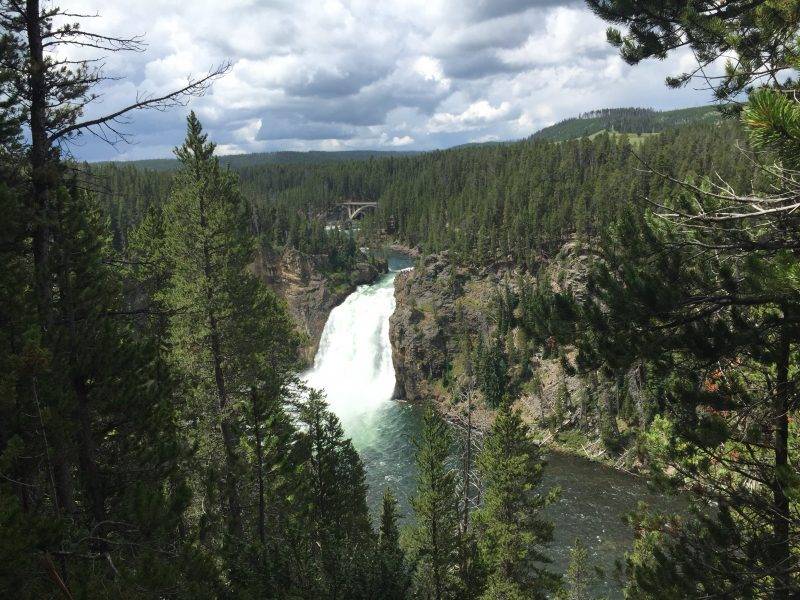 We took 2 days to drive from Wisconsin to Yellowstone via the Badlands, Mount Rushmore and Devils Tower and then headed to Grand Teton National Park for a day before heading back to Wisconsin. You can check out these 10 beautiful sites in Yellowstone.
Check out these things to do in Yellowstone.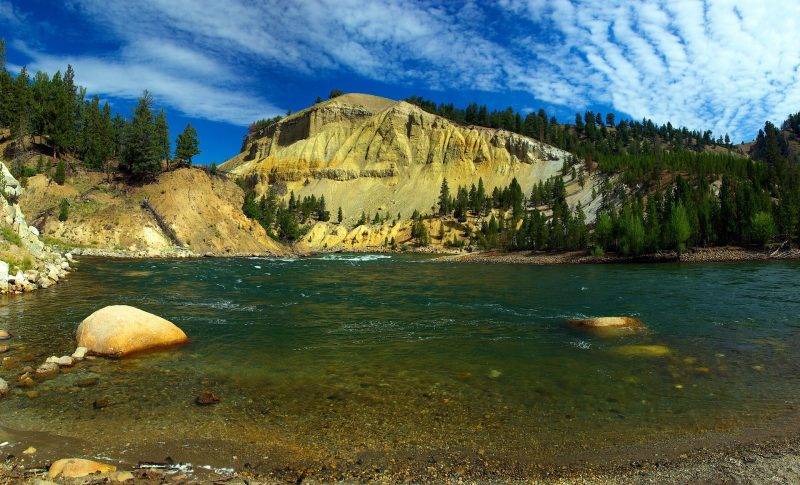 Here are all the sites to see in Yellowstone in 3 days.
Day 1 – Upper Loop Highlights of Yellowstone – this is the most popular route
Mammoth Hot Springs
Grand Prismatic Spring
Yellowstone Lake
West Thumb Geyser Basin
Mud Volcano Area
Yellowstone River
Day 2 – Lower Loop Highlights of Yellowstone
Norris Geyser Basin
Old Faithful Geyser and Upper Geyser Basin
Grand Canyon of Yellowstone
Day 3 – Southern Yellowstone to Grand Teton
Old Faithful Eruption
Petrified Tree
Mammoth Hot Springs
Roaring Mountain
Grand Teton National Park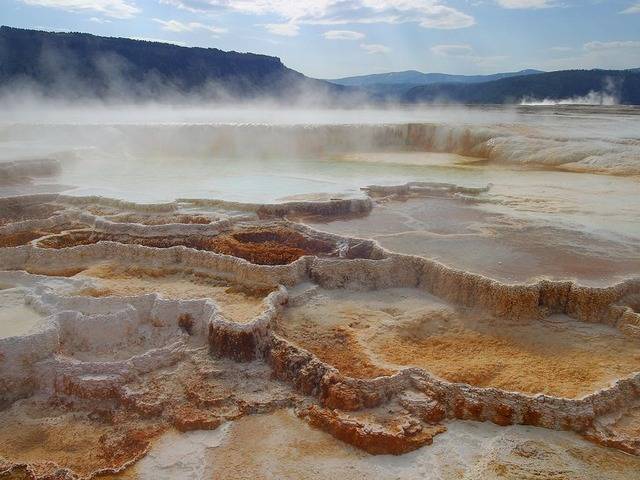 Yellowstone in 3 days – An itinerary for Yellowstone National Park
Day 1 -East Entrance of Yellowstone and Upper Loop
After the obligatory pictures by the Yellowstone National Park signs we were on the look out for animals. About half an hour in we saw a field full of bison by the side of the road and a bald eagle.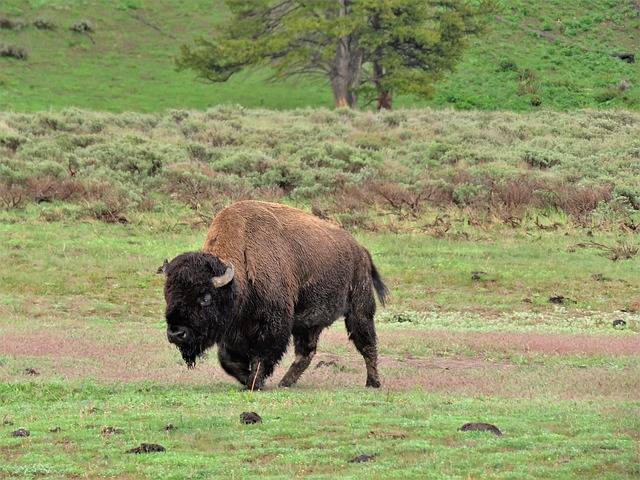 We also saw an Elk by the side of the road. In Yellowstone all of the traffic jams are due to animals. You can have a bison jam, a bear jam, basically any kind of animal by the side of the road will cause a traffic jam.
There are really two loops at Yellowstone. The upper loop and the bottom loop. We were going on a bus trip that would take us on the lower loop so we were completing the upper loop by coming in from the Eastern Entrance and going up to Mammoth Springs and then out the Western Entrance.
Mammoth Hot Springs was a busy area. The pools take about an hour to walk around and look at the different terraces. I was not as impressed with this area compared to the photos I had seen online. I was ok with that because I learned about the geo-thermal activity at Yellowstone and exactly how much activity there is there.
Day 2 – West Entrance and Lower Loop with the Buffalo Bus
We were picked up at 8.15 am by the Buffalo Bus. Once everyone was on board we set off for the western entrance. Our drivers name was Graham and he had been working in the park for five years.
Our first stop was to at Norris Basin which is a quick little stop off to see the mud pools and thermal activity.
Next we went onto the Grand Canyon of Yellowstone and the reason it is named Yellowstone – because of the yellow stone around the canyon.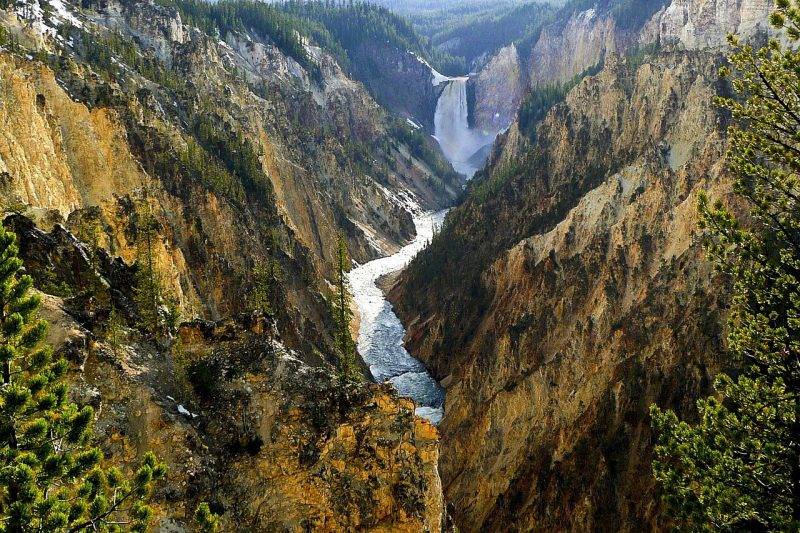 We also stopped by Old Faithful which wasn't being so faithful for us. Basically, Old Faithful goes off every 90 minutes give or take 17 minutes. The day we were there we arrive 20 minutes early and it hadn't gone off yet. So we stood and waited as more and more people came. Then the rain came and started getting heavier and heavier to the point where I was getting soaked and didn't have an umbrella. So now its about 45 minutes after it is suppose to erupt and still nothing.
So I decided to go back into the Old Faithful Inn and wait it out. I went to the bathroom and then checked back – still no eruption. I went and checked out the ice creams – still no eruption. Went to check out the shop – still no eruption. Most people had given up by then so I went back outside to check it and then it finally started to erupt. Usually it goes for two to three minutes but this time it was only around a minute and it wasn't a very big eruption either.
Old Faithful Inn has the third highest population in Wyoming when it is erupting. There are that many people there and that few people in Wyoming!
It was a really good day with Buffalo Bus. They showed us lots of wildlife and took us to a nice quiet place to have lunch. Graham also told us a lot about the history of Yellowstone.
Day 3- West Entrance to the South Entrance and to Grand Teton National Park
The plan was to drive straight through Yellowstone to the Grand Teton National Park. Plans are good but never really work out.  Check out these travel tips for the US.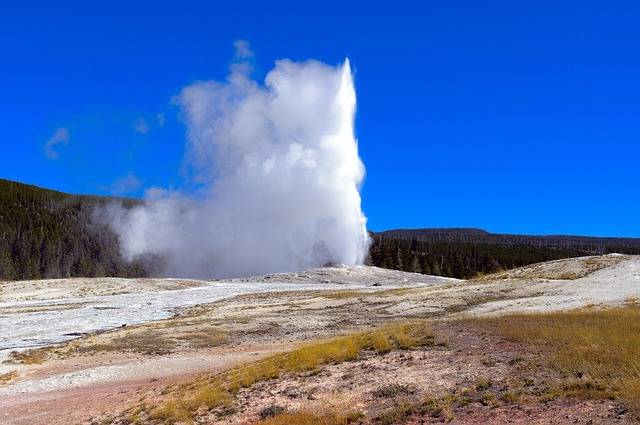 As we were driving we stopped at Old Faithful Lodge area to grab a coffee and use the bathrooms. We then realised that it was about to erupt in 15 minutes so we decided to stay and watch since yesterday's eruption was such a disaster. It was a beautiful still morning and we could see that Old Faithful was starting to bubble over. Next thing we knew it was erupting and went on for a good two minutes.
We decided to stay for breakfast at the Old Faithful in afterwards. I think we had gotten a taste for not driving around and didn't really want to get back into the car. We probably should have skipped breakfast because the service was awful.
After breakfast we finally were heading towards Grand Teton National Park. Even though you can see the signs that you are leaving Yellowstone and then you're travelling along the highway for awhile before you enter Grand Teton its all a forested area.
After all the planning I did for Yellowstone I hadn't done any for Teton so we decided to go to our hotel first and then come up with a plan. As we checked in it was raining a bit outside but once we got to the room it decided to down pour. For me this was our first forced break and we chilled in the room for two hours before we headed out.
It was a good thing we waited too because a mile up the road we saw some people pulled over and when we stopped we could see a grizzly bear not even 100 feet from the car. It was our second grizzly bear that we'd seen so far.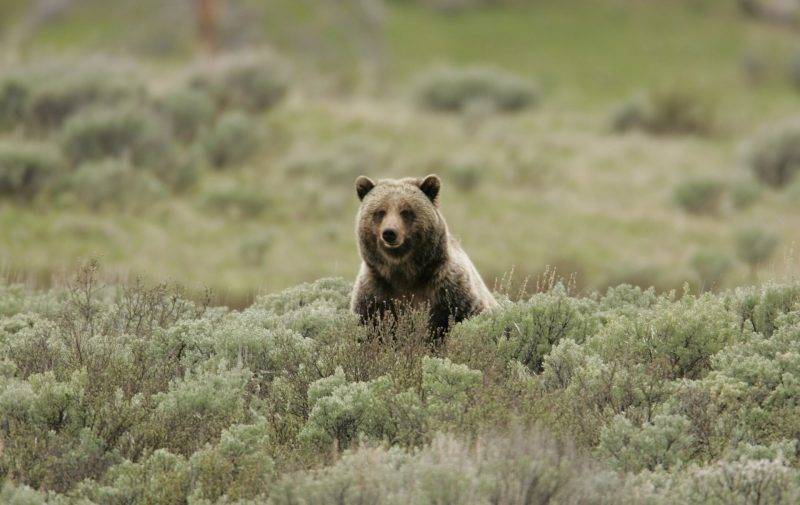 The plan for the rest of the day was to do the 42 mile scenic loop and find somewhere good to eat for dinner. So we headed along the loop towards Jenny Lake and then onto Jackson Hole.
Jenny Lake is stunning and if you only stop at one place in the park this is it. We spent a bit of time here taking photos and just taking it all in.
On our way to Jackson Hole we saw another bunch of people parked on the side of the rode near Moose Junction and guess what they said they saw but a moose! So we went to have a look and the ranger said he will be back in 3-4 hours to eat again.
So we headed to Jackson to eat ourselves and ended up at this place called Bin 22 which was a wine bar. And it happened to be half price happy hour too. We had some great tapas there along with a few drinks. Just as we were finishing the wind picked up and a few drops started.
Next thing we knew it was full on rain! So we had to run back to the car ducking under eaves to not get wet. We thought we'd earned an ice cream after that so went to Moo which makes all its own ice creams. Yum.
Heading back to the hotel we decided to stop one more time at Moose Junction and we were able to finally see a moose. We watched him for about half an hour eating his dinner and taking as many pictures as possible. As we got back in the car we all said what a perfect end to our week. We had finally seen a moose and had basically seen everything – grizzly bear, black bear, bald eagle, bison, elk, deer, and a moose.
You can also do Yellowstone National Park in one day by doing the Grand Loop Road which takes you past the top spots.  Do not underestimate the drive times in the park as the speed limit is low and you will hit traffic jams from other tourists.
That completes the Yellowstone in 3 days Itinerary but we also made a couple of stops on the way out to Yellowstone.
Getting there – Roadtrip to Yellowstone
From Wisconsin its an 18-19 hour drive so we knew we'd have to break it up with a few stops along the way. South Dakota has a lot to offer in the way of sights so we stopped off at the Badlands and Mount Rushmore.
I was really surprised by the Badlands. The pictures do not do it justice and we arrived just as the sun was hitting the rocks. It looked amazing. We only spent about an hour driving around but you could easily spend half a day walking around here.
We arrived around 8pm and thought we'd be the only ones there but actually there were quite a few people there.
I was surprised with how nice the area is around Mount Rushmore. We did the Presidential loop which is a mile walk around the park that takes you right under the Presidents. It was really nice to stretch our legs after a long day of being in the car.
It took us two days to get to Yellowstone with lots of stops along the way. On our second day we left from Hill City and went on the Kneedles Highway on our way to Devils Tower in Wyoming. This was my first time in Wyoming and getting us one step closer to Yellowstone.
To drive on the Kneedles Highway you must enter Custer State Park. Its about an hour on the 14 mile stretch of road that twists and turns sharply and requires you to go through low tunnels carved out of the granite. On our first tunnel we saw goats who really didn't want to get out of our way.
The drive was beautiful and even though it was early in the morning we didn't see a lot of wildlife except for a few deer. We then had breakfast near Sylvan Lake. I wish we had more time to hike around but we wanted to get going and head to Devils Tower in Wyoming.
Devils Tower rises dramatically 1,267 feet above the surrounding terrain. You can see Devils Tower from the road before you can actually enter the park. We toyed with not going in but decided that we would go in and walk around. It only costs $10 per car to enter. We walked around the base of the tower before heading back out on the road.
We stayed in Cody, Wyoming which is about an hour from the entrance of Yellowstone National Park East Entrance
Sharing is caring. Pin this image to save for later.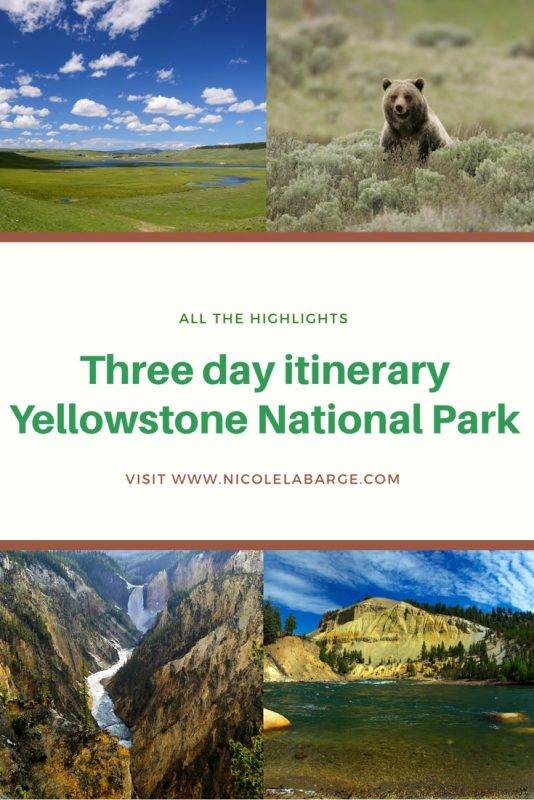 Recent Posts