The 15 Best Door County Restaurants – Door County Dining you must experience
Heading to Door County this summer? You'll want to know where the best Door County Restaurants are located and all the top restaurants in Door County are by city.
View this post on Instagram
I grew up in Wisconsin and still remember my first trip to Door County and seeing the goats on the roof at Al Johnson's Restaurant – one of the best door county restaurants.
As a local, I wanted to put together my favorite and what I think are the best restaurants in Door County list.
View this post on Instagram
I have included Fish Creek WI restaurants, Sister Bay WI restaurants, Ephraim restaurants, and Sturgeon Bay WI restaurants which are all the best restaurants door county.
Door County best restaurants – best places to eat in Door County
Door County Fish Boil – a must while in Door County
Traditional Wisconsin Door County Fish Boil – a must dining experience in Door County
Whether this is your first visit to Door County or a return visit, high on your dining priority list is to experience the Door County "fish boil".
View this post on Instagram
What is a Door County fish boil? It is a Scandinavian technique for cooking large amounts of fish. A stainless steel pot is placed over a fire and filled with locally caught white fish (always fresh), potatoes, onions and salt.
As the fish cooks, the fish oil rises to the top. The "boil master" adds additional fuel to the fire which causes the water to boil over, signifying completion of the cooking process. It is a sight to see!
And, the food is delicious! Usually served with additional sides, and alternatives for non-fish eaters, the meal is often finished with a slice of the famous Door County cherry pie.
Where can you find the best fish boils? Here are four top recommendations.
Pelletier's Restaurant a Fish Creek restaurant serves a traditional fish boil every night.
White Gull Inn a Fish Creek restaurant is another great experience where you can watch the Master Boiler toss a small amount of kerosene onto the fire, causing the water to boil over, leaving the fish perfectly done, steaming hot and ready to eat.
Try The Viking Grill, an Ellison Bay Restaurant, and enjoy a historical dining event.
The Old Post Office Fish Boil, an Ephraim Restaurant, takes place in a restored post office that has served the community since the early 1900's. Enjoy the spectacular waterfront views! Be sure to make your reservations in advance.
Sturgeon Bay Restaurants Door County WI
Inn at Cedar Crossing – Sturgeon Bay
The Inn at Cedar Crossing is one of my favorite dining stops whenever I am in Sturgeon Bay, the gateway city to Door County. The Inn is located on a vibrant city corner and serves a marvelous menu. The setting is casual but refined, and I recommend reservations.
View this post on Instagram
The Inn's Door County cuisine utilizes fresh, local ingredients whenever possible. The menu changes with the availability of local ingredients. You can choose from the breakfast, brunch, lunch or dinner menus. There is a bakery of fresh goods. And, you may choose to try a Door County wine or a local craft beer with your meal.
I have to admit I have my favorite selections. Whenever I can, I get their crab cakes as an appetizer. They are so delicious, broiled and served with a spicy remoulade sauce. If you ask, they will make this your main entrée, which I have done.
I also love their Door County cherry salad, a blend of mixed greens, dried cherries, walnuts and feta cheese served with a raspberry vinaigrette dressing. For my main entrée I often choose the grilled salmon (a healthy choice) served with a citrus cream sauce. There is always a good wine or beer to complement your meal and you can finish it with a dessert from their bakery. You will not be disappointed!
Donny's Glidden Lodge – Sturgeon Bay
Imagine romantic waterfront dining on the shores of Lake Michigan. Donny's Glidden Lodge, a stone walled dining room overlooking Lake Michigan, is the place for you. You will enjoy an amazing view of one of the Great Lakes and relish the tasty Midwestern cuisine.
View this post on Instagram
In the summer, enjoy appetizers and cocktails on the patio. In the fall and winter, warm yourself by the fireplace. This place is romantic, not too fancy, just absolutely beautiful!
The extensive menu includes choice Black Angus cuts of meat, seafood, and other great entrees. You can "Gliddenize" your steak, which adds a merlot sauce and candied onions on toast points and Gorgonzola cheese. Dinners include a soup and salad bar.
Kitty O'Reilly's Irish Pub – Sturgeon Bay
Kitty O'Reilly's Irish Pub is located on the historic west side of Sturgeon Bay, close to the marina and boutiques. This place has a cool vibe and good pub food. You can have fun in the lively pub, the cozy dining room, or the heated outdoor patio where you can enjoy beautiful flowers, fire-pit tables, cocktails and food!
View this post on Instagram
And, during the summer evenings, listen to live music Thursday through Saturday. Choose from a great selection of food and spirits including some of Ireland's favorite tastes. I recommend the dry rub boneless chicken wings and a tall glass of Guinness!
Save room for an entrée of corned beef and cabbage with root vegetables or the shepherd's pie with beef and root vegetable in the filling, always delicious!
Crate Restaurant – Sturgeon Bay
Crate Restaurant is known for their sushi and seafood. Reserve a table to enjoy the Crate's inventive sushi, seafood dishes, and steaks. Join the fun atmosphere where locals go to enjoy the menu and find yourself included in a warm Door County welcome.
View this post on Instagram
There's a lot to enjoy from the ambience to the quality of service and of course, the food. The staff are more than helpful and can offer menu suggestions. If you are looking for small plates, try the calamari or the unique brussel sprouts. Then, try the large plate of locally caught Door County whitefish.
You will want to stop more than once to try more of the many tempting selections. They have my favorite Chardonnay, Sonoma Cutrer, available by the bottle, or, try one of a long list of sake based cocktails (my favorite is the Japanese mule).
Bluefront Café – Sturgeon Bay
A cozy place to go in Sturgeon Bay for great sandwiches like the Maple Street Grilled Cheese. It has 2-year old cheddar and baby swiss on a sourdough bread – you know how Wisconsinites like their cheese!
View this post on Instagram
This place has an extensive menu that will satisfy even the most picky eaters and it is all reasonably priced.
Egg Harbor Restaurants
Wood Orchard Market – Egg Harbor
Wood Orchard Market may not be a restaurant, but it certainly provides great "eats" for any occasion. Wood Orchard is a third-generation business, farming almost 200 acres, mostly Honeycrisp apples, along with strawberries, raspberries, cherries and spring vegetables.
View this post on Instagram
This wide variety of foods give you a lot of options. Try the cherry mustard or the cherry salsa. You can choose jams, fruit butters, fruit salsas, cherry products (including tart cherry juice full of health benefits), and specialty dressings. How about trying the pickled beets and the pickled asparagus? Many of these items are available online and can be shipped to your address.
Visit the bakery for delicious donuts and strudel. Visit the craft area for unique gift ideas, crafts and artwork and the popular children's section. When all is said and done, Wood Orchard Market will rank high on your list of favorite places with the best cherry and apple goods anywhere!
Fish Creek Restaurants
Wild Tomato Wood-Fired Pizza and Grille – Fish Creek
If you want great stone fired pizza, the best place that's all the rave is Wild Tomato in Fish Creek. Locals and visitors alike agree!
Wild Tomato is a family-friendly, and pet-friendly, spot that serves sandwiches, burgers and wood-fired pizzas, using locally sourced ingredients. You will also find a unique beer selection unlike any other in Door County.
All of the pizzas are made to order with fresh, hand-tossed dough. Gluten-free pizza crust is also available. You can create you own pizza or try one of their specialty pizzas. While in Wisconsin, home of the Green Bay Packers, you must try "The Green and Gold" specialty pizza, topped with real Wisconsin cheese curds!
Salads, sandwiches and burgers are all mouth-wateringly delicious! My favorite salad is the Cherry Walnut, also available as a petite salad, because of the local cherries and Door County Creamery goat cheese! It's impossible to pass on the Roasted Beet Salad! So much to choose from, you will want to visit more than once.
And, if you still have capacity, try the Cauliflower Steak Bocadilla! You won't be disappointed.
Not Licked Yet – Fish Creek
There's nothing like great frozen custard any day of the week! Try the flavor of the day, thirst quenchers (I have a weakness for the Hot Cherry shake), sandwiches, and sundaes. It's amazing what they can do with frozen custard!
View this post on Instagram
Everyone should try the Swedish Neapolitan Sundae, with vanilla and chocolate frozen custard, a strawberry compote, whipped cream on top and a warm Swedish kringle! Or, a Door County Sundae, made with vanilla frozen custard, hot fudge, pecans, and (you guessed it) Door County cherries!
The Whistling Swan – Fish Creek
The Whistling Swan is known throughout Door County for its incredible cuisine. This inn was built in 1887 and then moved across the frozen ice of Green Bay by a team of horses in 1907 to its current location in charming downtown Fish Creek. It is listed on both the State and National Historic Registers.
The menu features contemporary American cuisine, many entrees made from locally available produce, wild game and fish. The menu changes daily. The dining is a casual elegance, the food is a journey of bold flavors. The wine list includes distinctive wines selected from around the world to complement the menu. The beer list features Hinterland craft beers, including a Packerland Pilsner. And of course, because we are in Door County, Cherry Wheat beer, a great summertime brew!
The restaurant is open year round for dinner Tuesday through Saturday and for brunch on Sundays. Reservations are recommended.
Blue Horse Beach Café – Fish Creek
Blue Horse Beach Café is a great neighborhood nook located in Fish Creek serving breakfast and lunch, plus an expresso bar pastries. Located across the street from the beach, the view is awesome! The staff are friendly and accommodating, the food is delicious.
View this post on Instagram
Relax with a cup of coffee or latte on the porch and enjoy the view! I will have the chai latte every time. Come for breakfast or lunch. Breakfast is available all day, the breakfast sandwiches are to die for. Get there early before the cinnamon rolls disappear. The curry chicken salad is a favorite for lunch. And, there are excellent vegetarian options and gluten-free bagels. The sandwiches are delicious!
Ephraim WI restaurants
Czarnuszka Soup Bar – Ephraim
Czarnuszka Soup Bar is an Eastern Europe themed diner offering 4 homemade soups and two sandwiches every day, including vegetarian options. When you want a light, tasty meal, this is the place! Think "the art of soup" and imagine the various combinations of hearty meals that emerge from the kitchen of this quaint, cozy soup bar. Czarnuska's is a small place tucked off the highway, a bit hard to find but clearly worth the effort sf you are looking for a quick and satisfying lunch. You won't be disappointed.
Sister Bay Restaurants
Waterfront Restaurant – Sister Bay
Waterfront is one of the best restaurants in Door County. It has a beautiful waterfront location in northern Sister Bay. The Restaurant is known for creating a dining experience that rivals the brilliant sunsets seen from every table in the dining room.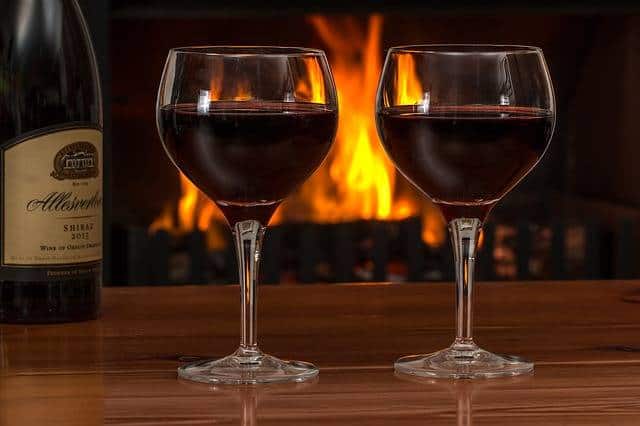 Waterfront is a seasonal restaurant that puts on emphasis on fresh with produce flown in from as far as Alaska and Hawaii. It also produces homemade stocks and hand made pasta. Their lobster bisque is to die for!
I would also try the sea bass with fennel gnocchi and an heirloom tomato vinaigrette. The Waterfront has a full stocked bar so you can have a nice glass of Chardonnay with your sea bass.
This is probably one of the best in Door County with great food and great service and a great place to try a Door County Wine.
Al Johnson's Swedish Restaurant & Butik – Sister Bay – goat restaurant Door County
Goats grazing on a sod roof top? Authentic Swedish meatballs and limpa bread? Servers in Scandinavian garb? Al Johnson's Swedish Restaurant has been a community icon for over 50 years! Rich in history and rich in culinary delights, a stop in Sister Bay is a "must-do" to experience this unique landmark restaurant. Be sure to bring your appetite.
View this post on Instagram
Breakfast, lunch or dinner, let your mouth water as you scan the menu. For breakfast, try the Swedish pancakes, grilled to perfection served with lingon berries, butter and syrup. Or, add Door County cherries and whipped cream.
Looking for a traditional Swedish plate? Try the homemade pickled herring plate, served with assorted cheeses and pickled beets. Or, try the homemade Scandinavian cold buffet plate.
Try a local lunch favorite, the Swedish Meatball Sandwich, served with pickled cabbage. Be sure to save room for dessert and try the warm cherry pecan bread pudding!
Your choices for dinner entrees range from Swedish meatballs, to fresh caught fish and chicken. All entrees include a Swedish bread tray and Swedish lingon berries. For those wanting a more American fare, try Al's famed burger. As you dine, enjoy the authentic Scandinavian décor.
There is something tasty for everyone, Swedish, Norwegian and American. There is so much more to enjoy at this restaurant you will want to stop in again.
Conclusion – Door County best restaurants
I hope you have enjoyed this list of door county Wisconsin restaurants. Its always good to have a locals perspective on where to eat when you are in the area.
Let me know in the comments if I have missed anywhere you think should be on the list of restaurants in door county Wisconsin or have you tried a Door County restaurant on your trip and enjoyed it? Let me know in the comments!
Sharing is caring! Pin this article to save for later.
Continue Reading:
Recent Posts