The Best Egypt Itinerary 7 days
Egypt is having a resurgence in tourism after the Arab Spring of 2011. There is so much to see and do and learn in Egypt so I put together this Egypt Itinerary to hit all the best places!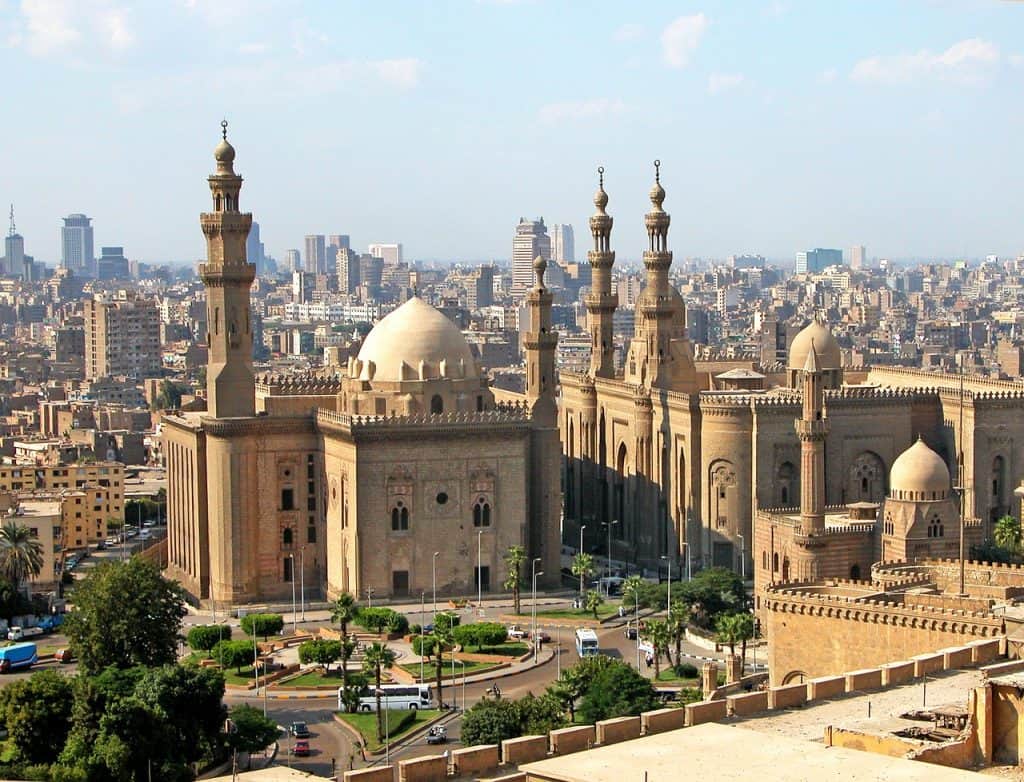 Most tourists to Egypt will arrive in Cairo, the capital of Egypt, and this is where our Egypt Itinerary starts – the chaos that is Cairo. Don't worry, you will be spending your time in different areas of Cairo where they are used to tourists and it's a bit calmer.
I have tried to go to Egypt several times. You might think my flight was delayed or I had to cancel a previous trip but no, I finally made it a priority to visit Egypt and I made it to Cairo.
Right before I graduated college we had an assignment to come up with our five year plan. I hardly remember anything on the list but one of them was to go to Egypt and see the pyramids and the other was to go to Greece.
Well I made it to Greece within 5 years but I never quite made it to Egypt. So I was excited when I finally made it to Cairo and was able to visit Egypt. It is an amazing country with so much history and the hospitality is incredible.
When you first step out of the airport you notice how hot it is in Cairo still even at 6pm at night. My driver was waiting to take me to my hotel. Traffic in Cairo is no joke. There are 20 million people and its the largest capital in Africa. Add in cheap gas (about $1 a gallon) and everyone wants to drive. It took us an hour to travel 10 kms.
If you are wondering if Egypt is safe or when is the best time to visit Egypt, check out this guide on Travel to Egypt Tips.
Let's get started on this 7 days Egypt Itinerary
Day 1- Arrive in Cairo – Visit Old Cairo and the Egyptian Museum
For our first day in Cairo we decided to do a tour of Old Cairo or Islamic Cairo. The tour costs $20/person so I was happy to pay that to have someone drive me around and tell me about the sites.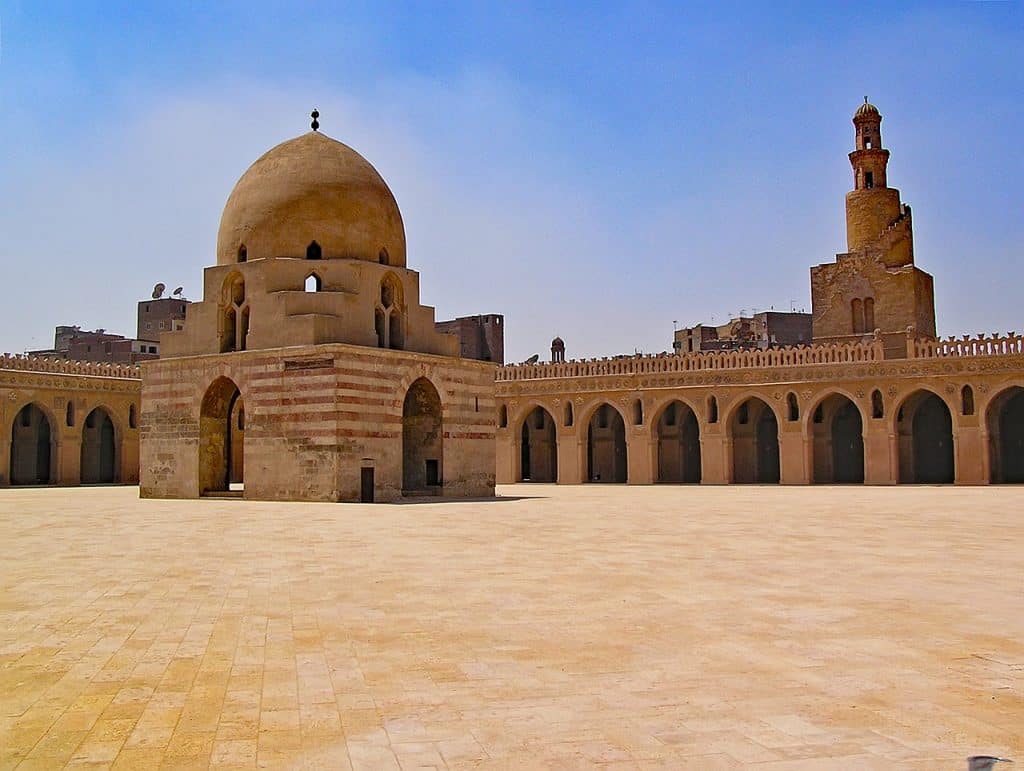 Old Cairo is so named because it is the oldest part of Cairo, and in fact, predates what is now Cairo. Some specialists in Egyptology believe that there was a settlement here as far back as the 6th century BC. Later, the Romans built a fortress here called Babylon.
There are so many temples in Egypt that you must see!
Our first stop is the Amr Ibn Mosque. This is the first and oldest mosque ever built on the land of Egypt. Erected in 642 AD (21 AH) by Amr Ibn al'As, the commander of the Muslim army that conquered Egypt, the mosque is also known as Taj al-Jawamie (Crown of Mosques, al-Jamie'al-Ateeq (the Ancient Mosque) and Masjid Ahl ar-Rayah (Mosque of Banner Holders).
Wondering if Egypt is Safe for travellers?
Next stop is the Coptic Hanging Church. It is one of the oldest churches in Egypt and the history of a church on this site dates to the 3rd century AD. The Hanging Church is named for its location above a gatehouse of Babylon Fortress, the Roman fortress in Coptic Cairo (Old Cairo); its nave is suspended over a passage.
Check out this Egypt on a budget post.
Egyptian Museum
You could spend days in the Egyptian Museum but you should spend at least an afternoon there. This is a great museum housing over 5,000 ancient Egyptian artifacts but its not air conditioned!?! Its crazy hot in there during the day. They are building a new museum near the pyramids that will be air conditioned. Unfortunately, you cannot take photos in the museum only outside of it. The entrance fee to the Egyptian Museum is $9
I recommend getting a guide for the Egyptian Museum. There are too many artifacts in this place and if you made it all the way here its worth supporting a local Egyptologist as a guide to the museum.
Since we were doing a tour of the pyramids on the second day you will want to spend 3-4 hours at least to see the mummies at the museum. Now these rooms are air conditioned along with King Tut's items from his tomb. These were the three rooms we visited and didn't want to leave any of them!
Again, no photos allowed. One of the workers even came over when I pulled out my phone to google something and said no photos. I had to show them what was on my screen and that I didn't take a photo.
You can also visit Egypt from Jordan via the ferry.
Day 2 – Cairo and Giza
The Great Pyramid of Giza (also known as the Pyramid of Khufu or the Pyramid of Cheops) is the oldest and largest of the three pyramids in the Giza Necropolis bordering what is now El Giza, Egypt. It is the oldest of the Seven Wonders of the Ancient World, and the only one to remain largely intact.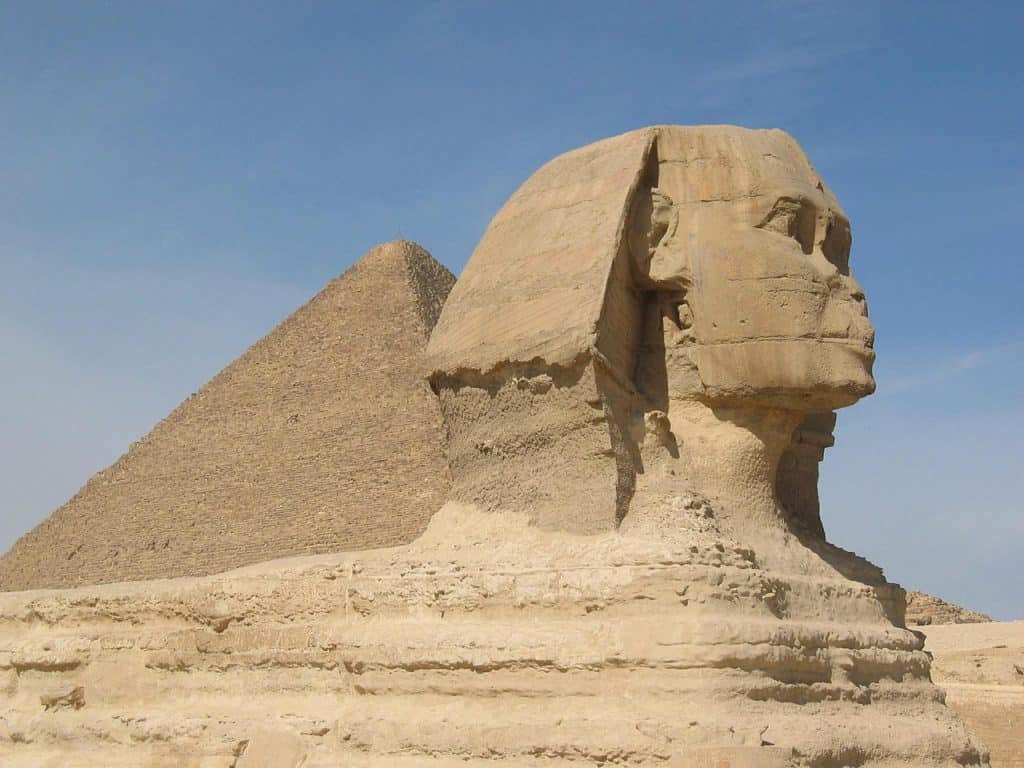 I also booked a guide for the pyramids. He was so organized and took care of everything. He also made sure we were the first ones there so we could explore the pyramids and he explained that they were built for the Pharaoh Khufu, his son and his grandson.
Visiting the Pyramids of Giza is a buck list experience. The entrance fee to the Pyramids of Giza is $9.
There are many different options to see the pyramids. You can walk around the site yourself but it is a lot of ground to cover. Or you can take a horse or camel or a horse drawn carriage. I chose the carriage because in the middle of the day heat I would be under the shade.
Our guide was very informative about the pyramids and took lot of different photos for us. We did all sorts of crazy poses for the camera that I think all tourists do.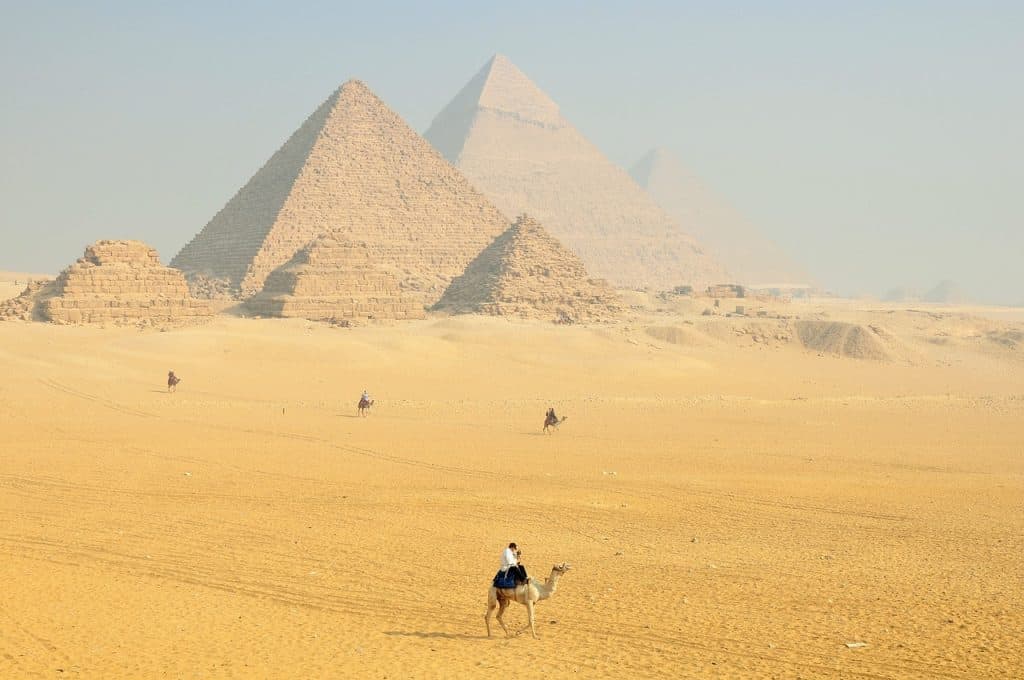 We got to the pyramids early and it was quiet so it was nice to walk around a bit. I can't imagine what it would be like with so many more tourists and the heat. I think our horse was having a hard time of it as well but she looked to be in good shape.
After we took pictures in all the main spots we got out of the carriage and walked around a bit to see the Sphinx. We had mixed thoughts about the Sphinx.
I thought it would be bigger. Others thought it looked bigger in person than in photos. The other disappointment was that you don't get to go close to the Sphinx as they have it sectioned off. This photo is about as close as you can get to it.
It was a long day by the time we were all finished with our camel and horse rides but so amazing to finally see the pyramids. This is probably the best photo I took of the pyramids and it was taken at the Pizza Hut across from the entrance up on the balcony.
Day 3 – Day trips from Cairo
Day trip from Cairo to Alexandria – train fare $3
You can take the train from Cairo to Alexandria which takes about an hour. Once you arrive in Alexandria you can visit the sites there such as The Roman Theater (A theater with marble seats up to 800 spectators, Galleries, Section of mosaic flooring & a pleasure garden surrounded by Roman Villas& baths).
Next I would visit the Catacomb of Kom El-Shoqafa (Tombs on three levels, also contains the Tri-cilium where relatives used to sit on stone benches to feast the dead, a center with relieves of bearded serpents and inside are 2nd Century AD statues of Sobek &Anubis wearing Roman Armor). Next you can head to the Alexandria Library and then onto the Qaytbay Citadel & El Mursi Abu Elabas where you can walk around.
Day trip to from Cairo to Saqqara – train fare $4
Take a day trip to Saqqara to see the 'step' pyramids which date back to the 27th century BC, a little before the great Giza monuments. The site is more compact than Gixa and some of the walled complexes remains, as well as tombs decorated with carved reliefs. Then fly to Luxor.
Day 4 – Luxor – Karnak Temple
I really enjoyed our time in Luxor. There are two reasons why people come to Luxor. The first is Karnak Temple which is an open air museum full of pillars and obelisks. The second is the Valley of the Kings – a highlight to anyone's trip to Egypt. Entrance fee is $8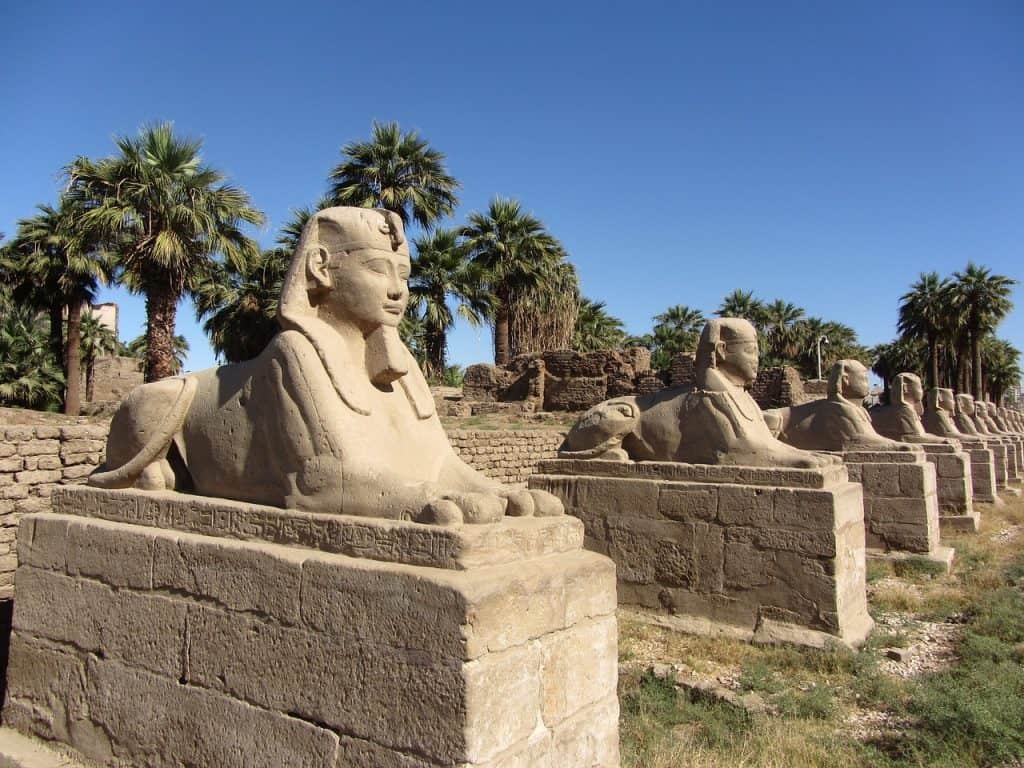 Again we arrived early and had a lovely tour of Karnak Temple. This temple is one of my favorite things I have done here in Egypt. The Karnak Temple is like an outdoor museum. There is a total of 134 pillars and the avenue of ram-headed sphinxes which lead to the massive unfinished first pillar.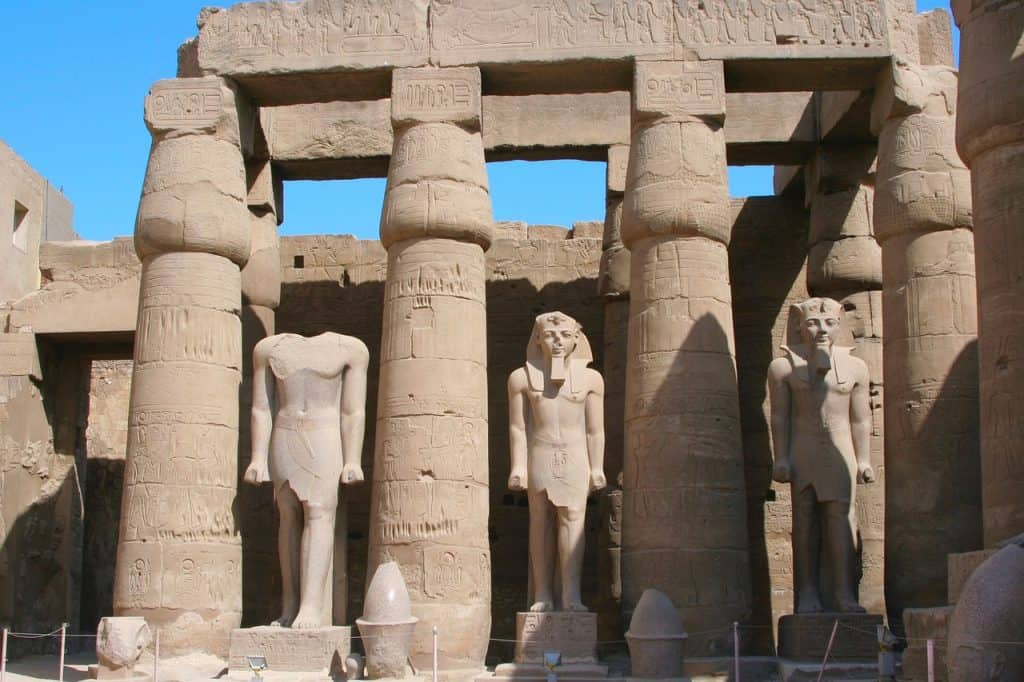 Karnak is more than a temple its an open air museum filled with pillars, obelisks, sanctuaries and kiosks all dedicated to the Pharoahs. The site is huge and the Temple of Amun is one of the world's largest religious complexes. This is where the Theban god lived with his wife Mut and their son Khonsu.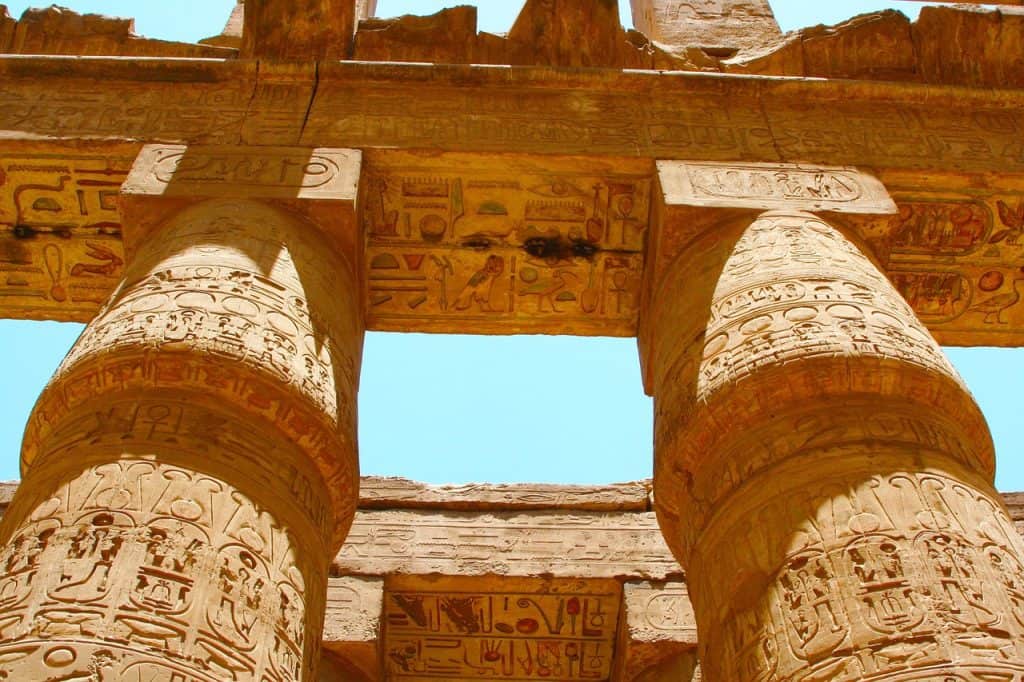 The obelisk of Hatshepsut is the tallest in Egypt, it tip originally covered in an alloy of gold and silver. After Hatshepsut's death, her stepson Tuthmosis III eradicated all signs of her reign and had them walled into a sandstone structure.
Like I said this was one of my favorite places we stopped. So much history and so photogenic. I easily snapped a hundred photos!
Day 5 – Luxor – Valley of the Kings
The Valley of the Kings has 63 different royal tombs from the New Kingdom period (1550-1069 AD) all very different than each other. There is a rotation system for the tombs to ensure they do not get ruined by tourists through over use and carbon dioxide and humidity (supposedly the average tourist sweats out 2.8kgs of sweat) and this affects the paintings.
The ticket to the Valley of the Kings costs $6 or 100 Egyptian pounds and includes entrance to three tombs. Again this is so they can rotate the tombs that are open and preserve the tombs. King Tut's tomb is an extra 100 Egyptian pounds. The three tombs I visited were Ramsey I, Merenptah, and Ramsey IV along with King Tutankhamun.
Merenptah was Ramsey II 13th son and the only one to outlive him. He has the second biggest tomb in the valley. He was buried in four stone sarcophagi, three of granite and the fourth of alabaster. Much of the tomb is ornately decorated but unfortunately has faded.
Ramsey IV died before his tomb was completed.
The red granite sarcophagus is the largest in the valley. His mummy is in the Egyptian Museum in Cairo. There is a beautiful blue ceiling depicting the goddess Nut.
I also went into King Tut's tomb which I thought was a bit of a disappointment. You can see all of the items that came out of the tomb of which there are over 5,000 items in the Cairo museum. All that is left in his tomb is his mummy and the sarcophagus.
My problem with this is that you cannot even walk around in the different rooms there. Not entirely sure if it was worth the 100 pounds Egyptian but I've seen it now.
Ramsey I only ruled for a year so his temple is a very simple. Work on their tombs starts as soon as they start ruling so the longer they rule the more intricate the tombs are because they have had longer to work on them.
The paintings on the wall are lovely and this is where I got myself into trouble. You see you are not supposed to take photos in the tombs which I think is ridiculous as the only reason they do not want you to take pictures is so they can sell them to you. They will allow you to touch anything you want in the tombs.
One guide even had us stand on the railings so we could see the top of the tomb and how it was carved. Another took us into a room that was cordoned off and showed us a statue that was hidden but no you cannot take photos.
Day 6 – Aswan – Abu Simbel
The Abu Simbel temples are two massive rock temples in southern Egypt, near the border with Sudan about 230 km southwest of Aswan. They are situated on the western bank of Lake Nasser, in a Nubian village. The twin temples were originally carved out of the mountainside during the reign of Pharaoh Ramesses II in the 13th century BC, as a lasting monument to himself and his queen Nefertiti, to commemorate his victory at the Battle of Kadesh.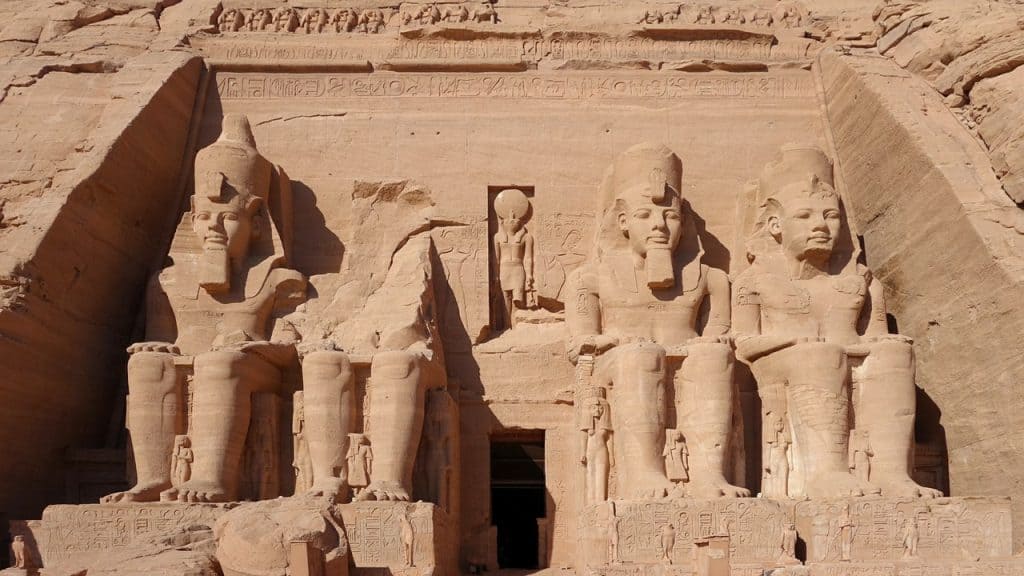 In the 1960s Egypt decided to build a dam on the Nile for hydropower. When they decided to build the dam, they knew some of the sites would be flooded so UNESCO got involved and a team was put together to move some of the sites. Philae was one of the sites and the other was Abu Simbel.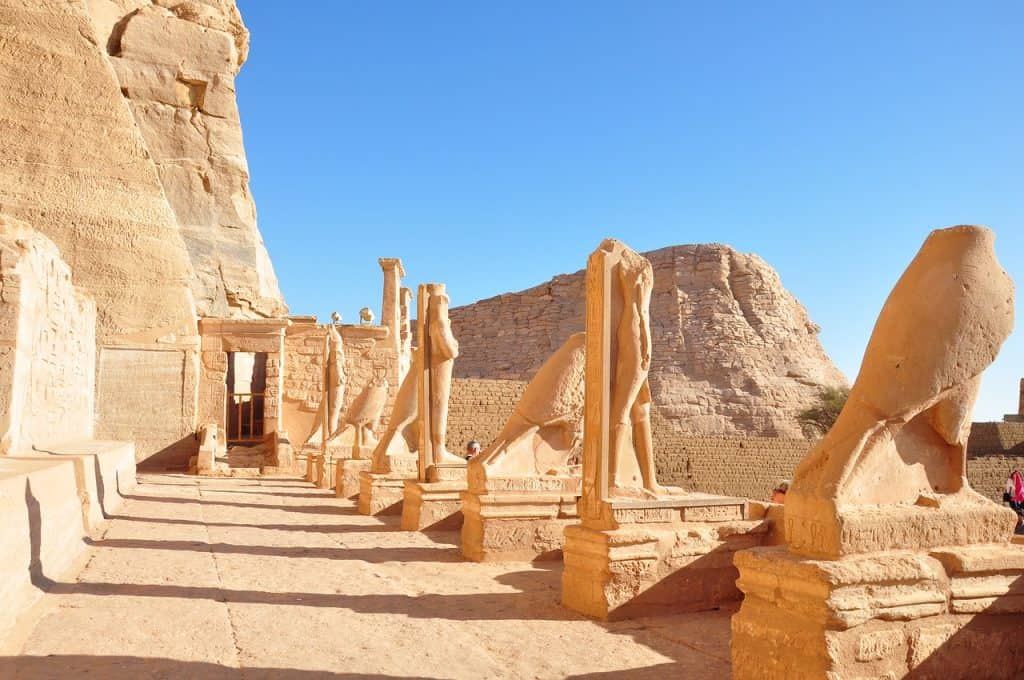 The complex was relocated in its entirety in 1968, on an artificial hill made from a domed structure, high above the Aswan High Dam reservoir. They moved the site block by block. The relocation of the temples was necessary to avoid their being submerged during the creation of Lake Nasser, the massive artificial water reservoir formed after the building of the Aswan High Dam on the Nile River.
Philae Temple
This is one of my favorite temples in Egypt and its just as much fun to get there as the temple is on its own island so you need to take a boat to the island.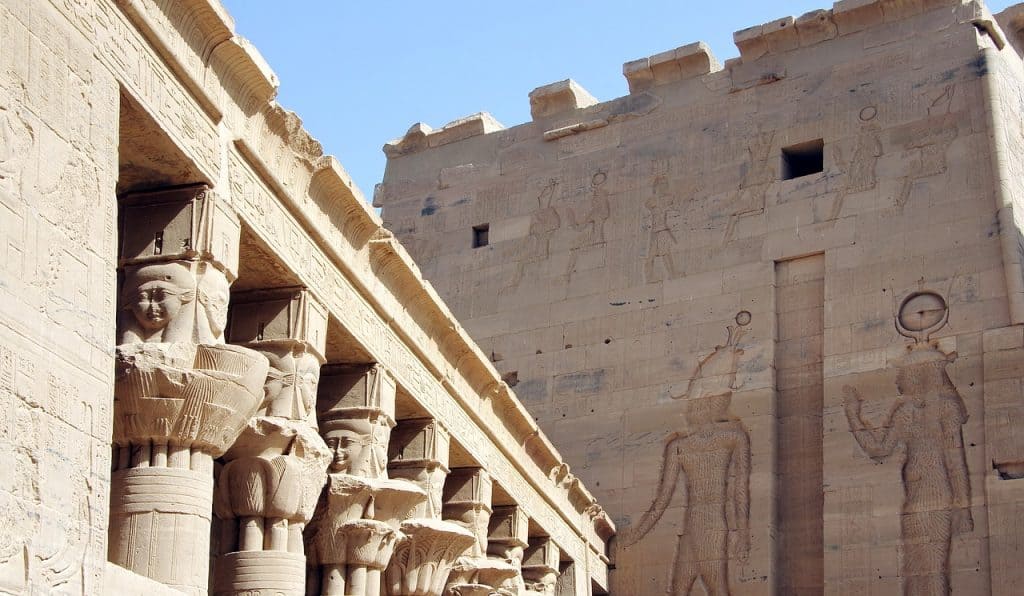 The temple is located on Agilkia Island in Lake Nasser. It costs $6 for the entrance fee and 120 Egyptian Pounds for the return boat ride. Do not pay more than that!
Nubian Museum
I really enjoyed the Nubian Museum and not just because it was 50 degrees Celcius when I visited Aswan but because it is a very interesting museum talking a lot about the hydro dam that was built and how they decided which sites to save (or should I say the UN decided).
Its really sad to think that there are all these beautiful sites under water in Egypt and there are lots of photos of some of the other sites.
Day 7 -– Fly back to Cairo
This concludes our Egypt Itinerary 7 days. You will fly back to Cairo and if you have time there is still lots to do there and you can revisit the Egyptian Museum as well.
Sharing is caring! Pin to save for later.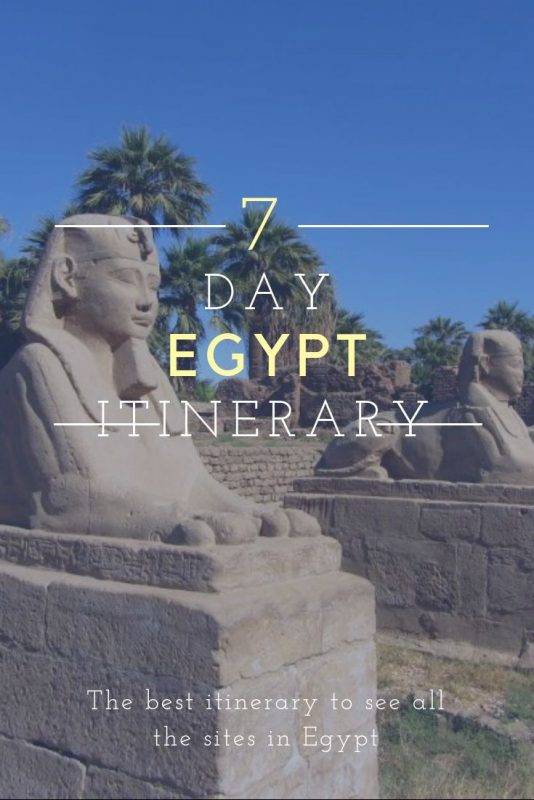 Recent Posts