15 Egypt Landmarks That Should be on Your Bucketlist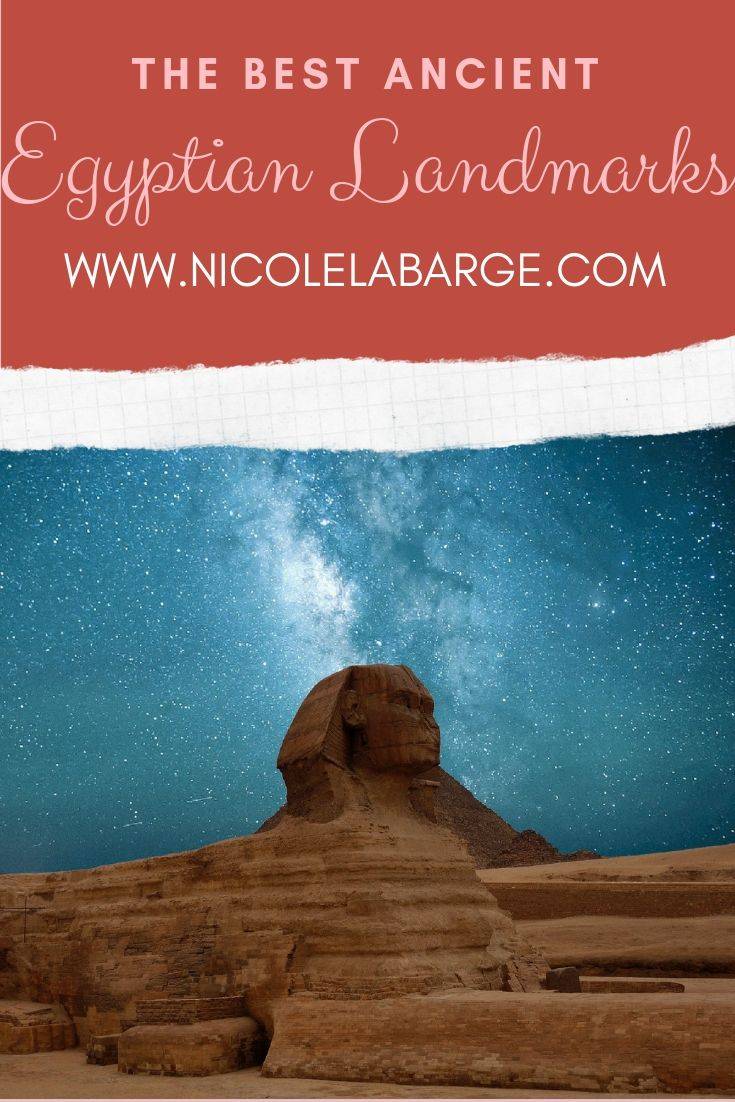 The Best Egyptian Landmarks – these are must see Landmarks in Egypt
Once you've seen this list of Landmarks in Egypt you will want to book your next trip!
I loved visiting Egypt for the history, culture and of course the food!  You can check out my one week Egypt Itinerary that covers all of these landmarks and includes sailing in a felucca down the Nile.  Its perfect for Egypt sightseeing to all the best places to visit in Egypt.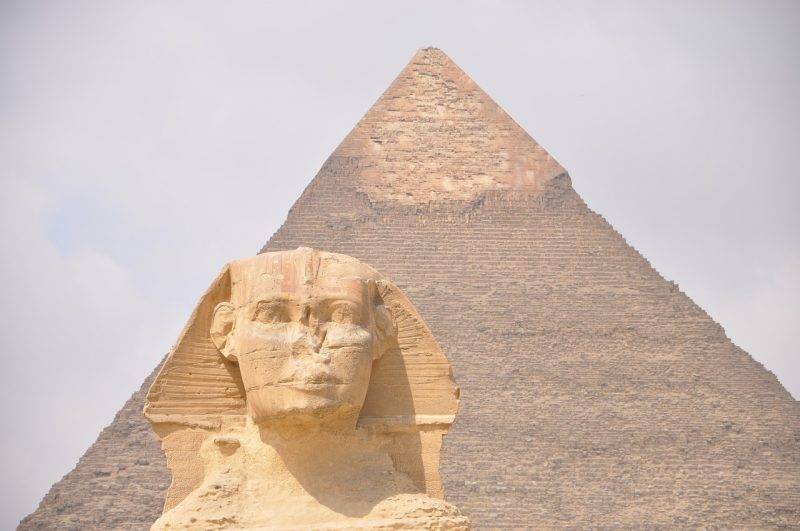 But first, let's cover these ancient Egyptian Landmarks.  This list has the must see landmarks in Egypt, where they are located, and why you should visit them!
Check out my post on the The 15 Safest countries in Africa to see where Egypt ranks!
Places to visit in Egypt that are Ancient Egyptian Landmarks and Egypt Points of Interest
1. Pyramids of Giza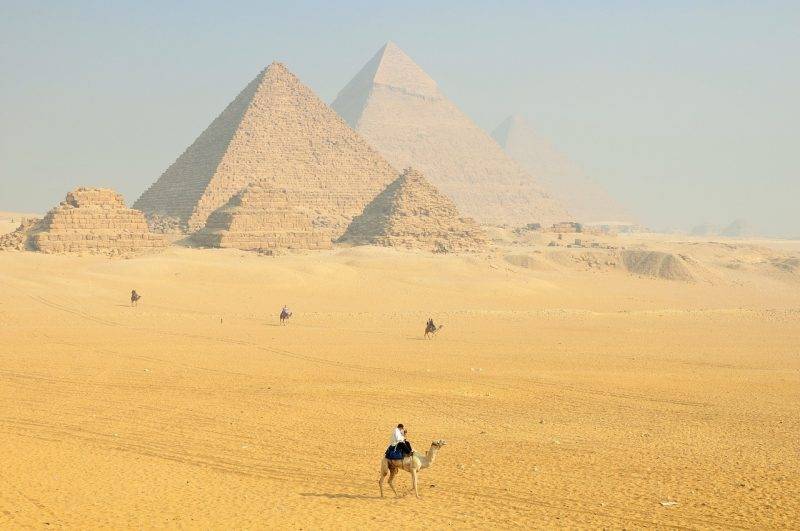 One of the most popular landmarks in Egypt is the Pyramids of Giza, which makes for the most picturesque scene amongst a backdrop of the neverending Egyptian desert.
The Pyramids of Giza are three pyramids that are truly mesmerizing and were built over 4500 years ago. Exactly how the pyramids were built is one of the biggest mysteries of Egypt today. These beautiful structures are the oldest of the seven wonders of the ancient world.
They are located just outside Cairo and the Giza complex is truly breathtaking and a popular place to visit amongst tourists all over the world.
2. The Sphinx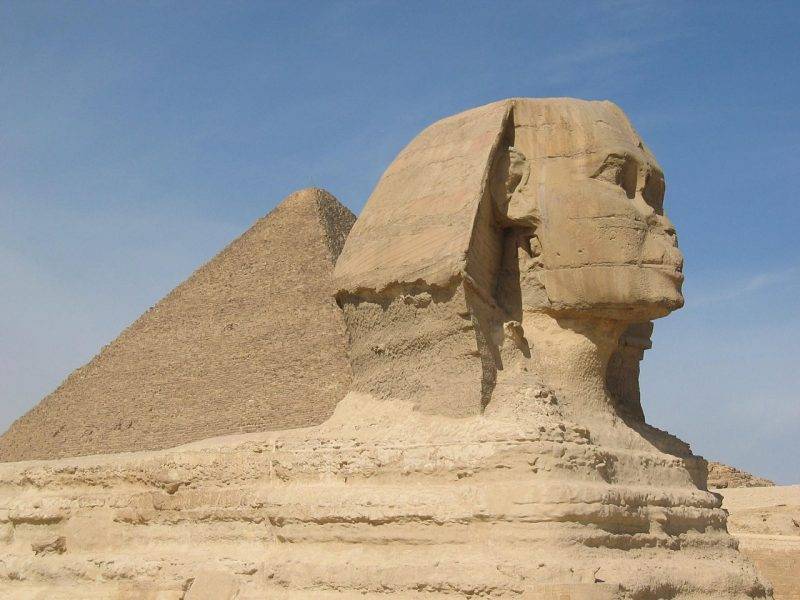 The Sphinx, otherwise known as The Great Sphinx of Giza is a huge statue that is made out of limestone. It has the face of King Khafre and the body of a lion's body which makes for a beautiful piece of art that has awed travelers for generations.
The Sphinx is one of the largest sculptures in the world. While the sphinx has suffered some deterioration over the years, it is still one of the greatest landmarks in the world.
It is actually situated opposite the pyramids of Giza and it faces east along the west bank of the river Nile. It is thought that The Sphinx was built in order to look over and protect the Giza plateau.
3. Egyptian Museum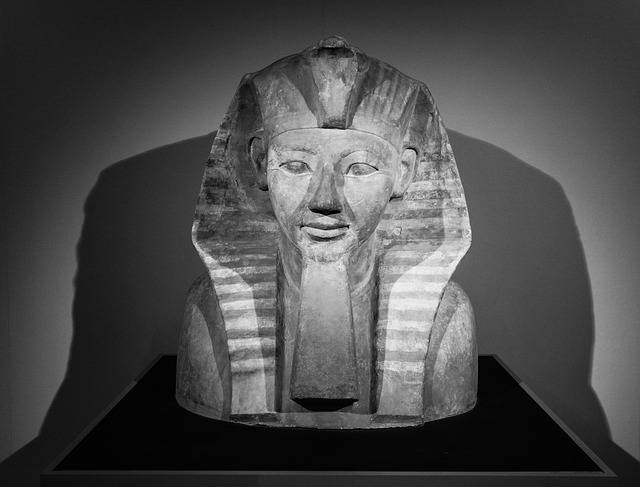 A museum, simply titled the Egyptian Museum is found in Cairo and it has an amazing collection of ancient artifacts.
The museum itself is pink and some of what is found inside include King Tutankhamen's treasure, jewelry, real mummies and toys/other artifacts that were popular to use a long time ago in Egypt.
You will feel like you are taking a journey through time when you explore this museum and it's a perfect place for the whole family to enjoy.
4. Valley of the Kings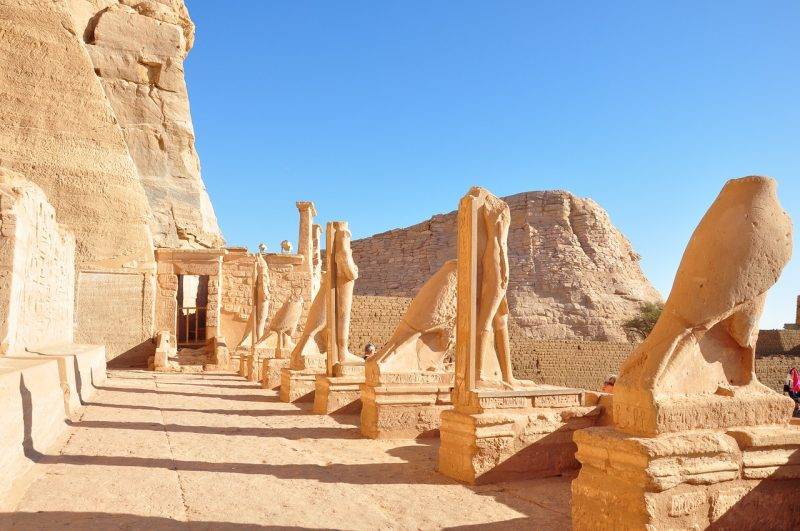 The Valley of the Kings is found just west of the Nile and is actually an ancient burial ground for almost all of the great kings who existed throughout Egypt's history.
Over a period of 500 years, rocks were cut and made into tombs in this area, which was assigned to different pharaohs and nobles.
The most popular tomb found here, is, of course, that of King Tutankhamen, which was discovered in pristine condition. It is a magnificent sight to behold and there are regular tours which will teach you all about the history and the in's and out's of the Valley of the Kings.
5. Karnak Temple

Luxor Sometimes known as simple 'Karnak', this is a collection of different kiosks, pylons, sanctuaries, and obelisks that are actually dedicated to the Theban Tribe and also the glory of the pharaohs in general. This is related very closely to the previously spoken about, Valley of the Kings.
The heart of this location is the Temple of Amun, which is known as the home of the local god. It is a very spiritual site but also very beautiful and popular with visitors from all over.
Visiting the Karnak Temple Luxor complex is truly an awe-inspiring experience that allows people to really experience the true culture and tradition of Egypt.
6. Abu Simbel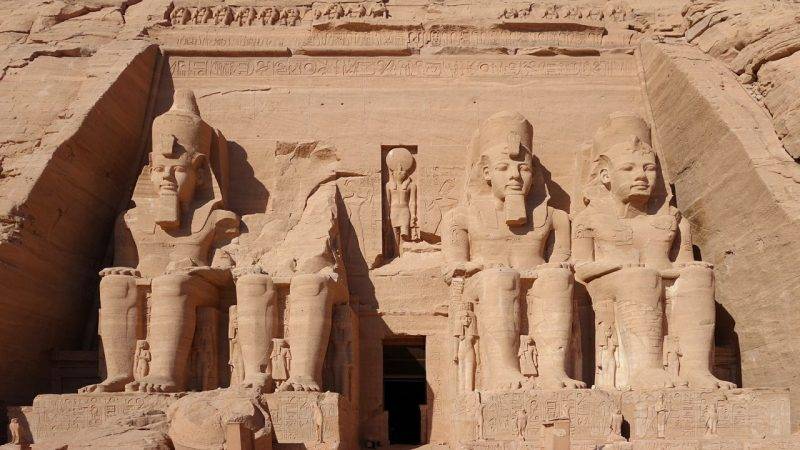 Staying on the subject of interesting temples, Abu Simbel is made up of two huge rock temples that are located in the village of Nubia.
Originally cut into a rock face, Abu Simbel was created by an ancient king and it stands almost in perfect condition to this day. At 98 feet tall and 115 meters wide, the temples depict Ramesses II on his throne and surrounded by smaller statues.
Visitors are allowed to go into this sacred site but no photography is allowed. Inside Abu Simbel and more colorful statues and carvings that look pretty incredible.
7. Alexandria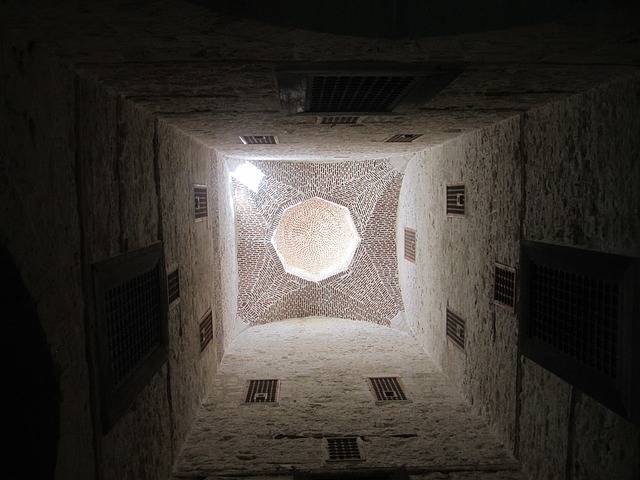 The second-largest city in Egypt is called Alexandria and it is a must-stop location for anybody looking to truly get to grips with this amazing country.
It was actually named after its founder, the one and only Alexander the Great and it has a really interesting historical background to it. It has amazing scenery, spellbinding beaches and home to many great landmarks.
This includes Montazah Palace, Qaitbay Castle and more. The atmosphere is great in this city, there is amazing street-food to sample and lots of shopping locations too.
8. St Catherine's Monastery and Mt Sinai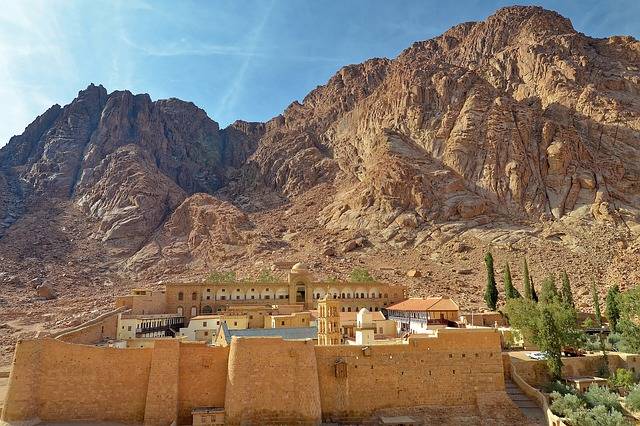 St Catherine's Monastery is an amazing piece of architecture that sits at the bottom of Mount Sinai, which really makes it two landmarks in one.
Moses is said to have received the ten commandments right here, which is one of the reasons why it is such a popular spot. There are many beautiful religious pieces of art at the monastery that can be appreciated by people from all walks of life.
The majority of tourists who come to this location will also take a hike up the mountain to see the most beautiful sunset and incredible views of Egypt in general.
9. Edfu Temple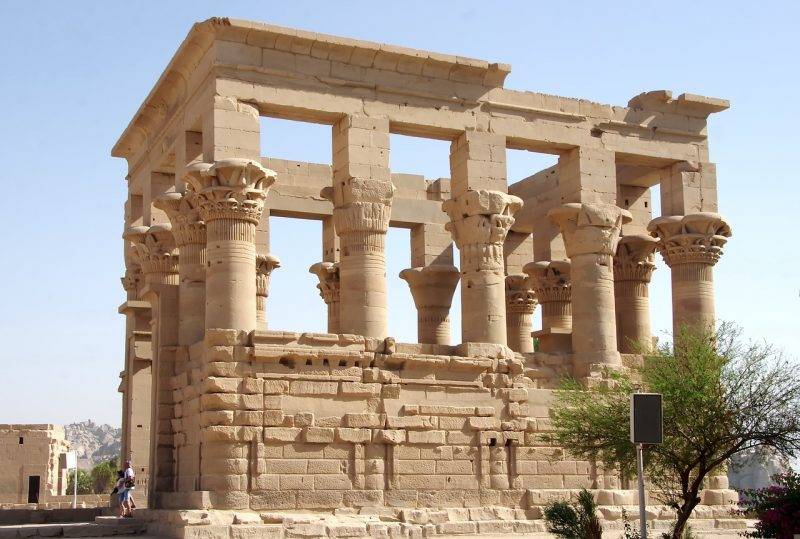 Located on the west bank of the Nile is Edfu Temple or as it is more commonly known, The Temple of Horus.
This landmark was known to have been built between 237 bc and 57 bc. It is preserved by desert sand and it is actually the most well-preserved monument throughout the whole of Egypt.
The temple is decorated in etchings of Horus himself of course, who is the son of Isis and Osiris. There are many tours offered of this temple and while there are many landmarks in Egypt, this one is worth seeing up close.
10. Saqqara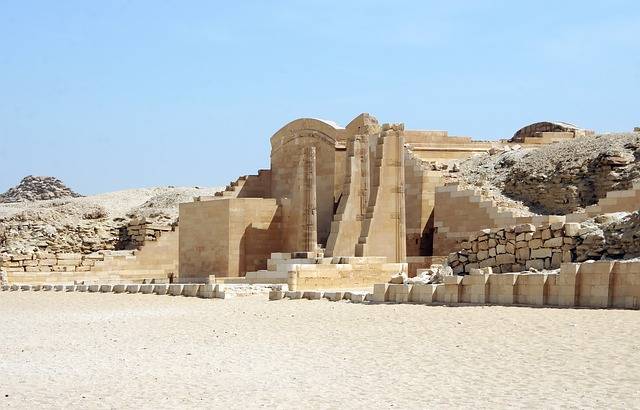 There are some lesser-known but just as cool pyramids found in Saqqara, which pay respect to the Old Kingdom Pharaohs.
As an ancient Egyptian burial ground, this is a sacred site and one that is to be appreciated. This is a really interesting archeological site and in addition to scriptures and lots of other interesting sights, are the red pyramid, the step pyramid, and the bent pyramid.
There are many monuments in the Old Kingdom to be explored for yourself. Saqqara is less packed with tourists than the Pyramids of Giza but still is pretty incredible.
11. Philae Temple
The Philae Temple Complex was constructed by Nectanebo I and acts as an insight into the religious transition that happened to Egypt, from paganism into Christianity, which is very interesting.
The actual location of the temple flooded some time ago which resulted in it painstakingly being moved to Agilikia Island. It is a really monumental temple that is a must-see for anyone who is interested in exploring the in-depth history of Egypt in a little more detail.
12. Temple of Kom Ombo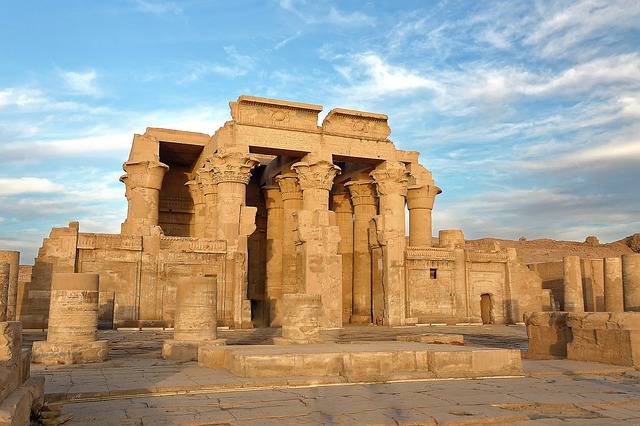 Another temple but just as stand-out as all the others in its own way, the Temple of Kom Ombo is truly beautiful.
The temple has been divided into two halves, that are completely identical to each other, which clearly took so much attention to detail when it was first built.
One half is dedicated to Horus the Elder and the other half is dedicated to Sobek, the crocodile god. Each half, made with rock contain the same hallway, sanctuary, and entrance. All the original colors and creative detailing are still inside this breathtaking temple.
13. Habu Temple
On the west bank of Luxor, you can find this temple, which is actually a mortuary temple for Ramasses III and built by the kind himself.
Dating back to the New Kingdom period, the temple covers more than 66,000 square feet. The temple was originally built as a place to worship the god Amun. Today, it is a well-preserved landmark that is popular with tourists all over the world.
The walls of the temple are covered in amazing reliefs which shows scenes of the defeat of the Sea Peoples, which happened during the reign of Ramasses III.
14. Colossi of Memnon
Two monumental statues make up the Colossi of Memnon and they actually represent Amenhotep III, from the ancient dynasty of Egypt.
The statues are quite a beautiful scene because they depict the king on his throne with his crown, complete with imagery of his mother, his wife, and other symbolic engravings. These statues originally acted as guards for the mortuary of Amenhotep III.
The tomb used to stand behind the statues before it was sadly destroyed by floods. The statues still exist however and they are free for tourists to visit and appreciate.
15. Catacombs of Kom El Shoqafa
We are ending with one of the seven wonders of the ancient world and that is the amazing Catacombs of Kom El Shaqafa, which are located in Alexandria.
This archeological site is home to 300 mummies and is a place to honor the dead. It is speculated that this underground tomb was originally meant for the resting place of one rich family but somehow expanded to something quite amazing over time.
The spiral staircase leads down to the burial chamber and the most beautiful etchings can be seen as you look around the catacombs. To some people, this might be pretty creepy but it's a historical landmark in Egypt that you just have to see for yourself.
Conclusion – The Best Landmarks in Egypt
I hope you have enjoyed this list.  I was able to visit all of these sites when I traveled from Cairo to Cape Town in 2015 (please do check the conditions on the Sinai Peninsula before you go).
Have you seen the Great Pyramids of Giza?  The Pyramids are definitely my favorite landmark in Egypt.  What do you think?  Which one is a must see for you?  Let me know in the comments below.
Sharing is Caring!  Pin this article to save for later
Continue Reading more articles on my website:
Recent Posts
link to 15 Best Airbnbs in Byron Bay, Australia
15 Awesome Airbnbs in Byron Bay, Australia Airbnb Byron Bay: Are you looking for the best Airbnbs in Byron Bay? Finding the right Byron Bay Airbnb for you does not need to be difficult. I have...
link to 15 Unique and Best Airbnbs in Portugal
Best Airbnbs in Portugal - covering all the popular destinations in Portugal Portugal Airbnb: Are you looking for the best Airbnbs in Portugal? Well, as I was researching moving to Portugal I...