12 Best Fanny Packs for Travel: How to choose the best fanny pack for travel

Why you should use a travel fanny pack: Have you ever been traveling through an airport and not had enough hands to carry everything?
When you need your passport and wallet quickly without having to rummage around in your backpack trying to find them, a fanny pack can be worn around your waist or in other ways for easy access to your belongings.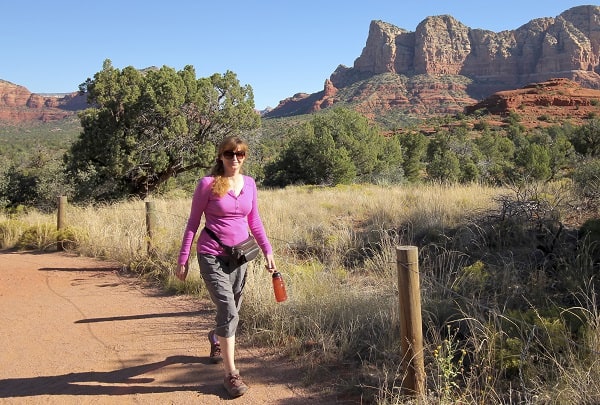 Or have you ever been traveling on a train or bus and worn your backpack on your front as you are scared something might get stolen from it?
A fanny pack is an ideal way of traveling with your belongings in eyesight the whole time, some can even be hidden out of sight underneath clothing. A fanny pack provides a safe way to travel with personal and valuable items within your reach at all times.
Fanny packs have come a long way since the 90s. They are now more streamlined and versatile to wear. You can choose to wear it around your waist or as a crossbody bag.
And when you are traveling a fanny pack can be critical for keeping everything organized.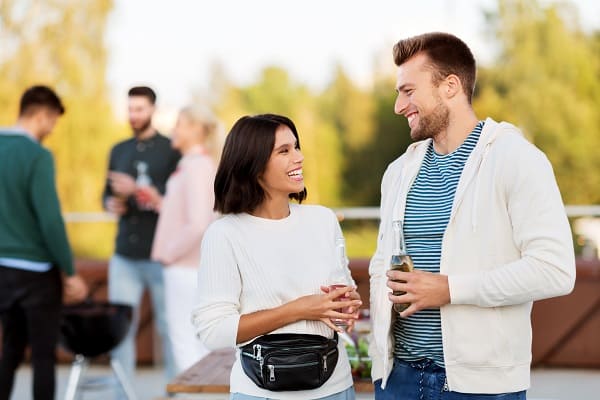 Plus there is a bit of nostalgia for me and wearing one. Picture 16 year old Nicole rocking her evergreen leather Eddie Bauer fanny pack around France in 1994. I love the pictures of me wearing this!
Believe me, fashion has evolved since then and there are some much better travel fanny packs on this list. I've included the features to look for, a comprehensive list of fanny packs and the pros and cons of each so you can choose the right one for you!

Best Travel Fanny Pack Features
If you are looking for the best travel fanny packs, these are the features you need to think about.
Straps
One of the great features of fanny packs is their straps. Fanny packs come in multiple shapes and sizes, some can be used solely as fanny packs while others have multiple use straps. Several fanny packs in this list feature straps which are adjustable and can be used in multiple ways, such as waist straps, over the shoulder, crossbody in the front, or crossbody in the back. Your needs and requirements for the fanny pack depend on how you would wear them.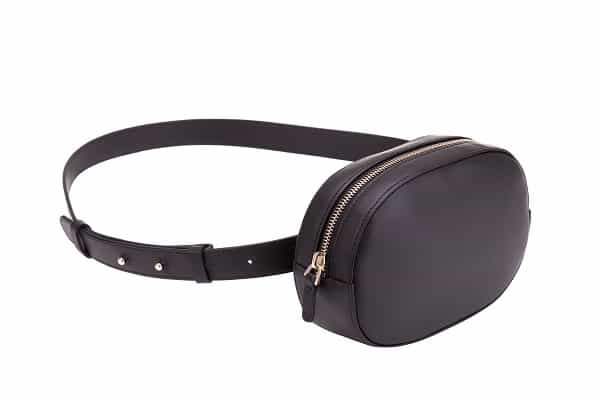 Anti-theft Features
Many fanny packs featured in our list have anti-theft features such as slash-resistant straps, slash-resistant materials in the front and back, lockable zippers, made from waterproof material, RFID card blocking pockets, and safety clips on straps meaning they can be attached and tied around an object such as a chair or table leg, to prevent them from being stolen in a restaurant or cafe.
I also have articles on the Best Anti-theft backpacks for travel and the best sling bags for travel if you are looking for more options.

Size
The size of a fanny pack for travel depends on your needs and requirements, do you want to use it for traveling solely, through the airport, or for exploring a city?
The fanny packs we feature in this list all have different shapes and sizes, some will fit in small items and others will fit in small water bottles and everyday use items. Some fanny packs are small enough to be concealed underneath coats or clothes and others are large. It depends on what you wish to use the bag for as to which you choose.

Weight
Some fanny packs are made of lightweight materials and can be folded up small enough to be used when traveling or to fit inside a safe in a hotel room. Others are large more like small bags but can fit more items inside.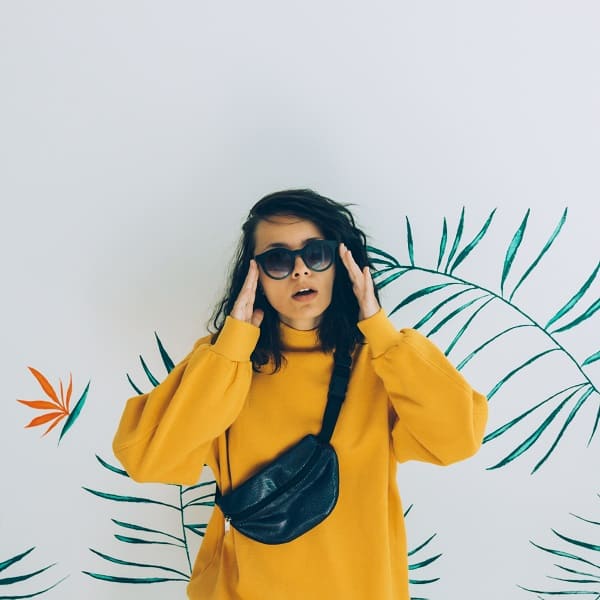 Pockets
Fanny packs come in a variety of sizes and are all divided up differently. Some have small rear pockets for valuables, some have zippered inside pockets, others have big compartments, and one fanny pack in our list has six pockets.
Best Travel Fanny Packs: Picking the Best Travel Waist Pack
Waist fanny packs are making a big comeback because of their functionality. If you are traveling, fanny packs are the way to go. Check out the best fanny packs.
Here are some of the best fanny pack brands – Travelon, Eagle Creek, Herschel, Jansport. All of them on the list are high quality fanny packs and this is the one I use.
1. Travelon Anti-Theft Concealed Carry bag – Best Waist Pack for Travel And Secure Fanny Pack

The Travelon Anti-Theft bag is one of the best waist packs for travel and they pride themselves on being one of the best anti-theft fanny packs on the market, with many features to keep your content safe and valuables sealed away.
This fanny pack is ideal for travel as it comes with a large number of safety features including RFID card blocking, a slash-resistant strap, locking straps, zippered compartments, and slash-resistant mesh body panels. This fanny pack has multiple compartments and comes in black. It is great for traveling as it is quite large and can fit everything you need to explore a city or keep everything safe when walking around.
Features of this travel waist pack
• Slash proof pockets
• Zippered pockets
• RFID card blocking
• Passport slot
• Slash resistant strap
• Slash resistant mesh body panel
2.  Kipling Women's Multiple Shoulder Bag – travel fanny pack

The Kipling Women's multiple strap shoulder bag is available in black and navy blue, with both a shoulder and waist strap. This fanny pack is great for travel as it can be used in multiple ways and is big enough to fit a large number of items in its many pockets. Each compartment is zippered and it also features an inside zippered pocket to store valuables. This bag is lightweight making it perfect to use as a travel everyday bag to explore a new area, or keep your valuables safe while traveling.


Features
• Waistband and shoulder strap
• Zipped closure
• Lightweight
• Inside zippered pocket
• Dimensions 7 1/4" L x 5" H x 2 1/2" D


3. Herschel Supply Company Sport Waist Pack – best waist bag for travel

The Herschel belt bag fanny pack is ideal for travel with a 3.5-liter capacity, you can explore a city and travel keeping your valuables safe while also being hands-free. It comes in 28 colors including black, pink, navy, multicolored, blue, and many more colors.
The fanny pack has a waterproof zip front pocket and a zippered main pocket. This fanny pack can be worn around the waist with an adjustable was it strap and clip fastening.

Features
• Comes in 28 colors
• Dimensions 6.75" H x 10" W x 3.25" D and holds 3.5L
• Waterproof zipper
• Front storage pocket
• Clip fastening adjustable webbing strap
• Key clip

4.  Peil Leather Travelers Waist Bag – fanny pack travel

The Peil Leather traveler's waist bag is a waist pouch bag made from high-quality leather and is handcrafted in Colombia. The fanny pack has two zippered pockets, a large main pocket, and a front pocket. The Peil leather fanny pack has an adjustable waist strap which adjusts between 26inches and 32 inches. This fanny pack is great for traveling as it is made from long-lasting material and has space for valuable items.

Features
• High-quality leather
• Two zipped pockets
• Available in three colors
• Adjustable waist strap ranging from 26" to 32"
• Dimensions 9 x6 x 2.5 inches
5. Travelon Women's Classic Convertible Crossbody & Waist Bag – RFID fanny pack

This Travelon Classic crossbody and waist bag can be worn as a fanny pack and as a shoulder bag, with all the anti-theft features you would expect with a Travelon product.
This bag has many anti-theft features which include locking compartments, slash-resistant fabric, slash-resistant straps, RFID blocking pockets, and a key clip. This fanny pack is great for traveling with multiple lockable pockets and compartments and is compact.
When traveling it has a removable double way strap, which is clipped on and can be clipped to chair legs etc for safety. The bag is available in three colors black, purple, and navy.


Features
• Locking compartments
• Slash-resistant construction
• Slash-resistant strap
• Can be worn around the waist or as a shoulder bag
• RFID blocking passport compartment
• Card slots
• Zip pocket
• Key clip with LED light
• Dimensions 5.1 x 20.3 x 17.8 cm

6. Eagle Creek Wayfinder Waist Pack – best hip pack And cool fanny pack for guys
The Wayfinder Waist Pack is your new lightweight and handsfree companion for day trips, festivals, and international vacations. With a fleece lined pocket to protect your electronics and webbing loops for attaching gear or a light, this waist pack has the organization and safety features to keep you moving forward.
Features
Unique fabric that is made from recycled materials.
Quick stash front zippered pocket.
Side pocket for water bottle.
Waist band can be adjusted up to 56″.
Features side webbing loops for adding gear.
7.  Jansport Fifth Avenue Accessories – small waist pack and fanny pack, hiking

The Jansport Fifth Avenue fanny pack is lightweight and available in 11 colors from the black, navy, blue, and multi-colored. The fanny pack is great for travel as it has a large main compartment and a zippered front pocket.
This fanny pack has an adjustable waist strap with a rear-facing pocket which prevents items from being stolen. This fanny pack is ideal for traveling and storing small personal items giving you hands free movement.

Features
• Adjustable was it strap
• Reared zip compartment
• Large main compartment
• Headphone exit
• Dimensions 10.2 x 15.2 x 31.8 cm

8.  Han Cheng He Fanny Pack Bag  – leather fanny pack

The Han Cheng He fanny pack is a high-quality fanny pack with neat stitching and has multiple pockets. The fanny pack is great for traveling as it is small and lightweight (0.5kg) with a high-quality durable waist strap, which is abrasion-resistant as well as water-resistant and washable. The fanny pack can be used as a chest bag, shoulder bag, and crossbody bag.

Features
• It can be used as a crossbody bag, a shoulder bag, and a waist bag.
• Waterproof
• Dimensions 34 x 5 x17cm
• Made from high-quality fabric
9.  FREETOO Waist Pack Bag Fanny Pack

The FREETOO fanny pack has 6 zippered pockets – a coin pocket, front pocket, middle pocket, main pocket, back pocket, and a secret pocket. The bag has a large capacity and can even fit a 16oz (500ml) water bottle inside.
This bag comes with an adjustable strap that can be converted and the can be worn in multiple ways including as a waist strap, shoulder strap, crossbody strap, and front-body strap. This fanny pack is ideal for travel as is can be used everyday travel, exploring cities, carrying small items when hiking, walking, running, biking, and everyday use.
This fanny pack is also waterproof so it ideal for water sports and other adventure activities.

Features
• 5 zippered pockets
• Can hold a 16oz water bottle
• Hidden pocket
• Waterproof
• Adjustable and convertible strap
• Dimensions 7.8" L x 5.11" H x 3.94" W
10.  Travelon Anti-theft Waist Pack – travel waist bag
The Travelon Anti-theft waist pack is a small fanny pack with all the standard safety features you would find with any other Travelon product.
The anti-theft features this fanny pack includes are slash resistant mesh body panels and strap, an RFID blocking pocket, a locking straps, and locking compartments. The Travelon Anti-theft waist pack also features a water bottle pull out mesh attachment and large compartments.
The fanny pack is available in three colors black, grey, and lush blue. It is great for traveling, hiking (with the water bottle attachment), walking, exploring cities, and traveling on public transport.

Features
• Locking compartments
• RFID blocking compartment
• Pull out water
• Adjustable waist strap up to 50 inches
• Slash-resistant mesh body panels and strap
• Locking straps and compartments

11.  Pacsafe Venturesafe X Waistpack Anti-theft  – anti theft Fanny pack

Pacsafe is another brand that is known by travelers for having extra safety features and this fanny pack is no different. The Venturesafe waist pack has multiple anti-theft features including RFID safe blocking pockets and material to keep ID and cards safe when traveling.
The fanny pack also has a Roobar Sport locking system which ensures zippers are safely locked away to prevent them from being unwillingly opened. The bag features a PopNLock security clip which can be used to attach the bag to a chair leg or around another item to stop it from being stolen.
The fanny pack has both a stainless steel slash guard wire mesh located within the fabric of the bag as well as in the strap. It has a waist strap that is adjustable and it great for travelers who want to keep belongings safe and secure when hiking, exploring a city, or general traveling.

Features
• Available in 2 colors
• Dimensions 38cm W x 12cm D x 18cm H
• RFID card blocking
• PopNLock security clip
• Roobar – Sport locking system (zippers)
• eXomesh Slashguard wire mesh
• eXomesh carry safe slash-guard strap
• Double stainless steel wire straps

12. Pacsafe Luggage Slingsafe – fanny pack around shoulder And anti theft waist pack
Comfortable sling purse & hip pouch with fashionable asymmetrical bias and anti-theft technologies; ideal for adventures abroad.
Slim, sporty, and lightweight, the fashionable yet functional Slingsafe anti-theft sling purse & hip pouch from Pacsafe can be worn cross body or around the waist, while its security features provide peace of mind as you make your way around town.  
13. NCCDY Fanny Packs for Women – discreet fancy pack
Perfect size, not bulky, for small things like cash, coins, cards, receipts, keys. Fit different outfits, also can be carried as a chest bag or mini shoulder pack.
Fashion and cute for travel, shopping, daily, and etc.
14. Outdoor Waist Pack Bag Pocket Waterproof – high end fanny pack
It can be adjusted to any length you want and will remain at your chosen length. This waist bag is sturdy. It'll make a great addition to your daily errands and outdoor activities, perfect for walking, running, biking, hiking, traveling, festivals.
15. CXWMZY Waist Pack Bag Fanny Pack – purse that goes around waist and Hip Bum Bag
The CXWMZY Waist Bag is a great way to go hands free. This nylon hip bag is perfect for biking around town, festivals, fairs, concerts and farmers markets.
Created with a simple design which blends with any style closed with a sturdy zipper. The bag can carry a phone, cash, cards plus a few other essentials and can be worn on your hip, over the shoulder or tight under your arm.
Conclusion: Best Fanny Pack for Travel

Fanny packs for travel are a personal preference, with many people opting to wear them to keep their valuables safe and within eyesight, while also keeping their hands free. The fanny packs featured in our list all have different features and additions, from large to small, anti-theft features, multi-wear straps, and many other features.
Sharing is Caring! Pin this article to save for later.
Continue Reading more on my website about travel gear:
Best Wheeled Backpacks for Travel
Best Filtered Water Bottle for Travel
Best Minimalist Backpack for Travel