23 Best Places to Visit in Colombia
This Ultimate Guide to Colombia has the 23 Best Places to Visit in Colombia and essential travel info for planning your trip.  Colombia has something for everyone whether you are looking to visit beaches or coffee plantations you will find it all in Colombia.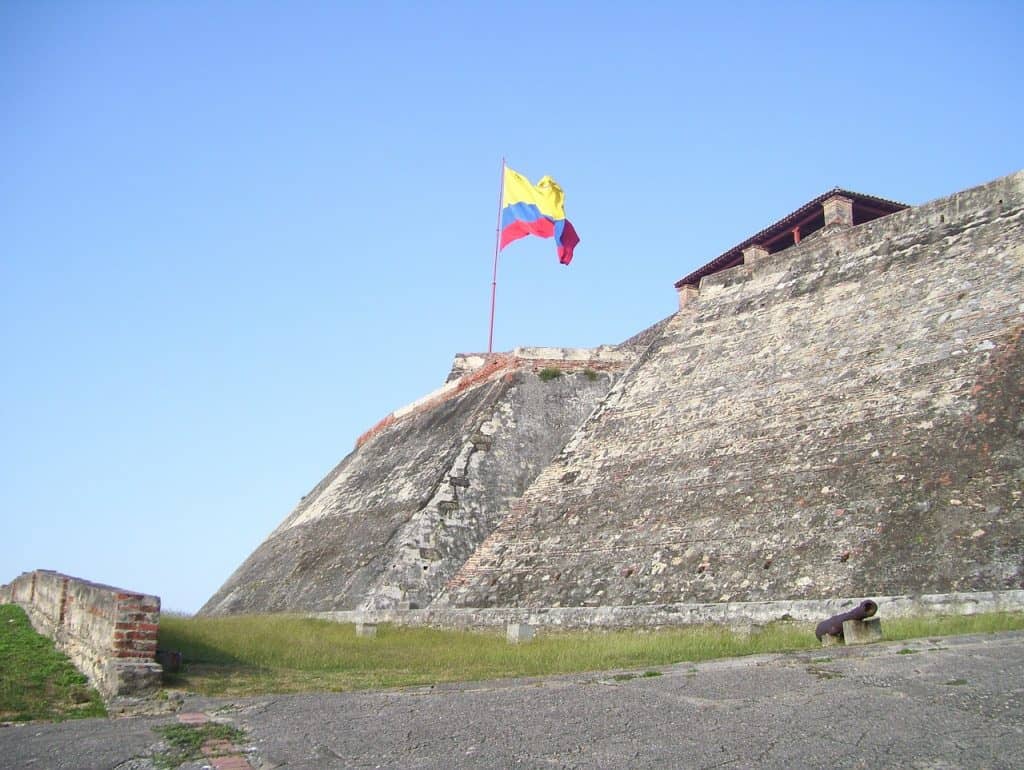 Colombia is so much more than just a tourist destination – its a foodie heaven!  Try local Colombian coffee, fruit juices and arepas and more.  You will not want to miss out on what Colombia has to offer.
Check out my post on the 12 Safest Countries in South America to see where Colombia ranks!
When is the best time to visit Colombia?
When is the best time to visit Colombia is when you can avoid the tourists and the rain.  Colombia has two seasons – wet and dry.  And with the wet comes the humidity and with the dry comes the tourists.
Check out these interesting facts on Colombia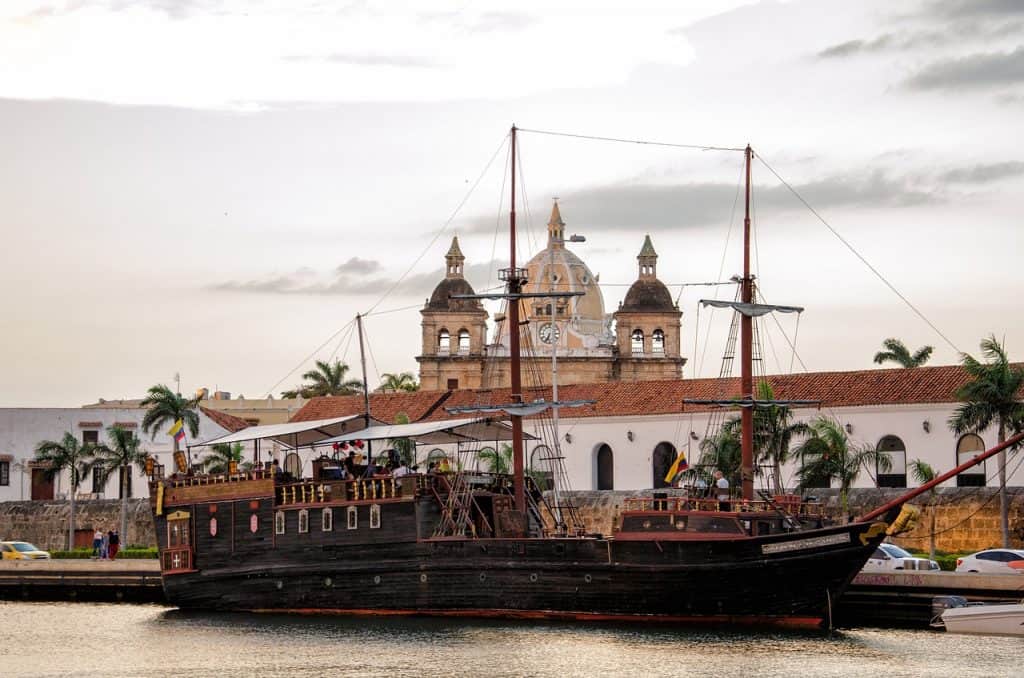 The dry season runs from December to March but lots of tourists.
The wet season runs from April to June.
The high season is July to August is the high season for North American tourists.
September and October are the best time to avoid the crowds and the rain.  I would also include the end of March and the beginning of April as long as this is not over Easter as that is a high travel time in Colombia.
Remember though, Colombia is a large country and the temperature and weather is different. Here is a guide to backpacking Colombia.
Best Places to Visit in Colombia – Top Colombia Destinations
Cartagena, Colombia
If you do want to tick off some sights, check out the Palace of the Inquisition, the fort and the little Gold Museum (which is free). There are also beaches and islands nearby. It does get incredibly hot in Cartagena, but that's okay because there are countless cute little cafes where you can sit under ceiling fans sipping iced lemonade frappes whilst doing a spot of people watching. The streets are also lined with colourful upmarket boutiques so if shopping is your thing then make sure you have plenty of space left in that suitcase.
Heather Cole of Conversant Traveller
Travelgal Nicole says Cartagena is one of my favourite cities in Colombia and is the highlight of the Ultimate Guide Colombia in my opinion.
Best time to visit Cartagena de Indias –
The best time to visit Cartagena is between December and March but this is also peak travel season and the prices in Cartagena increase. I recommend visiting in September or October as the weather is getting better or March towards the end of the high season.
Any traveller to Colombia should include a couple of days in the legendary Caribbean coastal city of Cartagena de Indias. Not because there's a lot of sightseeing to do, but because it's the sort of magical place to simply stroll through the streets, soaking up the atmosphere, and visualising the intriguing history that has shaped the Old Town, which is a UNESCO World Heritage Site. The indulgent colonial architecture, quaint cobbled streets draped with bougainvillea, and decorative churches all conspire to pull you in and never allow you to leave. It's the sort of place you could spend a long time doing nothing in particular.
Make sure you save some time to visit San Andreas Island.
Cartagena Colombia Safety
Colombia's reputation as a drug country precedes itself.  But is Cartagena Colombia safe?
Colombia is not as bad as it once was and I feel you need to use the same precautions and common sense as you would in any country.
Always try to keep a low profile and do not flash your money or valuables.  I also do not recommend carrying all of your cash or all of your bank cards at once so that you have backups stashed away in your hotel and in your luggage.
I also recommend you only use licensed taxis and research your day trips and use reputable companies.  And of course do not get drunk in public.  Going out for a drink is one thing but staying out all night and not remembering where you are staying is another.
Mud volcano near Cartagena.
For a memorable experience, hike the 50-foot-tall Volcán de Lodo El Totumo in Cartagena where you can propel your body inside an active volcano! Local legend believes that the once-explosive volcano was tamed by a cleric who used holy water to transform the fiery lava into healing mud. At the top you jump right into the natural mud bath but don't expect to sink, you will actually float. As you enjoy the gooey goodness, an attendee will massage the therapeutic mud into your skin which is enriched with benefiting natural minerals of calcium, magnesium, and aluminium.
After your soak and scrub in the mud, your attendee will help you make your way back down the volcano and into the fresh water below where they'll bathe you until your squeaky clean. Your skin will thank you for this awesome adventure in Colombia! I was there almost a decade ago and it is still one of my favourite travel memories.
Lola Méndez of Miss Filatelista
Visit the islands around Cartagena
The beaches in Cartagena are stunning. The best way to get in beach time is to rent a private boat for the day and go to the 3 main island spots; the Rosario Islands, Cholón & Playa Blanca. The Rosario Islands is a 45-minute boat ride and has crystal clear waters that make for the best snorkelling. Your boat will anchor in the water and you can snorkel and see the sea life.
Next, you will head to Cholón, the party island. It is a semi-circle of huts in the water and boats dock around the huts and party. They blast music and dance on the boats and the water. They are also known for lunch (which you eat in the water under the huts). Get the red snapper – it is the best fish I have ever eaten.
Lastly, head to Playa Blanca, the prettiest beach among them all. It is also the most touristy; make sure your boat anchors at the end where there are few people. The sand is pristine white and the water is gorgeous. Relax for the afternoon before heading back to Cartagena.
Rachel of East to West 
Travelgal Nicole says – this is one of the best places to visit in Colombia.  I loved the islands near Cartagena.
Bogota Graffiti Tour
You know I had to add one of my own suggestions to the Ultimate Guide Colombia!
While I was in Bogota I did one of my favourite activities – a free street art walk.  The original and authentic graffiti and street art tour that is actually run and guided by street artists and people directly involved in the Bogota urban art scene.
The tours run twice daily for two hours.  It also ends near my favourite restaurant I went to while in Colombia called Sant Just in Candelabria.  The menu changes daily and there is also some great graffiti on the building as well.
Canoeing in Tobia
Bogota is the capital city of Colombia and an awesome base in the country to visit gems further afield, like the small agricultural town of Tobia.
We visited Tobia as part of a day trip from Bogota. It's around 2 hours away, and it's a popular retreat for locals to go on weekends for adventure sport. You can go rafting in the Tiger Creek Mountain, rappelling down the 75m (246ft) Barandillas waterfall and rafting down the wild rapids of the Rio Negro.
Our favourite was canoeing. We were a group of 4 with a leader who would tell us which direction to paddle in, when to crouch down to avoid over turning, angle left/right so to keep the boat balance and more. He made absolute sure we all ended up in the Rio Negro of course, but it's a great way to cool down in the Colombian hot weather.
We loved our day of rafting to Tobia and definitely recommend it to all travellers in Colombia looking for a fun day of adventure.
Stefan of Nomadic Boys
San Gil
Colombia is famous for its amazing Andean mountains, unreal Caribbean coast, wild Amazon jungle and beautiful colonial towns. The town of San Gil has an amazing variety of activities to get the adrenaline pumping in its beautiful surrounding mountains. Our favourites were paragliding, white water rafting and hiking. There is very little rain and great thermal currents in the Chicamocha Canyon making it one of the best paragliding spots in the world. Strapping a parachute to your back and running off a cliff to catch thermals high above is an unreal experience. The views are spectacular soaring 3000m above the canyons.
There was plenty of action white water rafting on the Rio Suarez River, going through some big waves while riding its crazy class 4 and 5 rapids and swimming down current if going overboard! We have fond memories of the hikes we did while backpacking in Colombia. You can hike independent around San Gil for a couple of days, staying in some of the beautiful colonial villages in the area. All activities we did from San Gil were very well priced and we had a lot of fun with the professional crews.
Ayla of Stingy Nomads
Hiking in Villa de Leyva
Travellers often visit Villa de Leyva because of its laid-back vibe and beautifully-preserved buildings, but what isn't talked about as much is that it's a great base for some really cool hiking trips.
There are lots of short hikes straight out of the village – my favourite was one which passed a few waterfalls before rewarding you for your effort with a great birds-eye view of Villa de Leyva and its surrounds.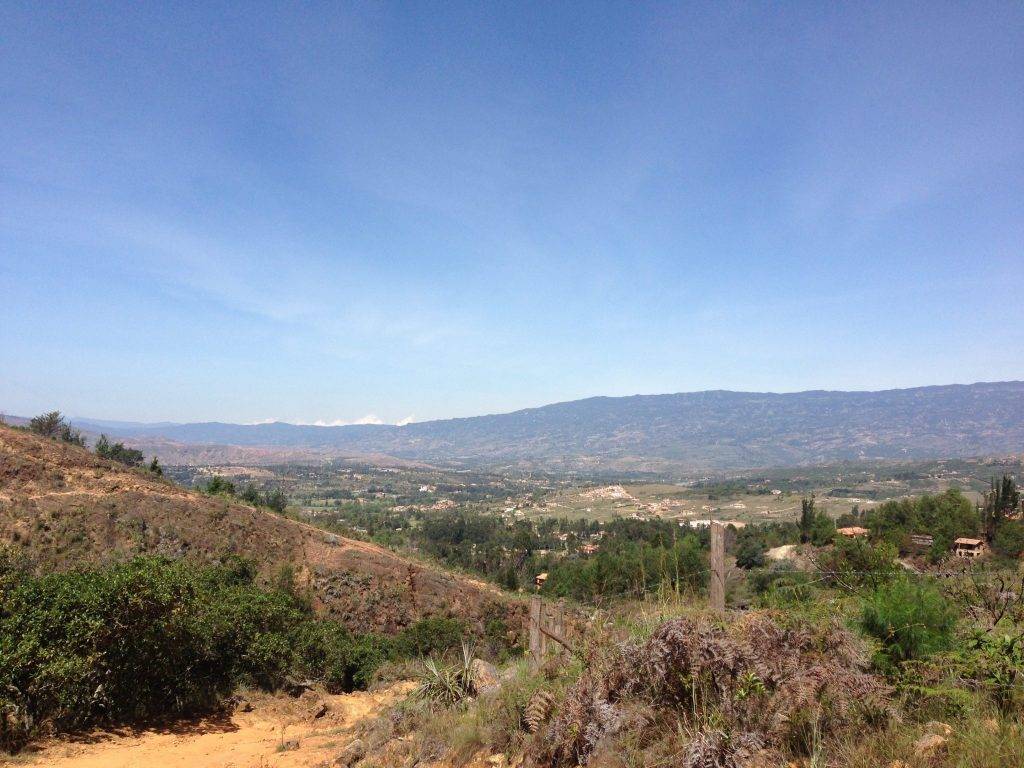 A bit tougher, but equally rewarding was a hike in the nearby Santuario de Flora y Fauna Iguaque National Park. You have to take a bus to get to the starting point of the trail, but from there you climb up to a 3800-high Laguna Iguaque – it's three hours (more if, like me, you struggle with uphills) but you pass through rainforest, sub-páramo, and páramo by the time you reach the top. The changing surroundings distract you from the long hike and the laguna itself is beautiful. Definitely worth the effort.
Julianna Barnaby – The Discoveries Of
Tatacoa Desert
Located in central Colombia, around six hours south of Bogota, the Tatacoa Desert is a great place to get away from the crowds and into some unique nature. There are several guesthouses lining the main road through the desert — they are basic but you really only need to spend a night in this area to see most things of interest.
There are two main sections of desert to walk through, the best being El Cusco (Red Desert). There you'll see dozens of weather-worn red hills and the winding canyons between them.  Los Hoyos (Grey Desert) isn't quite as striking, but it's still worth checking out. There is a track which follows a dried up river bed through a cracked, colourless landscape.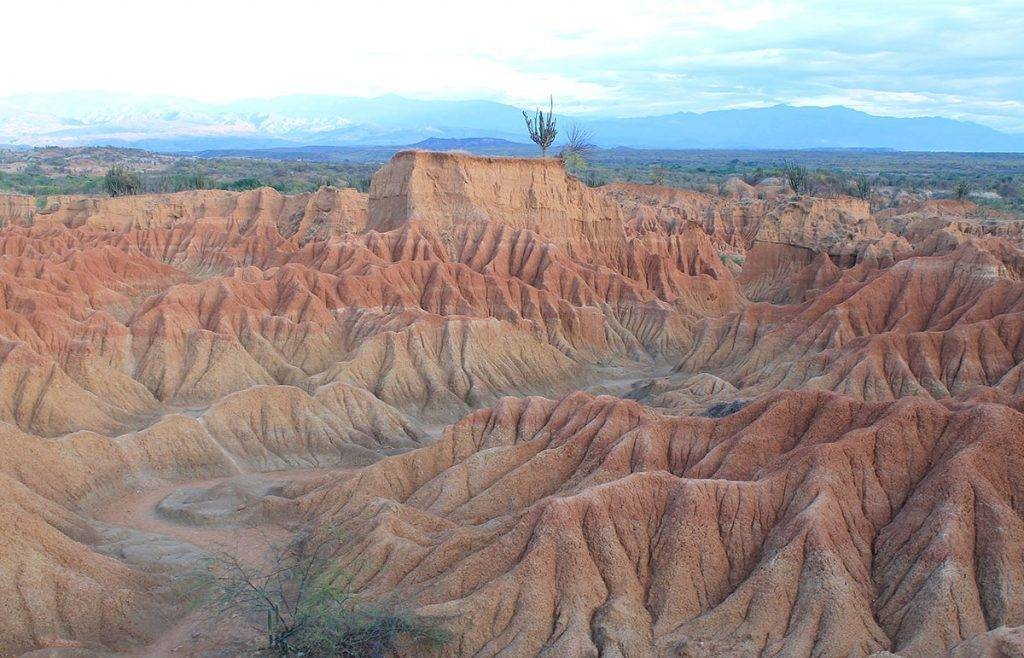 You can walk between the two sections of desert, join a tour or organise your own transport. The bits in between are interesting as well. It took us around two hours to walk between the two sections of desert — leave early if you decide to do the same as it obviously gets very hot in the afternoon.
Taganga, Santa Marta
Taganga, Santa Marta is typically referred to as a small Colombian fishing village but Taganga is indisputably a party town. This is evident from its beachfront reggae bars, 2for1 cocktails and police presence. In Central and South America the general feeling surrounding Tagana is mixed and every traveller you meet will share a different opinion. If you enjoy fiery sunsets on the beach, rum based cocktails at midnight and music loud enough to make your head spin Taganga is a must for you.
Days in Taganga can be filled with diving and boat trips into the Tayrona National Park which Taganga sits just outside, tourists often use Taganga's accessibility as a gateway to the pristine beaches of Tayrona National Park. Boats from Taganga depart on the hour for the exotic beach of Cabo San Juan del Guía inside the national park.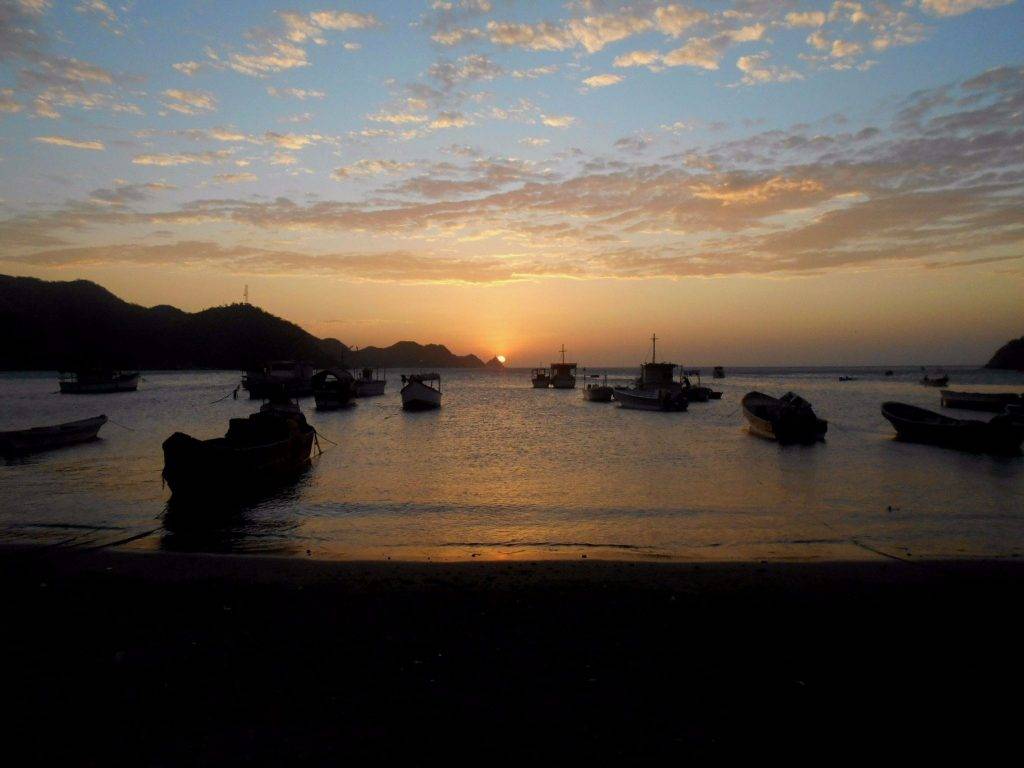 Many people also use this Northern Colombian town to get their PADI open water dive certification. You will notice the number of dive shops that line the unpaved streets of Taganga.After a dive or a day spent exploring Tayrona why not grab a bite to eat? Tagana is home to a wide range of fusion cuisine and the beachside restaurants are always packed. Traditional Colombian food is always on the menu along with American, British, Mexican and Italian classic.
Evenings in Taganga follow the same pattern of socialising and partying. As soon as the sun turns the sky orange and dips into the sea the music and dancing arrives in Taganga.
Bryony of Travel and more
La Ciudad Perdida, or Lost City trek is one of the hardest treks in Colombia, but the reward is definitely worth the effort!  Three days hiking up and down mountains, through the jungle and across rivers, to finally reach the ruins of an ancient city, hidden for centuries in the forest.  The Teyuna people who built the city (around 650 years before Machu Picchu was built!), are said to have had magical powers which could move the huge stones used build their home high in the Colombian jungle.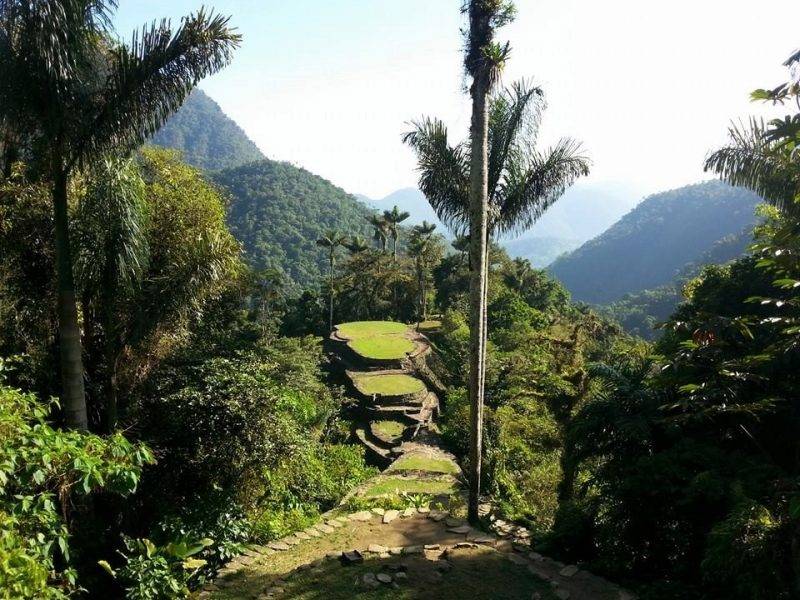 The city was all but abandoned during the Spanish conquest, and finally rediscovered in 1972 by some local treasure hunters who stumbled across the stone steps leading up through the jungle.  Now, some descendants of the Teyuna still live there, and you may even meet the shaman of the Ciudad Perdida.  During your visit, take time to marvel at the construction of the city, bathe in the stream that runs through the ruins, or simply sit and admire the views.  Your tired legs will appreciate a rest, I'm sure!
By Claire Sturzaker, Tales of a Backpacker
Why you should visit the Colombian Pacific coast – one of the forgotten places to visit in Colombia
The Colombian Pacific coast was inaccessible for a long period of time due to the dangers presented by the guerrilla, but in recent years the guerrilla has moved away from the coast thanks to the peace initiatives. The Colombian Pacific coast is only accessible by boat or airplane, but it is well worth the effort. The coastline is filled with beautiful black sandy beaches, backed by tropical rain forests filled with animals and wildlife (many of which are endangered).
The Pacific coast is worth a visit any time of year, but the best time to visit is in humpback whale season, between July and September, when the whales migrate and give birth to their young off the coastline. The whales can be seen from the shoreline or alternatively on a boat trip where it is possible to see a whale come up for air less than 100 meters from the boat! The area's lush tropical rainforest and national parks make it a great place for hiking and discovering beautiful waterfalls. The area is also filled with friendly locals, who can't do enough to help, and delicious freshly-caught seafood prepared to perfection.
By Anny of Annys Adventures
Travelgal Nicole says – this is another one of the best places in Colombia to visit.  Such a stunning area.
Another place to consider is Cali. There are so many fun things to do in Cali.
Cabo de la Vela
If you find yourself in the north of Colombia and looking for an adventure than look no further than traveling to Cabo de la Vela (). In fact, you probably can't look much further north anyway, because Cabo de la Vela is among the most northern points in all of South America. The exciting journey out there is equal to the uniqueness of the destination, and if you're up for a challenge it's the place to go.
Starting with a rickety bus up to Uribia, you then swap out to a 4X4 to finish the last 2 hours of the journey. Depending on the weather you're likely to be kicking up mud and sloshing around on the road, all the while crammed tight into the back of the truck with at least a dozen other people, a few chickens on your lap and a couple of squealing pigs at your feet. Once you arrive in this dusty town it's like stepping into the Colombia Wild West, with a red desert landscape and jagged coastline like no other in Colombia. To reward yourself for making the journey, try the local specialty plate; goat cooked in its innards…. Yum!
Jules of Don't forget to move 
Colombian Coffee
 A visit to a finca
The coffee triangle or zone, known as the eje cafetero, is one of Colombia's top attractions. South of Medellín and west of Bogotá, it lies in the heart of the Colombian Andes and has the country's best temperature for growing coffee. And let's face it, no visit to Colombia would be complete without a visit to a coffee-growing estate, or finca. A short 45-minute flight from Bogotá will take you to either Pereira or Armenia, the jumping off points for a great coffee tour.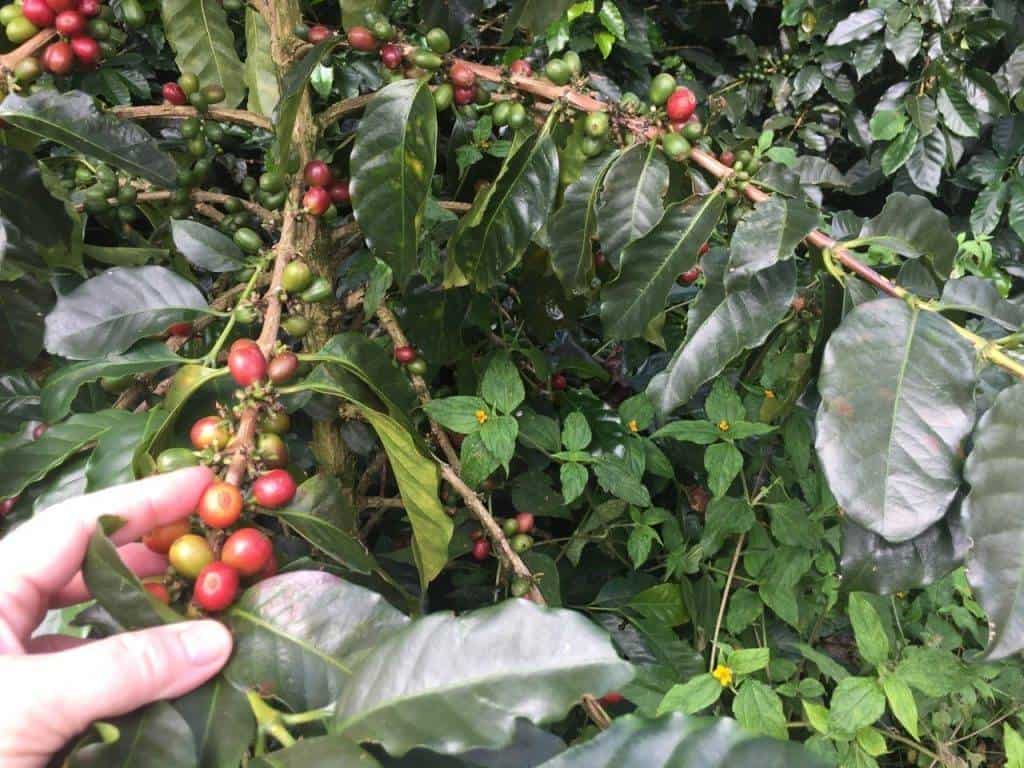 A visit to a finca will teach you how coffee is planted, picked, roasted, ground, packaged and sold – and you'll get to taste plenty of it along the way. Coffee is key to Colombia's economy; it employs a third of all agricultural workers and accounts for nearly 4% of the country's income. But the coffee growers rarely see much of that money, with 80% or more going to a middleman while the farmers do all the hard work and take all the risks.
Leyla of Women on the Road
Staying on a Coffee Farm
An overnight stay on a working coffee farm is a quintessential Colombian experience. Hacienda Guayabal is a small family-run finca near Manizales, the country's coffee capital. It features a stunning natural setting as well as a fascinating coffee tour. Stay at least one night to soak up the tranquil atmosphere and warm hospitality of this special place.
Upon arrival at the hacienda, the friendly staff greets guests with a cold drink. The location is gorgeous, with lush green vistas in every direction, a profusion of flowering trees and bushes, and an enchanting variety of colorful birds. Rooms are rustic but comfortable. The finca features a swimming pool and plenty of inviting hammocks to laze in. An enormous breakfast is included with the stay, and meals at the restaurant are delicious. Try the trout or the vegetarian lasagna.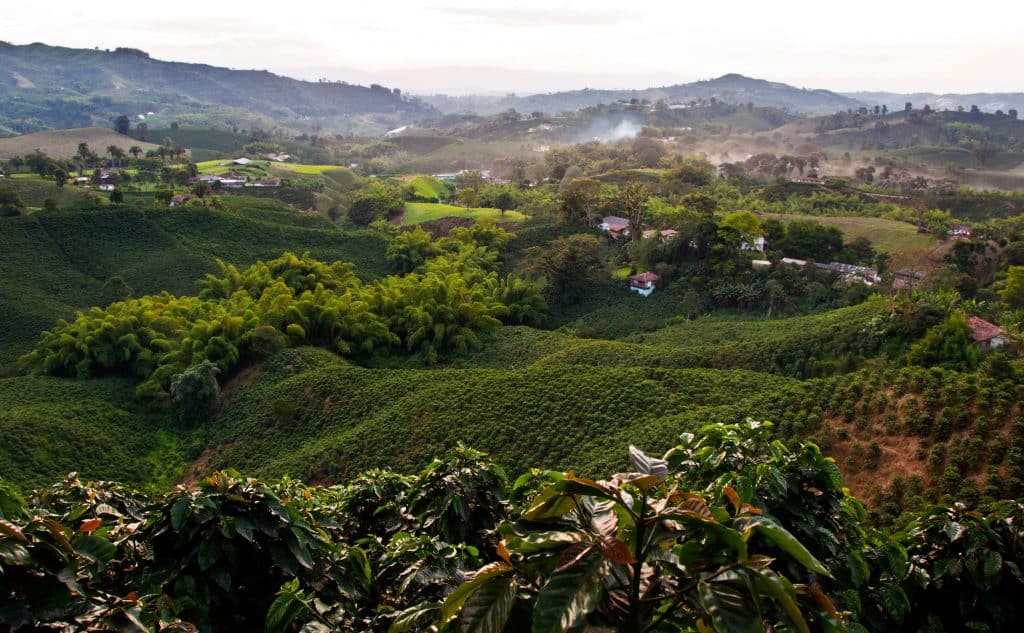 The half-day coffee tour, available in both Spanish and English, is outstanding. It provides in-depth explanations and hands-on learning and concludes with a taste test of top-quality coffee brewed at different temperatures. After the tour, don't miss the short hike up to a local lookout for spectacular views of the surrounding area.
Ingrid Truemper blogs at Second-Half Travels.
Staying at a Hostel on a finca
Hostal La Finca is easily one of the best places I've stayed at anywhere in the world.  The Finca is owned by Colombians and Germans and it is situated high up in the mountains above San Jeronimo, a city a little over an hour away from Medellin.  At the Finca, you can relax, enjoy the pool, hike to the waterfall, or take a tuk-tuk down into the sleepy, yet charming city of San Jeronimo.  Every morning, you get a delicious homemade breakfast with fruit and vegetables from the garden.  My stay there was the perfect respite to the hustle and bustle of Medellin!
Megan of Megan Starr
Cocora Valley near Salento
Getting to Salento, a tiny village 6 hours south of Medellin, isn't that easy and therefore often skipped by travelers planning their journey around Colombia. However, Salento certainly shouldn't be missed when traveling Colombia since it's the gateway to one of the biggest highlights in the country – the Cocora valley.
The beautiful Cocora valley is home to the world's tallest palm trees and one of the best day hikes you can do in Colombia. The hiking trail takes you up the mountains with beautiful viewpoints on the Colombian countryside, before you trek through a jungle. Watch out – this trek can get super muddy (especially during rainy season), but you can rent out rubber boots at the trailhead and I would absolutely recommend it. The hike takes a full day and you shouldn't forget a map since it's easy to get lost in the valley. But don't worry, you won't regret it!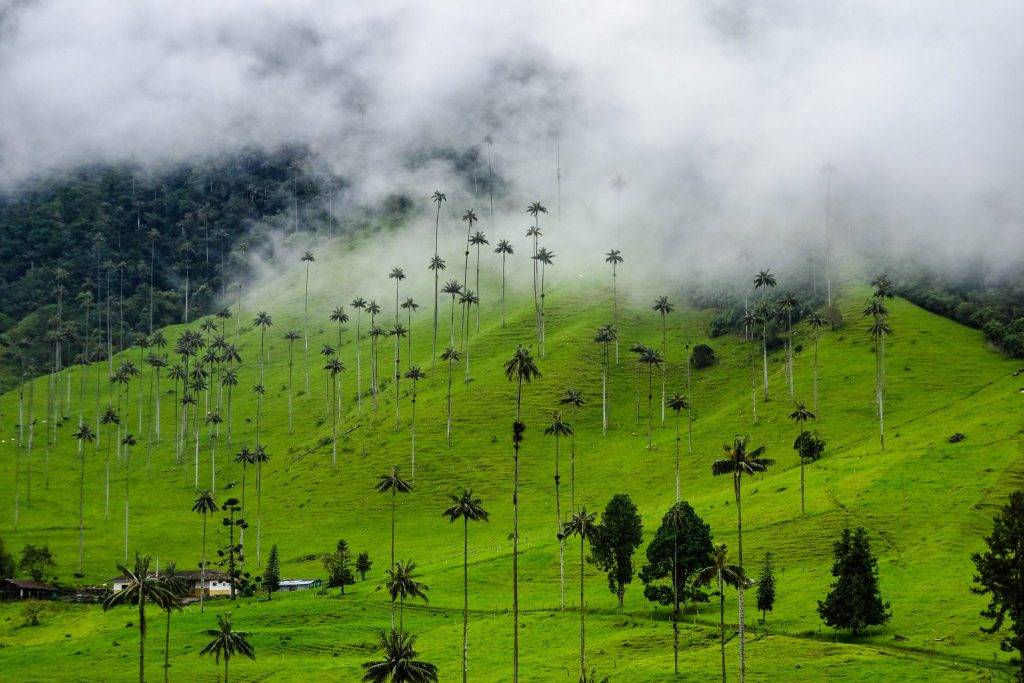 I fell in love with Salento and stayed a couple of nights in La Serrana, a hostel in an old farmhouse just outside of the village, overlooking the coffee plantations in the valley.
Besides hiking, you can also visit one of the plenty coffee farms in the area or just enjoy the peaceful nature – it will certainly be one of your highlights in Colombia!
Patrick of www.germanbackpacker.com
The Amazon Rainforest
The biggest city in Colombia's Amazon rainforest is Leticia, which is often referred to as the gateway to the Amazon due to its location. Leticia is located on the border of Peru, Brazil and Colombia and the city's airport is the main way in and out of Colombia's Amazon rainforest. The Amazon is the only ecosystem of its kind and one of the most biodiverse areas in the world. While Colombia only has around 10% of the Amazon rainforest there is still lots to see and explore.
From jungle from hikes through the rainforest, where you can discover unique wildlife and plant species, to a visit to Monkey Island to a river cruise, the Amazon is a unique experience. One of the most unique things about the area is the indigenous populations: it is possible to visit communities who live off the Amazon rainforest and have local fishing industries. These communities have a unique way of life as they live with the rainforest; they don't have running water or electricity and they certainly have good stories to tell. The rainforest is a serene place where you can experience the beauty of undisturbed nature and it is well worth a visit.
By Anny of Annys Adventures
Rooftop pool party in Medellin
Medellin was once known as a notorious city because of its Pablo Escobar history but nowadays it is well known for its beautiful people.
Medellin has a lot to offer and taking a day trip from Medellin or a day tour is recommended.
While I was studying Spanish in Medellin I also stayed for a week in the most prestigious hotel in the city the Charlee Hotel. It sits right on Parque Lleras which is the number 1 spot in the city for nightlife. On top of the hotel there is a rooftop swimming pool and every week in summer they host the most amazing pool parties.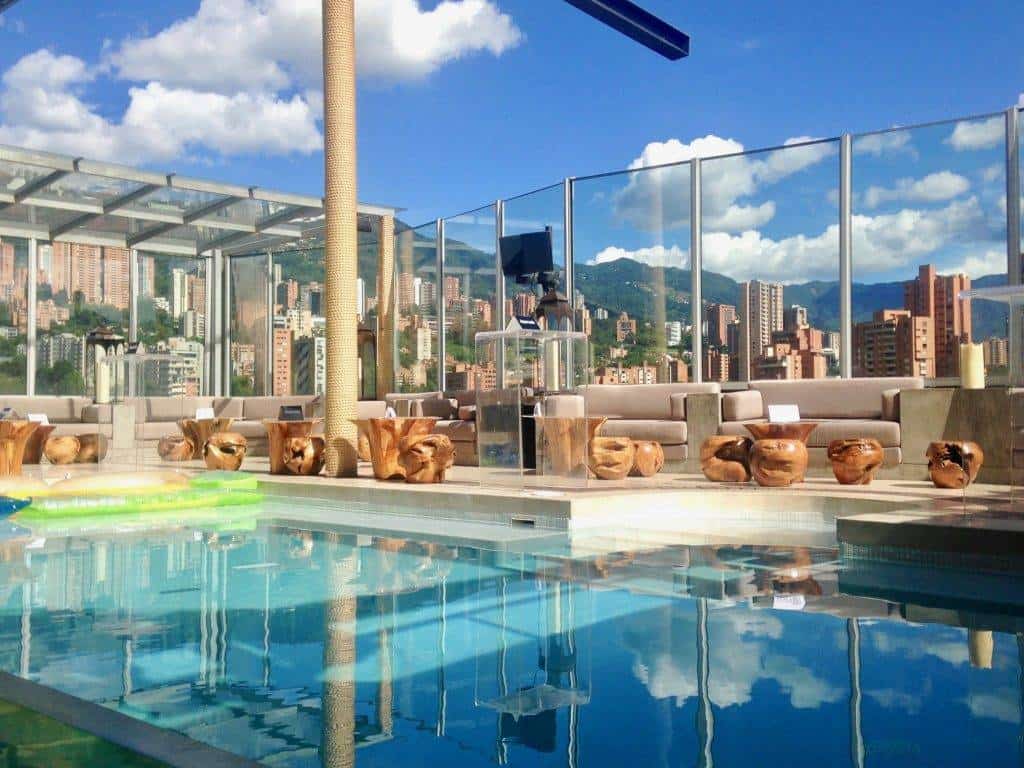 The rooftop bar is called Envy and the parties might start a bit lame, but after a while it gets really crazy trust me. Colombians know how to party and damn those people seriously are incredibly good looking. The Charlee Hotel also houses Ultra Wellness center just a floor lower than Envy skybar and I was working out with famous Colombian TV stars. I obviously had no clue who I was talking to but it was a great way to practice my Spanish.
Tom of Travel Tom Tom
Explore Comuna 13 in Medellín
Nowadays Comuna 13 in Medellín is well-known for its colourful street art. In the past it was infamous for very different reasons. For several decades, it was one of the most dangerous neighbourhoods in the world. First it was occupied by Colombia's FARC, and later dominated by violent gang wars.  Check out these other things to do in Medllin.
Whilst going up the newly installed escalators, or stopping to explain the meaning of individual street art pieces, our guide Stiven often referred back to the violent past. He experienced these years during his childhood, and he obviously appreciates the amazing transformation of his neighbourhood and the opportunities it offers.  The street art, the new walkways, and the electric escalators are all visible expressions of the dramatic change for the better: peace, love, hope, transformation!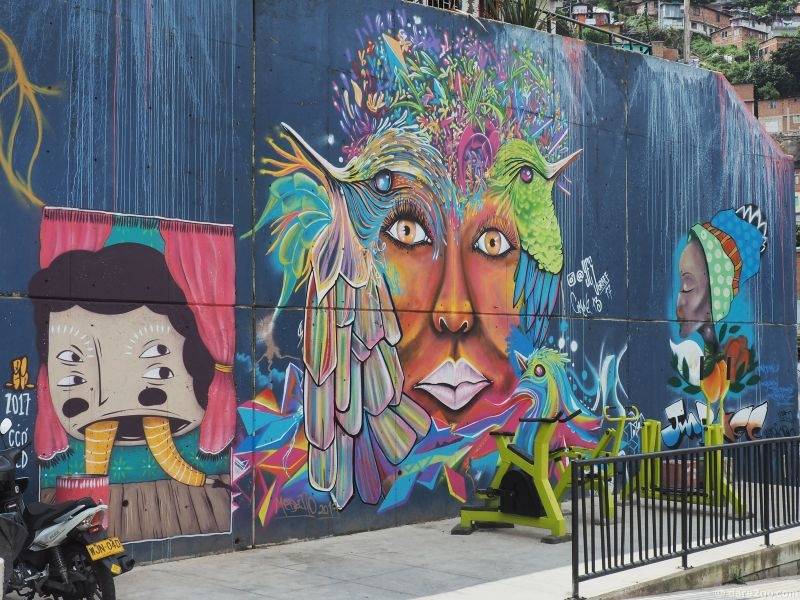 We initially booked our tour with "Stairway Storytellers", via Facebook, for the street art alone. But Stiven's touching commentary really entered our hearts, and will stay with us for a long time.
Jurgan of Dare to Go 
Guatape
Guatape makes for a perfect day trip from Medellin as it's easily reached by public transportation (1.5-2 hours) from Medellin. Guatape is known for its colorful houses and the opportunity to climb La Piedra.
Most of the houses in the center of Guatape are painted in multiple colors and adorned with bas-relief depicting animals, people, and village life. Outside the main church you can find painted moto-chivas (tuk-tuk) and their proud owners waiting for passengers. It's hard not to fall in love with this colorful village.
El Peñón de Guatapé (or simply La Piedra) is a 2 mile bus-ride from Guatape town center and is a must visit. You can climb to the top of the rock (600+ steps so bring water) for a gorgeous view of El Peñol, one of the country's largest lakes and its many tiny islands dotting the surface. On a nice day, the view is spectacular.
Jill of Jack and Jill Travel The World
Mi Casa Guatape
This small hostel in Colombia is the perfect home-from-home in the beautiful countryside town of Guatape.
Owned and run by a delightful British-Colombian couple, you could not be made to feel more welcome by these 2 world travellers – turned hostel owners, who know exactly what their guests want and need.
The place is spotless, room well-sized and there's a beautiful back garden that faces the river. With a cute little kitchen and lounge it's a great place to socialise and the elevated front balcony is perfect for people-watching!
Only an hour or so from Medellin, the town of Guatape is a gorgeous, brightly-coloured, friendly place most famous for its huge monolithic rock – El Penol – which you can climb to the top of for stunning views.
My Casa Guatape is located almost right next to this giant rock and is therefore in the perfect location to explore this stunning Colombian must-see destination.
Steph from Big World Small Pockets
Colombian Food to try
Bandeja Paisa
In Colombia, there's one thing every traveler needs to try: bandeja paisa.
It's the traditional Colombian everyday meal, and it's pretty good. We tried ours in Mondongo (Medellin) but they're available almost everywhere very cheap! Look for the small local restaurants.
Basically, it's rice, bean soup, chicharon de cerdo (pork crackling), an egg (sometimes it's boiled, sometimes it's fried), a finely minced pork, pan-fried banana, and an avocado. It can come with a salad, depending on where you have it.
It's usually very big, enough food for two. We ordered one for each, unknowingly, on our first time, and nobody was able to eat half of it.
The bean soup in Colombia is delicious, and it's enough to be had on its own, but the Colombian chicharon is the best in the world, hard to pass.
Thais of World Trip Diaries
The Arepa
Latin American Corn Bread? Corn cake? Tasty thing? Put it in my mouth and eat it cake? Let's take a quick look into one of Colombia's most prominent typical street foods, known as the Arepa. The Arepa is a pre-Colombian dish and can be found from the area that is now Venezuela and Colombia. It comes from an Indigenous heritage. The Arepa is made out of ground kernels of Maize – Maize is corn. The maize flour, salt and water form a patty and it can be grilled, baked or fried depending on the region. It is completely and utterly delicious and often can be accompanied with a cup of hot chocolate on a cold morning in the capital.
In Bogota, you'll find the typical fried Arepa con queso on the streets. For many Colombians, the Arepa can serve as a dish throughout the day. It is so well known they even have The Colombian Arepa Festival which is held throughout 5 cities including Bogota, Medellin and Cali to name a few. There are many different versions, some made with Yuca (Cassava). Some served with an egg, chopped up pork, avocado. Go out and find out for yourself why these things are so famous.
From Alex Gibb – Size Jinx in One
Exotic fruits in Colombia
Those who have travelled around South America will be painfully aware of how difficult it is to source fresh fruit and veg. In Peru and Bolivia, it's all about the potato. Meat and wine dominate the food scene in Argentina. But in Colombia, it's a different story. From the coasts of Cartagena to the vibrant city of Medellin, fresh fruit can be found everywhere.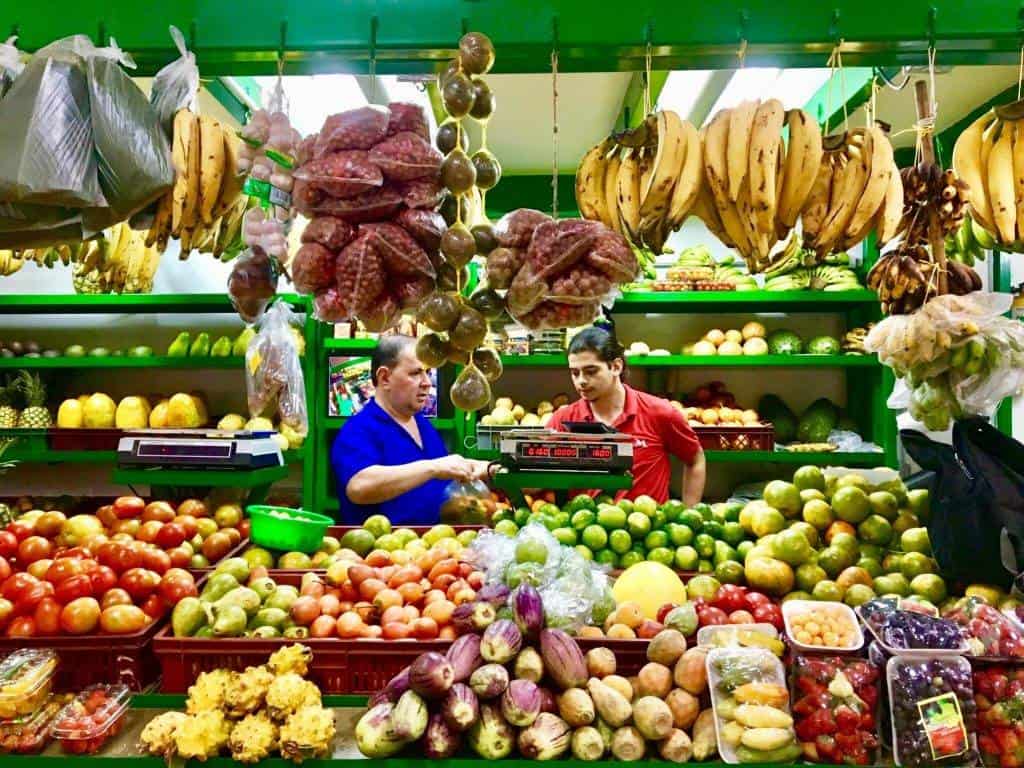 Juices are also a staple of the Colombian diet. With an abundance of fresh fruit at their fingertips, they whip up all sorts of concoctions such as Lulo, Guanabana and Chontaduro y Borojoro which is said to have aphrodisiacal properties. Wandering through the markets in Colombia is an adventure in itself, but even better if you can try all the unusual fruits on offer. You might need a local to help show you how to eat them though! Granadilla was one of our favourites; a thick yellow skin covers seeds and pulp, to be scooped out with a spoon and eaten all at once. Colombia's version of the dragonfruit is also a treat, every bit as sweet as it's Asian counterpart. Mamoncillo, a cross-between a lychee and lime, is a great snack too – just don't eat the skin!
Shannon Bradley of Our Taste of Travel
Colombian Carnaval
If you're in Colombia in February make sure you visit the carnival in Barranquilla. This is definitely a once in a lifetime experience! In 2018 the carnival will take place from February 10 – 13. For four days everyone in Shakira's hometown dances the day and night away. Second only to Rio as the world's largest carnival but more local. Dress up, watch the parades, take pictures of the colorful costumes and get ready to party non-stop. And definitely keep an eye on your valuables in the mean time! If you want to stay close to the action make sure you book ahead. Hotels, hostels, Couchsurfing, Airbnb; everything will be booked up months in advance. If you're a solo traveller like me I recommend you to stay at the Dreamer Hostel in Santa Marta. Together with a group of people from the hostel they will drive you to Barranquilla by minibus in the morning and back to the hostel in the evening.
Chantal of Alleen op reis
When is the best time to visit Colombia – What do you think?  There's quite a few places covered here but where else would you recommend to visit in Colombia?  Check out this backpacking guide to Colombia.
Recent Posts