I'm way ahead of schedule on packing for South America.  You're either team pack or team unpack. I'm definitely team pack as when I get home from a trip my bad will stay packed in a corner for months weeks. However, I'm usually not this organised.
I knew when I was in Brisbane it would be my last chance to shop so I packed ahead of time to see what I was missing and to see how much space I had. I was very surprised to see that I had a lot more space in my bag than when I went to Africa.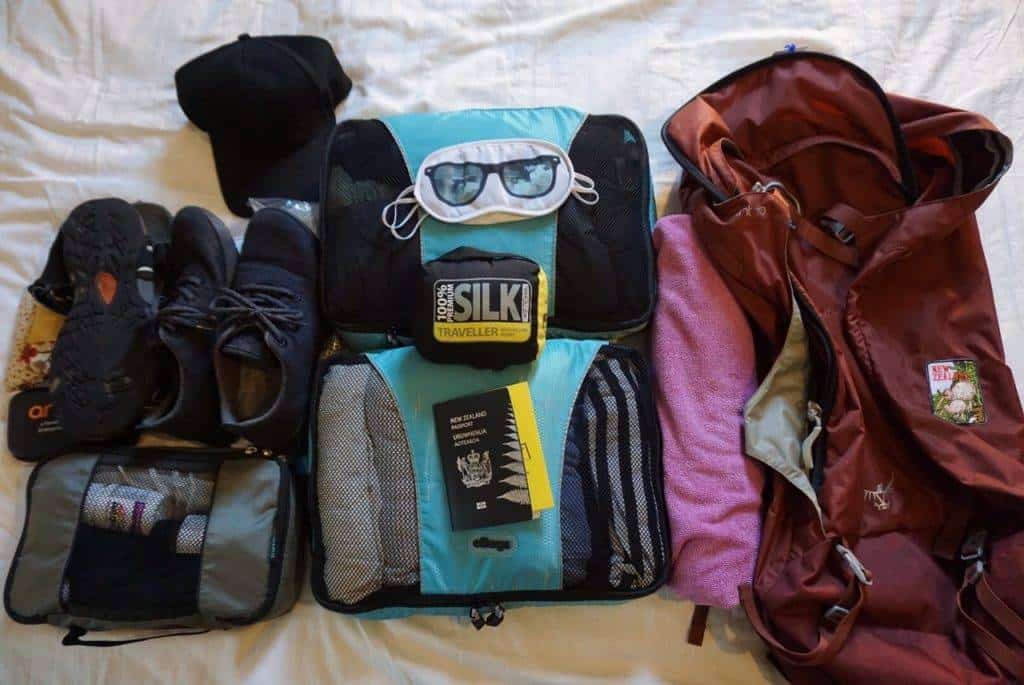 Whether you plan ahead or just throw things in a bag here are things I'll be packing for South America Adventure.  It's important to bring the best travel gear for your trip
If you are interested in tracking your sleep while you are traveling you should have a look at this Oura Ring Review to learn more about how it tracks your sleep.
The most important thing is the bag itself so I recommend checking out this detailed guide to the best travel gear for more information.
How cool would it be to take your own coffee maker on your trip?
Here's what I'm packing for South America
The pack itself – I'm using my trusty Osprey backpack again for this trip.  I'm just moving too much to take a roller bag and I actually prefer to use a travel backpack.  Its 55 Litres which includes the day pack.  I only fill the main pack and the day pack is for my electronics.  I have it in red so that I can see it when it comes around the baggage claim.
If you would like more info on choosing a backpack check out this article or this guide on backpacks.
Packing cubes are a life saver for me.  I have one for all my tops and one for all my bottoms and then a smaller one for socks, underwear and my swimsuit.
This headlamp is so useful.  Imagine its pitch black out and you're trying to find something in your bag.  You have your torch in one hand and are using the other hand to dig through your bag.  Now how much easier would it be if you had two hands free.  And its a great price too.
OK, now one just for the girls.  Love them or hate them the menstrual cup is one of those things that I think every woman should have.  I started using one in 2014.  I knew I was going to go on some longer trips and I didn't want to take boxes and boxes of tampons.  Moving to the Diva Cup was the best thing I have ever done.  I've never had any problems or leaks my only suggestion is to try it out your first time over a weekend so that you are home and can get used it.  It is fabulous and great for the environment as well.
I always travel with a silk liner.  In cases where the bed may not be that clean or you need some added warmth, I find a liner to be quite good and it is really small.  On this trip I will be renting a sleeping bag in the Uyuni Salt flats so I want to have something between my skin and the sleeping bag.  In comes the silk liner.
Even though I'll be staying mostly at hotels, I will be staying a few nights in hostels so a quick drying towel really comes in handy.  Its also good for all the swimming I will be doing in the Pantanal.
I always travel with luggage locks.  I know people can easily still open them or slash your bags but it is a good deterrent for most people.
These Ecco Sandals are my go to when it comes to travel and walking 20,000 steps a day.  When I was asking people for suggestions I said I am looking for walking shoes that aren't athletic but just a nice sandal to wear everyday.  They would then tell me those are the elusive shoe!  But I have found them and I am on my second pair now.  These were high on my list for packing for South America.
My camera is my favourite piece of equipment.  As I don't really buy gifts or souvenirs my photos are my souvenirs of a place.  Last year I went digital and I don't regret it for a second.  Check out this guide on Sony cameras.
I won't bore you with all my clothes and electronics but this is the first time I will be travelling with a laptop.  I'm excited and scared at the same time.  I have previously travelled with just my ipad but I find I cannot do everything that I need to blog along the way.
What's the one thing you would pack for a long term trip?  Any tips?
Want to know what to pack as a digital nomad?  A fellow blogger wrote about it and you can  Check it out. Or you can check this out if you're looking for a specific packing guide for Peru.
Check out this post if you are interested in bamboo clothing.  Or check out this guide for cold weather clothing.
Sharing is caring – feel free to pin this to save it for later.
Recent Posts