10 Best Binoculars under $300

If you are looking for the top binoculars, they can cost thousands but don't worry, I have put together this comprehensive guide of the best binoculars under 300.

Can you get a good pair of binoculars for less than $300. Yes, definitely.

My favorite pair of binoculars under $300 is the Nikon 8252 ACULON 10-22×50 Zoom Binocular. I think these are the best binoculars for safari, bird watching, hiking, and wildlife watching.

I'm passionate about finding good gear and binoculars are one of my most researched gear purchases. That's why I have put together this guide – to share my expertise in this area and all the research I have done.

I have also written the following articles on binoculars:

Best Binoculars for Safari in 2020 Reviews
How to choose the Best binoculars for the price
8 Best Compact Binoculars under 100
Best Binoculars under $300
The Nikon 8252 Aculon binoculars has multi-purpose functionality and has a very lightweight, ergonomic design. If you are looking for binoculars that are extremely versatile, well-priced, and quality optic, this is perfect for you.

It delivers high to extremely high range magnification, plus it is adjustable by an easy-to-reach fingertip zoom control knob. It is very compact in design and is very light that you can carry it with ease to any outdoor activity or event.

You can turn and slide the rubber eyecups for your comfortable viewing. It has a minimum distance focus of 49.2 feet / 15 meter. The multicoated eco glass lenses deliver a bright and clear image in most lighting conditions.Plus it is non grip because of its durable rubber armored coating even in wet conditions. And the exit pupil is 2.3 5mm.
The Nikon Prostaff 7s is a lightweight, easy to hold, and all-terrain binocular that has an advanced optical system designed to deliver sharper images. And because of its fully multicoated eco-glass lenses and phase-correction coated roof prisms, this Prostaff 7s series gives quality brightness and resolution which makes this a perfect companion for almost any outdoor activity!

Its lightweight, ergonomic structure design makes it enjoyable to hold even for a longer period of time. Its rubber-armored coating can withstand extreme use and provide a non-slip even in the wettest conditions. Not only that, this Prostaff 7s binoculars are Nitrogen filled and O-Ring sealed fro waterproof and fog proof performance. 

It has a magnification of 10 x 42 m. Its real angular field of view is 6.2 degrees, while its apparent angular field of view is 56.9 degrees.
The Nikon Monarch 5 binoculars are built with Extra-low Dispersion glass lenses which serve to correct chromatic aberrations across the furthest limits of the visible light range, and it perfectly compensates for color fringing. Even when you observe objects that would make chromatic aberration the most apparent, the images will maintain superior contrast and resolution.

These binoculars have fully multicoated eco-glass lenses that will give a high light transmittance across the visible light spectrum. It has a magnification power of 10x and an objective diameter of 42 mm. It's a very lightweight and compact binoculars that are extremely portable and perfect for bird watching, hunting, or any other outdoor activities. 

Its high-eyepoint design gives a clear field of view even when you are wearing eyeglasses. It has also rubber-armored body for non-slip grip, nitrogen filled and O-Ring sealed for complete waterproof and fog proof performance. And if you buy this product, it comes with a carrying lens, lens caps, neck strap, Nikon lens pen, and Lumitrail cleaning cloth. 
This binocular for adults has Extra low dispersion Glass for true color correct images, a perfect multi coated Aspherical lenses and wide field of view that is perfect for bird watching, sports, hunting, astronomy, or travel.

It features an Aircraft Aluminum body with rubber armoring for a tough yet easy grip and comfortable hold. It has large 23mm eyepieces with twist up and down eyecups and the Diopeter adjustment ring enables clear focus for each eye if you are using without spectacles. 

The wide field of view of 6.5 degrees ensures comfortable viewing with sharp focus across the whole field and it has military grade phase coated BAK4 roof prisms. It is manufactured to a very high standard and it just weighs 23.6 ounces.
The Upland Optics were made by hunters, for hunters and the great quality gear can make all the difference in hunting. The optics of these binoculars are built to endure anything you can encounter on the hunt. 

When it comes to glass optics, Upland Optics uses Extra-low dispersion glass to minimize chromatic aberration and ED glass is the best possible material for clarity and precision in optics. As a result, you will see sharper and bright images with no distortion.

Since Upland Optics binoculars are specifically designed for hunters so that they can encounter all kinds of obstacles, these binoculars are both waterproof and fog proof so you will experience the clearest uninterrupted performance ever time. 

It has 113m field of view at 1000m, 17.2mm eye relief, and just weighs 1.44 lbs. This product also comes with a carrying case, lens cloth, neck strap, and lens caps.
The SkyView Binoculars deliver incredible detail without sacrificing steadiness or clarity, even when you are as close as 2m from your subject. The extra-wide field of view will give you panoramic experience , thus allowing you to spot more wildlife, even when it is on motion.

Its DuraTech exterior provides incredible strength and resilience, while the waterproof and fog proof design makes these binoculars a must-have for all kinds of weather. It has a magnification of 8×42 and an eye relief of 17.8mm. The field of view is 393ft/1000 yds, and the minimum focal length is 2m. 

Its multicoated lenses and phase correction coated prism will make you experience breathtaking clarity. And you will feel like you are just inches away from your subject with the Laser 2m Close Focus.
Dependable, solid, and powerful – these are the 3 words that would best describe this Maven C2 compact binoculars. It features a crystal clear extra low-dispersion glass, fully multi-coated lenses, and a durable, yet lightweight polymer frame.

If you are looking for commanding optic binoculars that is nimble and compact to fit inside your coat pocket, this is definitely for you. These dynamic compact mid-range binoculars feature dielectric coated Schmidt-Pechan prism system to produce an exceptionally clear, bright, and high-contrast image. 

The compact Maven C is available in 7×28 and 10×28 magnifications with a mix of features and functionalities. It only weighs 1.72 pounds and it is waterproof, fog proof, scratch-resistant lens coatings. And this product comes with a neoprene neck strap, ocular lens caps, and double-layered microfiber storage bag. 
The Vortec Optics Diamondback binoculars have an astoundingly efficient and high-performing optical system with enhanced, dielectric fully multi-coated lenses that delivers stunning views and impressive low-light performance. And with its ultra-wide, field of view, you can cover ground effortlessly and acquire subjects with ease.

You will enjoy comfortable viewing even if you wear eyeglasses with its adjustable eyecups and IPD (interpupillary distance). Just simply twist the eyecups up or down to see the full field of view. And if you aren't wearing any glasses, just keep the eyecups fully extended. 

And the argon purging and rubber armor provide enhanced waterproof and fog proof performance even in extreme weather conditions. Plus, nitrogen gs purging prevents internal fogging over a wide range of temperatures. 

These binoculars have a magnification of 10×42 and weighs 2.3 pounds. It is ideal for hunting, fishing, and hunting. 

Orion UltraView Wide-Angle Binocular is the answer to all your frustrations when it comes to using binoculars with your glasses on. This binocular is the ultimate in eyeglass and sunglass-friendly binoculars! The extra long 22mm eye relief allows the full field of view even when you are wearing sunglasses!

This UltraView Binoculars feature the finest BAK-4 glass prisms, and the lenses finely ground and polished to exacting specifications. All lens and prism air-to-glass surfaces are multi-coated, thus providing you much lighter light transmission. The colors are very pure and images are tack-sharp right out to the edges.

Also, this binocular features a wider field of view of 6.5 degrees than the standard 10x binoculars. It has 5mm exit pupil, 16 foot close focus, and extra-long 22mm eye relief. And this product comes with a rugged soft field case, objective lens caps, and a deluxe wide neck strap.
The Sightmark Solitude 10x42LRF Binoculars feature integrated laser range finding capabilities to provide hunters and even the enthusiasts with a distinct advantage. This binocular features a simplistic two-button operation and a clear LCD display that does not wash out in the sunlight and delivers precision accuracy up to 1,200 yards. 

It boasts a rugged, lightweight, rubber-armored body that are nitrogen-filled and O-Ring sealed which makes them waterproof and fog proof. Plus, the adjustable eye cups will give you a comfortable, custom fit regardless if you are wearing glasses or not. 

The Sightmark Solitude uses a BAK-4 roof prism which features a straight-through light system that achieves better light transmission and a more compact design. This binocular only weighs 2.5 pounds and is ideal for hunting, tactical & military, Airsoft, and climbing.

Frequently asked questions about Binoculars under 300

What does a fully coated lens mean?

Basically, optical coatings are applied to reduce internal light loss and glare. When the lenses of binoculars are coated, they will have a better light transmission. As a result, you can see greater image sharpness and contrast.

There are many types of optical lenses for binoculars, and one of which is fully coated lenses. Fully coated lenses mean that all lenses and glass surfaces have a coating layer. And for binoculars, at least one thin anti-reflective coating on both sides of the objective lens system, both sides of the ocular lens system, and the long side of the prism.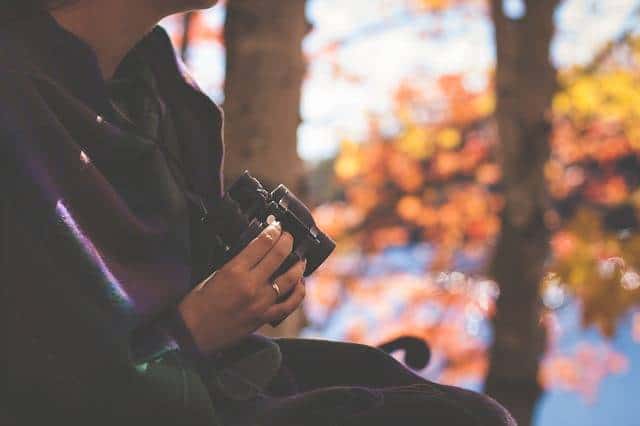 What does optics mean?

Optics in binoculars are the coating used to reduce the internal light loss and glare which ensures even the light transmission to have a better image sharpness and contrast. And in choosing the best binocular with high or good optical quality will have greater satisfaction with the product that you choose. 

What does 10×35 mean?

You will normally see binoculars with numbers and those numbers have meaning. For the first number, it is the magnification of the lenses. So, a set described as 10×35 means that it can magnify the object 10 times closer than with the naked eye.

As for the second number, it pertains to the size of the objective lens in mm. The objectives are the large lenses at the far end of the binoculars. The larger the size of the objectives are, the larger it gathers light especially when you are in poor light conditions. In this example the lens is 35mm.

Which is the best magnification for binoculars?

Usually, you will be choosing between a magnification of 8 or 10, although you can still find other models of binoculars with lower or higher magnification.

As for the 8-power binoculars, it has a wider field of view. And for 10-power binoculars, it has a closer and more detailed look.

However, it does not necessarily follow that the more magnification is always better. It is because the magnification also amplifies the movement of your hands. So a binocular with magnification greater than 10 makes steady viewing more difficult.

The magnification power also has a direct effect on the field of view. The narrower field of view can make it harder to see small or moving objects when you scan far away. And the smaller field of view can also let in less light will make the images slightly darker than the usual.

What are the standard Porro Prism Binoculars?

Porro Prisms consist of two right-angled prisms facing each other. In a Porro Prism binocular, the eyepiece is not in line with the objective lens, so the prisms must jag the light sideways in its path across the two prisms. The Porro Prism is superior in clarity, has a better depth perception, wider field of view, and overall improved image quality.

Do I need the highest quality or most expensive binoculars?

There are many uses of binoculars. They can be used for hunting, bird watching, or watching any events. But you have to remember that not all binoculars are created equal. The type of binoculars that you need must depend on how and where you are going to use them. It does not necessarily mean that they have to be the most expensive and has the highest quality of binoculars.

While it is generally true that the more expensive the binoculars are, the higher the image quality and are more durable. However, there are also cheaper binoculars that you can find in the market that are adequately durable and have decent optical quality. Just pick a price range that you feel comfortable buying and make sure it is within your means.

What is a good magnification for binoculars?

If you are going for long-range hunting, it is suggested that you look for high magnification binoculars. You go for binoculars with larger magnifications such as 10x or 12x. However, you have to remember that the higher the magnification of the binocular is, the dimmer the image will be even if the image you will see will be larger.

But if you are in a forested area, look for binoculars with a 8x to 10x magnification.

What is eye relief?

Eye relief is the distance between the eyepiece and your eyes while the whole field of view is visible.

What is field of vision?

Field of vision or view is how wide an area is encompassed in the binoculars' image. And the more power usually means a narrower field of vision or view in the binoculars.

Conclusion: The Best Binoculars under $300

When looking for a pair of binoculars, really think about what you are using them for and want to get out of them. A good all around pair of binoculars are these ones that I use.

Sharing is Caring! Pin this article to save for later!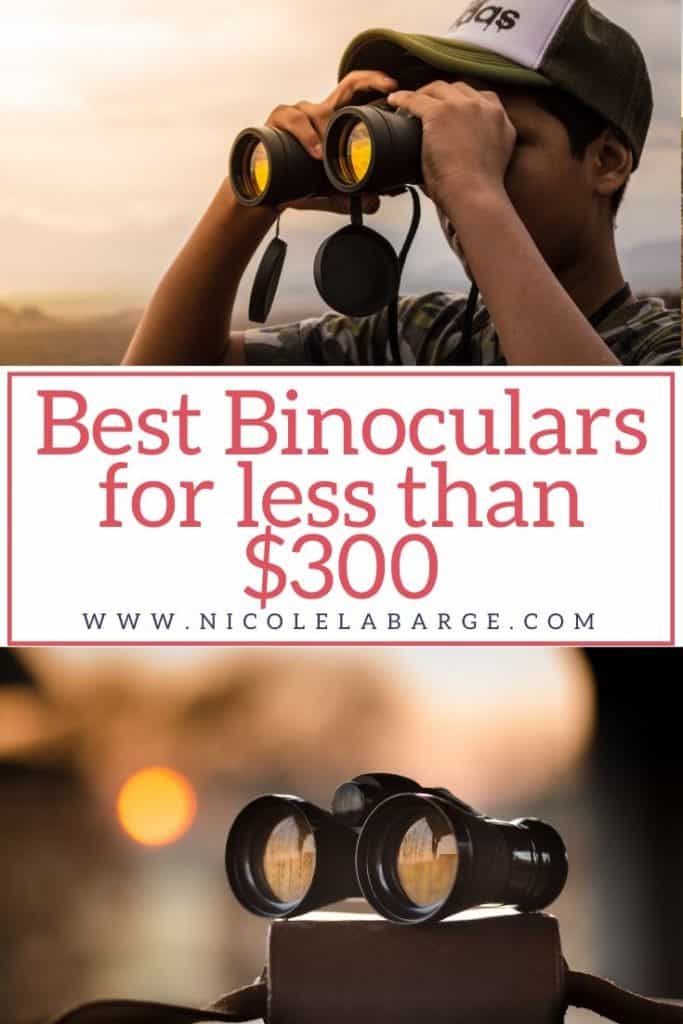 Continue Reading more on my website:

Best GoPro alternatives in 2020: Budget Action Cameras
Best Travel Sandals for Women 2020 Reviews
Recent Posts