Best GoPro alternatives in 2020 – How to find the right GoPro knock off for you
Choosing a GoPro like camera for all of your adventures
Looking for the best GoPro Alternatives for your next trip? There are quite a few cameras out there that are a great alternative to GoPro and some of them are at half the price! But how do you find the best off brand GoPro for you? I will help you find the budget action camera for you!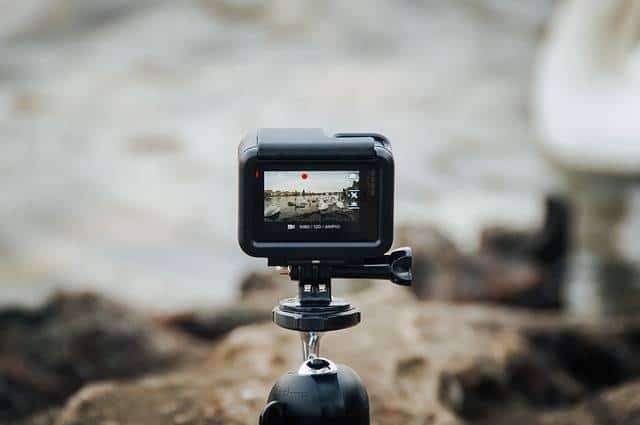 A camera like a GoPro is perfect for your next adventure but sometimes you don't want to spend the money on a new camera so that's why I've put together this list of cheap action camera that are Go Pro competitors.
What to look for in a GoPro like cameras for action shots?
There are a large number of action cameras available on the market, all with slightly different features and price tags. GoPro has saturated the action sports camera for years bring out new cameras and added features, but are they the best action camera on the market? Since the popularity of GoPro has increased as has the desire for action cameras, with other companies creating their cameras at a margin of the cost of a GoPro.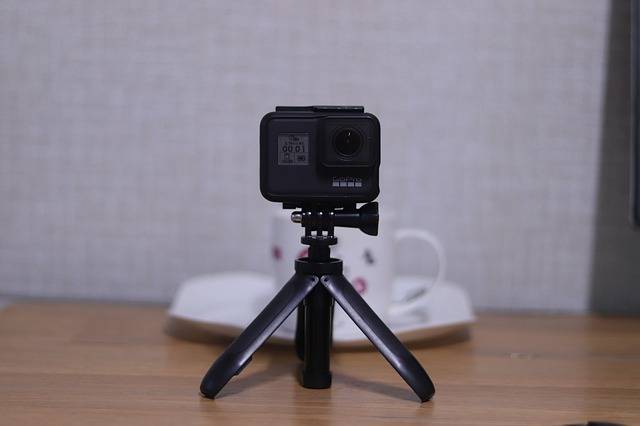 While there are many similarities between GoPros and other branded action cameras there are several differences. It can be intimidating with all the different features and variations of cameras available.
Some of the most important considerations to make when looking for an action camera are listed in detail below, with considerations and explanations of characteristics of good cameras and a guide to GoPros and alternatives.
What to look for in a GoPro Knockoff? How to choose a GoPro like camera and which ones are Go Pro competitors?
These are the top things to consider when looking at Go Pro competitors. There are several GoPro camera knock offs that have the same quality but are inexpensive action cameras.
If you are looking for a cheaper alternative to GoPro, I've got you covered. But first there are a few things to think about when buying a generic GoPro or a go pro knock off. Continue on to learn more about buying a cheaper alternative to GoPro.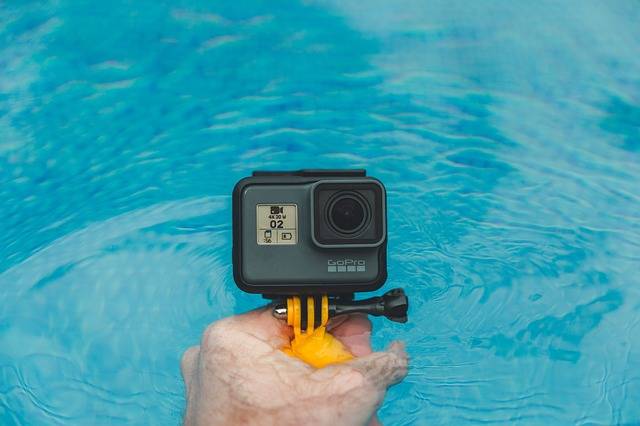 What to Consider When Buying GoPro like camera?
Prices of off-brand GoPro – Is there a cheaper alternative to GoPro?
Action cameras vary greatly in price from $30 to $500, the differences can be extreme between cameras but the cheaper and budget cameras can be just as good as the most expensive ones. It all depends on what you want to photograph or video with the action camera.
Do you want to take great video and images on a budget action camera or GoPro equivalent? Take underwater shots without worrying about putting the camera in a waterproof housing or do you just want to take dry action shots. Some of the most expensive cameras aren't necessarily the best in terms of images, quality or size. You can purchase a great GoPro like camera on a budget price tag. This is the bargain guide to a cheaper alternative to GoPro.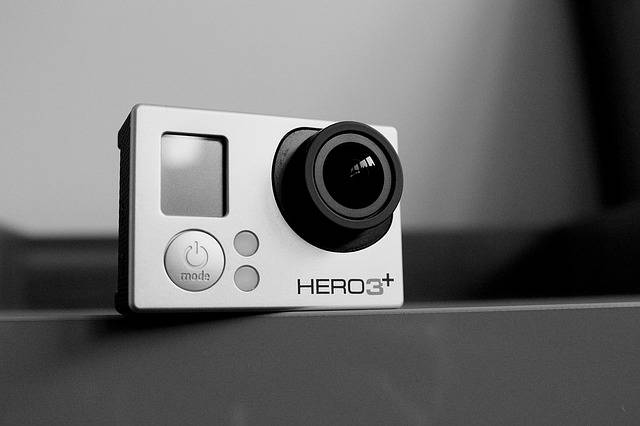 Waterproof GoPro type camera
Some action cameras are made completely waterproof meaning they don't require a case or float to be submerged. These cameras can be used underwater as they are with their already sealed compartments.
Other cameras are not waterproof due to the openings for the charger, memory card, and other compartments. Many of these cameras come with a waterproof sealed housing which the camera can be placed into and sealed, then it can be used underwater.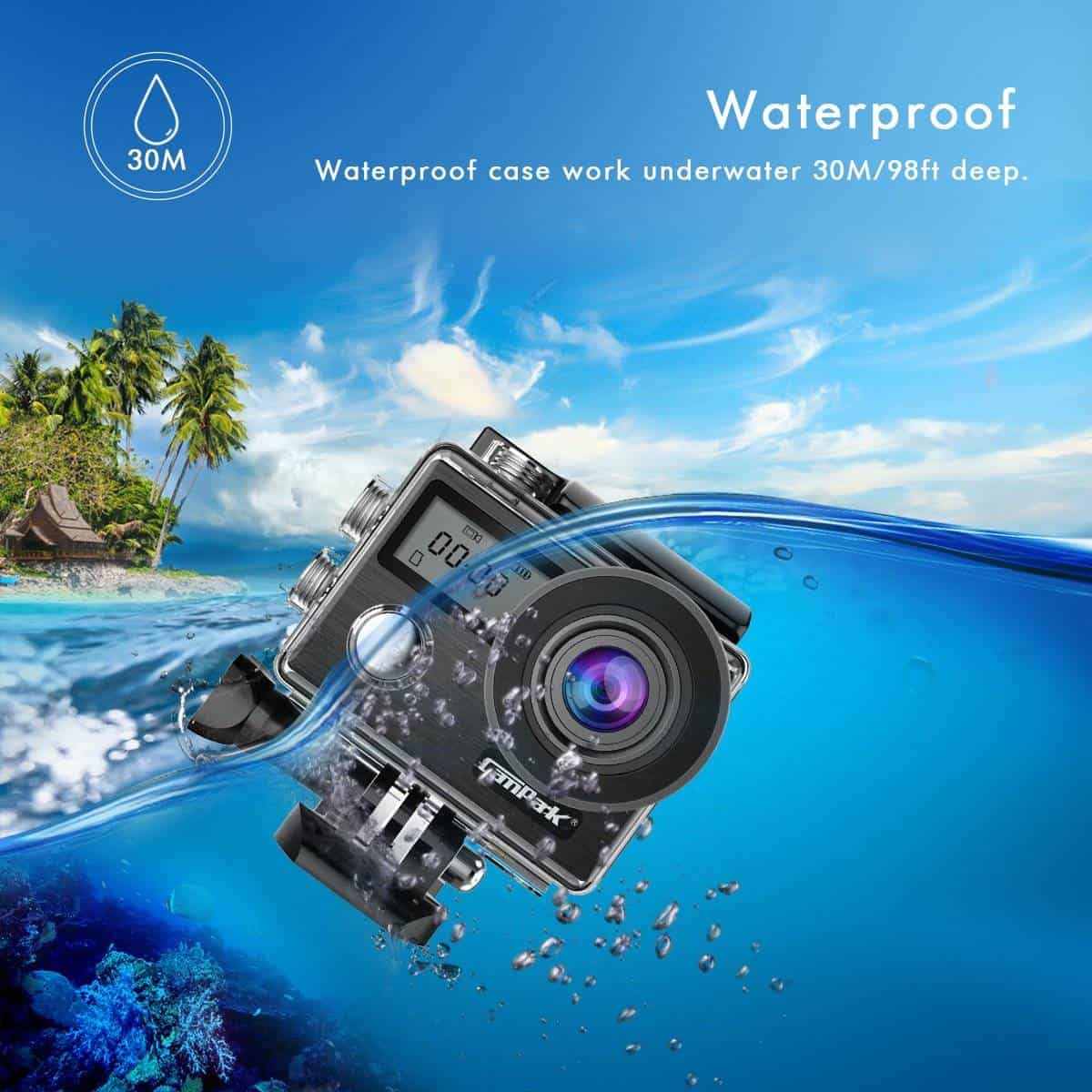 Some of the cheap waterproof GoPro alternatives are only splash-proof meaning they can be submerged at all they are just resistant to splashes or rain.
Each camera and case will also come with guidelines as to how deep it can be submerged. This makes a difference when considering what you are going to do with your camera.
If you want to take it underwater when you go diving it is recommended to purchase a camera which can be submerged the required depth, for example, 30meters or 40meters underwater. Alternatively, if you are just using your action camera for surfing or swimming shots you can purchase one which can be submerged to only 10meters.
Resolution and 4K Video and quality
The resolution and quality of action cameras vary from 4K Ultra HD video to 1080 HD video and the megapixels of the cameras vary greatly between cameras. The higher the megapixel the better the quality of the image with more fine details. 4K video is the best quality of video with increased sharpness and quality of the video.
Action cameras vary with the quality of images but some of the budget cameras still have 4K resolution and great quality even though they are cheaper. The more expensive the camera doesn't always mean the better the quality of video or images.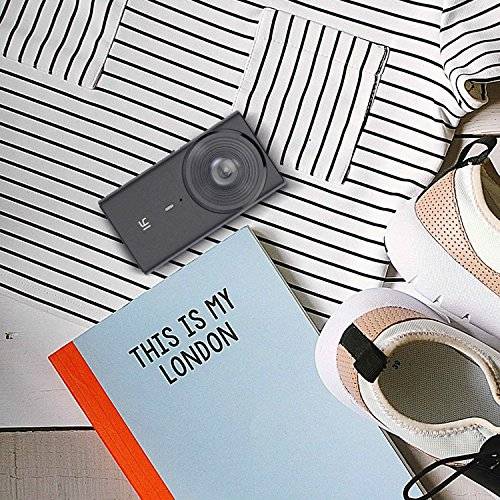 Battery Life
Action cameras vary in battery life from 60 minutes to 90 minutes and so on, with rechargeable lithium batteries or regular rechargeable batteries. Some cameras have longer charging times than others. In different camera modes or the higher the resolution the quicker they will use the battery up. If you want to take a time-lapse video, for example, you want to look for a camera with a long battery life.
Touch Screen
Many action cameras come with screens on the back to allow you to see images, flick through them and adjust the settings. Some action cameras have buttons but the majority on the list have touch screens, which allow for an easy user interface and easy to use functions.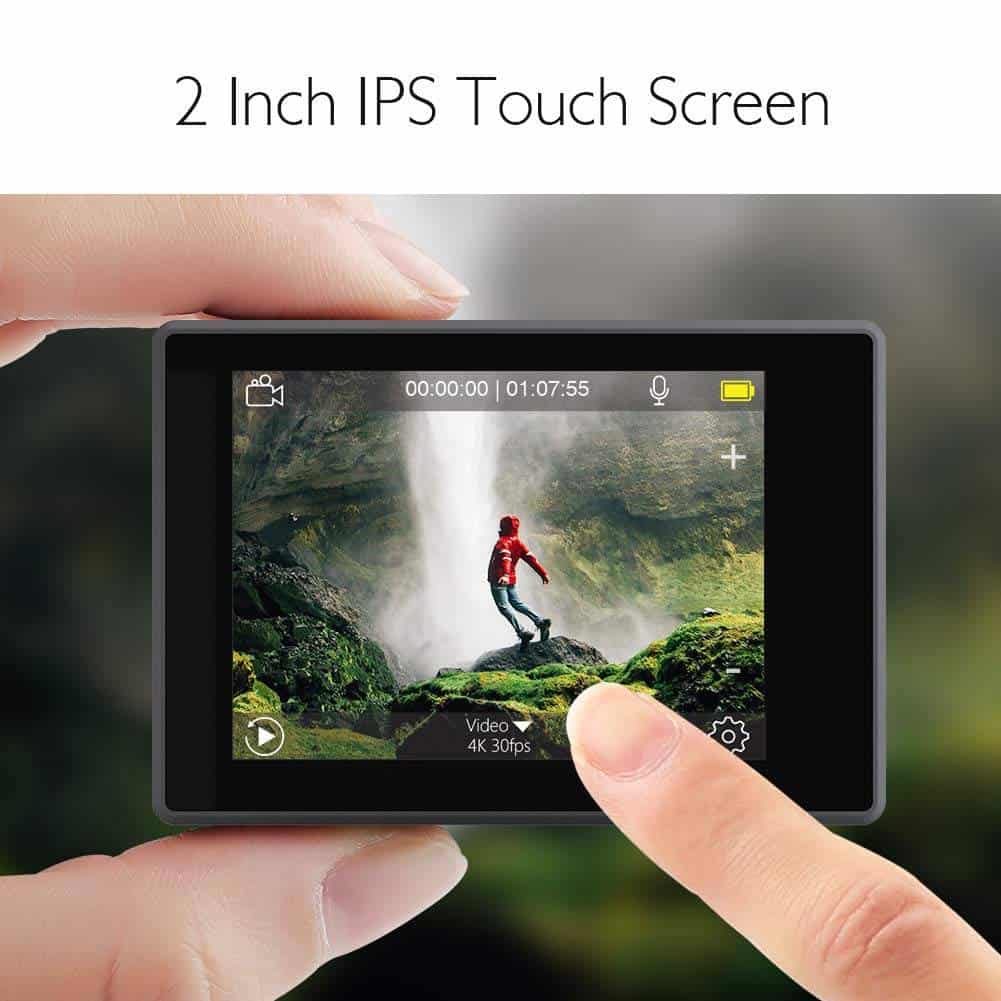 Connectivity
In the last few years, action cameras have come with wifi connectivity to connect to subsequent applications to share the images or edit them easily. The wifi connection connects to your phone or laptop to share files and transfer them from device to device freeing up space for more images.
Image Stabilization
With action cameras, image stabilization is an important characteristic, especially with action cameras. Action cameras are used to capture sporting moments or moving images. People often use action cameras while cycling, swimming, surfing, or mounted onto something. Meaning image stabilization is important to keep the focus clear so you don't get blurry images or video especially when you are moving and filming at the same time.
Accessories
Great features of action cameras are their ability to be attached to an object such as a helmet, bicycle, surfboard, or whatever sporting equipment desired.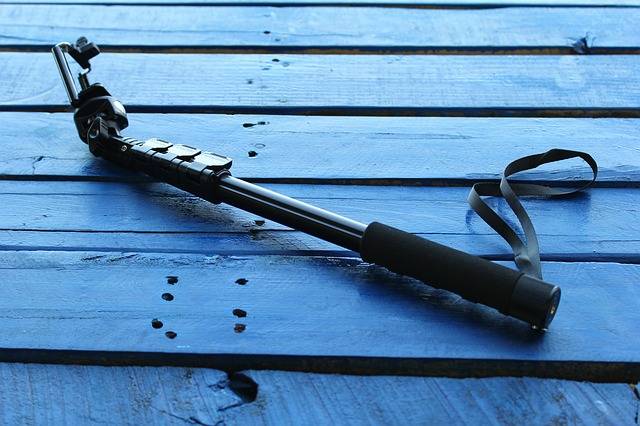 This means they need to be attached easily to these pieces of equipment, this is done using mounts or straps, many of which are versatile and can be used by different camera types. Some accessories make or break images, such as tripods, selfie sticks, domes, and other features which allow unusual and great photographs or videos to be taken from unique angles.
Many cameras come with their own accessories but others can be purchased separately, many of the cameras listed below are compatible with GoPro accessories.
What makes GoPros the best action camera?
GoPro is a well-known brand which is at the forefront of action cameras, with new models and new technology changing the game everyday.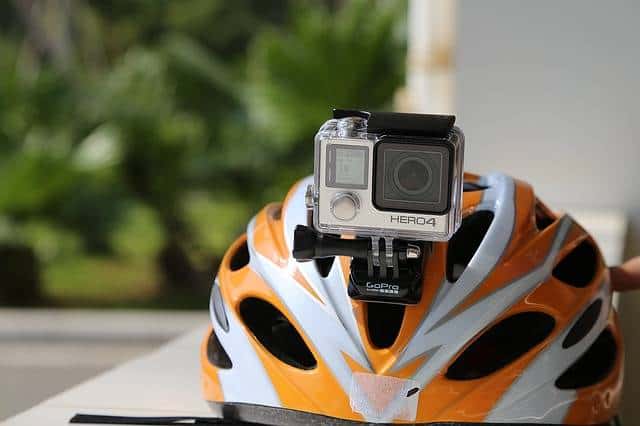 GoPro was the first company which came up with the idea of an action camera, producing and creating the technology and adapting it and updating it over time. They have several cameras which have 4K resolution, large touchscreens, waterproof cameras (without cases unto 10m), high-quality stabilization, live streaming, and time-lapse.
Why choose an Alternative to a GoPro?
GoPro has owned the action camera market for years without any competition, but now there are a large number of companies providing alternatives which are just as good if not better.
Large companies such as Polaroid, Garmin, and Olympus all have their action cameras, and these companies have been making cameras for a long time so add different features which may not even be available on GoPros, such as higher megapixel cameras, waterproof to more than 10m, or other features.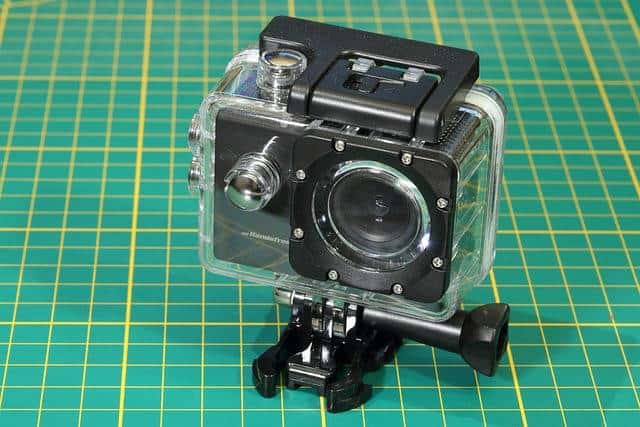 The best cheap action cameras like GoPro and competitors to GoPro – action camera reviews
Here are the action camera reviews for the top competitors to GoPro. Fake GoPros or GoPro Alternatives are a great choice if you are on a budget and looking for a cheap action camera.
Best Budget GoPro Alternative: Campark X20 Best affordable action camera
Campark X20 is a great budget alternative to a GoPro with similar features at a quarter of the price tag. The Campark X20 takes 4k resolution HD videos and professional quality 20MP images (higher than GoPro).
Ranging between $69 and $99 this camera is great value for all the features it has, with EIS advanced stabilization for a faultless video experience without the bumps. The camera is small with a 2inch touch screen for easy operation and browsing, as well as built-in wifi for realtime playback and downloads.
While this camera lacks the high professional quality images of a GoPro it is a quarter of the price and is ideal for the everyday user. It has several similar features of a GoPro like being waterproof and the modes but also has a remote control with a wrist strap and two lithium batteries.
Pros
• Touch screen
• EIS stabilization
• Wifi and remote
• 2 replacement batteries
• Durable
Cons
• Narrow video
• No brand support
• Grainy video
• Poor battery life in some modes
Other key features
• Weight 1.2lb
• Battery Life 2 X 3.7V 1050mAh Li-ion Battery 90minutes 1080P and 60minutes 4k/2k
• Max Resolution 4K HD Video and 20MP Images
• Water Resistance 30m with a waterproof case
Click here to check the price on Amazon
---
A great alternative to a GoPro is the Garmin VIRB Ultra 30, which has the same features as a GoPro and more. The product has the same high quality as you would expect from Garmin products as well as an easy to use interface with voice control and a color touchscreen display.
The Garmin VIRB Ultra 30 has a live streaming feature which can be shared directly to YouTube or other real-time video devices. The camera has GPS features and can be used in a variety of sports including snow sports, water sports, fitness and cycling, motorsports, and recreation or outdoor modes to capture video with features such as speed, temperature, altitude, acceleration, power, and other features.
Unlike the latest GoPro's the Garmin VIRB Ultra 30 has to be put in its waterproof case to be used underwater or in water.
Pros
• Crystal clear 4k/30fps video
• Slow-motion video
• Built-in GPS
• Colour display
• Voice control
• Sensitive microphone
• Sports features
• Compatible with GoPro mounts
Cons
• Battery life
• Mini USB cable
• GPS data inaccurate
• Waterproof housing failures
Other key features
Weight 3.2 ounces
Battery Life 1.5 hours recording
Max Resolution 4k/30
Water Resistance Waterproof Case
Click here to check the price on Amazon
---
Best GoPro Alternative for Sports: WongKuo Camera
The Wongkuo is a great alternative to a GoPro when capturing sports. The Wongkuo has multiple sports modes such as snow mode, diving mode, night mode, car mode, ideal for cycling, diving, running, hiking, surfing, and plenty of other sports.
The whole camera is waterproof with an IP68 and can go underwater up to 98ft or 30m. The camera is budget-friendly ranging from $47 upwards, which is great for a camera with so many features and accessories.
The camera captures great video for the price and has advanced electric image stabilization, as well as an external microphone, and remote control.
Pros
• Waterproof up to 98ft/30m
• 4k 30 FPS and 1080P/60FPS Video and 20 PM Images
• Built-in wifi and HDMI output
• Dual microphone, Wide angle view, and remote control
• Multiple sport modes
• Fits GoPro mounts
Cons
• Hard to get a battery in and out
• On/off beep is quiet
• Difficult to navigate
• View not as wide as a GoPro
Other key features
Weight 1.09lb
Battery Life 120 minutes
Max Resolution 4k Video 20MP Camera
Water Resistance IP68, Up to 98ft (30m)
Click here to check the price on Amazon
---
The YI 360 4K is a great alternative to a GoPro with identical features and more with a $160 price tag. This camera records 360 videos in 5.7K, thanks to its dual-lens, which each have 220 degrees, to provide 360-degree coverage.
The YI 360 4K also has in-camera stitching to shoot and share 360-degree images in 4K without the need to edit them. The camera connects to its app called YI 360 and can be used for sharing as well as live streaming on multiple social media platforms as well as integrated wifi.
If you can manage without the need for a waterproof camera the YI 360 4K is similar to the GoPro.
Pros
• 5.7k resolution
• Dual lens
• 4k Live streaming
• 4 viewing modes
• Integrated wifi
• 360-degree videos
Cons
• 3 Micro SD card to record in 5.7K
• Not water resistant
• Not shockproof
• Doesn't connect to some phones
• No software updates
Other key features
Weight 6 ounces
Battery Life 40 minutes in 5.7K mode and 1 hour 4K
Max Resolution 5.7K
Water Resistance None
Click here to check the price on Amazon
---
The AKASO V50 Elite is one of the best alternatives to a GoPro with very similar features and quality. The camera records is a maximum of 4K/60fps and have stabilization features which rival GoPros. The display is easy to use and is 2 inches with a touchscreen display.
While the camera isn't waterproof itself it comes with a waterproof casing as well as a large number of accessories including a remote control, 2x 1050Ah batteries with charger, bicycle stand, mounts, tape, helmet mount, settlers, lens cloth, and a replacement backdoor.
Pros
• Voice control
• Image stabilization
• Up to 4K/60fps video and 20MP images
• Waterproof unto 131ft or 40 meters
• Comes with accessories and is comparable with GoPro mounts
• Wireless remote control and wifi connection
Cons
• Doesn't have all features on the highest resolution
• Audio quality poor
• Interface hard to use
• Reports of camera freezing
Other key features
Weight – 1.2lb
Battery Life – 2 rechargeable batteries
Max Resolution – 4K/60fps video and 20MP camera
Water Resistance – Up to 131ft (40m) with case
Click here to check the price on Amazon
---
Smallest GoPro Alternative and Cheapest GoPro Alternative: Polaroid Cube Act II
The Polaroid Cube Act II is one of smallest cameras available weighing just 49 grams and measuring 35mm cubed. While the camera quality doesn't match up to some of the others on the list or a GoPro with only 1080p HD video and a 6MP camera it is a fraction of the cost at just $30. The camera is easy to use and is ideal for a first camera with all the functions of other cameras to get you started.
The camera is small enough to mount onto almost anything from bicycles to cars, and its simplistic user's experience is great for everyone. While it is not waterproof it is splash resistant and the battery lasts between 60 and 70 minutes.
Pros
• Small just 35mm and 49 grams
• 1080p HD video with a 124-degree wide-angle
• Simple to use
• Low price tag
Cons
• Splash resistant not waterproof
• Lower quality than others in the list
• Grainy images
• Poor image stabilization
Other key features
Weight – 49 grams
Battery Life – 60 to 70 minutes
Max Resolution – HD 720p or 1080p and 6MP images
Water Resistance – Splash resistant only
Click here to check the price on Amazon
---
Best Choice Action (best go pro knock off): ThiEYE T5e
The ThiEYE T5e is a great action choice alternative to a GoPro with very similar features and the latest technology including an Ambarella A12S Processor and Sony IMX117 Sensor for high quality rich 4K video in Ultra HD.
The inch screen is LCD and provides users with a great viewing interface as well as via the app and with the wifi features, which are compatible with both IOS and Android devices. You can edit images and add effects right in the app, then share them with your friends.
Unlike the newer GoPros, the ThiEYE T5e is waterproof but only within its waterproof casing, which makes it waterproof for up to 197ft or 60m. the case has a built-in 360-degree rotating buckle to make flexible adjustments and change shooting angles easily when surfing or doing water activities.
Pros
• 4K HD camera with 4K/30fps
• Wifi and app control
• 197ft in a waterproof housing
• 16MP camera
• Distortion Correction
• Electronic Image Stabilization
• Slow-motion feature
Cons
• Struggles in dark environments
• Only waterproof within the housing
Other key features
Weight – 15.7 ounces
Battery Life – 2x 1100mAh batteries
Max Resolution – 4K/30fps video and 16MP camera
Water Resistance – Up to197ft in case
Click here to check the price on Amazon
---
Best Brand of Action Cameras: COOAU
The COOAU 4K 16MP underwater action camera is one of the best action cameras with Ultra HD 4K videos and a 16MP action camera. The COOAU 4K has optical glass for high-quality images in both night mode and in the day time, with 4K/30fps video resolution. The camera also has electronic stabilization which is great in an action camera for capturing sports in a 170-degree wide-angle.
With a case made from the most technical sealing material, the case allows the camera to be submerged in up to 40m of water as well as being both scratch and hit proof all for a small price tag, starting at $50.
Pros
• 4K video and 16MP camera
• Electronic image stabilization
• 2 Extra batteries and two-channel charging
• Wifi connection
• 40m waterproof housing
• Remote control
• 170-degree wide-angle
• Compatible with GoPro accessories
Cons
• Quality not as good as an iPhone
• Some add-ons complicated to use
• No zoom feature
Other key features
Weight – 1.08lbs
Battery Life – 90 minutes in 4K mode
Max Resolution – 4k/30fps video and 16MP camera
Water Resistance – 40m waterproof housing
Click here to check the price on Amazon
---
The Victure 4K is a great camera for sports with electronic image stabilization great for action shots, especially with its waterproof casing providing a waterproof seal for up to 30m underwater which is great for diving, swimming, surfing, or other water sports activities. The camera has a 2-inch display and built-in wifi with the ability to record easily from the camera and connect to a phone using the YKJ app, to view or share images.
The Camera also features adjustable exposure features and a large number of functions and modes including anti-shake, 180-degree rotation, loop recording, burst photos, slow motion, and time-lapse.
Pros
• 4K Ultra HD video and 20MP images
• 2-inch display with wifi
• 30 meters waterproof
• Loop recording
• 180-degree rotation
Cons
• Screen images pixelated
• Not great quality videos
Other key features
Weight – 2.54 ounces
Battery Life – 180 minutes
Max Resolution – 4K 30p
Water Resistance – 30m in its waterproof case
Click here to check the price on Amazon
---
What to Consider When Buying an Action Camera
Conclusion – Cheap GoPro Alternative
When it comes to GoPros and alternatives there isn't a one fits all mode. Everyone has different uses for their cameras and take different photos depending on what activities they participate in or what images they would like to capture.
There are a large number of action cameras available on the market and a large number of options out there from waterproof to remote control features, this list has the perfect action camera for everyone.
Sharing is Caring! Pin this article to save for later.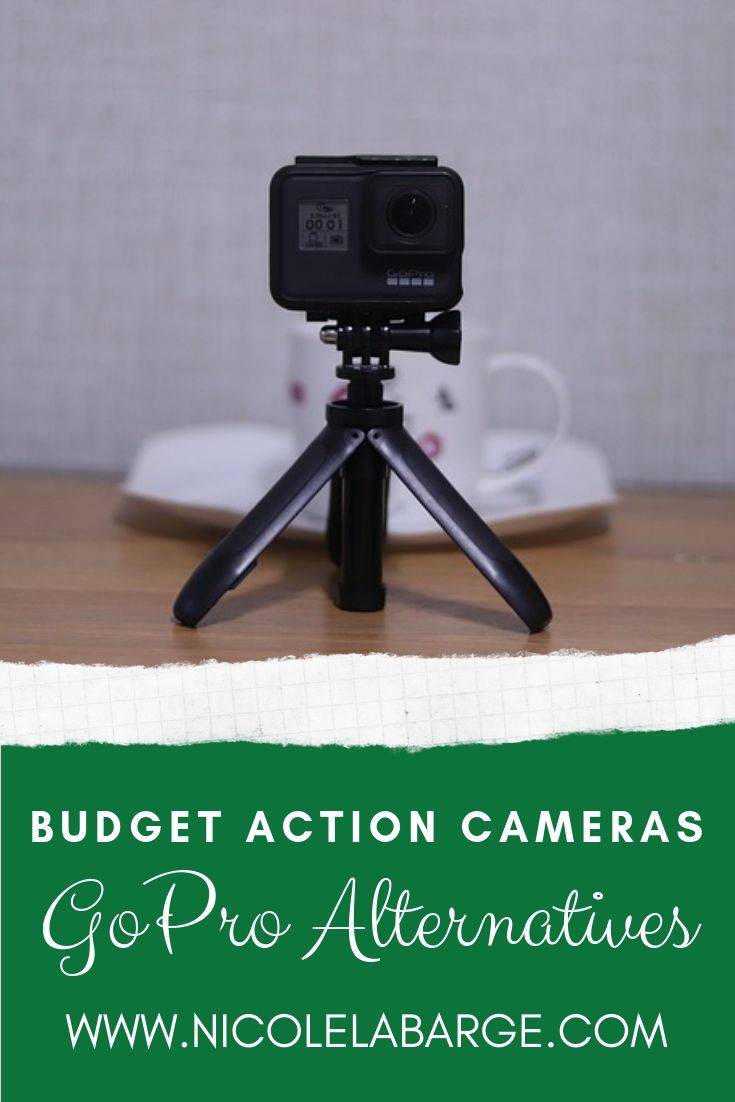 Continue Reading more on my website:
Recent Posts