7 Best GoPro Selfie Sticks
How to choose the best stick for GoPro
Have you ever tried to take a selfie of a group and your arm isn't long enough? If you have ever traveled and had that awkward moment when you want to take an image of yourself but you are on your own.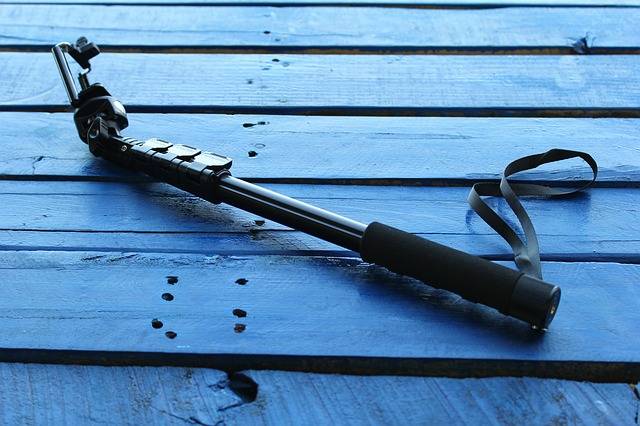 Or you are taking an image of a famous building and your selfie stick just breaks apart. Or you feel like an idiot carrying around this huge selfie stick which takes up half of your carry on luggage space.
And then there's that moment when you are undertaking an adventurous sporting activity and your GoPro just falls off the stick or tilts backwards and you miss the perfect photo opportunity.
These problems are a thing of the past, there are now a large number of GoPro selfie sticks available of the market and I have identified 7 of the best GoPro Selfie Sticks available depending on your photography desires and requirements.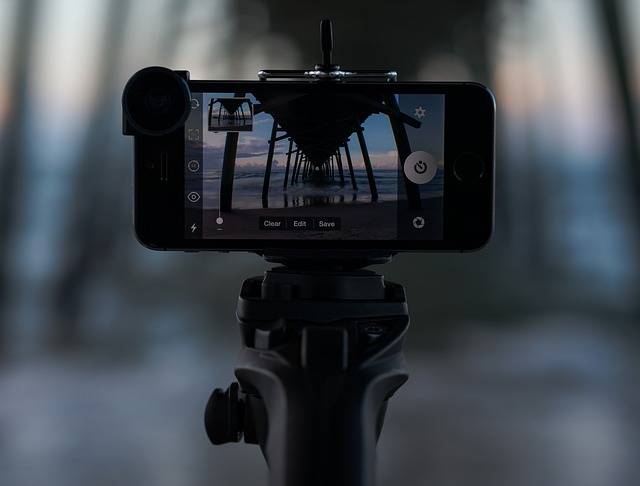 *Disclaimer: There may be some affiliate links on this page, which means when you click on a link I get a small percentage of the purchase at no extra cost to you. This allows me to keep sharing great travel tips for free, so feel free to click away!
Best Stick for GoPro Qualities
Size
GoPro selfie sticks come in all sizes and lengths. We have all seen those travelers with retractable selfie stick reaching far away from them and becoming less sturdy the further away they go. This doesn't have to be the case. GoPro selfie sticks can come in all lengths, some extendable up to 32 inches and others non-extendable and measuring just 7 inches or smaller.
When picking a GoPro selfie stick it is important to consider what size of the range you would like, will you be taking photos with big groups or in front of areas which you want a large background or will you be taking close up shots.
Waterproof
Do you require your GoPro selfie stick to be waterproof, will you take it surfing, swimming, snorkeling, diving, or another water sports activity, or will you use it to go hiking and just general traveling. Many of the selfie sticks featured in this list are waterproof while others are not. It is important to consider what you will be using your GoPro selfie stick to film.
Durability
We have all seen it, plastic, flimsy selfie sticks made with thin plastic, extending out inches in front of people are looking cheap or non-durable. If you are going to be capturing some serious footage and want your selfie stick to be stable and capture non-blurry video or images it is important to purchase a durable selfie stick.
Pay attention to the materials the stick is made out of and the better quality the materials the longer it will last and more versatile and durable your selfie stick will be.
Comfort Of Use
Many GoPro selfie sticks have grips to hold the stick easily and some even use non-slip grips to ensure the user doesn't drop the selfie stick, especially when underwater or undertaking activities. Wrist straps or other straps may be an important feature if the user is participating in sporting activities to ensure the stick or pole isn't dropped or lost when riding or swimming at speed.
GoPole Reach 14-40" Extension Pole for GoPro Cameras

This 14 – 40 inch extension pole for GoPro cameras is great for capturing unique and wonderful angles extending to 40 inches, and easily pivots from head shot to subject with stability.
The durable and portable design of the extension pole makes it easy to carry in a suitcase or backpack, compacting to 14 inches, while also being lightweight. The pole has 4 extendable poles which close back into one another and open and screw together to create a stabilized pole.
The pole is waterproof and has a wrist strap, remote clip to control the GoPro from the handle easily, to capture unique moments. The pole also comes with a direct GoPro connection for ease of use and quick secure attachment.
Pros
• Compact and portable
• 4 Stage telescope extends up to 40 inches
• Durable and lightweight (8 ounces)
• Includes wrist-strap, remote clip, and thumb screw
• Remote wifi clip
• Direct GoPro connection
• Waterproof
Cons
• Doesn't fold smaller than 14 inches
• Doesn't float
• The Extension can loosen after high saltwater use
Click here to check the price on Amazon
SANDMARC Pole Compact Edition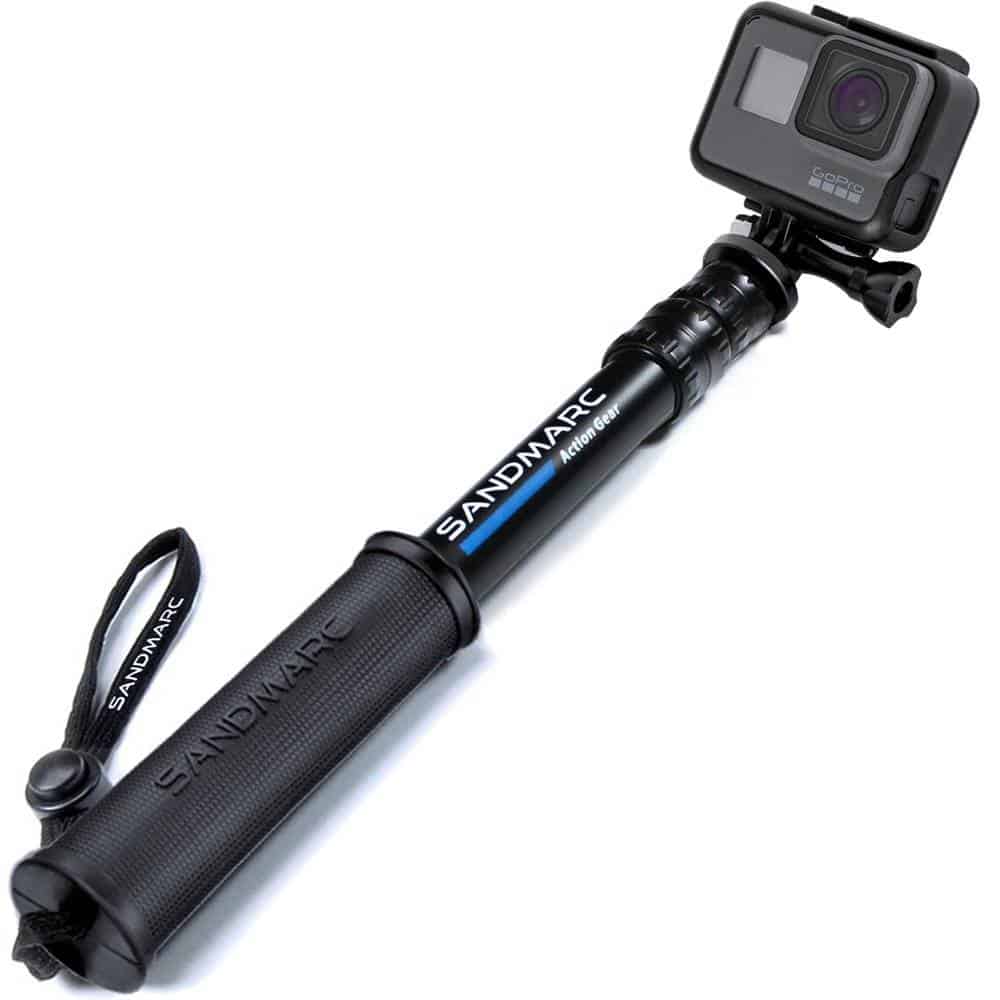 The SANDMARC Pole Compact Edition extends from 10 to 25 inches ideal for use when traveling, surfing, diving, skiing, snowboarding, and other sports or activities.
Designed in California the SANDMARC pole is designed to fit all GoPro Hero cameras as well as other HD cameras. It is considered the companies most compact and durable pole, made from black aluminum which is waterproof and lightweight. The pole features a rubber grip, wrist strap, aluminum tripod mount, and a plastic thumbscrew.
SANDMARC strives to create action gear for premium photographers, action sports enthusiasts, and outdoor adventurers.
Pros
• Extends from 10 to 25 inches and weighs just 7 ounces
• Fits all GoPro Hero Cameras
• Made from waterproof aluminum material
• Lifetime warranty
• Stabilization of the camera thanks to high-quality pole
Cons
• Only extends to 25 inches
• Extensions a little fiddly
• Hard to attach and remove GoPro
Click here to check the price on Amazon
Waterproof Floating Hand Grip Compatible with GoPro Cameras
This waterproof pole for GoPros is ideal for deep-sea diving, snorkeling, diving, surfing, swimming, hiking, skiing, and other sports. The pole is 7 inches tall, weighs under 80 grams, with a direct mount with 180-degree adjustment, stainless steel screws, and a non-slip EVA grip.
The pole, unlike other GoPro poles, has a floating design with a hollow compartment which allows it to float. The pole also features a bright orange cap on the bottom, which can be easily seen in the water. The compartment is also a great place to keep small items or can be partially filled with water to aid buoyancy when diving.
This is one of my favorite selfie sticks as I love the fact that it floats. I recently used it while swimming with whales in Tonga and I was really impressed with it. First, when you are in the water with the whales you want to be as present as possible. I literally turned on my GoPro, held it out in front of me and didn't look at it once. I wanted to see the whales through my own eyes instead of through a camera. It worked so well. It also made the GoPro feel weightless (along with the water) but it was nice to know I wasn't going to lose it or have to dive in after it.
The grip comes complete with everything you need including an adjustable wrist strap, thumb screw wrench, a J-Hook, and a built-in direct attachment for any action camera.
Pros
• Floats with a bright orange handle for visibility
• Non-slip grip handle
• Portable and lightweight weighing only 7 ounces
• Hollow compartment for valuables
Cons
• Not extendable
• Hollow compartment, not watertight
• Rusting of screws
Click here to check the price on Amazon
Vicdozia Portable Hand Grip Waterproof Extension Selfie Stick
With over 450 5-star reviews on Amazon, this selfie stick for a GoPro is certainly a winner, with a small and lightweight feel compacting down to just 7.5 inches, which is ideal for traveling with.
The extendable stick is made of high-quality materials including a soft rubber grip, non-slip handle, and wrist strap. The handgrip is easy to use with an extendable feature up to 20 inches, which opens into three sections, with a twist-lock feature.
With features such as being waterproof, and fitting all GoPro cameras, it is ideal for hiking, swimming, surfing, diving, snorkeling, and an abundance of other outdoor or water sports activities.
Pros
• Weighs 5.3 ounces and extends from 7.5 to 20 inches
• Twist and lock extendable features
• Compatible with all GoPros
• Can be used in water with rust-proof screws
Cons
• Can get stuck when extending
• Feels a little cheap
Click here to check the price on Amazon
GoPro Shorty Mini Extension Pole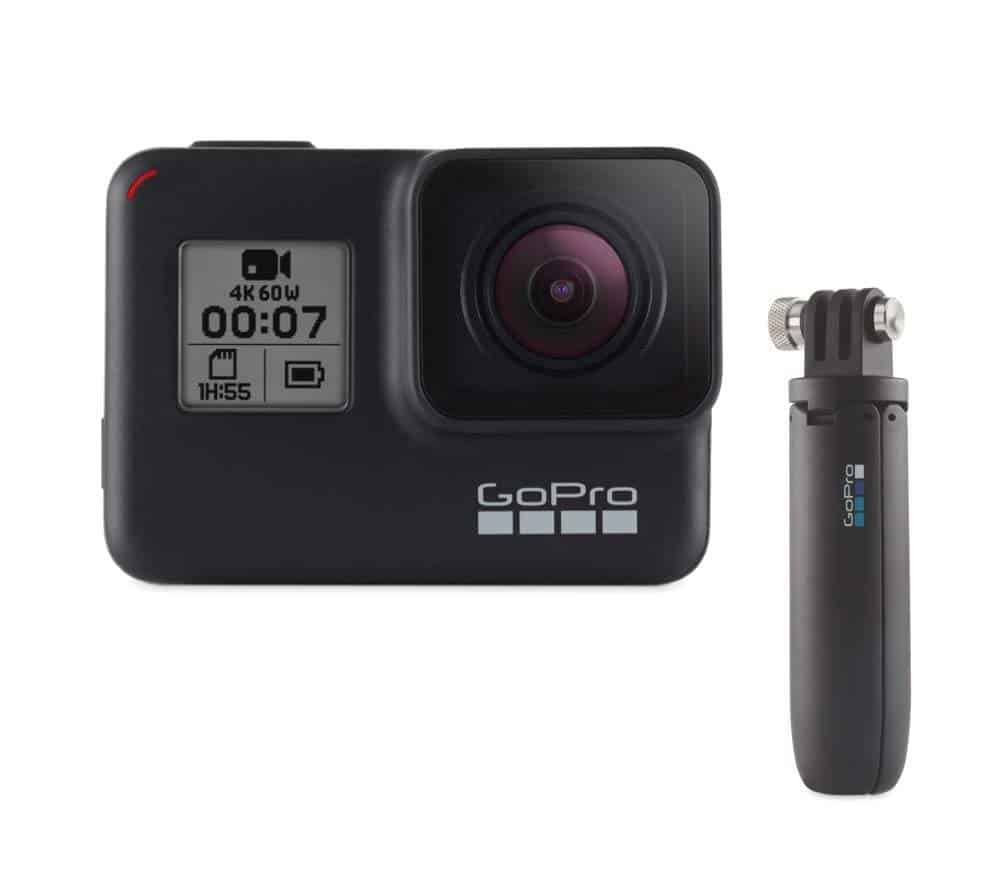 This official GoPro mini extension pole is pocket-sized measuring just 4.6 inches long and extending to 8.9 inches this pole is perfect for on the go activities, with a built-in tripod to position your camera for taking images on any surface.
The functionality of having both a pole and a tripod is a great two in one feature and the small size and weight make it super easy to put in your pocket or small backpack.
This is the bare minimum of what you would need in a selfie stick. It more something to hold onto while filming on the GoPro. The fact that the stick has legs is a really cool feature as you can prop it up on books or a rock to film.
Pros
• Extendable pole up to 8.9 inches from 4.6 inches
• Both a pole and a tripod
• Compact
Cons
• Strange audio noises
• Flimsy
• No strap or lanyard
• Only extends to 8.9 inches
Click here to check the price on Amazon
PGYTECH Action Camera Extension Pole Tripod Mini
This PGYTECH extension pole and tripod is ideal for the majority of action cameras including GoPros. It has a non-slip grip made from a soft rubber material and is of a medium-size which is convenient for travel or putting in a pocket or small backpack.
The PGYTECH pole isn't just a selfie stick it also has a magnetic tripod, which is fast collapsing and the magnets force it together. These features allow users to get multiple perspectives and angles, as the pole also extends to 40cm.
Not only is it durable and versatile the pole and tripod combination is lightweight and made of high-quality materials.
Pros
• Tripod and selfie stick
• Non-slip grip
• Retractable from 14.5cm to 40cm
• Works with most action cameras
• Lightweight and small
Cons
• Flimsy feel
• Not Waterproof
Click here to check the price on Amazon
Selfie Stick Tripod with Bluetooth Remote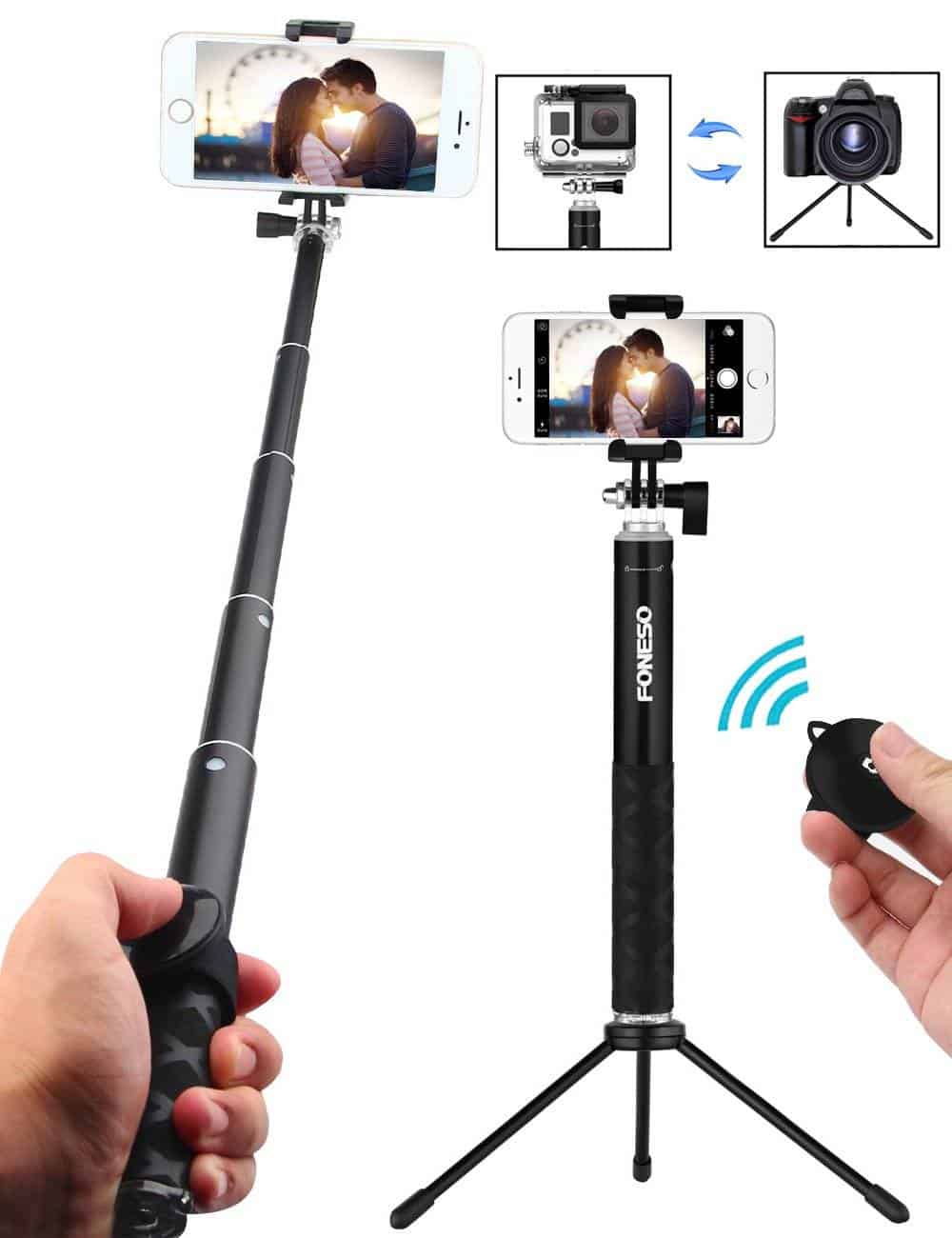 With over 450 5-star reviews this selfie stick is loved by many, with both an extendable selfie stick reaching over 32.7 inches as well as a tripod. You should check out all 800 reviews on this selfie stick.
Complete with a Bluetooth remote control and adaptors for certain phones and cameras this selfie stick can be used by everyone. Made of high-quality materials and compacting down to under 7.1 inches, it is easy to carry and store.
The selfie stick has multiple modes and features from a handheld mode for your phone, a GoPro mode for outdoor activities, and a tripod mode with a remote control to take photos easily from a distance.
Pros
• High-quality materials
• Expands from 7.1 inches to 32.7 inches
• Also has a tripod feature
• Bluetooth remote control
Cons
• Flimsy Clamp
• Heavy
• Only retracts to 9.5 inches
Click here to check the price on Amazon
Conclusion – Best GoPro Selfie Sticks
When it comes to a selfie stick and GoPro poles there isn't a one fits all mode. Everyone has different uses for their cameras and take different photos depending on what activities they participate in or what images they would like to capture.
There are a large number of selfie sticks available on the market and a large number of options out there from waterproof to remote control features, this list has the perfect selfie stick for everyone.
Sharing is Caring! Pin this post to save for later.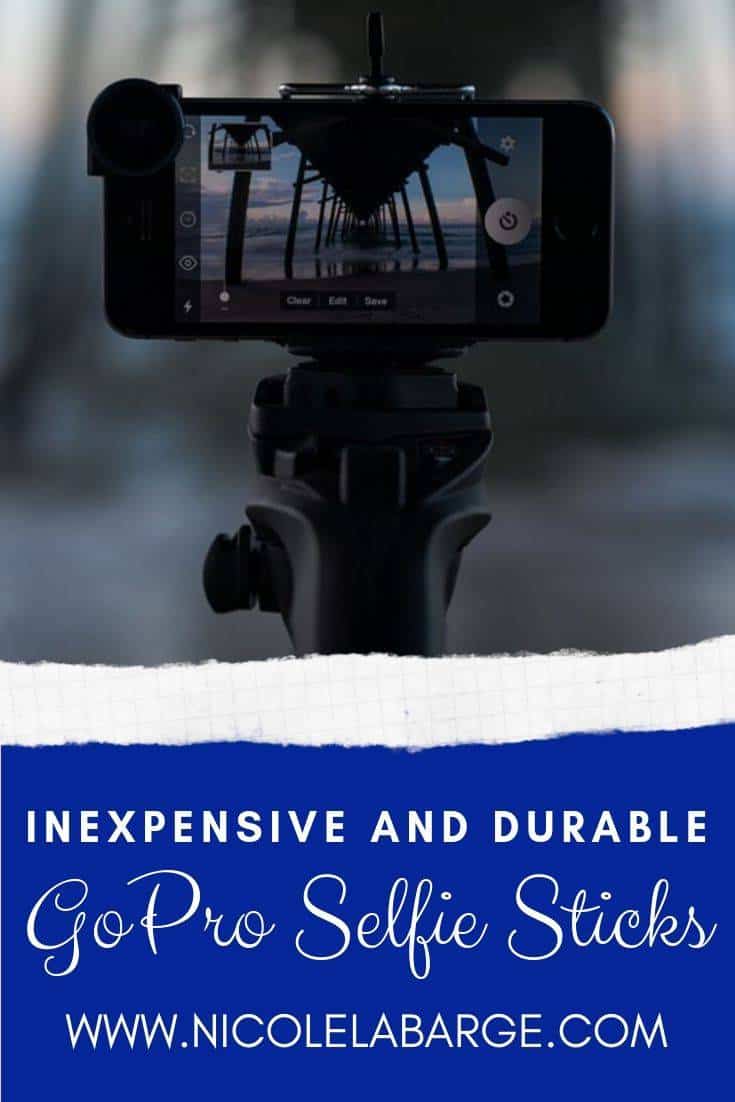 Continue Reading more articles on my site:
Alternatives to GoPros
Go Pro Domes
Recent Posts