What are the best binoculars under $100? A Guide to how to find the best binoculars for the price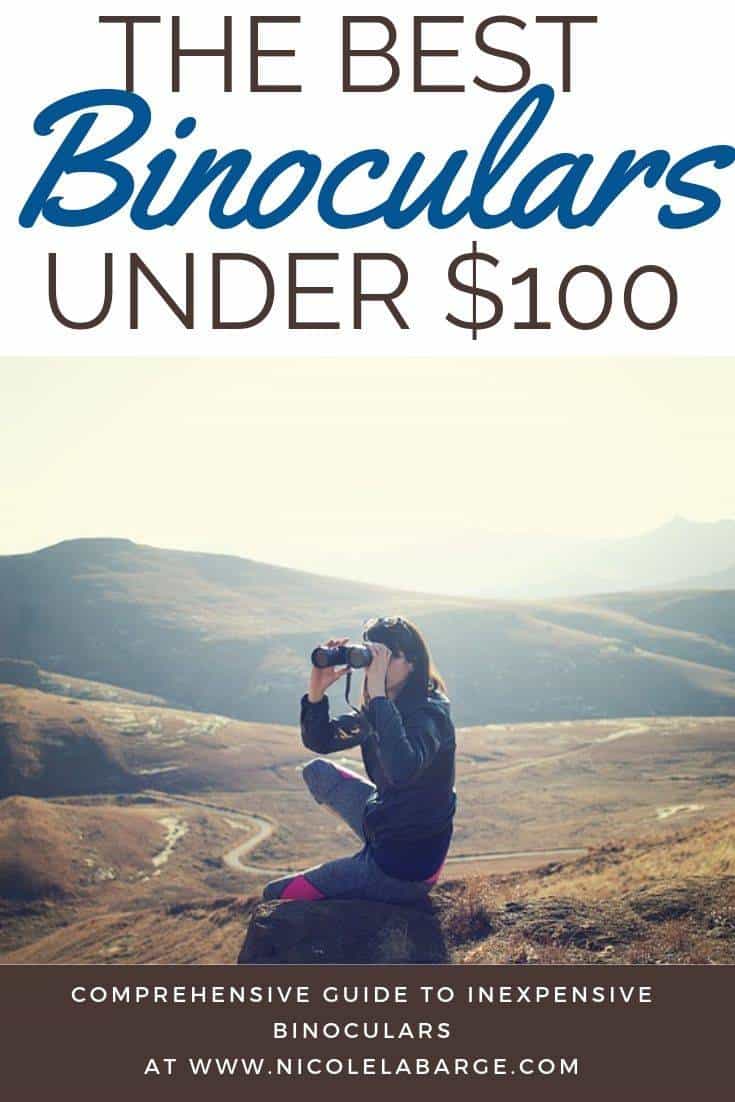 Best affordable binoculars and the best value binoculars
Finding the best binoculars for the price – Choosing the best binoculars can be challenging. There are so many different models out there and a range of prices. Where do you even start?

That's why I put together this guide of cheap good quality binoculars. I've used lots of pairs of binoculars over the years when I travel for bird watching or on safari so I can guarantee these are the best binoculars for the price no matter what your budget is for binoculars.
I'll cut to the chase and let you know the best inexpensive binoculars are the Sky Genius Binoculars and they are one of the best binoculars under 50.
There are over 1,100 positive reviews for the Sky Genius Binoculars on Amazon so check them out.
Continue reading and I will go through 8 other pairs of inexpensive binoculars and their features in the comparison chart and then later in the article I will review each pair of binoculars.
I will also answer frequently asked questions about how to choose the best binoculars for the money and what to look for.
Comparison Chart – best binoculars under $100
Best affordable binoculars and the best binoculars under 100
These binoculars are perfect for outdoor activities such as hunting, bird watching, astronomy, camping and much more. They are powerful enough to observe every detail of your objective and have a large 50mm lens to capture all the transmitted light.
They have a central-right adjustment to ensure a quick and easy approach, while allowing both eyepieces to calibrate separately for an even clearer view.
These binoculars have a 12x magnification, 25mm objective lens and wide field of view, 273ft/1000yds, letting you look farther and see wider. Coating with FMC Broadband coating and premium BAK4 prism, it ensure a clear view.
Bushnell Roof Prism Binocular – best binoculars under 100 and the best bushnell binoculars
These binoculars are 100% waterproof. Waterproof construction and textured, non-slip rubber pads give you a grip on the situation, even where it is slippery, wet and wild, ensuring a premium viewing experience no matter how wet they get.
These SkyMaster Binoculars are the best affordable binoculars. They have a large 70 mm objective lens that offers maximum image brightness in low light and long range conditions.
These are one of the best cheap binoculars as normally they would be one of the best binoculars under 100 but they are current on sale for 35% off making them even more inexpensive.
The perfect compact and best lightweight binoculars for bird watching and other outdoor activities. Great lightweight and Pocket sized binoculars for bird watching, nature watching, star gazing or other outdoor activities enjoyed by adults or children. The 8×32 optics give you great wide field of view.
These binoculars have a lifetime warranty. They will be the last pair of binoculars You'll Ever Need to Buy, because they will replace them if they are damaged. And the only pair of lightweight high powered binoculars you'll want to take everywhere.
ZoomX Binoculars – another one of the best Lightweight Compact Binoculars
Binoculars for travel, bird-watching or whale-watching. Made by IPX7 standards. The body is fully sealed and filled with Nitrogen: 100% waterproof, protects the lens from fogging.
These binoculars are the perfect choice of great quality at affordable price. The binoculars have advanced optic technologies for you to enjoy crystal clear and colorful images even at the night. They perform well under unfavorable weather conditions in low and high temperatures. Plus they have a lifetime warranty.
Gosky 10×42 Roof Prism Binoculars – best cheap compact binoculars
These binoculars bring the world closer and provides a high-resolution images with extremely accurate colour reproduction. And bonus smartphone adapter allows you to capture and record it all on your smartphone!
Thes Gosky binoculars have a compact roof prism to balance the small size and premium image quality.
How to choose the best binoculars for the money?
There are several different characteristics to look for in the best affordable binoculars.
Magnification is one of the biggest factors along with price. Check out the frequently answered questions below for a lot more detail on what to look for in the best cheap binoculars.
What magnification do I need in the best budget compact binoculars?
My suggestion is to set a budget and then choose the best magnification you can afford. Remember, magnification is the first number when stated at 10×50. Binoculars with the specification of 10×50 can be adjusted to magnify the picture 10 times that of the naked eye.
The second number used in 10×50 refers to the binocular objective lens diameter. The objective lenses are the lenses at the front of the binoculars, furthest away from your eyes, and closest to what you are looking at. The objective lens diameter of the example binoculars is 50mm. The larger the number, the larger the lens and that means the more light that will enter and create a clearer picture.
Frequently Asked Questions about choosing the best inexpensive binoculars
What is the optical quality of binoculars?
Lens come in four different types of coatings.
Coated which is the lowest quality
Fully coated which is quite economical
Multi coated which is higher quality and
Fully Multi coated which allows the best light transmission and brightest images.
Choosing a binocular with a good coating will give you the best outcome.
Do I need binoculars that are coated?
Yes. All quality binoculars are fully coated, multi coated or fully multi coated. Coatings are one of the most important factors in determining image brightness through the binoculars.
Many budget binoculars have several uncoated surfaces – this is unacceptable, since each uncoated glass surface reflects about 4-5% of incoming light. This will result is a dim, washed-out image through the binoculars.
What do the numbers mean in 8×42?
The first number is the magnification and the second number is the diameter of the lens. The magnification is 8 and the diameter is 42mm.
So, I want the highest magnification for my binoculars, right?
Not exactly. The higher the magnification the steadier you must hold the binoculars. This is impossible in a moving safari vehicle and you will not be able to use a tripod inside a vehicle to keep it steady.
You could use a tripod on a walking safari or from a viewing platform at your accommodation.
Which is the best magnification for binoculars?
For a safari I recommend 8×42 or 10×50 binoculars. These will give you great magnification, large eye pieces to let in light yet they will still work well even if you do not hold them perfectly still. That's why I chose the Bushnell Waterproof/Fogproof Roof Prism Binocular with their 8×42 view.
What are Standard Porro Prism Binoculars?
These are general purpose binoculars with lenses larger than 35mm. An example would be binoculars that are 8×42 or 10×50. They enable bright, high-contrast images through the binoculars to view wildlife from far away which is excellent for a safari.
I recommend buying binoculars with a roof prism instead of a porro prism as they take up less space.
Do I need binoculars for a safari?
YES. I do not think it matters if you are going on safari in Kenya, Tanzania or South Africa the answer will be the same. Yes, you should bring a pair of binoculars to spot the animals.
Your guide will have a pair to try and look for the wildlife and once he sees them then you can use your binoculars to see the animals on safari. Do not rely on the zoom on your camera for this.
Conclusion – Best cheap binoculars
The best binoculars for you are ones that you are going to use. They need to be easy to use, easy to focus, and easy to see out of plus they need to be in your budget.
With so many different options to choose from I wanted to put together a guide that was easy to use and explained the different functions of the binoculars.
Over to you. Do you use binoculars for travel or birding or hunting? I'd like to know which ones you think are the best cheap binoculars and the best binoculars for the price.
Sharing is Caring! Pin this post to save for later.
Continue Reading other articles on my site:
This comprehensive guide covers everything from best cheap compact binoculars to the best inexpensive binoculars. These are all the best binoculars for the price and the best binoculars under 100. I hope you enjoyed this guide to the best affordable binoculars.
I have a guide currently for the best binoculars to use on safari. Several of these are under $100 as well if you want to check those out. I'll also do a guide to compact binoculars in the future.
Recent Posts