Best Travel Binoculars for Safari in 2020 Reviews
What are the best binoculars for Safari?
Binoculars for Safari: When packing for a safari, the number one question people have is "Should I bring binoculars on a safari?" When people ask me this I scream YESSSSS!!!!!
I consider bringing binoculars on safari 100% an essential item to bring on safari. This is the pair of binoculars I own and take on safari with me when I travel.
Choosing the best binoculars for safari can be challenging. There are so many different models out there and a range of prices. Where do you even start? And what do the numbers (8×42) mean?
Don't worry. This safari binocular buying guide has all the answers. Not only does it include binoculars for your safari reviews, but I have also included all the frequently asked questions about binoculars at the bottom as well.
I have researched all the best binoculars in this guide and created a comparison chart to make your safari the best adventure for you.
I have a confession to make – when I first went on safari, I thought I would see all of the animals just fine without binoculars. What happened instead is that I ended up using my guide's binoculars the whole time.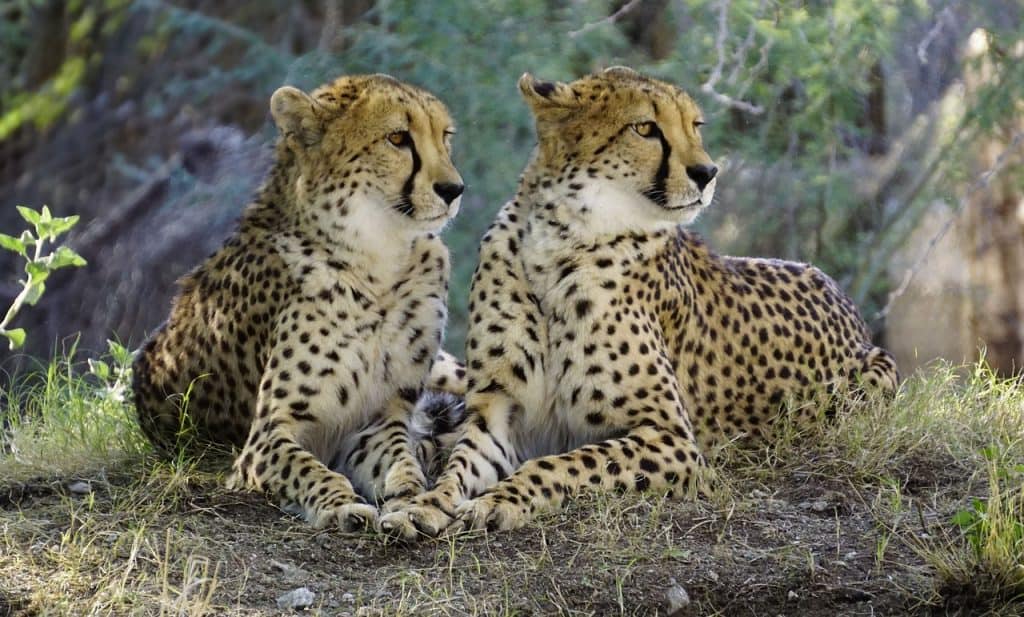 I wouldn't have been able to see these two cheetahs unless I had binoculars. I'm so thankful for that as it was a beautiful moment to see.
So before my next safari, I researched the best binoculars for a safari to make sure I was ready to bird watch and spot the elusive leopard.
There are so many amazing animals to see on safari but they are not just sitting there waiting for you. You will see cheetahs off in the distance on an ant hill and to see them you will need to have a pair of binoculars.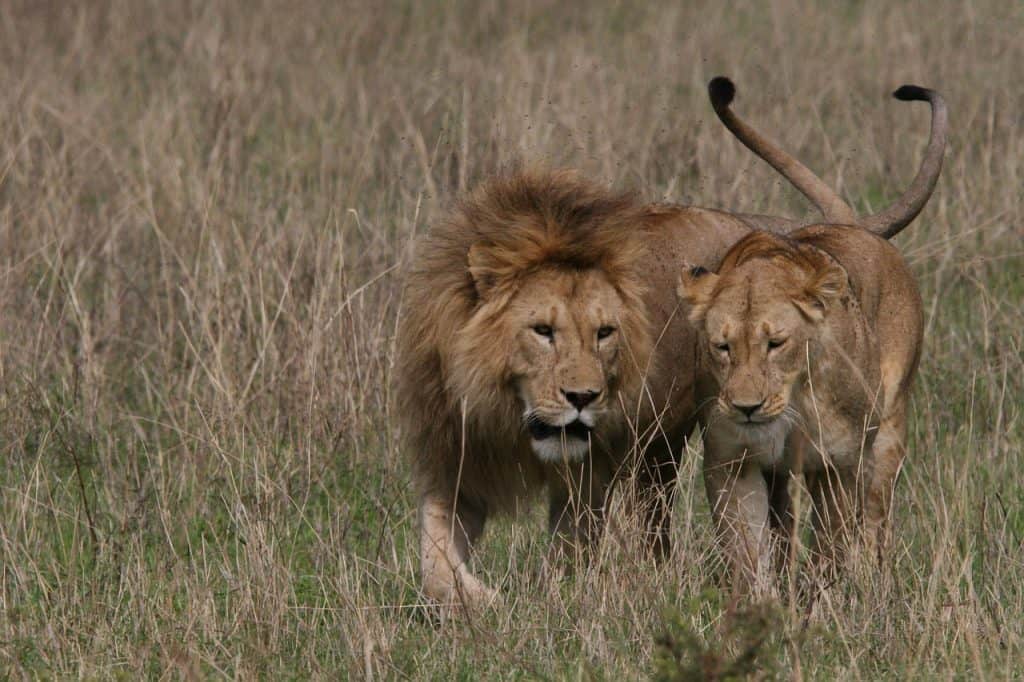 I've been on over 20 safaris in Africa and visited 35 of the 54 countries on the continent and the first thing I always pack is my binoculars for a safari.
*Disclaimer: There may be some affiliate links on this page, which means when you click I get a small percentage of the purchase at no extra cost to you. This allows me to keep sharing great travel tips, so feel free to click away!
Best Binoculars for Safari Comparison Chart
I've prepared the following comparison chart of the best binoculars I have researched and/or used to help you find the best one.
TLDR: For me, the weight of the binoculars is an important feature. You do not want to have to lug around a large travel accessory. These are the best lightweight binoculars for travel I recommend and they are the best affordable binoculars – Nikon 8252 Aculon.

Another important factor is magnification. I want to be able to see the animals clearly. The best binoculars for safari need to have a combination of these two factors.  I have a whole FAQ at the end of this article that covers all of the features to look for in safari binoculars.
Wondering what are the best binoculars for safari?  I've prepared the following comparison chart of the best binoculars I have researched and/or used to help you find the best one.  Here are some of the recommended binoculars for safari.
Comparison Chart
The Winner and Best Binoculars for Safari
Nikon 8252 Aculon Binoculars – The best binoculars for the money
Nikon 8252 Aculon Binoculars – with over 860 positive reviews these are the best travel binoculars for you.
One reviewer even said that they had bought several pairs of binoculars over the years and that they didn't have the clarity that they had expected until they bought these.
These binoculars are crystal clear even when you zoom all the way in! And these binoculars are the perfect price point as well. You will see why they are the best binoculars for a safari.
Quality and Affordability

"The ACULON A211 10-22×50 zoom binoculars feature adjustable 10-22-power multicoated lenses and 50mm objectives fabricated with Nikon's exclusive lead and arsenic free Eco-Glass. The BaK4 Porro prism systems within all ACULON A211 binoculars deliver a high quality image under a multitude of lighting conditions, making these binoculars effective from dawn till dusk. All together the ACULON A211 10-22×50 zoom binoculars are a quality, cost effective choice."
What does 22×50 mean? 22×50 binoculars have 22x magnification and the objective lenses are 50mm in diameter. The wider the objective lens, the more light the binoculars will take in making the image brighter.
I chose the Nikon 8252 because they are very ergonomic and comfortable to use and come with a neck strap as well. Everything is so crystal clear through these binoculars and they are the best safari binoculars. Also the best travel binoculars for safari.
Click here to see more information and the latest prices.
---
Celestron 71332 Nature Waterproof Binocular – best lightweight binoculars for travel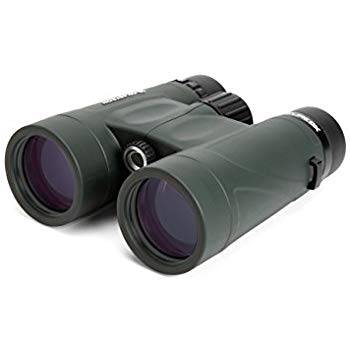 Celestron is one of the cheaper binoculars on this list these binoculars have a huge magnification and lens diameter yet only 1.75 pounds and they are waterproof.
These binoculars are best for beginner to intermediate users because of their large magnification and small lens. They do need to be held steady though when using them.
These binoculars would work best on a safari where you will also have a lot of bird life. They are large binoculars and best used with a tripod. Good if you are doing a walking safari or you are staying at a lodge that has a viewing platform for the wildlife.
Click here to see more information and the latest prices.
---
Wingspan Optics Wingcatcher – lightweight binoculars for safari
The Wingspan binoculars are great binoculars that let you see farther and brighter with more clarity and color.  They are cheap binoculars for a safari that are good travel binoculars.
They have an extra wide field of view which makes it easier to spot animals in the grass and cover large areas to see if anything is out there such as lions in the tall grass.
With these lenses, you can experience unbeatable resolution and contrast. This is the ideal magnification to capture crystal clear images.
The Wingspan binoculars come with neck strap, carrying case, lens protectors and cleaning cloths.
Click here to see more information and the latest prices.
---
Sky Genius Powerful Binoculars – bush binoculars
Sky Genius binoculars are compact and perfect for your next adventure. They also have a lifetime warranty, so if you are worried about how your binoculars will perform on safari you have extra insurance for them.
Sky Genius binoculars are waterproof and fog proof which is important for your sunrise safaris and the cold air outside and the warmth of your body up again the eye piece. You do not want the binoculars to fog up just when you are going to use them.
They are made from durable materials with water resistance function fits for most outdoor scenes.
Click here to see more information and the latest prices.
---
Vortex Optics Diamond Binoculars – safari binoculars
The Vortex Optics Diamond Binoculars are efficient and high-performing optical binoculars with enhanced, multi-coated lenses (including Argon gas for anti fog), that provide stunning views and impressive low-light performance. One of the top recommended binoculars for safari for the price.
They have an ultra-wide, field of view, which you can use to effortlessly cover ground and acquire subjects with ease. They also have a sleek, short hinge design with rubber armor and thumb indents that leave more room for your hands creating an easier, secure, non-slip grip.
These binoculars are for those who are serious about seeing wildlife at a distance and can be used with a tripod to ensure a steady hand. They come with a neck strap and case to protect your binoculars.
Click here to see more information and the latest prices.
---
Gosky 10×42 Roof Prism Binoculars – travel binoculars for safari
These are inexpensive binoculars, which are great for watching wildlife both in the national parks or open areas. The cheap binoculars for safari come with a pouch lens protector covers and a cell phone mount.
The mount helps you capture images that you would need an expensive DSLR camera to get a clear shot of so you can revisit the memories you have created. The binoculars are easy to adjust and everything about this binocular is sturdy and seems well made.
Click here to see more information and the latest prices.
---
Viper Optics Professional Binoculars – lightweight binoculars for safari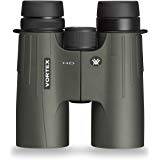 The Viper Optics Binoculars are high end binoculars with all of the top specs. Lifetime waterproof with Argon gas for anti fogging, customized eye relief, exceptional resolution and clarity, full size, yet compact with superior ergonomics. Perfect for low light conditions.
This is the best safari binoculars for you if you have a big budget and will use them frequently.
"The Viper HD – Premium optics and rugged construction in a tremendously compact, lightweight package – What more could you need? Well, perhaps a quality chest harness to comfortably and securely carry your investment in the field, but that's included, too! Hunters, shooters and outdoor enthusiasts alike are sure to benefit from the high performance of the Viper HD binoculars."
Several reviewers have said these binoculars are even better than the Swarovski's binoculars.
Click here to see more information and the latest prices.
---
How to choose the best binoculars for safari? What magnification do I need?
My suggestion is to set a budget and then choose the best magnification you can afford. Remember, magnification is the first number when stated at 10×50. Binoculars with the specification of 10×50 can be adjusted to magnify the picture 10 times that of the naked eye.
The second number used in 10×50 refers to the binocular's objective lens diameter. The objective lenses are the lenses at the front of the binoculars, furthest away from your eyes, and closest to what you are looking at. The objective lens diameter of the example binoculars is 50mm. The larger the number, the larger the lens and that means the more light that will enter and create a clearer picture. You will want larger objective lenses for low light conditions. These are not always the most compact binoculars.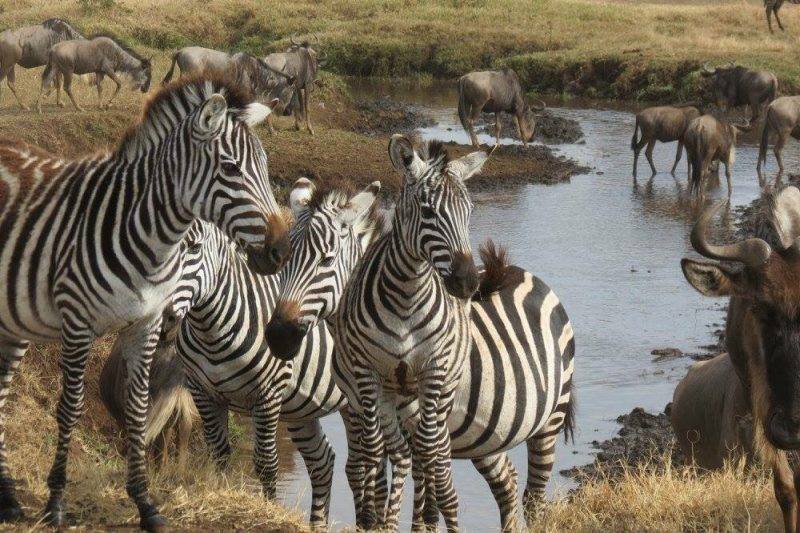 ---
Frequently Asked Questions
Wondering how to buy binoculars for safari? Check out these FAQs on which binoculars are best for safari and how to choose the best binoculars for wildlife viewing.
Do I need binoculars for a safari in South Africa? YES. I do not think it matters if you are going on safari in Kenya, Tanzania or South Africa the answer will be the same. Yes, you should bring a pair of binoculars to spot the animals. Your guide will have a pair to try and look for the wildlife and once he sees them then you can use your binoculars to see the animals on safari. Do not rely on the zoom on your camera for this.
What is the optical quality of binoculars? Lens come in four different types of coatings.
Coated which is the lowest quality
Fully coated which is quite economical
Multi coated which is higher quality and
Fully Multi coated which allows the best light transmission and brightest images. Choosing a binocular with a good coating will give you the best outcome.
Do I need binoculars that are coated? Yes. All quality binoculars are fully coated, multi coated or fully multi coated. Coatings are one of the most important factors in determining image brightness through the binoculars. Many budget binoculars have several uncoated surfaces – this is unacceptable, since each uncoated glass surface reflects about 4-5% of incoming light. This will result is a dim, washed-out image through the binoculars.
What do the numbers mean in 8×42? The first number is the magnification and the second number is the objective lens diameter or the diameter of the lens. The magnification is 8 and the diameter is 42mm.
So, I want the highest magnification for my binoculars, right? Not exactly. The higher the magnification the steadier you must hold the binoculars. This is impossible in a moving safari vehicle and you will not be able to use a tripod inside a vehicle to keep it steady. You could use a tripod on a walking safari or from a viewing platform at your accommodation.
Which is the best magnification for binoculars? For a safari I recommend 8×42 or 10×50 binoculars. These will give you great magnification, large eye pieces to let in light yet they will still work well even if you do not hold them perfectly still.
That's why I chose the Nikon 8252 Aculon Binoculars with their 10×50 view.
What are Standard Porro Prism Binoculars? These are general purpose binoculars with lenses larger than 35mm. An example would be binoculars that are 8×42 or 10×50. They enable bright, high-contrast images through the binoculars to view wildlife from far away which is excellent for a safari.
I recommend buying binoculars with a roof prism instead of a porro prism as they take up less space.
---
Conclusion – choosing the best binoculars for safari for you
The best binoculars for you are the ones that you are going to use. They need to be easy to use, easy to focus, and easy to see the wildlife.
With so many different options to choose from I wanted to put together a guide that was easy to use and explained the different functions of the binoculars.
I have been on over 25 different safaris in Africa and have always used binoculars. Its one of my top tips for going on safari. I've included some more tips below to make your safari experience a great one!
Plan Your Trip to Africa
Water:

The best thing I have ever bought for my travels is a

Lifestraw Water bottle

to ensure safe drinking water and reduce my plastic consumption.

Guide Book:

Sometimes it's nice just to have a real book in your hands when traveling. I recommend picking up a

Lonely Planet

so you can mark out where you want to go and what you want to see.

Adaptor:

I always use the

universal travel adapter

as I usually visit numerous countries at a time.

Remember that most of Southern Africa uses

this travel adaptor,

while Eastern Africa uses the

British Three Prong adaptor.
Sharing is caring. Pin to save for later!
Read Next:
Recent Posts