8 Best Compact Binoculars under 100 – Best Budget Binoculars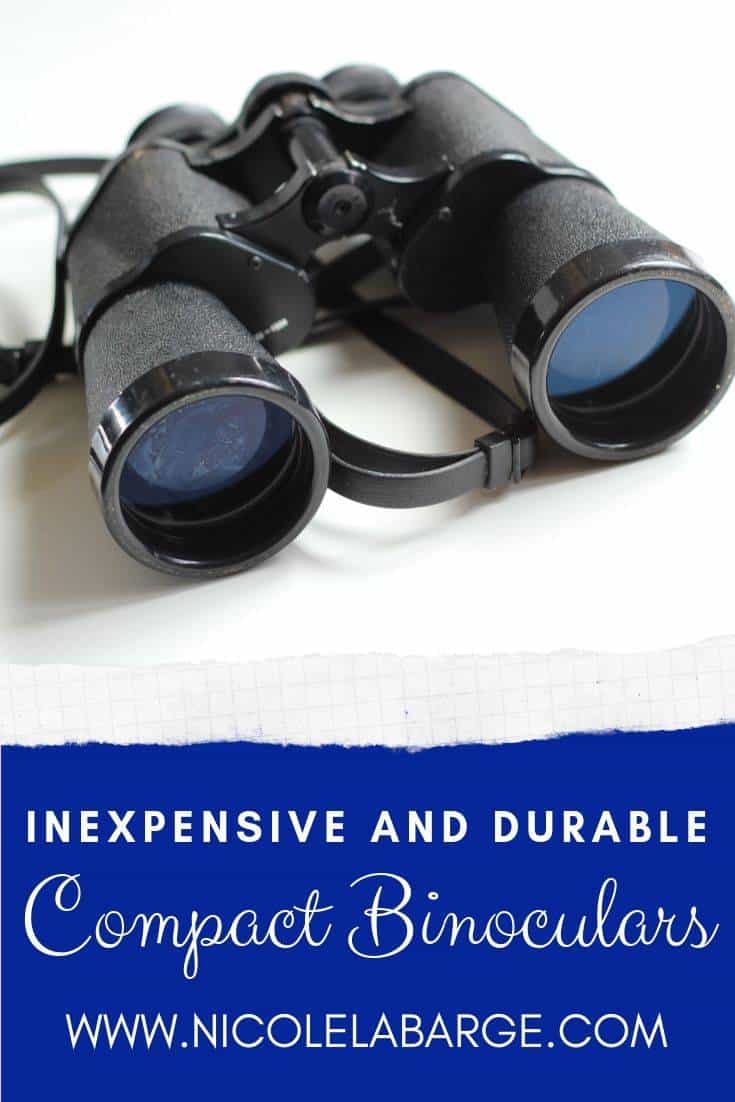 Best Compact Binoculars under 100 –  Best lightweight binoculars
Looking for the best compact binoculars?  Below is my comprehensive guide to the best budget binoculars and how to find the right lightweight binoculars for you in this compact binoculars buying guide.
There is nothing worse than lugging around a heavy, bulky travel accessory that takes up space in your luggage.  That's why I've researched the best binoculars that are lightweight, compact and yet still powerful and usable.
Whether you are looking for the best pocket binoculars or best cheap compact binoculars or
best inexpensive compact binoculars, I have you covered!  This list is for anyone who wants a pair of compact binoculars for travel, hunting, birding or whale watching.
*Disclaimer: There may be some affiliate links on this page, which means when you click on a link I get a small percentage of the purchase at no extra cost to you. This allows me to keep sharing great travel tips for free, so feel free to click away!
If you would like to just skip to the chase here are the best compact binoculars under 100
Here I have put together a list of the best compact binoculars and what they are used for.  If you would like more information, check out the comparison chart or the individual reviews of each binocular further down.
What do you use your binoculars for travel?  Is it worth bringing high magnification binoculars?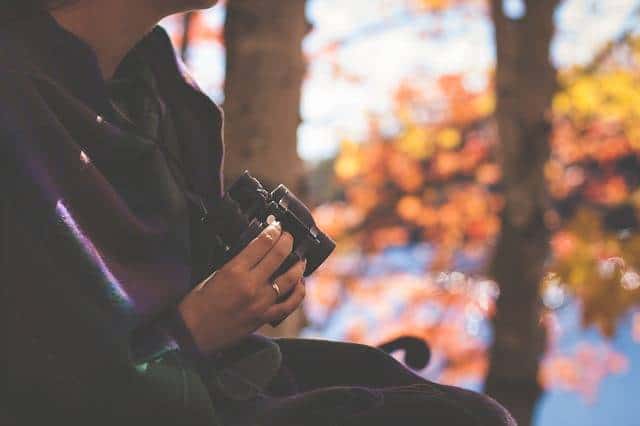 I get it, your bag is full and you're wondering if you really need binoculars?  Well of course if you are going on safari I complete recommend bringing your own binoculars for safari but when else will you use them?  This is what I like to use the best small binoculars for when I travel.
We used them when we went swimming with humpback whales in Tonga on the boat when we were trying to spot the whales on the horizon
Birding is a popular activity and I used binoculars when I was in Costa Rica in the rainforest and Guatemala looking for the quetzal
I used them for whale watching in the San Juan Islands, Washington or Kaikoura New Zealand and also when I was spotting Hector Dolphins in the South Island of New Zealand.
I used my binoculars when I was spotting monkeys when I was hiking Pedra Bonita in Rio and also when I was in the Amazon in Suriname.
I've even used my binoculars in London when I was on a viewing platform and I wanted to see out in the horizon or check out the detail on a building.
Best Cheap Compact Binoculars Comparison Chart
Compact Binoculars Reviews – Best Small Binoculars
This is a summary table for this compact binoculars buying guide.  I've included features and comparisons between each pair of binoculars.
| Binoculars | Description | Price |
| --- | --- | --- |
| Wingspan Optics Voyager 10X42 | Top Pick on the list. Great magnification, great price and lightweight | Check price on Amazon |
| Binoculars for Adults Compact | Lightweight Binoculars that are portable and durable | Check price on Amazon |
| Bushnell H2O Waterproof/Fogproof Roof Prism Binocular | Bushnell binoculars are quality binoculars 100% waterproof | Check price on Amazon |
| Occer 12x25 Compact Binoculars | These binoculars have a 12x magnification and 25mm objective lens | Check price on Amazon |
| SkyGenius 10 x 50 Powerful Binoculars | Large field of View for far sight line. | Check price on Amazon |
| Gosky 10x42 Roof Prism Binoculars | Compact Roof Prism Binoculars with 10x magnification | Check price on Amazon |
| Binoculars 10x42 | Compact and Lightweight | 10x magnification power with a great starter kit | Check price on Amazon |
Recommended Best Binoculars for the price in the compact category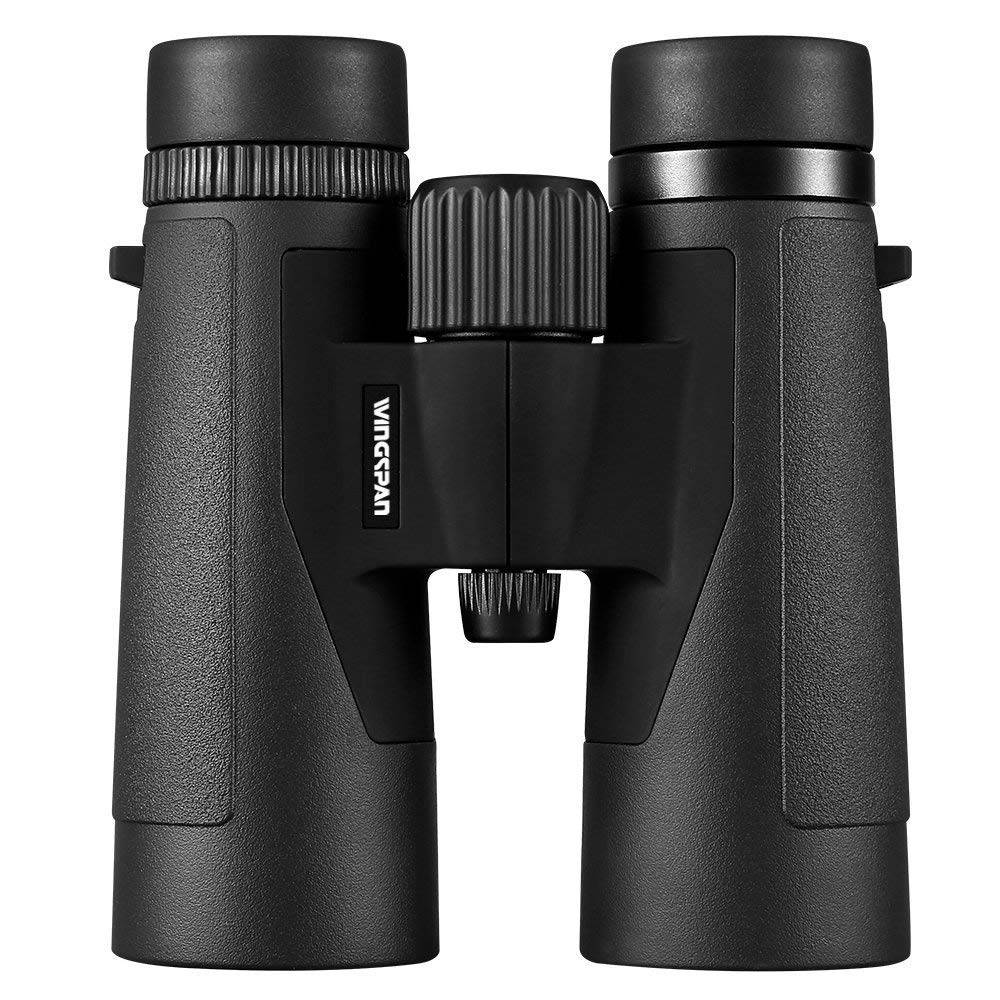 Get the sharpest and crispest images with these affordable binoculars. New Technology Puts these High-Quality, Fully Multi-coated, Waterproof Binoculars in Your Hand at a quarter of the cost of most binoculars of this quality.
Pros
Weight – 20 ounces
Waterproof – Yes

Field Of View – 283 Ft/ 1000 Yds

Crystal Clear Focus
Unbeatable Durability
Easy to Carry
Lifetime Warranty
Cons
I can't really say anything bad about them.  They are light (but there are lighter binoculars on the light).
Check the current price on Amazon
---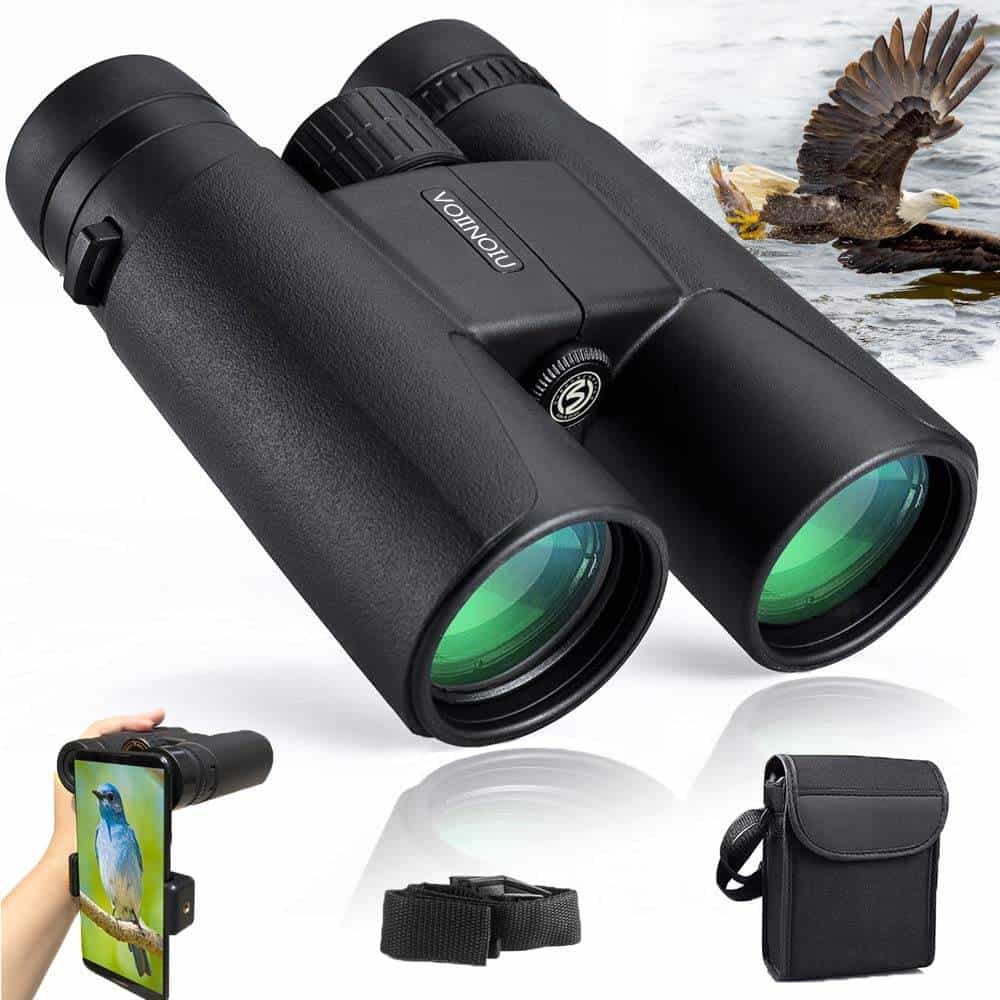 Lightweight Binoculars that are portable and durable.  Weighing in at only 1 LB, perfect for traveling or Hiking. They have a durable body with a rubber armor for a shock-resistance, anti-skid, firm grip.  They come with a cleaning cloth, carrying bag w/ strap, smartphone adapter, neckstrap, eyecup, & objective lens covers.
Pros
Lightweight at 1 pound (450 grams)
Durable
Includes accessories
You can attach your smartphone to take photos through the binoculars.
Cons
For the price, these are very inexpensively made binoculars
Check the current price on Amazon
---
Bushnell binoculars are quality binoculars.  These binoculars are H2O binoculars are 100% waterproof. Waterproof construction and textured, non-slip rubber pads give you a grip on the situation, even where it is slippery, wet and wild, ensuring a premium viewing experience no matter how wet they get.
Pros
BaK-4 prisms and multi-coated optics offer crisp clear images with improved light transmission

100% waterproof, O-ring sealed and nitrogen purged for reliable, fog-free performance

10x magnification and 42mm objective diameter;
Non-Slip Rubber Armor

Twist-up eyecups for comfortable use with glasses or without

Roof Prism which is more durable than porro prism
Field of View 305 feet /102 metres
Cons
One of the more pricier binoculars on the list but still well below $100
These binoculars weigh 1.5 pounds or 680 grams.
Check the current price on Amazon
---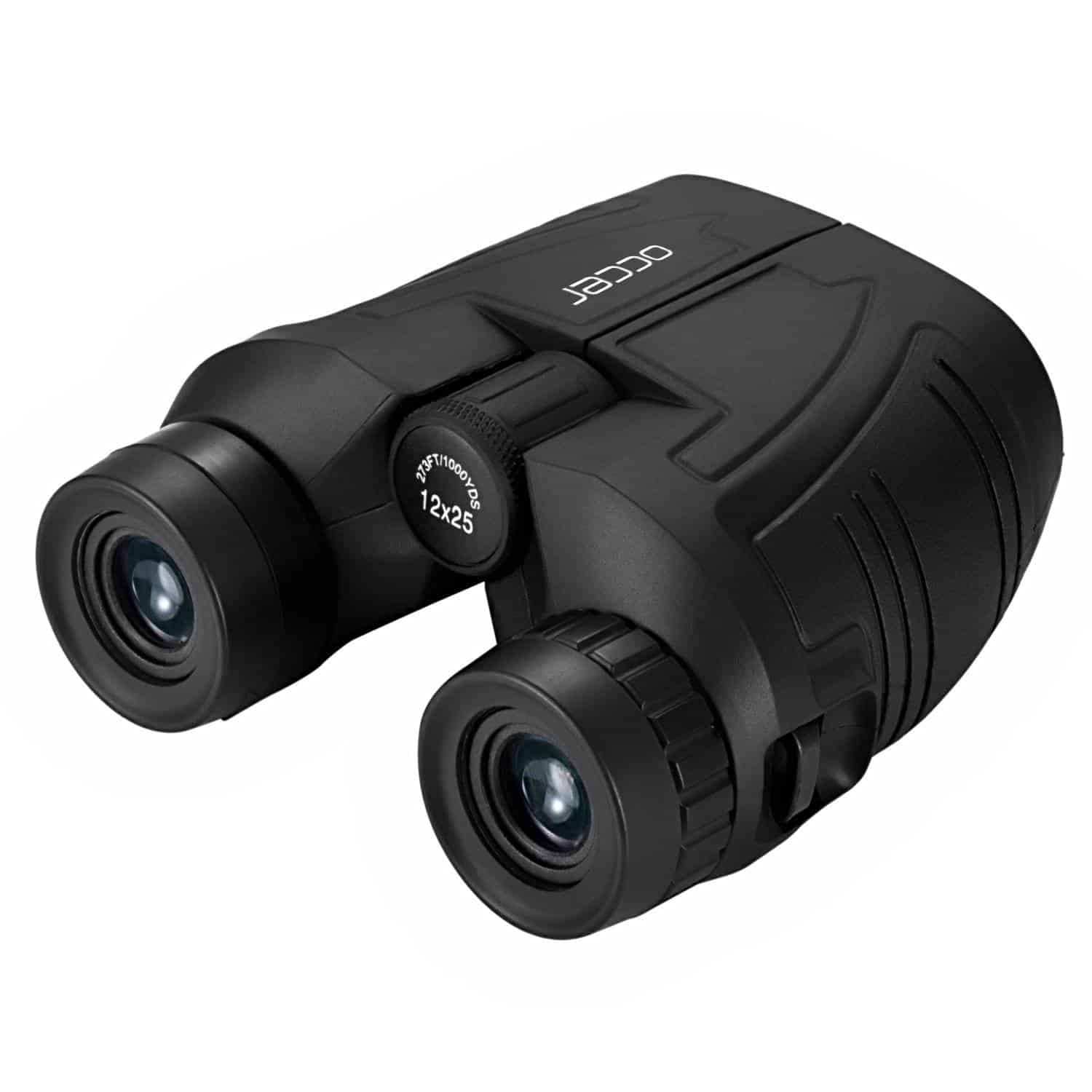 These binoculars have a 12x magnification, 25mm objective lens, large eyepieces, and it is covered with BAK4 prism texture, which can provide you a wide and amazing view. These binoculars are pocket sized and very compact and suitable to carry everywhere.
Pros
Objective lens diameter: 25mm

Weight of binoculars: 0.65 pounds

Waterproof

Nonslip rubber armor

Check out the great reviews on Amazon
Cons
You get what you pay for with these binoculars
Check the current price on Amazon
---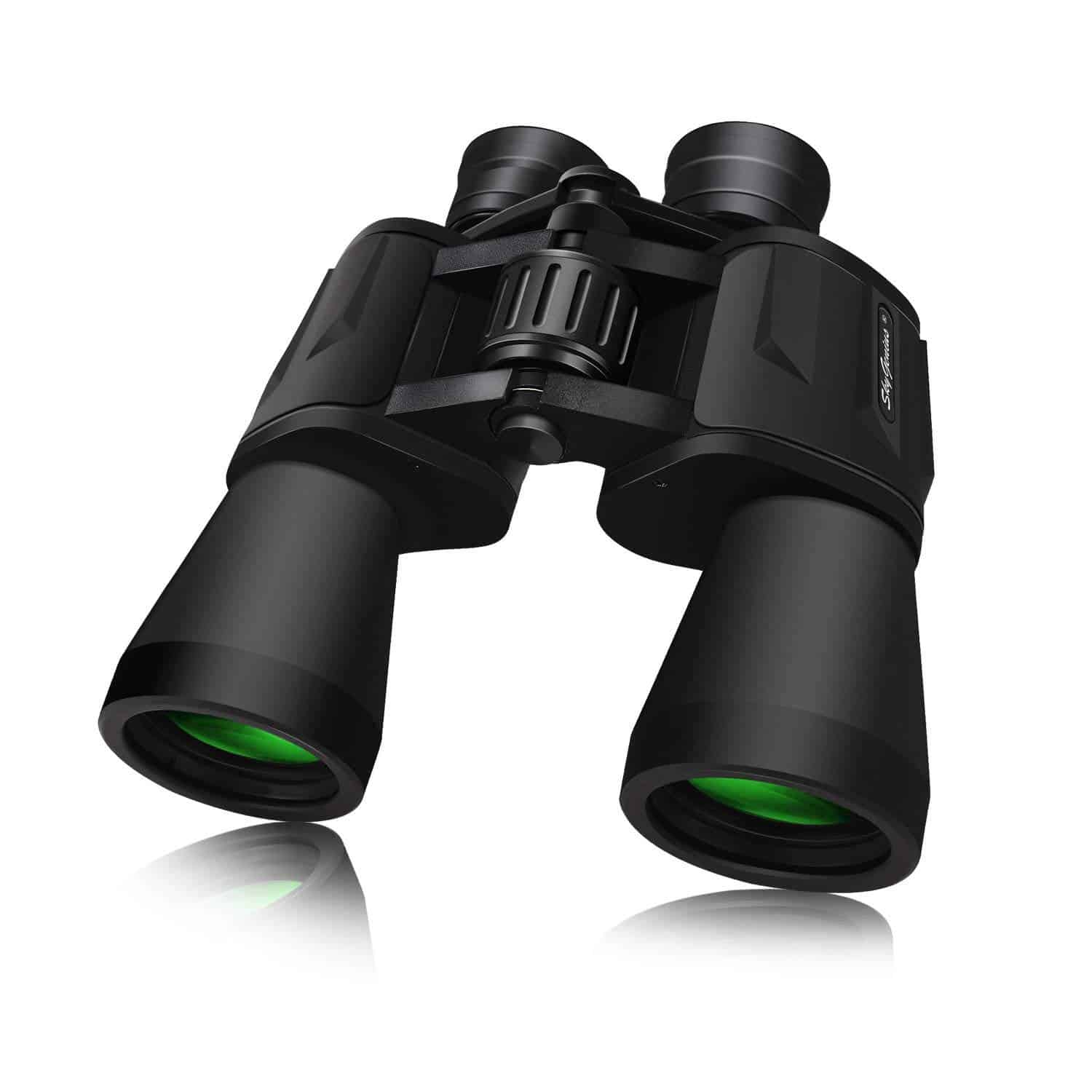 Designed with 10X power magnification and a 50mm large objective lens and 367ft/1000yds for a large field of view good for fast moving objects.  These are ideal for bird watching, hunting, whale watching, concerts and sports events.
Pros
Field of vision: 367 ft/1,000Yds

Durable structure with odorless rubber armor for shock-resistance and Anti-slip grip

Easy to focus with optical coating

Eyeglass wearers can adjust the eye relief through rising eye cups and feel more comfortable.

Can be used at night
Cons
Check the current price on Amazon
---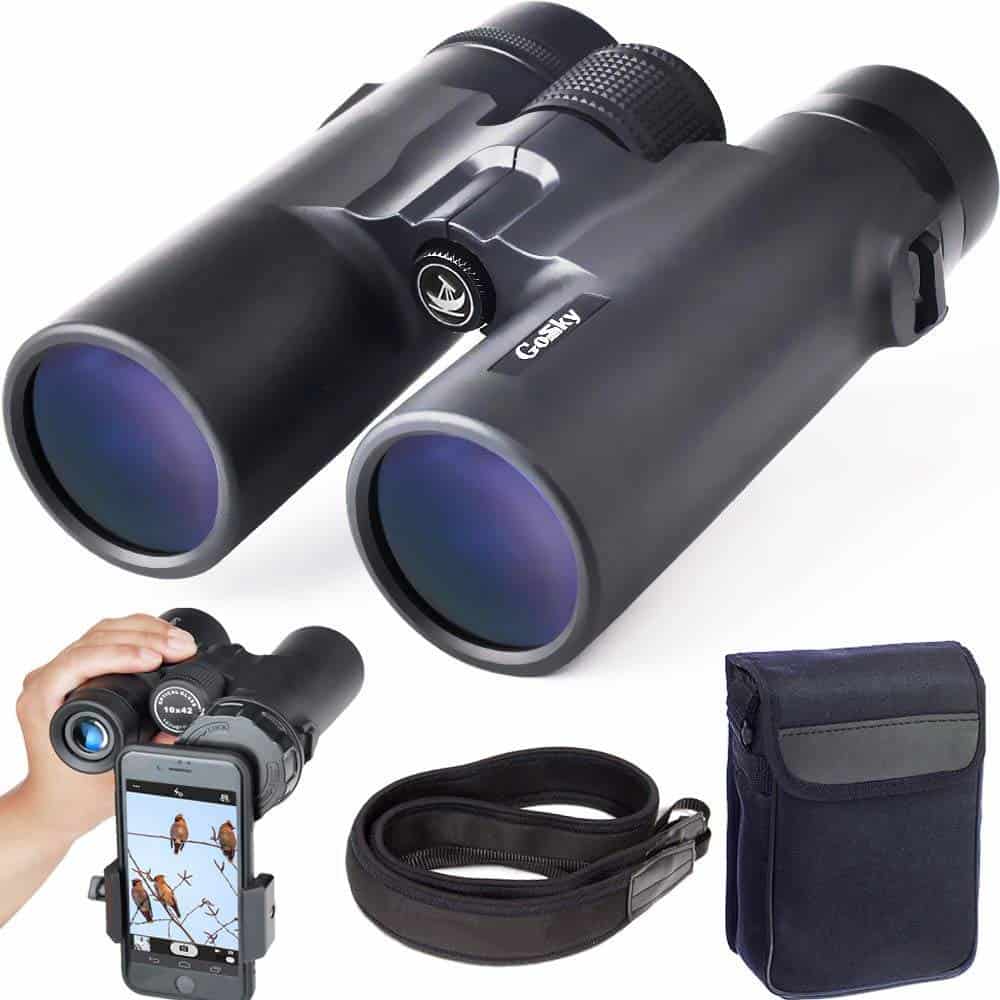 Compact Roof Prism Binoculars – 10X power magnification and large field of view, specially designed for outdoor activities such as climbing, hiking, driving, watching wildlife and scenery.
Pros
Compact Roof Prism
10x magnification
Field of View 307ft/1000yds wide
Can be used with a smartphone to take photos through the binoculars
Cons
These binoculars weigh in at just under 23 ounces or 1.5 pounds
Check the current price on Amazon
---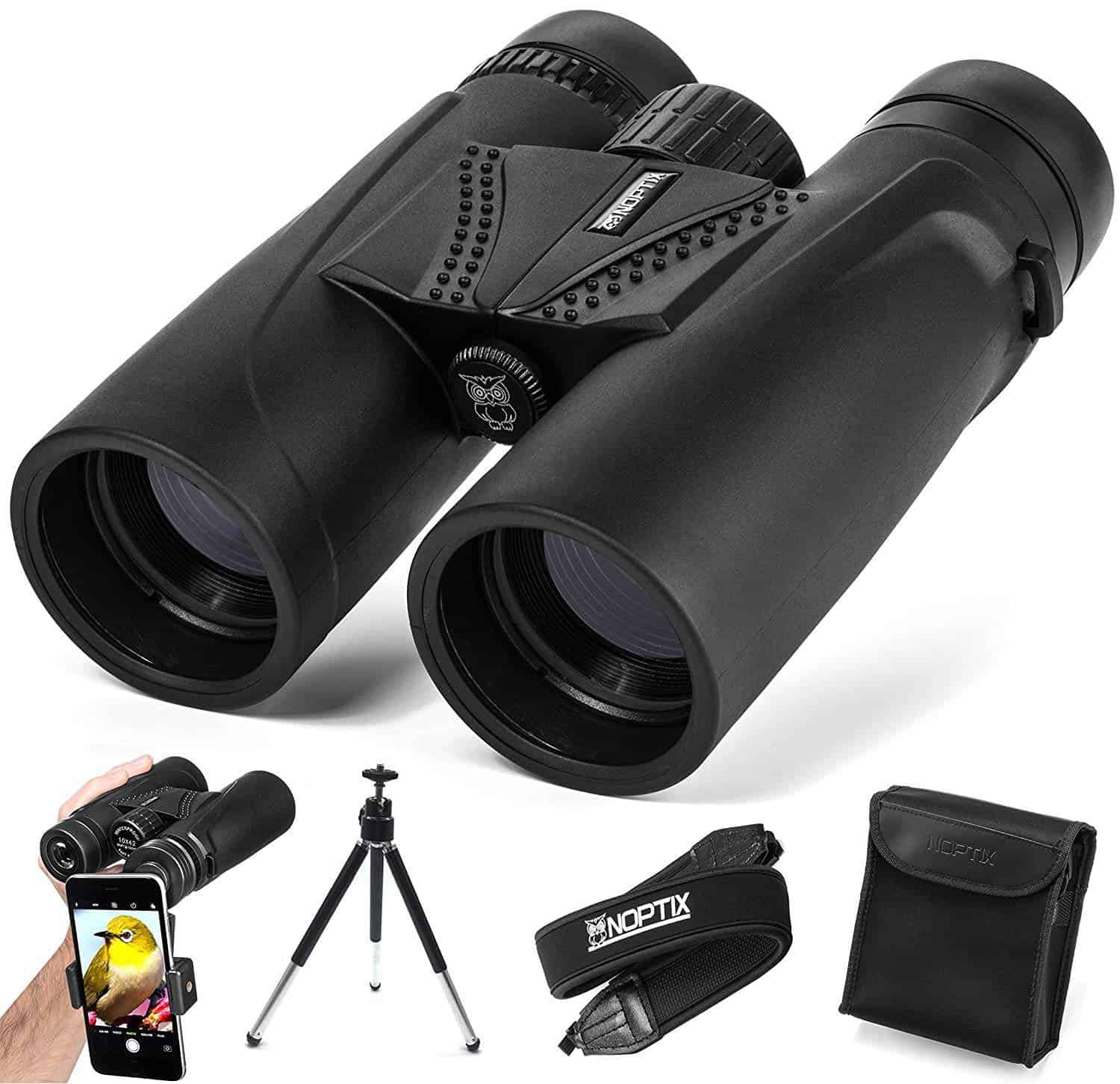 Everything you need is included in our premium gift box set. 10 x 42 Binoculars, Attachable Lens Caps, Smartphone Adapter, Tripod & Bracket Mount,  Comfortable Neck Strap, Carrying Case, Cleaning Cloth, and an Easy-to-Follow User Manual.
Pros
10x magnification power
42mm objective lens diameter
Easy to use smartphone adaptor
Tripod and Bracket Mount
Cons
These binoculars weigh 1.5 pounds with the neck strap.
Check the current price on Amazon
---
Frequently Asked Questions about how to choose the best budget binoculars
Below are some frequently asked questions on the qualities that make the best affordable binoculars.  Characteristics like size, zoom, weight, coating, quality, and durability.
Do I need binoculars for a safari in South Africa?
YES.  I do not think it matters if you are going on safari in Kenya, Tanzania or South Africa the answer will be the same.
Yes, you should bring a pair of binoculars to spot the animals.  Your guide will have a pair to try and look for the wildlife and once he sees them then you can use your binoculars to see the animals on safari.
Do not rely on the zoom on your camera for this.
What is the optical quality of binoculars?  Lens come in four different types of coatings.
1.  Coated which is the lowest quality
2.  Fully coated which is quite economical
3.  Multi coated which is higher quality and
4.  Fully Multi coated which allows the best light transmission and brightest images.  Choosing a binocular with a good coating will give you the best outcome.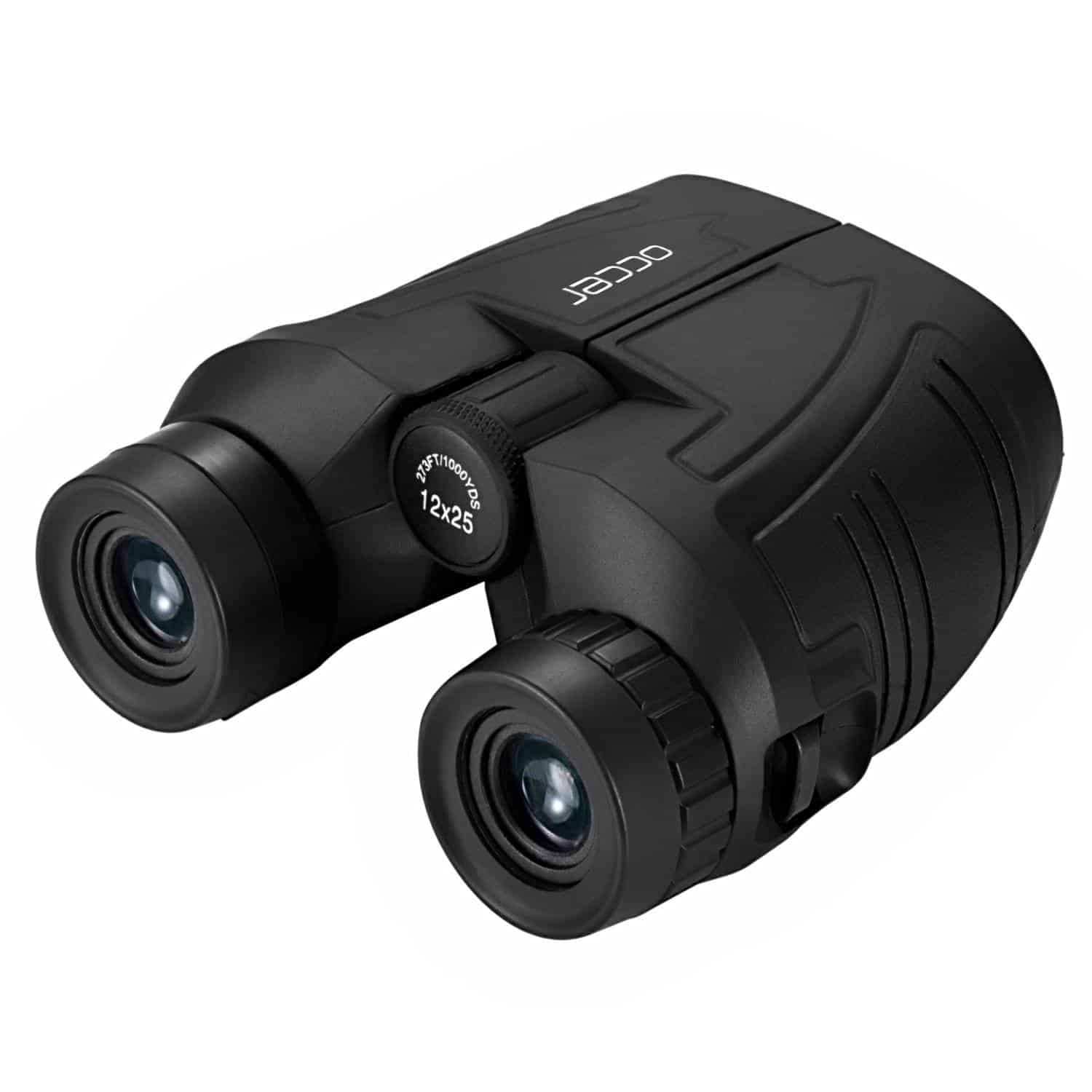 Do I need binoculars that are coated?
Yes.  All quality binoculars are fully coated, multi coated or fully multi coated.
Coatings are one of the most important factors in determining image brightness through the binoculars.
Many budget binoculars have several uncoated surfaces – this is unacceptable since each uncoated glass surface reflects about 4-5% of incoming light. This will result is a dim, washed-out image through the binoculars.
What is field of view?
Field of View is how wide an area you can see through a binocular.  More powerful binoculars have a wider field of view.  This is especially important for wildlife viewing as sometimes you cannot get close to the animals.
What is eye relief?
Eye relief is the distance from the eye piece in the binoculars to your eye.  This is especially important for eye glass wearers and I have included this in the pros of the binoculars that are good for this.
Some say that 16mm is a good distance.   If your eye is outside this distance, a reduced field of view will be obtained.
What do the numbers mean in 8×42?
The first number is the magnification and the second number is the diameter of the lens.  The magnification is 8 and the diameter is 42mm.
So, I want the highest magnification for my binoculars, right?
Not exactly.  The higher the magnification the steadier you must hold the binoculars.
This is impossible in a moving safari vehicle and you will not be able to use a tripod inside a vehicle to keep it steady.  You could use a tripod on a walking safari or from a viewing platform at your accommodation.
Which is the best magnification for binoculars?
For all around use,  I recommend 8×42 or 10×50 binoculars.  These will give you great magnification, large eye pieces to let in the light yet they will still work well even if you do not hold them perfectly still.  If you have a bit more money to spend, check out the Nikon 8252 Aculon Binoculars with their 10×50 view.
What are Standard Porro Prism Binoculars?
These are general purpose binoculars with lenses larger than 35mm.
An example would be binoculars that are 8×42 or 10×50.  They enable bright, high-contrast images through the binoculars to view wildlife from far away which is excellent for a safari.
I recommend buying binoculars with a roof prism instead of a porro prism as they take up less space.
Conclusion – The best binoculars for the price
I hope you have enjoyed this comprehensive guide to finding the right pair of binoculars for your travels that are affordable.
I have several other binocular guides such as my guide to binoculars for safari, and the best affordable binoculars as well.  I have put a lot of research into the subject and I am happy to say I really enjoy using my Gosky binoculars.
Do you have any other questions on choosing the best affordable binoculars?  Any questions on the products themselves or qualities?  Let me know in the comments below.
Sharing is caring!  Pin this article to save it for later.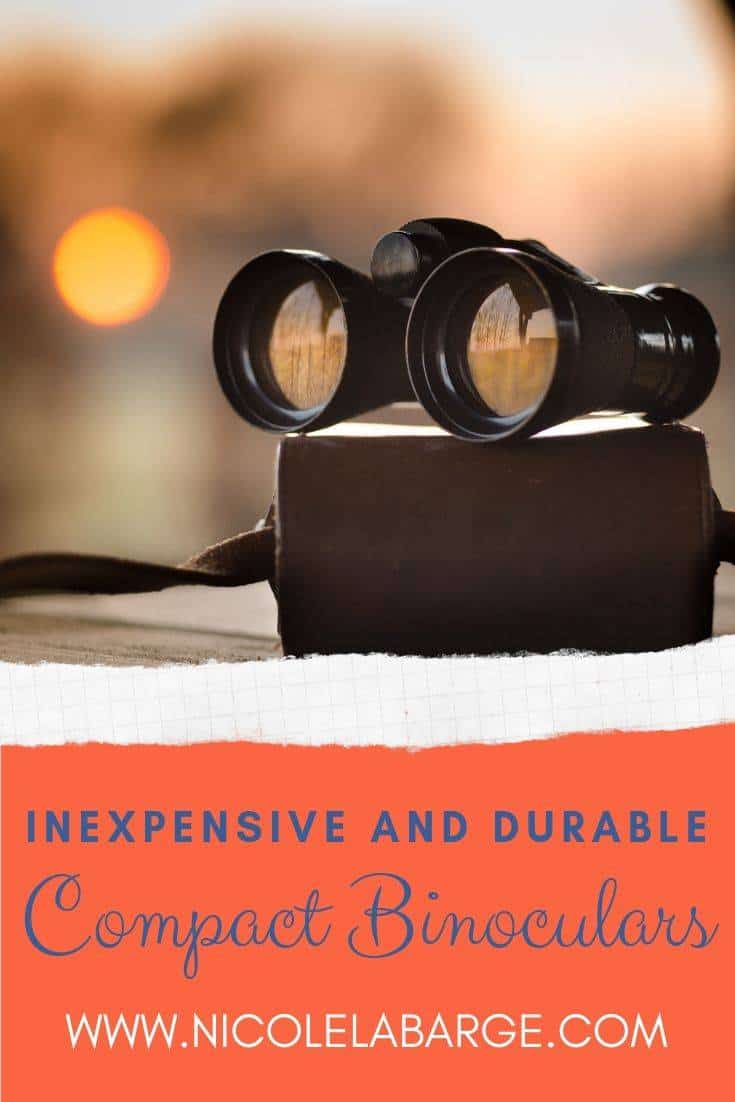 Continue Reading further buying guides on my website:
Recent Posts