30+ Famous Landmarks in Australia
Australian Landmarks: Are you looking for the most famous landmarks in Australia? This list contains famous Australian landmarks across all six states.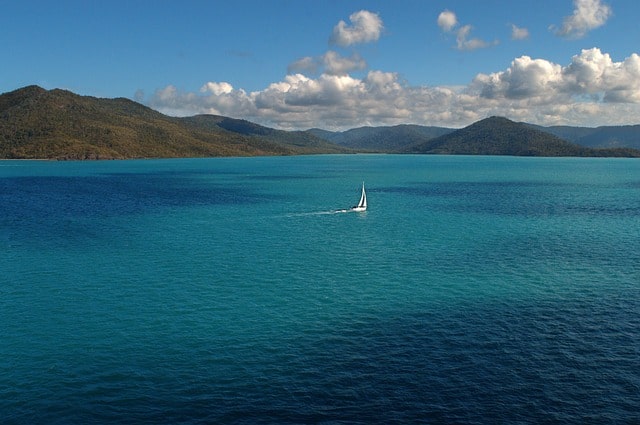 I have included landmarks in Sydney, famous buildings in Australia, historical places of Australia, natural landmarks in Australia, and man made landmarks in Australia.
After 10 trips to Australia I've spent a bit of time exploring the country and getting to see these beautiful Australia landmarks. I even learned to dive on the Great Barrier Reef and one of our favorite places to visit is the Whitsundays – another amazing dive site.
Great Barrier Reef
Location: off the Queensland coast (east-coast)
The Great Barrier Reef is the largest coral reef system in the world. The reef stretches over 1,400 miles and includes over 900 islands and 2,900 individual reefs.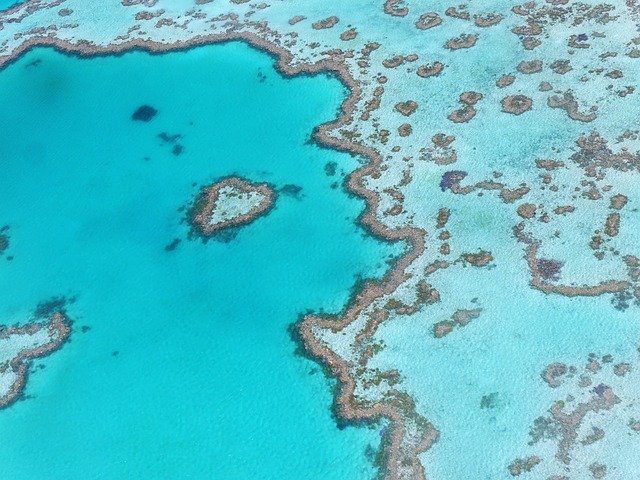 The great barrier reef is one of the best spots in the world to go diving and snorkeling, due to the incredible biodiversity and range of marine life you'll struggle to find anywhere else. This is a beautiful UNESCO world heritage area to explore.
Uluru
Location: south-western Northern Territory, Australia landmarks
Uluru is a large sandstone rock formation, approximately 208-miles west of Alice Springs, the state's largest city.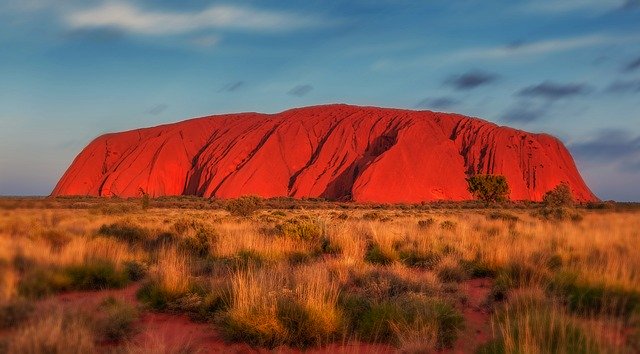 The rock is around half a billion years old and is a historical and culturally significant monument to the Aboriginal people and includes rock caves and ancient paintings in the area surrounding Uluru. The best time to visit Uluru is during sunrise or sunset, this is when Uluru is the most beautiful as the golden light from the sun reflects beautifully on the large rock.
Great Ocean Road
Location: south-eastern coast of Australia
This 151-mile length road stretches Torquay and Allansford, Victoria. The road was built in the early 20th century and was dedicated to the soldiers who fought in the first world war.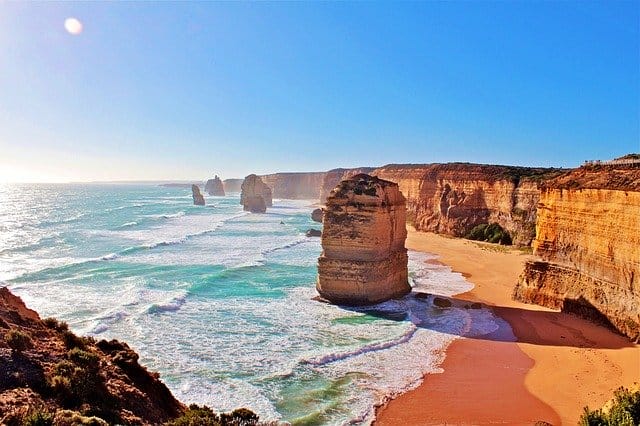 There are endless amounts of activities, view stops, and delicious food and beverage stops along the way, to make the absolute most of this beautiful drive. There is even the opportunity to walk this road, which would take an average of 8 days to complete but it is well worth it when you're in the middle, experiencing the beauty this stretch of road has to offer.
The Wave Rock
Location: Hyden Wildlife Park, Western Australia
This large natural rock formation gets its name due to it looking like a rather large breaking ocean wave. At almost 50-feet tall and 360-feet wide, this formation is over 2,500 million years old and is one of Western Australia's most popular tourist destinations.
There are walking trails that allow visitors to see the wave in various forms and perspectives. There are also often wildflowers that grow in the area to make your trip to the wave even more beautiful and majestic.
The Wave Rock is located in Western Australia about four hours from Perth. This is the largest wave not found in the ocean!
The Wave Rock is one of the most famous Australian natural landmarks.  It is a granite cliff that is 110 metres long and one of the top Western Australia points of interest. There are so many beautiful places to explore in Western Australia on the road trip.
Sydney Opera House
Location: Sydney Harbour, New South Wales
The Sydney Opera House located along the Sydney Harbour is one of the most famous and recognisable buildings from the 20th century. This is a multi-purpose performing arts building and is among the most popular tourist spots and photographic spots in Sydney and popular Sydney Australia landmark. Visiting the Sydney Opera House is the highlight of a 3 Day Sydney Itinerary.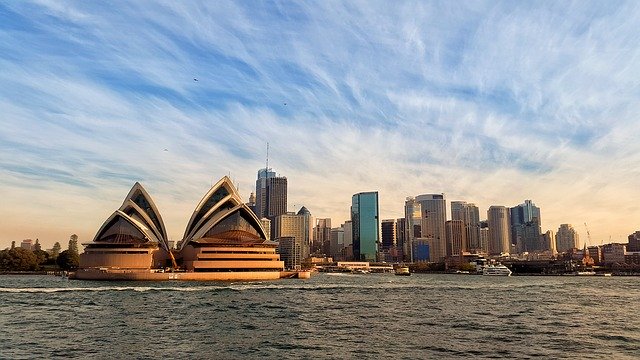 Over a million people attend almost 2,000 performances here each year; with even more people visiting as tourists to grab their photo opportunity or get to experience the beauty of this amazing building and its architecture and one of the most famous man made Australian landmarks. This is one of the best views in Sydney!
Sydney Harbour Bridge
Location: Sydney Harbour, New South Wales
The Sydney Harbour Bridge is an iconic image of Sydney and Australia, respectively. The arch-shaped bridge carries all forms of traffic, from cars, trains, bicycles, and foot traffic from Sydney City Centre to the suburbs of the North Shore.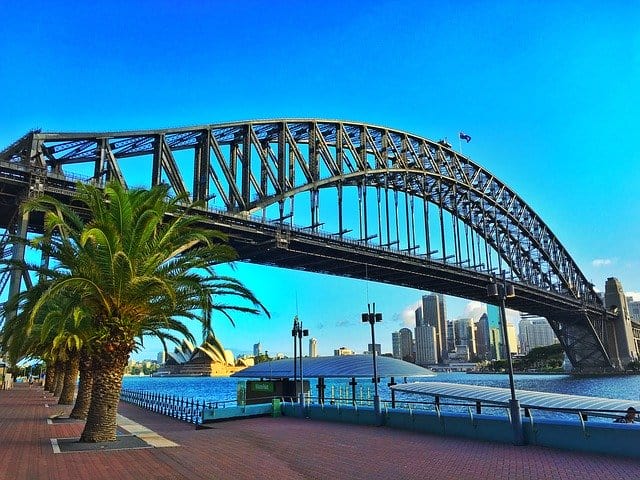 The Sydney Harbour Bridge is another one of Sydney's most iconic Sydney Australia landmarks and attractions and on any given day can see an endless number of tourists lining up to get a photo of this grand city bridge. If feeling adventurous, you can even climb to the top of the bridge and bungee jump down!
Bondi Beach
Location: east coast, Sydney, New South Wales
Bondi Beach is arguably the most popular and well-known beach in Australia, bringing in an average of 40,000 visitors a day. Bondi is a common beach for people to swim, surf, and sunbath along the sandy shores and an iconic Sydney Australia landmark.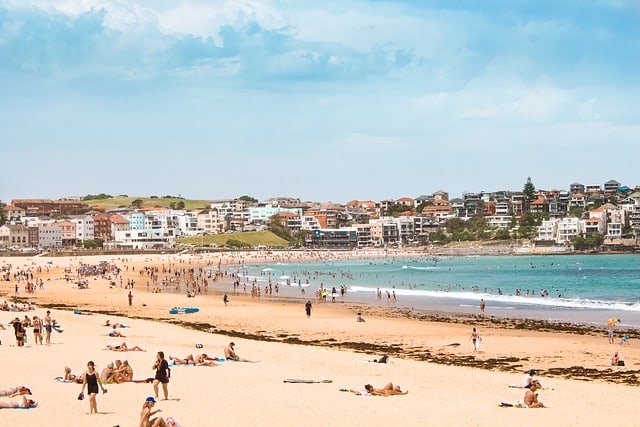 Parts of the 0.6-mile stretch are safe to swim and enjoy the water, however there are sections in the southern part of the stretch that are more dangerous and recommended not to go, due to the strong rip tides. Even if swimming's not your thing, visiting Bondi is still a must-do when in Sydney, sunbathing along the sandy shores is a great activity too! just be sure to put on sunblock.
Melbourne Cricket Ground
Location: Melbourne, Victoria
Also known as 'MCG' or simply 'the G', the famous Melbourne Cricket Ground is the largest sporting stadium in the southern hemisphere and second largest cricket ground in the world.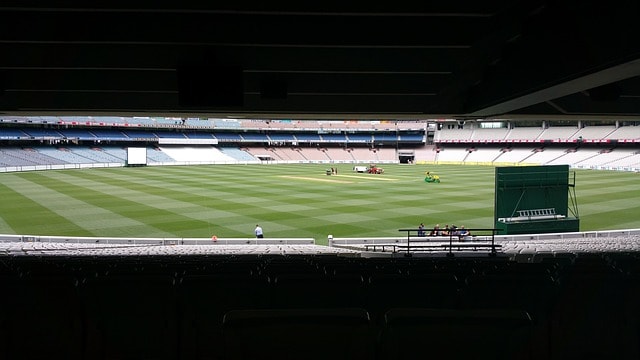 The stadium is in close proximity to the city centre and is located near some major tram stops, making the accessibility to the stadium nice and easy for locals and tourists alike. The stadium has hosted some major sporting events including the summer Olympic, the commonwealth games and two cricket world cup tournaments.
Kakadu National Park
Location: Jabiru, Northern Territory
Over 7,600 square-miles in area, this national park is located in the Alligator Rivers region of the Northern Territory and is larger than the country of Wales!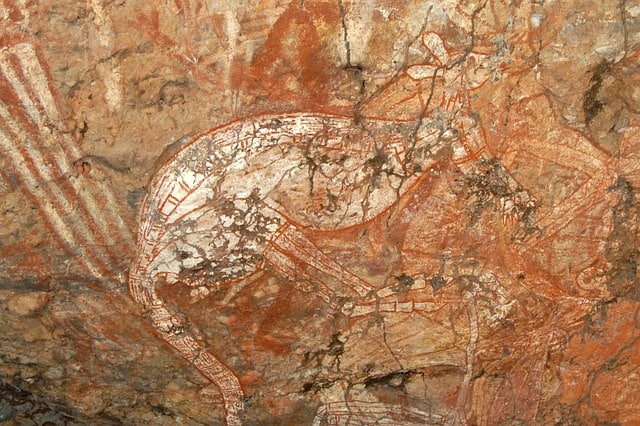 The park was established in the late 1970s and brings in almost half a million visitors a year. the park is home to diverse plants and wildlife, which is one of the parks features that bring in visitors. There are also beautiful rock formations, waterfalls and gorges located throughout the park that are worth exploring and admiring. There are rivers through the park, but swimming is not allowed as these rives are home to many crocodiles and alligators.
Three Sisters Blue Mountains
Location: Katoomba, New South Wales
These three unusual rock formations are located within the Blue Mountains mountain range and are over 30-million years-old! These sandstone masterpieces were formed through land erosion, through centuries of wind and rain causing the rocks to break up, leading to what we have today.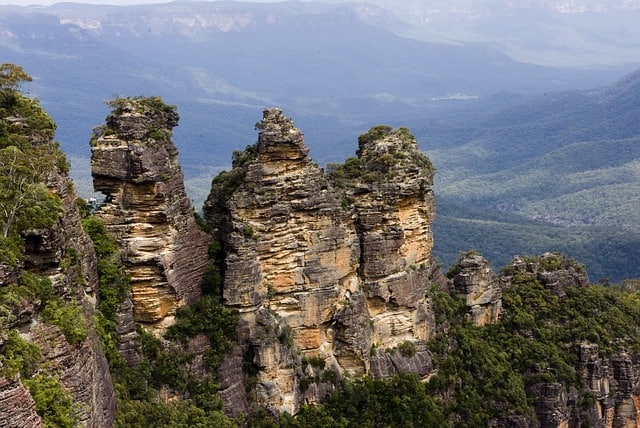 To experience the three sisters up close, there is a giant stairway. This well-maintained steel stairway with more than 800 steps takes visitors up the three sisters and back down to the floor of Jamieson Valley. The three sisters are especially beautiful during sunrise and sunset when the colors of the sun reflect beautifully off the three sisters.
Cradle Mountain
Location: Central Highlands, Tasmania
At over 5,000-feet tall, this beautiful mountain is located on the Cradle Mountain-Lake St Clair National Park. This park has wonderful views and incredible landscapes throughout, and the famous Cradle Mountain is in the middle of it all.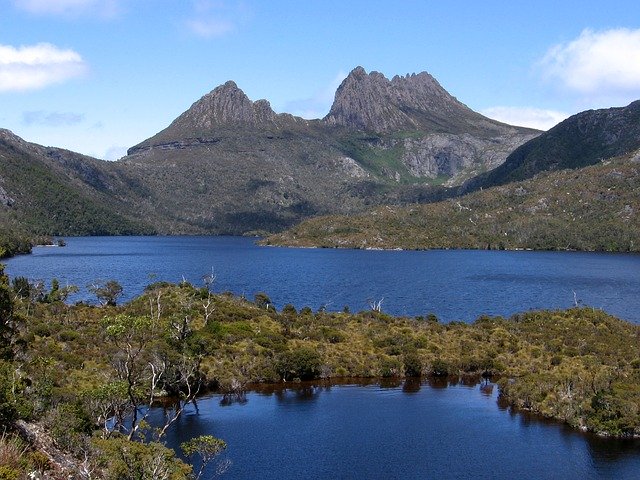 Snow covered mountains, glacial lakes, deep rivers and forests coated in moss; this park is nothing short of a place with incredible natural beauty. This park is open year-round, and each season is just as wonderful and beautiful as each other.
Australian wildlife is also present at the park and visitors will get the opportunity to spot out some famous species native to Australia, including the Tasmanian Devil, Wombats, Quolls and much more.
Kings Canyon
Location: Petermann, Northern Territory
This famous canyon, located within the Watarrka National Park has walls of almost 1,000-feet tall! The large sandstone canyon has wide, panoramic views far across the Australian desert and beautiful crevices throughout this large wonderful canyon.
There are an abundance of activities to do at this park and at the canyon including a range of walking, hiking and biking trails. There are also unique opportunities for a camel tour through the canyon, there are 4×4 tracks and opportunities for a helicopter ride over the canyon, all to make your experience at Kings Canyon unique to any other canyon visit.
Kangaroo Island
Location: southwest of Adelaide, South Australia
Australia's third largest island, this land was previously occupied by the Aboriginal until the rising sea level caused them to move into the mainland. Today, the island is one of the world's best nature-based destinations.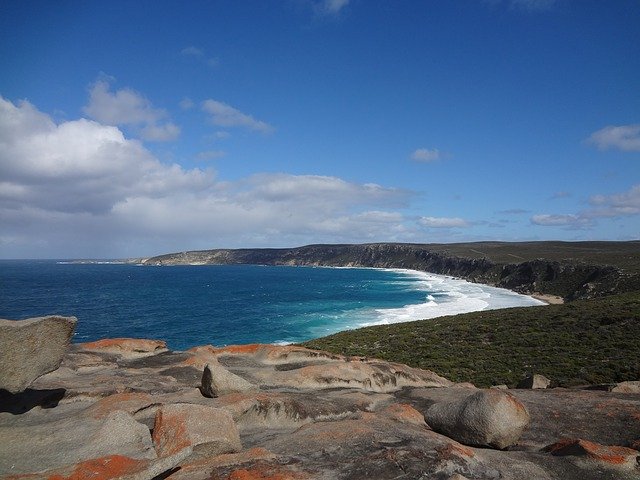 Kangaroo Island is often referred to as a "zoo without fences" that is due to the large abundant wildlife that roams around the island. Any visit to Kangaroo Island will guarantee some experience with Australia's most loved species. Whether you want to experience the great wildlife, the incredible natural scenery or relax on the beaches, Kangaroo Island will never disappoint.
Check out my guide to the Best Airbnbs in Adelaide
Fraser Island
Location: east of Queensland, Eastern Australia
Just over 74-miles long, Fraser Island is the world's largest sand island. There are some incredible panoramic viewpoints that showcase the true beauty of Fraser Island and some of the best spots it has to offer.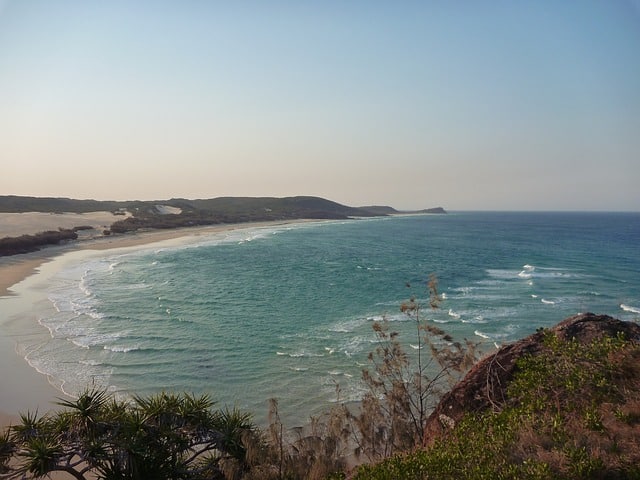 Along with other famous landmarks in Australia, Fraser Island is protected, and remains to be so that the pure natural beauty and remarkable landscapes can be appreciated by everyone who comes for a visit.
Daintree Rainforest
Location: Cape Tribulation, Queensland
Daintree Rainforest, at around 740-square miles is part of the largest continuous tropical rainforest in Australia and all of Oceania. Visiting this rainforest is one of the most natural experiences you can have.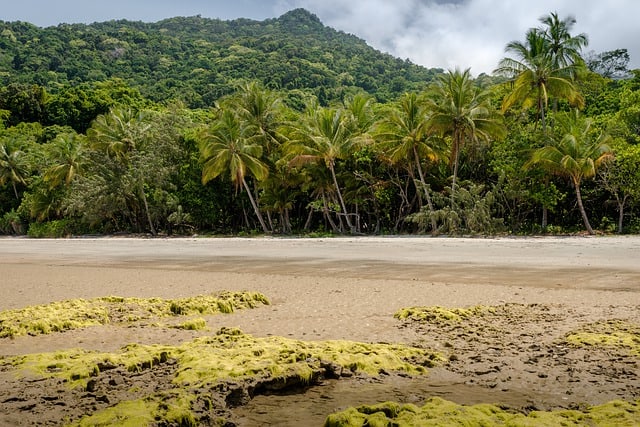 Pure natural beauty, unspoiled by any other tourism experience and being completely within the earth's nature. It's a beautiful experience and one that will bring great memories for years following. The Daintree Rainforest is full of natural gems that are worth exploring.
Australian War Memorial
Location: Campbell, Canberra
The Australian War Memorial is dedicated to all armed forces and related organisations who have participated and/or died in wars that involve Australia. The memorial took approximately 15 years to construct and was opened to the public in 1941. This beautifully designed art-deco building is regarded as one of the greatest and most significant war memorials in the world. Sitting on 35-acres of ground, this large memorial is a great attraction within Canberra and has something to interest everyone.
Cape Byron Lighthouse
Location: Byron Bay, New South Wales
The most powerful lighthouse in Australia, Cape Byron is a staple of Byron Bay and one of the biggest tourist attractions to this beautiful coastal city. The 75-foot concrete lighthouse began its construction over 100 years ago in the very early 1900s. it has since made the list of both the New South Wales Heritage and Commonwealth Heritage Registers.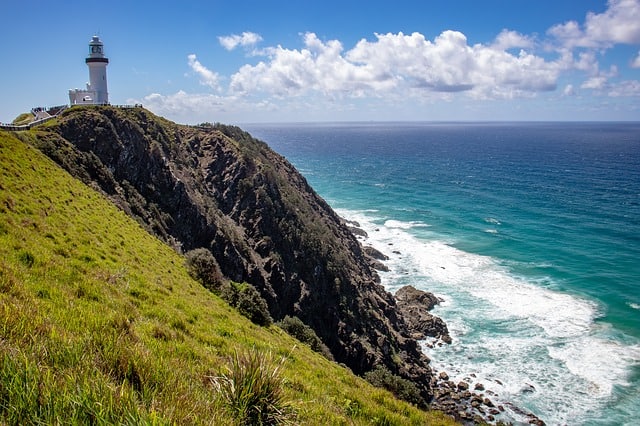 The lighthouse receives regular maintenance, ensuring its always in good condition for all the locals and tourists to enjoy. The lighthouse attracts over half a million people a year, there's guided tours available and the site that the lighthouse sits on is a great spot for whale watching! Be sure to get your camera ready because this is a popular photo spot!
Mackenzie Falls
Location: Zumsteins, Victoria
This is one the largest waterfalls in Victoria, it is also one of the most beautiful and most popular. The falls are year-round, and visitors will get to see the water crashing down the large cliffs into a pool of water below.
Swimming in the water is not permitted, however there are many spots that give visitors wonderful views of this beautiful waterfall. The falls are located within Grampians National Park and are not too far off the road either, only a 0.6-mile easy walk along a platform to get a stunning view over this fall.
Lord Howe Island
Location: Tasman Sea, 420-miles northeast of Sydney
Lord Howe Island is a wonderfully maintained, beautiful island full of natural gems all around. Everywhere you go there is natural beauty filling your surroundings, an abundance of wildlife and marine life.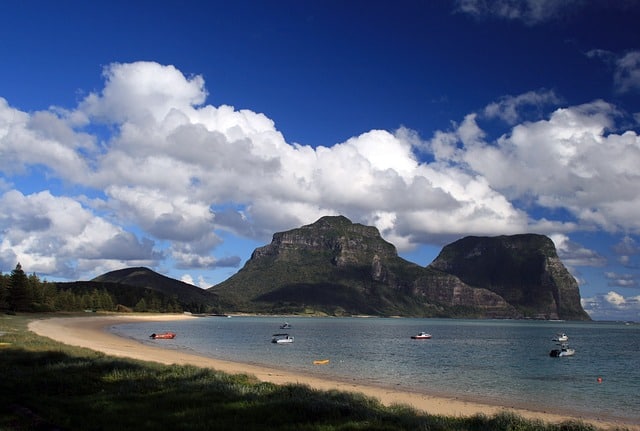 There is plenty of activities to keep your trip interesting and there's a number of beautiful viewpoints that provide panoramic views over the island. the island was first discovered in the 18th century and over the centuries the island has been used for trading purposes and for scientific research. However, in recent years it is more of a tourist attraction and holiday destination more than anything.
Purnululu National Park
Location: Western Australia
This World Heritage Site is almost 600,000-acres of remote wilderness. The biggest attraction to this national park is the large beehive shaped Bungle Bungle range. These large rock towers were formed millions of years ago through sandstone erosion. There are multiple ways that visitors can explore the park and these wonderfully formed sandstone towers; arguably the best way would be overhead, through a helicopter ride and 4×4 in between the towers.
Pink Lake
Location: Murray Sunset National Park, Victoria
Located in the south end of Murray Sunset NP, is a beautiful and unique pink lake! The lake remains a blush pink year-round with a few changes to white, depending on the weather conditions. The cloudier and more overcast, the pinker the lakes are. There are 4 pink lakes, all in close proximity to each other and all absolutely stunning.
Whitehaven Beach
Location: Whitsunday Island, Queensland
Stretching 4-miles of pristine white sand, this is the largest beach in the Whitsundays and one of the most beautiful and most pure beaches in the world.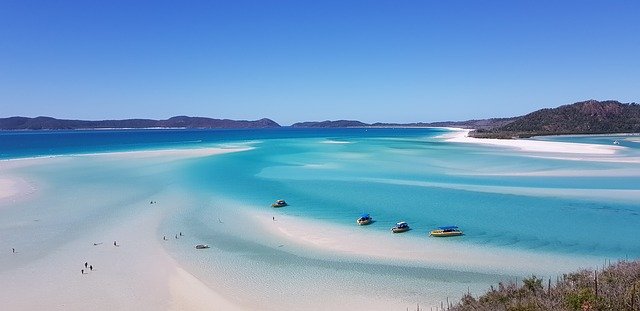 Whitehaven is an award-winning beach where people flock from all over the world to sink their feet into the silky sand and feel the warm water flowing onshore. there are many ways to experience Whitehaven! Ferries, yachts and sailboats are all available from the mainland to either experience a day trip to Whitehaven or a multi-day trip!
Kuranda Scenic Railway
Location: Kuranda, Queensland
This 2-hour spectacular train ride takes its visitors from Cairns to Kuranda, Queensland. The train ride includes a stop at the famous Barron Falls, this stop allows for the passengers to get a wonderful birds-eye view over the beautiful Baron Falls. There are numerous tunnels, bridges and waterfalls that this train ride goes through, over and past that are all worth seeing. It definitely pays to be looking out the window during the ride and have your camera ready!
Rottnest Island
Location: 11-miles West of Freemantle, Western Australia
Historians believe that Rottnest Island was once a part of mainland Australia, but rising sea levels caused the island to separate over 7,000 years ago.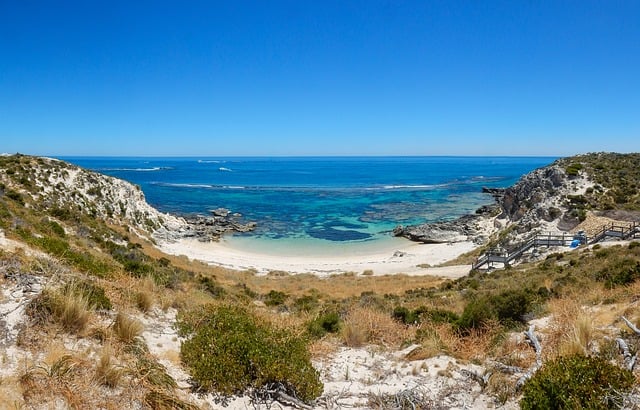 There are beautiful coral reefs surrounding the island, smooth white sandy beaches, an abundance of wildlife, beautiful natural scenery and many activities that are all worth exploring and admiring if ever given the chance to visit this wonderful island.
Pinnacles Desert
Location: Nambung National Park, Western Australia
The Pinnacles, located within Nambung National Park are thousands of limestone formations, some of which tower over 10-feet tall. the height, width and size of all the pinnacles vary greatly from one another. The limestone pinnacles were formed around 30,000 years ago through erosion.
It is believed that when the sea levels went down the sea shells leftover formed the pinnacles with the help of wind and sand over time. The Pinnacles are Western Australia's most visited tourist attraction, bringing in well over half a million visitors a year!
Brighton Bathing Boxes
Location: Melbourne, Victoria
These 82-distintictive beach huts, lining the shoreline of an exclusive beach and neighbourhood in Melbourne are an iconic sight for the city. The multicoloured boxes are one of the most photographed spots in the entire city and its not hard to see why. They are unique, beautiful and make for a great colourful Instagram pic! The huts were originally built over 100 years ago with the purpose of using them for women to change into their swimming gear for a dip in the ocean. Now, they are still as functional, and even more adored upon.
Freycinet National Park
Location: Tasmania
This National Park, among others around the world is beautiful and full of natural wonders. Freycinet has breath-taking views and natural beauties all around that will engrain your memory.
The top attraction to the park is probably, Wineglass Bay. This stunning area of the national park includes crystal clear waters and a lovely white sand beach. Wineglass bay remains to be one of Tasmania's greatest and most beautiful views. However, there is so much more to explore and love about this NP. Including the rocky caves, the nature, the wildlife and the incredicle coastal and nature landscapes.
Indian-Pacific Rail Journey
Location: train journey from Sydney, New South Wales to Perth, Western Australia
Over 4-days and 3-nights, enjoy a relaxing and luxurious journey on this scenic cross-country train journey. Enjoy views ranging from mountain ranges to the empty desert and tropical coastal landscapes. No other experience offered will give you quite the same experience of traveling through the interiors of Australia, this is arguably the best way to do it. This experience also includes stops in cities and small towns that give you further tourist experiences hard to find anywhere else.
Wineglass Bay, Tasmania
Wineglass Bay is located in Freycinet National Park. This bay got its name because it is shaped like a wine glass. This is one of the most beautiful places in Tasmania to relax and of course have a glass of wine. There are so many natural landmarks in Australia that are so beautiful.
National Parks
Location: Australia famous landmarks
Why not visit one of the wilderness world heritage sites in Australia? There are numerous national parks to visit such as Watarrka national park, Kakadu national park, or Kata Tjuta national park.
Sharing is Caring! Pin this article to save for later.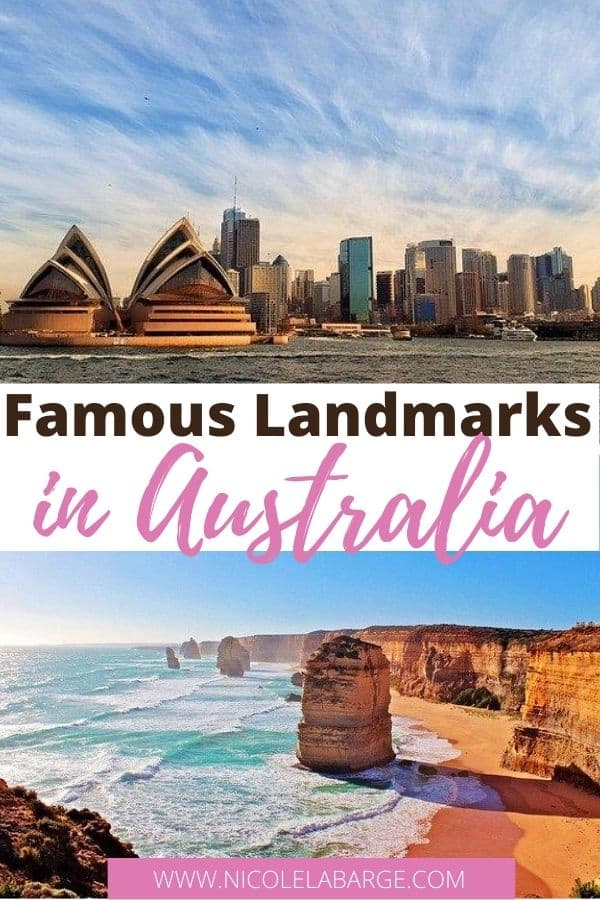 Check out my other posts on landmarks in:
Recent Posts