Itinerary for Dubai, United Arab Emirates
What should you see in Dubai? This itinerary for Dubai is here to help. Whether you have one day in Dubai or a week in Dubai – here are all the top sites to see in this itinerary to Dubai.
There are many highlights to Dubai that we will cover in this itinerary – The Palm Jumeirah, the Dubai Marina, The Burj Khalifa, Mall of the Emirates, Big Bus Dubai, Dubai Garden Glow, Dubai Aquarium and underwater zoo, and so much more. Let's get started on this Itinerary for Dubai.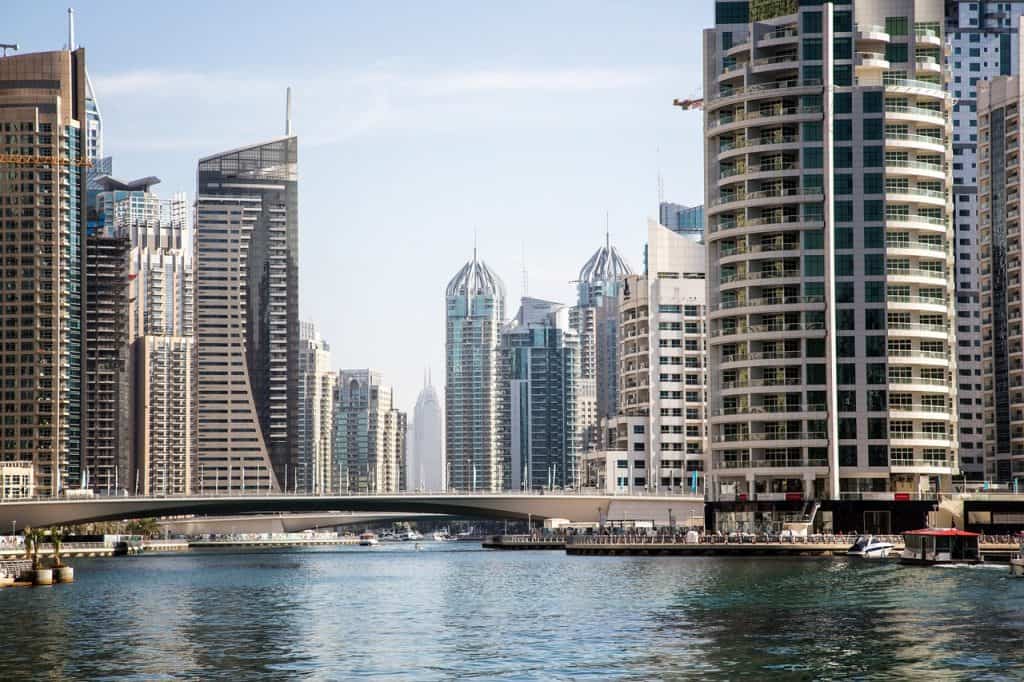 Practical Information for your Dubai Itinerary
I spent a long weekend exploring Dubai and even though I was able to visit all the sites I felt like I barely scratched the surface of the city. I stayed at the Amwaj Rotana Jumeirah Beach Residence Dubai.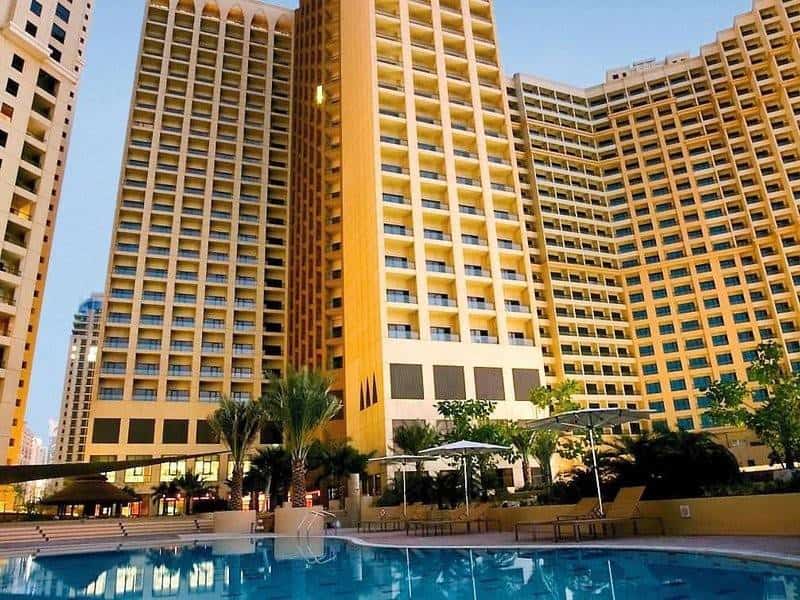 I found the hotel perfectly located for exploring the city and overlooking the water and also the largest ferris wheel in the world – Ain Dubai Observation Wheel. My room was extremely spacious and comfortable but the best thing was the view of the water.
Dubai is a great city for families and there are lots of things to do in Dubai with kids.
There are so many things to do in Dubai!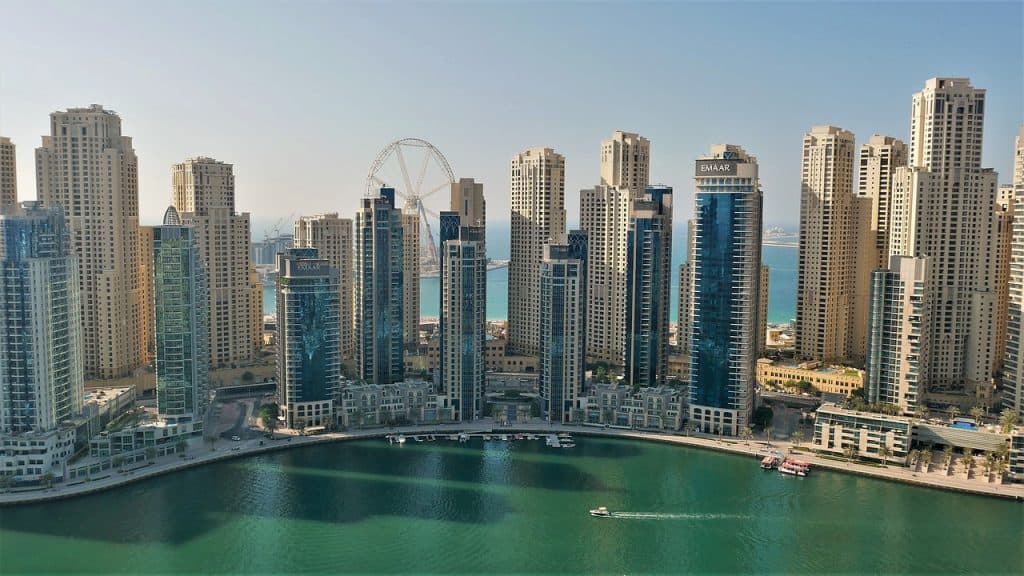 One practical thing to note about getting around in Dubai. Yes, Uber does work here but I used the local app Careem – Car Booking App. It is cheaper than Uber if you use the basic car function.
Funny story – I used it the first night I arrived at the airport and the app let me know that I was being picked up in a Lexus (with the license plate number and driver name same as Uber). I thought wow that's nice I'll be picked up in a Lexus.
The driver came into the airport with a sign with my name on it and gave me a bottle of water when I got to the car. I thought wow this is service! I was booking one of the higher levels of cars haha. I was sad the next day when a Honda Odyssey picked me up.
Careem is affordable but thing to remember out Dubai is that the distances are far. My car from the airport to Amwaj Rotana Jumeirah Beach Residence costs $153 AED which is about $41 USD. I also took a trip from my hotel to the Dubai Mall and that cost $83 AED which is about $22 USD.
Remember when you are planning your days is to plan to do all the activities in the area before moving onto the next. You can also use the Metro but again you will spend a bit of time moving from one area to another. This itinerary to Dubai is planned to cover off each area in one day. Once place I wished I had gotten to is the Dubai Miracle Gardens. They really are beautiful.
I wrote out the days in the order of importance in Dubai. If you only have a day, the Day 1 itinerary hits all of the tourist spots.
Day 1 Itinerary of Dubai – Dubai Mall, Dubai Aquarium, Dubai Fountains, Burj Khalifa, Souq Madinat
The Dubai Mall is the biggest mall in the Emirates although it is not my favorite. If you are looking to just go shopping I would recommend the Mall of the Emirates as there is more to do there and a large food court.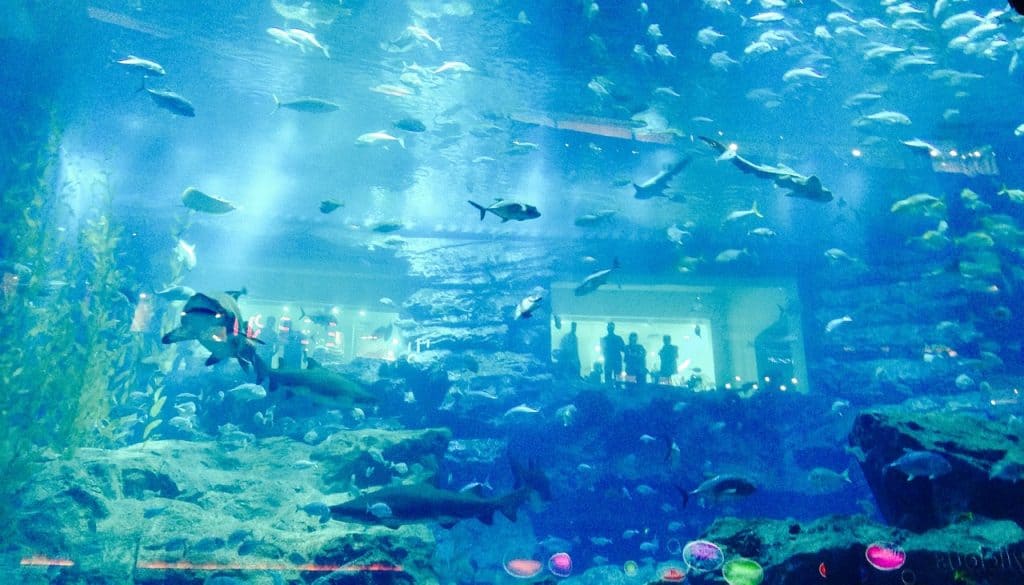 But the Dubai Mall is definitely worth a visit even if you are not into shopping. Yes, you can walk around the luxury lane or stop at any of the cafes there. I recommend visiting the Aquarium downstairs inside the mall.
Part of the Dubai Aquarium is on show in the centre of the mall if you do not want to pay the 195 AED to go in. It is worth it to go into the aquarium as the 10-million litre Dubai Aquarium tank, located on the Ground Level of The Dubai Mall, is the largest suspended aquariums in the world.
The Explorer Experience is 195 AED but if you book online you receive 25% off making it 145 AED. There are many other encounters and experiences you can book as well depending on what you are interested in.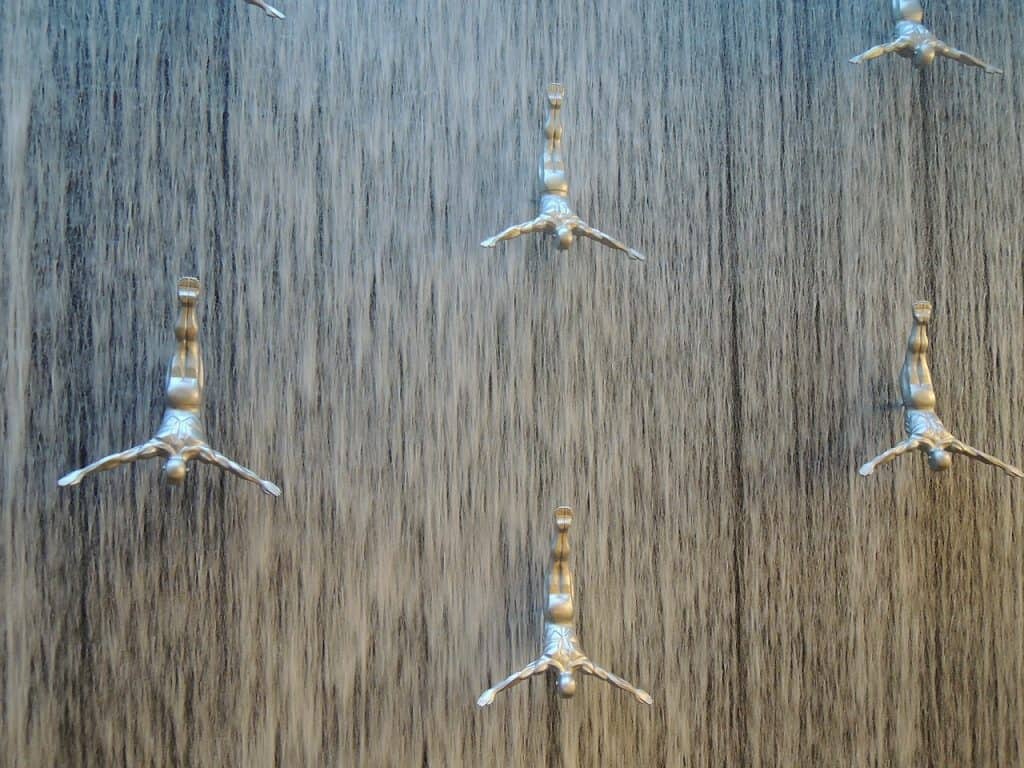 I spent three hours at the mall. I had a bit of shopping to do but I also checked out the aquarium and the water fountain in the mall before stopping for an ice coffee to take it all in. There are lots of restaurants in the mall too. I recommend downloading the Dubai Mall app. Yes, the mall really has its own app!
Next, head to the Dubai Fountains. They are the tallest performing water fountains at over 900 ft tall. They are on daily at 1pm and 1.30pm. The best time to see the fountains is at night when they light up as well but if you only have a day they are worth seeing. Actually you can see the fountains from the Mall as well if you visit during the summer or its too hot outside.
About a 15 minute walk from the Mall is the Burj Khalifa. Tickets to the Top Level 125 Floor are $125 AED or you can go to the Sky Level Floor 148 for $350 AED.
I chose to have high tea at the At.mosphere restaurant for $515 AED. That was the price for a window seat and afternoon tea. I arrived at 2pm and was finished around 4pm.
I think the best part of the restaurant was going to the bathroom! The views from there were just incredible as well and you walk in and think wow!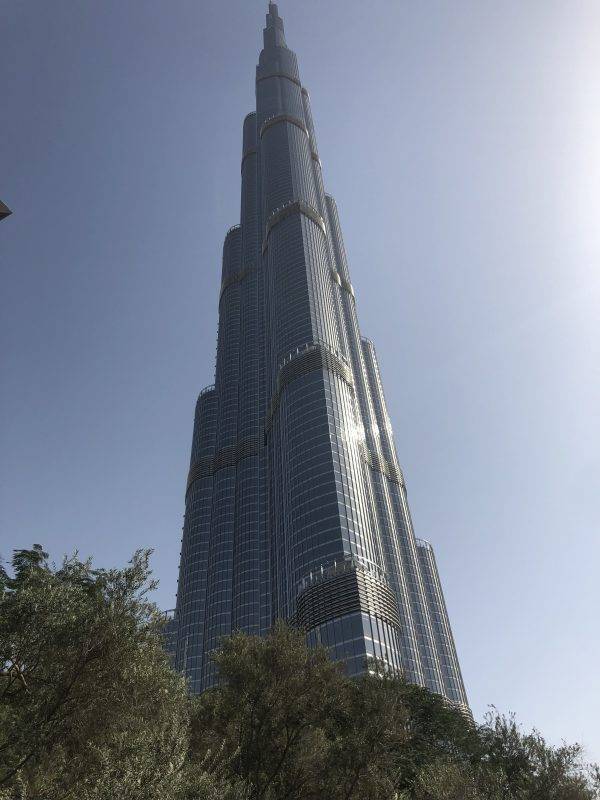 The Souk Madinat is located near the Dubai Mall and worth a visit as well. Souk Madinat combines traditional Middle Eastern shopping culture of stands, barrows and stalls with a mix of shops, restaurants, gold jewellery and souvenir shops.
I stumbled on one of the restaurants here called Tortuga, a Mexican restaurant. I love Mexican food and this place did not disappoint.
One thing I would say about food in Dubai is that it is quite expensive. I thought it would be cheaper than the US. I spent $50 for lunch at PF Changs at the Mall of the Emirates. I couldn't help myself as I was craving beef broccoli and it had to be done. All I ordered was a soda, spring rolls and beef broccoli. Not worth $50 in my opinion but I did decide to eat at an American chain.
Day 2 Itinerary to Dubai – Jumeirah, Kite Beach and Jumeirah Mosque, Dubai Marina
The Jumeirah area of Dubai is where the local emirates live in Dubai and is one of the few walkable areas in Dubai.
Kite Beach is the best beach in Dubai and you will see many water sports in this area such as kite surfing and jet skiing. It is a long pristine stretch of beach here with great views of the Burj Al Arab – the only 7 star hotel in Dubai. It is very busy on a Friday and Saturday and the weather in Dubai makes it a great time to go year round.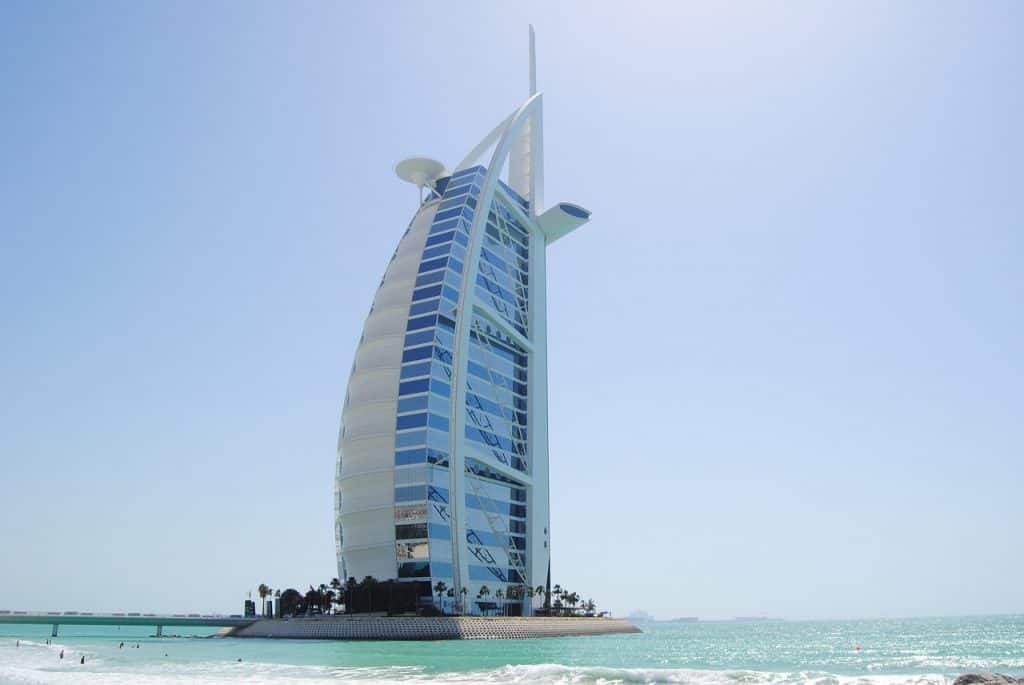 You can also visit the Jumeirah Mosque which is open to tourists. They have an open doors, open minds policy and welcomes all visitors who want to learn about Islam.
You can even take a tour and photos are welcomed.
Dubai Marina is a great place to walk around, take a boat cruise, have a drink at a 5 star hotel or dinner at a local place. You can check out the Dubai Marina website for more information.
Do know that you should dress modestly while in Dubai. This shouldn't be a problem as long as you use common sense.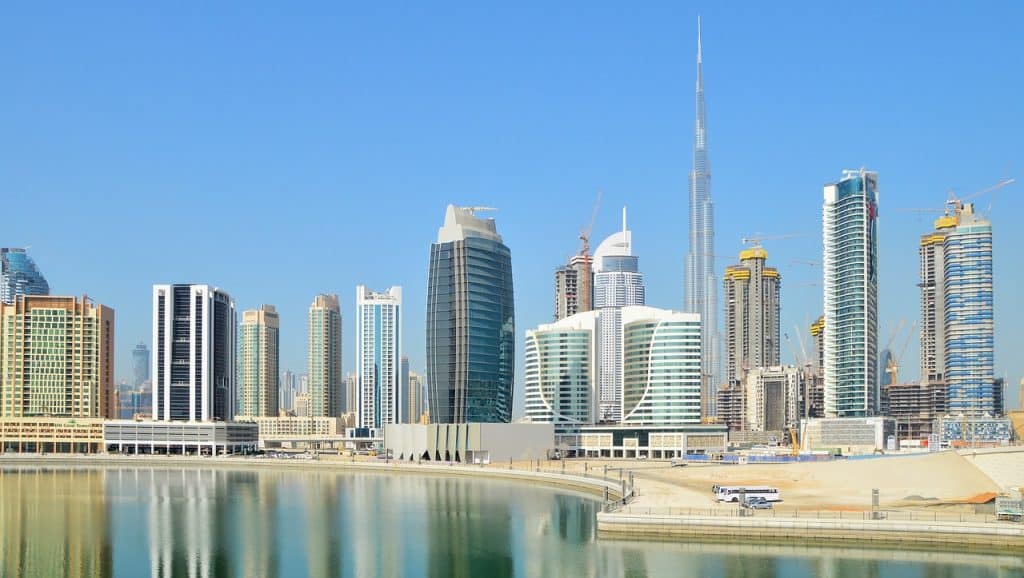 Also, you are not able to drink alcohol outside of 4 and 5 star hotels in Dubai and it is expensive as well.
Day 3 Itinerary for Dubai – Hop on Hop off Bus and Old Dubai
Wanted a way to take a break from the heat but still see as much as possible in Dubai? I recommend taking the Hop on Hop off Bus in Dubai. The bus covers a lot of ground and as mentioned before Dubai is quite spread out.
Welcome to the city that has it all. Hop on our Dubai bus tour to experience a true fusion of traditional Arabian charm and futuristic dynamism. Enjoy panoramic views of Dubai's dramatic skyline, perfect sandy beaches and the world's tallest building. Hop off to explore historical souks, forts and palaces, and enjoy ultra-chic dining and ambient nightlife. With Big Bus Dubai, you'll taste it all.
The buses even have free wifi on board so you can research where to explore when you hop off. Tickets start at $67USD to $95USD and they are cheaper to buy online.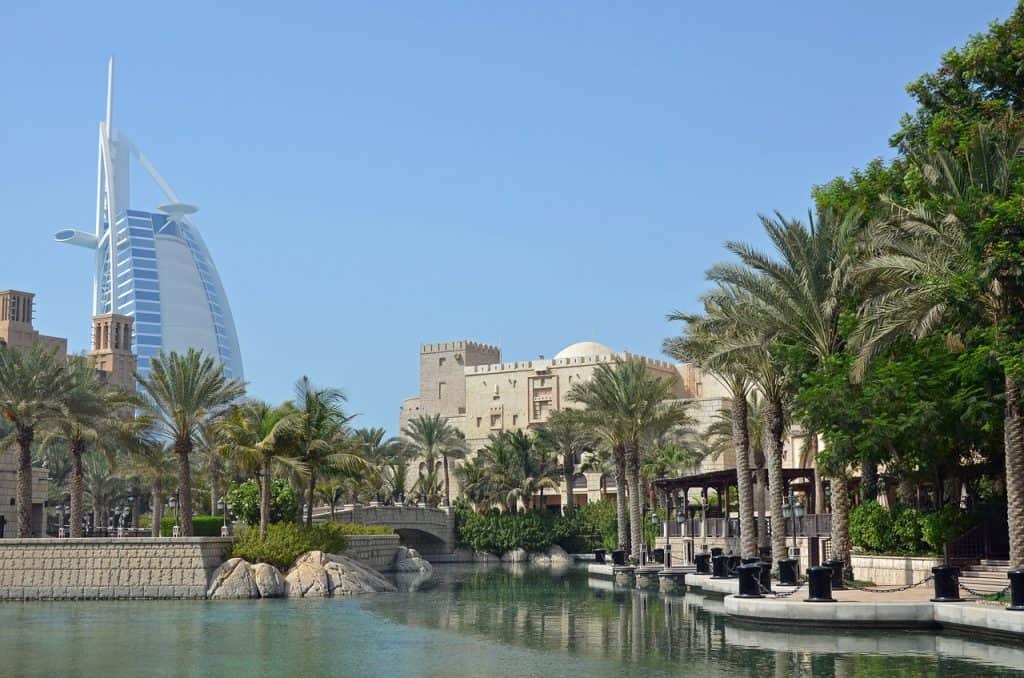 You can also take the bus to Old Dubai and walk around the souq there. This is one of the most interesting areas of Dubai and you will find a lot of activities there like the Dubai Museum or the Spice Souk. You will enjoy exploring this area.
Other activities to do outside of Dubai
There are several things you could do on your trip to Dubai such as take a day trip to Abu Dhabi. Buses leave every 20 minutes from Dubai to Abu Dhabi.
Head out to the desert. You could take a day trip to the desert to camp under the stars or ride camels over the dunes. There are lots of 4×4 tours of the desert.
There is so much to do in Dubai. Check out this guide to 50 Things to do in Dubai. Or go more in depth with this Guide to Dubai. You are sure to have a great time there.
Remember Dubai is a conservative country and you will need to dress accordingly. Here's what to wear in Dubai.
Sharing is caring. Pin this to save for later.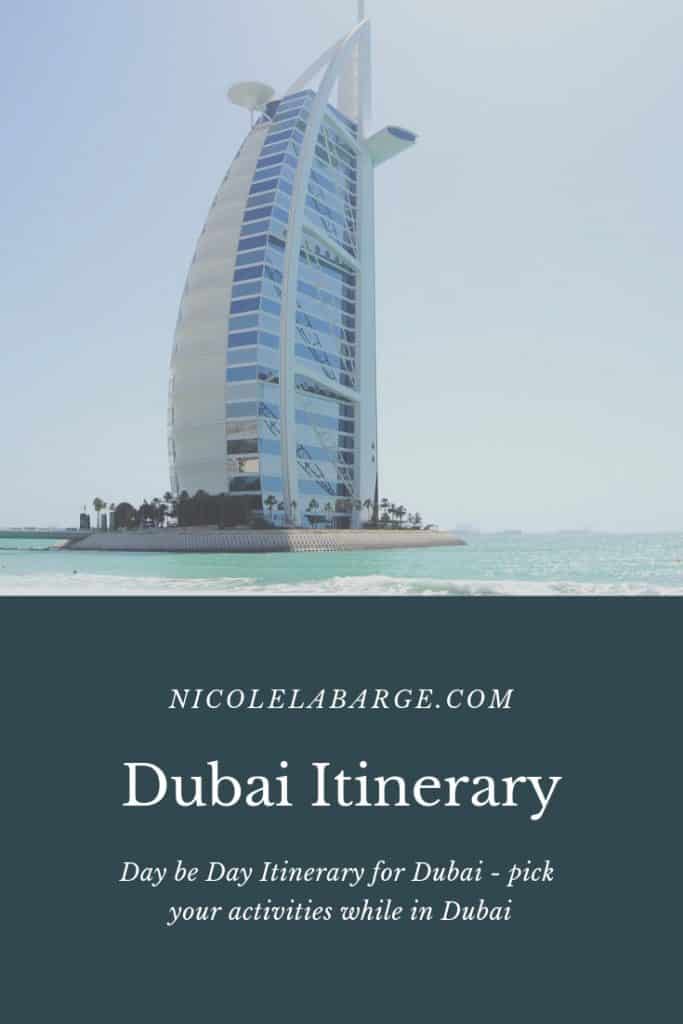 READY TO EXPLORE MORE? YOU MIGHT BE INTERESTED IN THESE POSTS:
Recent Posts