African Safari Review – which one is the best?
After spending six months travelling from Cairo to Cape Town in Africa I was able to go on several African safari in Ethiopia, Tanzania, Kenya, Uganda, Rwanda, Zambia, Zimbabwe, Botswana and South Africa.
Check out my post on The 15 Safest countries in Africa to see where these countries rank!
I often travel to places for certain animal encounters – Tonga for swimming with humpback whales, Costa Rice for Quetzals, China for pandas and Fiji for diving the reefs so Africa was no exception. I had a 'shopping list' of animals I wanted to see and was looking forward to experiencing them in the wild.
I've wanted to put together a list of my favourite safaris and where they were and what to do.  After visiting 15 countries in Africa these are some of my top moments on African safari.
Simien Mountains, Ethiopia
Ethiopia has something for everyone.  It's a diverse country with something for everyone such as culture, history, food and wildlife.  I wouldn't call it a traditional African safari but I went trekking in the Simien Mountains in northern Ethiopia in search of the Gelada Baboon which is only found there.  The landscape is spectacular after millions of years of erosion which has created deep valleys and jagged peaks.  There are several treks in the Simien Mountains offering amazing scenery and plenty of wildlife such as the ibex (a wild goat found nowhere else in the world), caracal, and Ethiopian wolves.  The Simien Mountains are a UNESCO World Heritage Site and well worth a visit as it is like nowhere else on earth.
Lake Nakuru National Park, Kenya
Our day at Nakuru was very relaxing and this was the best safari I did in Kenya. We went with a local couple in a large bus and basically spent the day driving around the lake looking for animals. How fun! Nakuru is known for their flamingoes and their rhinos. We were really lucky to see both the white rhino and the black rhino.
Samburu National Park, Kenya
My first safari was in Samburu National Park in Kenya. We were all a bit excited to see the wildlife there and they have the endangered Rothchild giraffes there.  We also saw our first lions and they had just hunted an impala and were eating it under the shade of a tree.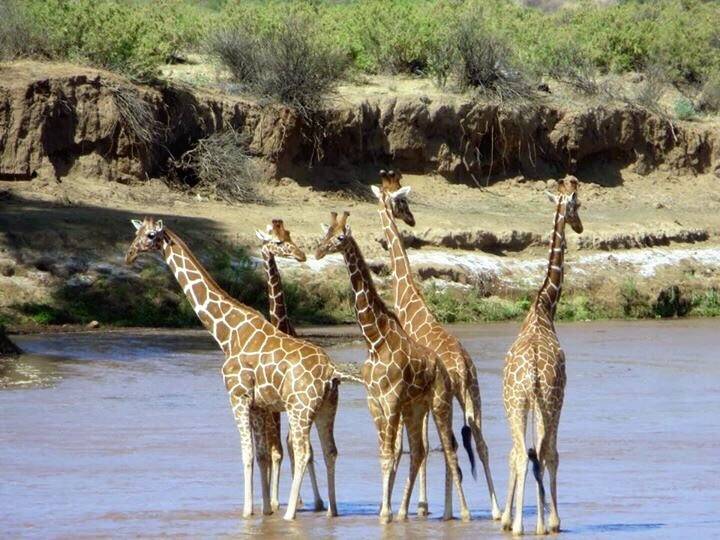 Bwindi National Park, Uganda
The birdlife in Uganda is amazing.  Especially around Lake Bunyonyi.  We took a morning canoe ride around the lake and watched all the birdlife first thing in the morning taking a bath and looking for breakfast.
Volcanoes National Park, Rwanda
We hiked about half an hour into the forest with our tracker.  The trackers go out first thing in the morning to find the gorillas and know where they are.  They radio the guides and tell them where to go.  Once you reach the tracker you must leave all of your stuff except your camera there.  I was the first one in following the guide and next thing you know I was face to face with a gorilla.  I turned to the guide and was pointing going there's a gorilla right there and he was like yeah, I know.  I was not expecting to be that close by any means.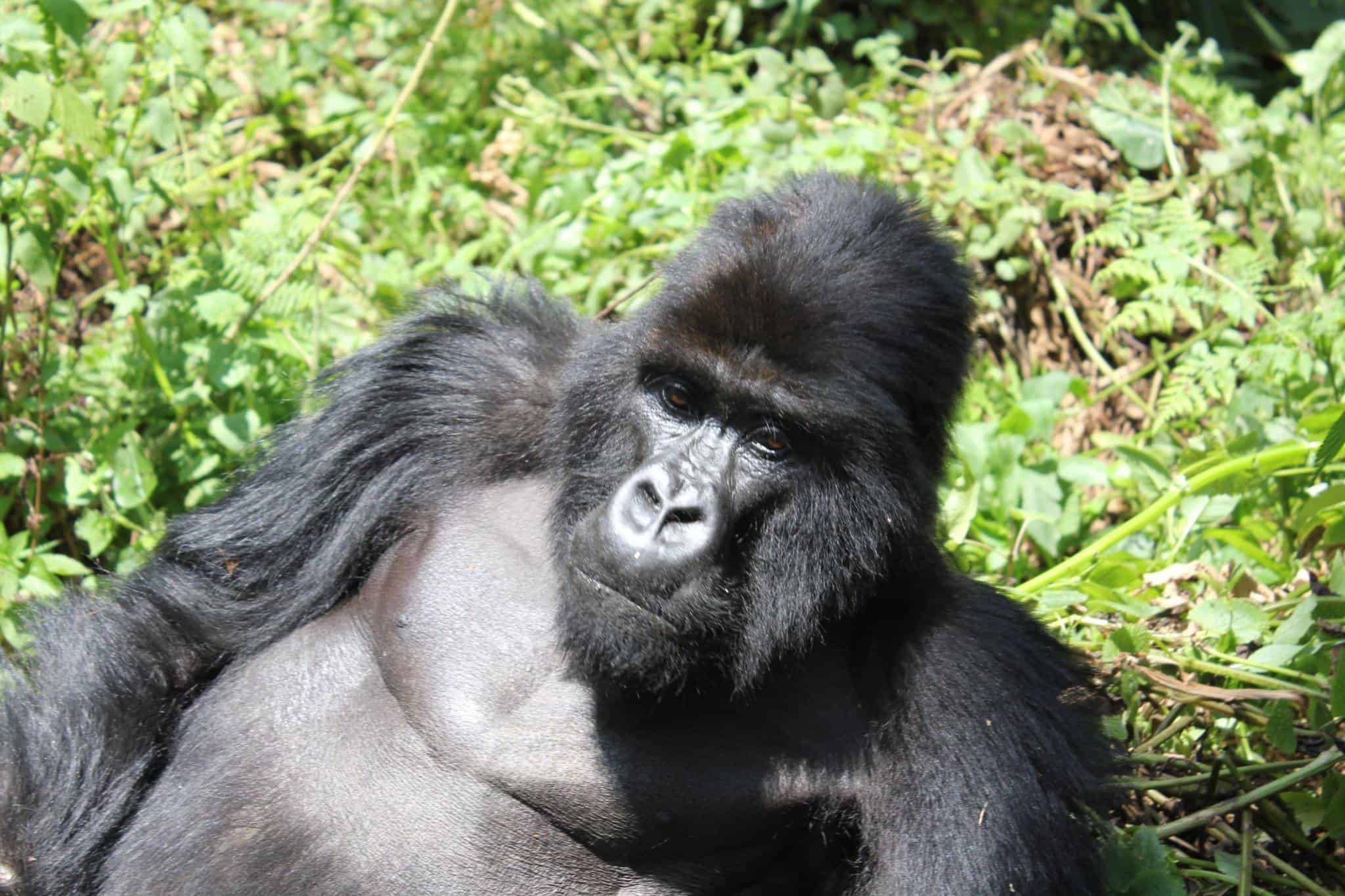 This picture of Kubaka was taken moments before he charged me.  Our guide was cutting down some foliage and Kubaka didn't like him cutting down his food source so he charged us.  Can't say I blame him! Our guide would make sounds like a gorilla to tell them everything is alright.  It was amazing to see how fast he could move towards us and watching his face get angry was just as amazing as it was scary.
Serengeti National Park, Tanzania
This was my favourite African safari by far.  I spent four days exploring the park and this is where I saw the most animals on a safari.  We saw over 50 lions in a day and five leopards along with countless other animals.  Now everyone knows the elusive leopard is hard to spot (haha enjoy the pun) but we were able to see five leopards.  The Serengeti is where you go to see big cats and the big five!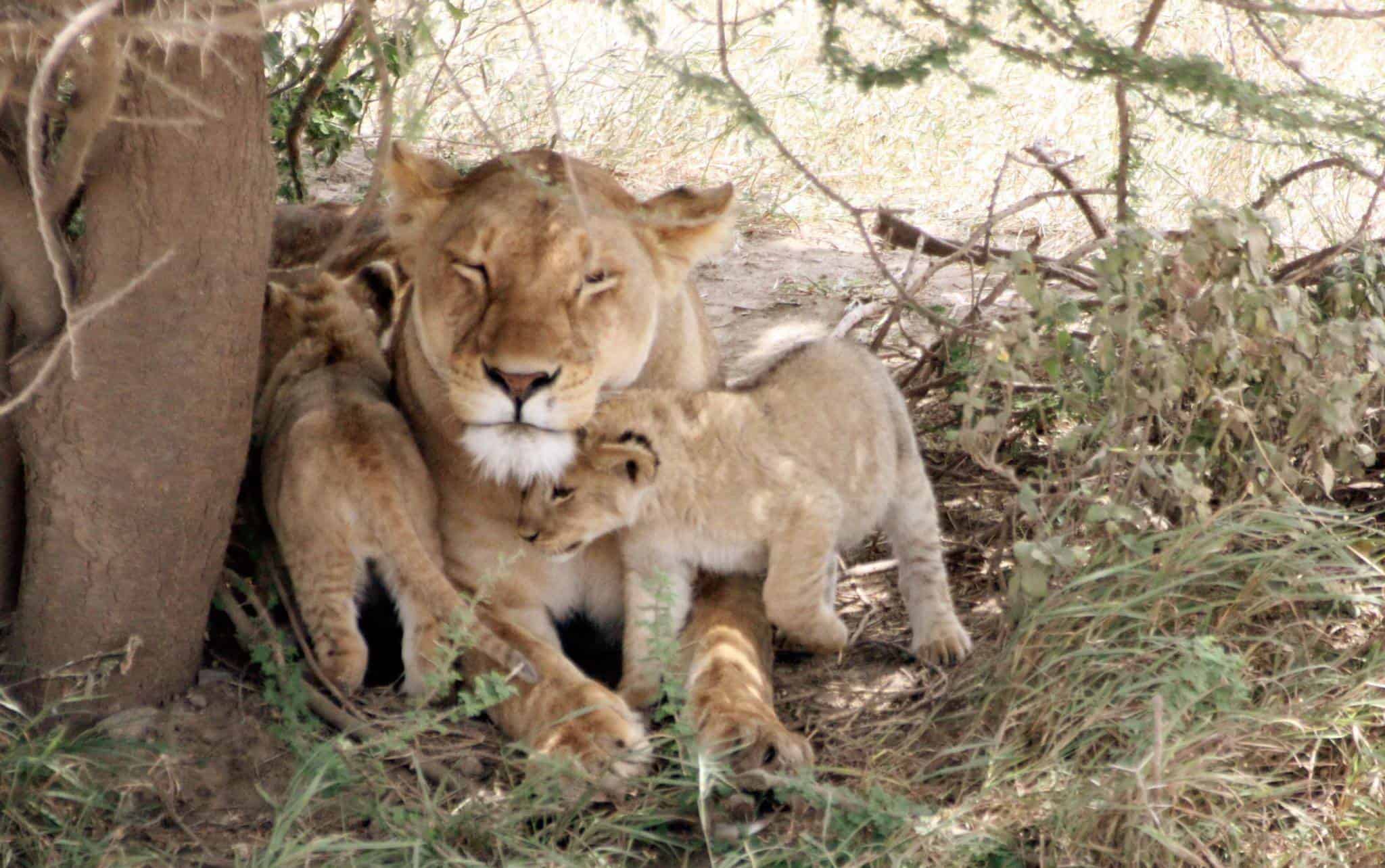 Ngorongoro Crate, Tanzania
Is a world heritage site in a volcanic caldera.  Named by the Maasai and translate to the Gift of Life.  The movie the Lion King is based on this area and you will find all the big five in this area.  There are lots of zebras and buffalos here but you will not find giraffes in the crater because the road down to the crater is too steep for them to get down!
Check out this post on a camping safari in Tanzania.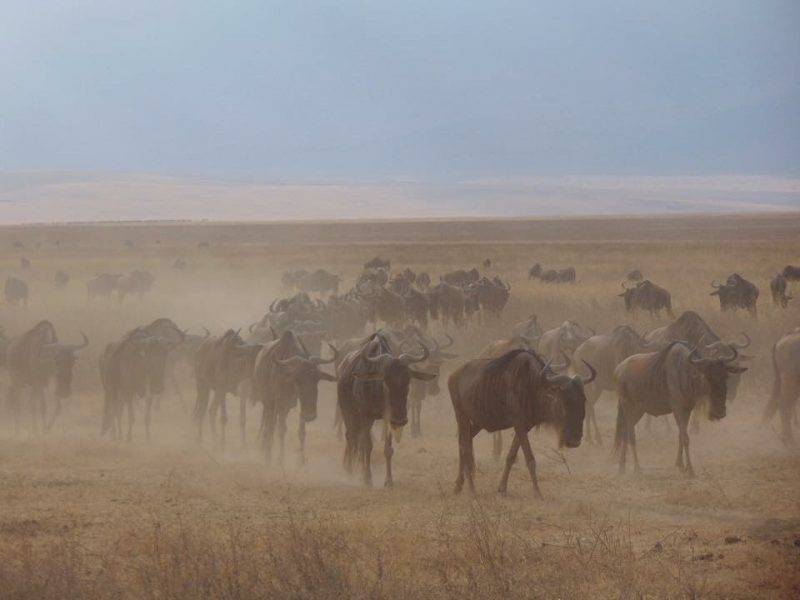 Livingstone Safari, Zambia
The Zambian bush around Livingstone is teaming with wildlife.  Even as we took a cruise down the Zambezi we saw animals all along the banks including elephants.  When I took a helicopter ride over the Falls we saw both elephants and giraffes.  And lastly when we went to the Royal Livingstone Hotel for afternoon tea on the Zambezi we say giraffes on the way in and zebras joined us for lunch!
Check out my post on the best binoculars for your safari.  The biggest mistake I made was not to bring my own and I had to keep borrowing the guides.  Don't make the same mistake as me!
Matobo National Park, Zimbabwe
This remarkable part of Zimbabwe should be on everyone's list.  At Matobo National Park you can go on a walking safari to see the black rhino.  Yes, I said walking tour.  Its so cool to see these animals up close and personal.  Its one of the most memorable experiences walking up to these magnificent creatures.
Chobe National Park, Botswana
Chobe National Park is known for its elephants as there are approximately 120,000 elephants in the park.  You can actually visit Chobe as a day trip from Livingstone, Zambia as it is about an hour drive to the ferry which takes 10 minutes and then the safari trucks pick you up on the other side.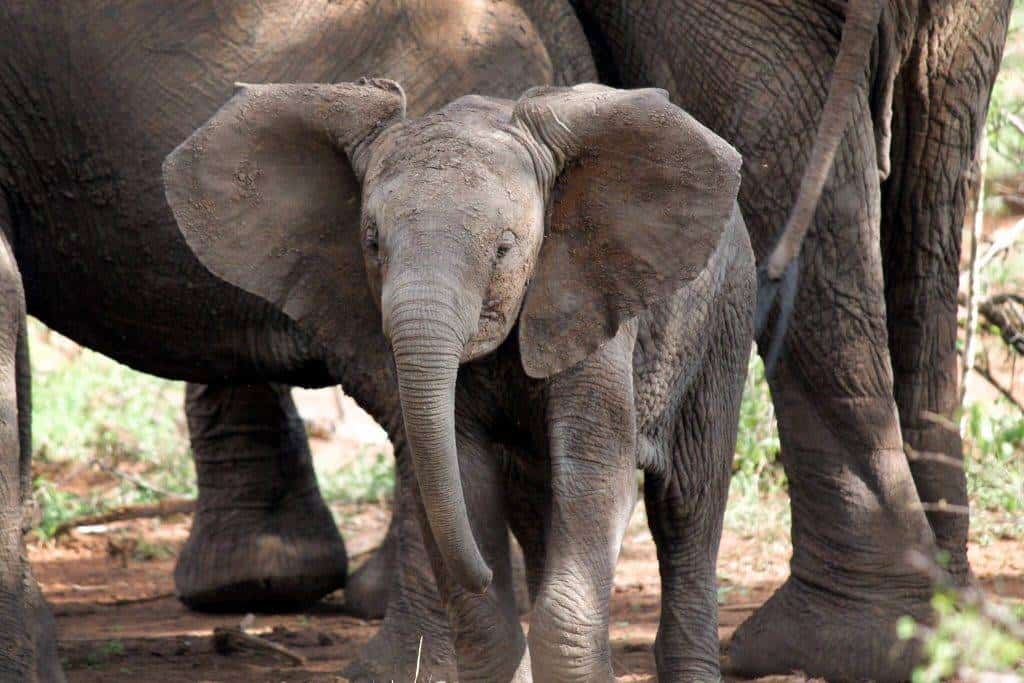 We started our day with a morning cruise down the river where we watched elephants swimming in the river.  This was such a highlight as we watched them play and completely submerge themselves except for their trunk which was above water.  After lunch, we took the open top safari trucks further into the park and saw lions, impalas, giraffes and more elephants.  This photo is of a two week old baby elephant.  Isn't he cute?  You won't be disappointed by all the wildlife in Chobe National Park.
St Lucia Wetlands, South Africa
The city of St Lucia is a UNESCO World Heritage site.  Its a more relaxed type of safari with plenty of wildlife to see.  St Lucia is along the southeastern coast of South Africa and you can often see whales from the shore.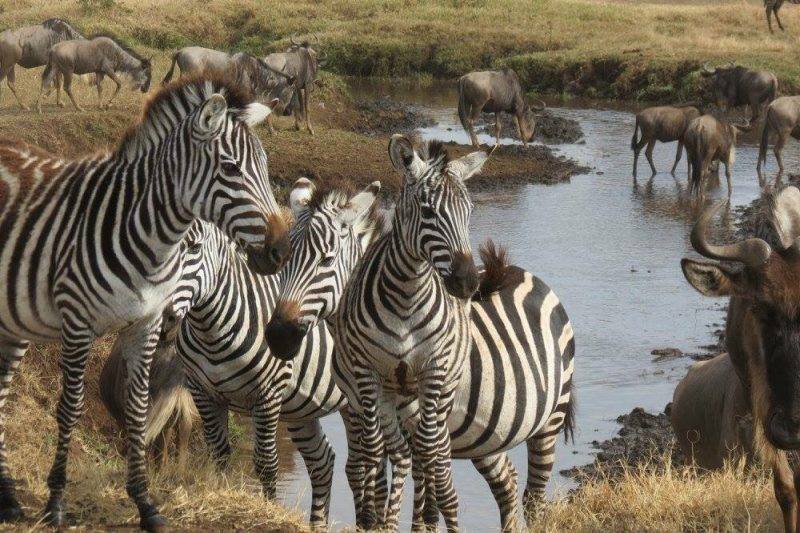 So when we came up to a gate for the national park I tried to wrangle my way through saying that our hotel was just on the other side.  So we decided to take the most direct route to the other gate.  On the way we saw all of the usual suspects – plenty of antelopes, zebras and such but we were also able to see four rhinos by the side of the road.  And we just missed about 15 elephants at the entrance knocking down trees and such but we saw the aftermath of them coming through.
If you are looking for more action while in South Africa why not try fly fishing in South Africa?
There are several places to go on safari in Southern Africa. Check out these self drive safaris in Southern Africa.
Krueger National Park, South Africa
This was my last safari in Africa.  We saw all the usual suspects in Kruger starting with a giraffe and then elephants and zebras.  We gave our guide our 'shopping list' for Kruger and he helped us find a few of the animals.  We said that we hadn't seen rhinos in awhile, we loved all the cats – lions, cheetahs, leopards, and wanted to see the African dogs.  We were able to see all of these things on our safari.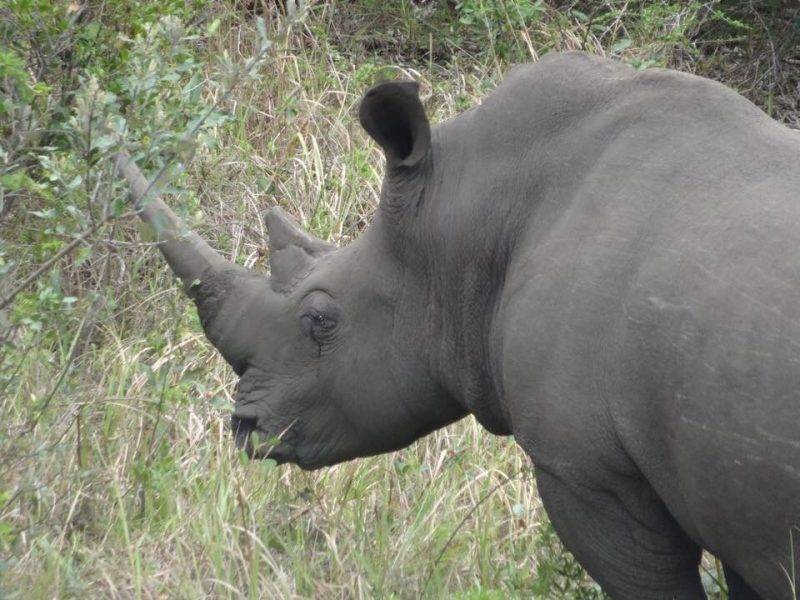 These are my top 12 African safari that I have been one.  Have you been on safari before?  If not, where would you like to go? Check out this post on the best cameras for safari.
Recent Posts