Best Water Shoes for Hiking and Rocky Beaches
How to find the best water hiking shoe for you!
Have you ever found yourself hiking or wading through a stream or over rocks on a beach and your shoes are then wet for days?
When you go hiking or trekking often you will have to walk through streams which could require taking your shoes off and walking slowly over rocks through the water with bare feet?
Water hiking shoes have come along way over the last few years with more and more companies designing and creating water shoes or sandals for watersports and hiking.
The clear winner when it comes to water shoes for hiking?
TLDR: You really cannot go wrong with Tevas or Chacos – I actually wrote a post on which is better Chacos vs Tevas but for me, Tevas are the best water sandals.

I have worn these shoes on all of my major trips and also used them for hiking too. If I am going to a warm destination I don't even bring sneakers anymore and just wear my Tevas.
Disclaimer – Support my website by clicking on the links in this post. I receive a small commission (at no extra cost to you) to keep my site running and providing free content. Thanks!
The 15 best water shoes for hiking and the best water shoes for rocky beaches
The Teva Tierras are the best hiking water shoes

The Teva Tierra women's outdoor water shoes have a crisscross section over the toes and a heel strap with velcro closures and hook-and-loop closure.
The shoes are made from 100% textile and have a nylon stability shank shock pad heel, compression-molded EVA midsole which provides optimum comfort and a traction outsole that channels water away from the shoe and the cushioning EVA topsole.
The Teva Tirra water shoes are ideal for walking, hiking, swimming, walking over rocks, through water, going to the store, traveling and road trips.
---
Keen Women's Whisper Sandal are the best shoes for water hiking


The Keen Whisper hiking water sandals have a bungee lace closure, which can be pulled tight for a secure closure, with a heel strap and are easy to get on and off. The sandal has a hydrophobic mesh lining with a non-marking rubber sole, and a compression folded inside sole.
The inside sole has internal support which provides an excellent arch, these sandals are also machine washable.
The Keen Whisper sandals are ideal for river walking, shopping, hiking, beach walking, and many other outdoor activities. They are also available in multiple colors which all have a multidirectional lug pattern and natural odor control.
---
Merrell Women's Terran Lattice II Sandal
The Merrell women's Terran Lattice II sandals have a lattice cross over toe strap which leads into the heel strap providing breathability, comfort, and stability. The sandal has rubber soles, mesh linings, a removable ace footbed, a standard Merrell air cushion footbed which absorbs shock and adds stability to the entire foot.
The shoe has a buckle closure and is available in nine colors. These sandals are ideal for hiking, walking, walking through water, over rocks, and through streams.
---
Chaco Zcloud X2 Sport Sandal women's water hiking shoes

The Chaco women's Zcloud sport sandal is ideal for hiking, traveling, walking through rivers, paddling, or just as casual flip flops.
The sandals have Zcloud comfort with a pillow-top layer, ultra-soft PU, and instant-cushion sole with a LUVSEAT footbed. The sandals have a custom adjustable strap made from a quick-dry material that twists around the toe and up to the ankle, providing a customizable fit. The sandal comes in a variety of colors but all have the same features.
---
Teva – Sanborn Sandal Women

Theses women's water hiking shoes are available in black and walnut, the Teva Sanborn sandal has two pieces, a toe crisscross strap, and an adjustable hook and loop heel strap.
These sandals are comfortable and ideal for traveling, hiking, walking through water, and just going to the store. The straps are made from a water-ready polyester webbing which is durable and dries quickly. The sandals are injected with EVA-foam on the outsole for a lightweight feel and a cushioned comfort.
---
DOUSSPRT Women's Water Shoes Quick-Dry

The DOUSSPRT women's water shoes are ideal for swimming, kayaking, sailing, cycling, boating, walking, and many other activities that may involve getting your feet wet.
These shoes are more like tennis shoes than sandals, they have a lace-up front, a breathable sole, and open mesh on the upper and lower soles to provide breathability and make them quick drying. The shoes are available in 11 colors and are all suitable for walking over rocks and tackling hikes.
---
Aleader Women's Quick Drying Aqua Water Shoes

Available in multiple colors the Aleader women's water shoes are breathable with a durable mesh upper and lower front, with laces to adjust the tightness.
These water shoes are designed to let the water come into the shoe and then drain out quickly, while still providing traction in difficult situations. The shoes have a ComforDry sicklier which provides an optimum cushion and helps to aid in creating a cool and dry environment.
These shoes are great for sailing, kayaking, swimming, walking, boating, jet skiing, and other water activities.
---
Women's Mary Jane Water Shoes

The Mary Jane water shoes have an X band style strap, with an easy to pull off and on back. These sandals are breathable, allow the water to flow in and out of them, and have great anti-slip and non-marking outsoles. They are available in multiple colors and are great for hiking, swimming, jet skiing, boating, and other water sports activities.
---
Zhuanglin Women's Quick Drying Aqua Water Shoes

Zhuanglin women's quick-drying shoes are made from 90% fabric, with a breathable mesh cutter layer, a sole which can drain out water, and a strap to tighten.
Available in multiple colors the mesh cutter layer allows for the foot to breath and water to drain out. The solyte midsole is exceptionally lightweight with a bounce-back material. The soles have a water grip outsole which is great for keeping traction when wet or slippery. It is made from ComforDry which provides optimum cushioning, as well as a cooler and drier shoe environment.
---
Merrell Women's Hydro Glove Water Shoe

Merrell's Hydro Glove water shoes for hiking and swimming are designed for paddle boarding and paddling in the ocean or surfing, these water shoes are great for drying out very quickly. The water shoes have a Vibram Wavegrip which gives them traction on the bottom and great grip with the rubber soles. These water shoes are designed to be minimal but while remaining versatile and protective in and out of the water whether it's walking on sand, rocks, or just preventing getting stung by marine life. These water shoes have a velcro strap on the top for tightening and are available in two colors, velvet morning and black.
---
Sketchers Women's Reggae Loopy Sandals

These Sketchers water hiking shoes are available in four colors including mint, teal, brown, and blue/pink. These sandals have a toe strap at the front for the big toe then the straps crisscross over the foot, around the heel and then have a buckle closure on the side.
The footbed is cushiony and contoured to fit the foot snugly. The sandals do come up differently in size to other shoes so make sure to check the sizing guide before purchasing them. These sandals are perfect for hiking, walking, beach wearing, walking through rivers and streams and are quick drying.
---
KEEN Women's Venice li H2 Water Shoe

The KEEN Venice li H2 water shoes are made from responsibly sourced and environmentally friendly leather uppers, which are waterproof and breathable.
The heel strap is adjustable and there is a lace system on the front to tighten and loosen the straps. This provides a secure fit for hiking, walking, trekking, walking through water, and many other water activities. Available in two colors grey and blue these sandals are lightweight and perfect for traveling.
---
Body Glove Women's 3t Barefoot Cinch Lightweight Water Shoe

The Body Glove 3t Barefoot Cinch water shoes are designed for optimum comfort and great performance. The water shoe has a three toe section, with the big toe and the next two in their sections and the other four toes together.
This design offers protection and the ability for the toes to maximize performance and reduce injury. These water shoes are designed for kayaking, paddling, paddle-boarding, rafting, windsurfing, sailing, and fishing.
The water shoes have an Integrated Drainage System (IDS) which lets water flow through them and drain out again, providing breathability and increases the airflow. The water shoes have a stretchable upper material, an elastic shock lace design, and ultra-grip soles to prevent slippages in wet surfaces.
---
Aleader Women's Stylish Quick Drying Water Shoes

Available in 10 colors the Aleader water shoes have a mesh stylish tennis shoe finish with bungee lace up front to tighten then and secure them for optimum stability.
These water shoes are great for hiking, any activity where you would use a tennis shoe, and also water activities. These water shoes are easy to slip on and provide drainage, are lightweight and flexible.
The water shoes have a FluidFlow technology system that allows water to flow through them and then drain freely to avoid weighting the shoe or foot down.
---
Crocs Women's Swiftwater Mesh Sandal

Available in 7 colors the Crocs Swiftwater water shoe features a hook and loop velcro strap for tightness and a mesh top layer that has gaps for draining water out. The mesh upper is breathable and fast-drying.
These water shoes are ideal for water activities, everyday activities, and just being out in the warm weather. The Crocs water shoes have all the features of a regular Crocs shoe with the comfortable sole, and they even have a pull tab to allow them to be pulled on and off quickly.
Some features to consider when deciding which water hiking shoes are the best are:
Size of the hiking water shoe
Do the shoes fit a specific size or are they sized bigger? Do they fold down to just the soles with material laces or are the tennis shoes that take up more room in your bag.
No matter how much space you have in your luggage there are water shoes perfect for you. Although be aware some water shoes come up in different sizes to others, so check the sizing guide before you purchase any shoes.
Insole of the hiking water shoes
Are the insoles comfortable? Depending on what you are looking for your water shoes to do, some soles have comfort foam insoles and others mold to your feet. If you are looking to hike in your water shoes you will want to look for comfortable insoles in your water shoes as you may be wearing them over long periods while walking.
Grip of the water hiking sandals
The grip on the bottom of the water shoes varies from nonslip to less nonslip. Some water shoes have holes in the bottom to let water out and others have very grippy surfaces especially for water sports or climbing. This is the most important feature of the best womens water shoes for hiking.
Comfort of the water and hiking shoes
Are the shoes comfortable to wear? Some water shoes have toe straps which some people might not find the comfiest and others are in the style of tennis shoes with comfortable soles and can be tightened up to provide stability.
Durability that makes them the best shoes for hiking in water
Will the water shoes last for a long time? Some water shoes are built to last with durable and tough soles, which can be used for any terrain.
There are lots of water shoes available on the market from sandals to tennis shoes which drain off the water through them, it can be challenging trying to find which is best. I have picked out the 15 best water shoes.
Conclusion: best hiking shoes for water
If you are looking for the best hiking water shoes then any of these women's water hiking shoes will work for you. It just depends on your preference and your budget.
I mentioned before that my absolute best water hiking shoes I use are Tevas. I find them so comfortable and they are the best grip water shoes.

Another of the best water hiking shoes would be Chacos and I know tons of people that swear by them as the best hiking water shoes.

Over to you. Which ones do you think are the best water shoes for hiking and rocky beaches?
Sharing is Caring! Pin this article to save for later.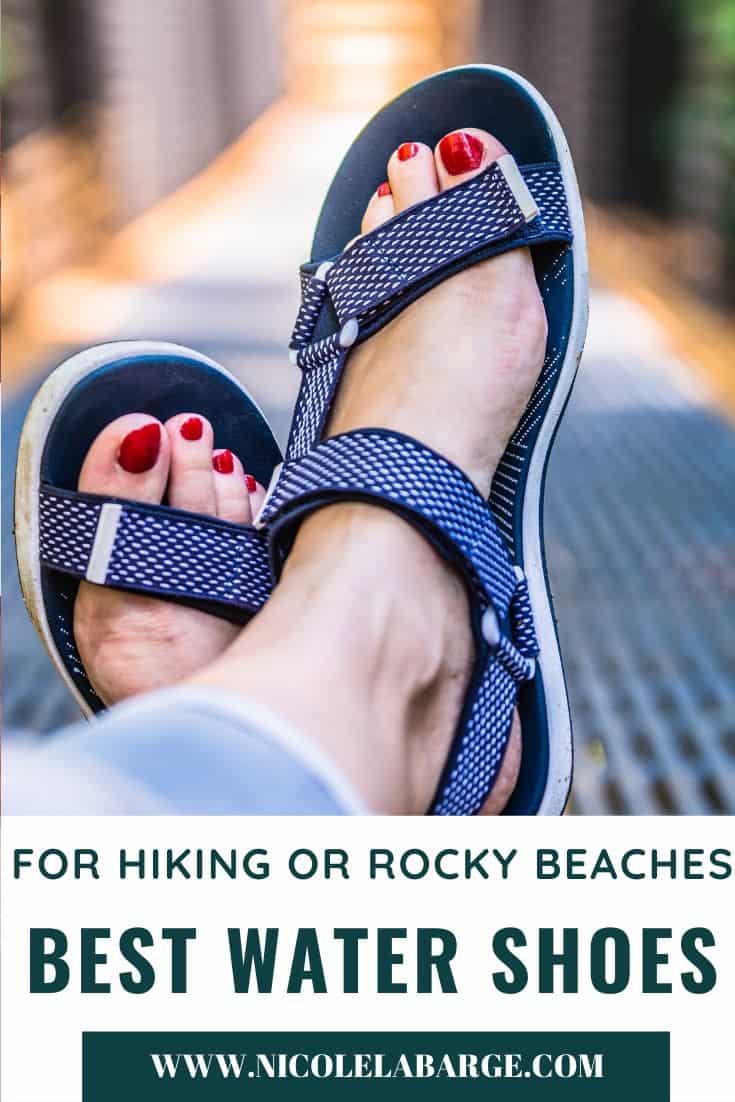 Continue Reading More on my site:
Best Filtered Water Bottle for Travel
Recent Posts