The 10 Best Filtered Water Bottles for Travel
How to choose the best water bottle with filter for travel
Looking for a travel water filter? If you travel a lot you will want to look at these best filtered water
bottles for travel. I love my filtered water bottle for travel.
A travel water filter is a great way to reduce your plastic use and ensure you don't get sick.
When traveling, have you ever been to a country where you can't drink the water from the tap or the tap water tastes bad? This can mean you end up buying lots of single-use plastic bottles and then just throwing them away.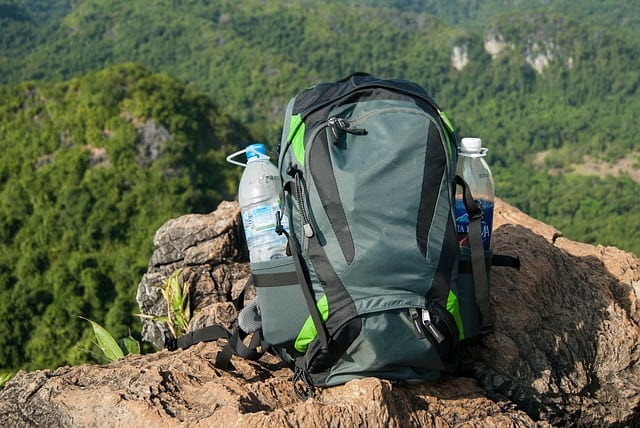 Don't be the person with all the plastic bottles when you could be carrying a filter water bottle.
Have you ever been traveling, ran out of water and been tempted to drink water from a stream or lake but don't want to get sick? These worries have disappeared if you use a water bottle with filter for travel.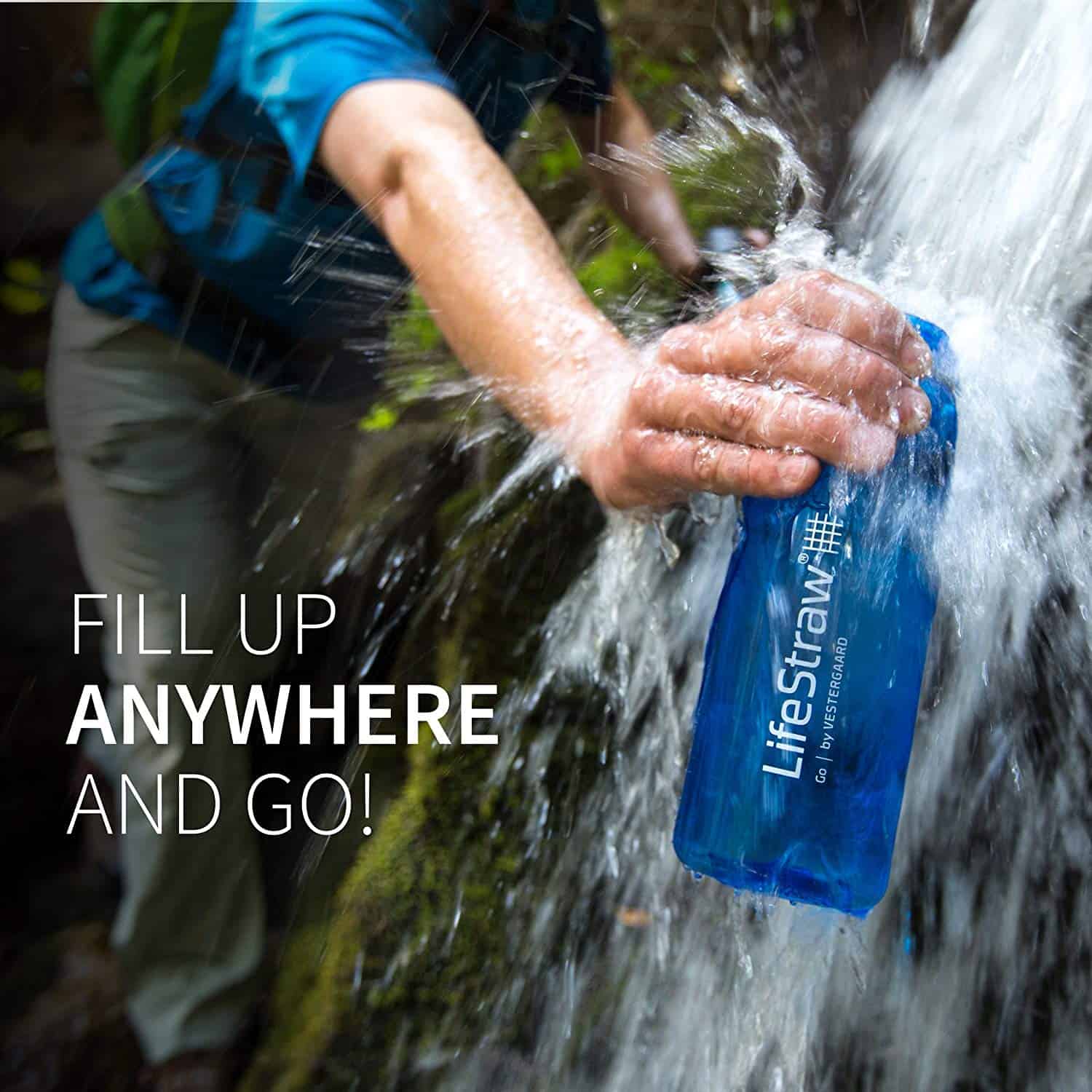 TL:DR I spent six months traveling from Cairo to Cape Town and I'm glad I carried a LifeStraw Go
Water Filter Bottles which I think is the Best Filtered Water Bottle for Travel. This is the best
travel water bottle I have ever used.

I also used it for my trip to West Africa this year. To me, it has the best travel water purifier that you
need to ensure you don't get sick. Its the best water filtration bottle Africa.
Why you should use a filtered water bottle?
You need the best water purifiers for travel to stay safe and it can be beneficial in many ways, including;
1. Saves you Money
Filtered water bottles are reusable and can be filled up with tap water or water from a water fountain, this saves you money, as you don't have to purchase lots of single-use plastic water bottles.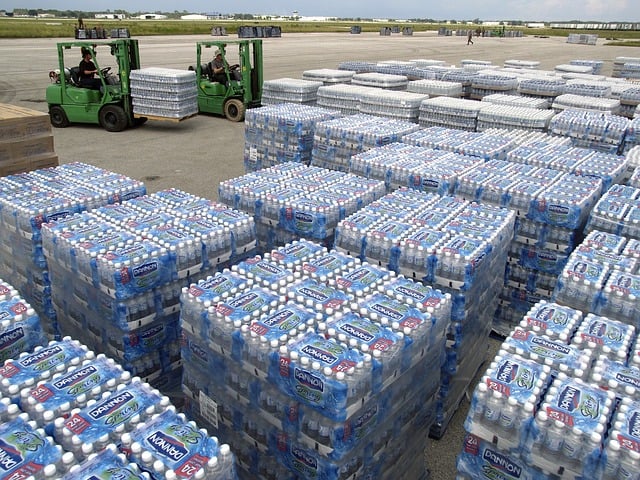 Purchasing plastic water bottles every time you want to have a drink can add up a lot of money quickly which can easily be spent on something more useful.
2. Traveler's Diarrhea and giardia
When traveling there are a large number of countries where drinking the water out of the tap can make you sick. With a filtered water bottle, you can rest assured the water is filtered and perfectly safe for drinking.
You need a water bottle that purifies water to ensure this does not happen.
3. Reduce Plastic Bottles
Reusable water bottles are saving millions of single-use plastic bottles a year. In the US alone there are over 100 billion single-use plastic bottles sold every year, with over 90% not recycled.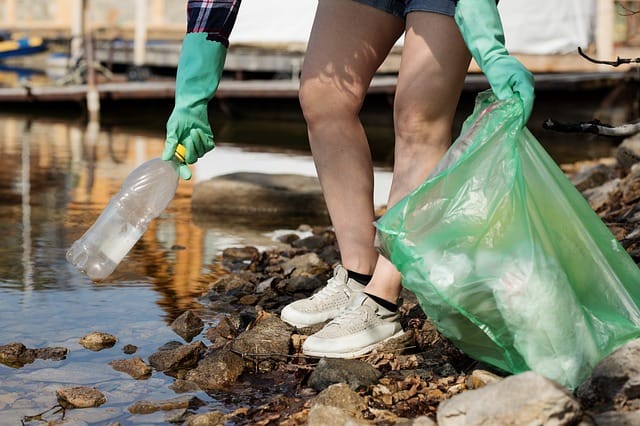 A million plastic bottles are sold every minute around the world when many purchases can be saved by using a refillable water bottle. Airports, public areas, and transportation now supply water fountains and refillable water bottle stations to allow people to drink water for free.
Choosing between stainless steel vs Plastic vs glass water bottle
Water bottles can be made using several materials including stainless steel, plastic, or glass, each of which have benefits and cons.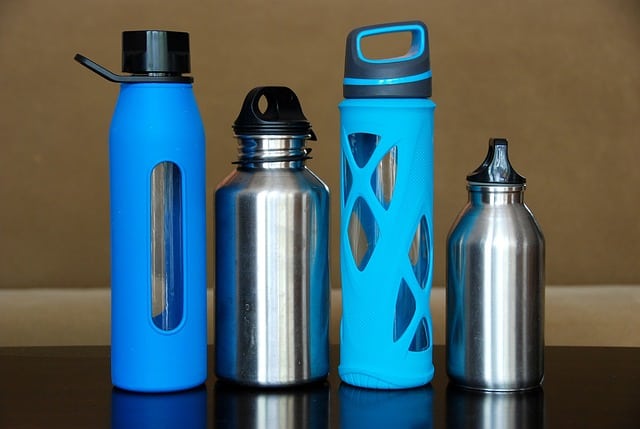 Plastic water bottles are often more lightweight and durable than stainless steel or glass which are heavier and not as durable.
Stainless steel water bottles tend to be more expensive but can be more insulated than plastic or glass water bottles.
Glass water bottles are fragile and can break easier than plastic or stainless steel water bottles.
What you need to know about the best filtered water bottle for travel
Insulated water bottles
Insulated water bottles are great for holding both hot and cold water for long periods of time, they tend to be heavier and hold less water than non-insulated water bottles.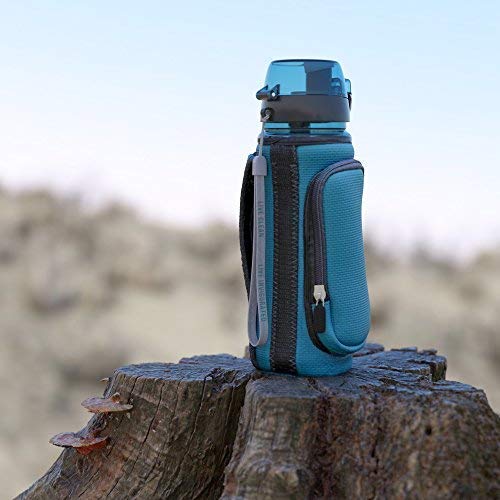 Non insulated water bottles
Non insulated water bottles are often more lightweight than insulated ones and can hold more volume.
Non insulated bottles tend to keep the contents at whatever the outside air temperature meaning the contents can become warm in hot environments. Non insulated water bottles are ideal for traveling as they are lightweight and are durable, can be thrown in a bag without adding much weight to luggage.
Other factors to consider when looking for a bottle
When looking for the best filter water bottle it is important to consider how easy the bottle is to clean, if it is BPA-free, the opening size of the mouthpiece, and if the bottle includes any accessories to attach it to a backpack or carry it.
How easy the bottle is to clean
Some questions to ask when looking for a bottle is how easy is it to clean and store, does the filter come out of the bottle? Can it be stored separately? Many of the bottles in my list have detachable filters that attach to the straw or clip into the lid, this makes for easy cleaning and storage.
Must be BPA free
The best-filtered water bottle should be BPA-free. BPA stands for bisphenol A, which is an industrial chemical that is often used to make certain plastics. Research over time has identified that some BPA can seep into food or drinks which are stored within them, causing health effects. Many manufacturers are now created BPA-free products to avoid any of these issues.
Opening Size
How big is the opening of the bottle?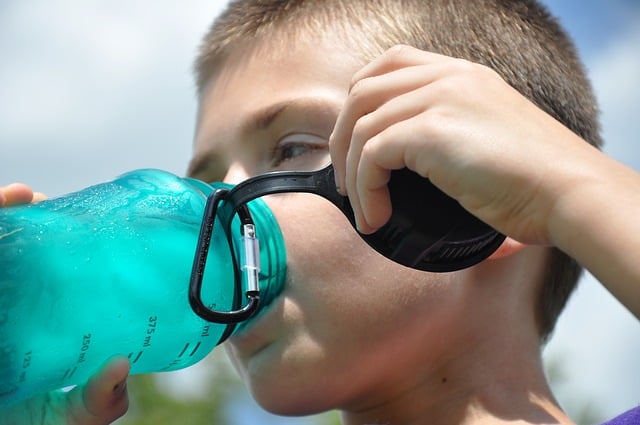 Do you have to suck the straw with pressure to allow the water to be sucked through the filter?
These are all important questions to ask when looking for a bottle with a filter. The last thing you want is for the bottle to have a big opening which can be split easily in a bag or when trying to drink out of it.
Accessories
Does the water bottle come complete with an attachment for a bag? Does it have a loop to attach something to carry it? If you don't want to carry your bottle everywhere you go and don't have a side pocket in your bag to put it you might want to consider a bottle with an attachment. Some of the bottles on the list have lanyard straps and handles at the top to hold it and carry the bottle.
Top 10 Best Filtered Water Bottles
There are a large number of filtered water bottles available on the market all with slightly different uses and filters, to choose from.
Here are my top 10 best filter water bottles and my filtered water bottle reviews.
LifeStraw Go Water Filter Bottles – the best travel water bottle
The LifeStraw Go Water Bottle is ideal for hiking, backpacking, and traveling, this is my favorite water
bottle because its lightweight and affordable. The water bottle is BPA-free and it filters the water while
you are drinking.
LifeStraw has an award-winning hollow fiber membrane that works to remove bacteria and protozoa to
make sure the water you drink is clean. The bottle has a 2-stage filter which helps reduce odor, chlorine,
and ensures there is no strange aftertaste.
LifeStraw prides itself on removing 99.9999% of waterborne bacteria and 99.9% of waterborne
protozoan parasites. This bottle holds 23 ounces, in a leak-proof bottle with a silicone mouthpiece, and
you can always purchase replacement filters for long term use. This bottle comes with a 2-stage filter or a
1-stage filter depending on how filtered water is required to be. The LifeStraw Go water bottle comes in 8
colors including blue, green, grey, and other limited editions with images and logos.
---
Grayl Ultralight Water Purifier and Filter Bottle
My second favorite water filtered water bottle is the Grayl Ultralight Water Purifier Bottle, which is ideal
for traveling, outdoor adventures, hiking, backpacking, survival, and emergency preparedness.
This water bottle is fast and easy-to-use, you simply fill the bottle with water, press, and drink. The
bottle and filter work by using your body weight to press down on the bottle and the cartridge filters the
water to eliminate bacteria, protozoa, and viruses.
The filters work in only 15 seconds and remove 99.99% of viruses and 99.9999% of disease-causing
bacteria, the filter also removes particulates, chemicals, and heavy metals, leaving zero aftertastes, no
bad odors, and improves water clarity.
The bottle comes in green and orange, and replacement purifier cartridge lasts for around 150 liters
when a replacement cartridge can be purchased.
---
DoBrass Water Filter Bottle is the best carbon filter water bottle

The DoBrass Filter Bottle is ideal for traveling, camping, hiking, daily use, and outdoor activities.
The water bottle has a 4-stage filter which filters out sand, mud, heavy metals, chlorine, as well as
99.9999% of harmful things. The carbon filter has a life capacity of 1500 liters and can then be replaced
without purchasing another water bottle.
The water bottle comes in black, blue, and sea glass, with a volume of 650ml and can be used to improve
water taste at home, or when taking water from a stream while outdoors.
The water bottle has been FDA tested, is leak-proof with a small hole in the lid to eliminate spills, it is
versatile, durable, BPA free, easy to carry with a rubber carry strap and backpack attachment.
---
LifeTreky Water Filter Bottle
The LifeTreky water filter bottle is made from Tritan, food-grade silica gel which is FDA approved, BPA-
free, portable, durable, and purifies 99.999% 0.01 of micron contaminants in the water.
The bottle has a 2-stage integrated filter straw that uses the hollow fiber ultra-filtration membrane and
the 2nd stage coconut active carbon which reduces bad taste, flavor, chlorine, with zero aftertastes.
The straw is collapsible so you can store it in a different place, the top has a nozzle cap, cap locker,
silicone spout, all with a built-in compass. The filter is good for up to 1500 liters and can be replaced
after that without purchasing a new bottle.
The water bottle comes in green, black, purple, and blue, and can hold up to 650ml of water.
---
SGODDE Water Filter Bottle
The SGODDE water filter bottle is ideal for hiking, camping, backpacking, traveling, and is available in
both rose red and blue.
The water bottle has a capacity of 770ml, with a small 2-stage carbon filter attached to the mouthpiece.
The carbon filter reduces odor and improves the taste of water.
The high tech hollow fiber ultra-filtration membrane of stage-1 then transfers into stage-2 a coconut
activated carbon which eliminates the bad taste, flavor, and chlorine.
This water bottle has a unique no-leak design which is BPA-free, with a silicone mouthpiece, a
mouthpiece cover and the filter has a lifespan of up to 1500 liters. After this, the filter can be replaced
without replacing the whole bottle.
---
Bottled Joy Water Bottle With Filter

Bottle Joy water bottle with filter is a great BPA-free bottle that provides drinkable water for fishing,
hunting, hiking, camping, backpacking, and in an emergency.
The premium 2-stage replaceable filter system is a straw filter, using an advanced hollow fiber
membrane which removes the smallest microplastics to 0.1 micron and reduced turbidity.
The activated carbon filter reduces odor and chlorine which leaves zero aftertastes. The water bottle
filter can be used for up to 4,000 liters of water, saving up to 400 single-use plastic bottles.
The water bottle's design is lightweight, you can use the filter and top to drink straight from a stream,
puddle, or pond.
---
Supology Leak-proof BPA-Free Water Bottle
The Supology water bottle and the filter is available in sea glass, with a BPA-free bottle FDA approved,
made from Tritan with a screw top, and backpack clip.
The water bottle is ideal for cycling, camping, exercising, and everyday activities with the 770ml
capacity. The water bottle uses the latest 2-stage filter technology to remove bacteria and protozoa from
water to make water safe to drink.
The hollow fiber membrane filtration system filters harmful materials larger than 0.01 microns, through
the coconut shell, the carbon reduces the chlorine odor and improves the taste of the water. It removes
99.9999% of waterborne bacteria and 99.9% of waterborne protozoan parasites.
---
JTTVO Filtered Water Bottle Go Water Filter Bottle
The JTTVO filtered water bottle is ideal for making tap water taste great at home, for traveling, camping,
traveling, climbing, and may even help in an emergency.
The JTTVO has four advanced high-performance filters, a medical-grade PP cotton one, antibacterial
beads, coconut shell activation, and a medical-grade hollow fiber membrane.
These filter systems attach in straw-like formate to filter the water as you drink it and improve the taste,
reduce chlorine levels, and remove harmful chemicals and metals.
The filter system is replaceable and each one lasts up to 6 months or up to 1500 liters of water. There is a
small hole in the lid of the bottle to let air in and out for suction, with a nozzle for drinking and a nozzle
cap to prevent leaking.
---
PH Revive Alkaline Water Bottle and Carry Case

The Revive alkaline water bottle is a heavy-duty water bottle with a flip-top lid, the bottle is made from
BPA-free Tritan plastic and holds up to 750ml of water.
The plastic is recyclable, there is a release button which flips the lid up, has a lanyard, and a carry case.
The multi-stage alkaline water filter improves the taste, smell, reducing fluoride, chlorine, chloramine,
and heavy metals.
Each filter lasts up to one month or 60 liters.
---
Brita 36387 Premium Water Filter Bottles, Sea Glass

The Brita water bottle features a leak-proof lid, is cup holder friendly, easy to open on the go with a flip
lid, and is dishwasher safe.
The bottle is available in sea glass, clear, coral, night sky, orchid, and sapphire holding up to 26 ounces.
The premium water filter, filters water as you go, reducing the taste of chlorine found in tap water. The
bottle is durable, BPA-free, made of hard plastic, has a carry loop, such button lid, and straw with the
filter attached.
The filter can last for up to 40 gallons of water or every two months, saving up to 300 single-use plastic
water bottles.
---
Conclusion – How to find the best travel water bottle for you
I have been using a Travel Water bottle since 2015 and I only wish I had been using it sooner.
As I mentioned earlier, I use the LifeStraw refillable water bottle with filter for travel. This filter lasts for
5 years and then you can replace the filter.

Water is essential so I like having my refillable bottle so that I know I am reducing the amount of plastic I use. I also do not like buying water in plastic bottles because of the BPA leakage and did you know that around 24% of the bottled water we buy is actually filtered tap water? Why pay for water?
Not only is a refillable bottle environmentally friendly, but it is also convenient. You can fill your bottle right from the tap instead of trying to find a convenient store to buy water at. Its a win-win situation.
Sharing is Caring! Pin this article to save for later.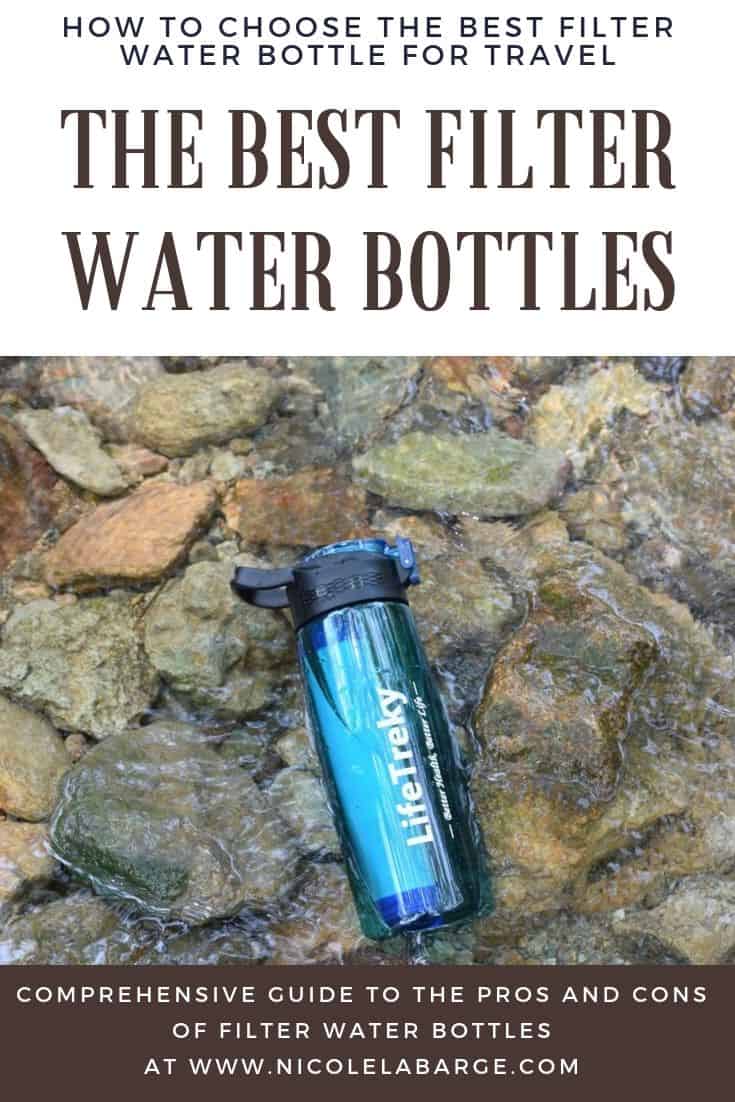 Continue Reading further on my site:
best water bottle for travel
to go water bottles
travel water bottles
water purification bottle for travel
best water bottles for travel
water bottle with filter for travel
best water filter travel
Recent Posts