9 Interesting Day Trips From Kyoto Japan
This list of the perfect Day Trips From Kyoto is for anyone who wants to see a bit more of Japan. Do you want to take a Day Trips From Kyoto to visit a temple in the mountains or maybe visit Kobe to have some of the best beef ever.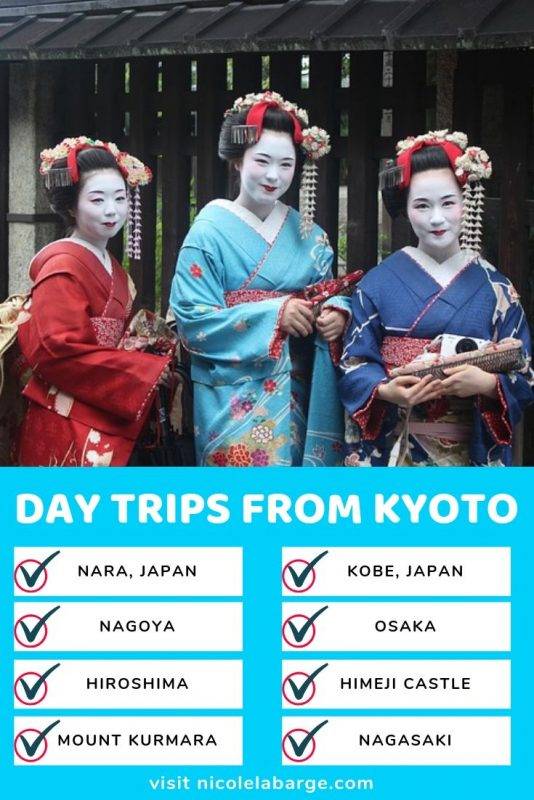 This list of Interesting Day Trips From Kyoto has something for everyone!
Kyoto is one of Japan's major cities and was the countries capital from 764 until 1868, over many centuries the city was destroyed and rebuilt but has kept its historic value, with temples, shrines, and historic monuments.
Kyoto is a great place to base a trip to Japan, or even a few days, with a large number of day trips to take from the city after you have explored the best the city has to offer.
Kyoto Day Trips
1. Nara – from Kyoto Day Trip
Nara is one of the best day trips from Kyoto, located just 35 kilometres apart and with Japan's great public transport connections you can take a high-speed train between the two cities taking between 35 and 45 minutes, depending on which train line you take.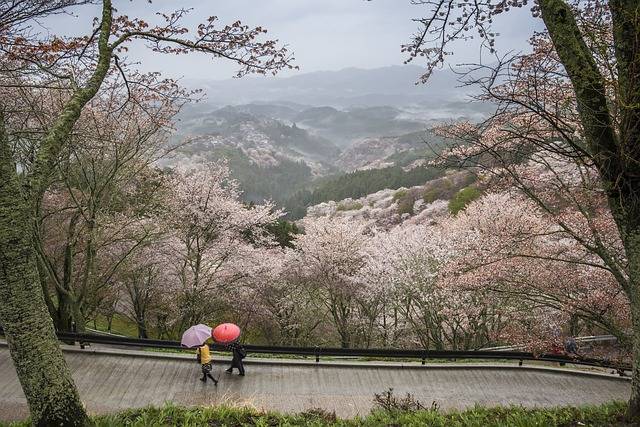 Nara was once named Heijo when it was established in 710 as Japan's first permanent capital, as opposed to the capital being moved with each emperor prior to that point. Thanks to this Nara is filled with some of Japan's oldest temples and historic treasures. Check out this Nara Itinerary for more info.
The Horyuji Temple is not only a beautiful temple to explore but is also one of the world's oldest wooden buildings. The temples which can be visited during your day trip to Nara is the Todaiji Temple, Omizutori, Toshodaiji Temple, Yakushiji Temple, or the Kofukuji Temple. Isui-en Garden is a must visit for a day trip to the city, with blooming flowers, ample space for walking through the gardens and around the pond. Check out this Nara Itinerary for more info.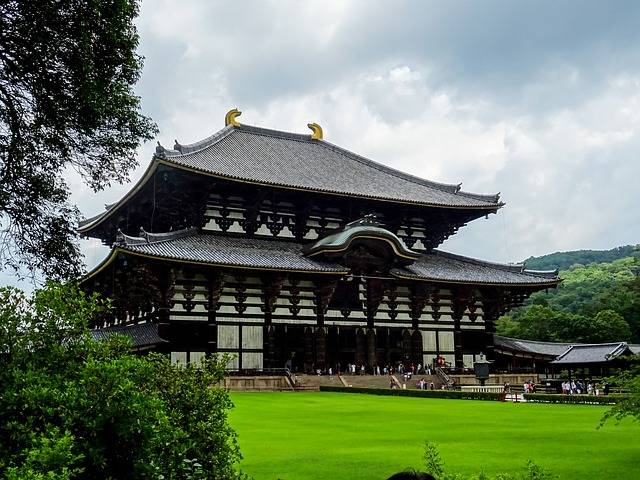 The park is located between the train station and Todaiji Temple so is a great way to combine the two experiences for a relaxing morning. The park comes with a 650 yen entrance fee, but it is worth paying to explore the gardens.
Another great place to visit in Nara is the Kasuga-taisha Shrine, not just a shrine with beautiful buildings Kasuga-taisha Shrine has pathways, a forest, lanterns, and you can even spot deer wandering around.
Nara is also home to the National Museum, Shi-Yakushiji, Yoshikien Garden, and Heijo Palace, which are also worth visiting if time allows. Check out this itinerary for Nara for more info.
2. Nagoya
Nagoya is an ideal day trip from Kyoto, with Japan's great public transport connections you can take a high-speed train between the two cities taking between 35 and 60 minutes, depending on which train line you take.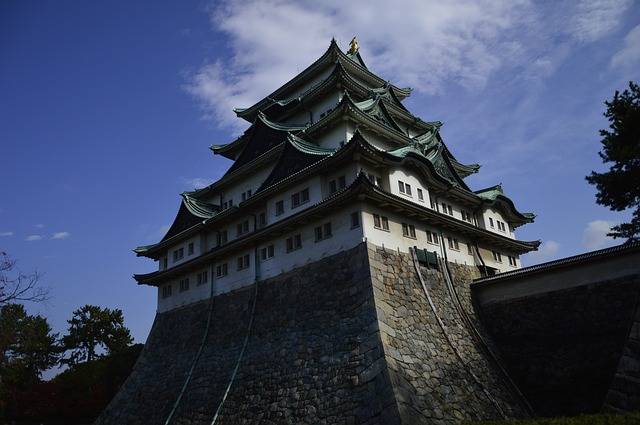 You can also get between the two cities by bus which takes around 2.5 hours or local JR train which takes around 2 hours 15 minutes.
Nagoya is Japan's fourth largest city with over two million people living in the city and area, the city is a large industrial centre with the Toyota Motor Corporation headquarters located just outside the city as well as many other industries. Unlike other Japanese cities, Nagoya has few historical buildings as the majority of the city was destroyed by air raids in 1945.
Great places to visit on a day trip to the city are the SCMAGLEV and Railway Park, which is a museum which thrives to educate visitors on Japan's famous high-speed rail networks, its history and also learn more about the 39 retired trains on display.
If science interests you, you can visit the Nagoya City Science Museum, which is home to one of the world's largest planetariums. The museum has permanent and temporary exhibits covering seven floors.
Nagoya also has a number of beautiful attractions including Atsuta Shrine, which is located within a wooded park in the south of the city.
Another great attraction is Osu Kannon Buddhist temple, with the Shinpukuji Library located in the main hall, which contains over 15,000 Japanese and Chinese texts. On the 18th and 28th of every month, the temple is home to a market, which has over 60 stalls, typically selling souvenirs, clothes, antiques, and if you don't happen to visit on those days, the temple is located next to the Osu shopping arcade, with over 400 shops.
3. Hiroshima
A day trip to Hiroshima from Kyoto can be done easily by taking a Nozomi train which takes around 95 minutes, or two hours with a change of train. A bus connection is available but can take between 7 and 9 hours to connect the cities.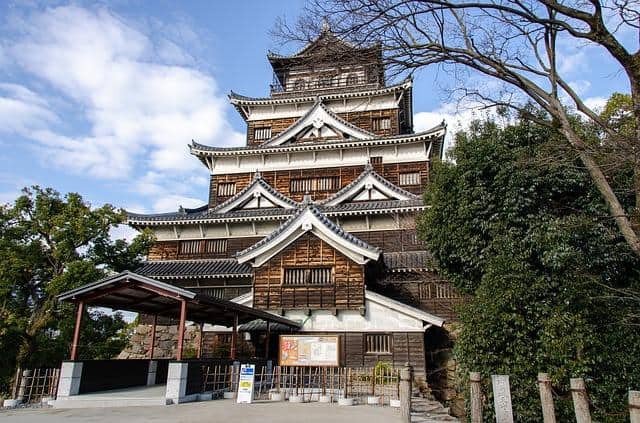 Hiroshima is one of Japan's most well-known cities, due to the atomic bomb which was dropped over the city on the 6th August 1945 and everything within a two miles radius was destroyed.
Since the war, the Japanese have put in great efforts to rebuild the city and today it stands as a city home to over one million inhabitants, who have rebuilt the cities castle, gardens, and also created a large park to reflect on the past and look into the future.
One of the must-visit attractions in the city is the Peace Memorial Park, with over 120,000 square meters in the centre of the city. The park's site was the political and commercial heart of the city before 1945, so it was chosen to not be redeveloped but be used as a memorial.
The park contains a Peace Memorial Museum, with the cities history, events, and a memorial to those who lost their lives. The park also contains the A-Bomb Dome, which is a UNESCO World Heritage Site. It was once the Prefectural Industrial Promotion Hall and it still remains today how it once was.
The Mazda headquarters is located within the city and car enthusiasts can visit the Mazda Museum on a guided tour, giving visitors an insight into the car companies history. If relaxing is more your thing, you can visit the Shukkeien Garden, with many traditional features, a pond area, walking paths, and miniature garden landscapes.
Other great places to visit are Hiroshima's Downtown area and the Hiroshima Castle.
Japan is a great Place to go cycling and see the countryside. Check out this cycling Japan guide.
4. Kobe
Kobe is an ideal day trip from Kyoto, located just 30 minutes apart and with Japan's great public transport connections you can take a high-speed train between the two cities.
Kobe is located close to Kyoto, between the coast and Rokko Mountain range. Many visitors and locals believe the city is one of the countries most attractive cosmopolitan cities. Kobe is a compact city, making it an ideal place to walk around easily on a day trip from Kyoto.
If you want to relax outside of the city, Arima Onsen hot springs resort is the ideal place for you. In a natural mountain setting the hot springs are one of Japan's oldest hot springs, stretching back over 1,000 years. The area has a number of hot springs, temples, and shrines.
Back in the city, the Sorakuen Garden is a great place to visit as a traditional Japanese garden in the middle of the city. The gardens original buildings were destroyed in the war but the Hassam House building was moved to the gardens in 1962.
The city suffered from an earthquake in 1995 and there is a memorial museum in the city called the Kobe Earthquake Memorial Museum.
The museum was created to raise awareness of earthquakes, commemorate the event, and display the information regarding the restoration and disaster prevention post-earthquake. Other great places to visit in Kobe are the Kobe's Nada district and its Sake Breweries, Kitano, the Akashi Kaikyo Bridge, and the Kobe City Museum.
5. Osaka – day trip to Osaka from Kyoto
Osaka is an ideal day trip from Kyoto, located just 15 minutes apart and with Japan's great public transport connections you can take a high-speed train between the two cities very easily.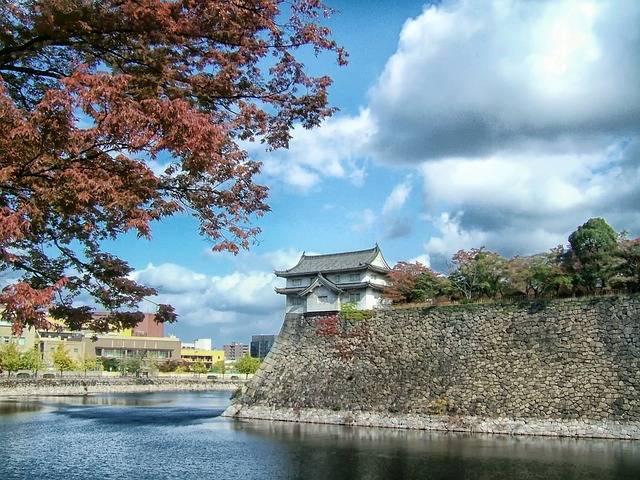 Osaka is Japan's second largest city and has an abundance of places to visit and beautiful attractions to experience. The Osaka Castle began construction in 1583 and was rebuilt in 1931 after a lightning strike and an attack, then was renovated in 1997, with modern features. The castle is home to a museum about its history and is surrounded by the Nishinomaru Gardens. The Nishinomaru Garden is a lawn style garden with over 600 cherry trees, a tea house, as well as great views of the castle, covering an area of two kilometres.
Another great attraction is Sumiyoshi Taisha, built in the 3rd century, the shrine is one of the oldest in Japan. The shrine is unique and unlike many others, with different features such as a flat roof and is free from influence from the Asian mainland. Shitennoji Temple is one of the oldest in Japan founded in 593 and was recreated in the 6th century. The temple's grounds are free to enter but admission is required in certain places.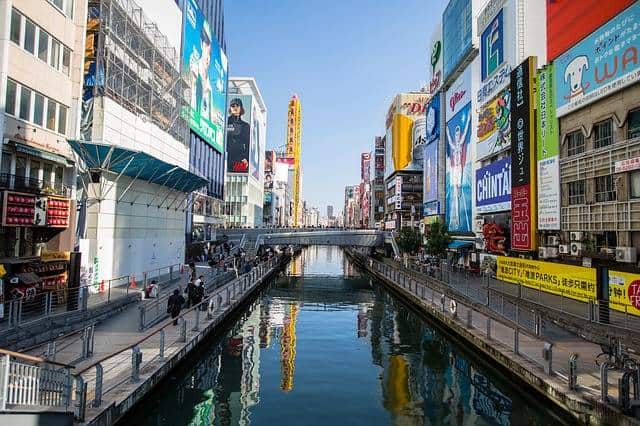 Osaka has two major city centres – Minami and Kita, which are both home to an abundance of shops, restaurants entertainment districts, theatres, and other attractions. The city is also located on a riverfront which often holds festivals and events. Other great attractions to check out in the city are Universal Studios, the Bay Area, Umeda Sky Tower with an observation deck, Shinsekai, and Osaka Aquarium.
6. Himeji Castle – Himeji castle from Kyoto
From Kyoto, there are various routes and transportation options you can take to get to Himeji Castle. Visitors can take the train which takes between 45 and 55 minutes, local JR trains, which take around 90 minutes. From the train station, the castle can be reached by a 15 – 20-minute walk.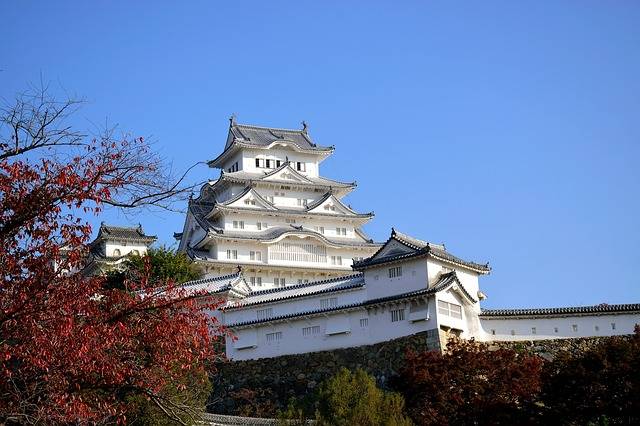 Himeji Castle is also otherwise referred to as White Heron Castle, thanks to its white appearance and many believe it is one of the best castles in Japan. The castle and its surroundings are a world heritage site and national treasure, thanks to its great preservation, beauty and grounds, which were first completed in 1609.
The castle has over 80 buildings, connected by gates and paths. The castle is a great location to see cherry blossoms in April as well as to spend the day exploring the hidden features and wonders which surround the castle.
The castle is open from 9am to 5pm and entry costs 1000 yen for the castle.
7. Mount Kurmara
Mount Kurmara is located north of Kyoto and is home to the temple Kurama-dera which dates back to 770, the mountain is considered a spiritual place surrounded by natural beauty.
The temple has many spiritual beliefs and traditions including being the birthplace of reiki (energy therapy), Tengu long-nosed or beaked creatures are said to be the guardians of the mountains, which is demonstrated in statues and art of them in the area. Kurama can be reached by an hour hiking or by taking a cable car which costs 200 yen.
Mount Kurama is also home to a hot springs area, which is a perfect place to visit after the temple and hike to relax and enjoy the area.
Mount Kurama is easily accessible from Kyoto and can be reached via a trail which takes around 15-20 minutes, or by high-speed train around 12 minutes (with a connection).
8. Nagasaki
One of the furthest day trip locations from Kyoto is Nagasaki. You can take the train to Nagasaki, which can take between 5 and 5.5 hours.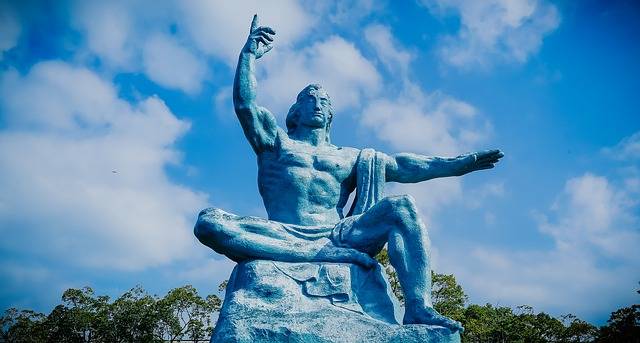 You can also visit Nagasaki by air with a 70-minute flight between Itami Airport and Nagasaki Airport, but be aware that the airport is located 45 minutes outside of Nagasaki. You can take the bus between the two cities which takes around 11.5 hours.
Nagasaki is a port city on Kyushu Island, which was made famous around the world when it was the second city to be destroyed by an atomic bomb in 1945, but that doesn't define the area. The city has a vibrant charm with history of trades with Europe and China, as well as churches, shrine, temple and a thriving culinary scene.
Nagasaki Peace Park is a large green space which commemorates the atomic bomb which went off in August 9th 1945 and destroyed a large part of the city. The Peace Park contains the Nagasaki Atomic Bomb Museum and two parks with a Hypocenter Park which marks the centre of the explosion. The Peace Park also contains various other monuments, fountains, and memorials which mark the explosion and offer remembrance.
Dejima is a formally a site of both Portuguese and Dutch residence, and many of the historical structures are still standing today, including walls, gates, residences, as offers a great place to explore the history of the area.
Another great place to visit is Glover Garden, which is a museum showcasing exhibits of mansions built by Western merchants and foreign residents in the city. The gardens offer great views over the city and its harbour.
Sofukuji Temple is a must visit on any trip to Nagasaki, unlike any other temple, Sofukuji Temple was constructed for Chinese residence in 1629 and has a Chinese architecture style. Other great areas or attractions to visit in the city are Kofukuji Temple, Confucian Shrine, Oura Church, Dutch Slope, Chinatown, and Meganebashi Bridge.
9. Mayajima Island
From Kyoto, Mayajima Island can be reached the same way as Hiroshima with an additional one-hour train journey, boat trip, or ferry ride, as the island is located off the city.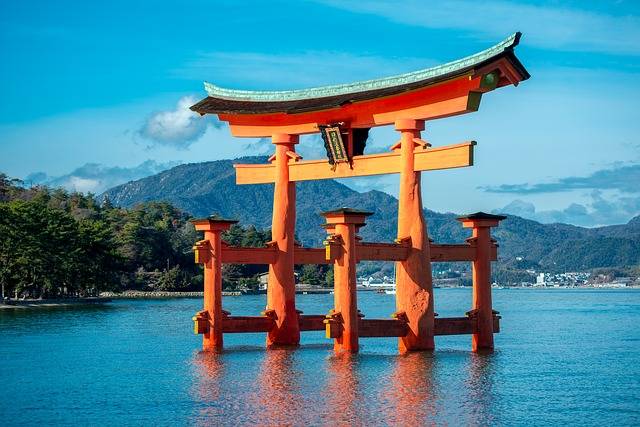 The most famous area of the island is the giant Torii Gate or Itsukushima as sometimes referred to, and is considered one of the top views in Japan. This shrine is considered one of the most beautiful as it appears to be floating at high tide and is comprised of a number of buildings and paths.
Another great place to visit on a day trip to the city is Mount Misen, a 500-meter high peak which offers beautiful views across the sea, the summit can be reached by three hiking trails or a cable car.
Located at the base of the mountain is the Daisho-in Temple, which features a number of buildings, statues, and spiritual history. The temple's ground also leads to the hiking trails up to the summit of the mountain, making it a great place to stop on the way up the mountain.
Other great places to visit on Mayajima Island include Senjokaku, the museum of history, and Miyajima Aquarium.
Which one is the best day trip from Kyoto?
As you can see if you have extra days in Kyoto these day trips and the perfect way to use that time to explore further afield.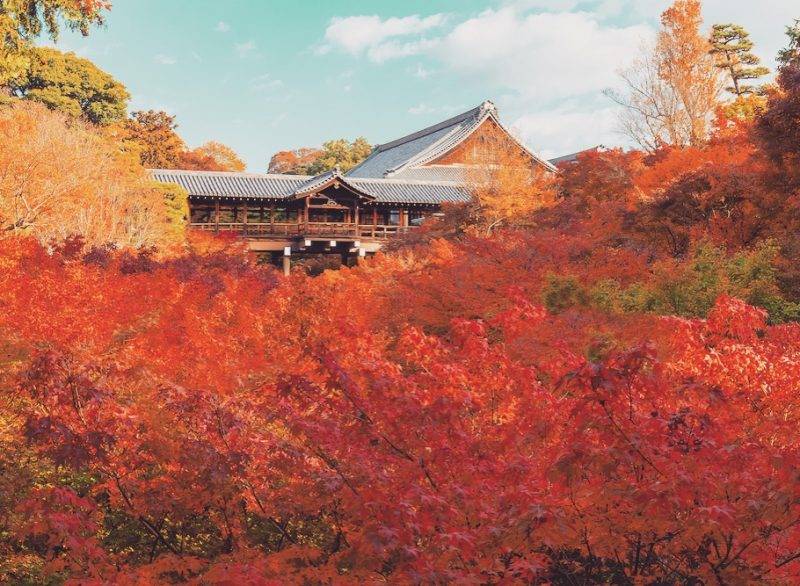 Osaka is a must and I have linked my 2 day itinerary below along with the nightlife in Osaka if you have a bit more time.
I also think visiting Hiroshima is important to understand the history of what happened there and visit the sites.
How about you? Which day trip from Kyoto sounds the best?
Sharing is caring! Pin this post to save for later.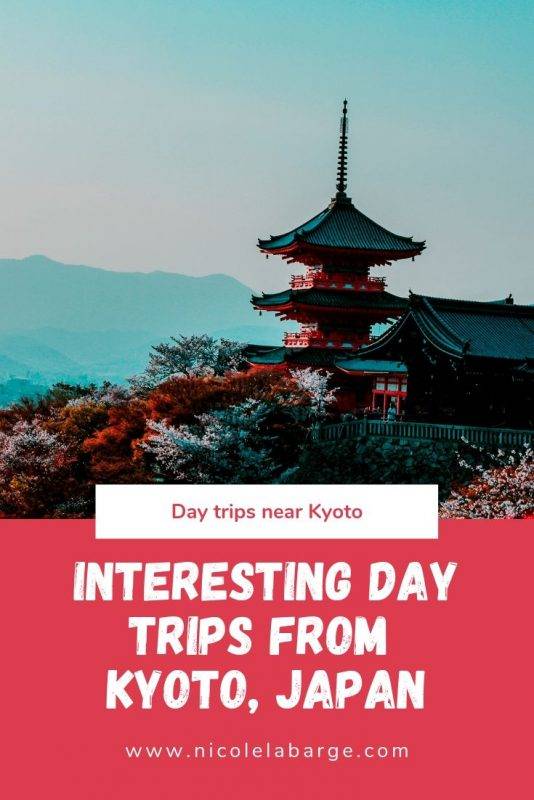 Continue Reading more of my posts on Japan:
Recent Posts