Best Day Trips from Tokyo
If you have a few days in Tokyo you may want to take a day trip from Tokyo to one of the cities near Tokyo. I've put together a list of trips that can be done in a one day trip from Tokyo.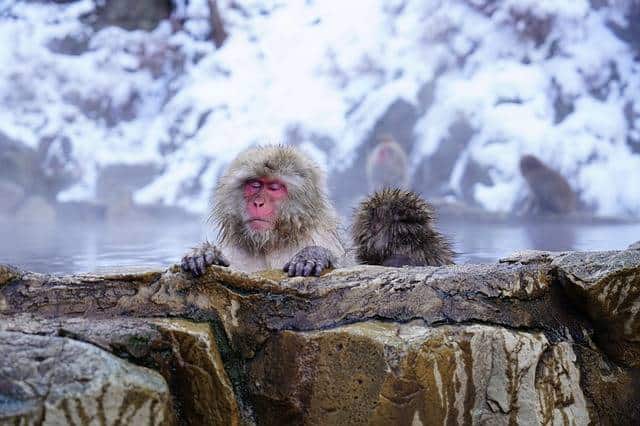 Sometimes the hustle and bustle of the Tokyo is too much and there is more to Japan than Tokyo. You can visit the beautiful lakes around Mount Fuji in a day or relax and refresh in a onsen in Hakone. There are lots of cool things you can do near Tokyo.
You can take these day trips from Tokyo in summer or during winter in Japan. They are all day trips near Tokyo. Taking a day trip in Japan from Tokyo is easy and visiting Mt Fuji is an easy day trips from Tokyo.
Most of the day trips from Tokyo can use the JR pass or Japan Rail. I have included the train station in Tokyo and the destination along with the price and whether or not you can use your JR pass. This is how to make a cheap day trips from Tokyo.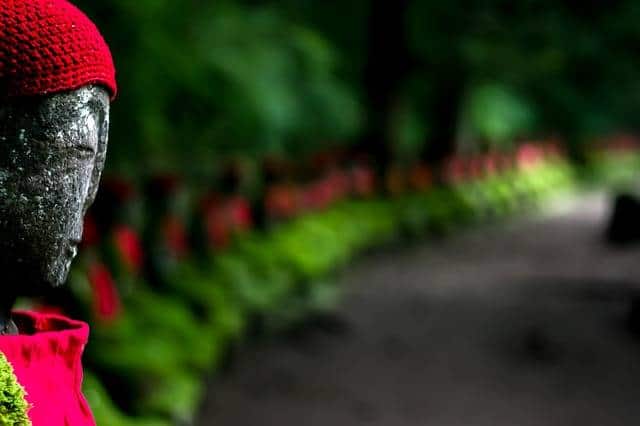 Tokyo makes a great base for these easy side trips from Tokyo. Here is my 3 day Tokyo Itinerary that you can use for your first few days in Tokyo and then take a day trip from Tokyo to any of the places listed below. My personal favorite is Nikko as I found it to be a really important cultural site but if you are looking for even more culture I would recommend a day trip to Kyoto – my favorite city in Japan.
Some of the day trips from Tokyo are by bullet train or Shinkansen. Shinkansen are high speed trains in Japan that travel at up to 320 kilometres per hour. These trains are fast and an easy way to get around Japan. Most of these trains are even covered by the Japan Rail Pass.
Tokyo Day Trips – side trips from Tokyo
Tokyo to Mt Fuji Day Trip
A popular day trip from Tokyo is to Mount Fuji and Yamanaka Lake, which are located approximately two hours by train from the city. Standing at 3776 meters above sea level, Mount Fuji is Japan's highest mountain, it is also a sacred place. The mountain is famous around the world for its perfect volcano formation shape, as it is an active volcano which last erupted in 1707.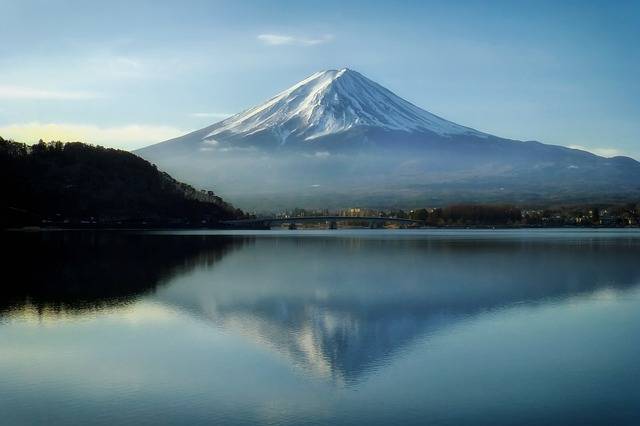 Mount Fuji is a great place to visit on a day trip from Tokyo and has many activities including climbing the mountain, visiting one of the 5th stations located on the sides of the mountain, Fuji five lakes, Hakone National Park, Fujinomiya, and there are even snow resorts to explore in the winter months.
Yamanaka Lake is the largest of the five lakes, which is shaped like a whale, perfect for ice fishing (in winter), water sports, visiting art museums, and just taking in the beauty of the high altitude lake.
Train Station: Shinjuku Station Tokyo JR Chuo Line
Destination: to Otsuki Station (Azusa trains, covered by the JR Pass)
Train Station: Otsuki Station Fujikyu Railway
Destination: Kawaguchiko Station (not covered by the JR Pass)
Yokohama – half day trips from Tokyo
Located just 30 minutes outside of Tokyo, Yokohama is a great day trip from Tokyo. The city has a large number of unique and wonderful places to explore.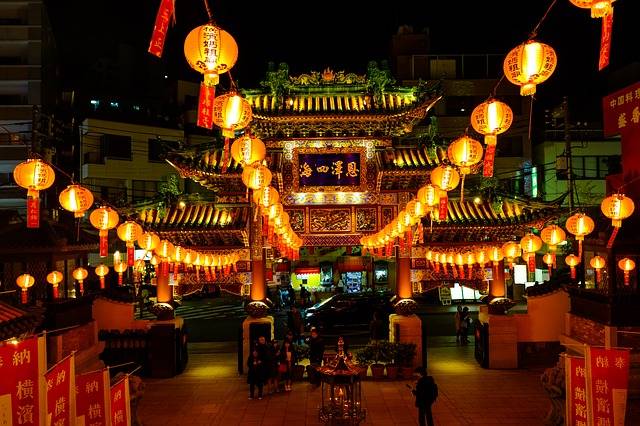 Sankeien Gardens is a wonderful place to visit, with over ten historic buildings originally from Kyoto and Wakayama, flowers, and seasonal plants. Yokohama Montonachi and China Town are ideal places to visit for a meal or to walk around, as the largest China Town in Japan, there are restaurants, parks and scenery to enjoy.
Yoko Minato Mirai is a warehouse district of the harbour town with red brick warehouses, excellent dining, concerts, a shopping district, and the amusement park Cosmo World. Noge is a popular district for entertainment with bars, pubs, fashion craft beer breweries, in addition to the 500 other food or beverage locations to choose from. Other places to visit include, Kirin Beer Factory, Shin-Yokohama Ramen Museum, Hakine Onsen (spa), Kamakura, Hase-dera Temple and Kamakura Daibutsu (Great Buddha).
Train Station: Ueno Station, Tokyo Station, or Shinagawa Station, take the JR Tokaido Line, Yokosuka Line of the Narita Express. This is the fastest route from Tokyo to Yokohama.
Destination: Yokohama Station
OR
Train Station: Ikebukuro or Shinjuku Stations, Tokyo Toyoko Line (not covered by the JR Pass) 20 and 25 minutes
Destination: Yokohama Station
Tokyo to Hakone day trip
Hakone Hot Springs and Onsen
Hakone is located one and a half hours by train from Tokyo and is one of the best places outside of Tokyo to visit hot springs, as there is more than 12 in the area.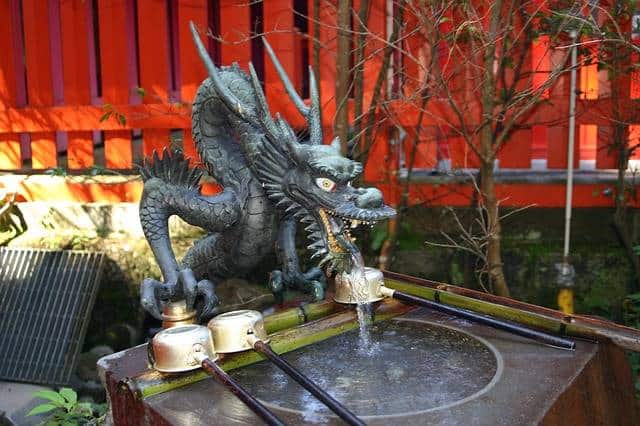 Yumoto is one of the most popular places for hot springs with a detailed history, high-quality water, located on the hills and shoreline of Lake Ashi. Tenzan is an outdoor traditional hot spring which costs around 1300 yen for a day pass. Hakone Kamon has multiple hot springs, with a sauna, stone and wood features and costs 2000 yen for a day pass.
Hakone Yurgo costs 1500 yen for a day pass and is a public bath, both indoor and outdoor, each with views of the forest while being gender segregated. Yunsato Okada costs around 1450 yen for a day pass with views of the valley for the outdoor hot springs. Located in Sengoku Hakone Green Plaza Hotel has picturesque views of Mount Fuji and the outdoor baths cost around 1600 yen.
Train Station: Sinjuku Station Tokyo Odakya (not covered by JR Pass)
Destination: Hakone-Yumoto Station
Odawara Castle – day trips from Tokyo in summer
Japan is filled with castles and temples and one of the great castles is Odawara Castle, located just one and a half hours by train from Tokyo.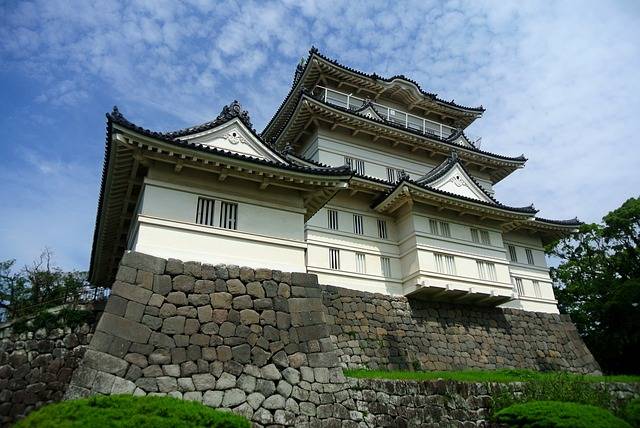 The castle opened in the 15th century the castle was controlled by the Hojo Clan during the Warring States period. The castle has gone through refurbishments after it was destroyed in the 17th century by an earthquake and restored most recently in the 1960s.
The castle has three outside stories and four inside, with exhibits, historic features and stories. The top floor offers views of both the park and the city with displays and only costs 500 yen to visit.
Train Station: Tokyo Station Kodama Shinkansen – 35 minutes
Destination: Odawara Station
Nikko day trip from Tokyo
Located two hours by train from Tokyo, Nikko is a great day trip from Tokyo, to explore the area and visit the world heritage sites.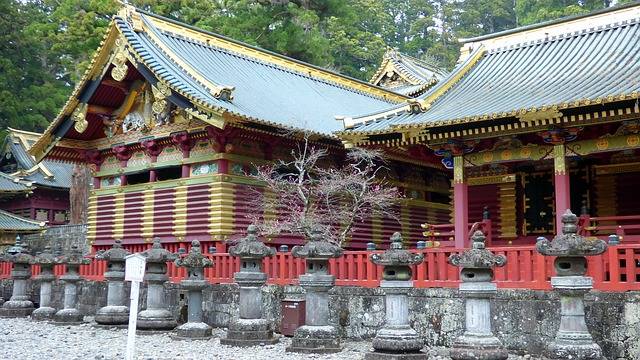 Toshogu Shrine is a world heritage site which is a shrine to the first Shogun (the military government) of Edo Shogunate (government) Leyasu Tokugawa, as well as the location of his grave site.
Each Day at 8am the temple bell rings and the gate opens to visitors to explore. One of the most famous features of the shrine is the eight monkey images which represent the tale of a monkey born to becoming a mother. Three of the most famous images from this feature are the "three wise monkeys" 'see no evil, hear no evil, and speak no evil'.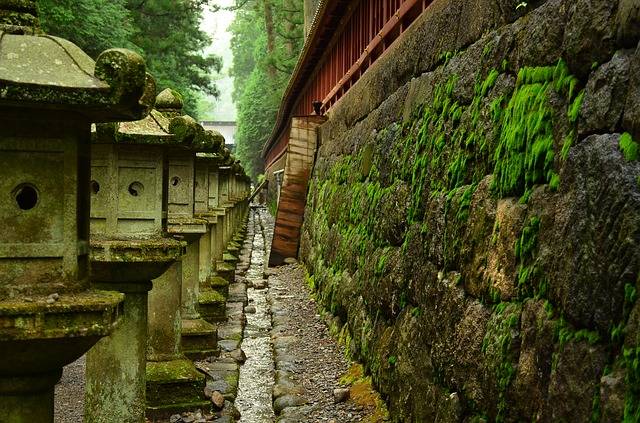 Other places to explore in Nikko are the Nikko National Park, which has over 114,908 hectares to enjoy mountain climbing, hiking, campgrounds, lakes, walking, and bird watching. Kegon Falls are 12 small waterfalls which wrap themselves around the main waterfall. Yutaki Waterfall begins at Mount Nikko-Shirane and curves down 50 meters high and 25 meters wide, with observation points, and walking paths to utilise.
Train Station: Tokyo Station or Ueno Station to Utsunomiya Station and transfer to JR Nikko Line – 90 minutes (covered by JR Pass)
Destination: Nikko Station
Tokyo Disney Land and DisneySea
A great day trip from Tokyo for all the family is Tokyo Disney, with 115 acres of park which was influenced by Disneyland in California and Magic Kingdom in Orlando.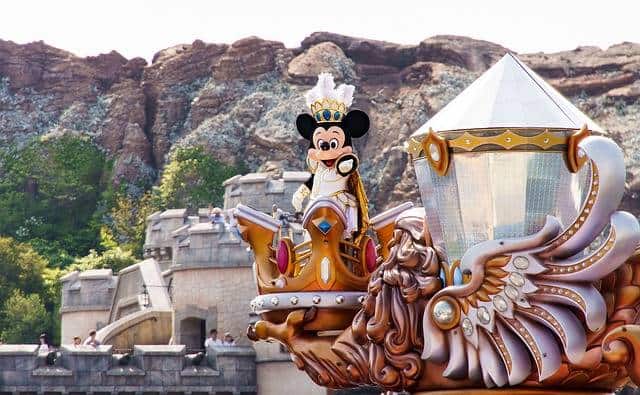 Tokyo Disney was the first Disney theme park to be opened outside of the United States in 1983 and has seven themed lands – World Bazaar, Tomorrowland, Toontown, Fantasyland, Critter Country, Westernland and Adventureland. Located only 50 minutes outside of Tokyo the theme park is a great family day trip.
Train Station: Tokyo Station JR Keiyo Line or JR Musashino Line
Destination Station: Maihama Station
Jigokudani Snow Monkey Park from Tokyo – day trips from Tokyo in Winter
Want to know where to see the snow monkeys in Japan?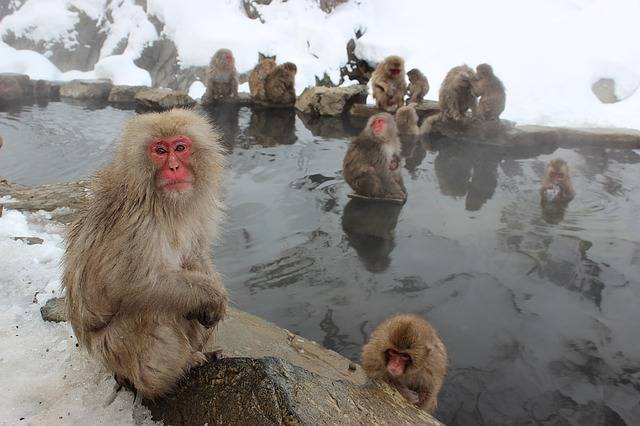 Jigokudani Snow Monkey Park is another hot springs park but with a twist, the park has been home to a large number of snow monkeys since 1964. The park is the perfect day trip from Tokyo, taking approximately two hours by train from the city.
Located within the picturesque Nagano Prefecture Mountains, in the Shiga Kogen National Park, the park has lots to see and do.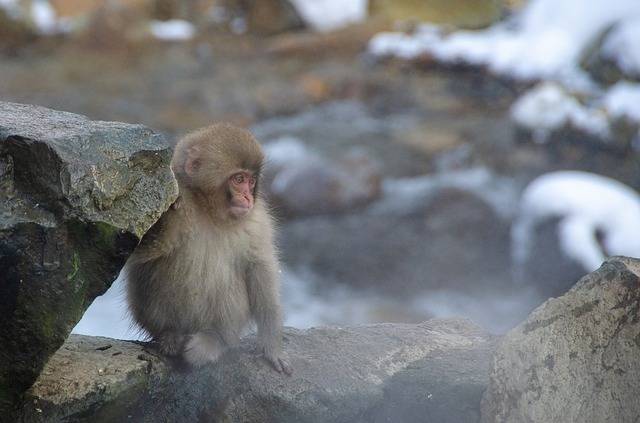 In the park, visitors can hike or climb in the summer and ski or snowboard in the winter as the park experiences snowfall between December and March. The best time to visit the park in January or February, but remember the monkey who inhabit the park are wild animals and are not tamed.
Train Station: Tokyo Station 1.5 hours on the Shinkansen bullet train
Destination: Nagano Station and then change trains to the Nagano Dentetsu Line Yudanaka
Train Station: Nagano Station on the Nagano Dentetsu Line
Destination: Yudanaka Station 50 minutes (not included in the JR Pass)
Kawagoe Day Trip
Located 30 minutes outside of Tokyo, Kawagoe City has many things to visit and explore. The main street is filled with clay-walled warehouse type buildings in the old town which was constructed in the Edo period (between 1603-1867).
Another great place to visit is the Kitten Temple, built in 830 is a complex with three temples, which have been rebuilt and restored many times throughout the years, due to earthquakes and wars. One of the most famous landmarks of the area is the 540 stone statues of the disciples of Buddha.
Other places not to miss on a day trip from Tokyo to Kawagoe City are Honmaru Goten, the only former castle in the city which is still standing. Candy Alley is a street lined with candy and sweets stores appealing to anyone with a sweet tooth, and the city museum which offers an introduction into the history of the city.
Train Station: Shinjuku Station on the Saikyo/Kawagoe Line 1 hour (covered by JR Pass)
Destination: Kawagoe Station
Kanazawa Day Trip
Kanazawa is located a little further outside the city then the other day trips from Tokyo, with a two and a half hour train journey, but it can be done with an early start.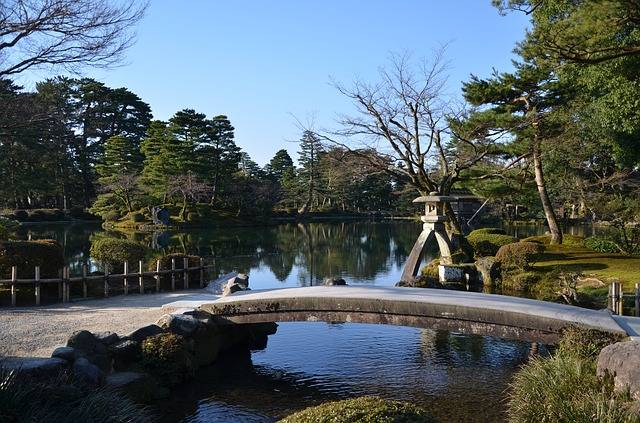 Kanazawa has a pure green core with Kanazawa Castle Park and Kenroku-en Garden encompasses the middle of the city. Kenroku-en Gardens are a 12 hectares garden perfect for peaceful walks and is also one of the top three gardens in the country.
Other places to visit in the city are the 21st Century Museum of Contemporary Art, which contains videos and media pieces. Omicho Market, which is filled with stalls serving fresh fruit and vegetables, locally caught seafood and delicious restaurants perfect for either breakfast, lunch or dinner in the market. Kurando Terashima House, Teramachi Area, Suzuki Museum, Higashi Chaya area, and the Nagamachi Samurai House area.
Train Station: Tokyo Station on the JR Hokuriku Shinkansen (covered by JR Pass)
Destination: Kanazawa 2.5 hours
Kamakura Day Trip
The historic town of Kamakura is located one hour from Tokyo by bullet train. Surrounded by mountains in the north, east, and west, the city offers beautiful views, and perfect for hiking.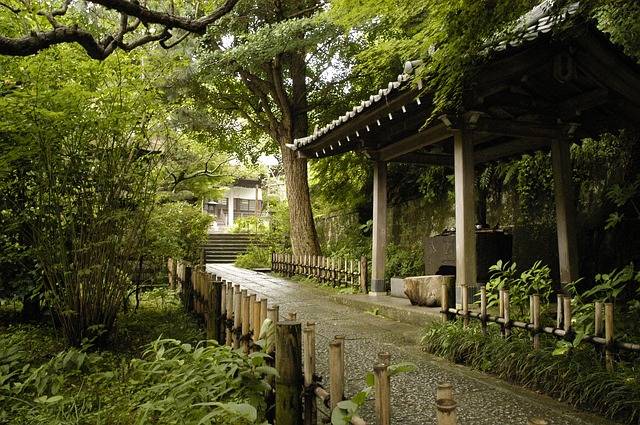 The city is the home of the Engakuji Temple, Has-dera Temple, and Kenchoji Temple, perfect for exploring and looking around. Kamakura is a small town which you can walk around easily, visiting the temples, shrines and historic center.
Dankazura is a path ideal for walking through the city, passing by cherry blossom trees and wonderful sites. Visitors can shop and sample great food in the Komachi-dori area, one of the specialities of the town is inari-sushi, which is rice fried in tofu and cooked in a pouch.
Another great place to visit is the Tsurugaoka Hachimangu Shrine, which is a beautiful place to walk around with gates and 62 steps to climb.
Train Station: Tokyo Station on the JR Yokosuka Line (covered by JR Pass)
Destination: Kamakura 1 hour
Kyoto Day Trip from Tokyo
Kyoto can be visited as a day trip from Tokyo by bullet train, it is a long day which will require an early start but it is possible.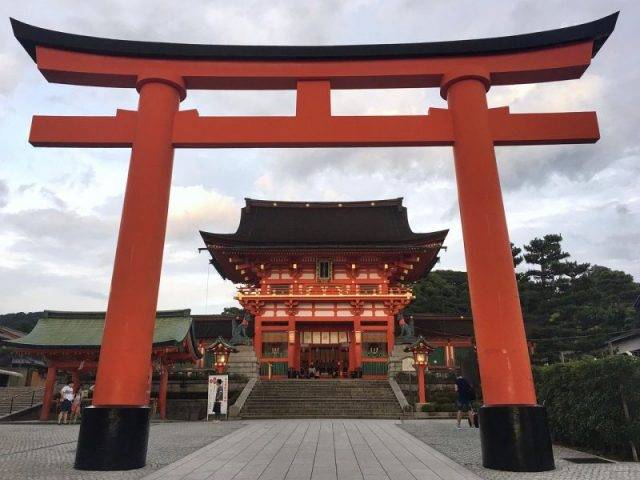 Kyoto is located two and a half hours from Tokyo with easy access via train, there are lots of things to do during the day.
One of the most photographed places in Kyoto is the Fushimi Inari Shrine with over 10,000 gates and a 233 meter hike to Mount Inari, it is advised to arrive here early as it can get crowded throughout the day. Arashiyama Bamboo Grove is a unique place to visit in the Kameyama Koen Park with bamboo reaching high into the sky.
Another great natural area to visit is the Tenryu-Ji temple gardens, opened in the 14th century and the Nison-In Temple which is surrounded by maple trees. If a quiet walk is more your thing you can take Philosopher's Walk, which is a walk along the canal, or alternatively, visitors can take a walking tour of Kyoto.
Train Station: Tokyo Station on the Nozomi (covered by JR Pass)
Destination: Kyoto Station 2.5 hours
Conclusion – Best Day Trips from Tokyo
So what do you think? Have I convinced you to spend the day soaking in the Hakone onsen and washing away your worries? Or did you want to visit the happiest place on earth and spend the day at Disneyland Tokyo?
However you decide to spend your day trip from Tokyo I hope this guide has helped you plan your day trip near Tokyo. There is so much to see maybe you will take more than one? Which one looks like your favorite? These day trips from Tokyo range from 30 minutes away by train to 4 hours away.
Sharing is Caring. Pin this article to save for later.
Continue Reading:
Recent Posts