Osaka Nightlife – Things to do in Osaka at night
Wondering what to do in Osaka at night?  The Osaka Nightlife is on fire and there are so many things to do in Osaka at night.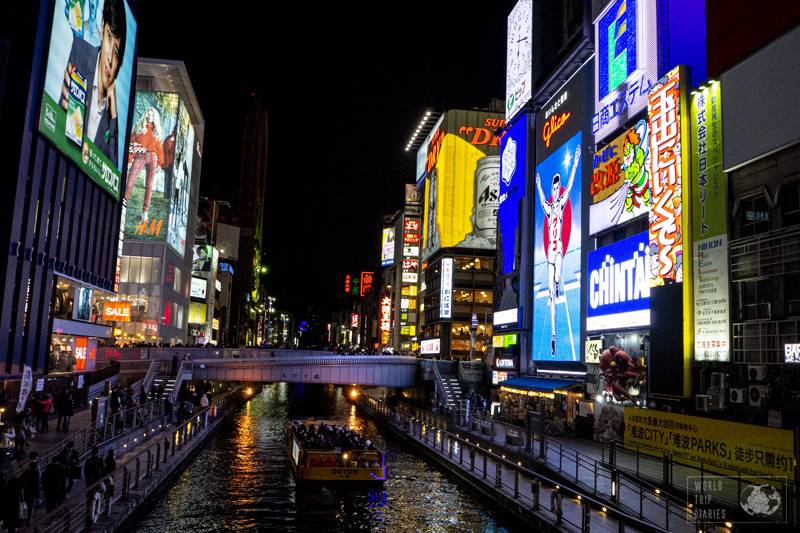 I'll cover all the places to go in Osaka at night, nightclubs in Osaka, Karaoke, night markets and restaurants as well.
You can check out my one week Japan Itinerary, my Osaka Itinerary, and my post on where to stay in Osaka for more info.
Osaka by Night
I understand.  You've spent the day walking around and you're tired.  You're wondering if two minute noodles counts as dinner but I'm here to tell you that you need to see Osaka by night.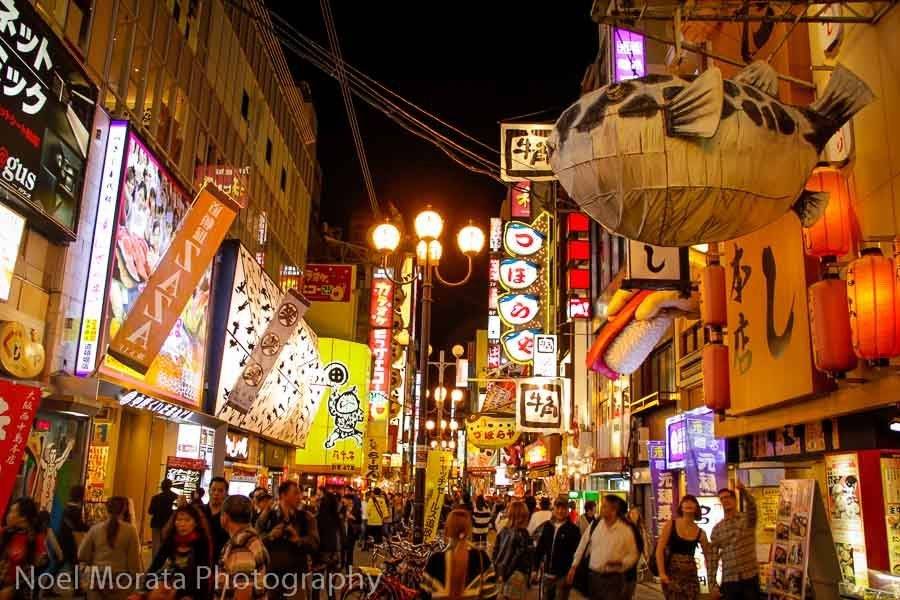 At night Osaka turns into a different place.  Its the people in Osaka that make going out a lot of fun.  And its safe too to visit Osaka by night.
Osaka Night Club – Sam and Dave ONE
Sam and Dave is one of the oldest nightclubs in Osaka and it has a very international feel.
This is a place that tourists go to mix with the locals and dance the night away to the up tempo beats.  They serve food along with cocktails.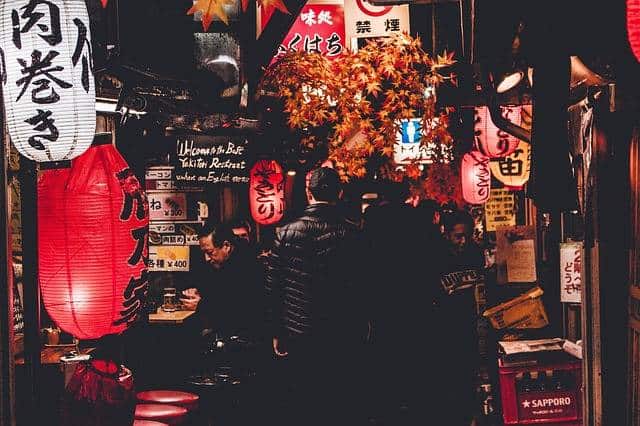 Karaoke Bar The Drunken Clam
Yes, it is cliche but karaoke is the original Japanese entertainment.  This karaoke bar offers karaoke on popular English songs.
There is no entrance fee and the karaoke is free and there are lots of sofas to relax and just listen to the music or if you're brave you can sing too!
Dontonbori Osaka Night Life
If there's one place you MUST visit in Osaka at night, it's Dontonbori.
This is where the famous Glico man sign is but it's not only that. Of course, when all the lights are on and the sky is dark, it's that classic Japan view that can't be missed, but there's a lot more.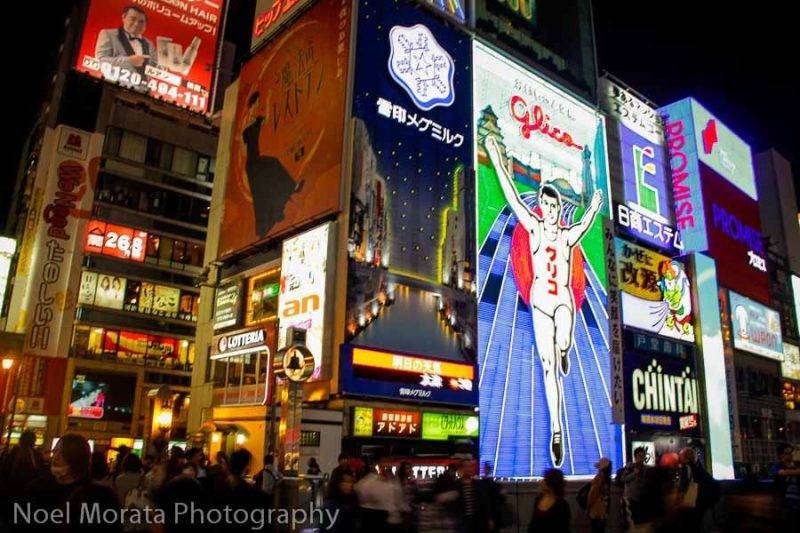 The food stalls in the area come alive at night and all the smells and the noise are something not to be missed. Try one thing or another, because Osaka is a street food heaven. From the barbecue skewers to okonomiyaki, you can't really go wrong there.
Then you can have a leisure boat trip on the river – at night the view is a lot prettier, trust me. During the day, things may be a little… dull.
But you can't skip a trip to Don Quijote, a huge store right there, facing the river. Why there, you may ask, if you've just been to one Don Quijote in another neighborhood. Because there's a Ferris wheel, and the view is so pretty from up high! And nothing can go wrong in getting another quirky Japanese candy, right?
When you get tired of so much walking, you can just enter one of the many restaurants and bars in the area, grab something to eat and rest for a while.  Perfect night out!
Geisha Boys in Osaka by night
One of the fascinating things to see in Osaka are the Geisha boys or pretty boys that are very popular in nightclub life in the city. Mostly hanging out at popular venues like Dotonburi to drum up business to attend these bars, the pretty boys dress in outrageous and slick suits, long girlish hair and make up, the male equivalent to Harajuku but with a purpose to draw in customers and entertain them like geisha and draw up the bill tab.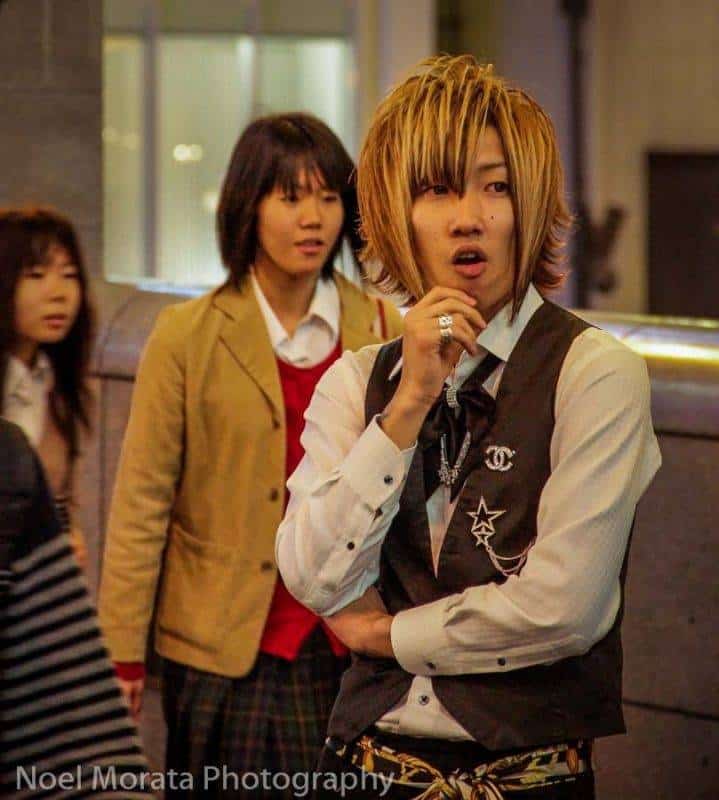 They are interesting to see and photograph in public settings, but I'm sure the typical tourist would not want to pay an exorbitant bill for this type of entertainment. Better yet to go to the flashing lights of Dotonburi and other night life venues to see them congregating and parading for free. Check out my post on exploring Dotonburi in Osaka here for more inspiration and images of the geisha boys on parade.
Abeno Harukas at night
Abeno Harukas is the tallest building in Japan at 300 metres high and has fantastic views of Osaka from the observatory on the 58th to 60th floors. It's best to visit at sunset so you can enjoy the sky lighting up as the sun goes down as well as the city lights turning on as darkness falls. The view is even better at night.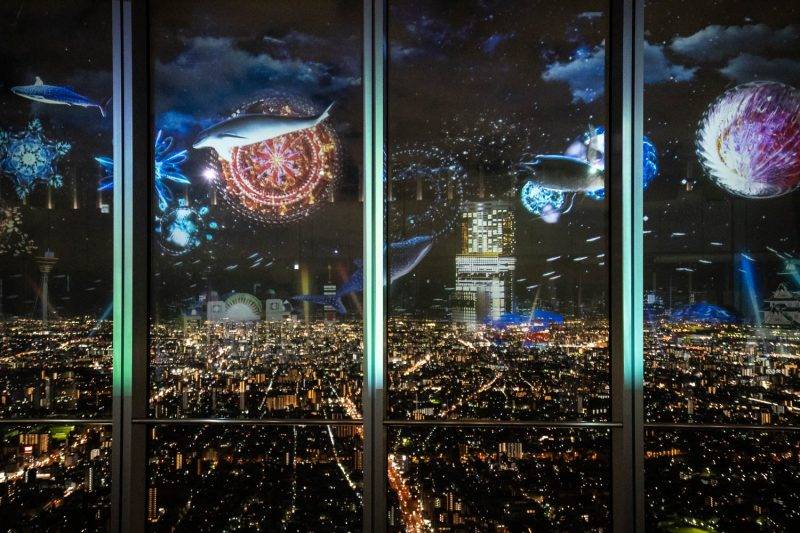 The main observation deck is on the 60th floor where there are 360º views of the city through huge floor-to-ceiling windows on every side of the building. You can see the castle, bay, nearby temples and parks, distant mountains, and the highways that crisscross this immense city.
Harukas 300 is more than just a good view, though, and you can easily spend a few hours here. The most exciting activity is walking The Edge at the very top of the building where you peer over a waist height barrier to enjoy an unobstructed view of the city far down below.
The double height Sky Garden on the 58th floor is a stunning space where you can enjoy a drink or light meal, and once night falls there are interactive light shows on the windows.  Don't miss meeting the mascot Abenobea (Abeno Bear) either or visiting the bathrooms which have amazing views!
Kyocera Dome – go to a baseball game in Osaka at night  
The Japanese love their baseball, and during the months of April to October when the season is in full swing, it only makes sense to go to a ball game to witness what all the fuss is about. It also provides a chance to try a unique experience during your Japan Trip, rather than visiting the popular attractions.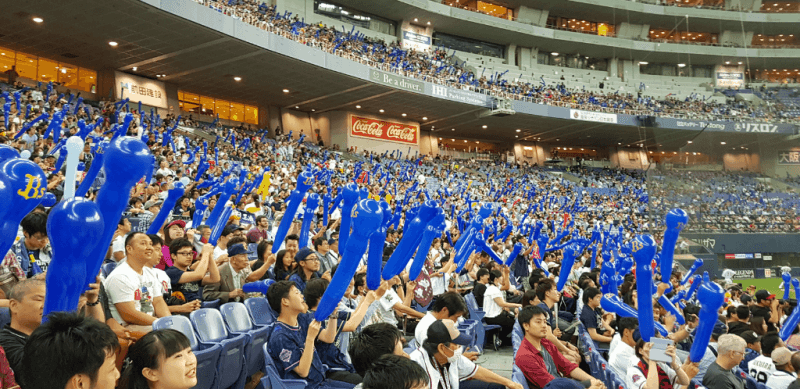 In Osaka, Kyocera Dome is the home of the mighty Orix Buffaloes, and the passion is well and truly alive during the 77 home games played at the boutique Indoor Stadium. The anticipation is intense from the time you walk through the entrance gates of the arena and take your seats, with nervous fans eager to cheer their team to a win.
From the moment the game begins, that atmosphere within the stadium rises to another level with loud cheering, out of tune singing and the thumping of the drums taking centre stage. At times, you forget there is a baseball game happening in the middle because you'll be distracted at what is happening in the stands.
Games are scheduled regularly at Kyocera Dome, therefore, if you are visiting Osaka, and wondering what else to do, give Japanese baseball ago. Whether you're a fan of the sport or not, the overall experience will be worthwhile.
Eat Kushikatsu at Daruma
There are so many amazing foods that are typical for Osaka. Don't leave the city without having tried some Osaka style Okonomiyaki and of course Takoyaki. But while you are already tasting the best of what Osaka has to offer, I recommend you visit a Kushikatsu Daruma restaurant. Kushikatsu Daruma can be found all over Osaka, but the most iconic shop can be found in Dotombori, with a gigantic angry looking face crowning the store front. You really can't miss it.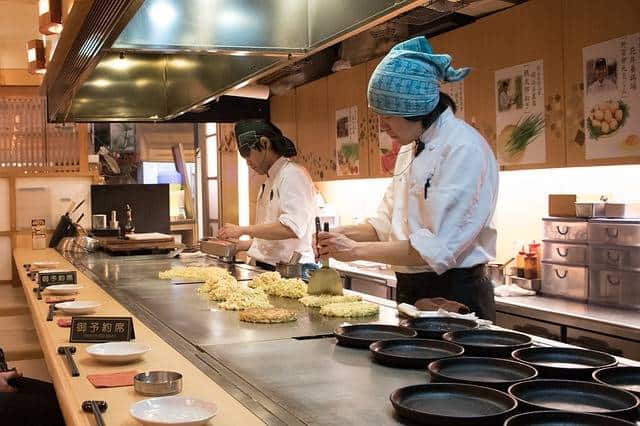 Kushikatsu are different battered and deep fried vegetables, meats and other kinds of foods on sticks. They are served with a delicious sauce and all you can eat cabbage. But please never dip the sauce twice!
My favorites include asparagus, mochi, and tomato and cheese. On your visit to Osaka visit Kushikatsu Daruma and try to find your favorite Kushikatsu!
Thrift Shopping in don Quixote
It's well-known to the world that Japan is a shopping paradise. Their products have great diversity, quality, and creativity that not only the locals but also the visitors appreciate. With so much to see and do during daytime in Osaka, it is a good idea to have your own shopping spree at night.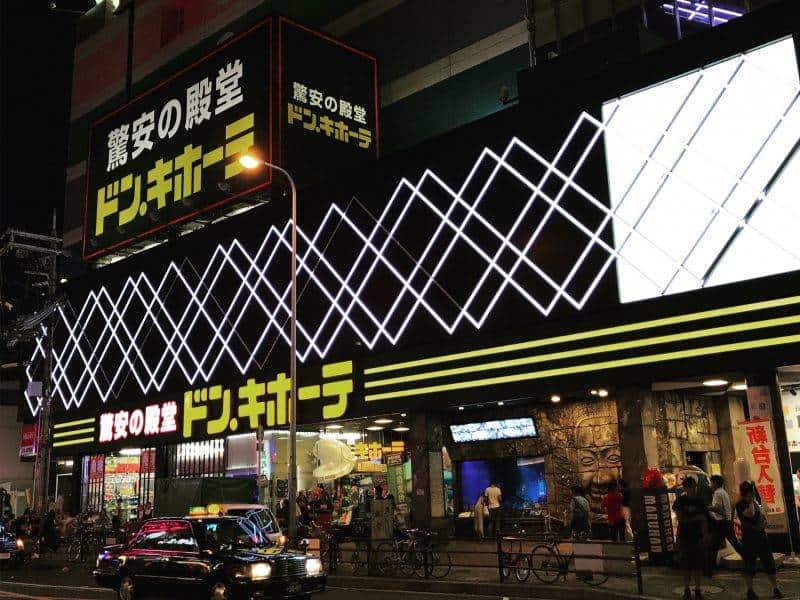 Many shops and department stores in Japan close before 8 pm, but Shinsaibashi never sleeps. At night, Dotombori-dori is ablaze with neon lights and the symbolic Glico Running Man billboard would be lit until midnight.
Shop like Don Quixote is where you want to be. Don Quixote or the locals like to call it "Donki", as charming as its name, is a discount chain store that carries a vast array of goodies from groceries, snacks, cosmetics, to electronics and clothing.
The chain has expanded rapidly in the last decade and they could be found basically everywhere across the country. Some of them, like the Umeda and Shinsaibashi stores in Osaka, work 24/7. If you are looking for a good souvenir to bring home to your friends, take a walk in the store and they may inspire you. A lot of interesting products are in very good value – so beware that there could be a long queue at the cashier, even at 2 to 3 am in the morning!
Conveyor Belt Sushi
One of the top things to do in Osaka at night has to be exploring what to eat in Osaka. One of the most fun things to eat happens to be a great way to spend some a night in one of the most food-focused cities in Japan – conveyor belt sushi. Yoshiaki Shiraishi invented conveyor belt sushi in the 1950s when he was short on servers. Thanks to his invention, eating sushi off a conveyor belt is a uniquely Japanese dining experience. Conveyor belt sushi restaurants seem to be everywhere in Osaka. You can find them on nearly every street and even in train stations and airports across the city.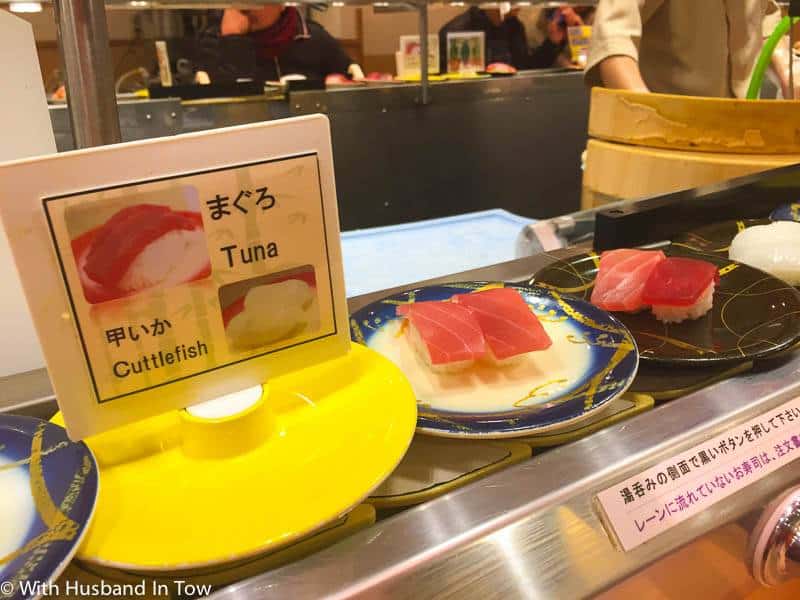 The process for dining at a conveyor belt sushi restaurant is fairly straightforward. Wait for an empty seat at the conveyor belt to open and sit down. As the plates of sushi circle pass, take what you like and enjoy. At some conveyor belt sushi restaurants a hostess might come over to take a drink order. Others have drinks passing by on the conveyor belt.
Restaurants will provide complimentary water and hot tea that you dispense yourself. Condiments such as pickled ginger, soy sauce, and wasabi are also complementary. As the plates of sushi go by, if there's nothing to your liking it is possible to place a special order from a menu. When you've stuffed yourself and it's time to settle the bill, restaurant staff will count the number of plates you have stacked. Each different colored plate equates to a different price. Conveyor belt sushi is a fun experience in Osaka by yourself or with a group.
Conclusion – Osaka Nightlife
There is something for everyone in Osaka at night.  It really is one of the best cities in Japan and a great place to take in the nightlife whether that is karaoke, a sushi bar, or a night club.  My Osaka Itinerary includes even more things to do such as a Japanese tea ceremony or the night markets there.
Sharing is caring!  Pin this article to save for later.
Continue Reading:
Recent Posts