You won't want to miss these Japan Bucket List Experiences!
Having lived in Japan for several years there are a lot of experiences you must have when you visit.
This bucket list for Japan has everything you can imagine from eating sushi to watching a sumo wrestling match, you will find the perfect experience for you on this list.
Tokyo Skytree – Tokyo Bucket List
Jonny from Jonny Melon Adventure Travel Blog
The Tokyo Skytree (the world's tallest tower) boast 360-degree views overlooking the biggest city in the world! Standing tall at 634 meters above the ground, this is hands down one of the top things to do on a Tokyo Bucket List!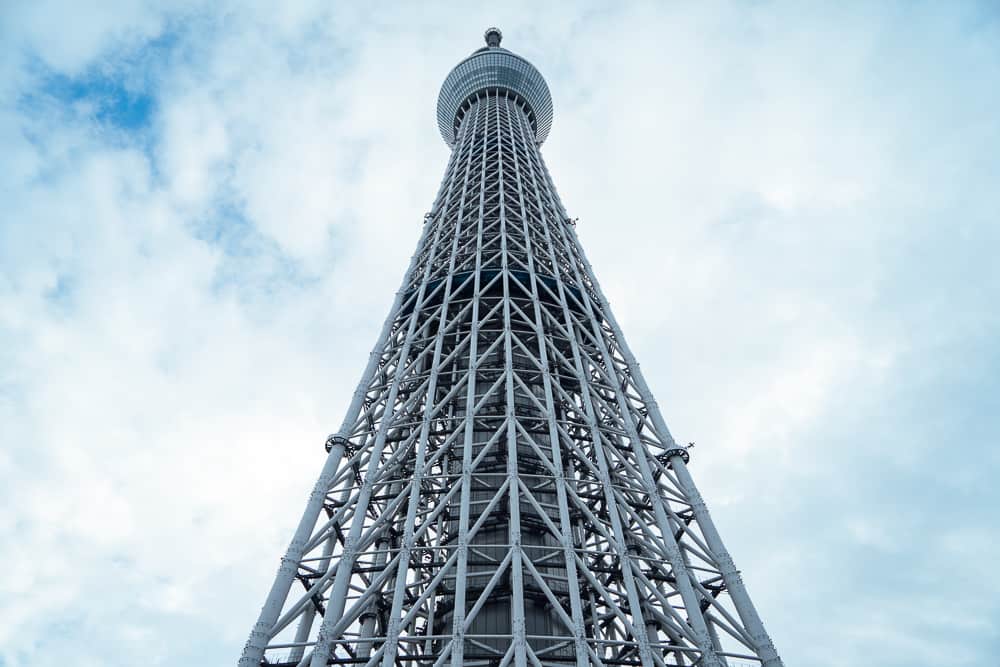 The best view of Tokyo City is what you can ultimately expect at the Tokyo Skytree observation deck! Top to bottom glass windows lines the outer edges of the Tembo Deck and Tembo Galleria offering panoramic views of the concrete jungle that Tokyo City is!
You can walk right the way around the Tembo Deck, peering through the glass windows to see every perspective of the city as possible!
There are large interactive maps that visitors can use which allows you to zoom in on buildings, temples and other interesting landmarks dotted around Tokyo City.
On a clear day you can even see Mt Fuji off in the distance!
There's a number of souvenir shops, photography exhibitions and the Tokyo Skytree Restaurant on the Tembo Deck which is a great spot to grab a beer and something to eat while marveling at the craziness of Tokyo City below.
I recommend visiting Tokyo Skytree at around 4 pm in the afternoon to catch a sunset and then witness the city start illuminating as night falls.
Dotonbori in Osaka
James from Where You're Between
Unlike highbrow Tokyo and Kyoto, Osaka is a city dedicated to entertainment and pleasure. Mostly rebuilt after the Second World War, Osaka has relatively few temples and shrines, but instead has an almost endless array of restaurants, bars and glittering neon.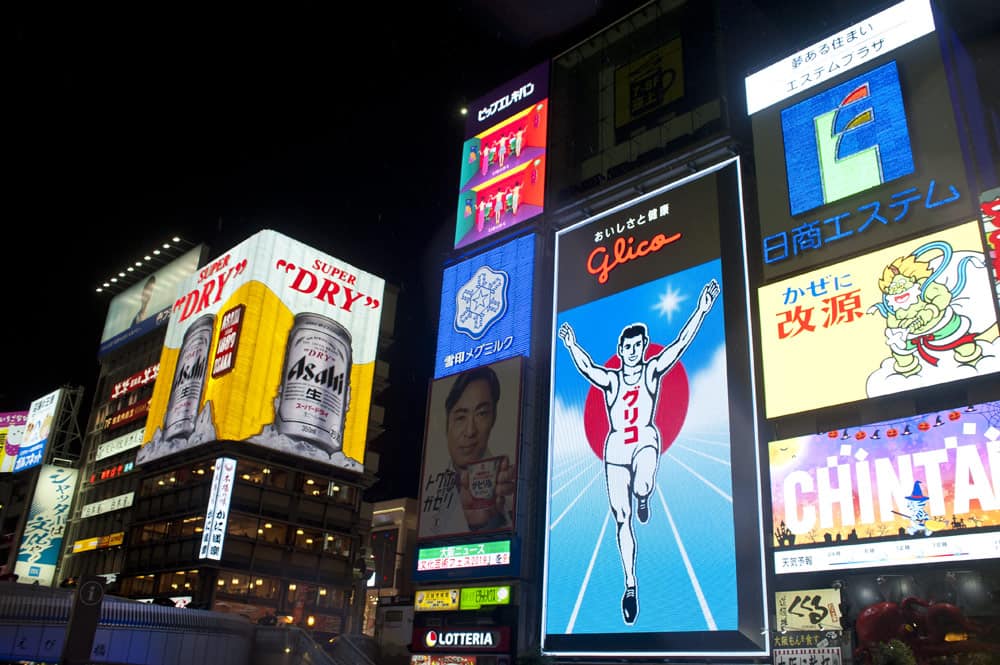 Nowhere is this more evident than in Dotonbori, right in the heart of downtown Osaka. Dotonbori is filled with narrow streets each crammed with cafes, bars and restaurants cooking up some of the best food in Japan. It's no surprise that Osaka is nicknamed 'Japan's kitchen'.
If you visit Dotonbori during the day then take a relaxing boat ride along the Dotonbori River for a scenic view of the area. Later, wander in amazement at the giant models of gyoza, crabs and sushi that hang above the countless restaurants along the busy streets just south of the river.
It's at night when the dazzling neon and advertising screens light up to make Dotonbori a complete assault on the senses. At the heart of the illuminations is the Glico Man, one of Osaka's most famous landmarks. Before the night is through be sure to stop for some piping hot takoyaki. The deep fried octopus balls are another of Osaka's many culinary specialities.
Kawazu Nanaduru Waterfalls in the Izu Peninsula
Chloe from Wanderlust Chloe
After enjoying the buzz and excitement of Tokyo, no doubt you'll be craving some fresh air and time in nature. I'd recommend hopping on the shinkansen and spending a few days exploring the Izu Peninsula. It's an area packed full of natural beauty, from epic coastlines to pretty onsen towns tucked away in bamboo forests.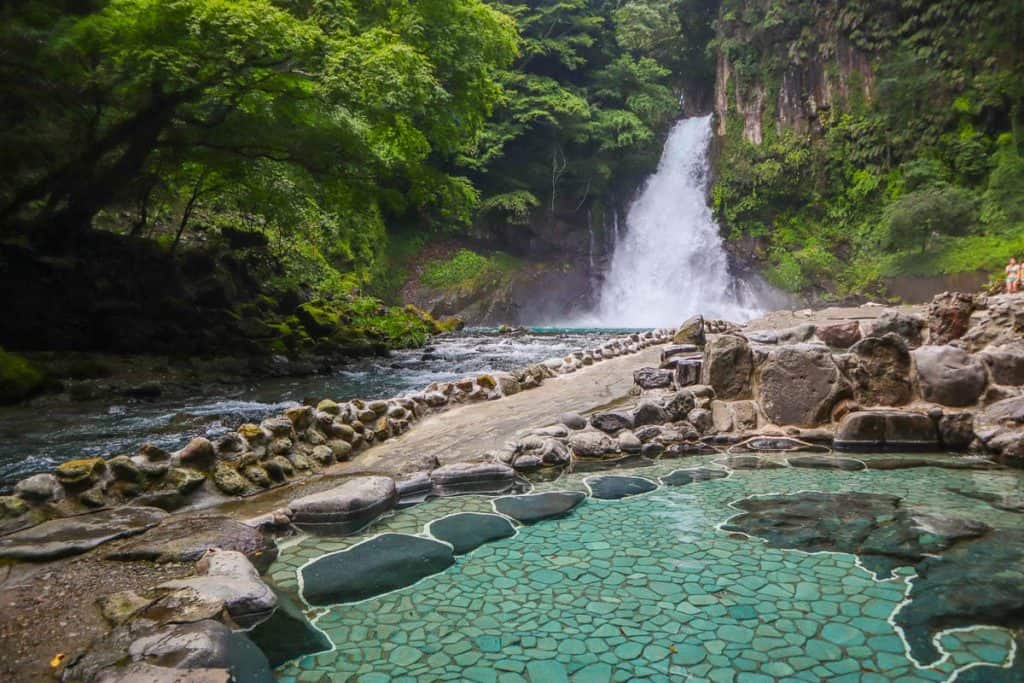 The highlight for me was Kawazu Nanadaru – a series of seven waterfalls along a serene river trail. The waterfalls are of varying shapes and sizes, and the water is crystal clear in shades of blue and green. It's a gorgeous walk, and the entire route from start to finish takes around two hours.
Once you reach the final waterfall, head to Nanadaru Onsen Resort, and relax your tired legs in the resort's thermal pools, while looking out at the largest waterfall. Then, refuel with a tasty bento box filled with Japanese delicacies, including fresh sashimi, soba noodles and the local delicacy – wasabi!
Nara Deer Park, Kansai Region
Stephen from Asia Hikes
Nara Deer Park is an absolute bucket list destination when traveling in Japan. Accessible as an easy daytrip from both Kyoto and Osaka, Nara Deer Park combines a peaceful outdoor setting with historic and religious cultural ties to a unique and interactive animal experience.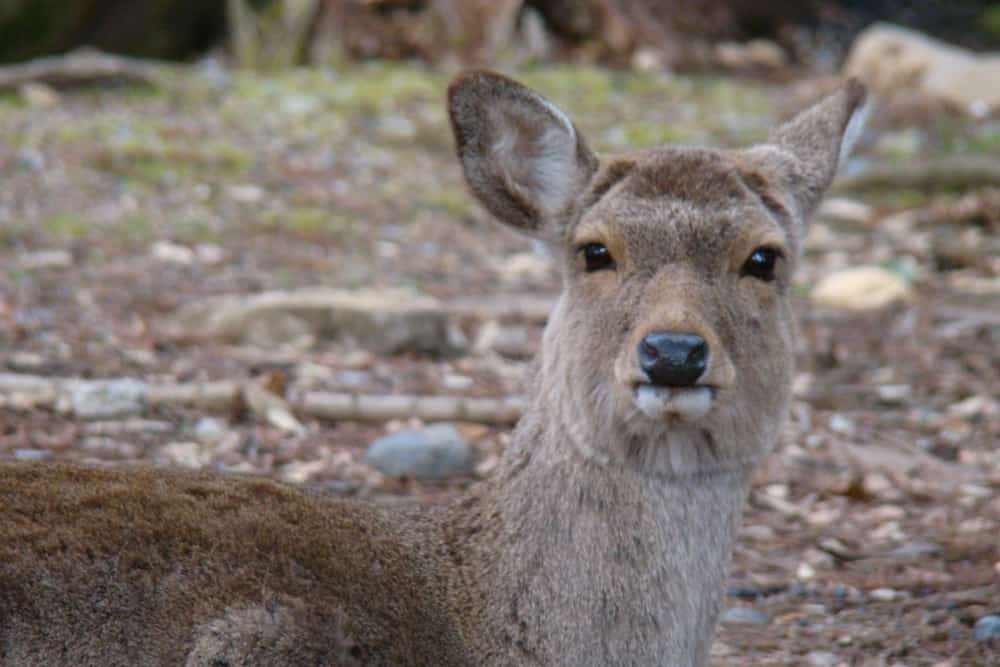 Visitors get up close and personal with over 1500 semi-wild saka deer, which for hundreds of years were considered sacred for their connections to the founding of the nearby Kasuga Shrine. Over twelve hundred years old, the large shrine has been a focal point of local religious observances since founding, and along with the sacred deer has become an emblem for the Nara area.
While modern tourists appear to visit Nara primarily for the photo opportunities with local wildlife, the real reason to call this a bucket list experience is the subtle balance of natural beauty and manmade elegance – an ethos seen over and over across Japan but rarely in such an interactive and engaging way. And, of course, photos with adorable Nara deer don't hurt.
Arashiyama Bamboo Grove, Kyoto
Megan from Red Around the World
The Arashiyama Bamboo Grove is one of those places you see on Pinterest and immediately add to your bucket list. The bamboo grove is less than an hour from Kyoto making it the perfect full or half-day trip. While it may not be the biggest bamboo grove out there, it is super easily accessible making it easy for anyone to visit.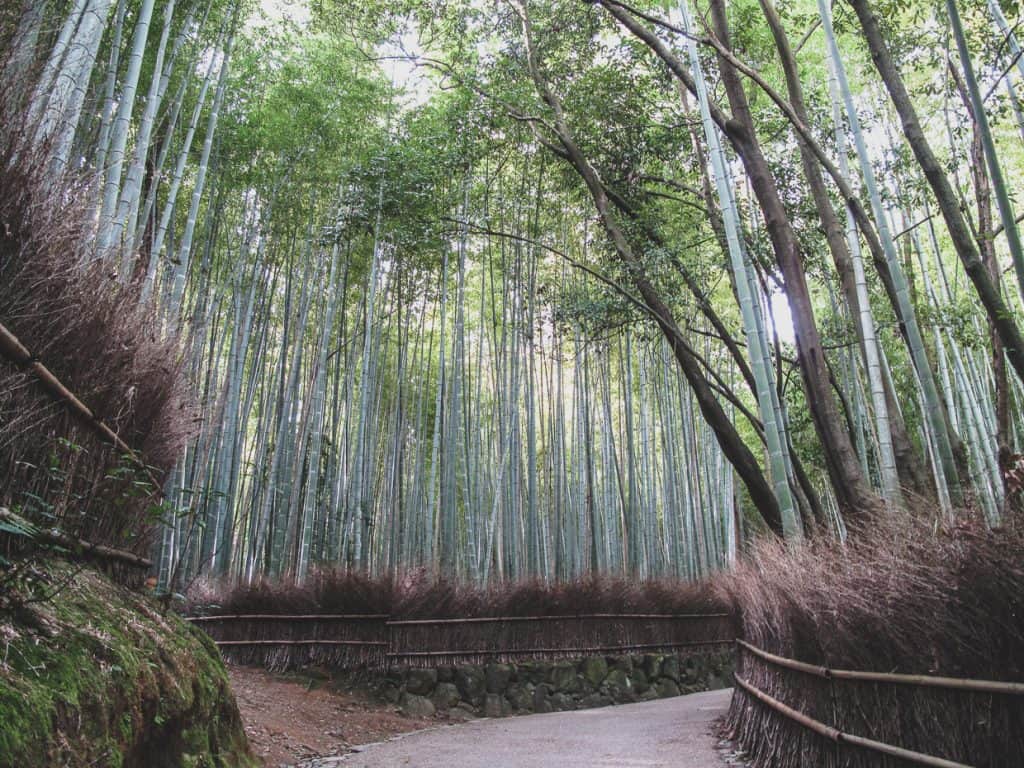 There is a short path through the grove and the best time to go will be early morning or evening to avoid the mid-day crowds. It's a short walk but there are temples to visit in the area and the Iwatayama Monkey Park is just across the river, too. If you're there at the right time, you can visit during the festival of lights which happens twice a year (usually in March and December) or you can see the cherry blossoms if you're there in the spring, too.
Shofukuji Temple, Fukuoka
Melissa from High Heels & a Backpack
Shofukuji is an ancient Buddhist temple surrounded by an area of beautiful woodland in Fukuoka, Kyushu Island. After travelling through Japan for a while, you may start to feel that all of the temples that you have seen blend into each other. However, Shofukuji temple is special because this was the very first Zen Buddhist temple to be built in the country.
The temple is encapsulated by stunning grounds filled with manicured gardens, ponds, and walking trails. The interiors are every bit as decadent as the exteriors with vibrant frescoes of Dragons and notable scenes from Buddhist teachings.
Dating back to 1195, the Buddhist Priest that founded Shofukuji (Eisai) was recognised for introducing Zen Buddhism to Japan from China. Admission to the temple is free of charge and the grounds are open 24 hours a day. The site is especially beautiful at golden hour, especially if you are hoping to capture some great photographs. Shofukuji is just a ten-minute walk away from Gion metro station.
Nagoya Castle, Nagoya
Lena Yamaguchi from Nagoya Foodie
Nagoya is often skipped over by visitors to Japan, but it should totally be on your Japan bucket list.
One of the reasons for this is Nagoya Castle, historically recognized by Japan as one of the best castles in Japan and the first to be designated a National Treasure.
While the keep with its characteristic white walls and a metallic green roof with the two golden tiger fish on either end is very impressive, it is not the main reason to visit. What makes Nagoya Castle so special is the recently reconstructed Honmaru Palace, the former residence of the lord of Nagoya.
This wooden one-story structure was reconstructed entirely using the traditional building techniques and with a lot of attention to detail using original plans. Every room has tatami mat flooring and golden wall painting depicting scenes found in nature, history, and old stories. It is truly a spectacular sight and one you cannot find anywhere else in Japan. Definitely worthy of your probably already overflowing Japan bucket list.
Nagoya Castle is open daily from 9 a.m. to 4 p.m. and entry is 500 yen for adults.
Kawaii Monster Cafe
Toni Broome from 2 Aussie Travellers
The Kawaii Monster Cafe is a great choice while in Shibuya, Tokyo. It's a modern part of the city that we love for its great cafes and shopping but is also well known for its youth fashion subcultures. Kawaii means cute in Japanese and the Kawaii Monster Cafe is all about cuteness, fun and entertainment. From the moment you walk into the belly of the beast it delivers a high intensity dose of energy, sound, colour and lights that makes it impossible for anyone not to have a great time.
The kawaii girls or 'monsters' show you to your table and keep everyone entertained both from the stage and going table to table. The day time shows are completely family friendly while the night time cabarets are designed for an adult audience. The day time show is an absolute laugh and you don't need to understand or speak Japanese to enjoy it. You definitely visit here for the unique vibe and entertainment but the themed and colourful food options and drinks are pretty good and an essential part of the whole experience.
Climbing Mt. Fuji
Monique from TripAnthropologist
Watching the sunrise from the summit of Mt Fuji is an unforgettable experience. The hike is tricky in parts and you need to be prepared for a night without much sleep, but you will always remember looking down through the clouds as the sun rises over Japan.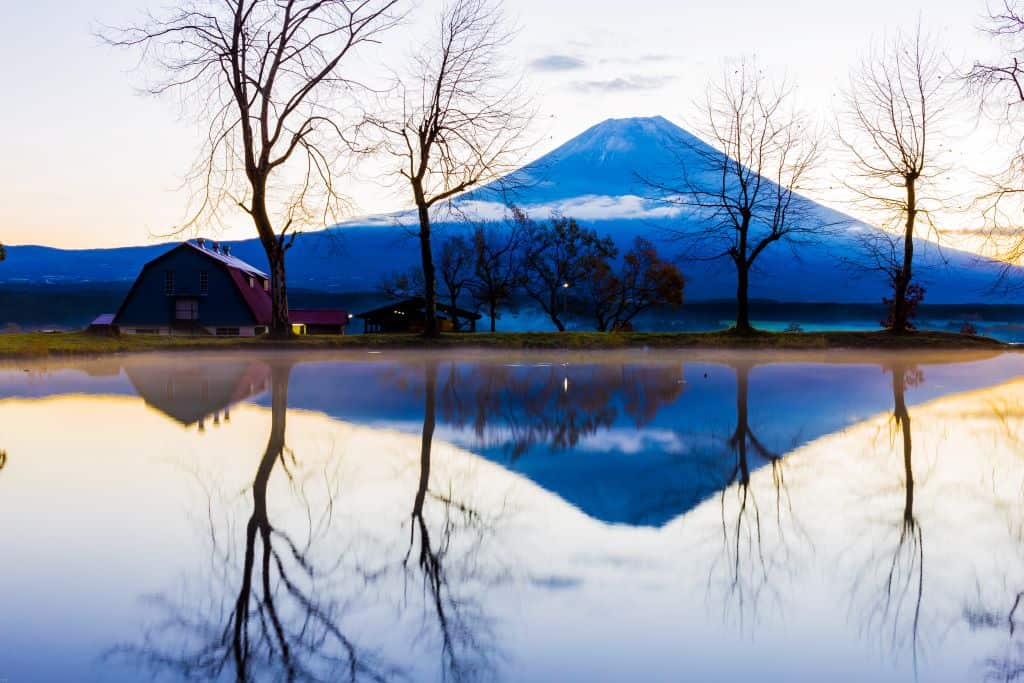 Mt Fuji is climbed by more than 300,000 people every year. It is Japan's tallest mountain and is easily the most recognizable symbol of the country. For Japan's Shinto Buddhists and for many Buddhists around the world, however, it is also a place of pilgrimage. The sun rise at the summit is called Goraiko and is considered a significant spiritual moment.
There are four main trails to the summit of Mt Fuji and it is technically possible to ascend and descend from the summit in one day but you need to be fit and leave very early in the morning! Most hikers begin climbing Mt Fuji at the Fuji Subaru Line 5th station where you can join the Yoshida Trail. This trail has the most number of huts of all the trails. If you pre-book a hut, you can get a few hours of sleep before making your way to the summit to view the sunrise.
Nishiki Market in Kyoto
Anne from Japan Addict HQ
Nishiki Market in Kyoto should definitely be on your list of experiences to have while in Japan. As you meander through the five block long open covered market street you will love the experience of seeing and tasting the local specialities from the hundreds of food related shops and restaurants.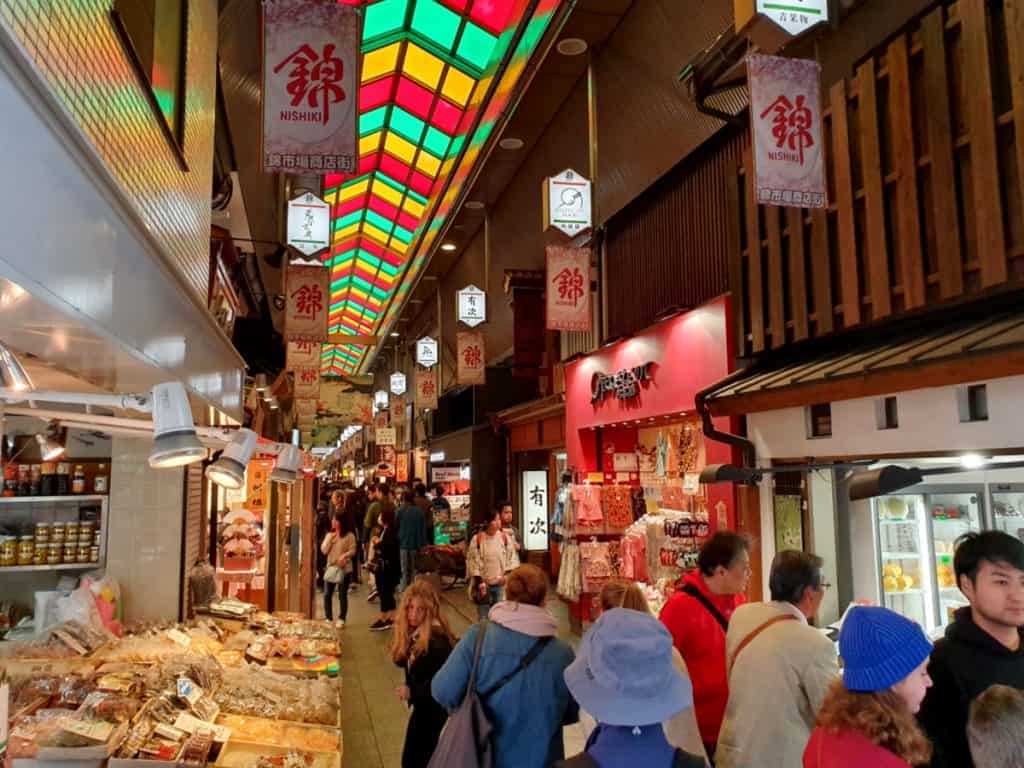 Nishiki Market operates seven days per week with most shops open from 9am to 6pm, however if you can plan to visit on a weekday when it is less busy. Booking into a food tour is a great way to ensure you make the most of your experience and learn (and taste!) more about the Kyoto local produce and specialities.
Getting to Nishiki Market is easy via either train or bus options. The closest stations are Shijo Station or Kawaramachi Station at the eastern end and Karasuma Station at the western end of the market street.
Robot Restaurant, Tokyo
Jordan from Inspired By Maps
Japan is filled with so many unusual and beautiful experiences. But of all of them, my favorite has to be the eccentric Robot Restaurant in Tokyo. I adore it so much I've been four times now on as many trips. So, what specifically is it? The most simplistic definition is that the Robot Restaurant, located in the neon-lit party district of Shinjuku, is a theatre show where customers can attend a cabaret cyborg production complete with lasers and fireworks and more. But, this doesn't really do it justice, especially when you consider there is no food served except popcorn and no real robots.
From the time you descend down the glittering stairway into a dark basement, you feel instantly transported to another world. A world filled with dancing fembots, dinosaurs, mythical battles, lasers, colorful explosions, and upbeat music. Think Carnival with humanoid-robots, more music, dancing, and sensory overload. 90-minutes of glorious madness of joy, rainbow lights, techno, and "WTF" moments. If that doesn't quite tell you what you are in for, well – that is half the point. Nothing can prepare you for the Robot Restaurant in Tokyo. The only real erudition you need is to book tickets in advance and come early so you can enjoy their futuristic lounge setting upstairs before the show.
Fukui Prefectural Dinosaur Museum, Katsuyama City, Fukui Prefecture
JB from Will Fly for Food
The Chubu region pertains to an area in Central Japan that encompasses nine prefectures. Of those nine prefectures, Fukui is perhaps the least well known, at least to foreign visitors.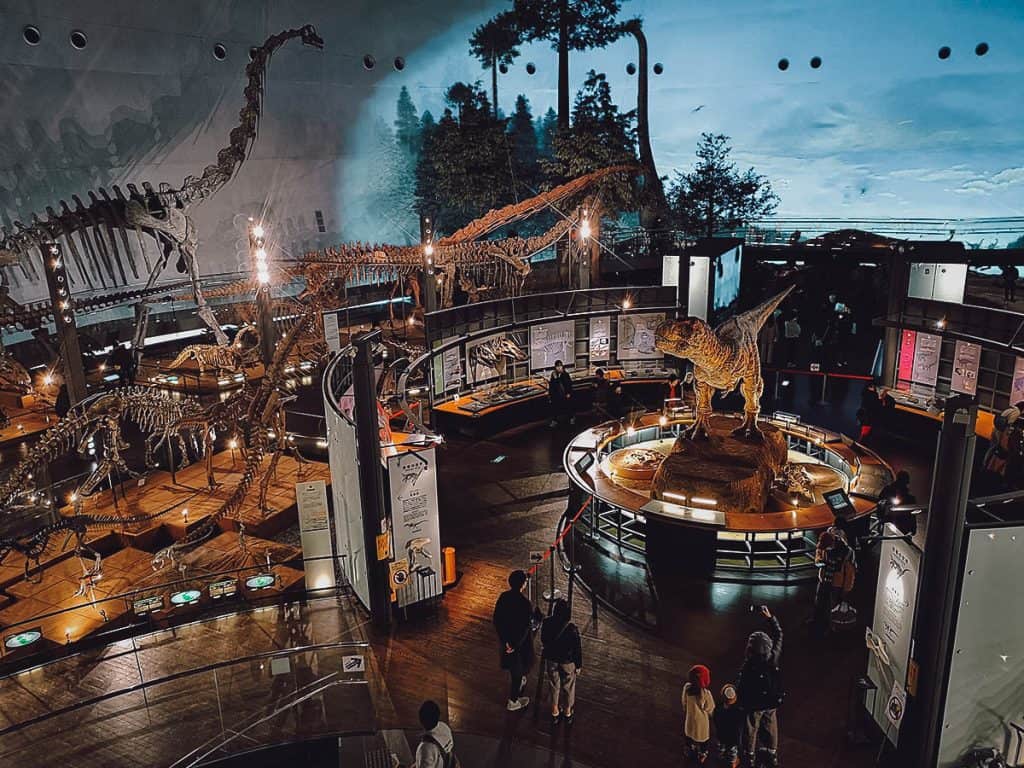 Located in Katsuyama City is Fukui's most famous attraction – the Fukui Prefectural Dinosaur Museum. Built in 2000, it's the largest dinosaur research facility in Japan and recognized as one of the foremost dinosaur museums in the world.
Katsuyama City is Japan's center for dinosaur research and home to the country's biggest and most prolific dinosaur excavation site. It's produced a number of important fossil discoveries over the decades, including several unique dinosaur species that were excavated and first identified in Fukui. To honor the place of their discovery, these new dinosaur species were given names like Fukuiraptor, Fukuititan, Fukuivenator, and Fukuisaurus.
Located just a short distance from the excavation site, the Fukui Prefectural Dinosaur Museum is home to over forty of these skeletons and several life-sized animatronic dinosaurs, including a realistic Tyrannosaurus Rex that roars and snaps its jaws at passing tourists.
If you'd like to go off the beaten trail in Japan, then Fukui is a great place to start. You can visit the dinosaur museum and explore the rest of the Chubu region using a Takayama Hokuriku Pass.
Fushimi Inari Shrine, Kyoto
Melissa, Parenthood and Passports
Fushimi Inari Shrine is perhaps one of the most important and famous shrines in all of Japan. The shrine, located in southern Kyoto, is best known for its thousands of bright orange torii gates which wind gently up a hill. Each torii gate was supposedly funded by a donor after a wish came true. So, in essence, when you visit Fushimi Inari you are walking through thousands of granted wishes. There is a lot of walking and a lot of stairs so be prepared and wear appropriate footwear.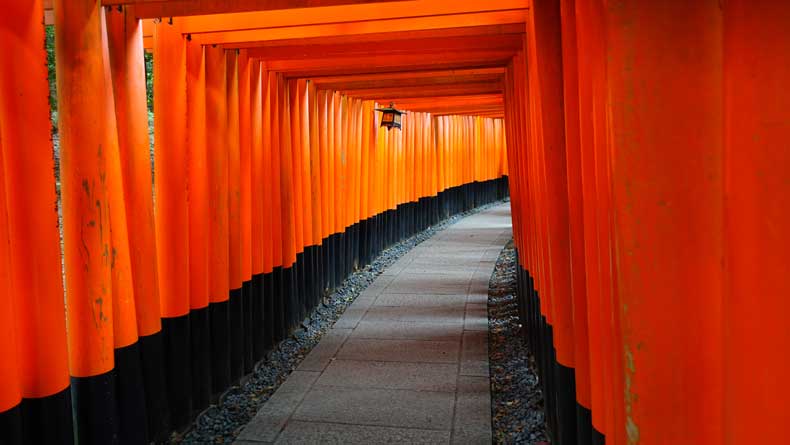 If visiting Kyoto with kids Fushimi Inari is not a stroller-friendly attraction. The hike to the top of the trail takes roughly 2-3 hours, but visitors can turn around at any point if they don't want to make the trek to the top of the mountain. The shrine can get very busy, particularly in the afternoon, so we recommend visiting early in the morning. Fushimi Inari is free to enter and open all day, every day.
Legoland
Daneen Klein from Campervan Road Trips
Legoland Japan is located in Nagoya. We are a Lego lover family so for us this was a must-see destination. After entering the park it doesn't take long before meeting the lifesize minifigures that we could not resist having a photo with. There are eight different lands in the theme park so there are a variety of attractions for all ages. These include roller coasters for the young and old, pirate ships, lego planes to fly, boats to drive in and cars and fire engine trucks to race on the track, just to name a few. Kids are even able to get their first driving licence.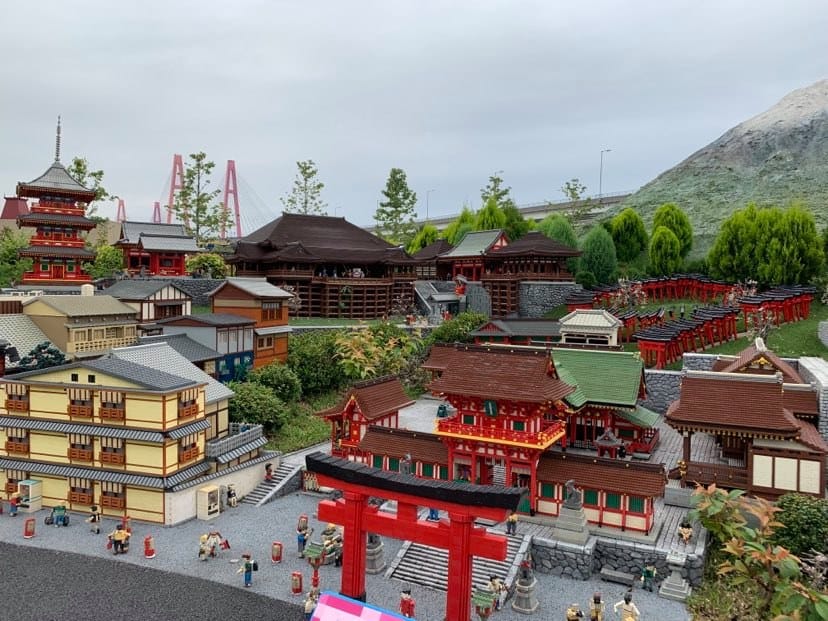 The sounds and detail in miniland allows you to easily spend a few hours appreciating the amazing replications from Mt Fuji, Osaka, Tokyo which are just some of the places. The detail at the park makes it an even more magical place with Lego ducks, fish and figures on the water fountains all telling a story. I highly recommend when your feet need a rest and to ensure you have not missed a thing to take a ride in the observation tower. There is also a Legoland gift shop to take home a souvenir.
Staying at Ryokan, Japan
Chloe from Chloe's Travelogue
Japan fascinates international travelers with its distinctive traditional culture. Staying at a Japanese ryokan is an exquisite way to experience this local culture first-hand.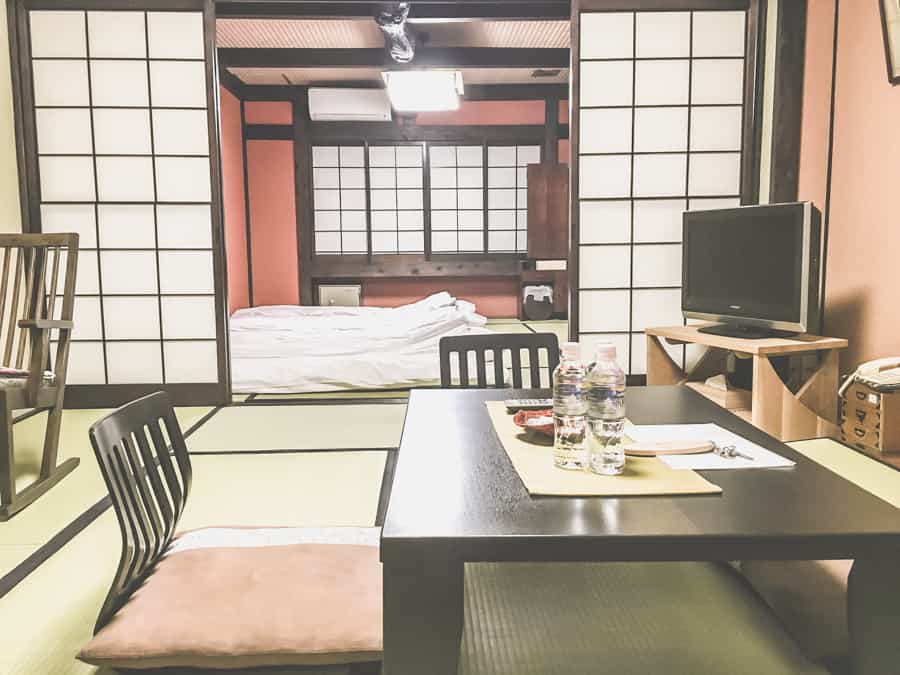 Ryokan is a type of traditional Japanese lodging, often owned and run by a family for generations. While you can find ryokan everywhere in Japan, you might see better accommodations in historic cities or hot spring resort towns.
The traditional ryokan offers futon beds to be rolled out on a tatami floor. Before slipping into the plush bed, relax and soak in the hot spring water. The modern ryokans facilitate a private en-suite bath. But if you are brave enough to be butt-naked with strangers, try a hot spring "onsen" experience at ryokan's public bath.
If not impressed with a ryokan stay yet, wait until kaiseki ryori wows you. Kaiseki is a unique Japanese multi-course dinner, featuring local and seasonal ingredients. It is the best way to taste regional specialty cuisine right in the comfort of your room. The artfully presented dishes with fresh ingredients cooked to perfection won't disappoint you.
If you want this memorable experience, stay at ryokan next time in Japan to experience traditional Japanese hospitality and mouth-watering cuisine.
Skiing at Myoko Kogen
Rachel from Adventure and Sunshine
One of the best winter experiences in Japan is to ski on some of the driest, deepest, fluffiest powder snow in the world. There are hundreds of resorts throughout the country, but for a truly authentic Japanese ski experience, Myoko Kogen, one hour north of Nagano, is a great option.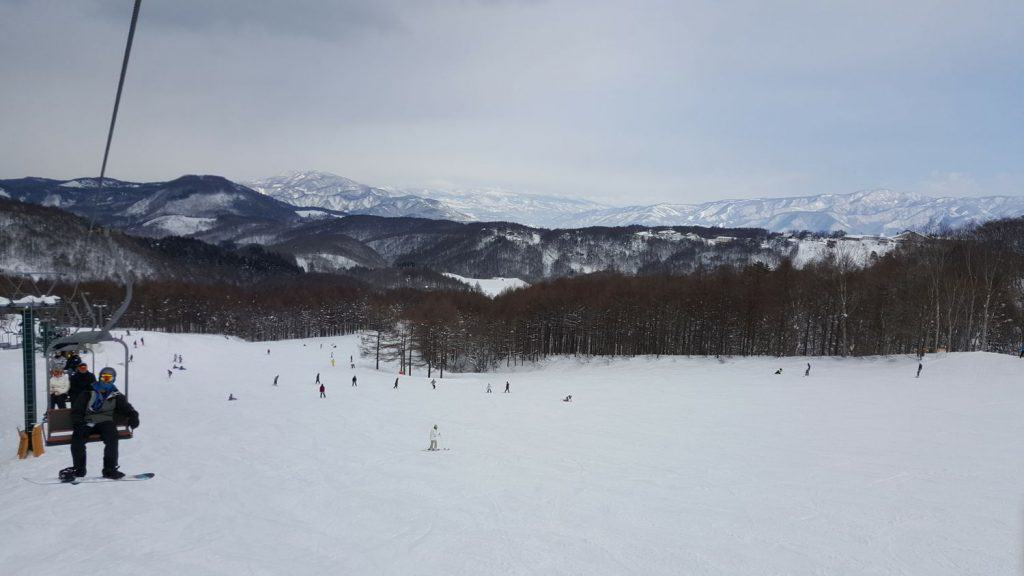 The ski area is one of the largest in Japan and receives around 14m of snow per year. Unlike other more well-known ski resorts like Niseko and Nagano, Myoko Kogen is much quieter and less developed. The focus is very much on skiing during the day and relaxing at night.
It is a great destination for those seeking a more traditional Japanese bucket list experience and the perfect place to go skiing in Japan with kids, with its easy going vibe and English speaking ski-school instructors.
When you run out of energy for the slopes, relaxing at one of the gorgeous thermal hot spring onsens in the village is a must before heading out to try some Japanese specialties such as ramen, okonomiyaki or sashimi at one of the locally run restaurants.
Capsule Hotel, Tokyo
David from Surveys Fanatic
The Capsule Hotel is a quintessential Japanese accommodation option.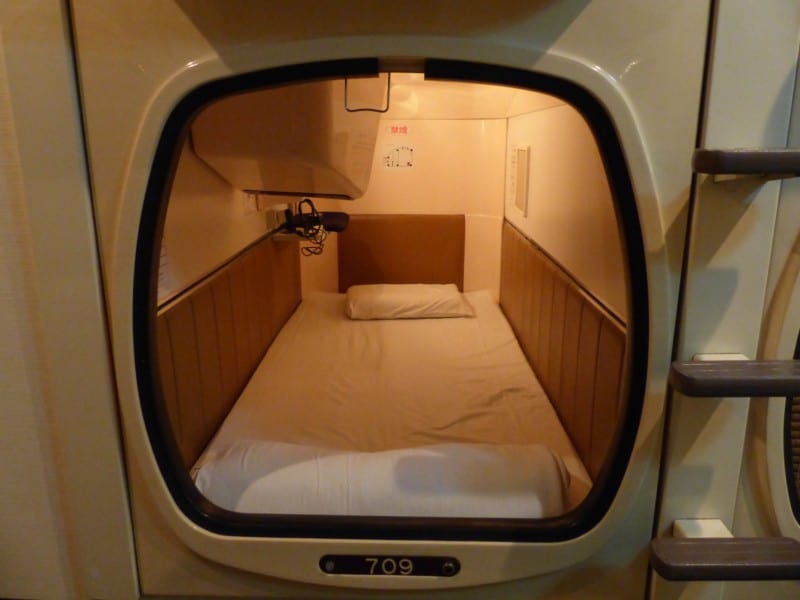 Pioneered for the drunken salary man who had missed the last train home, the Capsule Hotel serves just as well for the cheap traveller needing somewhere to sleep. So being cheap and wanting to "do Japan" I stayed in one on my first visit to Japan.
The capsule I stayed in was a 2m long, 1m high and 1m wide fibreglass rectangle with a thin but comfortable mattress, a pillow, sheets and blankets, sealed off at my feet by a curtain (some have openings more like doors). These rectangles are stacked side by side, two high, into sleeping areas. Equipped with a small shelf, light, radio and mini TV my capsule was comfortable and surprisingly roomy. I could sit up (barely) and lie in any sleeping position I chose.
There is a trade off for the low price, however. You typically have to store most of your gear such as bags or cases and shoes (especially the shoes) outside the sleeping floors. Usually you change into hotel issued sleeping gear before heading to the sleeping floors, too. And then there is the risk of drunken Japanese salary men disturbing your sleep.
Still, at the price I got to "do Japan" while I slept very well.
Fresh Sushi at Tsukiji Seafood Market
Sharon from Dive Into Philippines
At the old Tsukiji Seafood Market in Tokyo there were two star tourist attractions: the daily Tuna auctions and the freshest sushi and sashimi you could possibly find.
A cluster of traditional sushi restaurants operated at the Tsukiji market. These restaurants, that seat about 10 on long counter adjacent to the kitchen, were famous for creating sushi from the first sales of the day in the market located metres away with fish. On my visit I simply wandered around until I found a bunch of places with long lines and joined the queue of a place called Daiwa Sushi.
By luck I'd joined the queue of one of the most highly regarded sushi places at the market which had been serving sushi there for many decades. Once I had a place at the counter I ordered a 10 piece set, the menu for which changed in accord with whatever the chefs liked best at the market that day,
The sushi was so fresh it seemed like you could taste the salt from the sea. The taste and texture was incredible. It was easily the best sushi and sashimi I had ever eaten. At 3800 yen, my meal was pricey by Japanese standards but cheap given how good it was.
The Tsukiji Seafood market has now relocated to Toyosu and is called Toyosu Fish Market. The restaurants have moved as well and are still just as good. You can expect a similar experience at this location.
Skiing in Hakuba
Skye from The Fit Traveller
The skiing in Hakuba is a bucket list experience for those drawn to the snow; both beginners and very experienced skiiers. It takes about three hours to get from Narita to Hakuba, via a mix of bullet train and comfortable coach ride. But once you arrive in Happo Village, the commute is well worth it.
Book your accommodation early if you are planning to visit Hakuba as it books up fast. Try one of the boutique hotels in the city, or if you want to make first tracks daily, make sure to grab a room at one of the ski-in-ski-out hotels next to the gondola. This cuts out time spent waiting for the crowded shuttles, each morning.
The beauty of Hakuba's broad range of runs (there are more than 200), is it is both a great place to learn how to ski thanks to their famous powder with many challenging runs among the 9 resorts as well.
Spend your afternoons recovering at one of the traditional onsens overlooking the snow-covered mountains or cosy up in one of their bars or over a bowl of noodles at the local Izakaya.
Skiing in Hakuba really offers much more than simply a skiing vacation; it's a full cultural experience.
HiSUi Tokyo Samurai Training
Aleney from BoyEatsWorld
Those seeking a different, but thoroughly authentic experience in Tokyo, can learn the skills of the Samurai with a lesson in Battōjutsu, or Batto, the Japanese art of swordsmanship, at HiSUi Tokyo in the heart of busy Ginza.
This disciplined, hands on training utilises the etiquette and techniques used by the Samurai and are a study in grace and control. Students are decked out in traditional hakama and kimono before being presented with their own katana (safely blunt), before being guided step by step by a sword master through the oddly formal starting stance and basic Batto steps, as well as how to draw and sheathe the weapon correctly. Then its on to turning, cutting and thrusting.
Graduates who master these skills, have their blunt katanas removed and replaced with a deadly sharp katana which they are then invited to use to slice through tatami matting with the deadly sword in just a few graceful motions. Brilliant for all ages, even kids can join in, though the sword master will manage their razor-sharp katana with them.
Wizarding World of Harry Potter at Universal Studios, Osaka
MG from The Wandering Suitcase
For most adults, it might seem a bit odd to include a visit to a theme park on your Japan bucket list. But most theme parks aren't Universal Studios and they most certainly don't have an entire section dedicated to J.K Rowling's Harry Potter series.
For anyone who grew up with the Harry Potter books and movies, the Wizarding World of Harry Potter at Universal Studios in Osaka is like a dream come true. If you're still waiting for your acceptance letter to Hogwarts, this is where it can happen!
Here, you can you sip a mug of butterbeer, explore the shops of Hogsmede and even practice magic with an actual wand (not to give too much away, but you can purchase interactive wands that make magic happen at specific spots around the park).
At the center of this magical world are the Hogwarts Castle and the award-winning Harry Potter and the Forbidden Journey ride, so popular that people happily wait in line for hours to experience it (complete with Japanese speaking Harry Potter characters).
For kids and grown-ups visiting Japan, the Wizarding World of Harry Potter at Universal Studios is truly magical – you probably won't want to leave!
A Day trip to Miyajima
Vicki from Vicki viaja
Japan is full of beautiful and unique places. One place that should definitely be visited during your time in Japan is the small island of Miyajima.
It is located just 20 km from the popular Japanese city of Hiroshima. You can also take a day trip to Miyajima from Osaka or Kyoto.
The small island can be visited perfectly in one day. The main reason for a visit is the famous Itsukushima shrine with its orange torii, which stands in the water off the island at high tide. I'm sure you've seen a picture of this special place before.
In addition, the island offers beautiful nature and hiking opportunities. You can climb the mountain in the middle of the island and enjoy the magnificent view. With a little luck, you may even spot a few free-range monkeys in the woods.
In any case, you will meet lots of deer that roam freely around the island, even in the city. The cute deer are usually very hungry, so be careful if you carry any kind of food with you.
Washi Making in Gokayama
Lorenza from When I Roam
Visiting the UNESCO World Heritage Site of Gokayama, you walk around its beautiful gassho-style houses with slanted roofs set in front of gorgeous green mountains. One thing you might not know about Gokayama is that its Etchu Wasi was designated as one of Japan'sTraditional Crafts!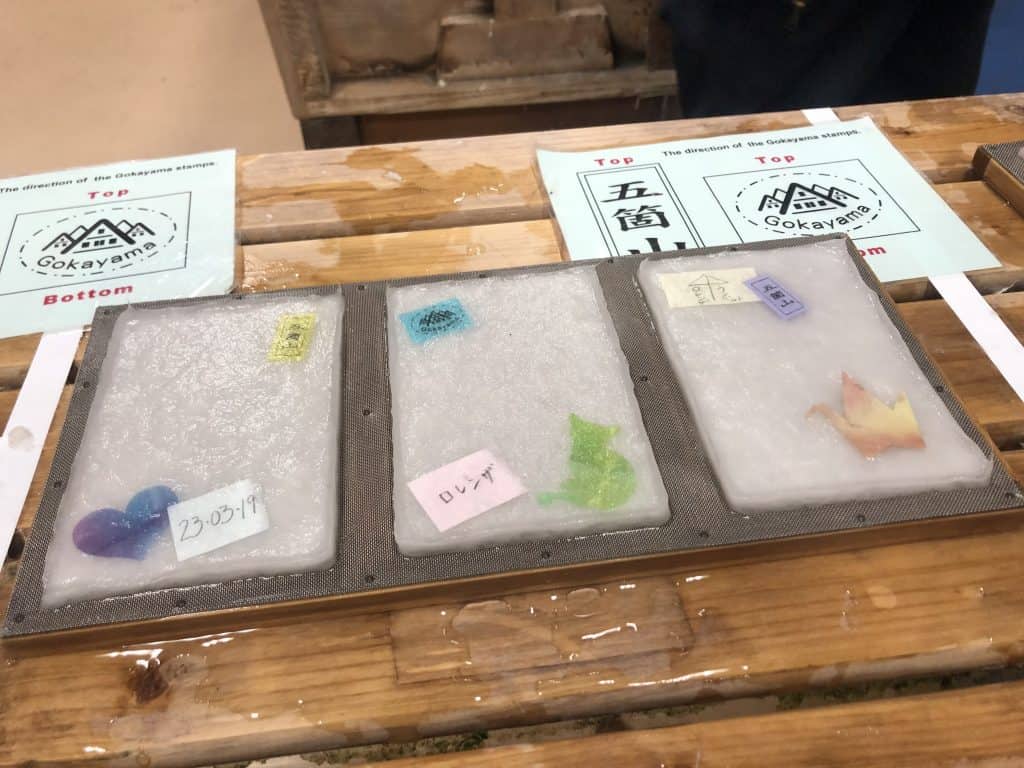 Washi is traditional hand-made paper, wa meaning Japanese and shi meaning paper. You can make this beautiful craft at Washi no Sato, a center set up by the local community to preserve washi making. First you watch a short video explaining the paper making process. Then, you go to the workshop.
In the workshop, the master craftsman gave us a wood and metal mold with space for three postcards which you would dip into water (freezing as it was room temperature) with the mulberry pulp and gently move it side to side to get rid of the excess water. This process was repeated multiple times until we got the right thickness. From there we could decorate our postcards with different colored papers and symbols, adding some more pulp water. It was beautiful to see that from pulped water you can get gorgeous delicate paper. It was the perfect souvenir from my Japan honeymoon.
Mount Fuji
Sylvia from Wapiti travel
Mt. Fuji undoubtedly comes to mind when thinking about Japan. This photogenic perfectly-shaped volcano is on most visitors' bucket-list. It's a holy mountain in Shinto mythology and the sight of the mountain on clear days is indeed of that kind that even the starkest non-believers must be in awe about the natural beauty of the planet we live on.
The volcano is just a few hours outside of Tokyo and most people visit it as a day trip from the capital. You can hop on a train in Tokyo to ride to Mt. Fuji or you could join one of several organized Mt. Fuji tours.
A typical Mt. Fuji tour will not only take you to some great photo spots where you can snap pictures of the volcano. It will encompass many more impressive sights in the Hakone region or around Fuji 5 Lakes.
There are serene lakes, impressive waterfalls, and quaint towns. You can relax in peaceful outdoor onsen, go bargain hunting at outlet malls or scream your head off in thrill rides at one of the amusement parks. Here's an overview of the best Mount Fuji tours.
Gion District, Kyoto
Melissa from Thrifty Family Travels
One of the most popular things to do in Kyoto is to explore the Gion District. This old area is filled with historic streets and traditional narrow wooden Japanese buildings. It is also said to be the most famous geisha district of Kyoto.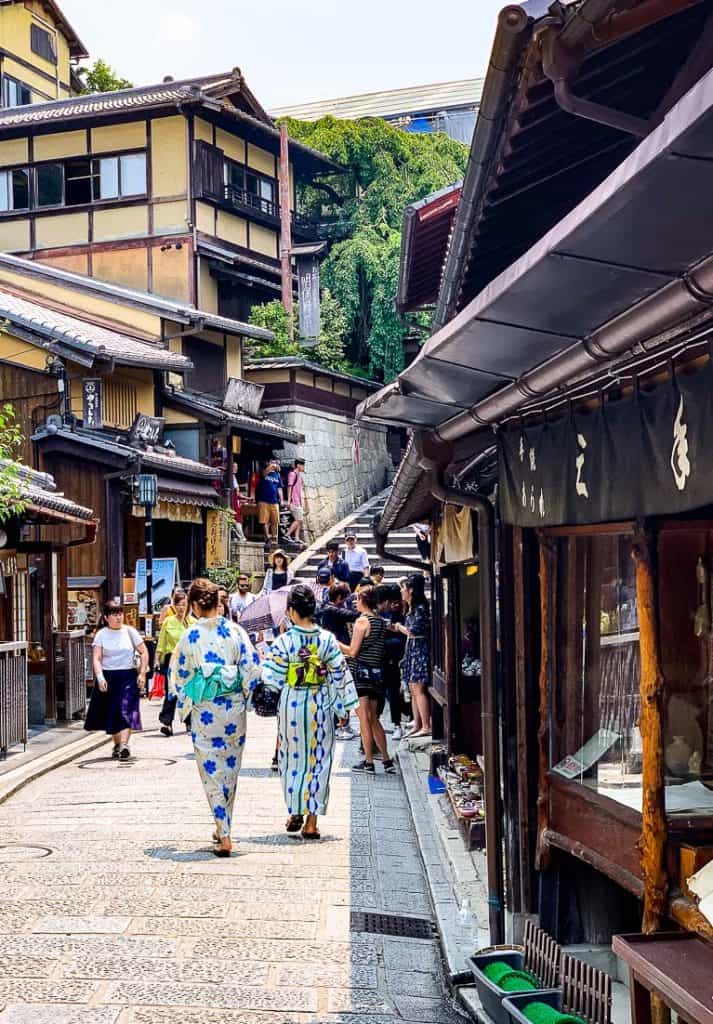 The best way to explore the area is by doing a DIY walking tour. I recommend you start your tour from the Kiyomizu dera Temple. From here wander down the hill along Matsubara Street and then turn right down the stairs into Sanneizaka Street. These two streets are filled with gorgeous traditional Japanese homes, tourist stores and restaurants.
Other lovely streets to explore in the area include Nineizaka Street and Ishibei-koji Street. Ishibei-koji Street is super tiny and narrow, in fact the laneway is only 200 metres long and is lined with lovely traditional inns, restaurants and bars.
While the Gion District is very touristy, it is a must do just to see the gorgeous little Japanese buildings as well as the chance to spot a geisha. Do expect the area to be super busy with tourists, to avoid the crowds, go early in the morning or late in the day.
Monuments of Hiroshima
Alyse from The Invisible Tourist
Despite its sad history, Hiroshima is a unique place everyone should see at least once during their lifetime if given the chance. Although it can be difficult to tell in some areas, on 6th August 1945 the city was the recipient of the world's first nuclear bomb during WWII. While it completely devastated the region, there are many Hiroshima attractions proudly symbolising hope and resilience that's deeply embedded within Japanese culture.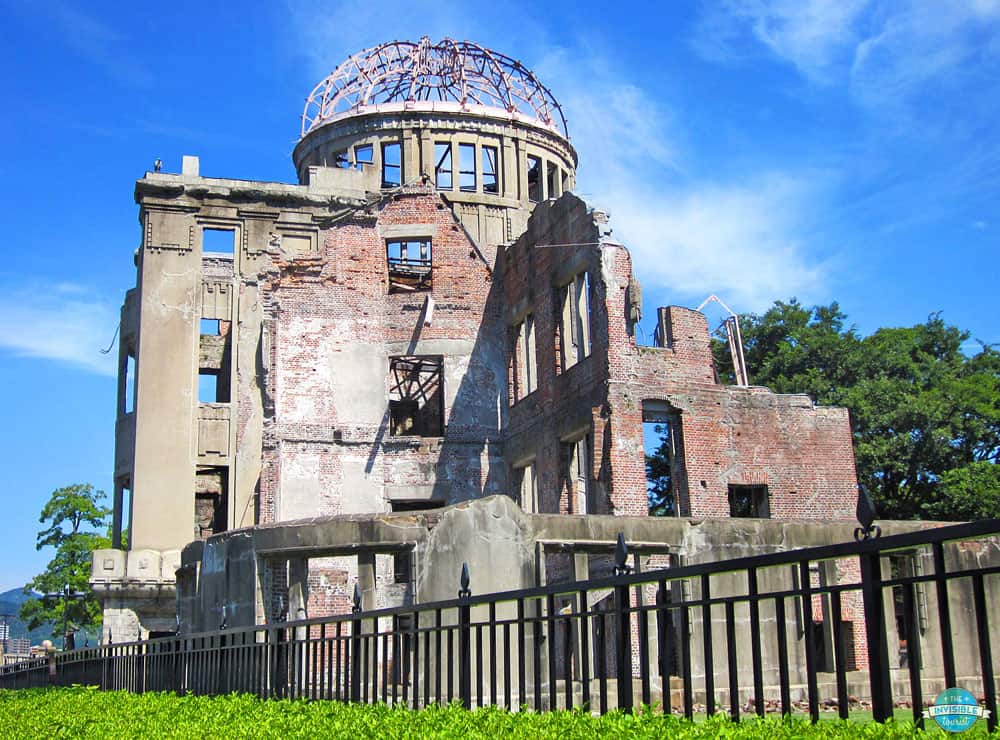 At the epicentre of Hiroshima Peace Park stands the UNESCO World Heritage listed Atomic Bomb Dome, an unmissable and haunting sight. While the Hiroshima Peace Museum and Children's Peace Monument are inspirational forces behind the push for world peace, I was truly moved to my core by the stories of survivors at the National Peace Memorial Hall for the Atomic Bomb Victims.
There's always more than meets the eye in Hiroshima. If you know where to look, eerie nuclear shadows are still hiding in plain sight and trees that survived the blast are flourishing today, their blackened trunks still bearing scars from the blast. Hiroshima is such a humbling place and a reminder of how precious life is – be sure to add it to your Japan bucket list.
The Snow Corridor
Sonakshi and Mainak from Places In Pixel
Imagine this – walking in between 40-60 feet high walls made of snow!! yes, snow! Have you ever experienced anything like that? Or even thought of such experiences. Well, of all the amazing experiences that I had in Japan, walking through the Snow Corridor was definitely the most unique and memorable one.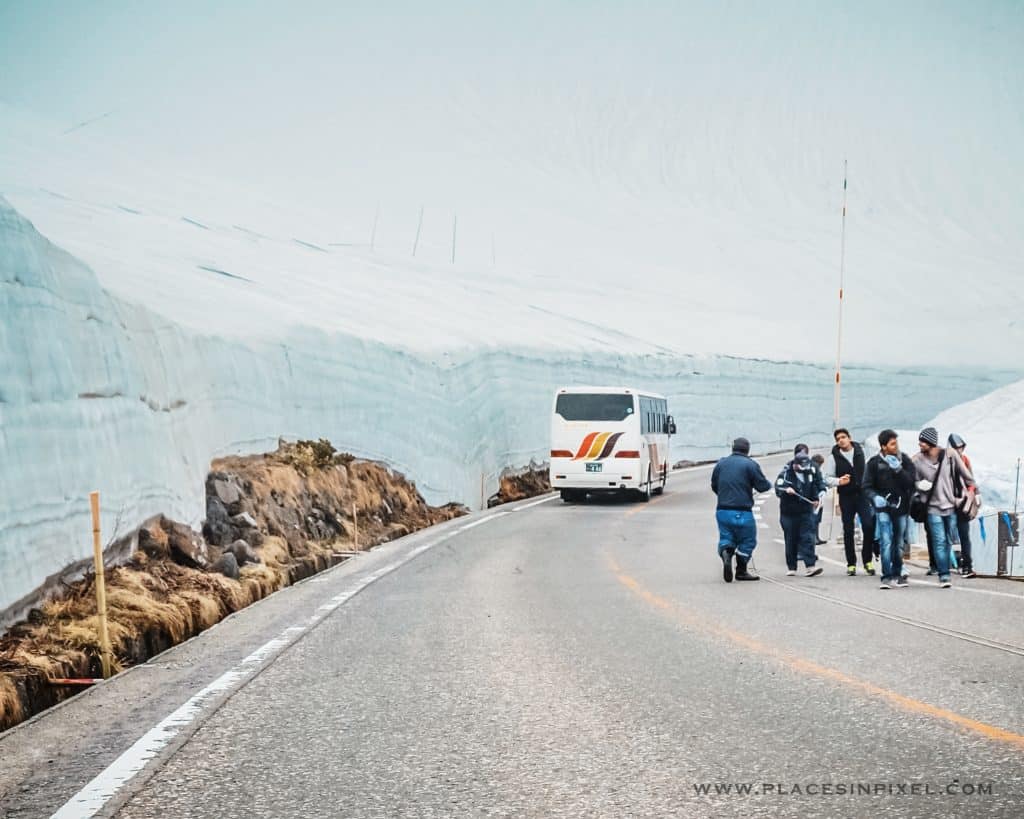 The Snow Corridor (aka snow walls) is located in the Tateyama Kurobe Alpine Route, amidst the Japanese alps. Japan's Alpine Route, in general, is not a "touristy place"; and that's what makes it a bucket-list item for serious travellers and off-beat adventure seekers. If you visit there during the 'best time', the route will be full of unique adventures like walking through the snow-corridor, hiking around a frozen lake (Murodo lake), cable car journeys and much more.
Best time to visit: Best time to experience the Snow Corridor is usually around mid-April to end-May every year. (exact dates can be found on the official website)
How to reach: You can start your Alpine Route journey from either Tateyama or Ogisawa, both of which can be easily accessed from Osaka.
Boat Ride on Lake Ashi, Hakone
Sarah from Dukes Avenue
Hakone is a bucket list-worthy destination never to forget, if only for the incredible views of Mount Fuji!
The trip to Lake Ashi is quite remarkable, yet not for the faint of heart – take a 75 minute "romance train" from Shinjuku to the spa town of Hakone, transfer onto a local train (or bus if the train is decommissioned by a typhoon), and then onto a series of cable cars across smouldering volcanic craters.
On the glide down across the alpine treetops to Togendai cable car station on the north shore of the sparkling and pristine Lake Ashi, Mount Fuji looms in the distance. You may be tempted to walk along the shores and enjoy the stunning views, but you are advised to save your energy and instead take the motorised pirate ship across the lake. The trip lasts less than forty minutes but you will not see the time pass admiring the views, from Mount Fuji surrounded by wisps of cloud, the verdant hills, or the bright orange shrines sitting in the waters off the shores of the lake.
Stopping at the Hakone Machi checkpoint on the south shore, it is recommended to walk the Onshi Hakone headland to enjoy some of the best views in all of Japan of Mount Fuji.
Cycling the Shimanami Kaido
Rebecca from Team Japanese
Looking to escape the cities and soak in some sea air? You need to add the Shimanami Kaido bike ride to your Japan bucket list.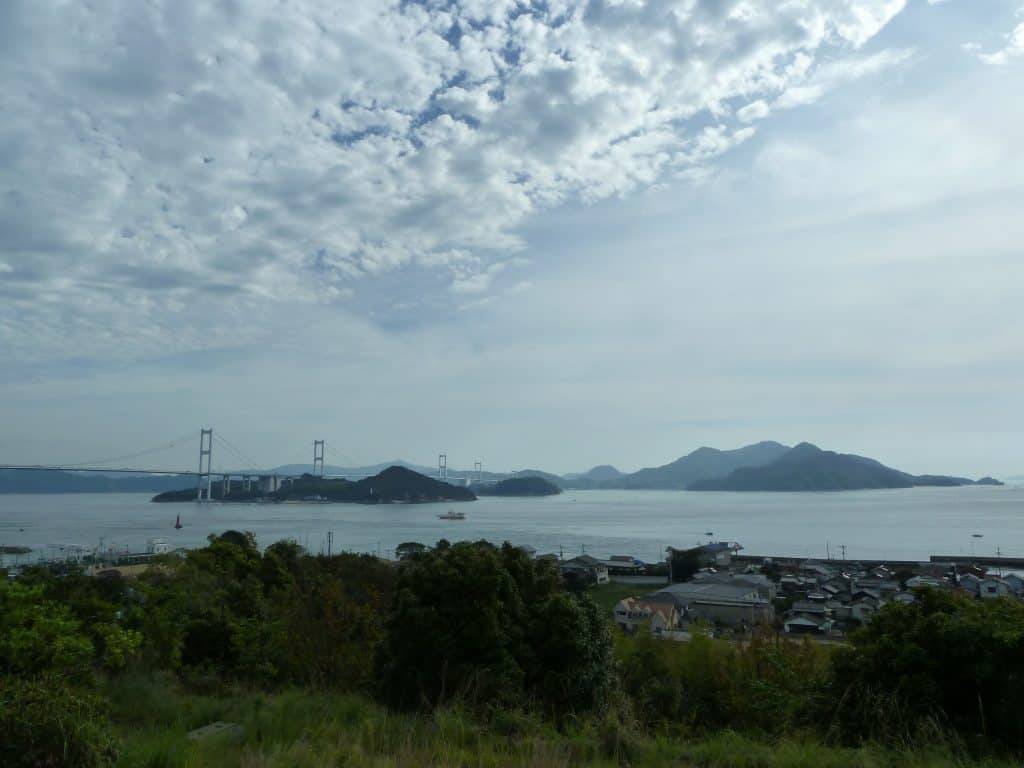 The Shimanami Kaido is a 70km cycle route connecting Onomichi in Hiroshima prefecture with Imabari on Shikoku. Along the way, you'll ride over a network of bridges across six picturesque islands in the Seto Inland Sea.
The scenery is like nothing else! Clear blue waters, dark green forested mountains, and stunning hidden beaches. And there are lots of hidden gems to discover along the way. Highlights include the Murakami Suigun (pirate) museum on Oshima, the Kousanji temple complex on Ikuchijima, Oyamazumi shrine on Omishima, and salt ice cream at Hakata beach.
Although the Shimanami Kaido is deep in rural Japan, the islands welcome foreign tourism, so don't worry if you don't speak Japanese – everything is signposted in English.
Each island has at least one rest stop with a bicycle rental point. So if you're not up to 70km in one day, you can always drop off your bike and complete the route by bus. You could also spend the night in a guest house en route and spread the adventure over a couple of days.
Kimono Dress-Up
Stephanie from Poppin' Smoke
While living in Fukuoka, Japan for more than 2 years, I didn't do a lot of "touristy" things, because I was immersed in day-to-day life. But when my niece came to visit from the U.S., I seized the opportunity to do something I had always wanted to experience in Japan: wearing a kimono.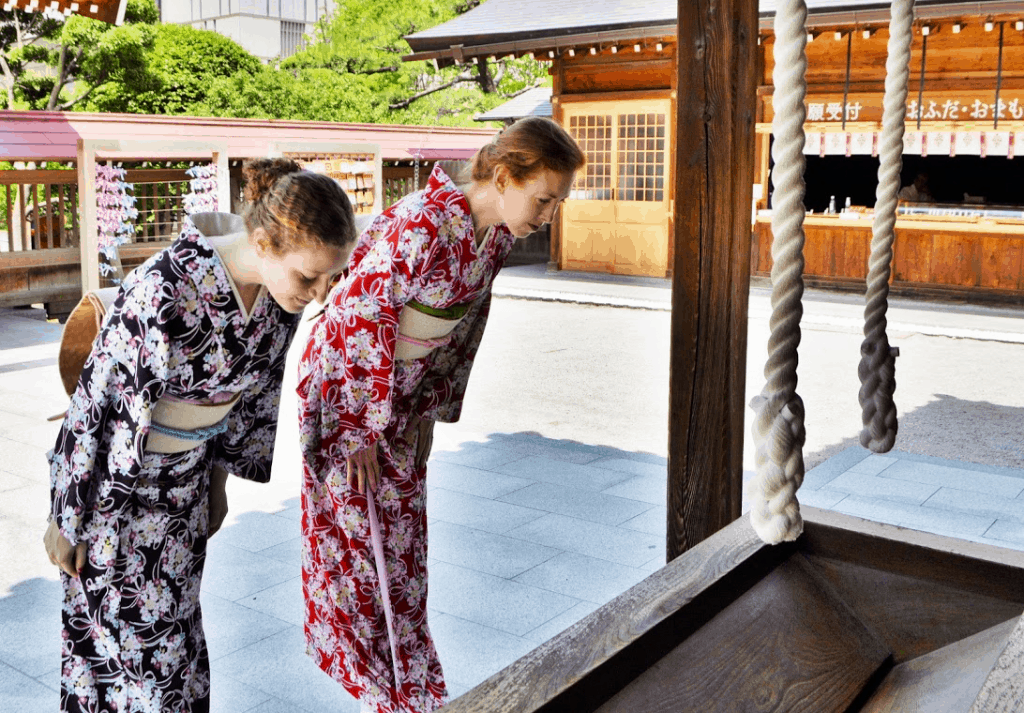 Kimono dress-up is popular among foreign tourists and even some Japanese, because wearing a kimono is a very special experience, and putting it on correctly is no small feat.
With most kimono-wearing experiences, you will choose your kimono and your obi (sash) from the provider's selection, and a staff member will dress you. They typically supply sandals, and some places will do your hair and/or makeup.
Kimono dress-up is often offered in conjunction with another activity, such as a traditional tea ceremony or a walking tour of the city. In our case, we simply went to a nearby shrine to take pictures (about 75 minutes total), and it was perfect. We had the fun of wearing a kimono, and we have beautiful, unique photos to remind us of my niece's visit.
You can find kimono dress-up in virtually any major Japanese city, and it's definitely a worthwhile experience to include as you plan your trip to Japan!
Visiting Koyasan
Rhonda from Travel yes please
Japan has a rich culture with centuries old traditions and a great way to experience this first-hand is by visiting Koyasan.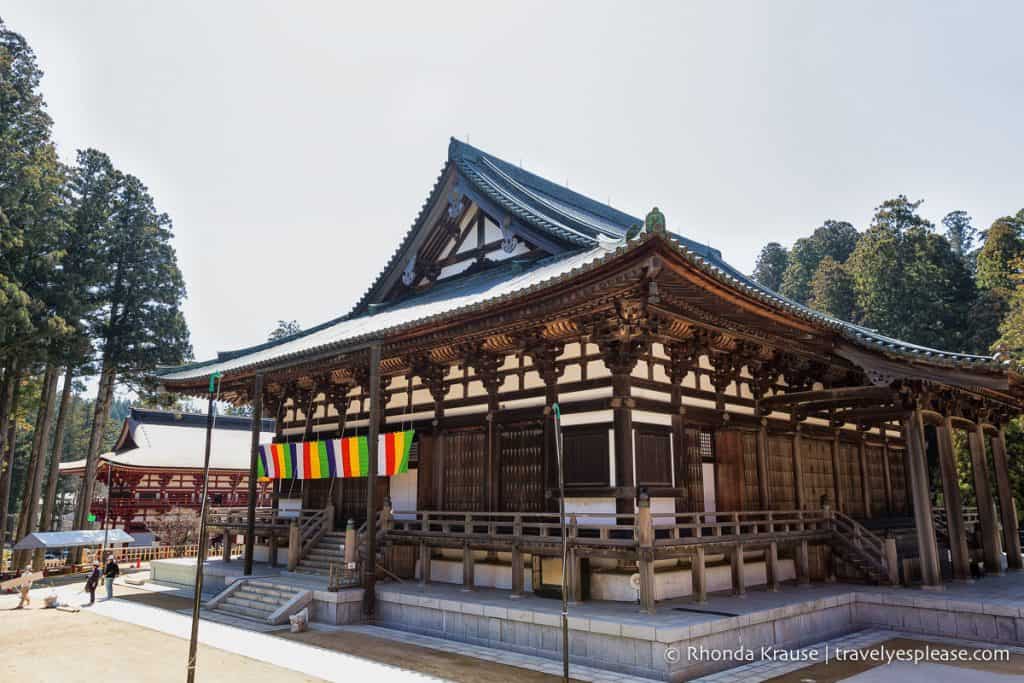 Koyasan is a sacred mountain and active monastic settlement in the Wakayama Prefecture of Japan. There are over 100 temples and about half of them offer overnight accommodations for visitors.
During a temple stay, visitors get a glimpse into the traditional lifestyle of a Buddhist monk. Thoughtfully presented vegetarian meals are served and guests are welcome to attend the morning prayer service.
The guest rooms in a temple are traditional in style with sliding doors and a tatami mat floor. Each night a monk will come to lay out a Japanese style futon for sleeping on the floor.
The cultural experience of a temple stay is further enhanced by visiting some of Koyasan's most spiritual sites like Kongobu-ji, the head temple of Shingon Buddhism, and the mausoleum of great Buddhist monk Kobo Daishi.
Arcade Hopping in Akihabara
Sean from LivingOutLau
If you are visiting Japan, then you mustn't miss its thriving capital, Tokyo. A city known for its amazing nightlife, interesting history, and delicious cuisines, Tokyo has some amazing attractions you cannot.
One of my favorite experiences in Tokyo is arcade hopping in Akihabara. For anyone unfamiliar with the neighborhood, Akihabara is known as the electric town in Tokyo. Anyone strolling down the streets of Akihabara will inevitably notice the electronic megastores, catchy neon signs, and a ton of multi-story arcades.
The arcades in Akihabara are unlike the western counterparts such as Dave & Busters, which doubles as a bar and only contains one level. The arcades in Tokyo are unworldly. I am talking about 7 stories, thousands of machines, and patrons spending hours to days in these complexes. Well, I don't really blame them. The arcades in Tokyo contain a wide variety of machines, and anyone visiting will definitely find something suitable for them.
There are several mega-arcades in Akihabara, but the most famous ones are the 4 huge SEGA complexes that dot the neighborhood. Many of these arcades are open 24 hours a day, making them some of the best things to do in Tokyo at night!
Tokyo Disney, Tokyo
Emma from Wanderlust and Wet Wipes
While Tokyo is a great place to spend a week exploring, it is also the perfect place to start or end another holiday nearby. We spent 3 days there after a week of family skiing in Niseko and agreed that no trip to Tokyo would be complete without spending a day in Tokyo Disney. There are actually 2 Disney resorts in Tokyo: Tokyo Disney and Disney Sea. With slightly younger kids, we chose Tokyo Disney.
I truly think any time you go to a Disney resort, it is a wonderful chance to be a kid again. If you have kids it is magical to experience the fun and thrills with your own children. If there's one thing Disney does well, it is to create a magical bubble around its parks and keep you safely there until well after you leave. From 3D rides to parades to roller coasters to the iconic It's a Small World After All, there's something for everyone's inner child.
Cherry blossom festival in Hirosaki
Lyn Baker from A Hole in my Shoe
Visiting Japan during the Cherry Blossom Festival is something on many people's bucket list and Hirosaki is a perfect place to view the Cherry trees, also known as Sakura trees.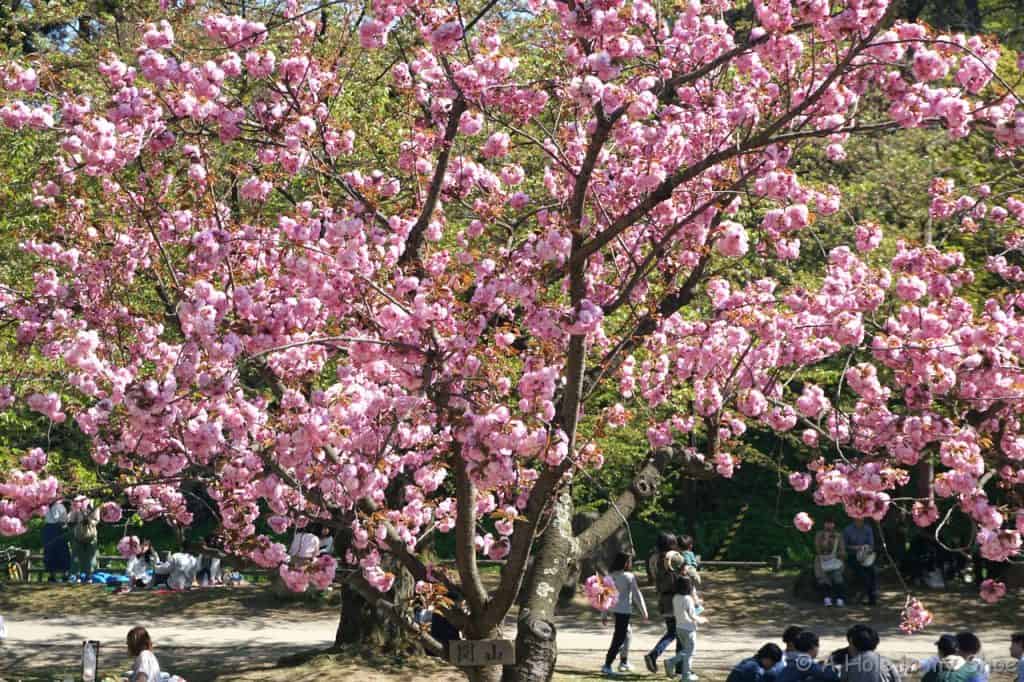 Japanese people and tourists alike wait in anticipation for the cherry trees to come into bloom. Over 2,000,000 people visit the Hirosaki Cherry Blossom Festival held annually in the grounds of Hirosaki Park in Aomori Prefecture, located in Japan's north. From late April to early May each year Hirosaki becomes one of Japan's top locations for hanami, or cherry blossom viewing.
Some of the parks 2,600 trees are over 300 years old and includes more than 50 varieties of Sakura trees. The dynamic setting of the castle surrounded by cherry trees is spectacular as the location is at the foot of snow-capped Mt Iwaki which makes the perfect backdrop.
Walking through the Sakura trees is like walking through a wonderland. Enchanted by the variety of displays of pink blossoms of the cherry trees, visitors can paddle a small boat to view the blossoms reflecting off the moat or wander the grounds to see the carpets of fallen blossoms. Viewing at night time when the Sakura trees are lit up adds drama to their natural beauty.
The Cherry Blossom Festival has music, a commemorative parade, hundreds of food stalls and fireworks. You can walk to Hirosaki Park from Hirosaki Station in 30 minutes or catch a bus which takes about 15 minutes.
Jigokudani Monkey Park, Nagano
Lora from Explore with Lora
If you're looking for a bucket list wildlife encounter in Japan then check out Nagano's Jigokudani Monkey Park. It's home to an adorable troop of a troop of Japanese macaques who bathe in the natural hot springs in the park. They are the only monkeys in the world known to do this!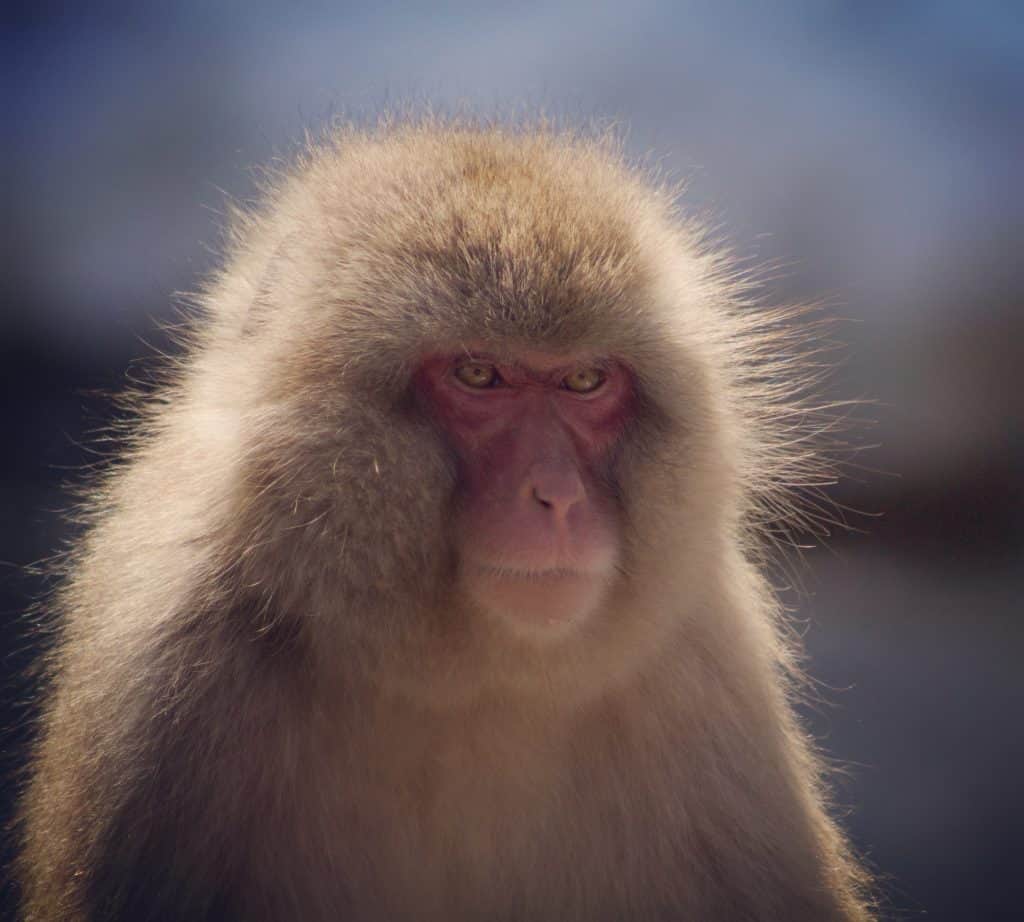 The park started in 1964 as a conservation area to give the Japanese Macaques a refuge in their natural habitat. The monkeys are still there to date, and visitors can go to observe them bathing in the beautiful springs.
The monkeys live in Jigokudani yeah round, but the best time to see them bathing in the hot springs is during winter. They love to keep warm this way, and the backdrop of snow makes for a magical setting.
Sumo Wrestling Tournament
Matilda from The Travel Sisters
One of the best experiences to have when visiting Japan is watching sumo wrestling at a tournament. Professional sumo tournaments are held in Japan six times a year – three times in Tokyo and once a year in Nagoya, Osaka and Fukuoka. Each tournament runs for 15 days starting on a Sunday and ending on a Sunday. Tickets for each day of the tournament go on sale about a month before the first day and can be purchased online.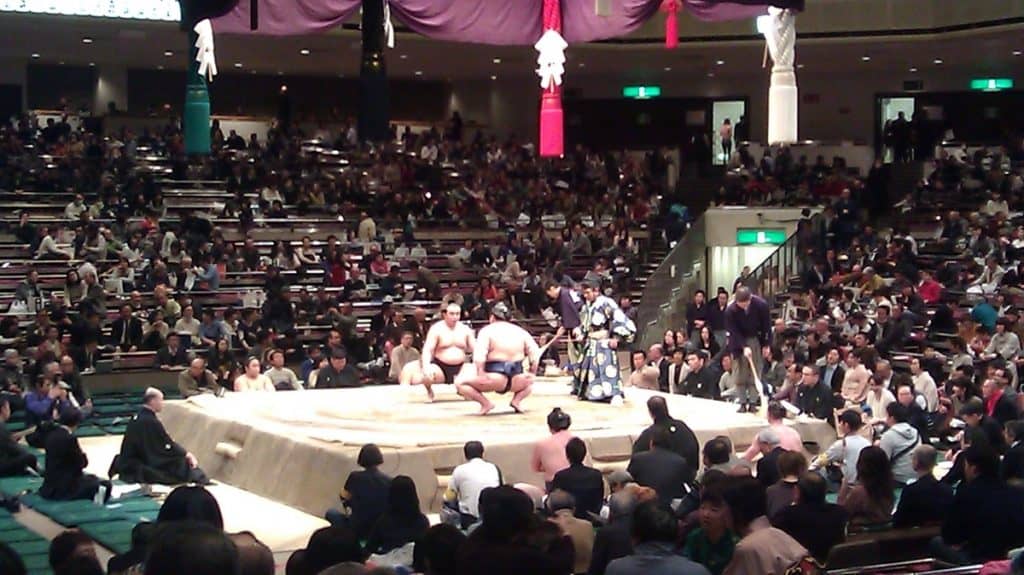 Each tournament day is long starting with matches in the morning between lower ranked wrestlers and ending with the highest ranked wrestlers. Most spectators don't show up until mid-afternoon in time to watch the higher ranked wrestlers compete and the crowd becomes more animated and vocal as the day goes on cheering for their favorites.
The actual wrestling part of each match is short (usually less than a minute). Most of your time will be spent watching traditional rituals and ceremonies (such as singing and tossing salt) making it an interesting cultural experience.
Nabano No Sato Flower Park, Nagoya
Supriya from Funtravelog
We timed our visit to Japan to see sakura in bloom and visiting the grand Nabano No Sato Flower Park turned out to be an ideal accompaniment to our cherry blossom viewing excursions.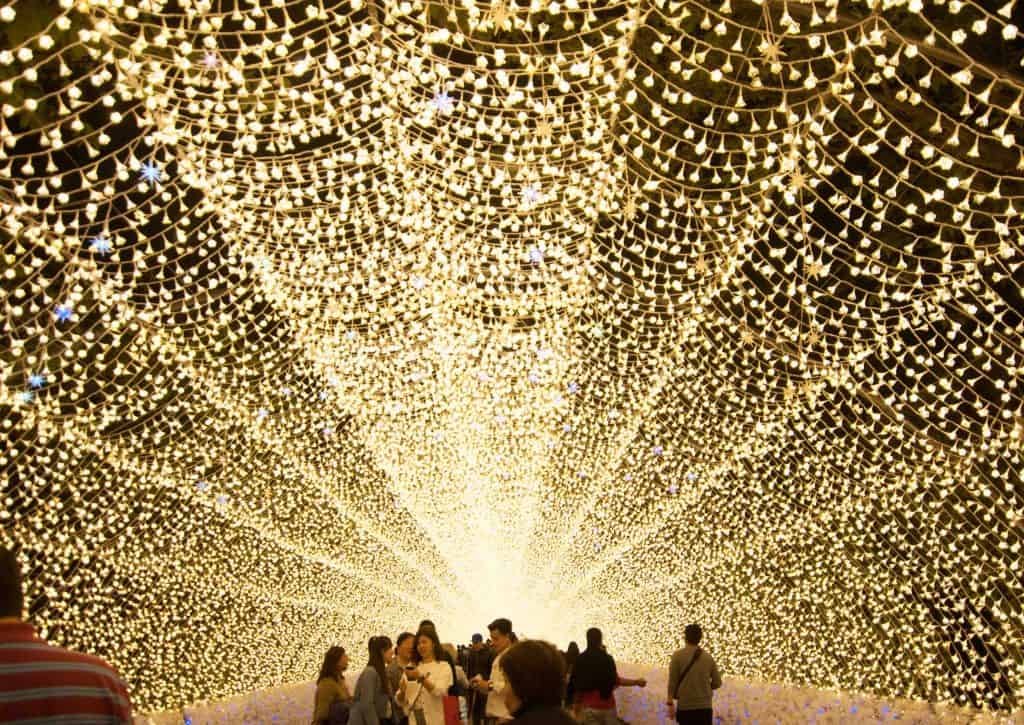 The park is located in the Nagashima Resort near the town of Nagoya which is well connected by trains and buses. From the Nagoya station, it is easy to take timed buses that drop visitors off directly at the resort. Since we had the JR pass, we made a quick half-day trip to visit the park from Kyoto.
I must admit that we first learned about this place on Instagram – the illuminated 200 meter long floral tunnels made for an inviting sight. The park can be visited from spring to autumn, and a variety of flowers are on display in each season. In the spring, the highlights were tulips, plum, weeping plum, maple, and cherry blossom trees.
A visit in the second half of the day is especially magical. That way one can see the flowers in daylight as well as under thousands of lights. There are a few restaurants inside the resort as well, and the staff runs illumination shows at regular intervals too. The sheer sight of massive flower fields, tunnels, mazes, and walkways are sure to impress travelers of every age group. 
Sharing is Caring! Pin this article to save for later.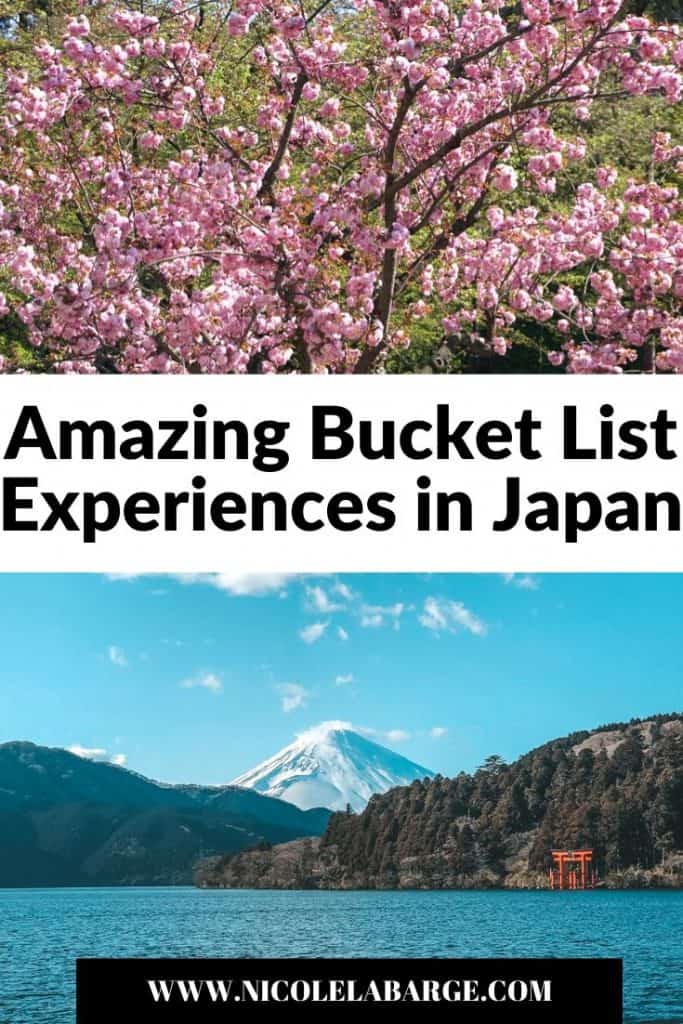 Continue Reading More about Japan on my website:
What to buy in Japan -Souvenirs
Tokyo Facts: Interesting Facts about Tokyo, Japan
Japan Facts: 50+ Fun Facts about Japan
An Incredible Two Weeks in Japan Itinerary from an expert
31 Famous Landmarks in Japan and Japan Monuments
Recent Posts