Valparaiso graffiti street art
Valparaiso is a small town with a big feel about two hours outside of Santiago, Chile.  Valparaiso graffiti street art is abundant and incredible.  I spent three days exploring Valparaiso.  Here are some of my favourite photos of the graffiti street art in Valparaiso.
Check out my post on the 12 Safest Countries in South America to see where Chile ranks!
They even paint the sides of apartment blocks and the paintings can be seen around the city.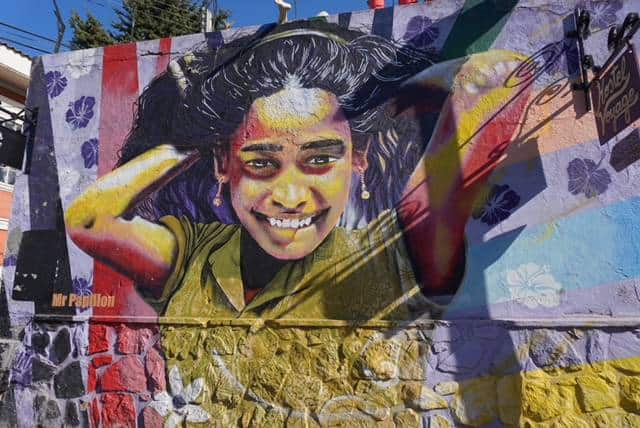 One of my favourite pieces of street art is the piece above of the girl smiling.  I think it is a beautiful piece with lots of energy and movement.  This is by French Painter, Mr. Papillion.  Its so warm and captivating I could stare at it all day.
On my last day in the city I took the funicular up to the old city which is a UNESCO World Heritage Site.  Valparaíso's historic quarter is located on Cerro Alegre and Cerro Concepción.
If there is only one place you go in Valparaiso this is it.  You can walk along the esplanade and up and down the hills to see the street art.  Some of the famous ones you've probably seen before can be found there.
I really don't think I can explain just how much graffiti street art there is in Valparaiso as I have hundreds of photos.  Check out some of my favourite street art.
You can also find great street art in Rio de Janeiro and Colombia.  You can also do a street art tour in Santiago.
Beethoven's piano stairs found on the aptly named Beethoven Street.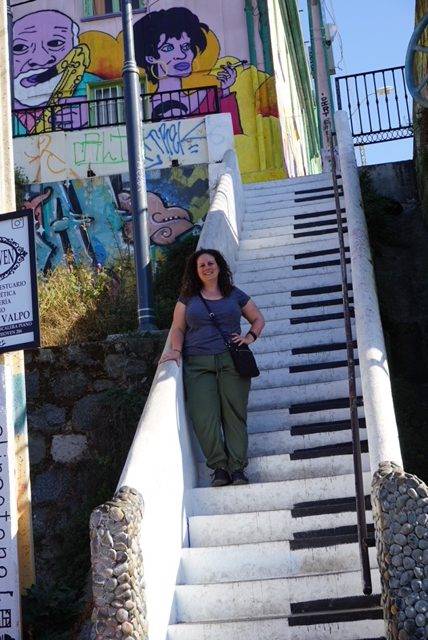 We are not hippies, we are happies by ART + BELIEVE a UK based couple from Brighton.  This is one of the more popular murals in the city and people queue to have their photo taken there.  The artist said "his [piece] became the mantra of our travels and remains so today. The words originate from a very kind Chilean man who took us in whilst in Valparaiso. It captivates the colour, vibrancy and the philosophy of the Chilean people today, now free of dictatorship."
I have to say I loved exploring Valparaiso and seeing all of the graffiti street art – it was around every corner!  It made it worth it travelling up and down the hills.  It also made the city so colourful and interesting.  I highly recommend visiting Valparaiso.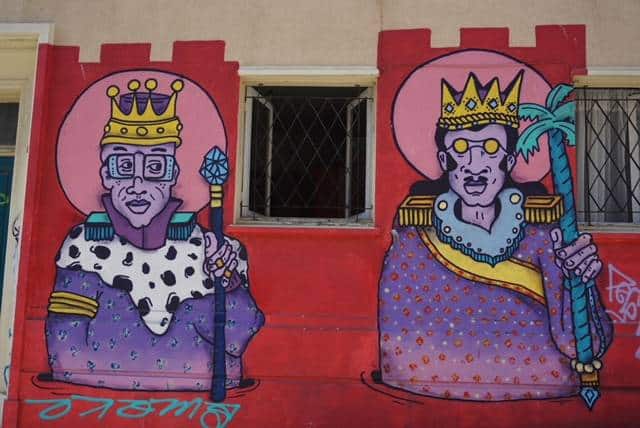 Where is the best graffiti street art in South America?  Valparaiso for sure.  There is so much mural street art here and it is a good representation of South American art.  And there are so many graffiti artists that live in South America.  You can also check out this gay guide to Valparaiso.
Recent Posts