Horseshoe Bend Hike and Horseshoe Bend Trail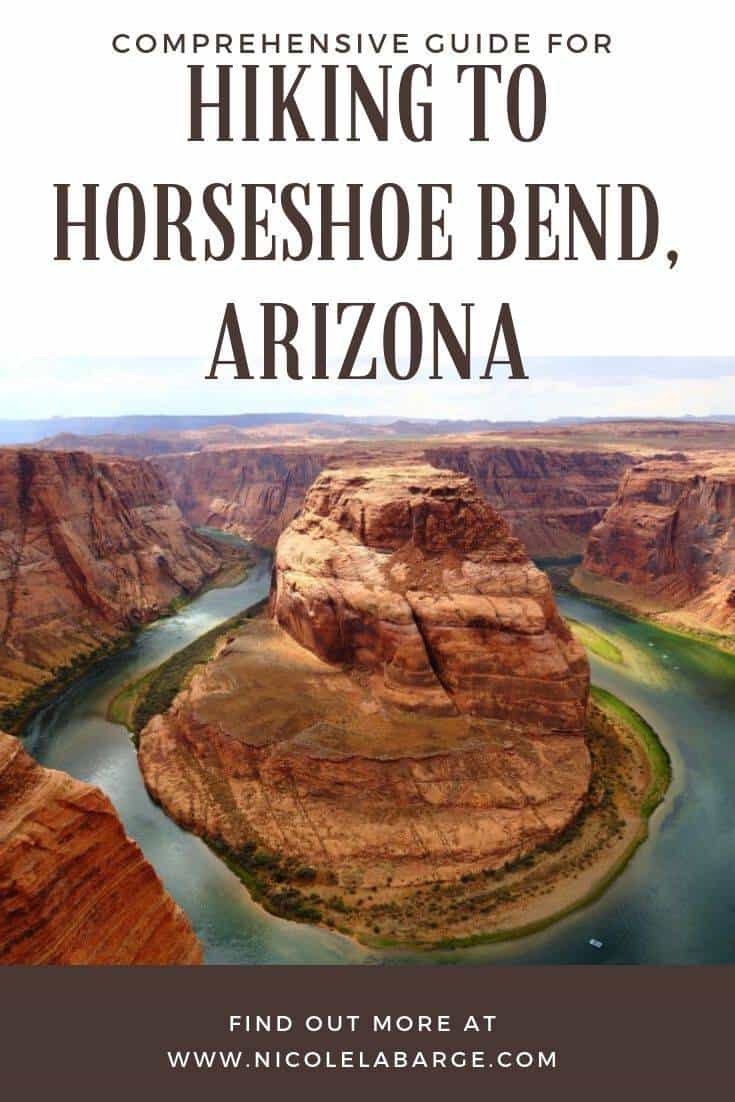 Horseshoe Bend has become popular in the last few years due to Instagram and the Horseshoe Bend Hike is definitely worth it. Horseshoe Bend is one of the most photogenic hot spots In Arizona of the Colorado River and Grand Canyon. Located near Page, Arizona, this iconic bend is easily accessible from U.S. Route 89.
How much does it cost to visit Horseshoe Bend?
Horseshoe Bend is an attraction that is managed by the city of Page. This means that your national park pass will not be accepted here.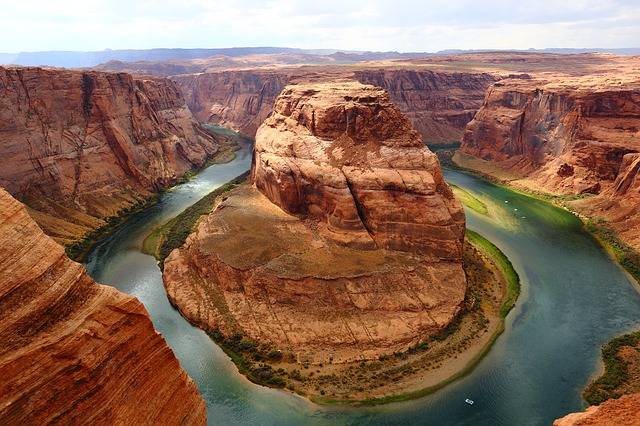 However this site is only $10 per vehicle. There is a parking lot there and about 10 long drop toilets. There is no food or drink to buy here so make sure to bring your own water.
On the way in we were told to have at least a gallon of water between the 4 of us but yet they do not sell water at the site or in the parking lot.
Keep in mind, about once a week someone is sent to the hospital from this trail mostly because of the heat.
The Hike to Horseshoe Bend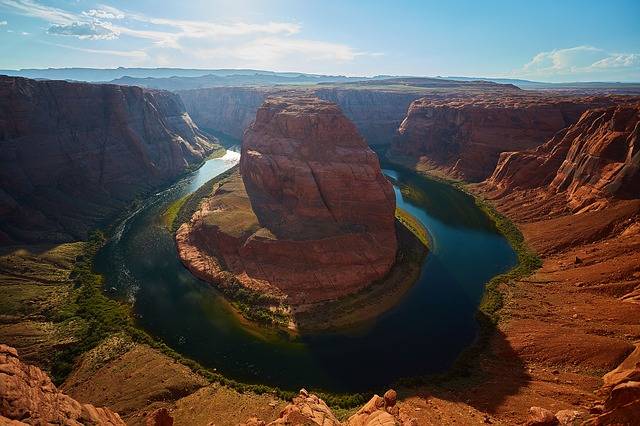 The hike itself is a 3/4 mile walk from the parking lot to the edge of the cliff where you can take photos. In total, Horseshoe Bend Hike is a 1.5 mile hike loop.
The hike itself is not hard, it is the heat that will kill you. From the car park you must first hike up a sandy hill and once you get to the top you will then hike down 200+ feet to the bottom where you can take photos of Horseshoe Bend.
Horseshoe Bend Trail is made up of sand, gravel, and a small portion of paved pathway. This makes the path uneven under your foot and a bit unstable. Take your time getting down.
The sand gets incredibly hot on the Horseshoe Bend Trail. I was wearing Tevas sandals and my feet were in pain as I sank into the hot sand while walking.
The hike itself is not that hard and shouldn't cause a problem for anyone with normal physical activity levels. Its really the heat you have to be conscientious of while visiting.
There is no shade along the way and I was really surprised about this. I was looking around to see if they were doing any work on this around but I couldn't see anything. I really think the city of Page should improve this.
As I mentioned before you start in the car park and then climb up for about 5 minutes. At the top there is a small canopy that everyone who has just come up is huddled under trying to get some shade. I really think the city of Page needs to improve this.
I did the entire hike in 45 minutes there and back with a couple of breaks because of the heat.
I took a bunch of photos at the bottom overlooking Horseshoe Bend. It is simply stunning and a must for anyone who is visiting Arizona.
Once you get down to the viewing platform there is a part with railings and another part without railings. I took a bunch of photos in the area with the guard railings. There were honestly too many people in the section without guard rails for me and my vertigo.
Please be careful when viewing as there are a lot of people there and a lot of people trying to take photos. I preferred to stay in the part with the railing.
Dogs are also welcomed on Horseshoe Bend Trail as long as they are on a leash. Again, I would be careful at the edge as there is no railing.
When we arrived at 3pm the temperature had just hit 100 degrees. This is not so bad since it is a dry heat but I have to say the sun is at its strongest and just having that searing down on you is not fun.
This is a desert hike so make sure to bring plenty of water, sunglasses, sunscreen, adequate hiking shoes, and a hat. I saw a few people with umbrellas for shade which is also a smart idea.
Even though this is a fairly short hike, without adequate water, you will find that the heat will take a lot out of you. Please, be prepared!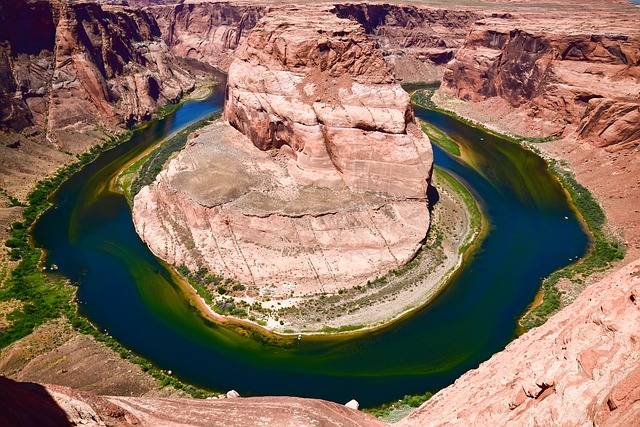 How to get to Horseshoe Bend
Horseshoe Bend is very easy to get to from either the north or the south.
Getting to Page, Arizona
If you are flying into Phoenix or Mesa you then have a five hour drive north.
You will drive north on U.S. Route 89 for about 130 miles until you see the sign on your left prompting you to turn into the Horseshoe Bend scenic area. It is before you hit Page.
You can fly into Las Vegas, Nevada as well and its a five hour drive east to Page, Arizona.
If you are coming from Utah you will head southeast into Page on U.S. 89.
From Page
From Page, AZ you will head south on Route 89 for about 5 to 6 miles.
Look for the signs that say Horseshoe Bend. It is well sign posted.
There is a gate for you to pay and then a large parking lot. From there you walk to Horseshoe Bend.
Tips for photographing Horseshoe Bend
One of the attractions to Horseshoe Bend is how photogenic this place is. With the right lens, lighting, and equipment you can capture a truly amazing shot.
Camera and equipment: make sure you have a camera with a wide angle lens to capture all of horseshoe bend.
Time of year: I visited in July and it was packed there. I think the popularity of the site has increased a lot over the last few years thanks to Instagram
If you are making the trip to Page, AZ to capture shots of the iconic Horseshoe Bend, you might as well stay a while longer and visit some of the other incredible outdoor activities this area has to offer. Here are a few suggestions;
You can also check out Antelope Canyon which is 15 minutes down the road or other things to do in Page, Arizona.
Conclusion: How to get the most out of your visit to Horseshoe Bend
So lots of people ask me – "Is it worth it to visit Horseshoe Bend?" My answer is absolutely!
This is one of the most stunning places in the Southwest. To think that this has been carved out over thousands of years is just amazing.
Don't let the crowds dissuade you from visiting. Even though there were a lot of people there I was easily able to take photos and enjoy myself.
If you don't want to do the hike you can actually see Horseshoe Bend without doing the hike it is possible to see it from the top of the hill. You just get a better view if you go all the way down. Its up to you!
Have you been to Horseshoe Bend? Would the crowds put you off from visiting?
Sharing is Caring! Pin this article to save for later.
Continue Reading more articles on this site:
Recent Posts