Visiting Iceland in April is a great time to visit!
Are you planning a trip to Iceland in April?  April is a great time to visit Iceland even though the weather is still relatively wintery with cold temperatures, rain and snow. However, the increasing daylight hours mean that there is an occasional warm day.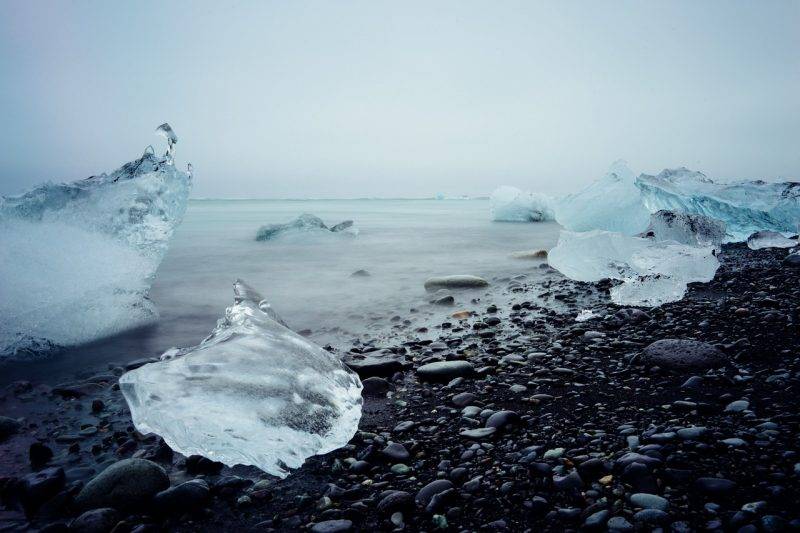 Some of the benefits of visiting Iceland in April include:
Cheaper accommodation! Visiting in April is a cheaper alternative to the more popular months as many hotels and accommodation places can be up to 30-50% cheaper than the popular tourist months.
The Northern Lights can still be seen – specifically in the first half of the month.
Be able to experience the low crowds and affordability of the winter months while having increased daylight hours and many summer activities open.
Iceland weather in April – the temperature in Iceland in April
Wondering how cold it is in April in Iceland?  Well the good news is that the low of 30F is really the overnight temp.  During the day in April in Iceland, weather averages around 40F.  Towards the end of the month it is reaching between 45-50F.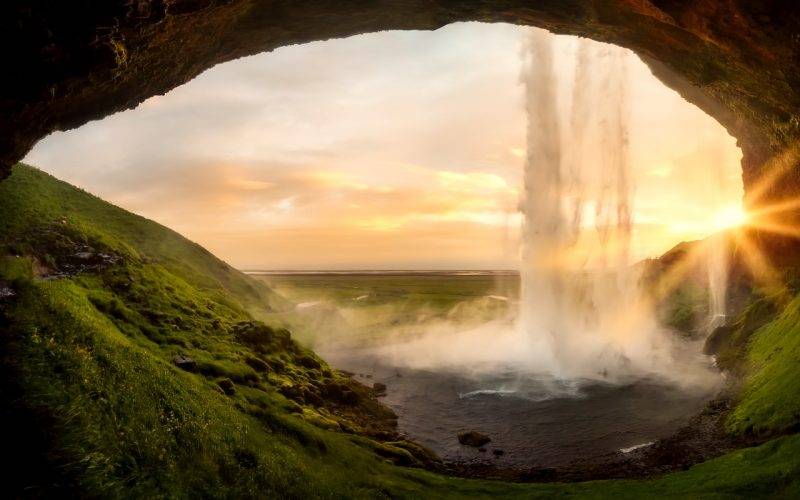 Is April a good time to visit Iceland?  Yes!  The Iceland April weather can be unpredictable.  Just come prepared for the weather and you should be fine.  There are so many positives to visiting in April – Puffins and Northern Lights and Festivals that it is worth it.
14 Amazing Things to do in Iceland in April
Visit Reykjavik in April
Reykjavik is Iceland's largest and capital city. Reykjavik is also the most northern capital city in the world, is located just 2 degrees south of the Arctic circle. There is always something to do, but especially in April!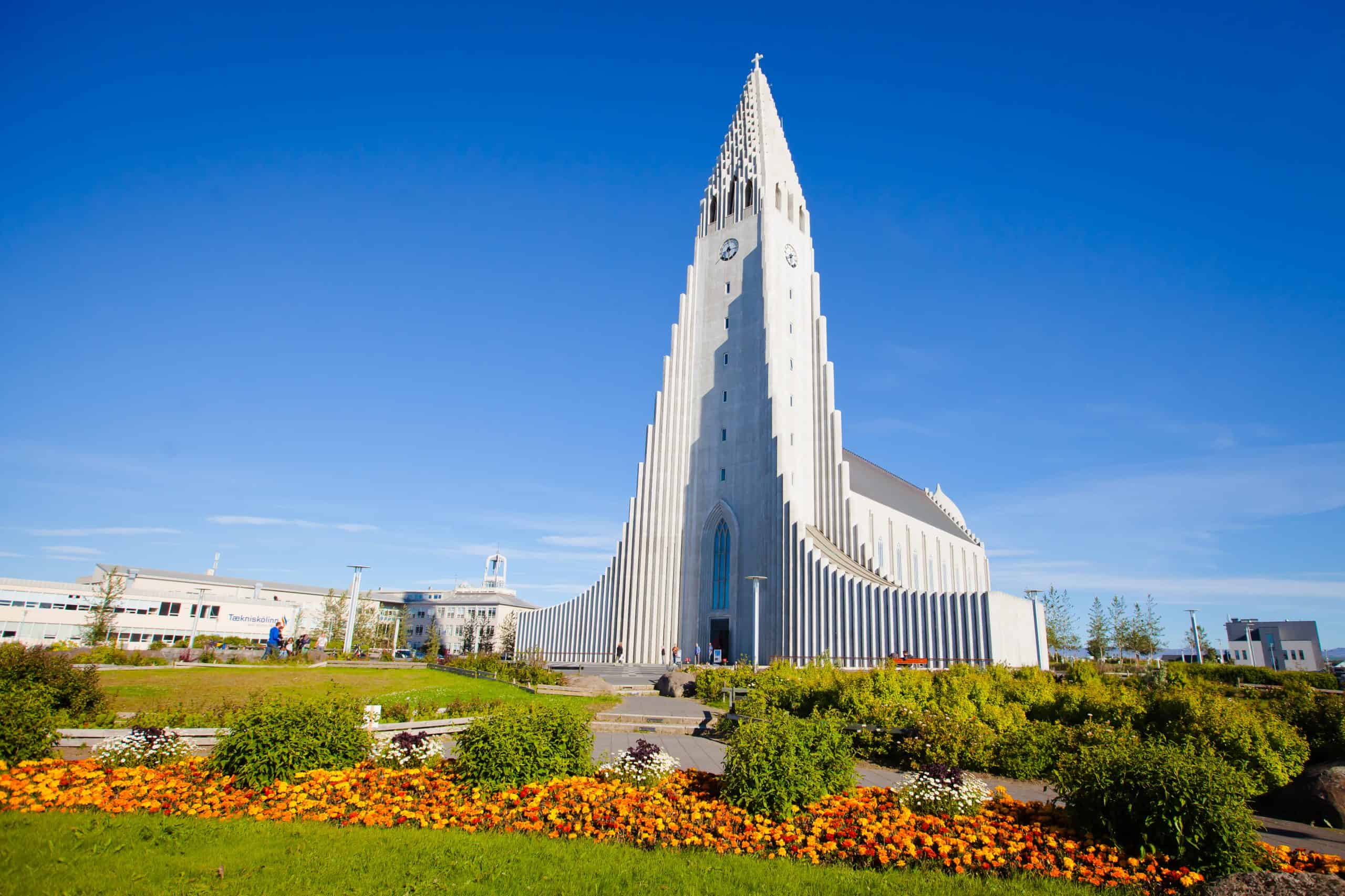 Things to do in Reykjavik in April:
Food Tasting Tour: experience Icelandic food with a half-day 4-hour walking tour through the capital with a local visiting 13 different local dishes.  Or you could check out this popular beer tour.
Puffin Season: over half of the world population of Puffins are located in Iceland, and Reykjavik is also known as the capital of puffins. April is the beginning of the puffin season where they come to land to breed and are most likely to be seen by tourists and locals!
Hot Springs: hot springs are a very big tourist attraction for Iceland, so no surprise that there are many to choose from around Reykjavik. The most popular and widely known hot spring is the Blue Lagoon. Although not close to the Reykjavik city center, located just less than an hour out, it makes for a perfect day trip – and one you won't forget!
Bike Riding: bike riding and bike tours are actually quite popular in Reykavik and due to the warmer weather and less rain and snow in April, this calls for a great time to hire a bike and tour the city.
Whale Watching Tour
Iceland is one of the best locations in the world to go whale watching. This is due to the large variety of marine life in the Icelandic oceans. The summer months are the best time to go whale watching as over 20 species of whales can be seen in the waters. April is the beginning of summer in Iceland, making it a great time to go on a whale watching tour!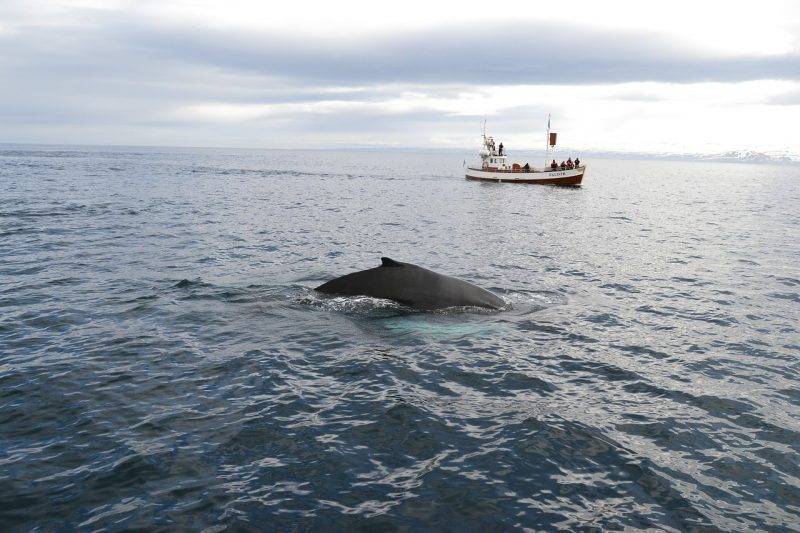 Whale watching tours are very popular and high in demand during this time of year, so there are many to choose from and many tours departing each day. However, because this is the beginning of the whale watching season in one of the best whale watching countries in the world, some in advance planning may be required to ensure you get a spot on a boat.
Getting to experience this tour and get the chance to see these beautiful creatures in their natural habitat is a once-in-a-lifetime opportunity and something many people will struggle to forget. Whale watching tours depart from almost all coastal cities in Iceland and tend to go for a few hours with a 97% guarantee of seeing a variety of whales.  This is the tour I took while I was there.
Check out the Puffins
Iceland is known as the worlds' capital of Puffins, with over half of the world's population of puffins located in Iceland. Puffins are sea birds and spend the large majority of their lives in the ocean where they are excellent swimmers and can dive as far as 60m down into the ocean.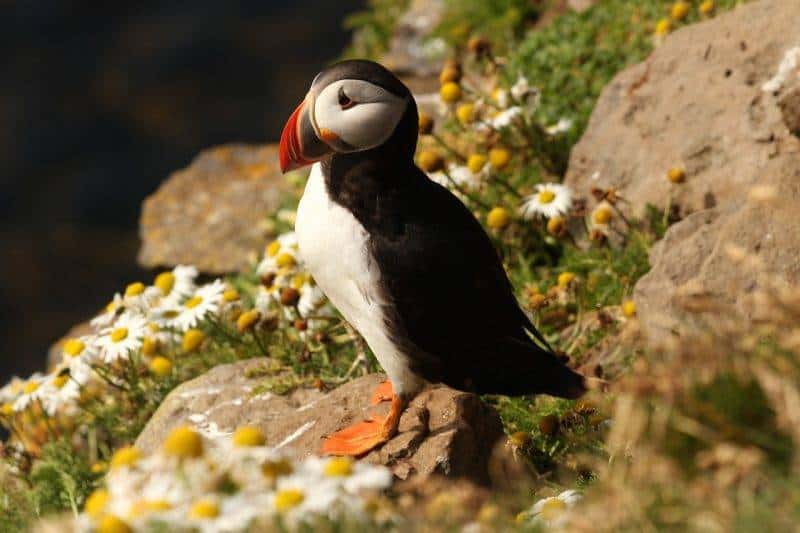 The month of April is the beginning of the puffin season which goes through to September, where they migrate to the coast of Iceland to begin breeding. Therefore, April is one of the best months to be able to see puffins up close and get a glimpse of one or a group of these unique creatures.
Go on a Golden Circle Tour
The Golden Circle is arguably one of the most popular tourist routes in Iceland. This route includes three major tourist attractions in southwest Iceland. The route is a loop drive where you begin in Reykjavik, travel through all three destinations before looping back to Reykjavik – hence the name 'Golden Circle'.
The three locations included in the Golden Circle are the Þingvellir National Park, the Geysir Geothermal Area and the Gullfoss waterfall. All three of these places offer a unique experience and historical or geographical significance to Iceland. The Golden Circle is one of the biggest attractions in Iceland, bringing in large amounts of tourists each year due to the vast uniqueness and beauty of each location.
April is a great time of year to visit the Golden Circle due to the warmer weather approaching and longer daylight hours available. Due to the close proximity of each location, it is easy to complete the route all in one day. Also due to the better weather and road conditions of April, it is much safer to complete the route on a self-guided and tour to give you more time at each location and more freedom to explore however you would like.
However, if self-guided tours aren't your thing, there are many tours on offer which also include a knowledgeable tour guide informing visitors of all the must know facts of the route.  This is the one I took around the Golden Circle.
Celebrate the First Day of Summer
Icelanders hold out for anticipation for summer to arrive after an often long and torturous winter filled with snowy temperatures, dark days and miserable rain. However, the first day of summer which always begins on the first Thursday following April 18th – often comes with winter weather it is still a day of celebration in Iceland and is accompanied by parades, local fairs and local celebrations.
The first day of summer in Iceland is one of their oldest holidays and traditions dating all the way back to the Old Norse Calendar. In fact, it is such a strong tradition and much loved celebration that for a very long time there was an annual church service each year to bring in the first day of summer, there is a country-wide festival to celebrate the day and it is considered a public holiday.
See the Northern Lights
Its no surprise that the northern lights are a large tourist attraction for Iceland and often bring in many visitors per year hoping to get a chance to see the beautiful dancing lights. The northern lights are best viewed on clear nights in complete darkness, which is why the winter months are the most popular times to see the northern lights.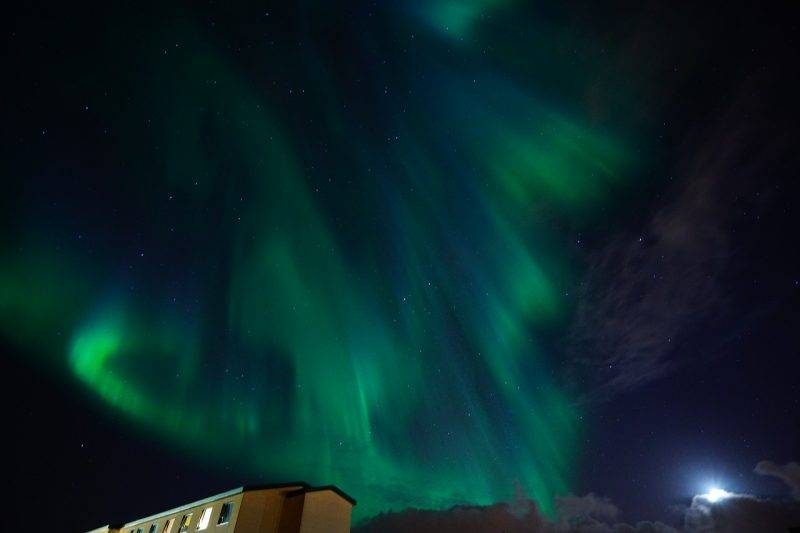 Although it is not guaranteed, April is a month where the northern lights can still be seen and you can even take a tour from Reykjavik! Because a clear complete dark sky is required, it is more common to see the northern lights in the first half of April compared to the second. This is often the last chance to see the northern lights until winter starts back up again in September.
One of the most important things to buy for your trip to Iceland is a great pair of hiking boots.  Check out my post on the best hiking boots for Iceland.
The Blue Lagoon
The Blue Lagoon located 40-minutes out of Reykjavik is an iconic geothermal hot pool in Iceland and one of the biggest tourist attractions. The hot springs opened in 1976 and has grown much popularity since both with locals and tourists.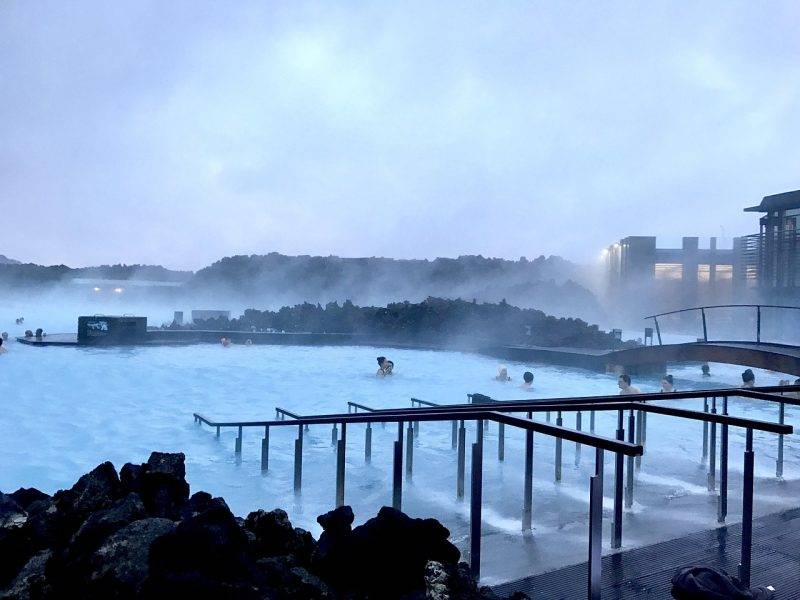 Although these hot spring pools can be found all over the world and are of much enjoyment, Iceland's Blue Lagoon is one of the most popular. The water in Blue Lagoon is believed to be beneficial for both health and skincare. The giftshop located at the Blue Lagoon also sell many skincare and spa treatments to further the benefits of the hot springs.
The Blue Lagoon is one of the biggest tourist attractions, hence, it is a highly recommended activity to do on any trip to Iceland.  I also recommend buying your ticket in advance so you do not miss out!
Drive the Ring Road
The ring road is a single route that travels all around Iceland visiting many of the great attractions that Iceland has to offer. The road is the longest road in Iceland coming in at over 1,300km.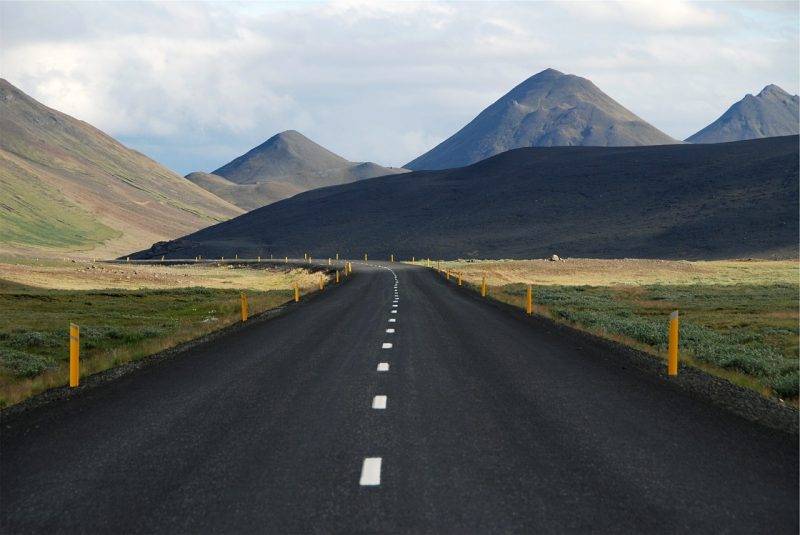 The road is primarily paved, making it a relatively safe road to drive although, during winter months there could be potential road hazards due to snow and blizzards. Due to April being right towards the end of winter and the beginning of summer, this is less likely to be an issue.
Because of the many beautiful attractions along the way it is recommended to do the trip over the course of a week although, even longer would probably be even better! Attractions that are along the ring road include the Reynisfjara Black Sand Beach, the Skogafoss Waterfall, Jokulsarlon Glacier Lagoon, Dettifoss Waterfall, Hvitserkur Basalt Stack, many beautiful small towns and villages and much more.
If you are considering renting a car in Iceland I highly recommend Discover Car for the cheapest option.
Horse Riding Tours
Iceland has its own breed of horses – the Icelandic horse, and they are undeniably beautiful and among the most famous residents in Iceland. They are much smaller than the regular horses and are well-known for this, they have an unusually small stature with short legs but also appear to be very muscular.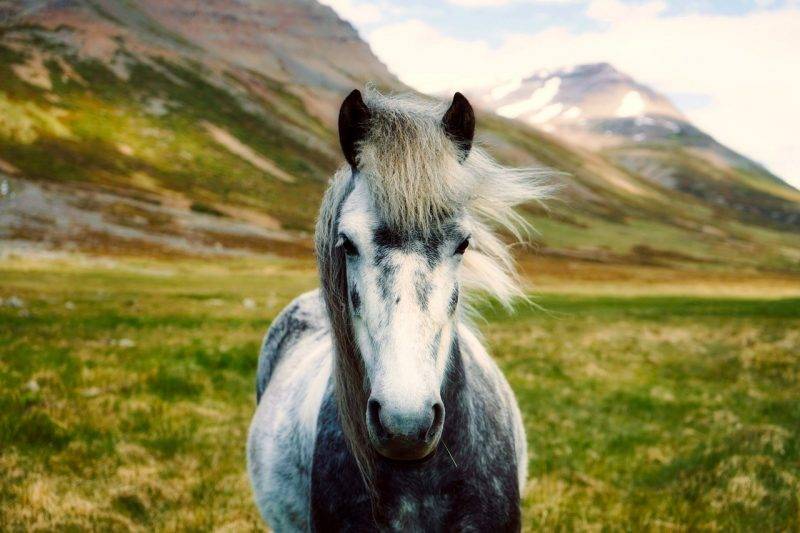 These horses are also known for their ability to be resistant against the harsh Icelandic winter temperatures. Due to the uniqueness of the Icelandic horse, breeding outside of Iceland or with other horse breeds is strictly forbidden and in fact, one that leaves the country cannot return. This is in an attempt to keep the unique and pure genetics strictly to this horse breed.
Because of these special horses, it is no surprise that horse riding is a popular activity to do, both with locals and tourists. There are many horse riding tours available around the nation – both for beginners and expert level of riders.  A horse riding tour will take you through fields with beautiful landscapes on these truly magnificent creatures unique to anywhere else on what will truly be a wonderful and unique experience to Iceland.
Glacier Hiking Tours
Iceland is a land of many frozen landscapes, icebergs and many, many glaciers. The glaciers are one of the biggest attractions in Iceland, bringing in many tourists from all over the world each year.
Luckily for tourists, these glaciers are accessible all year round even in the warmer summer months. The glaciers are much more impressive during the winter months – unsurprisingly. Due to April being on the cusp of winter and summer, it makes for a great time to visit the glaciers.
There are many glaciers around the country, all accessible year round, all uniquely beautiful and all available for hiking. One of the more popular glaciers to visit and hike is Sólheimajökull. This is for a few reasons, including it is perfect for those beginners who aren't as experienced in hiking, it is located just outside of Reykjavik which is perfect for those staying in the capital and it has absolutely beautiful landscapes which would make the hike well worth your while.
Here is a great tour to visit the glaciers in Iceland.
Go Caving
Ice caves are on the biggest attractions in Iceland, bringing in many tourists from all over the world each year. Water runs beneath or through the glaciers which form the famous caves. This happens each year, meaning new and difference caves are formed each year, making every year different from the previous and every experience new and unique to any other time.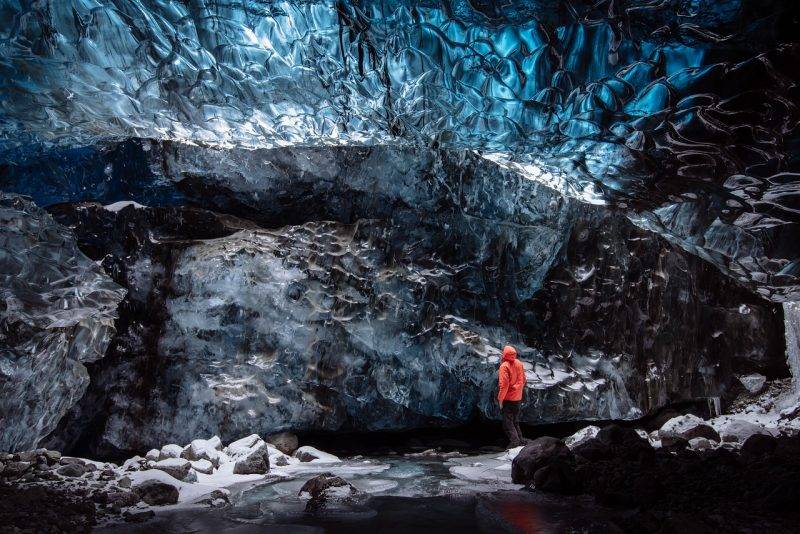 Because the caves are formed during the colder months the last opportunity to view the cave is in mid-April, due to the warmer weather causing the ice caves to melt away and become too dangerous for exploration.
If you are visiting Iceland in April, the first few weeks before summer has hit is the only time the caves are accessible. Due to the many potential hazards and dangers that come along with ice caves, you can only visit the caves by being accompanied by an experienced tour guide, to make the experience as safe as possible.  I really enjoyed this tour.
Snorkeling Silfra Fissure
Among the Þingvellir National Park there is a fresh water fissure, Silfra which is definitely a must visit on any trip to Iceland.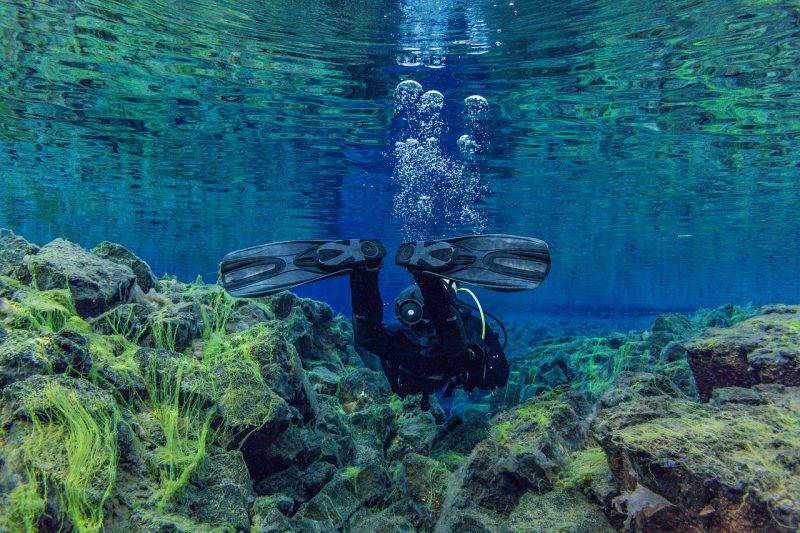 The clear water and beautiful underwater scenery are breath-taking. The Silfra is one of Iceland's best and biggest wonders, it is also considered to be one of the greatest dive spots in the world.
The water travels underground and thus remains at a steady 2-3 degrees, the water also is unaffected by the exterior weather temperatures and does not freeze over during winter months. It is open year-round.
One of the biggest attractions is the beautiful crystal-clear water, in which you can see up to 100metres allowing many beautiful sights including the walls and bottom of the fissure. Due to the popularity of this fresh water fissure, it is a popular spot for snorkeling. There are many tours available for those wanting to snorkel and all of them provide an incredible experience.
I went with this company and loved it.  You can also check out my post on the best snorkel masks for travel.
Celebrate Easter in Iceland
Easter is a celebrated national holiday in Iceland. Most places in Iceland close their doors on Thursday, Friday, Sunday and Monday in favor of celebrating the loved holiday.
Although some restaurants remain open, many stores close their doors. Partying is strictly prohibited on Good Friday and all bars and clubs close their doors at midnight on Thursday and are prohibited to open until after midnight on Good Friday.
Icelandic Easter traditions include the globally loved Easter Egg in which Icelandic candy and a bible proverb can be found within each egg.
Another popular Icelandic Easter tradition is the "Easter Leg" a traditional Icelandic meal consisting of a roasted lamb leg, sugar-glazed potatoes and gravy. This is traditionally served on Easter Sunday and restaurants all over the country serve it. Much like other countries, many church services also operate over Easter.
Skiing at Easter is also a popular activity for many people in Iceland, in which locals travel all over the country to find the best ski slopes. April is towards the end of the ski season in Iceland, so Easter provides a great opportunity to head out on the slopes.
Conclusion:  April in Iceland is a lovely time to visit
I think there are lots of things to do in Iceland in April that you shouldn't let the weather stop you from visiting.  I would do the Golden Circle any day of the year and I think the weather and the moodiness just add to the experience.
Over to you.  Would you visit Iceland in April?  Let me know in the comments.
Sharing is Caring!  Pin this article to save for later.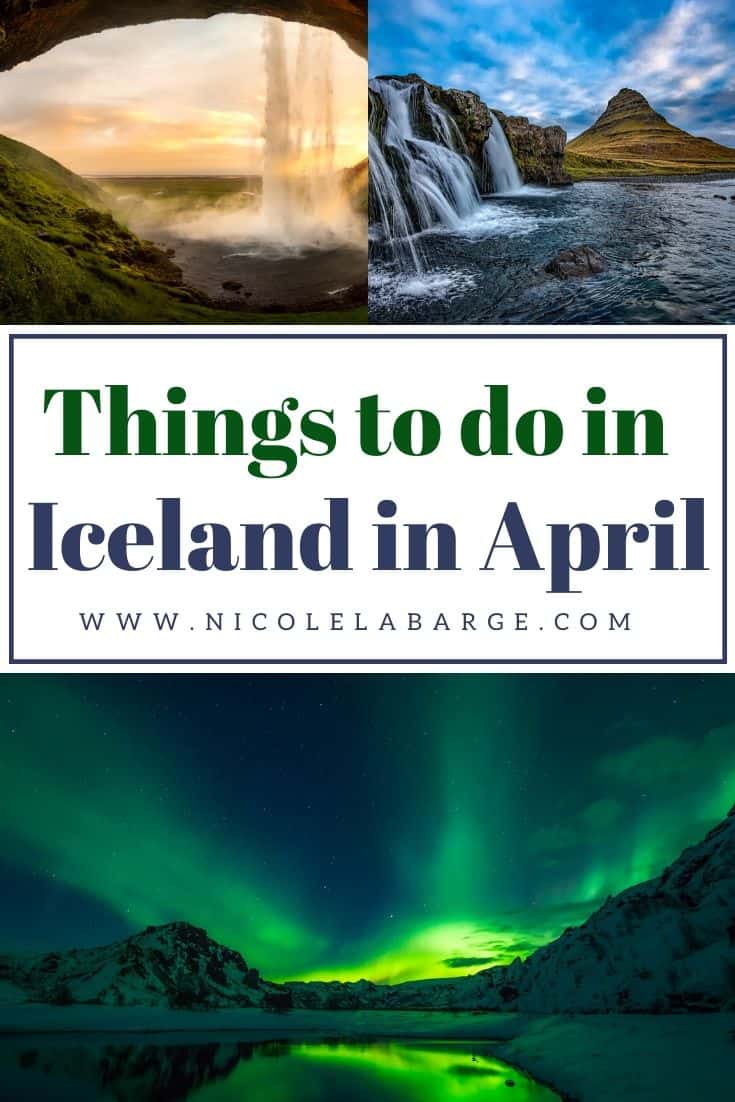 Read more on my site:
Visiting Iceland in May
Recent Posts