Best Hiking Boots for Iceland

What are the best hiking boots for Iceland? If you want to visit the natural landscape of Iceland you will need a good pair of waterproof boots for Iceland.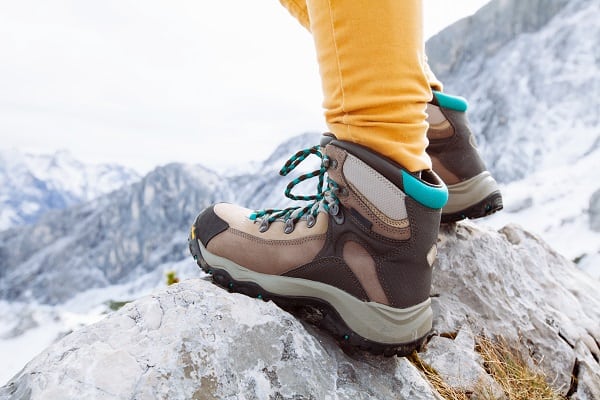 Iceland has grown in popularity in the last few years. You might even say it is one of the most popular destinations in Europe.

And one of the most popular activities in Iceland is to go hiking in Iceland. Iceland is not actually known to have the best weather and there are many hikes that actually require you to hike through water. That's why I have put together this list of the best hiking boots for Iceland.

Choosing the right shoes for Iceland can seem like a difficult task but this list of the best women's winter hiking boots to help you make the right decision for you.

Whatever your price point, there are the perfect pair of hiking boots for Iceland for you! Check out the features of the best walking boots for travel.

I am the queen of finding comfortable shoes – YES, REALLY! To me there is nothing worse than having an uncomfortable pair of shoes on a trip. Can you imagine walking 30,000 steps a day in shoes that don't suit?

That's why I have put together this list of hiking boots for Iceland. You can check out my other travel shoe lists at the end of this post as well.
Hiking Boots for Iceland: What features to look for in Iceland shoes

Waterproofing (an important feature for hiking boots Iceland)

Hiking boots that are labeled as "waterproof" feature uppers constructed with waterproof or breathable membrane to keep your feet dry especially in wet conditions. And a good pair of hiking boots must protect your feet against harsh conditions and that include cold and wet environments on the trail.

Comfort

All footwear should be comfortable in my opinion. If a hiking shoe hurts your feet you are not going to want to wear it. A good and comfortable hiking shoe can reduce stress-related injuries, especially on the foot.

In addition to that, the breadth of the forefoot can greatly influence comfort. The narrower and more shallow the shoes are, it can lead to a higher incidence of forefoot injury. So, when you buy a hiking shoe, it is best that you try it on first and feel if it hugs your feet well but still gives you that comfort.

This is my number one feature I look for in a shoe. I just simply cannot cope with a shoe that makes my feet uncomfortable. I've included hints and tips with each shoe as well so check those out.

Another tip is that you will need to break in each and everyone of these shoes before you go on your trip. Start with wearing them around the house for an hour or two after work. Then go on a short 15 minute walk with them. You should also try to get in a days worth of walking in a pair of shoes too before your trip.

Eyelets – how hard are they to lace up?

Hiking boots come in different types of eyelets such as: D-rings, punched eyelets, hooks, and webbing.

For D-ring eyelets, these are metals and the laces are much easier to adjust than punched eyelets. It is durable but will be more likely to tear out of the boot.

For Hooks, this type of eyelet consists of an open-backed metal river that is attached to the upper can be laced very quickly. Plus, you can easily adjust them than any other types of eyelets. However, the disadvantage of this eyelet is that it provides the least secure form of lacing as compared to other types and has a tendency of bending or breaking especially when it is caught on brush or rubbed against boulders.

For webbing, this is the alternative to metal hooks and the lacing is slightly easier to adjust than with punched eyelets. It also increases the lifespan of your laces by causing less chafing.
Weight of the Shoes

The weight of the hiking boots is an important feature when choosing hiking footwear. A lot of experienced hikers prefer hiking boots or shoes that are lightweight but are solid and reliable.

When you wear a bulkier or heavier hiking boot, the tendency is that it will demand a greater oxygen and energy consumption. As a result, it can hinder performance. So, look for a hiking boot that is lightweight and does not sacrifice performance, protection, and comfort.

Fit

Fit is very critical when choosing hiking footwear. If it does not fit well on your feet, it will not function properly. Some of the benefits of well-fitted hiking boots or shoes are: proper stability and support, protection against foot injuries, comfort, and prolonged wear.
It is very important that when you choose a hiking boot for your Iceland adventure to try it first and see if it perfectly fits your foot.

I've put in whether a shoe is good for a narrow or wide foot.

Best Boots For Iceland In Winter
Best Women's Winter Boots For Iceland
Lowa Women's Renegade GTX Mid hiking boot is known for its comfort and lightness. It is very ideal for day hikes and short haul-weekend pack trips and it is designed to support lightweight packs up to 25 pounds.

Some of the best features of this GTX Mid hiking boot are leather upper, lightweight midsole, and vibram outsole. The renegade nubuck leather upper securely holds your foot in place and reduces strain on the toes, especially during exhausting downhill sections.

Meanwhile, its Monowrap midsole technology reduces overall boot weight, and provides extra cushioning and lateral stability. And the rugged Vibram outsole gives you that non slip protection which makes it ideal for hiking, light backpacking, and other outdoor adventures.

Also, the waterproof GORE-TEX feature of this hiking boot keeps your feet dry and comfortable even in warmer temperatures, as well as cold and wet conditions. You can adjust the lacing of the boots with its derby-style lacing to ensure a customized fit for a wide variety of feet.

Weight: 2 pounds
Pros: Waterproof, comfortable, lightweight, breathable
Cons: Lots of upper seams
The Colombia Redmond Waterproof Low Hiking Shoes is one of the best hiking winter boots for your Iceland escapade because of its fashionable and functional features. Since Iceland is an island of striking landscapes where rivers run through the deserts, this hiking boots is sure-footed and incredibly comfortable.

These hiking shoes are perfect for trips to the mountains, as well as can be stylish for daily use in off-terrain environments.

The upper layer of this hiking boots is a combination of suede leather, mesh, and webbing. While the midsole is made of lightweight Techlite material, and the non-marking traction rubber outsole gives superior traction. The Techlite material was added to provide superior cushioning for impact absorption and maximum comfort while navigating aggressive terrain.
Weight: 2.5 pounds
Pros: Lightweight, Waterproof, can hold tight on any terrain, cushioned
Cons: Insole has no padding
Merrell Women's Moab 2 Mid Waterproof Hiking Boot – Merrell women's snow boots

This Merrell Moab hiking boots has been a popular choice of many hikers around the world because of its comfort and durability. This hiking boot is made of 100% suede leather/mesh and it has a feature that seals out water and lets moisture escape so you can stay dry even while you are on the move.

The shaft measures of these boots are approximately 4.25" from arch and it has a rubber sole. Its insole is removable and the Merrell air cushion in the heels absorbs shock and adds stability.

If you want to experience out-of-the-box comfort for your Iceland hiking adventure, this Merrell Moab 2 Mid Waterproof Hiking Boots is a great choice.
No wonder it has been worn out by nearly 20 million people since it was first introduced in the market because of its durable leathers, a supportive footbed, and Vibram traction.

Weight: 21lb
Pros: Waterproof, durable leather, removable insole, protective rubber toe cap
Cons: The sole has no flex which puts a lot of effort on your heel
This women's hiking boots by Columbia is inspired by classic mountaineering style that provides great traction and comfort. Because of its durable construction, it surely delivers reliable and comfortable service. And just like most hiking boots, it is waterproof and it features seam-sealed construction with a combination of supportive leather and suede construction. After a long day of hiking in Iceland, you dry happy feet will surely thank you.

And even if you experience a treacherous day out on the trail, this hiking boots will still feel comfortable and dependable because of its TECHLITE lightweight midsole that provides superior cushioning and high energy return. And what is even more amazing about this hiking boots is its signature Omni-GRIP non-marking traction rubber outsole that provides high grip across a wide variety of terrain.

Weight: 2 pounds
Pros: Waterproof, lightweight, good grip
Cons: Not ideal for harsh hikes
This classic leather design of Timberland Women's Chocorua trail boots is one of the best and perfect boots for day hikes and other outdoor activities. The Gore-Tex membrane feature of this hiking boots keeps your foot dry and comfortable throughout your hike, while the rugged outsole gives you gripping traction.

The solid rubber soles of this trail boots may seem to appear bulky, but when you try on this boots, it is surprisingly supportive without giving you that added weight. When it comes to its design, the solid rubber soles give stability and the nylon shanks and removable dual intensity EVA footbeds support the feet with stiffness. And this Timberland Women's Chocorua trail boots is not only waterproof, but it is also rustproof.
Weight: 3.25 pounds
Pros: Waterproof, rustproof, stabilizing ankle support
Cons: solid rubber soles are heavy

If you are going on a hiking trip to Iceland at the end of October, where winter usually starts, this Sorel Caribou Waterproof Boot can be a great choice for you.
This Sorel boot features waterproof construction, seam-sealing, and a removable ThermoPlus felt inner boot for warmth, comfort, and protection in both cold and wet winter weather.

The Caribou boot features a lightweight and flexible shell and it is made of durable materials to protect your feet from the damp chill of winter. It is made from 100% waterproof full-grain and suede and it has a rubber sole.

Weight: 2.12 pounds
Pros: Waterproof, Best for heavy snow, durable
Cons: Not a fashionable boot
The Globalwin Women's waterproof winter snow boots is one of the best waterproof women's winter boots that you can find in the market today.
These boots are great and keep your feet warm and dry while wearing winter boots.

This winter snow boot is made of high quality Italian Faux leather and the comfortable lining inside keeps your feet warm and comfortable.

Weight:
Pros: Waterproof, comfortable lining
Cons: Not durable, not ideal for extreme hiking
Vasque Talus AT UltraDry Hiking Boots – Women's

The Vasque Talus AT UltraDry combines durability and versatility for any outdoor adventure. Some consumers who purchased this UltraDry hiking boots said that it is a supportive footwear, including the grip of the outsole.

The Talus UltraDry is definitely a hiking boot that you can also wear even if you are just sightseeing. It is fully waterproof, lightweight, and you don't have to go through the painful process of breaking in new shoes. The UltraDry membrane will keep your feet dry and will hold up to the elements for a long time.

Now, if you are looking for hiking boots for your Iceland adventure that is solid and light, and will keep you dry and sure-footed, the Vasque Talus AT UltraDry is definitely the one for you.

Weight: 2lbs
Pros: Waterproof, Solid and light, Comfortable, Stable
Cons: Narrow sizing
Salomon X Ultra 3 Mid GTX Hiking Boots – Women's

If you want to bring a hiking boot that brings running-shoe comfort to technical hikes, this updated Salomon X Ultra 3 Mid GTX hiking boots is a perfect choice. The design updates (compared to the previous Salomon X Ultra 2 Mid) of this hiking boots makes it especially suited for tackling tough descents, and even in wet conditions.

These hiking boots are made for bounding down wet trails because of its high-traction Contagrip rubber and a lug pattern that helps funnel water way from your feet. And the rubber caps on the upper front helps protect your toes from harsh rocks and roots.
Plus, the sculpted linings and contoured heel cups that cradle your feet and minimize slippage, especially on exhausting uphills and descents.

Weight: 1lb. 13.4 oz.
Pros: Good traction, comfortable, waterproof
Cons: Slightly bulkier
Sorel Iceland Boots – Warmth and Comfort – these are the two things that this Sorel Harlow Cozy Booties can give to you. It offers a quality warmth and comfort, plus with a waterproof leather upper, genuine shearling collar, and inner zip.

This boot is made of genuine leather and has molded rubber traction sole. Plus, it's very stylish to wear so you can use it even while you are going shopping or just doing some errands.

These boots are best used for light hiking. They have great grip on the bottom but if you are doing more strenuous hiking and need ankle support you will need a boot such as these.

Weight: 2.65 pounds
Pros: Stylish, waterproof, comfortable, warm
Cons: The zipper is on the back

Hiking in Iceland – Things to know and why you need a good pair of shoes for Iceland

I first visited Iceland in January and I was surprised how quickly the weather could change. It never really gets that cold (its always above zero) but it is the wind, rain and snow that will get you.

This is why it is important to get hiking boots for Iceland. On top of that, if you are planning to hike to a waterfall such as Gljufrabui which is right next to Seljalandsfoss you will actually need waterproof boots that go up to your knees such as these ones that I use.

Can I use hiking boots in snow? Yes, as long as they are waterproof. There is nothing worse than having wet feet and being cold. Or you could try these best hiking boots for snow if you want to try a different pair.

You can read about visiting Iceland in January, Iceland in February, Iceland in March, Iceland in April, Iceland in May, Iceland in June, or Iceland in July, to get an idea of what to do in Iceland and what the weather will be like when you visit.

Conclusion: Footwear for Iceland

Finding the best shoes for Iceland is an essential step in packing and planning your trip. Trust me, if you do not have the right boots for Iceland it could ruin your trip.

Order your Iceland boots early so you can break them in. Test them in a puddle to make sure they are waterproof. To me, footwear for Iceland is the most essential thing you will bring! It is an investment but well worth it.

Sharing is Caring! Pin this article to save for later.
Continue Reading more on my website:

Iceland's Golden Circle – where to stop and what to do
Tevas vs Chacos – which is the best hiking sandal?
Rothys vs Tieks – which is the best ballet flat?
Best Travel Sandals – cute and comfortable sandals for travel
Recent Posts