How to Visit Mesa Arch at Sunrise – Canyonlands National Park, Utah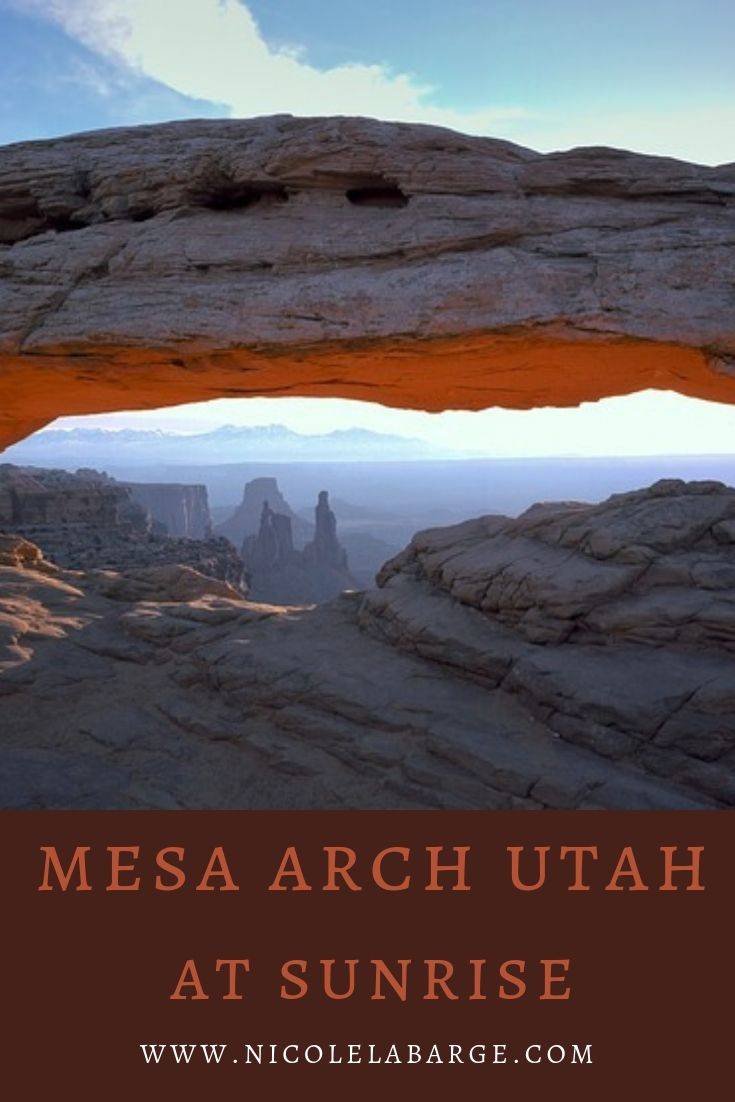 Are you planning to visit Mesa Arch at Sunrise in the Canyonlands National Park?
Mesa Arch is one of the most iconic places in Canyonlands National Park in Utah. Visiting Mesa Arch at sunrise is an event worth getting up early for on vacation.
You don't have to be a morning person to enjoy visiting Mesa Arch at sunrise. It is a lovely experience and absolutely amazing to see the colors of the sun hitting the red sandstone arch.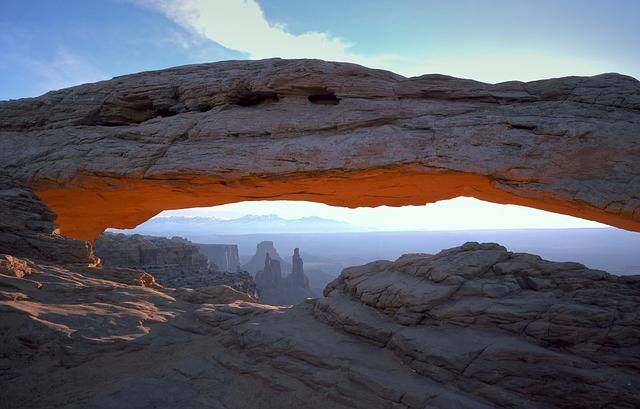 I've put together everything you need to know about visiting for a Mesa Arch Sunrise – even if that means a 4am wake up call in the summertime.
One thing I was surprised about was the number of people who also woke up early to see the sunrise at Mesa Arch. This is the number one thing to do at Canyonlands whether it is for sunrise, a morning or afternoon visit.
Here is everything you need to know about waking up early to see the sunrise, what to bring, and tips and tricks for photographing Mesa Arch at Sunrise.
How to get to the Mesa Arch Trail
Mesa Arch is a 50-minute drive from Moab. So if you are staying in Moab, you'll need to leave your hotel at least an hour before sunrise plus a little bit more to hike the trail to the arch.
Mesa Arch is located in Canyonlands National Park which can be reached as you drive U.S. Highway 101 north of Moab for ten miles. You then turn left on Utah highway 313 for the 22-mile-drive to the Islands in the Sky entrance of Canyonlands National Park. The last 22 miles into Canyonlands is quite a boring drive but once you get there it is well worth it. It will be dark while you are doing this drive so you are not missing out on any scenery.
If you are arriving before sunrise, there will not be anyone at the gates to pay for entry. Just continue to Mesa Arch and someone will confirm your pass or ticket when you leave.
We had an America the Beautiful National Park Pass so we just showed that to the rangers when we left.
Once you enter the park, the Island in the Sky visitor center is on the right. From there you have a 15-minute drive to the Mesa Arch parking lot.
Once you park at the Mesa Arch parking lot it is a 10-minute walk to the Arch. If you are arriving before sunrise it will be dark and the path is rocky and uneven so make sure to bring a flashlight.
The trail is mostly flat. There is a bit of uphill at the beginning and that's it. A very easy trail to hike but not so easy when it is pitch black. Take your time, its a short trail.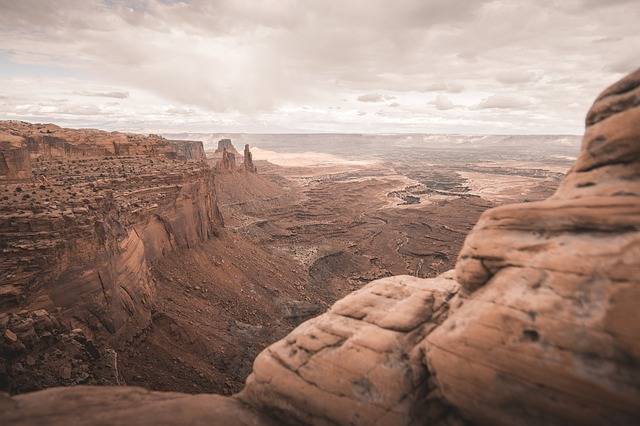 Tips for photographing the Mesa Arch Sunrise
Arrive Early. You'll want to set up well before sunrise to be ready for when sunrise begins.
Bring a flashlight. That means you will be doing the hike in the dark so bring a flashlight or headlamp. If you want to use the flashlight on your smartphone just be careful of your battery if it is a cold morning as it will drain the battery quickly.
The hike is half a mile long round trip. The Mesa Arch Trail is unpaved and mainly consists of large rocks. The hike to the Arch is easy enough and you will find your way to the Arch easily. On the way back to the car park (its a loop) is not as clearly marked in my opinion but you will find your way.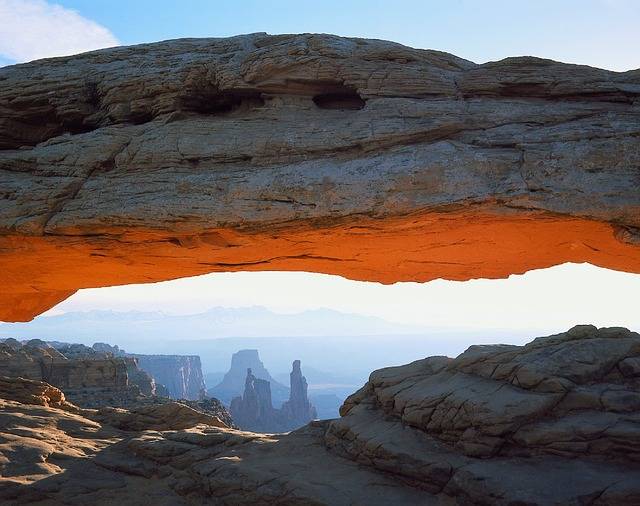 I first visited in the afternoon the day before so I was able to scope out how to get there and where I wanted to set up where to photograph the sunrise.
Be patient. Expect to spend about two hours here photographing the Mesa Arch Sunrise. You'll want to stay longer as you will notice quite a few people leaving just after sunrise once they get the shot.
The sunrise show keeps getting better and better so its worth it to wait it out and watch the show.
Also, this trail is a loop back to the parking lot. You can go out the way you came in but we completed the loop. I found the trail easy enough but it was not marked well. If I hadn't seen people going out that way I would have had no clue that was the way out.
There are cairns along the way marking the trail. A cairn is a pile of rocks to mark the route. I just thought it would have been a clear trail whereas people took several different ways to get out.
Mesa Arch sunrise photo tips
Bring a Tripod. While I understand not everyone has a tripod, it does help. You will see everyone there has a tripod set up. It reserves your spot to take the photograph.
While you do not have to have a professional camera, I do recommend using a camera and not a smart phone. I have a post dedicated to travel cameras under $300.
Arrive early. If sunrise is at 5am I would not recommend showing up 5 minutes early. There will be people who have been there 30-45 minutes waiting. Serious photographers will be there and you do not want to be setting up your camera while it is starting and disturbing others that are there.
Be respectful. This is a small space. Even though the arch is small it is relatively flat in front of the arch with a bit of space. The most motivated photographers will have shown up early to get the best spots to photograph the arch. Try shooting the arch from a different perspective.
Be careful. When you arrive it will be dark and the rocks are uneven around the Arch. Other photographers will have set up their tripods already and you will need to be careful not to bump or trip over tripods that are already set up. By setting up your tripod you are reserving your spot in front of the Arch to take photos.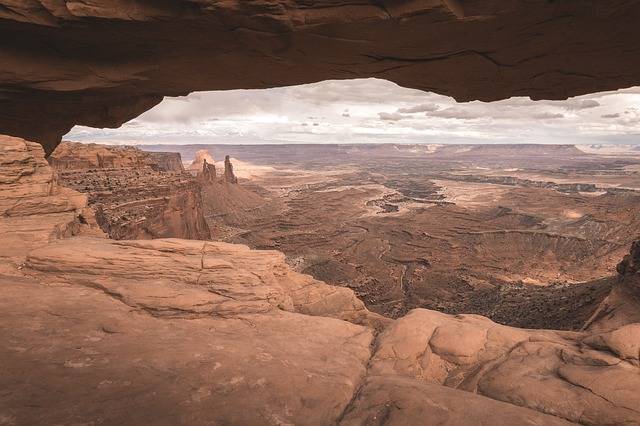 Which season is best for taking photos of the Mesa Arch sunrise?
I think any time of year is a great time to photography Mesa Arch at sunrise. It is a spectacular sight.
The Arch will definitely be more crowded in spring and summer and you'll also have to wake up earlier to photograph sunrise but it is the best time to capture the sunrise at Mesa Arch.
Winter would be interesting especially if there is snow on the ground to reflect the light. I'm not sure I could handle the cold in the winter especially right before sunrise.
Should I go to Mesa Arch sunrise even if I am not a photographer?
Yes, I would wake up for sunrise at Mesa Arch. It is the top thing to experience in Canyonlands National Park. The colors and how they change during sunrise are amazing. It just keeps getting better and better.
I'm not much of a morning person but when we were traveling around Utah we would wake up around 5.30 and be on the road at 6am to avoid the crowds. This did help set us up for waking up early.
I have to say most people only stay about half an hour and that's great for you as the show does keep getting better and better and you will be able to take all of the shots.
Sharing is Caring! Pin this article to save for later.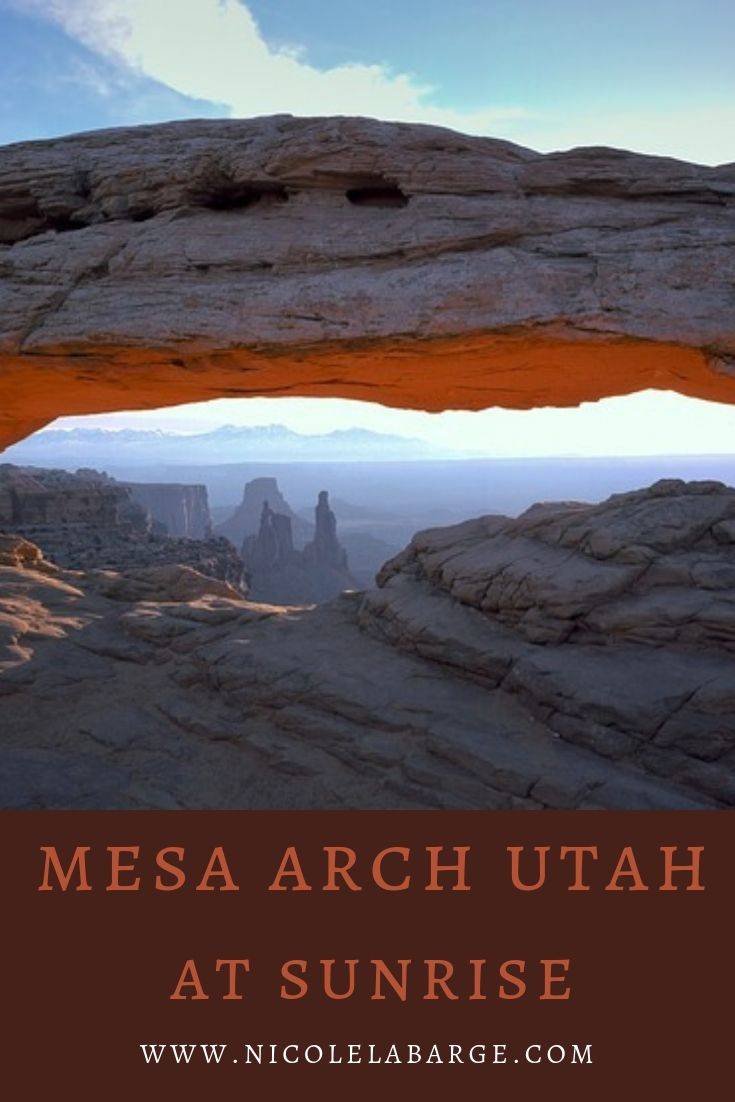 Continue Reading more about Utah and Arizona on my site:
Recent Posts