Weekend in Chicago Itinerary – from one day in Chicago to 3 days in Chicago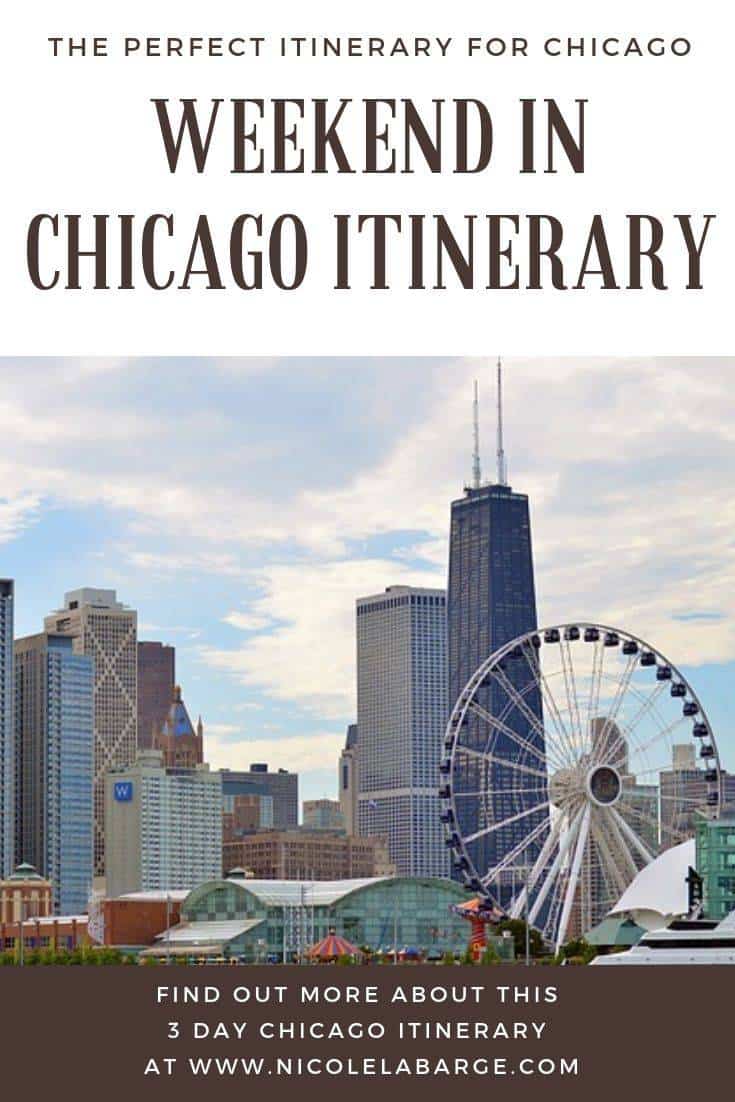 A perfect weekend in Chicago
This Chicago Itinerary is for anyone who wants to spend a weekend in Chicago or has from one day in Chicago to 3 days in Chicago.  I've even added a section to this Chicago Itinerary for a few unique things to do in Chicago if you have some extra time.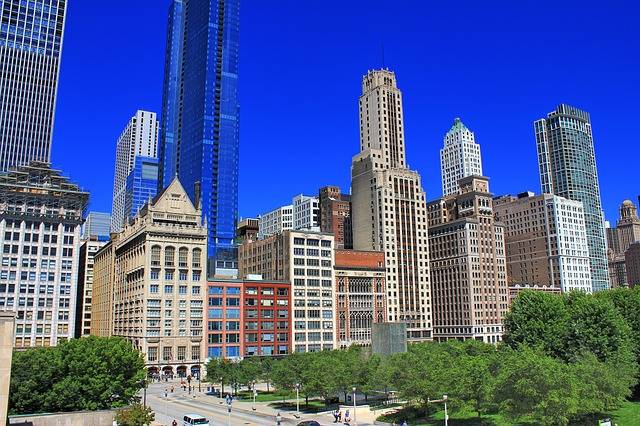 If you're flying into Chicago, you already know that there are two airports that serve the Chicago area (O'Hare and Midway). Both are a bit of a trek from downtown Chicago, but each is accessible by taxi and public transportation.
We flew into O'Hare Airport on the new Air New Zealand route direct from Auckland, New Zealand.  We flew Business Premiere on this 16 hour flight to and from Chicago.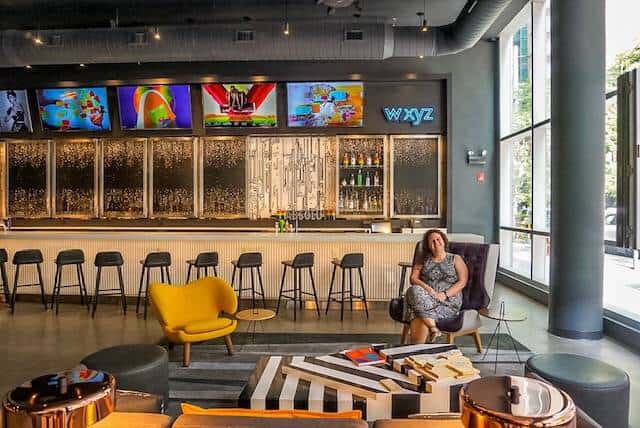 Once downtown, check in and drop your bags off at the Aloft Hotel on the Magnificent Mile and get ready for a great weekend in Chicago.  The Aloft Hotel is the perfect location for your Chicago Itinerary and is in the heart of Chicago.  It is so nice after a long day of walking over 20,000 steps to know that your hotel is just around the corner from all the tourist sites.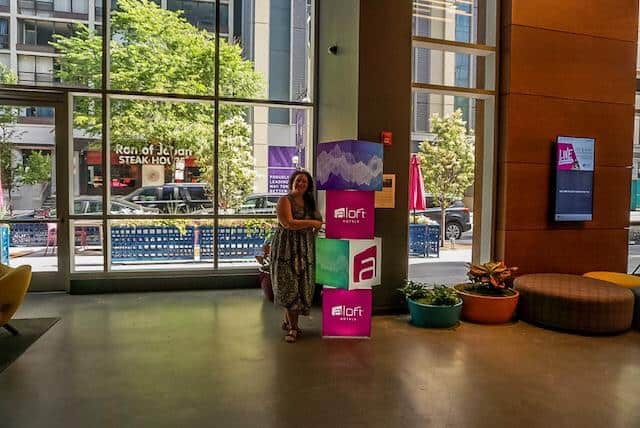 There are several great places to stay in Chicago on your visit.
Day 1 – one day in Chicago
We think a great way to start your first day in the windy city would be to take it easy and visit the amazing Millennial Park. This 25-acre park is in the loop area of Chicago, it's super pretty and not as heavily populated with tourists as some other locations on this list.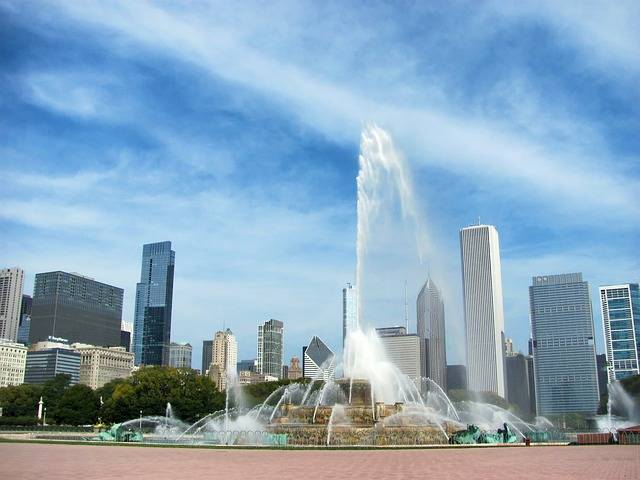 There are regular events in this park, especially in the summer – so check out what's on when you are visiting if you really want to make the most of your time in this location. Filled with greenery and flowers, there is also a pretty fountain in this park where you can relax, escape the heat and just have a moment to take it all in.
The centre of Millennial Park and the perfect place to take a selfie to commemorate your time in the spot is "the bean". This is a metal public sculpture that offers an amazing reflection of everything above and around it. The bean is in the shape of, believe it or not, a bean and it has been around since 2006.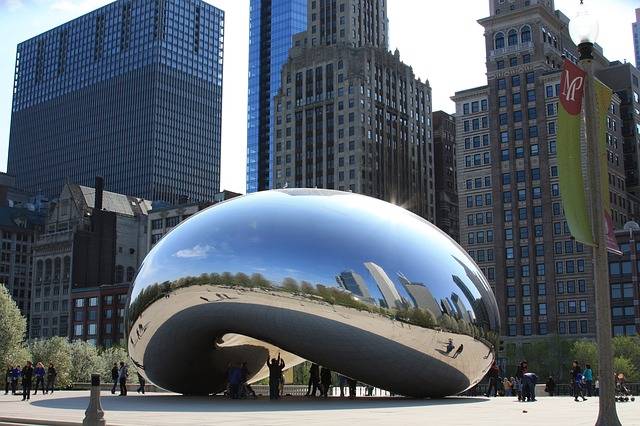 When you are finished exploring this park, you are probably going to be feeling a little peckish and we know what you're thinking.
Have you truly even been to Chicago if you have not tried one of their famous deep dish pizzas? Giordanos is just a short walk away from Millennial Park and they have the most amazing pizzas that you have ever tasted. No matter what toppings you like on yours, the pizza of your choice is going to taste absolutely amazing and it as at this point that you are really going to know you've arrived in Chicago.
On your way back to Aloft Hotel, why not grab yourself a little "dessert" with some popcorn at Garrett's, it's like no popcorn you've ever tasted before so give it a try.  I love the Garretts mix which is half cheddar popcorn and half caramel popcorn.  Don't knock it till you try it I love the salt and sweet combination.
Day 2 – 2 days in Chicago Itinerary
Your second day has arrived and this one is set to be even more amazing than the previous.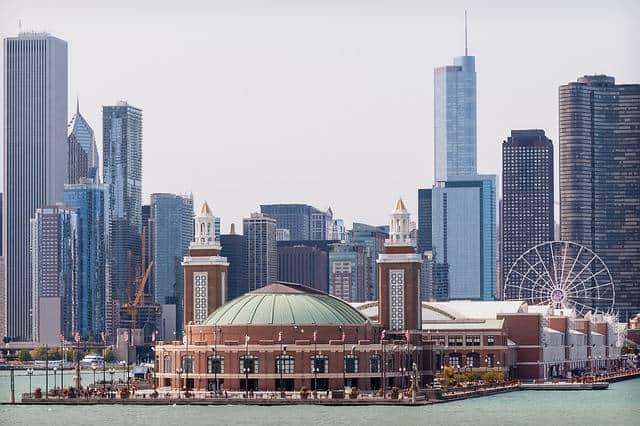 You should start off by going to the Navy Pier, which is beautiful in the morning if you are lucky enough to catch it early and as the sun is rising.
Take a walk along the pier and check out what is dotted around it that you might found appealing. There is such a great atmosphere in this part of Chicago and you are guaranteed to feel welcomed by locals.
If you have time to come back to the Navy Pier during the evening at some point, there are regular firework displays which are pretty spectacular.
Not too far away is the Chicago Shedd Aquarium, which is definitely worth a visit. There is a whole lot of beautiful fish and other sea creatures at this aquarium. There are special exhibits here which are truly breathtaking, including "underwater beauty", where you can get up close and personal with some creatures in an amazing display.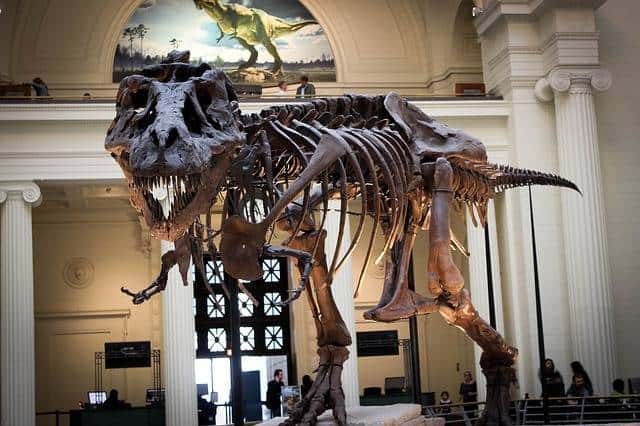 Next up is Field Museum, which is actually an award winning location that is filled with a whole heap of natural history which will awe you if you enjoy this kind of thing.
It was built way back in 1893 and still remains a popular tourist spot from visitors all over the world. If you want to see a skeleton of the largest t-rex ever found, that is right here and she has actually been named Sue.
This museum is popular with people young and old, it would be the perfect place for the entire family to visit during your time in Chicago.
You can end day two in the city by going to Wrigley Field, which is in walking distance of everything else that you have already done today. Wrigley Field is actually a baseball park where the Chicago cubs regularly play, so definitely a must-see for any baseball fans out there!
Get a behind the scenes look of the location and explore a truly iconic location that has over 100 years of history. You can go on guided tours of this place, or you can head there with some tickets on game night for an even more memorable experience.
We loved our tour of Wrigley Field and learning about the history of the baseball stadium and the Chicago Cubs. Check out this two day itinerary for Chicago if you are short on time.
Day 3 – 3 days in Chicago
It's your final day in Chicago but don't worry, there is still lots to see and do and you've got a lot to fit in.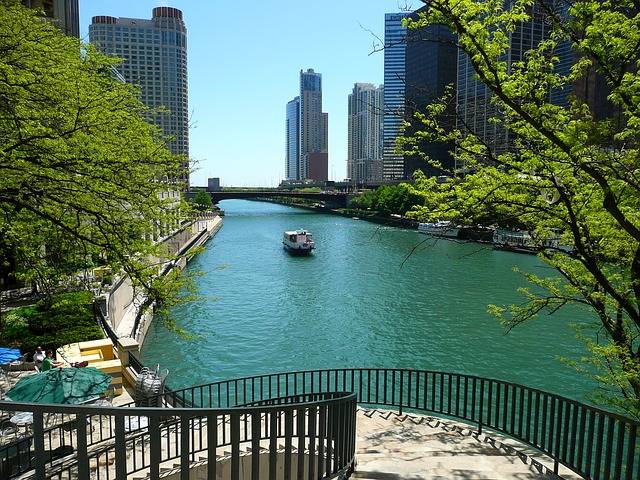 Why not start off day three by taking an architectural boat cruise? There are many cruise companies available in the city to take full advantage of but the best one to use for a cruise of this nature is Chicago's First Lady Cruises.
You've been busy exploring the city by foot and transport already but not by water so this is a great opportunity that you need to snatch with both hands. On the cruise, you will learn more about the history of Chicago from qualified tour guides and you will also see some beautiful sights and unforgettable pieces of architecture along your trip.
There are all different cruises available varying in length so check out what is available and book whatever fits best into your day.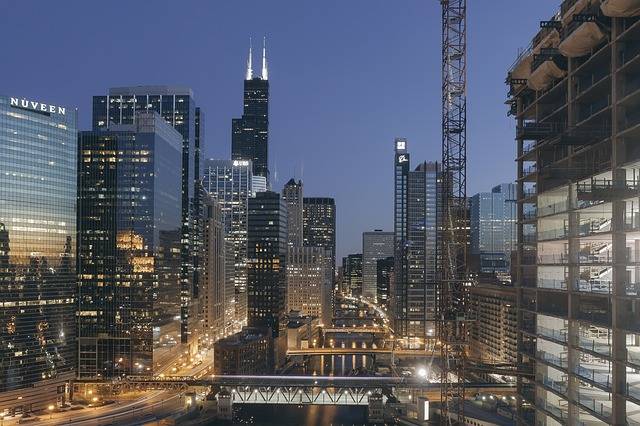 You've seen it from the water and next up is to check out Chicago from the sky when you go up the Willis Tower. You can see spectacular views along four different states and of course walk over the famous glass ledge, which is terrifying and thrilling at the same time. At 1353 feet tall, this is a once in a lifetime experience that will really finish off your time in the city nicely and will also allow you to take some amazing photos to show family/friends.
Last but not least, it is time to do some shopping on the Magnificent Mile.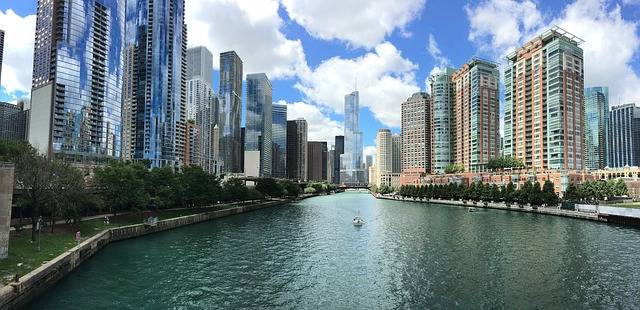 Chicago's Magnificent Mile is a mile long road that is filled with amazing shops and much more. Sometimes all you need to do is shop and I would say that you definitely deserve it after this action-packed trip to the city.
No matter what you are looking for, you are going to find it at this location. There is an electric atmosphere at this location and it is packed full of people from all walks of life. Shop for some amazing momentos to take home with you, clothes, makeup and anything else you can imagine.
You could literally spend all day here if you wanted to because there are 13 blocks of endless entertainment. With over 60 hotels, 275 restaurants and 460 stores – this stretch is the heart of Chicago and no trip to the city is complete without exploring it for yourself.
Extra activities – unique things to do in Chicago
While your weekend of visiting the windy city might be up, there is no need to be disappointed.
If you do have some extra time or you just want to fit more in during your three days in the city, there is more to see and these landmarks definitely deserve a special mention on this guide.
First up is Oz Park, which is a public park that is found on the near North side of Chicago. It actually gets its name because it acts as an area of remembrance and respect for a gentleman named Lyman Frank Baum. He is actually the author and creator of The Wizard of Oz, one of the best pieces of literature of all time. He lived in this area of Chicago and hence why this park was named after him.
Statues and sculptures of all the most memorable characters of the movie can be found in this park and it's an absolutely amazing and free place that you can explore at your leisure.
Tiffany Dome is next up and it is found in Chicago Cultural Centre. This translucent and beautiful glass dome is actually the largest in the world at an impressive 38 feet in diameter. It is in the shape of fish scales and at the top of the dome is all the signs of the zodiac.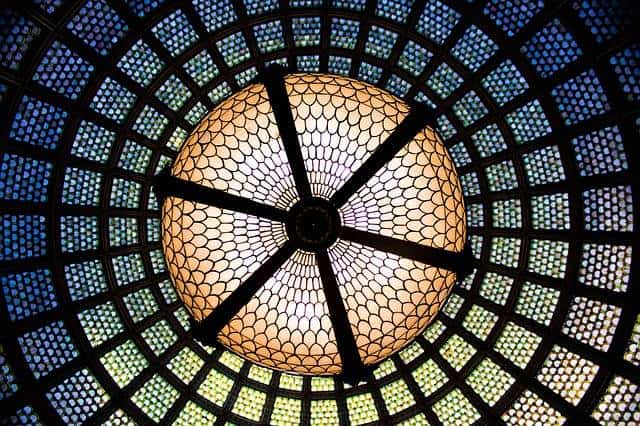 The dome itself and all the fixtures, lighting and everything else that goes with it was made by The Tiffany Glass and Decorating company. Go and check it out and you will see for yourself exactly why it is so popular with locals and tourists alike.
Another place to go during your time in Chicago is the Graceland Cemetery. There is no denying that a cemetery might not sound like the perfect day out, but this one is something else.
First of all it is a beautiful and calm location but the reason most visitors go here is because it is the resting place of some of the most famous architects in Chicago. For this reason, the graves and monuments in this cemetery are like nothing you've ever seen before.
There is a placid lake in the cemetery and this particular area is the resting place of Daniel Burham, who was the head of the Colombian Exposition in 1893 and he was also one of the cities planners. Some other important people who are buried here include Louis Sullivan, John Root, Howard Van Doren and more.
Explore the cemetery including the beautiful monuments and the names of the amazing people who were laid to rest there.
Conclusion – The perfect Chicago Itinerary
Whether you have 2 days in Chicago or a long weekend in Chicago, this Chicago Itinerary covers all of the best places to see in Chicago.  Make sure to eat some pizza and some popcorn for me!
Sharing is Caring!  Pin this article to save for later.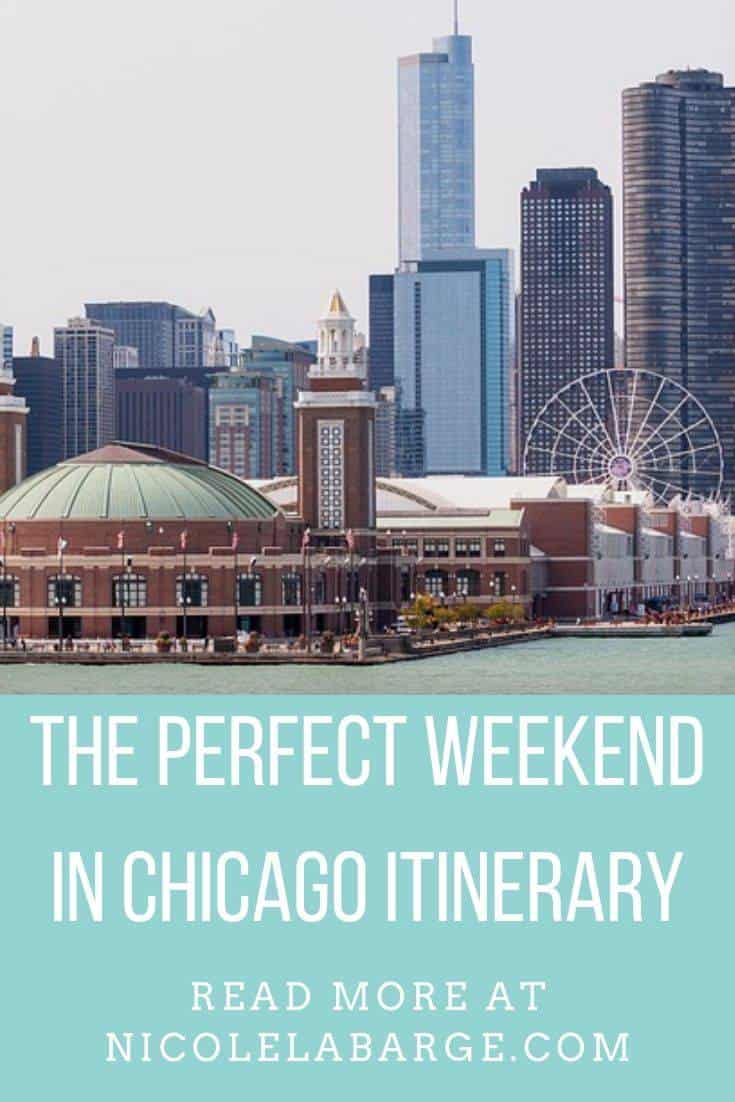 Continue Reading more articles on my site:
My stay was sponsored by Aloft Hotels in Chicago.  As always all opinions are my own.  I always fly Air New Zealand out of New Zealand on all of my trips.
Recent Posts